Volkswagen was early to market with the last-generation Tiguan. It sold so well (1.8 million since 2007), it's a bit confusing as to why VW has been shy at coming forward to join the SUV revolution.
But hurrah, never fear, the new Tiguan is here. And it heralds the start of an onslaught of new SUV models from the people's car company, from big to small.
The last Tiguan, for all its sales success, looked more than a little gawky. The interior lacked the quality you'd expect from a Volkswagen. And it drove with little panache.
The new Tiguan changes all that. In comes a much sharper, modern VW design language — all creases and sharp surfacing with delicious little surface sections cut out around the rear section — and is bigger, longer, wider and slightly lower than its predecessor. That means it looks much more four-square and planted on the road. But it also feels like a more grown up car.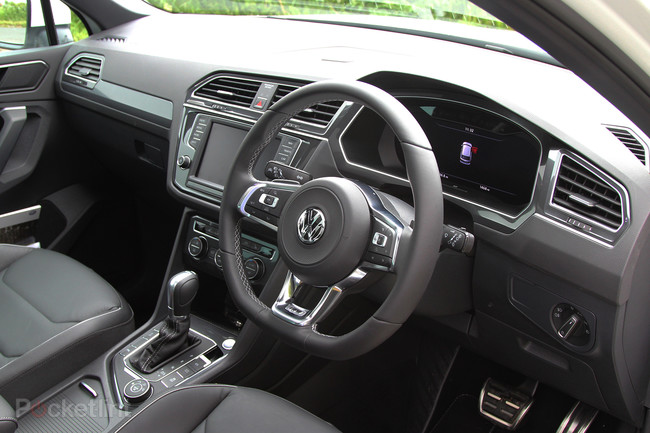 Volkswagen Tiguan first drive: Going upmarket
Volkswagen has pushed the Tiguan upmarket. But not just by giving it premium plastics, big wheels and an array of tech kit. It feels like an SUV, a slightly bigger, butcher and more serious car that's half a size above the likes of the best-selling Nissan Qashqai.
It's still perfectly manageable to drive of course — at 4.5 metres long, it's shorter than a BMW 3-Series or Volkswagen's own Passat. But the boot is a generous, family-friendly size.
Rear seat passengers have plenty of legroom and all-round the Tiguan feels like a very well-judged family-sized car, that's quite a nice place to sit.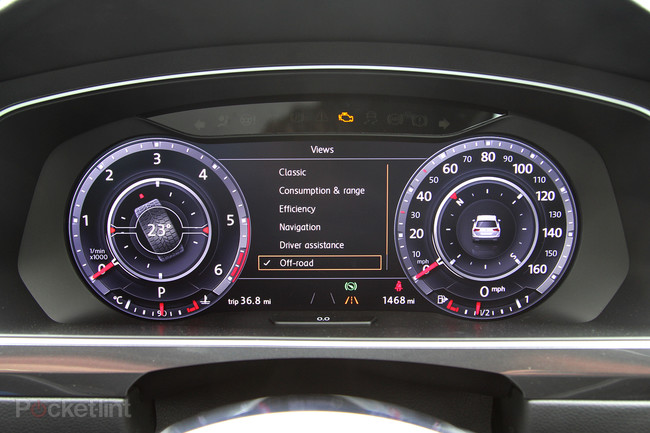 Volkswagen Tiguan first drive: Techno babble
Inside, Volkswagen has moved things up a notch from the last model. Gone are the odd air-vents, and in comes VW's neat, 8-inch touchscreen — which delivers an 840 x 480 resolution and includes a proximity sensor and sat nav as standard.
Go for an SEL version or above and you'll get the Volkswagen group's swanky 12-inch digital cockpit display. We drove both a SE Nav version of the Tiguan(the likely best selling version) which didn't feature the digi cockpit, and the top-of-the range R-Line, which had it.
The display allows you to pick from various modes — such as one where the navigation map is priorities, or off-road data is played up — or you can get it to help you be more efficient, through a coaching system. VW refers to its approach regarding efficiency and technology on-board as "guide and inform" and in our brief drives of each car that sums things up pretty well.
The Tiguan's system isn't the ultimately connected, remotely controlled cleverness of an Audi or BMW. But it is fast, relatively intuitive and easy to use. Whether you really need the digital cockpit though, is a tricky question. It's a lovely, yet novel tech feature. VW's traditional dials are so crisp and clear already, however, so if you're being matter-of-fact about it then you don't really need the digital system.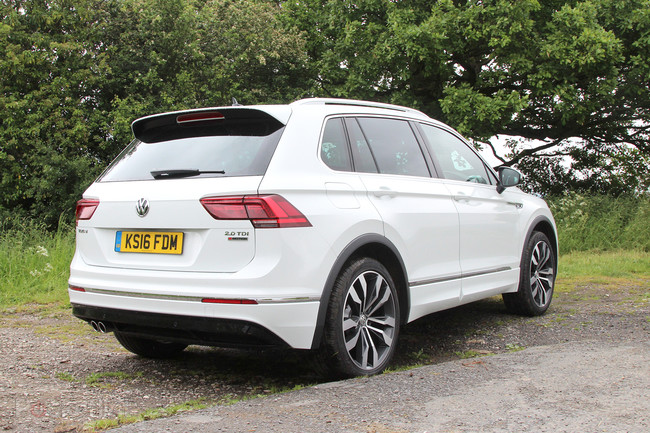 Volkswagen Tiguan first drive: Diesel power
All the Tiguans at the launch event we attended come with Volkswagen's ubiquitous 2.0 TDi engine. No, not the one that's been caught being naughty in the US. This is a new unit, introduced with the MQB platform that the Tiguansits on — and which features an AdBlue exhaust treatment system, which should sort out those pesky NOx issues.
The cars that we drove all came in 150bhp power output. There are 115bhp and 190bhp versions, along with 1.4 and 2.0 Tsi Petrols. But the 150 diesel is all the car you need.
If you're looking for kicks on the road, then you're looking at the wrong type of car. And while the petrol engines are smooth, the diesel versions suit the Tiguan's demeanour and cope well with its weight and size. The 150bhp gets to 60mph in 9.3-seconds, and even with us thrashing it on a test route, it gave us over 50mpg.
The tougher questions you'll need to answer on the drivetrain front are whether to go with four-wheel drive (available on most models, and over 50 per cent of buyers do opt in), and stick with a manual or go for the 7-speed DSG automatic. DSG and four-wheel drive give you an ultimate ease-of-use, get-anywhere vehicle.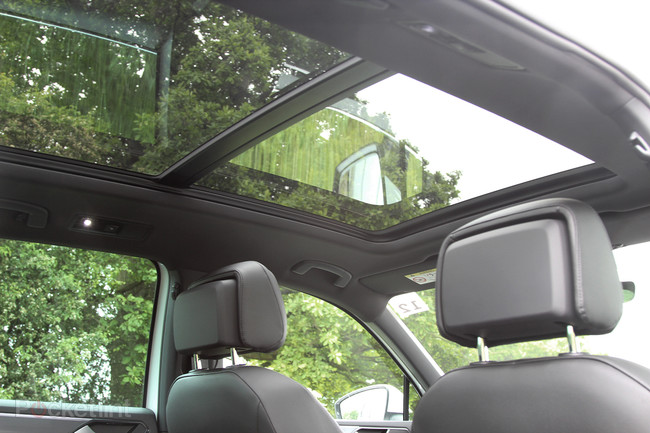 Volkswagen Tiguan first drive: Pricing it up
In SE Nav spec, Volkswagen will want £31,235/$46,8525. Comparatively, lose the four-wheel drive and auto box in the same spec, and you'll only need £28,035/$42,0525.
There's a Tiguan for everyone then — including, it seems likely, a plug-in hybrid electric version on the way. But be warned, with four diesel, three petrols, autos, manuals, four- and two-wheel-drive options over five different trim levels, the Tiguan is not a car for those who easily get bored of looking at brochures or online configurators.
Our view? SE Nav will give most of what many people want. R-Line takes things sportier, blingier and fancier — but gets a bit full-on for this size of car. SEL is a nice mid-space if you've got a bit of extra cash and fancy a few toys like 19-inch wheels, LED lamps, panoramic roof and the digital display — all of which the SE Nav does without.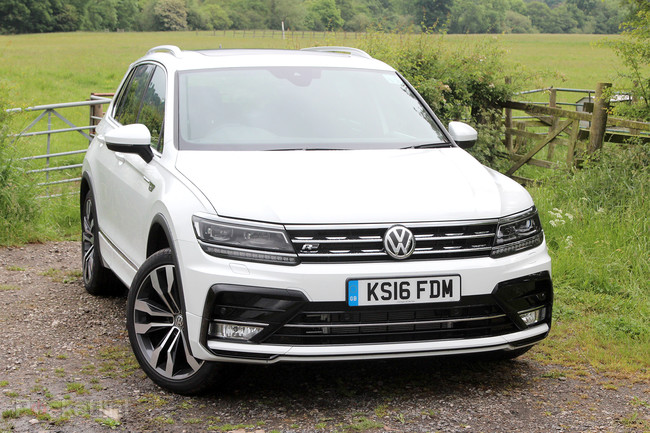 Volkswagen Tiguan first drive: On the road
Out on the road, the Tiguan drives like a much more grown-up car than before. We know from experience in cars like the VW Golf and Audi A3 which share its MQB platform, that this is a very well engineered piece of kit.
The Tiguan feels solid, is extremely quiet and refined and rides very nicely on the smaller wheels of the SE Nav. The 20s on the R-Line don't kill the ride, but they do make it notably busier. In all models, the factor that jumped out most markedly compared to the previous version was the way the car cornered: this is now a much smoother and more composed car to thread along a country road.
First Impressions
The new Tiguan is a likeable car. And one we think you should consider if you're in the market for such a vehicle.
We're impressed with Volkswagen pushing things on the tech front, with even base models getting the 8-inch touchscreen as standard. Nearly all models come with the company's App-Connect system and sat nav, too, which means you can run Apple CarPlay and Anrdoid Auto. Just a pity we could only find one USB port — not very family-friendly for a car in this day and age. Still, the fold-out rear tables with integrated cup holders are a nice, old-school analogue touch.
The overall question is whether you'll judge the Tiguan to offer more than cars like the Nissan Qashqai and Renault Kadjar. As we mentioned, the Tiguan now feels like it's competing at a level above those. It is bigger, there's a greater range of more powerful engines and big-car features, plus the design is notably more premium. But the Tiguan only offers a little more space on board, so we can't help wondering whether some people will be swayed by the well-priced and well-equipped crossovers from the mainstream brands, which, car-for-car are a few grand less than this.
It's best, really, to think of the new Tiguan as a good value Audi Q5. That way it makes more sense and, right now, with the Tiguan brand new and the Q5 really showing its age, the new VW is a better car than its supposedly more premium big cousin. And for that reason alone, it should do very well indeed.
(pocket-lint.com, http://goo.gl/N1ZI2q)