The Good: The LG Gram 15 is one of the lightest and thinnest laptops available with a 15.6-inch display. It has good components and performance for the price and gets nearly 10 hours of battery life. Port assortment includes USB 3.0 Type-C and a full-size HDMI output.
The Bad: The keyboard is shallow and somewhat spongy-feeling. The speakers are weak and tinny. The webcam is on the hinge, which basically means positioning it is always going to be a problem. Some might not like the overall flimsy feel to the body.
The Bottom Line: The LG Gram 15 is an ultraportable that doesn't make you sacrifice screen size or some runtime for less weight.
With ultraportables, you typically sacrifice screen size to shave something off from the overall size and weight. But as LG showed us with its 13.3-inch Gram laptop, it's possible to get a larger screen into a smaller and remarkably lightweight body, and still get solid everyday performance and battery life.
The 2017 Gram models — available in 13.3-, 14- and 15.6-inch sizes — start at $1,000 for a non-touchscreen 13.3-inch Gram, but climb up to $1,500 for the 15.6-inch version reviewed here (approximately AU$1,990 or £1,185 in Australia and the UK, respectively) with a full-HD IPS touchscreen and an Intel Core i7-7500U processor, 16GB of memory and a 512GB SSD.
The price is certainly fair for those components in a laptop that's a touch less than 2.5 pounds (1,080 g) and is only 0.6 inch thick (15.5 mm). The bigger screen in the smaller, lighter body is the main selling point, though, so if those aren't crucial to your needs, you might want to consider something else such as the 15-inch HP Spectre x360 or the Dell XPS 15.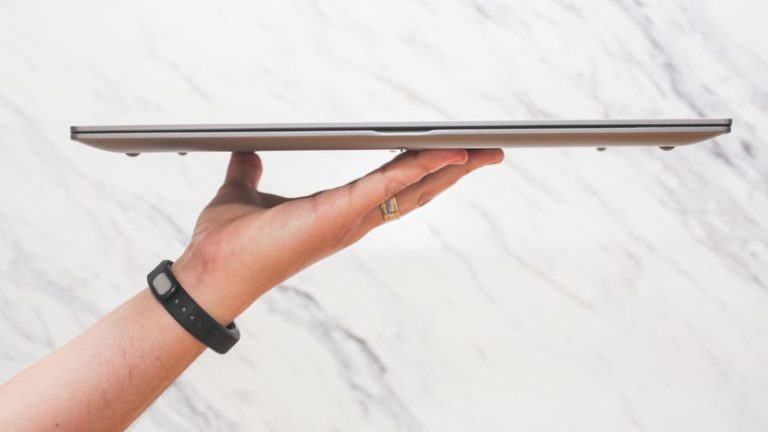 LG Gram 15 (2017)
| | |
| --- | --- |
| Price as reviewed | $1,499 |
| Display size/resolution | 15-inch 1,920×1,080 touch display |
| PC CPU | 2.7GHz Intel Core i7-7500U |
| PC memory | 16GB DDR4 SDRAM 2,133MHz |
| Graphics | 128MB dedicated Intel HD Graphics 620 |
| Storage | 512GB SSD |
| Networking | 802.11ac wireless, Bluetooth 4.2 |
| Operating system | Windows 10 Home (64-bit) |
For as much as I love how little the Gram weighs, the look and feel is not as easy to like. The magnesium alloy body just doesn't have the same sturdy feel as a premium aluminum-chassis ultraportable. The lid in particular has a lot of flex to it. However, this doesn't mean that it won't stand up to the day-in-day-out abuse of a commute or getting dragged around from class to class.
Also, while anyone who picks it up will be amazed by its weight, the Gram likely won't wow them with its looks. The chassis is dark silver inside and out with the exception of the chrome LG logo on the lid and below the display. Politely put, it is unassuming and will blend into any environment, be it boardroom, classroom or cafe.
Bigger, but not necessarily better
The Gram 15 is essentially just a larger version of the Gram 13. That, unfortunately, means that a couple issues I had with the 13.3-inch version are found on the 15.6-incher. For example, the Gram 15 has a slim bezel around the screen like the Gram 13, which is great because it means you're looking at almost nothing but display when you open the lid. A side effect of this, however, is LG moved the webcam to the screen's hinge so it shoots straight up your nose while also placing the camera so low that the screen has to be at a 90-degree angle to keep you entirely in the shot.
As you might expect from a company that makes TVs and displays, the screen on the Gram is nice. It's sharp with very good color and excellent off-angle viewing. It gets reasonably bright, too, but you still might struggle with some of the glare from the glossy touchscreen. LG also includes a Reader mode setting that lets you quickly reduce blue light.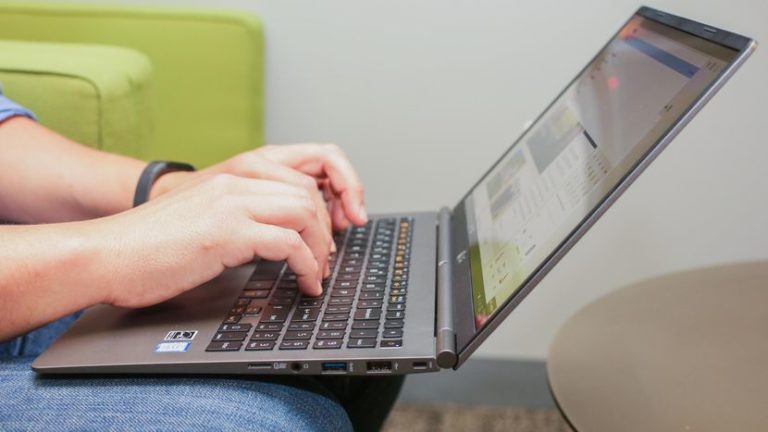 While watching TV and movies on it is a good experience, listening to any sort of audio through its weak speakers is not (the Gram 13's speakers were similarly disappointing). To be fair, few laptops this thin have good speakers and LG built-in DTS Headphone: X processing for improved audio quality through the headphone/mic jack. Other ports and connections include two USB 3.0 ports (Type-A), a microSD card slot, HDMI output and a USB 3.0 Type-C port that supports video out, high-speed data transfer and Ethernet via an adapter.
Another carryover from the Gram 13 is the short travel on its keyboard keys. If you hammer hard when typing like I do, it doesn't make for the most comfortable experience. Plus, while most of the keys are reasonably large, the Enter and Backspace are just a little too small, which led me to occasionally miss them. Not a deal-breaker, but something you might have to adjust to. On the upside, it does have two levels of backlighting available.
The touchpad is responsive without being jumpy and its software allows for a lot of fine-tuning for multitouch gestures and taps. Oddly, though, LG dropped the fingerprint reader that's built into the Gram 13's touchpad.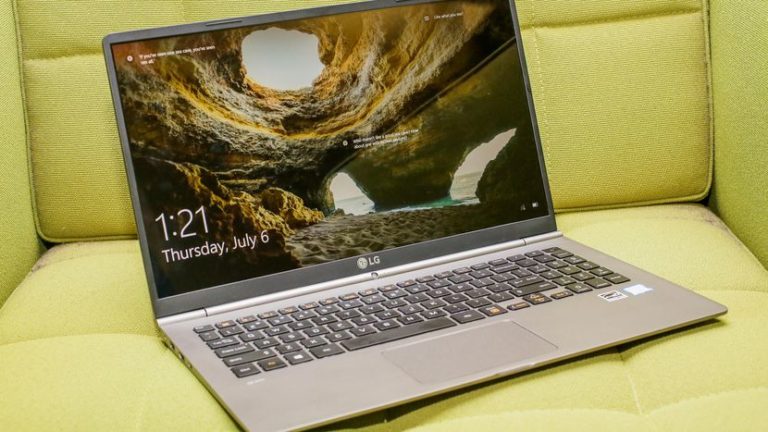 Everyday performance, all-day battery life
With a seventh-gen Intel Core i7-7500U processor, 16GB of memory and integrated Intel HD Graphics 620, you get enough power to get you through average computer tasks like word processing, web browsing and email, and it won't get bogged down if you have a dozen tabs open in Google Chrome with some other applications running in the background. Streaming video and music are no problem either, but I wouldn't recommend it for anything more than casual photo and video editing.
The laptop's battery life doesn't quite hit the 11.5 hours that the 13.3-inch Gram reached (putting it in the top five of laptops we've tested with the longest battery life), but it's not disappointing either. In our streaming video test, the Gram hit nine hours and 42 minutes. On a full charge with the screen brightness at 50 percent, I had no problem getting through an entire work day, including a one-hour commute on both ends.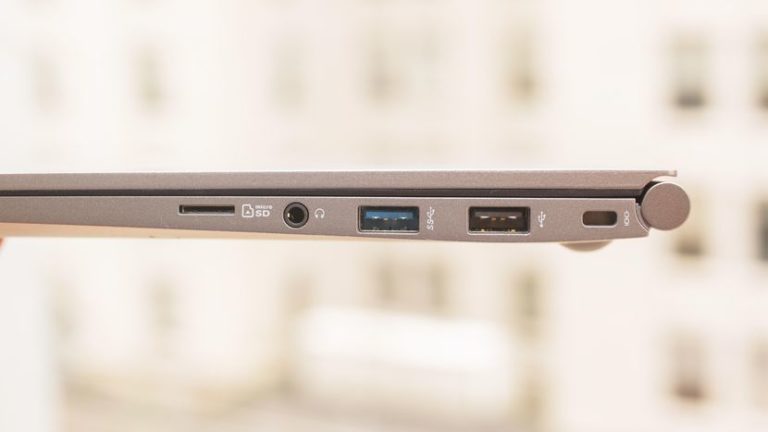 You'll forget it's in your bag
In case this review didn't hammer it home enough, without a doubt the best thing about the LG Gram 15 is its weight. Lightweight 15.6-inch laptops are a rarity to begin with, but finding one that's less than 2.5 pounds is, well, this is the only one at the moment. (Samsung's Notebook 9 comes close, though.) If you want a big-screen laptop that you won't mind carrying around all day, everyday (and can look past the meh keyboard and speakers and bad camera placement), the Gram 15 is worth the expense.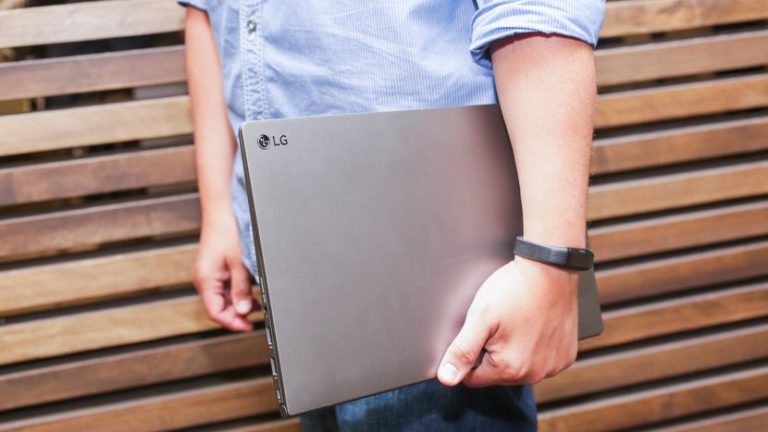 System configurations
| | |
| --- | --- |
| LG Gram 15 (2017) | Microsoft Windows 10 Home (64-bit); 2.7GHz Intel Core i7-7500U; 16GB DDR4 SDRAM 2,133MHz; 128MB dedicated Intel HD Graphics 620; 512GB SSD |
| Samsung Notebook 9 (15-inch) | Microsoft Windows 10 Home (64-bit); 2.7GHz Intel Core i7-7500U; 16GB DDR4 SDRAM 2,133MHz; 2GB Nvidia GeForce 940MX; 256GB SSD |
| Apple MacBook Pro (15-inch, 2017) | Apple MacOS Sierra 10.12.5; 2.9GHz Intel Core i7-7820HQ; 16GB DDR3 SDRAM 2,133MHz; 4GB Radeon Pro 560 / 1,536MB Intel HD Graphics 630; 512GB SSD |
| Dell XPS 15 (2017) | Microsoft Windows 10 Home (64-bit); 2.8GHz Intel Core i7-7700HQ;16GB DDR4 SDRAM 2,400MHz; 2GB Nvidia GeForce GTX 1050; 512GB SSD |
| HP Spectre x360 (15-inch, 2017) | Microsoft Windows 10 Home (64-bit); 2.7GHz Intel Core i7-7500U; 16GB DDR4 SDRAM 2,400MHz; 2GB Nvidia GeForce 940MX; 512GB SSD |
(cnet.com, https://goo.gl/XmZf2T)