Your Amazon Echo has just arrived and you might have glanced at the quick-start guide, but beyond the basic setup, do you know what Alexa can do or what services you want to integrate with your device?
Read on as we run through our list of the top things to do to get started.
Use the browser interface
Your Amazon Echo guide will tell you to download the Alexa app from iTunes or Google Play, but plenty of people have been struggling to set-up this way and we've had more success using the browser interface.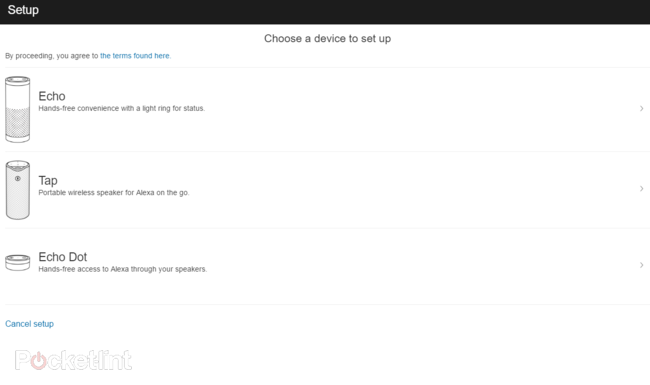 You can use this link to setup a new device, whether that's setting up your Echo in the first place or adding other devices such as the Tap and Echo Dot, or adding other services.
Although the Alexa app is great for general use, we'd highly recommend using the browser interface for the initial setup and if you've got any problems with connecting your Amazon Echo to a BT Home Hub. It also makes the other things we're going to cover in a minute a breeze too.
Setting a default music service
With a speaker built into the Echo, it makes for a good Bluetooth speaker alternative. Out of the box, your Amazon Echo will have access to your Amazon music library, i.e., anything you've purchased from Amazon and, if you have a subscription, Amazon Prime music.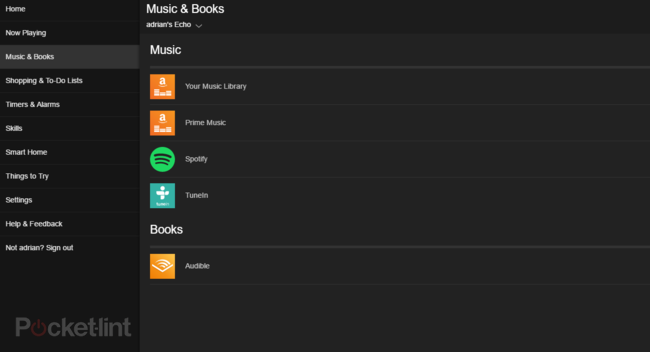 If you don't have an Amazon Prime subscription, no need to worry because there's also TuneIn radio, which is free, and the ability to connect with Spotify.
Spotify too requires a subscription, but if that's your usual music provider then setting it up as a service is easy through the interface. Just go to settings > music and media and click to authorise Spotify. This is one area people have had difficulty with when using the mobile app, especially on Android, so if you're having problems, using the browser might fix it.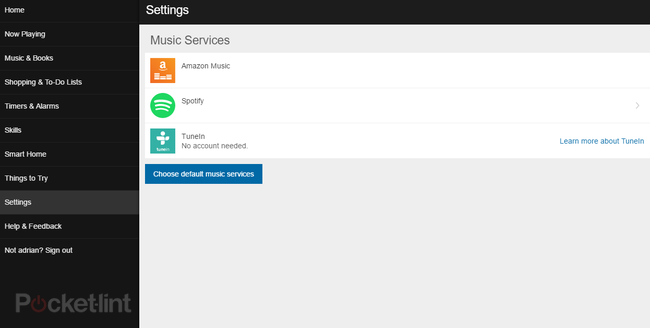 It's also worth noting that your Amazon Echo will read books to you by simple commands "Alexa, read my book" for Audible playback or "Alexa, read my Kindle book" for reading your Kindle library.
Changing your Echo flash briefing
Alexa, play my flash briefing" or "Alexa, what's new?" will start your Amazon Echo reciting news updates. By default, your Amazon Echo is set to use Sky News and while there's nothing wrong with that, you may choose to get your news from a different source.
Under settings > flash briefing you can pick from a range of different news services including BBC World Service, The Guardian, The Telegraph and more.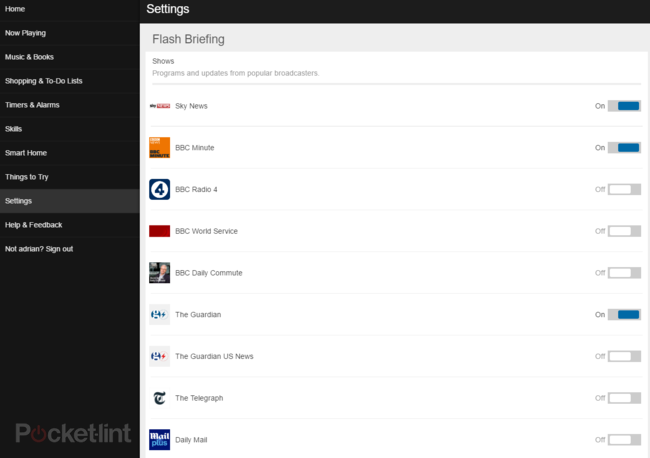 Syncing with your Google, iCloud or Outlook Calendar
Your Amazon Echo is pretty handy at helping you keep on top of your to-do list, but it's also able to help you manage your day-to-day activities. By connecting to your Google, iCloud or Outlook calendars you can get Alexa to check what's happening today or at a specific hour on a day in the future.
To do this simply go to settings > calendar in the browser interface. You'll need to authorise access to your calendar, but otherwise setup is easy.
Getting more Echo skills
Alexa is pretty smart and there's a lot of things she can help out with, but you can further improve the usefulness of your Amazon Echo by adding relevant skills.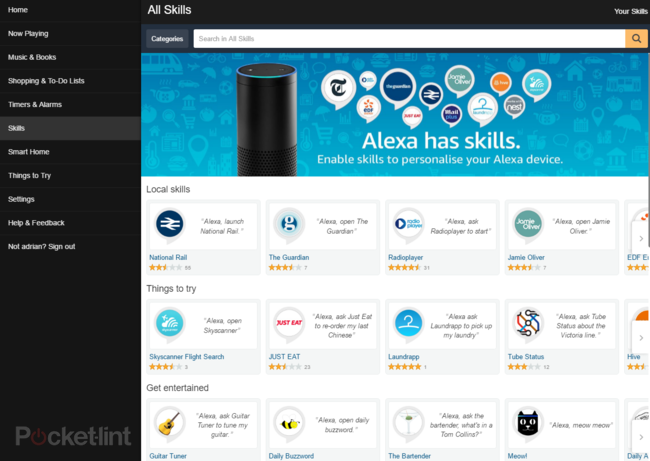 Skills are essentially plugins that allow you to do a variety of things such as ordering your last meal from Just eat or listening to UK radio. Just pop into the skills section and search for anything that fit your needs.
You can find some ideas of other skills that are fun to try in our Amazon Echo tips and tricks article.
Connect Alexa to smarthome devices
It might seem obvious, but Alexa is compatible with a range of different smarthome devices, giving you the power to control everything from your heating to your lighting if you have suitable technology in your home.
Activate and connect the relevant Smart Home skills in the interface to get started.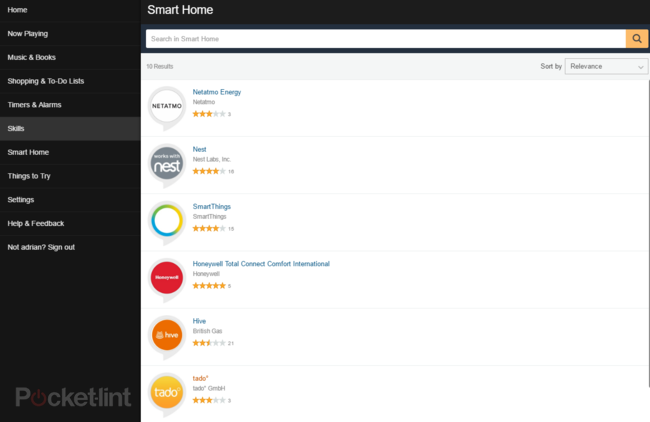 Changing your Echo wake word
This one isn't necessarily essential, but you might find it handy especially if you have someone called "Alex" living in your house.
Under the device settings you can choose to change the wake word to something else, though the choice is pretty limited. Alas, there's no option for "Hal", but you can get your mini sci-fi nerdgasm by changing it to "computer", imagine you're Jean Luc Picard and order yourself a cup of hot Earl Grey tea (presuming you have a connected smart tea maker). Other wake words include "Alexa", "Echo" or "Amazon".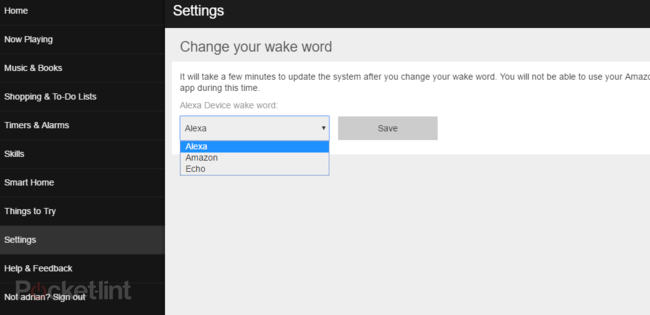 Random and fun things to try
Now you've setup all the important things, why not try out something dafter and get Alexa to entertain you? There's plenty to play with in this list.
Expand the experience
If you like it in one room, you'll want Amazon Echo in other rooms. Buying the Echo speaker over and over again could get expensive, but you could opt for an Amazon Echo Dot. The dot is the smaller, and cheaper version of the Amazon Echo that while coming with a small built-in speaker, doesn't come with large tube speaker that the Echo sports. You can though plug it in to a speaker you already own either via a 3.5mm jack or via Bluetooth.
(pocket-lint.com, https://goo.gl/7uIJ9b)