If you're thinking about waiting for the Samsung Galaxy Note 9 release date, there are some things you should start doing ahead of its launch in August.
Samsung's confirmed that its working on a successor to the Galaxy Note 8. The company hasn't showcased the Samsung Galaxy Note 9 yet, that'll happen on August 9th, but we know it'll likely hit shelves in August to do battle with the likes of the iPhone 11, Google Pixel 3, and Samsung's own Galaxy S9.
All signs currently point to a Galaxy Note 9 release date landing ahead of Apple's iPhone 11 release date. The Galaxy Note 9 is expected in late August, the iPhone 11 in September.
Rumors, benchmarks and Samsung itself have outlined Galaxy Note 9 features including S Pen upgrades, a larger battery, and more RAM. The Galaxy Note series has always delivered a ton of horsepower and you can expect the same from the next version of the Galaxy Note.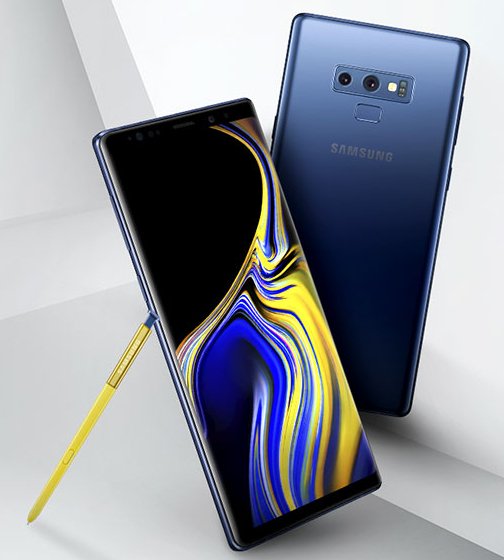 It'll take several weeks for Galaxy Note 9 rumors to firm up and for Samsung executives to take the stage and rundown the official specs. If you can't wait until August, you might want to start looking at Galaxy Note 9 alternatives.
While some of you might want to buy your new phone right now or in the near future, there are also some good reasons to hang around and wait for the Galaxy Note 9.
If you decide to wait for the Samsung Galaxy Note 9, you'll want to do some prep work as we get closer to the phone's launch date next month.
Our guide will lead you through some of the steps we think prospective Galaxy Note 9 buyers should take right now and in the weeks ahead.
Look at Galaxy Note 9 Alternatives
While you wait for the Samsung Galaxy Note 9 to arrive make sure you take a look at the rumored device's competition.
First, check out the Samsung Galaxy Note 8 and the Samsung Galaxy S9 and Galaxy S9+. The Galaxy S9 is Samsung's current flagship and the Galaxy Note 8 recently got upgraded to Android Oreo.
Next, make sure you check out the Pixel 2 and Pixel 2 XL from Google. They're two of our favorite phones from last year and two of the best Samsung alternatives on the market.
Other top Galaxy Note 9 alternatives include the OnePlus 6, OnePlus 5T, LG G7, the LG V30, the HTC U11+, and the Huawei P20 Pro.
If you aren't married to Android, you'll want to take a look at Apple's iPhone X, iPhone 8, and the iPhone 8 Plus.
When we say check out we don't mean read about their specs online. You'll want to read reviews, but you'll also want to try all of these phones out in person before the Note 9 arrives.
Get Familiar with Android Oreo & Experience 9
Google's Android P update is scheduled to arrive in Q3, but there's a very good chance the Galaxy Note 9 runs Android Oreo out of the box.
Samsung's version of Android 8.0 Oreo comes with numerous changes including its new Samsung Experience 9.0 user interface.
It includes a new keyboard, a new Color Lens feature, tweaks to the Quick Panel, new Edge features, and an assortment of customization options. The Galaxy S9's software also comes with knock-off of Apple's Animoji feature on the iPhone X.
We expect the Samsung Galaxy Note 9's software to come with many of these changes. It'll also come with some changes of its own including Bixby 2.0.
We recommend getting familiar with Android Oreo and Samsung Experience 9.0 right now. This way, you aren't caught off guard.
We've released a guide to the base version of Android Oreo and we've also released a guide to Samsung's version of Oreo.
Samsung is testing Android 8.1 Oreo on the Galaxy Note 9 so you should take a look at our guide to Android 8.1 as well. It's a little bit different than Android 8.0.
Check Your Upgrade Status
If you want to make the Galaxy Note 9 your next phone you'll want to make sure you're eligible for an upgrade in August.
The Samsung Galaxy Note 9 will debut in August which means we should see the phone arrive on shelves shortly thereafter. Rumors point to a release on August 24th in some regions.
If your upgrade isn't until late October or later, you might not be able to put in an online pre-order for the Galaxy Note 9 since your line isn't eligible.
If your upgrade comes early enough in the year, you should be able to grab the Galaxy Note 9 before or on its release date.
So to make sure you aren't caught off guard, you'll want to periodically check your upgrade status. Checking your current upgrade status is extremely easy.
Here's how to check your upgrade online at Sprint, Verizon, AT&T, T-Mobile, and U.S. Cellular. You can also call your carrier's customer service line and check your status if you prefer to talk to a human.
Keep Your Phone in Good Condition & Find a Home
If you're thinking about buying the Samsung Galaxy Note 9, be sure to come up with a game plan for your current phone sooner rather than later.
This will be easy for some of you. You might know a friend or relative who could benefit from your current device. For many others, figuring this out will take some time. And if you take too long, you could cost yourself some cash.
If you plan on selling your current device to help cut down the cost of the Galaxy Note 9, you'll want keep your phone in pristine condition because you'll get the most money back from retailers, resellers, and carriers themselves. It may be worth paying the fee to fix a broken screen.
As we push through the year you'll also want to keep your eyes on trade-in sites like Gazelle and NextWorth and see what you can lock in for your current device.
Trade-in values will likely fluctuate as we push into the summer toward a busy fall so you'll want to make sure you get top dollar for your old smartphone.
Remember, locking in a trade price at one of these sites doesn't mean you need to go through with the sale. You can always cancel if you find a better price.
You also might want to look into donating your phone to a charity. If your current phone is old and you won't get much cash back, you should think about giving it to someone less fortunate.
Research Samsung Premium Care
If you've had issues keeping your phone in one piece, make sure you start looking into Samsung's Premium Care warranty.
The company's Premium Care solution comes with a nice list of benefits including video chat, in-person support, extended warranty, and premium protection.
While the first 30 days will likely be free for new Galaxy Note 9 owners, the service will start running you $11.99 a month once the trial ends. That doesn't seem like much, but it can add up, especially if you aren't using the services.
We highly recommend reading Samsung Premium Care reviews and gathering feedback from Galaxy S9, Galaxy S8, and Galaxy Note 8 users about their experience with the service to see if it's worth it for you and your next device.
Cracked and damaged phones are not eligible for Samsung Premium Care so you'll want to make up your mind before or shortly after the Galaxy Note 9 release date.
Research Accessories
As we push toward the Galaxy Note 9 release date  it's a good idea to get familiar with case manufacturers and other accessory makers. This way, you'll know exactly what to buy and how much to spend on Galaxy Note 9 accessories.
If you aren't familiar with the world of Galaxy Note accessories we highly recommend reading reviews and digging into the best Galaxy Note 8 cases, screen protectors, battery cases, and other accessories before Samsung takes the stage.
You might also want to look into Samsung's Dex solution. The Galaxy S9's Dex Pad launches in mid-May for $100 and it's worth a look if Dex sounds appealing to you. We expect Dex to support the Galaxy Note 9.
A little research will help you get familiar with pricing (there are always a ton of deals), the pros and cons of each company, styles you like, and the level of protection certain cases offer.
Dig Into Carriers & Data Plans
If you aren't thrilled with your carrier and your current data plan, now would be a great time start digging into other carriers, your data needs.
We highly recommend spending some time looking at other carriers in your area. There are real differences between U.S. carriers and you need to be aware of those before you commit.
Research data plans at your carrier's rivals, get feedback from friends and family who use the service, and get a feel for what you might want to do when you buy your next phone. Don't be afraid to go into a store and ask questions.
Some of you might want to make adjustments to your current bucket of data. Some of you might want to switch from one carrier to another.
You don't want to be doing this two days before you buy the Galaxy Note 9. Make sure you get familiar with the costs and the fine print ahead of time and you'll be in great shape.s
(gottabemobile.com, http://bit.ly/2NFJP8f)