OUR VERDICT
HP's Elite x3 is a well-built device and a solid performer all-around. Unfortunately, Windows 10 Mobile fails to back it with enough app support to make it suited for business users and consumers alike.
FOR
Massive battery
Stunning design
Can transform into a PC
AGAINST
Lousy app support
Unwieldy size for some
There's no doubting it: the HP Elite x3 is a capable smartphone. It's packed with high performance hardware that positions it in the same pack as industry leaders, like the LG V20, Google Pixel and iPhone 7.
When connected to its included dock, the phone can even act as a PC of sorts, allowing you to crunch numbers, write up documents, or surf the web on a big screen. This is all thanks to Continuum, a Windows 10 Mobile-exclusive feature that blurs the line between phone and mobile computer.
The Elite x3 is also a devilishly snazzy phone – easily the best-looking device available on Microsoft's mobile platform. Its polished, metal-looking plastic details and 2K AMOLED screen will turn heads, and its build quality leaves little to be desired.
But, no matter how impressive the form and function, it being a Windows 10 Mobile device means that the x3 is stuck with some baggage right from the get-go.
First off, the app selection is dire. And, once connected to a monitor by its dock, you're still limited to what's been made available for phones – not Windows computers – because of its unique ARM processor architecture.
However, there's a chance (albeit a slim one) that Microsoft's Universal Windows Platform initiative could see this bleak forecast reversing soon.
HP's Elite x3 is billed as a 3-in-1 device, and aims to bring the best of a laptop, desktop and mobile phone together. And, for a phone that's supposed to set you free from the confines imposed by each product category, as well as non-Windows 10 Mobile devices alike, it's all too easy to feel trapped with the HP Elite x3.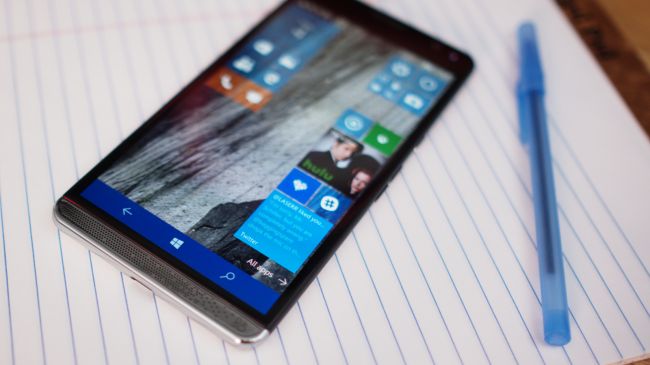 Of course, that depends who you ask. If you're a business user who has a need for just a few apps and a cohesive experience across screens, you're covered. HP even offers its own PC virtualization membership that allows you to essentially run a computer in the cloud. From an IT perspective, issuing a single device that can do it all, so to speak, is a very attractive sales pitch.
But, for most people, continuing life as normal with a laptop and a smartphone is still a better  way to operate. Better in that you'll save money, and you'll be buying into platforms that actually have the apps you're looking for without some special (and costly) solution.
That's too bad because, for $799 (£706, AU$1,199), the device and dock combination otherwise delivers a totally unique and neatly executed experience.
HP Elite x3 price and release date
Available in 51 countries spread over six continents
Works only on GSM networks
The HP Elite x3 is available unlocked for GSM carriers in 51 countries within six continents – an impressive launch for any device, let alone one running Windows 10 Mobile. HP is offering single and dual SIM versions of the phone, so be mindful of that during checkout.
In the US, you can nab the phone sans bundle for $699 (standalone device not available in UK, AU$1,099). But, it looks like the phone and dock combination is the most affordable option in most regions.
It doesn't stop there, though. You can tack on the optional accessory that allows you to wirelessly tether, or charge the Elite x3 over USB-C, for some Continuum action on a laptop-like device. If you want the phone, plus the dock and lap dock, it'll set you back $1,299. HP informed us that this add-on isn't available in the UK or AU regions at this time, but we'll be sure to stay on the lookout for official details.
Design
A large 5.9-inch screen wrapped in a slick, military-grade frame
Feels smaller than it is, but won't work one-handed for many
As a standalone handset, the HP Elite x3 stretches the definition of a phablet with its pocket-bulging, 5.96-inch screen. The display is one of the largest we've used, coming in bigger than that of the 5.5-inch screens found on the Google Pixel XL and iPhone 7 Plus.
HP's Windows 10 Mobile device measures 161.8 x 83.5 x 7.8mm. Compared to the 5.7-inch LG V20, the Elite x3 rocks both a larger screen and battery with only one tenth of a millimeter added to its depth and a bit extra to its height and width. That's impressive engineering.
It might not look it, but the Elite x3 offers military-grade toughness with MIL-STD 810G certification. It's also rated IP67, just like the iPhone 7, which will protect it from the occasional splash, but not against submersion in water. Needless to say, this phone can take a beating.
Coming back to the large size of this phone, you'll probably know for yourself if it suits your lifestyle. But, the Elite x3 will be nearly impossible for most to hold with one hand.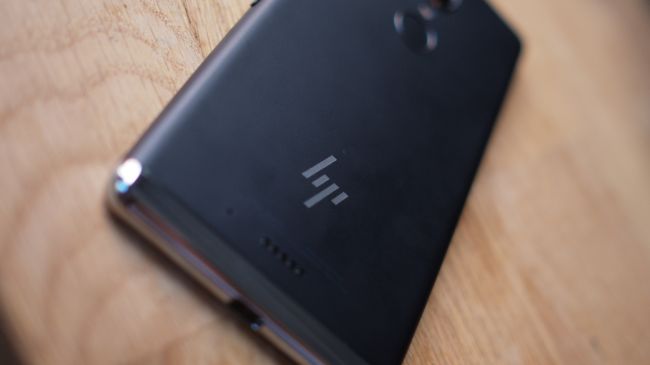 And, although the phone is massive in the hand, it wears its size well with smooth, rounded corners and minimal bezels hugging the Gorilla Glass 4-covered screen. There are thin slivers of black on its sides, while the top and bottom extend out to make room for niceties like the front-facing camera and iris scanner – not to mention the smartphone's Bang & Olufsen stereo speakers.
Touching a little more on the bottom of the phone, it's capped with plastic that's polished to look like metal, and features a unique visual pattern that's a bit unexpected, but very welcome for this business-oriented device. The extra design element helps liven up this otherwise suit-and-tie-looking device.
You'll find these little shiny touches surrounding the HP Elite x3, including around its rear-facing camera and fingerprint sensor. Otherwise, it's a glass and polycarbonate affair. At its large size, putting a case on it might seem outlandish, but this stellar build quality is worth protecting.
Interface and reliability
The HP Elite x3 is one of a few phones to run Microsoft's latest mobile operating system (OS), Windows 10 Mobile. If you're familiar with the desktop OS, the mobile flavor can be best described as a handheld Start menu. It's wall-to-wall tiles.
As you can on Android and iOS, you can tweak what's on the home screen, including the wallpaper, apps and their size and location on the screen. No matter how much or little you fill the screen up with tiles, there exists a small "all apps" button that takes you to a full list of apps and utilities built into the device.
To manage apps, press and hold the back button that's nestled alongside the Windows button near the bottom. If you want to search for something on the device or the web, Cortana is more than happy to help through tapping the magnifying glass button. And, if you want to enable the easier-to-manage one-handed mode, press and hold the Windows button.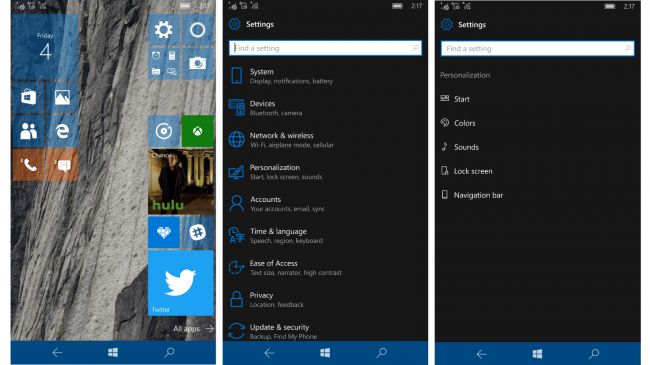 Smartphone users of any OS allegiance will feel at home quickly on W10 Mobile, and, for what it does, it does so reliably. Hopping between apps, surfing the web and doing simple tasks – like taking photos, texting, and taking calls – are simple on Microsoft's universal mobile platform.
Where this OS falls short is with its app selection. It leans on the Windows Store, which currently offers a library of apps that is barren compared against the Apple App Store or Google Play Store.
Despite hopes of a broader app offering by way of the Universal Windows Platform, things still aren't looking good – especially for anyone thinking of switching over from Android or iOS. Chances are you won't find the first-party app you love, but you might (even then, it's a maybe) find a decent third-party substitute for it on the Windows Store. Not the best look, Microsoft.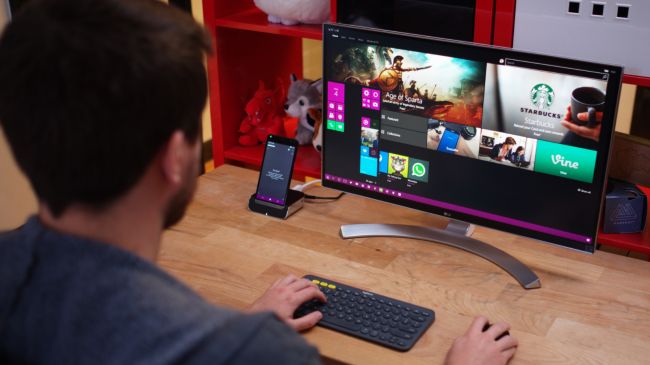 Music, movies and gaming
The HP Elite x3 is powerful enough to handle anything you throw at it, whether it be multimedia content you've purchased through Microsoft's Windows Store or stuff you've loaded from your computer or the cloud.
Using the Elite x3 as your driver has its share of ups and downs. In the case of music, you'll be treated to dual front-facing speakers powered by Bang & Olufsen that sound surprisingly rich, as well as a 3.5mm port on the device's top if you want to listen privately. In terms of music subscription services, Microsoft's own Groove Music and Spotify are the best options, if only because Apple Music and Google Play Music simply aren't available.
When it comes to video, the 2,560 x 1,440 AMOLED display with 494 pixels per inch (ppi) really shines. While watching Hulu, Netflix or a video purchased through the Windows Store, visuals are crisp and the vibrant colors pop but remain true to life. Additionally, the colorful interface and tile layout lend well to the high-quality display used here.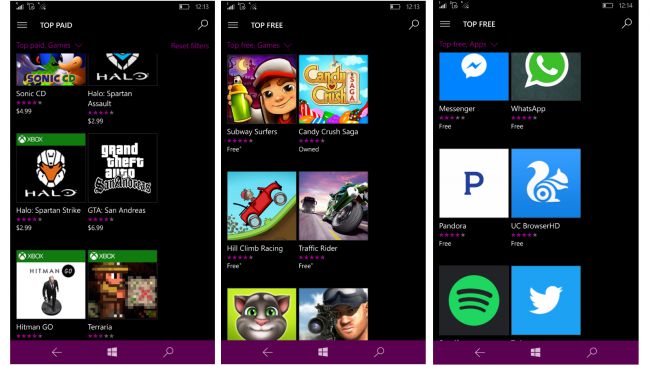 The Elite x3 is well-equipped to tackle as much gaming as you can muster. The internals, which we'll get into in a moment, can handle any game on the market currently – so long as it's on the Windows Store. Compared to its wanting selection of popular apps, there is actually a healthy amount of games to choose from.
Lastly, internal storage for multimedia won't be much of an issue. On top of the 64GB of built-in flash storage, HP has included a microSD card slot to ensure that you don't run out of space for pictures, videos and apps.
Specs and benchmark performance explained
HP's smartphone stacks up to the latest flagship Android smartphones in terms of hardware, bringing to the table a Snapdragon 820 chipset along with 4GB of RAM.
However, unlike Android phones, there's no standardized way of reliably benchmarking Windows 10 Mobile devices. The only reputable benchmarking app available, AnTuTu Benchmark, is still in beta on this OS.
All said, a phone's general performance speaks louder than a benchmark number. During our tests, whether the Elite x3 was used alone or hooked up to a monitor via Continuum, multitasking was a delightfully smooth experience.
Continuum and Windows Hello
Even if Continuum doesn't turn your phone into a full-fledged PC beat-for-beat, it's still a nifty feature nevertheless.
In the US, UK, AU and many other regions, you can pick up the HP Elite x3 with its Continuum-enabling dock, which features two USB 3.0 ports, a USB-C port, a DisplayPort for visuals as well as an Ethernet jack for a wired internet connection. For those in the office, it also features a Kensington lock slot, which will allow you to secure it to your desk or cubby.
This dock matches the aesthetic of the Elite x3, and includes several face plates to make it work best for your setup and work style. For example, one of the plates is wider than the default to fit the phone, should you get one of HP's official phone cases. Another has a USB-C cable branching off of it, allowing you to keep the phone up to your ear all while it's connected to your monitor.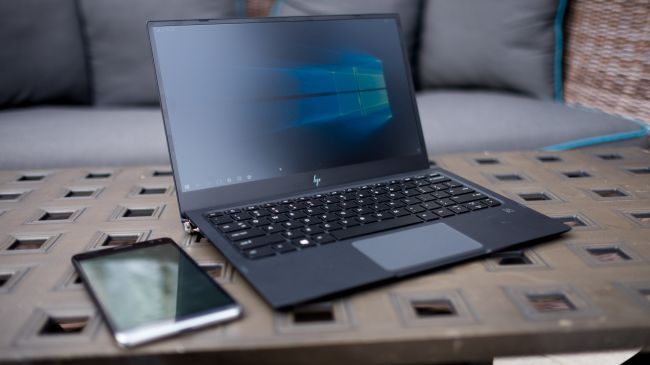 If you're on the go, you'll be happy to know that the HP Elite x3 supports Miracast, a technology that allows it to beam information to a screen wirelessly. This will work on any Miracast-capable display, including HP's own Lap Dock, an accessory that funnels the Elite x3's powers into a laptop form factor. If you want this 12.5-inch laptop accessory, it'll set you back an extra $599. As mentioned previously, HP hasn't yet released this add-on in regions outside of the US, but we'll update this section should that change.
As noted earlier, Continuum works as intended, splashing Windows 10 as you know it onto your monitor. However, it works a little differently under the hood.
Whereas your traditional computer can run x86 and x64 applications, Continuum doesn't support them natively. So, programs like Google Chrome, iTunes and Slack won't work unless there's an ARM-compatible version available on the Windows Store, which there likely isn't.
To work around this, HP offers a unique, cloud-based solution called HP Workspace. This gives users virtual access to any 32 or 64-bit application that you'd normally be able to install on a traditional Windows 10 laptop or desktop. However, it's priced at a per-user basis and is clearly not aimed at your average customer.
Pricing for Workspace starts at $49 (about £39, about AU$63) per month and, at this level, it allows users access to a virtual machine that has 4GB of RAM. For the price, HP only allows 40 hours of use per month and a limit of 10 apps to virtualize. If you want to pay more – up to $79 per month – you can virtualize as many apps as you'd like.
We've tried out Workspace, and it's definitely a unique solution to the app shortage experienced on Windows 10 Mobile. Users can specify to HP which 32 and 64-bit applications they'd like to use within the virtual machine. It also allows you to connect cloud storage from the likes of Box and Google Drive, which you wouldn't normally be able to find on Continuum alone.
As it's a virtual machine, you can expect a little lag. The feed we were trying pumped through a near 1080p signal, but at 15 frames per second. This is totally fine for typing documents and e-mails, but much less serviceable for streaming video.
The fact that this can all be done with the Elite x3 alone is impressive, but these extraneous elements required to unlock its full potential quickly become pricey and convoluted to the point that most people will be better suited by poone of the running Windows 10.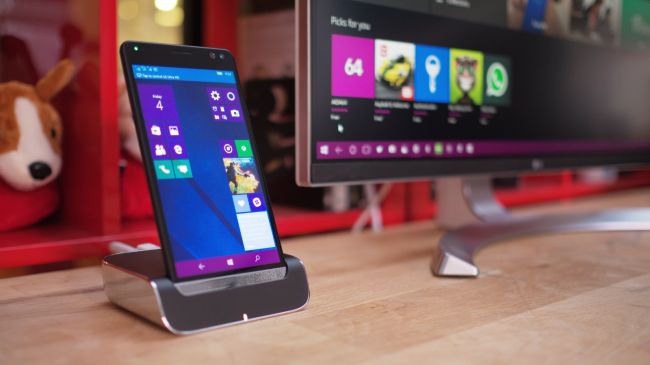 Without HP Workspace, we're left with Microsoft's suite of productivity apps, Skype, Microsoft Edge and an unclear number of additional apps. There is currently no way of knowing what will be compatible until you search for an app in the Windows Store. Again, if Microsoft's Universal Windows Platform picks up speed, we could see more Continuum-supported apps coming soon.
But, that's a really big "if".
This is less a slight against the Elite x3 itself than it is against the footnotes of the ambitious, if slightly misleading Continuum feature. All Windows 10 Mobile phones suffer a similar fate in the transformation from phone to PC, but, so long as your needs are limited to Microsoft's productivity apps and a few select others, connecting to a monitor will be a huge perk.
Hello, Windows
We first saw the iris-tracking biometric feature known as Windows Hello used in Microsoft's own Lumia 950 and Lumia 950 XL, and it's nice to see its return on the HP Elite x3. In addition to setting up a fingerprint for secure entry, you can hold the phone a few inches away from your eyes to log in. It's a nifty trick that we've begun to see trickle into the Android world with the short-lived Samsung Galaxy Note 7, and it's rumored to show up in the LG G6, too.
As Matt Swider said in his review of the Lumia 950, Windows Hello is definitely novel, but it's a slower method of logging into a phone than simply holding a finger to the fingerprint sensor. If your information requires the utmost security, you'll appreciate Windows Hello more than most, and the sometimes-sluggish feature won't change your mind about that.
Thankfully, the best-looking Windows 10 Mobile device by a long-shot doesn't slouch on its battery capacity. HP has made good use of the space inside of its 5.96-inch Elite x3 by packing in a whopping 4,150mAh battery.
If you're using this phone primarily for its Continuum skill, battery life won't be of concern as it will be connected to power at all times. However, it's definitely a concern for those taking the Elite x3 on the go.
During our time with the Elite x3, it had no problem lasting over a day of continuous use. Even under normal to heavy use, we had a rather difficult time draining the large battery in 24 hours. In addition, we've seen it last several days in standby mode.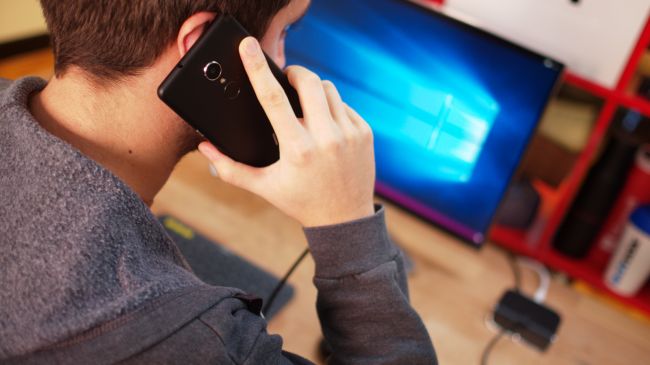 Thankfully, once it does die, it doesn't take very long at all to get things up and running again. On the dock, it took two minutes to power on. From there, it reached 16% after 15 minutes of charging. According to HP, you can squeeze more than two hours of phone calls, or nearly an hour and a half of web browsing at this level. At the one hour mark, 70% of this massive battery had refilled, and after another 40 minutes, it was completely recharged.
If you have some Qi wireless charging stations in your abode or office, you'll also be happy knowing that the HP Elite x3 can charge wirelessly.
Camera
HP's office-friendly smartphone features both a front-facing and rear-facing camera setup for your photography and video conference needs.
Focusing on the 16MP rear sensor, it has an aperture of f/2.2, which lends it the ability to shoot relatively well in low light. It's not the best low-light performance we've seen – that distinction goes to the Samsung Galaxy S7's f/1.7 aperture. But, in a pinch, it works well enough.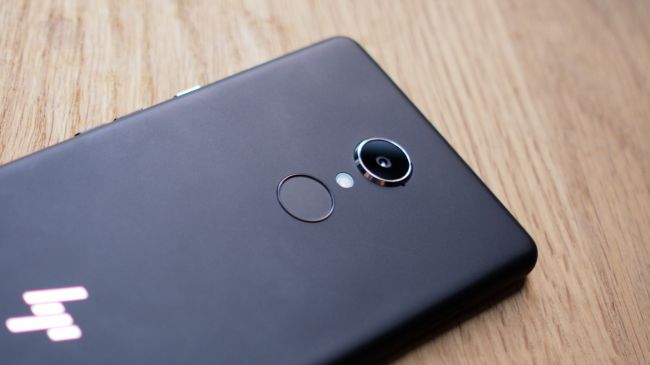 The Elite x3's main lens is also capable of shooting large pixels, sized up at 1.31um. Compared to the Nexus 5X and Nexus 6P's 1.55um pixel size, this still runs a bit small. All said, bigger pixels are good because they allow for less overall noise. Lastly, this camera can also record in 4K resolution at 30 frames per second (fps).
Ultimately, the photos provide decent contrast and detail, but definitely don't hold a candle up to what, say, the Google Pixel or the iPhone 7 can shoot.
Looking at its front-facing camera, HP has installed a robust 8MP sensor here that also has an aperture of f/2.2. Additionally, it can shoot large pixels at 1.12um and record in 1080p at 30 fps. The quality is totally suited to video calls and the one-off selfie, but it's nothing remarkable.
Check out our photo samples below.
Here's what the HP Elite x3 is: the best-looking phone to be released yet on Microsoft's Windows 10 Mobile platform. It also puts forward optional virtualization tools that actually turn it into somewhat of a PC substitute.
Here's what it isn't: a strong enough signal that the problems of said platform are about to be fixed. It still relies on the Windows Store for app support, which there really isn't enough of.
And, even though the phone is on the large side, HP's smartphone is a stroke of engineering mastery in a highly competitive sector, which is surprising given the company's limited experience making devices other than computers.
Who's this for?
The HP Elite x3 is primarily for business folk, or those who place fast and easy access to productivity tools first, whether you're on-the-go or wired up to a monitor.
It's also for the person who just wants a really well-built smartphone. The build quality and design are masterclass, and its internal components can tear through anything you throw at it.
Should I buy it?
If you're looking for a smartphone that offers more flexibility than what you can find on Android or iOS, then you should absolutely consider the HP Elite x3. But, due to the limitations imposed by its middling app support, we can't outright recommend it to the general public.
The HP Elite x3 is a fantastic smartphone that nails the basics. But, as it stands, it's not greater than the sum of its parts – it's less. Windows 10 Mobile is the link that ought to boost this phone's credibility, but it only acts to knock it down a peg despite all it has going for it.
(techradar.com, https://goo.gl/M4QaAt)
Comments
comments