The Good: Bose's SoundSport Free, a set of totally wireless earphones, offers richer sound than Apple's AirPods and a more secure fit. The buds are water-resistant and durable, battery life is decent and a charging case provides two extra charges on the go.
The Bad: Fairly pricey. Some reports of audio syncing issues when watching videos. Buds stick out pretty far from your ears.
The Bottom Line: Better than the AirPods in some ways, the Bose SoundSport Free are among the best totally wireless headphones, although some small performance issues keep them from achieving a more exalted status.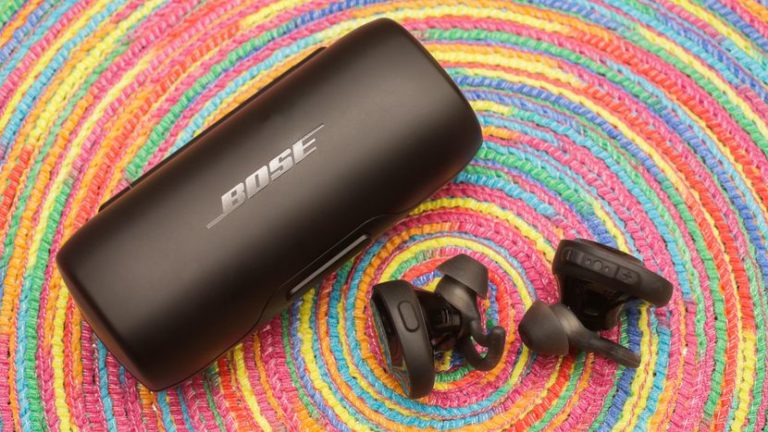 Apple's AirPods may have dominated the totally wireless headphone market since their release but some compelling alternatives, including the Bose SoundSport Free, have hit the market in recent months.
The Free is essentially the cordless version of Bose's popular and highly rated SoundSport Wireless earphones, and it's one of the best totally wireless models out there, though it's not as perfect as it should be given its $250 price tag. (Initially it will only be available in the US. International retail prices haven't been announced, but the Stateside price converts to about £185 or AU$315.)
Marketed as a true sports headphone, SoundSport Free has a couple of advantages over the AirPods. For starters, the buds fit more securely. Yes, a certain percentage of AirPod users can get a snug enough fit to use them while running — they work great for those people. But plenty of others, including me, can't run with their AirPods. They simply won't stay in my ears.
Like the SoundSport Wireless, the SoundSport Free are equipped with Bose's StayHear+ Sport tips. What's great about them is that they comfortably lock the buds into your ears and seal out a good amount of ambient noise, maximizing sound quality without really jamming the tips into your ears.
Instead of an inline remote, the control buttons, including volume controls, are integrated into the buds themselves. They're little small and a touch stiff, but they worked better than I thought they would. I had no problem skipping tracks forward by double clicking on the middle button with my fingernail. The only real design gripe I have is the same one levied at the SoundSport Wireless: The buds stick out from your ears quite a bit and aren't exactly discreet.
The SoundSport Free also sound better than the AirPods, with more bass and richer sound overall. For those familiar with the "corded" SoundSport Wireless, the SoundSport Free has a very similar sound profile. As I said about that model, there's some clarity missing (the highs are a little recessed), but you get lots of bass and the midrange sounds pretty natural and warm. They also sound pretty open and played plenty loud (for me anyway).
Inside, in a quiet room, the bass can sound a little bloated, which gives everything a slightly dull edge. But when you're walking around outside, the bass sounds toned down because it's competing with ambient noise, whether it's the wind or traffic or whatever. If you didn't have that extra bass the headphone would sound thin outside. The way it's tuned, it sounds smoother and better balanced outdoors and in noisier indoor environments (like a gym). I thought they sounded a little bit better than the Jaybird Run totally wireless headphones, which I also like.
Rugged design
Because the buds are on the larger side, Bose has been able to equip them with adequate sized batteries. While they don't have Apple's custom W1 Bluetooth chip, in my tests they delivered (like the AirPods) Bose's claimed five hours of battery life at moderate volume levels. The included charging case provides two additional full charges for up to 10 additional hours of battery life. Note that the case is significantly larger than the AirPods' case and not nearly as lightweight.
The earphones are sweat-resistant, with an IPX4 water-resistance rating. While Bose doesn't advertise full waterproofing, the buds survived a complete dunking without a problem in my tests. They seem sturdily built.
Due to their small, independent nature, there's a perception that totally wireless earphones are easy to lose. They are. To that end, there's a new "Find My Buds" feature on the Bose Connect App that displays the last time and place they were used to help locate them should they get lost. You also use that app to update the buds' firmware, which, at the time of publication is on version 1.2.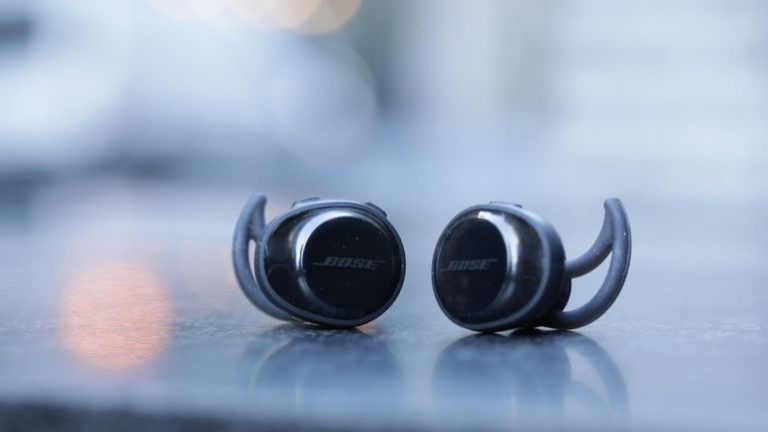 One of the reasons I'm mentioning the firmware is because Bose has promised a software update that's intended to fix some small problems that users are experiencing — they mainly involve audio syncing when using certain video apps. Bluetooth is inherently laggy and that lag can even be more noticeable when you're dealing with a set of totally wireless buds. And so what happens is that unless the device and app you're using have a video delay built in, the audio can be a touch behind. Sometimes it's barely noticeable and sometimes it's really noticeable.
I personally didn't have an issue with audio/video syncing using an iPhone X and Samsung Galaxy S8 Plus. I watched iTunes and Google Play movies downloaded to my devices, streamed Netflix and Amazon Prime movies and watched YouTube videos. Initially, there was sometimes a touch of lag, but after I watched for a minute or two everything synced up well. Maybe not totally perfect, but it was comparable to what I've experienced with other Bluetooth headphones and I had no trouble watching. Regardless, the aforementioned software update is coming.
The other complaint some people have had is with the left bud dropping out. I had minimal dropouts and interference, but editor John Falcone had some dropouts walking the streets of Brooklyn using an iPhone 6. We restarted his phone and the dropouts seemed to subside, but they didn't disappear — for John anyway.
I've also seen some criticism of the way the SoundSport Free acts as a headset: Sound only comes through the right earbud, making it a mono situation. It is a little disappointing that that you don't get stereo sound, but the Free does perform very well as a mono headset. Bose clearly made a tradeoff to get better performance, but the AirPods and many other totally wireless buds will let you make calls in stereo.
Ratings redux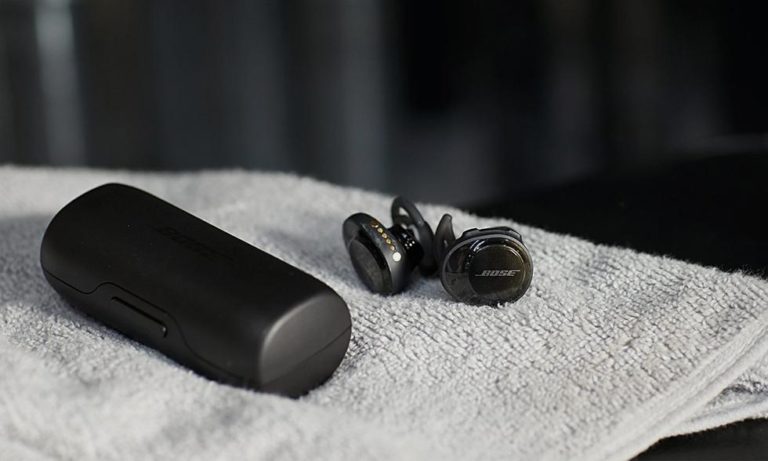 As I said in the intro, this is one of the best totally wireless headphones out there right now. It fit my ears comfortably and securely, sounded good, and performed well over the six weeks I spent using it as a sports headphone at the gym (and while running) and as an everyday headphone. It's hard for me to go back to using the SoundSport Wireless after using this totally wireless headphone, which says a lot about how good it is.
However, as thousands of people have now bought them and used them with different devices and in different environments, the experience hasn't been universally great. And people expect great when they're paying $250 for a headphone.
The AirPods also had a few bugs that ended up having to be patched with firmware upgrades. Because of those bugs, I initially gave the AirPods a 3.5-star rating (they're now at 4 stars). And that's the rating I'm going to go with here. As soon as Bose's firmware arrives, we'll update the review and possibly revise the rating.
(cnet.com, https://goo.gl/5kRSsv)
Comments
comments