Tech is getting more expensive. Apple, Tesla, Nescafe and just about every other company out there has either already put up prices in the UK, or is planning to do so.
That makes laptops like the Acer Spin 5 all the more important. Normal folk who were on the cusp of buying a MacBook last year are being priced out like Brixton flat buyers, so more affordable laptops such as this are there to take care of the wounded.
The Spin 5 is flexible, has a great screen, is powerful enough and has the price we're after. But it's not built like a MacBook. Does that matter for the money?
Acer Spin 5 review: Design
Plastic body, metal lid
19.7 x 329 x 229mm; 1.62kgs
Dealing with the worst bit first: the Acer Spin 5 doesn't feel expensive, or all that tough.
Everything but the lid is plastic, and even that one bit of metal doesn't instantly look like the stuff because it uses a cross-hatched pattern finish. There's a reason why Asus and HP haven't nicked this idea. Plain anodised or lightly brushed metal looks better.
This cross-hatched style is used on the plastic bottom too, but the plastic inside, around the keyboard, is faux brushed metal.
Polarising mixed finishes aside, the Acer Spin 5 is actually a very neutral-looking laptop. All-black, you only really notice the textures when you get up close.
Using plastic rather than metal might lead to you assume the Spin 5 is going to be light, but at 1.62kgs it's actually only just light enough to fit in the slim and light category.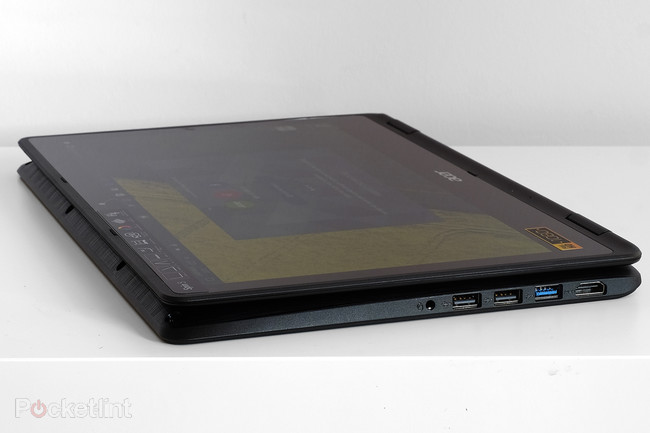 However, at the price the big rival is the HP Pavilion x360, which is only fractionally thinner and lighter. If you want something truly slim and light, look for a laptop with a standard hinge or prepare to pay more.
The one Acer Spin 5 build element that continued to annoy us after the first five minutes is the flex-happy keyboard surround. Where, for example, most mid-price HP laptops feel built to withstand being punched, this one bends when you press moderately hard around the trackpad or keyboard.
It does seem to only be this one panel of plastic that's a bit weak, though. The lid isn't too bendy and the underside plastic seems much tougher too. You don't need to worry about the Acer Spin 5 falling apart in your rucksack, it's just a pity the weakest part of the laptop is the one you touch most often.
Acer's own Swift 3 has a much more impressive build for slightly less cash. What that laptop doesn't have is the Spin 5's flexible hinge. Like a Lenovo Yoga 11 710, the hinge flips all the way around to meet the keyboard's backside. It's the most homely of hybrids, ready to sit on your kitchen worktop and act as a digital cookbook, or sit on your paunch to let you watch Netflix when you're in bed, feeling literally too lazy to move.
Acer Spin 5 review: Screen and connectivity
13.3-inch, 1920 x 1080 resolution screen (800:1 contrast)
1x USB 3.0, 2x USB 2.0, Ethernet, HDMI, microSD card ports
Given the hinge makes this a modern kind of laptop, we're a little surprised to see Acer leave out a USB Type-C port, fast becoming the norm for all but the cheapest of laptops. You get one USB 3.0, two USB 2.0, an HDMI and a microSD slot (why it's not a standard SD we have no idea).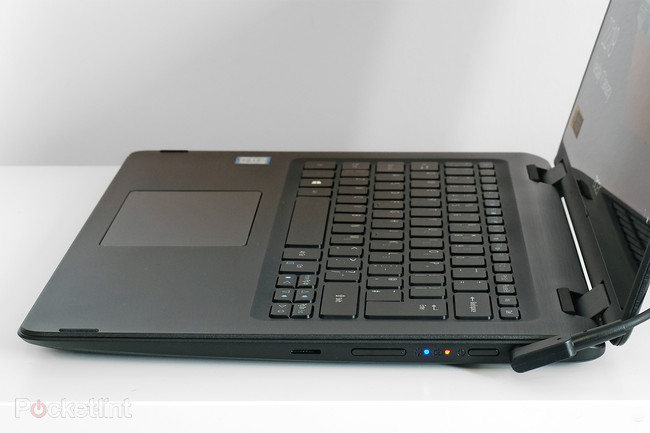 The Spin 5's screen is fairly tablet-like; it has a touchscreen, a glossy finish and decent-if-not-remarkable 1080p resolution.
It's a very good screen for the price, with contrast better than some much more expensive laptops (at 800:1) and colour performance on-par with many of them too. Sure, a new MacBook, Razer Blade Stealth or an OLED laptop is going to make colours pop a lot more, but if you're after a normal colour laptop rather than a super-saturated wide gamut one, the Spin 5 fits the bill.
The screen is fairly bright too. We tried using it at a sun-soaked end of a pub (we don't work outside when the temperature hovers around 1C) and didn't have to use full brightness to see what was going on.
For the nerds out there, its max brightness is 303cd/m. That's pretty bright, if not supernova enough for Acer to claim it as a key feature.
Acer Spin 5 review: Keyboard and trackpad
Shallow press keys
Built-in backlight
Plastic trackpad
As long as you're not too bothered by the plastic feel, the Acer Spin 5 makes a good roving worker laptop. The keyboard is good, with the same high-quality feel we've seen in Acer's other recent mid-range laptops. Keys have a soft action and are typical of the classic ultrabook design in their shallow style, but are comfortable to type on for hours.
There's a backlight too, making it easier to work in the dark. That's something you don't even get on the top-end Acer Swift 7.
Other Acer laptops like the cheaper Acer Swift 3 feel better still, though, because you don't have to deal with the slight flexing of the plastic plate in which the keyboard is mounted. It makes a keyboard feel that bit less well-defined.
The trackpad is solid aside from the issue that we've already raised what feels like a dozen times already elsewhere: it's plastic. This means when you glide your finger back and forth, it won't feel as smooth as a high-end glass pad. Most laptops around this price use plastic, though.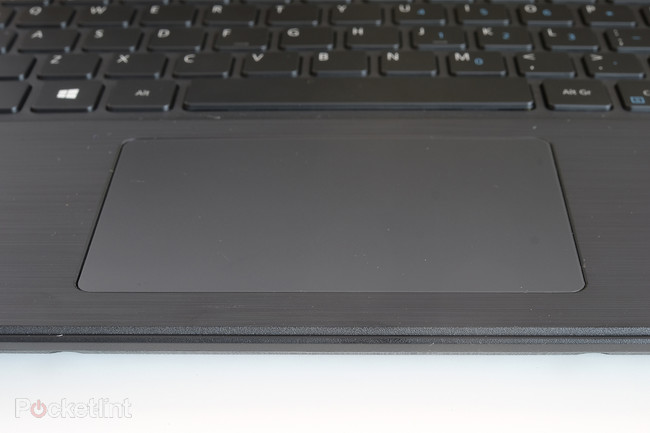 After using the Acer Spin 5 for a couple of days, the only part of the pad that continues to grate is the button layout. This is a pad with integrated buttons, but still gives the left and right a 50-50 split of the pad's width. We find relegating the R button to the bottom-right works better. It's a tactic HP uses in its similarly-priced Envy laptops.
Acer Spin 5 review: Performance
Intel Core i5-7200U (2.5GHz dual-core)
Built-in Intel HD 620graphics
8GB RAM; 256GB SSD
Pay more and you can get a nicer frame and fancier trackpad, sure, but the Spin 5 has almost exactly the same power as many more expensive ultraportable laptops. Our particular model uses an Intel Core i5-7200U, a fairly recent CPU for January 2017.
If you already have a last-gen laptop with a Core i5, the improvements are nothing to get too excited about, but the Acer Spin 5 does have enough power to make Windows 10 sing. As the laptop uses a 256GB SSD there's no hard drive to slow things down either.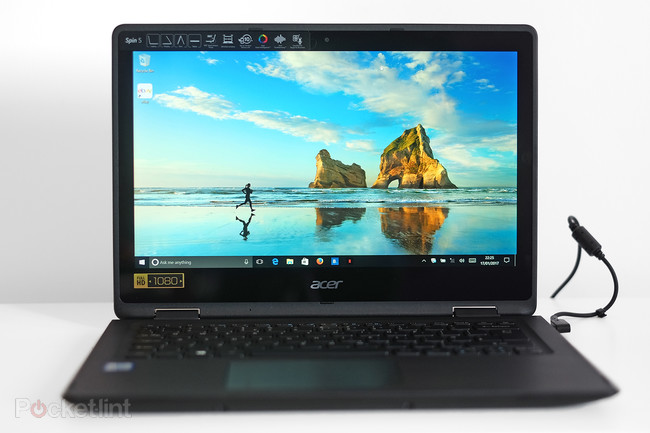 The 8GB RAM gives you room to open up a bunch of programs without the system slowing to a crawl. Right now that's the amount we recommend to any laptop-buyer on a budget.
Unless you're a hardcore gamer/video editor/power user, you'll have no problems with the Spin 5's performance. It's not laggy, and in general use feels close enough to as fast as Windows machines get. For the basics, anyway.
Like almost every slim and light laptop, the Spin 5 does not have a dedicated GPU, relying on the Intel HD 620 baked into Kaby Lake processors. These integrated graphics chipsets aren't completely useless, but by the standards of the PC gaming elite, they are. You can play The Elder Scrolls: Skyrim just fine (1080p, low/mid settings), but you probably shouldn't even bother approaching The Witcher 3 as you'll get sub-15fps, and not even at 1080p either.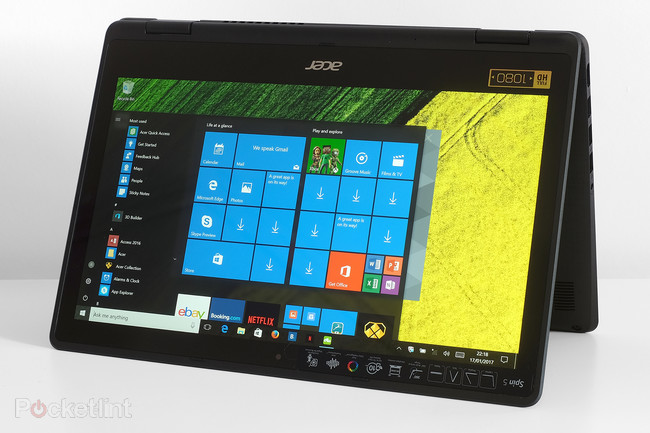 This stands for every slim laptop bar the Microsoft Surface Book, though, which has a bit more going on under its magnesium surface. Under pressure the Acer Spin 5's fans do make a bit of noise, but as it's not a high-pitch whine we don't mind too much.
Acer Spin 5 review: Battery life & sound
Around 10-hours battery per charge
Battery life is great too. When using the default power management software, working on the laptop for an hour with the brightness at around 65 per cent, typing away as we usually do, ate just 10 per cent of the battery.
Feed the Spin 5 an easy task and you'll get around the 10-hours of use. There's definitely a good chunk of performance management going on, though, because Skyrim runs much slower away from the power adapter using the standard battery saver plan. It doesn't ruin Windows 10's feel, mind.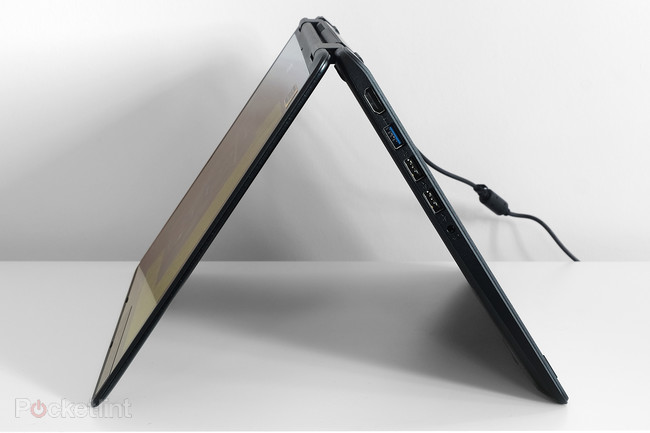 The last of the Acer Spin 5's little compromises is speaker quality. They don't sound bad, aren't harsh or paper-thin, but also don't have the sheer volume or middy bulk of the best mid-range laptops.
Treat the Spin 5 as a portable laptop and the positioning can be an issue too. The driver grilles sit on the flat underside of the bottom rather than at the curve of the edges, meaning you tend to partially block them when using the laptop on your knees. Even in other positions thanks to the hinge they're not ideally placed.
Verdict
If you're in the US, you can grab the Acer Spin 5 at a great price right now: at $499 for the entry-level model it's highly competitive for this sort of laptop; at the time of writing you'll even find the 256GB SSD version for that price. It's a bargain.
In the UK you'll pay £629 for the 256GB version though. It's the old awkward US-to-UK price problem magnified thanks to the diminished pound. However, even with this considered the Acer Spin 5 is a good-value buy – as long as you don't mind living with the less-than-impressive build.
In context the Spin 5 is £250 cheaper than the Asus ZenBook Flip and £20 less than the HP Pavilion x360. It can't quite outsmart the Lenovo Yoga 11 710 in terms of price though and while the 2016 version of the HP is more solid, the Acer has a much better screen and a more neutral look. All that makes it a solid, affordable contender.
Acer Spin 5: The alternatives to consider
Lenovo Yoga 11 710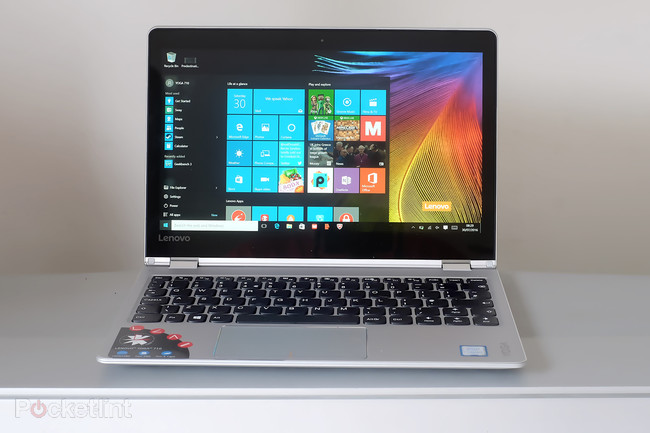 If power isn't the be-all and end-all of your purchase then the silent and fan-free Core M processor inside this flexible and affordable Yoga might be the perfect purchase.
HP Envy x360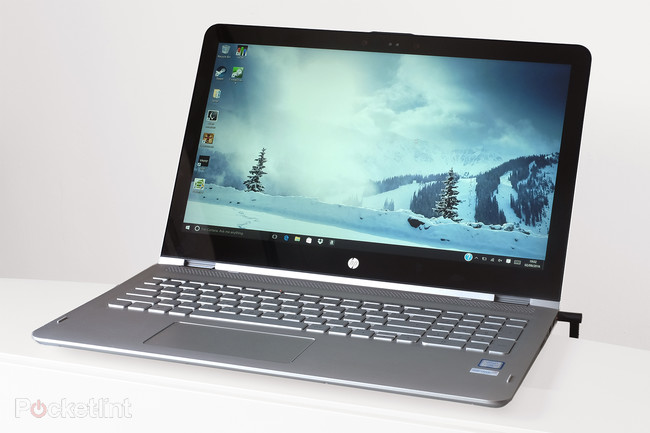 A little pricier than the Pavilion x360 option, the Envy ups the build quality compared to the Acer. If that's important then this is a viable alternative.
(pocket-lint.com, https://goo.gl/vK6VYf)