First out in the 1970s, the VanVan from Suzuki has that charming retro look that screams UJM. Newly reintroduced here in the U.S., the VanVan gets a 200 cc engine, an upgrade from the old 125 cc model. In typical scrambler fashion, the VanVan 200 is the dirt-road/gravel-road/loose-dirt ride that qualifies it as a "sandbike" because of the fat rear tire that keeps you going.
Better than an ATV in some situations, the Vanvan is lightweight and capable, perfect for a jaunt around the ranch, a quick run up the trapline or an excursion down the beach — anywhere the ground is loose and four wheels just won't do.
Design
It's a typical-looking UJM (Universal Japanese Motorcycle) that was so popular back in the '60s and '70s with some modern techno to keep it real. Two-up seating is narrow and relatively low, making it easy to find the ground for those of us with short inseams.
Push-button starting made easy with the fuel-injected system shows its modern side, but I almost wish for an optional kick-start considering the intended use of the bike. If I'm away from the pavement, I like having low-tech options. While I'm thinking about a wishlist, how about some fold-down mirrors? That would be nice offroad  as well.
Instrumentation is easy to read and mounted high enough to be available at-a-glance. I hate it when I have to look down to see the gauges. The headlight is what you'd expect — classic round — though a dual set-up would suit me better, and I've never been a fan of the big, chunky taillight, but the better to see me with, I suppose. It's retro and it looks retro. Maybe I'm being a little too critical today.
Chassis
Suzuki starts out with a diamond-style, tubular steel frame with a single downtube that uses the engine as a stressed member to complete the circuit, as it were. Not only does this lower the engine in the frame, but it completely eliminates a chunk of tubing which helps keep the overall weight down. Standard forks support the front on 33 mm tubes, and a single coil-over shock tames the yoke-style swingarm in back, both with 5.35 inches of wheel travel but nothing in the way of adjustability.
Laced aluminum rims mount balloon tires that are almost comically large for the bike with a 130/80-18 up front and a 180/80-14 in back, and the tires themselves come in an on-/off-road profile for a variety of options when considering where to ride.
A two-pot caliper binds the front brake disc, and Suzuki kicked it old-school with a mechanical drum to slow the rear wheel. Normally I would bemoan the drum at this point, but at less than 300 pounds soaking wet, even I have to admit it's good enough in this case.
Drivetrain
Suzuki's choice of propulsion also contributes to the low overall weight. Nothing says "keeping it simple" like an air-cooled thumper, and that's exactly what we have here. The single-jug, four-stroke mill displaces a mere 199 cc with a single over-head cam to manage the valve timing. Not content to rely on cooling-fin radiation alone, the factory added an oil cooler for an extra layer of protection for the engine's lifeblood.
Not so simple is the induction management. An electronic fuel-injection system meters the air-fuel ratio for economy and emissions, and Suzuki's automatic idle speed control (ISC) makes for easy cold starts and stable idling with no input from the rider and a catalyst in the exhaust system that burns off any nastiness that escapes the combustion chamber. Sure, a carburetor would be even simpler, but that makes it tougher to meet emissions standards for road use, so here we are.
In spite of its small size, Suzuki stayed retro and treated the VanVan like its full-size bikes and used a manual transmission and clutch to send power to the rear wheel. It may have been tempting to throw some sort of scooter-like CVT unit on there, but since it comes with a conventional, manual setup, it definitely qualifies as a good trainer bike. Unlike the 125 cc version with its six-speed tranny, the VanVan 200 has a five-speed.
Pricing
MSRP on the 2017 VanVan 200 is an affordable $4,599. Available in Metallic Triton Blue and Metallic Matte Fibroin Gray, the VanVan comes with a 12-month, unlimited mileage, limited warranty.
Competitors
The VanVan is more or less a mini scrambler, a look reinforced by the whole retro vibe it has going on, so I knew I wasn't going to find a competitor based on looks alone. Once I got past that and considered designed purpose, engine size and price it didn't take long to settle on the TW200 from Yamaha.
Right off we notice the more dirt-centric look of the TW200 , sort of a dirtbike-made-chubby by its truncated frame that leaves it with a short, 52.2-inch wheelbase, just a hair under the 54.5-inch wheelbase on the VanVan. In spite of the shorter length, the Yamaha carries its bench seat at 31.1-inches tall, almost a full inch higher than the 30.3-inch high Suzuki.
While the 5.35-inch suspension travel on the VanVan is probably plenty for most riders, Yamaha takes it up a notch with 5.9 inches of travel in the back and a whopping 6.3 inches of travel up front. Both bikes use a drum rear brake to supplement the front hydraulic disc, and both sport laced rims with fat, dual-purpose hoops that look like they would handle loose and soft surfaces such as sand like a boss.
The Yamaha mill gives up a mere 3 cubes to the 199 cc VanVan, and it sticks to the same air-cooled, one-lung format but with a 28 mm Mikuni carburetor to feed the beast. Call me old fashioned, but I'll take the carb over fuel injection for simplicity. Both bikes run a standard, big-bike control layout complete with a manual clutch and five-speed, constant-mesh transmission to regulate speed and operating RPM.
Prices are identical at $4,599, which almost raises suspicion of collusion. (Just kidding guys, take it easy.) In the end, it really comes down to whether you want something that looks like a fairly modern mini-enduro bike, or something that looks more like a classic homemade scrambler.
Is there a winner? I might go for the more comfortable seat on the VanVan as the hard seat on the Yamaha just begs for you to be up on the pegs more than not.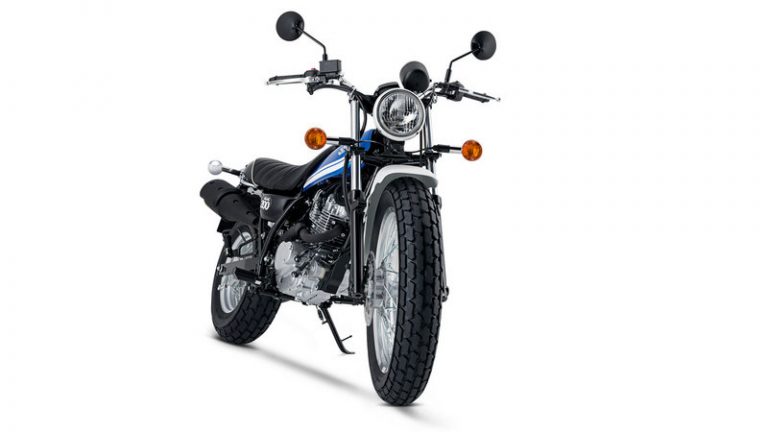 He Said
My husband and fellow motorcycle writer, TJ Hinton, says, "I gotta say that I'm liking the VanVan, maybe not so much for what it actually is, but more for the retro-tastic vibe that I don't quite recognize, but feel like I should. It has a kind of '70s-ishness that I find appealing, and it looks perfect for beach and riverbank shenanigans — the sort I'm a little too old for, to be honest."
She Said
"Ha! I'm older than my husband and I'm down for some riverbank shenanigans, I assure you. This is a snappy little bike, well suited for places that don't have pavement. It's a 200 cc engine, so the more weight you pack on, the more it groans; but for run out to check the fenceline, camping on the beach, or a spin up the logging road, this bike is a blast."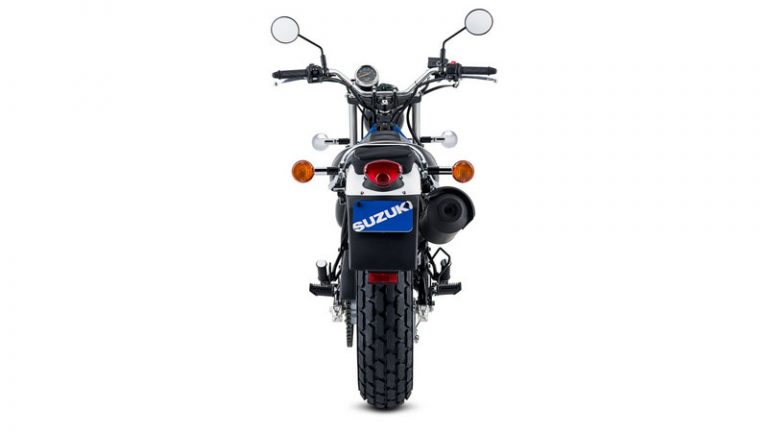 Specifications
| | |
| --- | --- |
| Engine: | |
| Engine: | 199cc, 4-stroke, air-cooled, 1 cylinder, SOHC |
| Fuel System: | Suzuki fuel injection |
| Starter: | Electric |
| Drive Train: | |
| Transmission: | 5-speed constant mesh |
| Chassis: | |
| Suspension Front: | Telescopic, coil spring, oil damped |
| Suspension Rear: | Swingarm type, coil spring, oil damped |
| Brakes Front: | Disc brake |
| Brakes Rear: | Drum brake |
| Tires Front: | 130/80-18 M/C 66P, tube type |
| Tires Rear: | 180/80-14 M/C 78P, tube type |
| Fuel Tank Capacity: | 6.5 L (1.7 US gal) |
| Electrical: | |
| Ignition: | Electronic ignition (CDI) |
| Dimensions and Curb Weight: | |
| Overall Length: | 2140 mm (84.3 in) |
| Overall Width: | 865 mm (34.1 in) |
| Wheelbase: | 1385 mm (54.5 in) |
| Ground Clearance: | 220 mm (8.7 in) |
| Seat Height: | 770 mm (30.3 in) |
| Curb Weight: | 128.0 kg (282.2 lbs) |
| Warranty: | |
| Warranty: | 12-month, unlimited mileage, limited warranty* |
| Extensions: | *Extensions available through Suzuki Extended Protection (SEP) |
| Details: | |
| Color: | Metallic Triton Blue & Metallic Matte Fibroin Gray |
| Price: | $4,599 |
(topspeed.com, https://goo.gl/s5ZhNz)