In direct competition with Harley-Davidson and other Made-in-the-USA brands in the traditional American style of a heavier motorcycle, Victory continues to reap a share of the market. When Polaris pushed a major expansion of production and marketing of Victory Motorcycles in 2010, it introduced the Cross Country as a hard-bagged cruiser with a handlebar-mounted fairing. For 2016, the Cross Country is still a contender, with the awesome Freedom 106/6 engine, a six-speed — with overdrive — transmission and smooth, on-demand power.
Even at 800 pounds, the bike seems well balanced and is easy to handle at low speed in traffic and while cruising the parking lot looking for an empty slot. On first rides, I've heard more than a couple of people said they really liked the way the bike handles and that was even before they got it out of the parking lot.
Design
Once out on the road, the two-up seating is very comfortable right from the git-go, and stays comfortable even on long rides. The seat height is a low 26.3 inches, which is notable considering the ground clearance is almost six inches. Taking a corner with a little lean won't automatically scrap the floorboard. Tony Carbajal of the Victory stunt team says, "Even with bags, these bikes have an amazing amount of lean capabilities." If a professional motorcycle stunt rider says it, you gotta believe it 'cause you know he's pushing that bike to the limit.
What would a bagger be without bags, right? Okay, so it would be a cruiser; but that aside, let's look at storage in the Cross Country. Two waterproof and lockable hard saddlebags give you just over 21 gallons of storage. The compartments aren't big enough to stash a full-face helmet, but there's plenty of room for gear.
Instrumentation on the console inside the fairing is easy to read — two big gauges for speedometer and tach as well as indicators and warning lamps for all the usual stuff. The speed-controlled sound system comes with Dual Kicker® premium speakers.
The Cross Country seems a little quiet for me. I'd like to have a bit more robust sound out of the V-twin, but that can be resolved in the accessories catalog with a Stage 1 Tri-Oval Exhaust. While you are perusing the accessories, check out the ape hangers for a more custom look, the saddlebag-lid audio speakers for an additional 100 watts of sound and the Klock Werks® flare windscreen for great wind protection.
Chassis
The Cross Country is a big, heavy bike, so naturally it starts out with a big, heavy frame. Steering geometry leaves us with 29 degrees of rake and 5.6 inches of trail for plenty of straight-line stability for low-fatigue highway travel. The swingarm is made from cast aluminum to help keep unsprung weight down at the rear wheel.
Inverted front forks are definitely the hot ticket right now, and Victory slapped a set of 43 mm upside-downers on the front end, both to keep things stiff up front and to make the bike look nice and beefy head on. An air-adjustable monoshock hidden away in the chassis buoys the rear, and you can quickly tune it for changing passenger and cargo loads with a no-loss air pump.
With a curb weight of 795 pounds, this is a lot of bike to keep under control. Toward that end, the factory mounted all-around, 300 mm brake discs, with dual, four-pot calipers up front and a twin-pot caliper in the rear. The Havasu Red model comes stock with ABS, and the other two models have ABS available as an option, so you can use the brakes with confidence, even in inclement weather. I would love to know why only the red model gets the ABS off the showroom floor. If you know, leave me a comment.
Drivetrain
Victory used its Freedom 106/6 mill to power this bruiser. The 106 cubic-inch, 50-degree V-twin cranks out a respectable 106 pound-feet of torque – plenty to make the Cross Country get out of its own way with power to spare. A combination of air and oil cooling takes care of the waste heat, and precludes the need for a big, honkin' radiator.
Dual, 45 mm throttle bodies manage the induction, and a large-bore exhaust carries off waste gasses. Similar to Harleys, you will have to pay the "Victory tax" and throw some low-resistance pipes on it if you want the full-throated exhaust note, and to unleash the full power potential of the motor.
Unlike some of its contemporaries, the Freedom mill uses a gear-type primary drive to carry power from the engine output shaft to the clutch, as opposed to a chain drive. That power percolates through a six-speed, constant-mesh transmission, and is then delivered to the rear wheel via a reinforced-belt drive. The top gear measures out at 0.87 to 1 for an overdrive ratio that is sure to keep rpm low at highway speeds. To further the long-distance utility of the Cross Country, the factory gave it a cruise-control feature to give your throttle hand a break.
Pricing
MSRP on the 2016 Victory Cross Country is $18,999 and is available in your choice of Suede Pearl White, Suede Titanium Metallic or new-for-2016 Havasu Red Pearl. Victory covers the Cross Country with a two-year limited warranty.
Competitors
My first thought when looking for a competitor was the Street Glide from Harley-Davidson, but I found it to be a popular comparison with each side frothing at the mouth in support of their preferred choice. I decided not to jump on that bandwagon. Instead, I'm going to go my own road and look at the Chieftain from  Indian Motorcycles.
As far as looks go, the Chieftain and the Cross Country could almost be siblings, or at least close cousins. Aesthetic differences are rather subtle, with Indian keeping its stereotypical retro-vibe, and Victory going with a slightly more progressive look overall.
Indian wins the "inches" war with its 111 cubic-inch Thunder Stroke engine, over the 106-inch Freedom from Victory. Not surprising, this also give it a slight edge in torque with a total of 119.2 pound-feet – 13.2 more than the Victory. Honestly, this is a small difference, and anything over 100 pound-feet counts as "good enough" in my book.
Pound for pound, the bikes are very close in all the important categories, so the price difference becomes a factor here. You can score a new Cross Country for $18,999, but the Indian will set you back a total of $24,199. Unless you want the Indian just because of the name, then the Cross Country should definitely be on your short list of bikes to consider.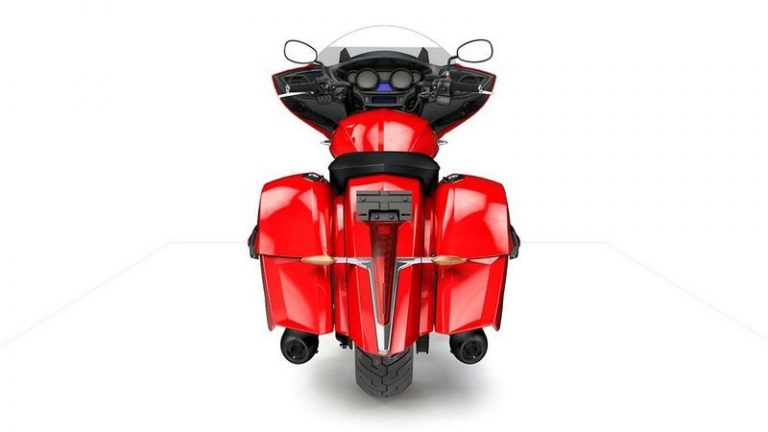 He Said
My husband and fellow writer, TJ Hinton, says, "Usually, I don't care for the overall sweepy style of the Victory bikes – they all seem just a little too "Nessy" (think: Arlen) for my tastes. Not so much with the CC. The lines are modern, but not too modern, and I think this boulevard-bruiser style is sharp as a rat turd. Apparently I'm not alone, 'cause I see lot's of these types around town, though in my area most are H-D Street Glides."
She Said
"When I thought of a bagger, I must admit that I thought of it as a laid-back and easy going ride; yeah, powerful, but easy cruising up the highway. The Victory stunt team of Tony Carbajal and Joe Dryden opened my eyes. When I saw what they were doing with Victory baggers on a closed course designed for superbikes, I was awed. We're talking wheelies, drifting and chokin'-smoke burnouts as well as ice racing on a frozen lake. This ain't your grandma's bagger, that's for sure. I don't care much for the look of any of the Victory bikes, but I can't fault them on performance."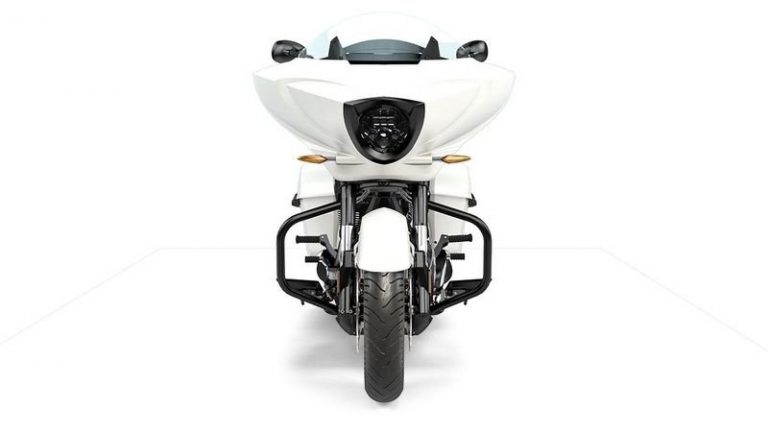 Specifications
| Drivetrain: | |
| --- | --- |
| Engine Type: | Freedom 106/ 6, 50-Degree, Four-Stroke V-Twin |
| Displacement: | 106 cubic inches (1,731 cc) |
| Bore: | 101 mm |
| Stroke: | 108 mm |
| Compression Ratio: | 9.4 to 1 |
| Maximum Torque: | 106 Pound-Feet |
| Cooling: | Air / oil |
| Valve Train: | SOHC – Four Valves per Cylinder/Hydraulic Lifters & Cam Chain Adjusters |
| Fuel System: | Electronic Fuel Injection with dual 45 mm throttle body |
| Battery: | Yuasa YTX20HL-BS – 12 Volt 18 Amp Hour 310 CCA |
| Charging System: | 48-Amp Max Output – 700W at 2,000 rpm |
| Exhaust: | Dual-Large Bore Slash-Cut with Common Volume |
| Drive/Driven Clutch: | Wet Multi-Plate/Diaphragm Spring |
| Final Drive Type: | Carbon Fiber Reinforced Belt |
| Primary Drive Type: | Gear Drive with Torque Compensator (1.49 to 1) |
| Transmission Type: | Six-Speed Overdrive/Constant Mesh |
| Shift Pattern: | One Down, Five Up |
| Internal Gear Ratios: | 3.13:1, 2.02:1, 1.50:1, 1.20:1, 1:1, 0.87:1(Overdrive) |
| Final Drive Ratio: | 2.12:1 |
| Chassis: | |
| Swingarm: | Cast Aluminum with Constant Rate Linkage |
| Rake: | 29.0 degrees |
| Trail: | 5.6 inches |
| Front Suspension: | 43 mm Telescopic Fork, 5.1-inch Travel |
| Rear Suspension: | Single Monotube Air Adjustable Shock, 4.7-inch Travel |
| Brake System Type: | Not Linked (White & Titanium w/o ABS, Red W/ABS) |
| Front Brakes: | Dual 300 x 5 mm, Floating Rotor Four-Piston Calipers |
| Rear Brakes: | Single 300 x 5 mm, Floating Rotor, Two-Piston Caliper |
| ABS: | Optional on Suede Pearl White and Suede Titanium Metallic models, Standard on Havasu Red model |
| Front Wheel: | Cast 18 x 3.5 inches |
| Rear Wheel: | Cast 16 x 5.0 inches |
| Front Tires: | Dunlop D418F Elite 3 – 130/70R18 63H |
| Rear Tires: | Dunlop D418 Elite 3 – 180/60R16 M/C 80H |
| Dimensions: | |
| Ground Clearance: | 5.8 inches |
| Seat Height: | 26.3 inches |
| Wheelbase: | 65.7 inches |
| Overall Length: | 104.3 inches |
| Overall Width: | 39.3 Inches |
| Overall Height: | 52.5 Inches |
| Details: | |
| Storage Capacity: | 21.3 gallons |
| Fuel Capacity: | 5.8 gallons |
| Fuel Reserve: | 1.2 Gallons |
| Recommended Fuel: | Premium Unleaded |
| Dry Weight: | 760 pounds |
| Wet Weight: | 795 Pounds |
| Maximum Load: | 565 Pounds |
| GVWR: | 1,360 Pounds |
| GAWR: | Front – 460 Pounds, Rear – 900 Pounds |
| Oil Capacity: | 5.0 Quarts |
| Warranty: | Two-Year Limited Warranty |
| Colors (Base): | Suede Pearl White, Suede Titanium Metallic, Havasu Red Pearl |
| Price: | $18,999 |
(topspeed.com, https://goo.gl/WAiYv9)