The quick answer: YES, the Pentax K-70 is less expensive, has some better features, and will probably give most people better image quality than they'd get with the Nikon D5500.
Pentax DSLRs have been easy to ignore for the past decade, with less than 4.5% of the market share until 2015 (Canon holds about 55%, Nikon 37%)1. However, following the release of their full-frame K-1 last winter, and the similarly impressive K-70 more recently, Pentax has become a brand that should seriously contend for your consideration, with remarkable resolution, in-camera stabilization, weather sealing, and first-rate sensors.
Yet the Nikon D5500 is also a remarkably good camera for its price (and much more popular), building on several generations of Nikon DSLR technology, not to mention access to hundreds of Nikkor lenses. So, which one is better? And which should you buy?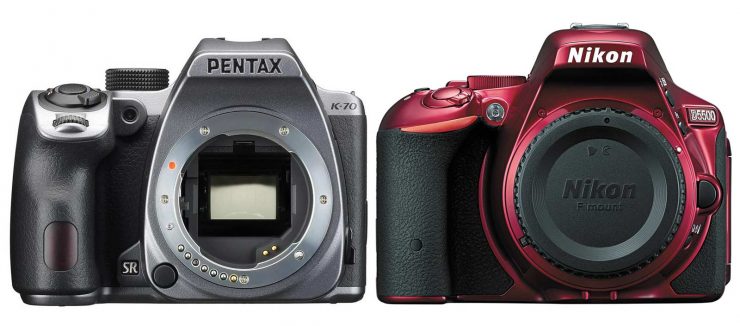 The Pentax K-70 is available in a silver and black variant, reminiscent of the classic K-1000, while the Nikon D5500 is offered in metallic red.
…
Read full post here:
https://www.lightandmatter.org/2016/equipment-reviews/camera-comparisons/nikon-d5500-vs-pentax-k-70-is-the-k-70-cheaper-and-better/