The concept of the mirrorless camera has changed considerably since the first models appeared on the scene a decade ago.
Whereas the aim used to be to synthesise a compact form factor with high-end features, no matter the intended user base, the main objective today is to produce a range of bodies – some compact and portable, others larger and more robust – for different kinds of users. This is especially true now that there are so many advanced telephoto lenses whose size necessitates a camera with a substantial grip.
In this comparison preview, we're going to be taking a look the main differences between two Fujifilm cameras that epitomise these contrasting approaches.
On one hand, we have the mid-range X-T20 which combines a compact body with a good range of features and a straightforward interface and on the other, the X-H1, a robust workhorse designed for professionals and advanced users. They share the same sensor and autofocus system so the differences need to be found elsewhere.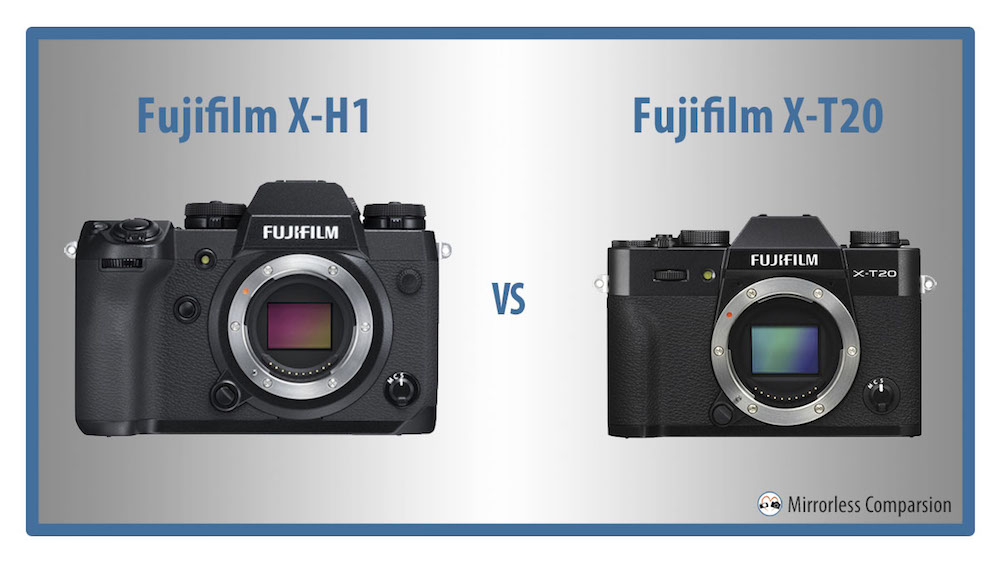 What they have in common:
24.2MP APS-C X-Trans III sensor
X-Processor PRO
200 to 12800 ISO (100, 25600, 51200 extended values)
hybrid autofocus system with 91 points
continuous shooting speeds (8fps mechanical / 14fps e-shutter)
shutter speeds (1/32000s with e-shutter / 1/8000s with mechanical shutter)
Prelude: VPB-XH1 Vertical Power Booster Grip
Before I begin, I'd like to touch upon the VPB-XH1 (vertical battery grip) for the X-H1, as I'll be mentioning it throughout the article where relevant.
By activating Boost mode in the menu and fitting the camera with the grip, the X-H1 can use multiple batteries to improve its performance in various ways, including continuous shooting, video duration, shutter release time lag and blackout time.
A vertical battery grip isn't available for the X-T20, so it cannot benefit from similar performance enhancements.
1. In-Body Sensor Stabilisation
If there is one difference that bears mentioning, it is the incorporation of 5-axis in-body sensor stabilisation on the X-H1. In fact, it is the very first Fujifilm model to feature this technology, so we'll be very curious to see how it compares to IBIS-capable models from other brands.*
The IBIS works with all Fujinon lenses, even those that lack optical stabilisation, and promises up to 5EV stops of compensation. However, be aware that the performance can increase or decrease depending on the specific lens used. For example, with the XF 35mm f1.4, the compensation goes up to 5.5Ev while with the 10-24mm, it goes down to 2.5Ev. With most lenses, it stays at 5Ev.
Because the X-T20 lacks IBIS, you need to rely on the optical stabilisation of OIS lenses to obtain good results at slow shutter speeds.
*As a side note, Fujifilm is a bit of a latecomer to the IBIS party. All the main mirrorless companies already have multiple IBIS-capable bodies in their arsenal, as do a few DSLR manufacturers such as Pentax.
2. Video Specifications
With the X-H1, Fujifilm has taken the video specifications to new heights for the X-Series.
Whereas both cameras are capable of 4K recording at 30fps, the new camera can also record in Cinema 4K / 24fps. The maximum recording time in 4K is 10 minutes on the X-T20 or 15 minutes on the X-H1. This can be increased to 30 minutes on the new camera by attaching the aforementioned vertical grip.
Also worth mentioning is that the X-H1 records 4K by slightly cropping the sensor (1.17x) which means it performs full pixel readout in order to record crisper, more detailed footage. The X-T20 uses the entire width so there is no change to the field of view. However, because the camera sub-samples, there is a slight reduction in sharpness and more noise at the highest ISO values.
As for the maximum bitrate, it is twice as fast on the X-H1 (200mbps vs 100mbps).
In Full HD, the X-T20 has a maximum frame rate of 60fps and can record for up to 15 minutes. The X-H1, by contrast, can capture slow motion footage at 120fps for up to 20 minutes (or 30 minutes with the grip).
A final difference is that the X-H1 has its own log profile called F-Log. Also found on the X-T2, it lets you record the widest dynamic range possible, which is useful when grading your footage in post production. It can be recorded internally to an SD card which means it records in 4:2:0 8-bit.
Because the X-T20 doesn't have a log profile, the best way to produce attractive video footage is to use Fujifilm's film simulation modes.
3. Electronic Viewfinder / Rear Monitor
If the specifications are anything to go by, the X-H1's OLED electronic viewfinder should be a pleasure to use: it is large (0.5 inches), has a better resolution of 3.69 million dots with a good magnification of 0.75x and a fast refresh rate of 100fps when the Boost mode is selected. It comes with a large eyecup that should add some extra comfort if you wear glasses.

The EVF of the X-T20 is good but smaller (0.39 inches) with a lower magnification of 0.62x. It uses a bright OLED panel as well but its refresh rate is capped at 54fps. The smaller and more plasticky eyecup is somewhat annoying however, especially for those who wear glasses.
Although both cameras have a 3-inch LCD screen with 1040k dots of resolution, they utilise different tilting mechanisms. That of the X-H1 can be orientated on three axes while the X-T20's has a standard two-way tilting mechanism.
Both screens employ touch technology that allows you to select the focus area, focus, or take a picture even when looking through the EVF.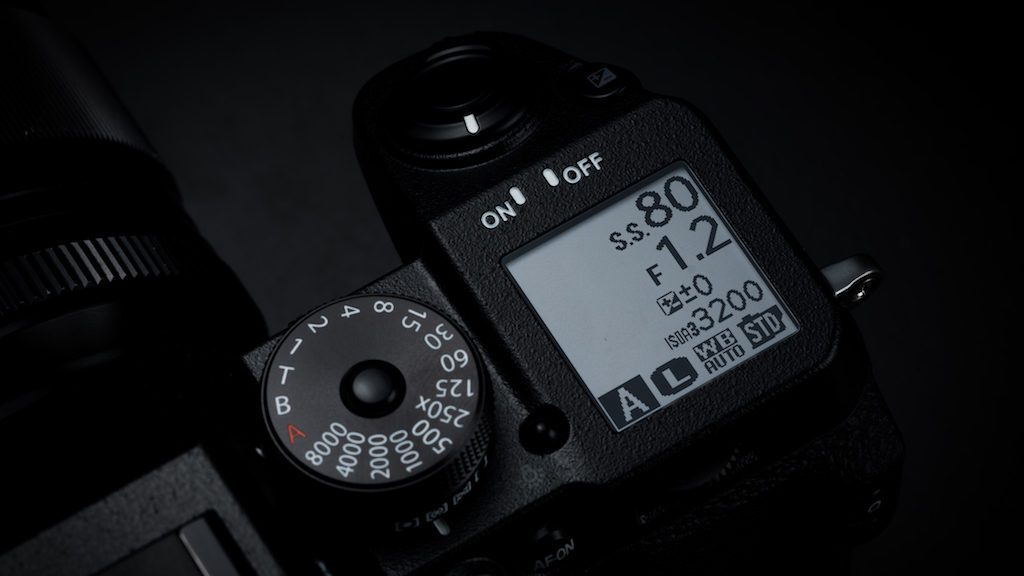 Additionally, the X-H1 benefits from a handy shoulder monitor on the top plate that displays all the most important settings.
4. Body Design
The X-H1 and X-T20 have an SLR-esque design, but there are actually quite a few ways in which they differ, starting with the large and prominent grip of the X-H1.

Concerning the build quality, the X-H1 has a scratch-resistant magnesium alloy chassis with full weather-sealing (splash, dust and freeze proof down to -10 degrees). The X-T20 has a predominantly plastic construction with the exception of the top and bottom plates.
The plastic build gives the X-T20 the advantage of being much lighter in comparison to the X-H1 however.
X-H1: 139.8 x 97.3 x 85.5mm; 673g (with battery and SD card)
X-T20: 118.4 x 82.8 x 41.4mm; 383g (with battery and SD card)
Turning to the buttons and dials, we can see that only the X-H1 has an AF-On button, AF joystick to change the focus point, backlight button for the shoulder monitor, exposure compensation button, and stacked dials with ISO/drive and shutter speed/metering options.
It also benefits from a dual SD card slot (with UHS-II compatibility) as opposed to just one on the X-T20.
The X-T20 has three dials on top: shutter speed, drive and exposure compensation. Protruding from the shutter speed dial is an Auto switch for beginners.

Both come with a hot shoe, Q menu button, focus mode selector, two control dials and a customisable function button but only the X-T20 has a built-in pop-up flash.
Finally we come to the terminals. On the X-H1, you'll find a 2.5mm remote connector, 3.5mm mic jack, Micro USB 3.0/2.0 connector and HDMI Micro connector (Type D). The X-T20 is more limited, having just a 2.5mm mic/remote connector, HDMI micro (Type D) connector and Micro USB 2.0 connector. There's no headphone output unless you use the vertical battery grip on the X-H1.
5. Shutter and Continuous Shooting Speed
This particular difference between the two cameras is directly related to the X-H1's vertical battery grip.
Both cameras on their own can shoot at a maximum of 8fps (CH) or 5fps (CL). The first gives you a faster speed but no live view (the last picture taken is shown instead), while the second gives you live view with blackouts. There is also a 14fps option with the electronic shutter but be aware that distortion and banding can occur at this speed.
Attaching the grip to the X-H1 raises the mechanical shutter's maximum speed to 11fps.
The X-H1 has a faster mechanical speed of 1/8000s vs 1/4000s on the X-T20. With the electronic shutter, both cameras can go as fast as 1/32000s. The X-H1 has an extra option, the electronic first curtain shutter, which is useful for reducing shutter shock.
6. AF Algorithm
The X-H1 boasts an updated autofocus algorithm in comparison to previous X-Series cameras that should improve tracking of animals and birds.
The sensitivity of the phase detection autofocus has been improved by approximately 1.5 stops (from 0.5 LW to -1.0 LW). This means that it can now be used at aperture values up to f/11.
Continuous autofocusing while zooming has also been improved, which should prove helpful for genres where subjects move unpredictably such as sports or wildlife.
All other features of the AF system remain the same as the X-T20 including:
the choice between a 13×25 grid (325 points) or 7×13 grid (91 points)
Single AF, Zone AF or Wide/Tracking options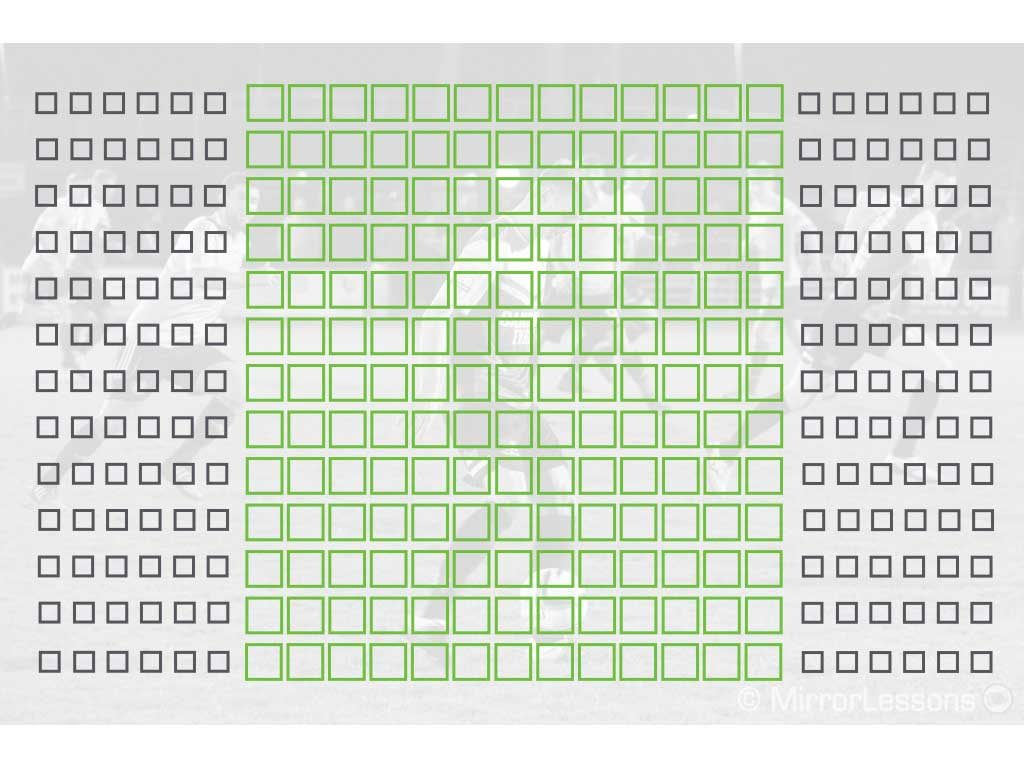 XH1: 13×25 grid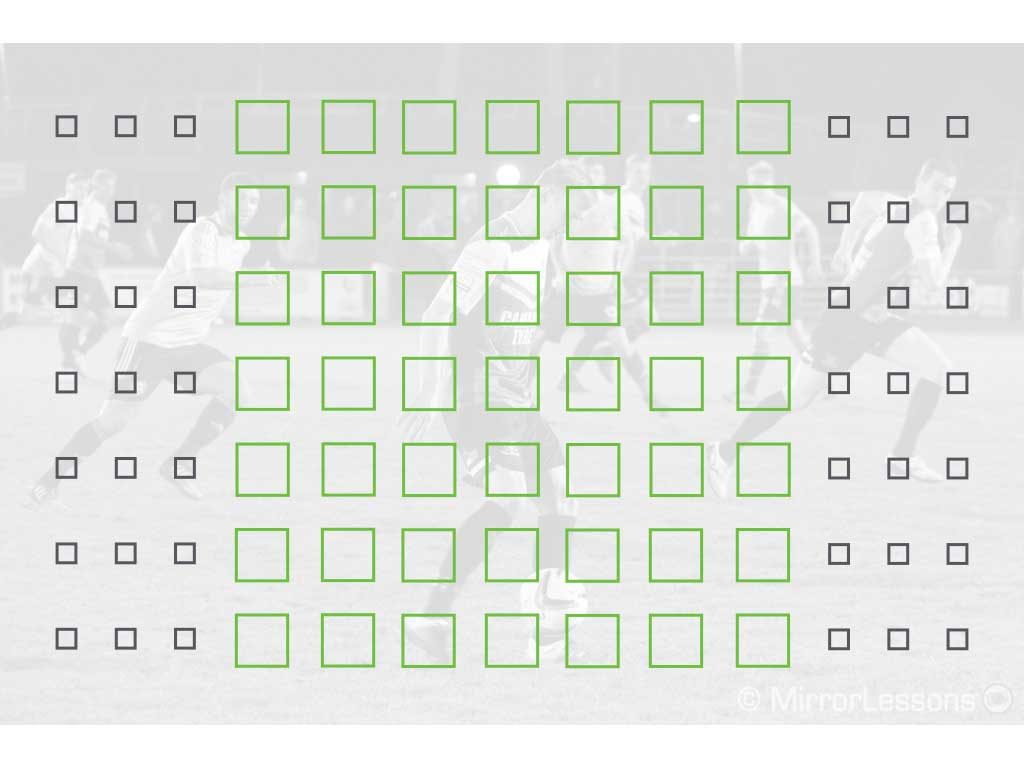 XH1: 7×13 grid
7. Eterna Film Simulation Mode
Eterna is the first film simulation mode designed for video, and its purpose is to give your footage a distinctive cinematic look. It is the 16th Film Simulation Mode to come out of Fujifilm's labs.
It is currently exclusive to the X-H1, though it may come via firmware update at some point to the other models.
8. Bluetooth Connectivity
The X-H1 is the second Fujifilm camera after the X-E3 to incorporate Bluetooth connectivity for faster and simpler image transfer to smartphones (iOS or Android). It keeps a constant connection with your phone without decreasing the battery life too much.
The various actions you can perform via Bluetooth and WiFi are as follows: image transfer, viewing/obtaining images, remote control shooting, PC autosave, Instax printer print and geotagging.
You can perform the same actions with the X-T20 but only via a WiFi connection.
9. Flicker Reduction
The new Flicker Reduction mode of the X-H1 maintains the same exposure when shooting under artificial light – even mercury and fluorescent lighting – which is useful when working indoors during a sports game for example.
10. Battery Life
A small difference worth mentioning is the battery life. Although they use the same NP-W126S battery, the X-T20 can fire off 350 still images on one charge whereas the X-H1 delivers a marginally less impressive result of 310 shots.
When shooting in 4K, the X-H1 lasts for approximately 35 minutes whereas the X-T20 can squeeze in an extra 15 minutes on top of that.
Attach the grip to the X-H1 and you can greatly increase the battery life for stills and video.
Conclusion
This final difference is significant – especially if you are on a set budget – which is why we've saved it for the conclusion.
The X-H1 is set to debut at $1900 (or £1700 / €1900) for the body alone. When you consider that you can buy an X-T20 body for an average of $900, it becomes clear just what a good bargain this mid-range model is.
After all, it shares many of the most important features with the X-H1, from the 24.2MP APS-C X-Trans III sensor to the phase detection AF system to the burst and shutter speeds.
The real advantages of the X-H1 are a) the built-in image stabilisation, as you can avoid using a tripod at slow shutter speeds or record video hand-held regardless of the lens you mount, b) the extra video settings for video enthusiasts, c) the more robust body for those who work in poor weather conditions and d) the larger grip. Beyond these features, everything else is a nice bonus rather than a necessity.
(mirrorlesscomparison.com, https://goo.gl/zQmjPs)