By most accounts, the third-generation Audi TT is a great little car. It looks sharp, it's a blast to drive, and it's stuffed to the gills with cool tech like Audi's vibrant Virtual Cockpit. In the automotive world however, more is often more, and with that in mind I'd like to introduce you to the 2017 TT RS — a car that offers more power, more tech, and most importantly, more fun.
My introduction to the TT RS came across the world at the Jarama Circuit in Madrid, Spain. Though I'd seen photos of the car beforehand, I didn't feel truly connected to it until I heard the wail of its incredible five-cylinder engine ricocheting off the Spanish tarmac. It sounded guttural, powerful, almost primal. Clearly, the vehicle I was about to drive wasn't your average TT.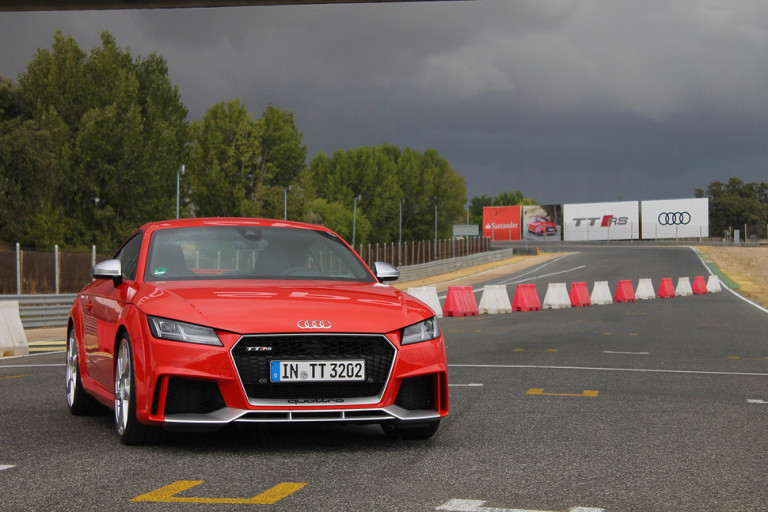 Go-fast tech
Like the original TT RS, the 2017 model is powered by a turbocharged 2.5-liter five-cylinder, but this time around, it's been completely retooled to produce 400 horsepower and 354 pound-feet of torque. With Quattro all-wheel drive's vice-like grip the road, 0 to 60 comes in just 3.7 seconds … officially. I personally saw the car manage it in 3.5 seconds using Launch Control on the track straightaway, and I heard rumblings of engineers slashing that time down to 3.2 seconds. That's supercar territory.
The engine itself is a masterpiece. Made almost entirely from aluminum, the power plant is significantly lighter than its predecessor, and it's been designed to offer peak torque right off idle at 1,700 rpm. That means when you put your foot down, the coupe just screams forward like a jet launching from an aircraft carrier. Audis are sometimes criticized for feeling sterile and detached, but there's absolutely none of that here.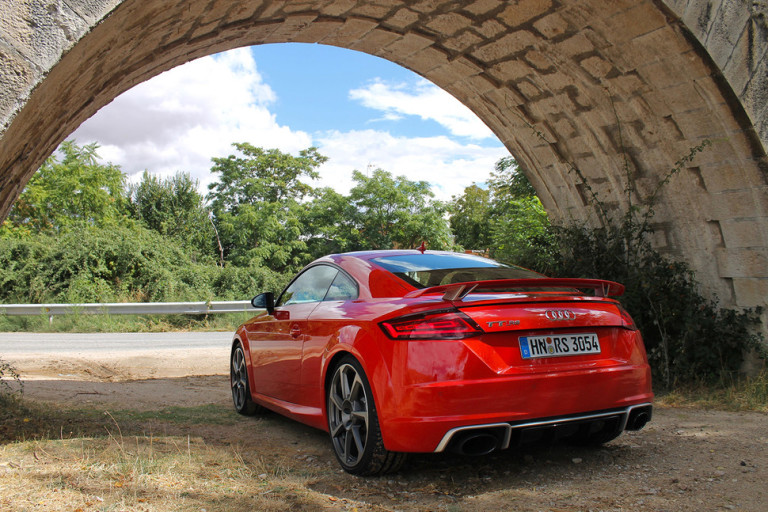 What the TT RS does offer is absurdly flat handling and amazing control. I could easily swing the back end around Jarama's tighter corners if I felt like it, but the car never lost its composure or felt twitchy. I had Quattro to thank for that, which uses a multi-plate clutch to distribute power to each wheel as needed. It's laser-focused, this thing. I found the seven-speed S tronic gearbox a joy to use as well, and even though I missed the manual option, the dual-clutch was lightning quick and very responsive.
Back in the real world
Track session over, I left my racing helmet behind and ventured onto the public roads around Madrid. Like many modern cars, the TT RS features a drive mode selector with four settings — Comfort, Auto, Dynamic, and Individual. Switching into Comfort softens the standard magnetic suspension nicely and lightens up the direct ratio steering, while also reining in the powertrain a bit and muzzling the exhaust. In essence, the TT RS turns into a luxury car with the flip of the switch. There is a stiffer fixed suspension option with the Dynamic Plus package, but if I'm honest, the magnetic dampers suit the car's dual personality better.
Leaving Madrid, I was really enjoying the Dr. Jekyll side of the equation. The leather RS sport seats were supportive and soft, all of the plastics were high-quality, and there were carbon fiber and aluminum accents aplenty. It was just a really nice place to be, and quiet too, unless you mash it. But like the troubled doctor himself, the car is a cocktail of civility and hostility. Yes, the TT RS can he hushed and toned down for daily driving use, but make no mistake, Mr. Hyde is the star of the show. This is a car meant to be driven.
Even the vehicle's tech reflects that. The 12.3-inch Virtual Cockpit display — also found on the new A4, Q5, Q7, and R8 — displays Google Earth 3D maps in vibrant color and is completely configurable to driver preference. In the TT RS, there's a race-themed RS mode that puts the tachometer in the forefront, while also displaying tire pressure, torque, and g-force off to the side. If you flip the gearbox into manual mode, the whole scale flashes red like an arcade game when you reach 7,000 rpm, urging you to shift and continue your assault on physics. As you can see, the TT RS has a way of reinforcing bad behavior.
One last thing to mention here — there is no semiautonomous package offered with this car. Audi's team felt the added hardware that comes with adaptive cruise control or lane keeping assist would add unnecessary bulk, which currently sits at a modest 3,174 pounds. More importantly, they told me driverless tech doesn't really make sense in such a driver-focused machine.
Surveying the competition
In a vacuum, I believe that the TT RS is a great car, but it gets even better when you look at its competitive set.
We don't have official pricing for the vehicle's U.S. release yet, but in Germany, the Coupe will start at 66,400 euros (just over $72,909). That in mind, let's say for around $65,000-$70,000, you'll get 400 ponies, all-wheel drive, and a 0 to 60 mph time of around 3.7 seconds. That puts the sleek Audi in a unique spot performance-wise. Many have pointed to the excellent Porsche Cayman as a worthy competitor, but even the $84,600 GT4 can't match the Audi's power output or acceleration. Most 911s can't either.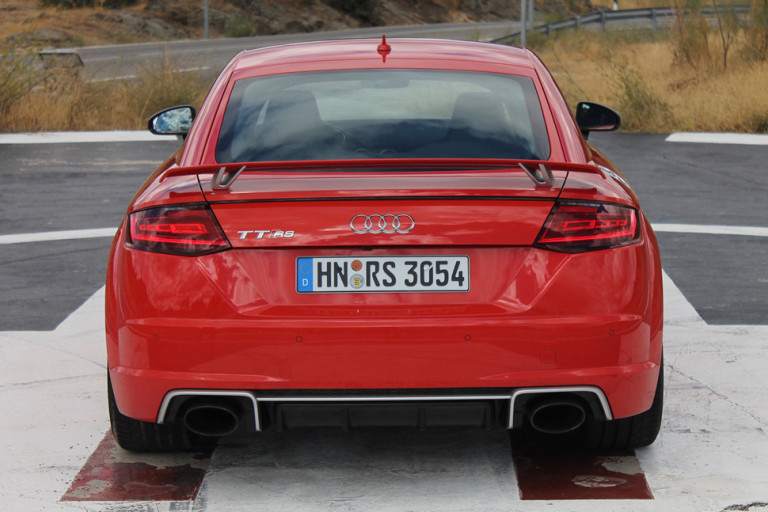 Perhaps the most worthy adversary will be Mercedes-AMG's C63 S Coupe, a car that can easily compete with the Audi's speed, price, luxurious cabin, and brutal engine note. The Audi's tech is far better, but I'll admit that rear-drive options like the AMG and much cheaper BMW M2 are more entertaining at the limit. Still, the TT RS hooked me the first time I heard its five-cylinder bark, and getting behind the wheel didn't change my mind. It's the one I'd have.
Conclusion
If the standard Audi TT is a sports car, the TT RS is as close to a supercar as you can get. If we were to judge it on numbers alone, it'd probably already be there.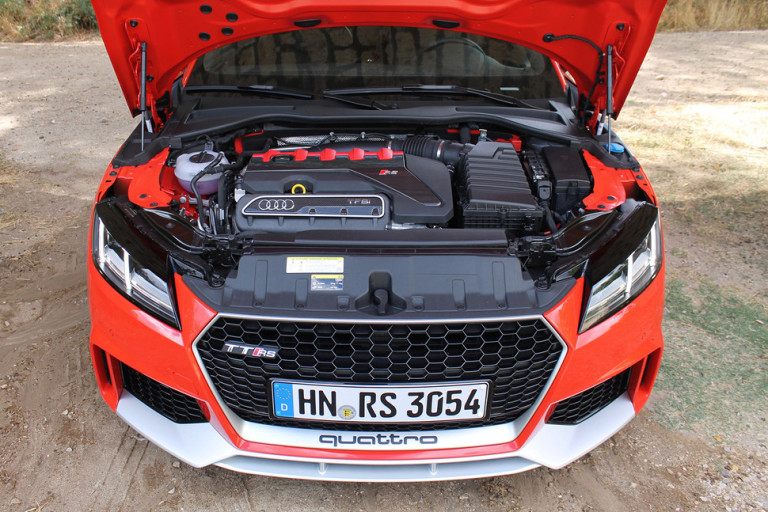 Sadly, we're not getting the whole TT RS package in the U.S. — neither the Roadster version nor the trick OLED taillights are coming stateside — but we are getting something special. Something that's a fantastic bang for your buck, one that's just as fun on the road as it is on the track. This is a vehicle that walks and talks in its own distinct rhythm, from the luxurious cabin down to the five-cylinder beast inside the engine bay. If nothing else, that's something we should celebrate.
The 2017 Audi TT RS arrives stateside next summer.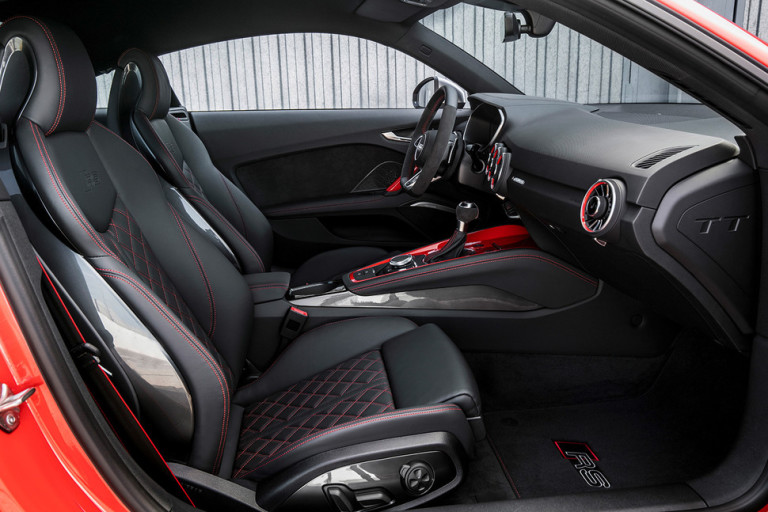 Highs
Dazzling acceleration
Incredible Quattro grip
One of the best exhaust notes on the road
Angry, yet sophisticated styling
Plush cabin
Lows
No manual option
Afterthought rear seat
(digitaltrends.com, https://goo.gl/EvSBPF)
Comments
comments