The smartphone market is bizarre and almost completely unrecognisable from the state it was in just 5 years ago. In years gone by, the Windows Phone platform was tightly controlled by Microsoft, and available almost exclusively on just the Nokia Lumia phones. BlackBerry made phones with keyboards on its own operating system.
Now Microsoft's mobile OS is available on hardware that looks exactly likeBlackBerry's phones, which now run Android. Case in point: the new Alcatel Idol 4S with Windows 10.
We know the hardware is decent, but is the operating system even worth our time anymore?
Alcatel Idol 4S with Windows 10 preview: Design
We first got a glimpse at the Alcatel Idol 4S near the beginning of 2016 at MWC in Barcelona. So it's probably no surprise that this Windows version looks almost exactly the same. The only real difference is the USB Type-C port on the bottom edge. Just like the Android model, it also comes with a budget VR kit in the box.
The back glass panel has an interesting reflective property where any light that hits it forms multiple beams of light that centre in on the fingerprint sensor. This sits below the massive protrusion that is the square camera hump on the rear panel.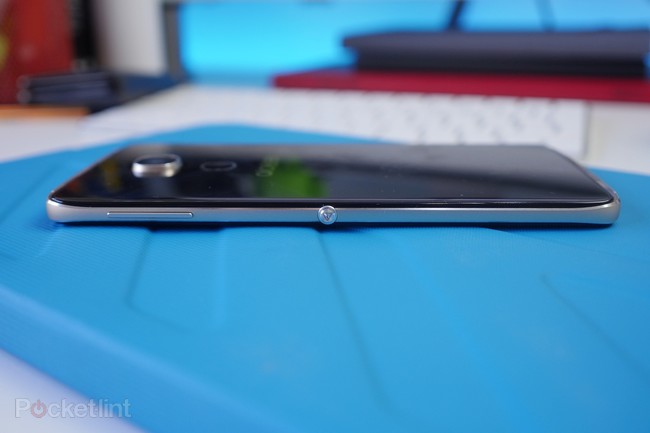 Both the front and back large flat, black glass surfaces have subtle curves towards the edges. It's not quite enough to stop it feeling like a big shiny block in your palm, but it's better than if it was all completely flat lines and right angles.
While the finish and design is undoubtedly elegant and polished, there's no getting away from the size of it. It's a big phone, even by 5.5-inch phone standards.
The power buttons lives just out of reach at the top of the left edge, while the right edge plays home to the volume rocker, and the round button which acts as a camera launcher.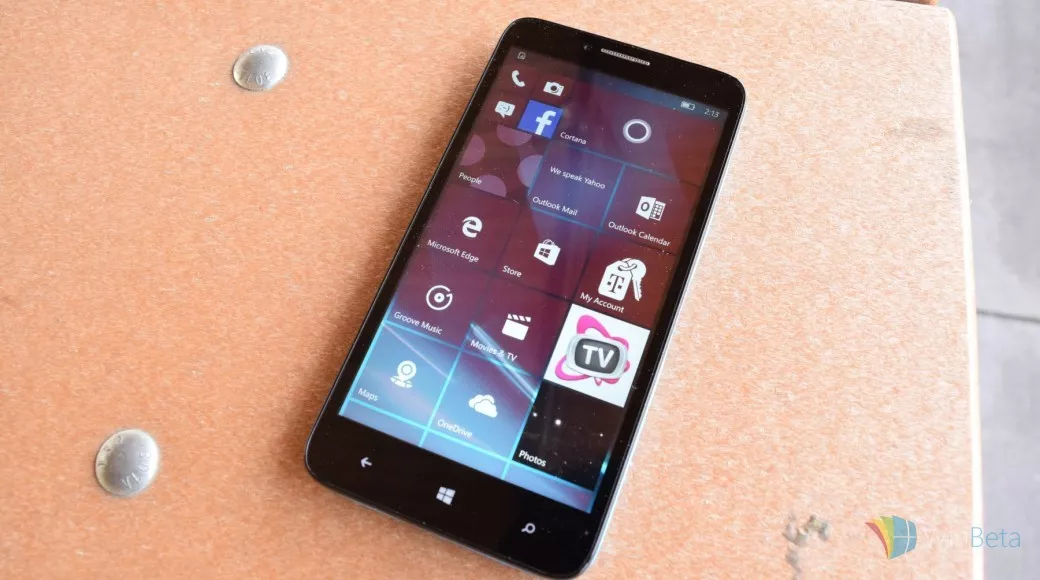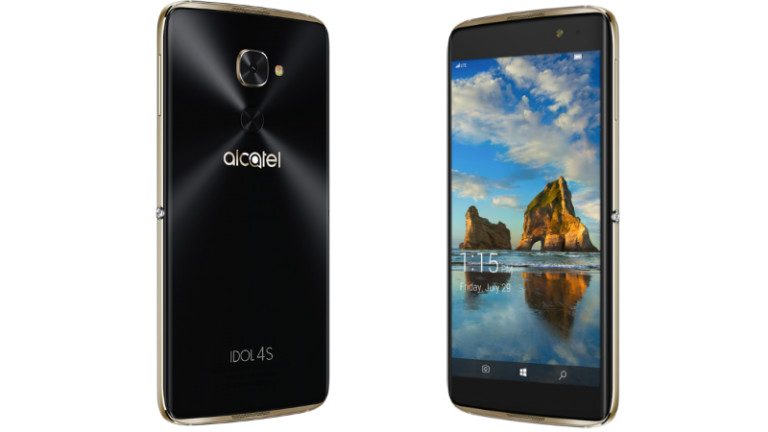 Alcatel Idol 4S with Windows 10 preview: Hardware and Display
While it shares the same name as its Android-powered counterpart, the Windows 10 version of Alcatel's Idol 4S has received a welcome spec bump. Rather than a middling Snapdragon 652 processor which has a tendency to stutter under heavy use, there's a Snapdragon 820 processor.
This is the same processor found inside devices like the OnePlus 3, Sony Xperia XZ and the Stateside versions of the Galaxy S7. Even Google's latest Pixels have a slightly tweaked version called the Snapdragon 821. In short – as far as mobile processors go – this is one of the best available right now.
To ensure smooth performance, there's 4GB of RAM along with a generous 64GB internal storage capacity.
The 5.5-inch full HD screen on the front is both big and beautiful. Windows 10's fine details, sharp text and right angles look perfect on the sharp screen. If you get close enough, you can see some jagged-ness on the round details, which you wouldn't get if it was a Quad HD display. Still, it's plenty good enough at arm's length.
Inside, with all the other gadgetry is a 3,000mAh battery which is claimed to be capable of handling 20 hours of use. In real life, that probably means you'll have some battery left over at the end of a full day, but won't get too far into a second day before needing to charge again.
Thankfully, it's Quick Charge enabled, so it'll fill up again in a relatively snappy manner when plugged in to a QC 3.0 adapter.
Just like its Android sibling the stereo speakers built in to the frame can fire sound both backwards and forwards thanks to having machined holes on both the front and rear side of the device.
Alcatel Idol 4S with Windows 10 preview: Software
You could be forgiven for thinking the Windows mobile platform was dead. After Microsoft decided to cut its losses on its smartphone hardware business, it seemed a no-brainer that the OS would die with it. But seemingly, that's not the case. Windows 10 for mobile lives on to fight another day, and finds a home in the Alcatel Idol 4S.
As with pretty much every Windows Phone device ever, the experience is very pure and there are some pleasing elements.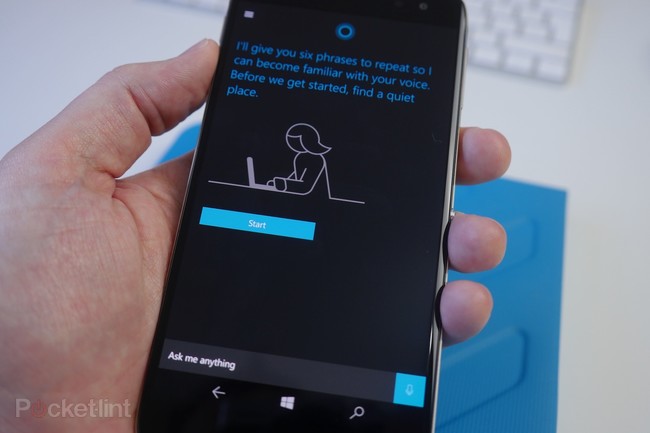 For those unfamiliar, the experience is made up predominantly from two screens. There's the main home screen feature live tiles; essentially adjustable square icons for individual apps which update when you get notifications. The second screen, which you get to by swiping from right to left, is a list of all the apps installed on the phone.
Like Android and iOS you can swipe down a notification shade from the top edge of the display. This has quick action toggles for functions like camera, Bluetooth, Wi-Fi, rotation lock and settings.
It brings many of the features across from the desktop operating system, including Cortana, Microsoft's Siri and Google Now competitor. You can use it to search for things on the web, or set contextual reminders based on locations and meeting dates. You can even train it to recognise your voice, and only yours.
Interestingly, there's also Continuum, Microsoft's fancy word to describe its ability to be used as a desktop computer, albeit a limited one. Plug it in to a hub, or wirelessly, and you have a light version of Windows 10 delivered to a monitor, powered entirely by the device.
Alcatel Idol 4S with Windows 10 preview: Camera
As seems traditional for Idol series phones, Alcatel opted for a Sony camera sensor in the Idol 4S. This time out, there are 21-megapixels jam-packed in to the camera, which seems a bit like overkill, but it can take decent shots. On first tests, shots in good daylight look natural enough, although details tend to decay and noise creeps in when the lighting drops.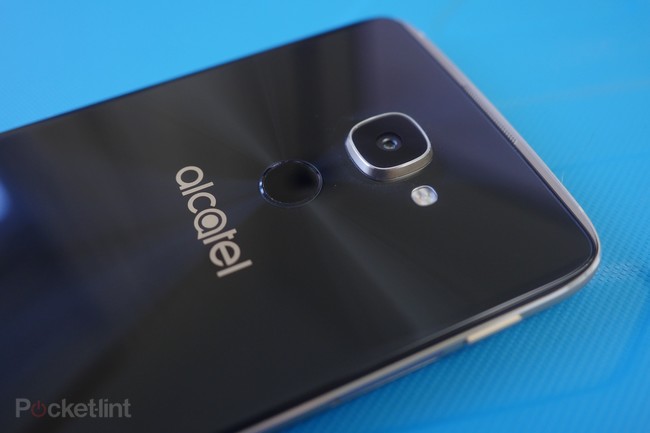 It can shoot 4K video at 30 frames per second, or slow motion video at 720p and 120 frames per second. It's equipped with a dual-tone LED flash and phase detection autofocus to ensure that blurriness is kept to a minimum. The front camera can record full HD video and take 8-megapixel stills with an 84-degree lens for wide angle shots.
First Impressions
For fans of the Windows 10 platform on mobile, it'll be a great relief to see the operating system running on an attractive, fairly well-priced device with great specifications. Perhaps the biggest downside is that – right now – it's only available as an exclusive to T-Mobile in the US. There's no word on if or when the phone might launch globally. It very much seems like a test run to see if there's any demand for a new Windows phone.
With that aside, there's a lot to like about the Idol 4S. Although big, the phone is nice looking and well made. It has a vibrant, sharp screen and the operating system runs very smoothly on first try. It won't be enough to make Windows a genuine contender to Android or iOS – that ship sailed a long time ago – but it is enough to keep existing Windows Phone fans happy for a little while longer.
(pocket-lint.com, https://goo.gl/Z8scke)
Comments
comments