The Good: The Asus VivoBook S15 puts a big 15.6-inch screen in an ultraportable body starting at a reasonable price. It has a spacious backlit keyboard, a responsive precision touchpad with a built-in fingerprint reader and nice-sounding stereo speakers. It's available with discrete graphics and dual storage drives.
The Bad: Battery life is brief compared with its competitors.
The Bottom Line: The Asus VivoBook S15 makes a good coffee shop laptop for those who want a bigger screen. Just make sure to pick a table near an outlet.
There's nothing much to the Asus VivoBook S15, but, then again, that's sort of the point. It's a 15.6-inch laptop, but since Asus shaved off some of the frame around the screen, the brushed aluminum-clad body is smaller (and yes, it also looks like a MacBook).
The PC is also remarkably light for its size at 3.6 pounds (1.6 kg). That's not quite as light as the 15-inch Samsung Notebook 9 or the 15.6-inch LG Gram, though the S15 costs a lot less for specs that aren't all too different.
Based around a dual-core 2.7GHz Intel Core i7-7500U, the S15 starts around $800 (approximately £600 or AU$1,000), but there are several configurations available. They're mainly just variations on amounts of RAM and storage, but there is a Windows 10 Signature Edition that upgrades the integrated graphics to a discrete Nvidia 940MX GPU — definitely worth the $50 extra. We reviewed the base model here, the S510UA-DB71.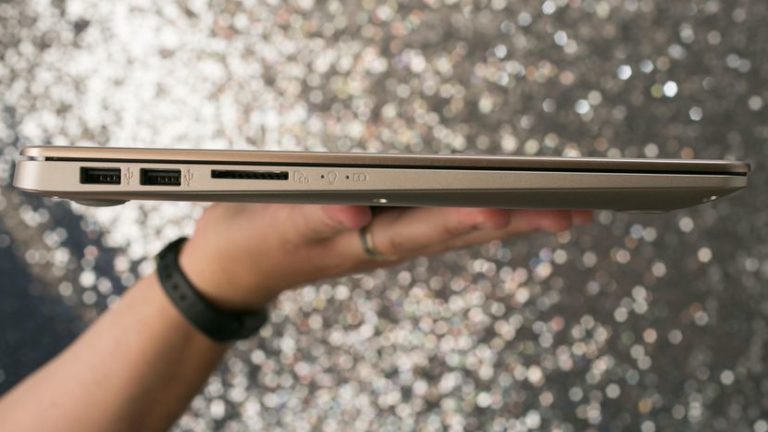 Asus VivoBook S15
| | |
| --- | --- |
| Price as reviewed | $800 |
| Display size/resolution | 15.6-inch 1,920×1,080 display |
| PC CPU | 2.7GHz Intel Core i7-7500U |
| PC memory | 8GB DDR4 SDRAM 2,400MHz |
| Graphics | 128MB dedciated Intel HD Graphics 620 |
| Storage | 128GB m.2 SSD + 1TB HDD |
| Networking | 802.11ac wireless, Bluetooth 4.1 |
| Operating system | Windows 10 Home (64-bit) |
Aside from the "big screen in a slim, lightweight body at a reasonably price" thing though, the S15 is a somewhat unremarkable mainstream laptop. The full HD display, for example, has good color and contrast for entertainment and office work, but not good enough for anything that demands precision. Its matte finish helps with reflections, but it doesn't get bright enough to use comfortably outdoors. Basically, it's fine for what you're paying, neither exceptional nor disappointing.
That sentiment carries over to the keyboard and touchpad, too. It's a spacious keyboard with three levels of backlighting and it should be a comfortable typing experience for most. However, I hit the keys somewhat hard when typing so the response felt too flat for my comfort. Plus, there's a lot of flex in the keyboard deck, which gives the notebook a less than sturdy feel.
The precision touchpad is smooth and responsive and while there was some cursor movement from dragging my palm, adjusting the sensitivity helped. It responded quickly and correctly to multitouch gestures for everything from scrolling and zooming to switching apps and launching Cortana for search. There's fingerprint reader in the upper right corner as well to sign in using Windows Hello.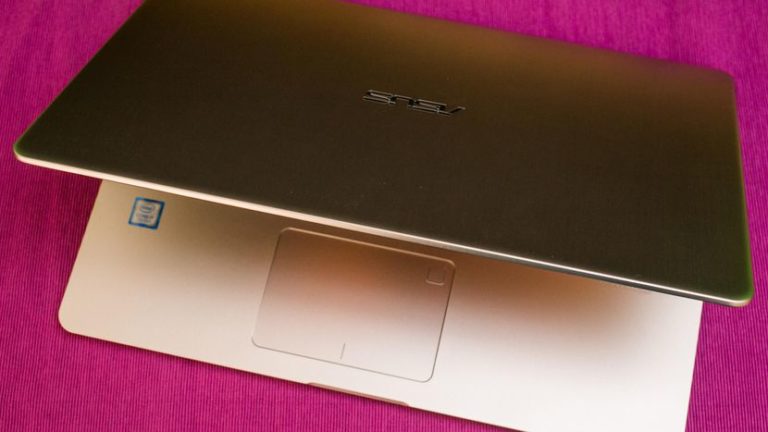 For those times when you want to use an external keyboard and mouse, there are two USB 2.0 ports on the left side joined by an SD card slot. The right side has a full-size HDMI for an external display in addition to a USB 3.1 port, a USB 3.1 Type-C  (gen 1) port and a headphone mic jack. There is no support for Thunderbolt 3 on the Type-C port, however.
Lastly, although you'll probably still want to hook up external speakers or headphones, the laptop's stereo speakers sound good. While they don't have a lot of punch in the low end, the S15's get loud, but stay clean and clear without distortion or sounding too tinny.
Performance and the plug
Both the Samsung Notebook 9 and LG Gram 15 have similar configurations to the VivoBook S15 S510UA-DB71, so it's not really surprising they all perform about the same. The LG and Samsung have twice the amount of RAM, though, and they both benefit from it, but not by much. The upside is, the S15's bottom panel is easily removed and you can upgrade the memory on your own. Worth noting, too, is that Asus uses dual storage drives in all the S15 configurations, with one M.2 SSD for the OS and software and a slower hard drive for file storage. If you like to keep your stuff local and not in the cloud, the S15 is the better choice.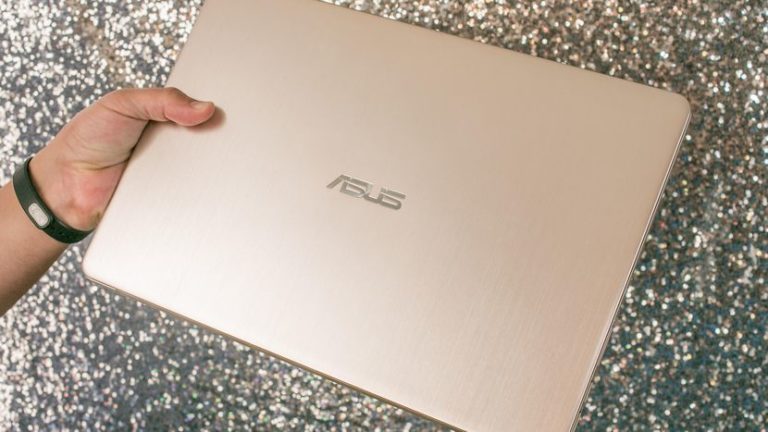 None of these systems are powerhouses, and they're meant for everyday stuff like posting to Facebook while you stream music, doing some word processing and light photo editing and maybe a little casual gaming. If you do want to do anything more graphically intensive or think there's a chance you will in the future, I would again suggest stepping up to the S15 with the Nvidia GeForce 940MX graphics. It's an entry-level GPU, but it's enough to boost overall performance for little investment. My only concern would be what it would do to the S15's already unimpressive battery life.
At just more than 7 hours on our video streaming battery run-down test, the S15 is well behind the LG at nearly 10 hours and the Samsung at more than 12 hours. Under normal mixed use, you're looking at more like 5 hours before you start searching for an outlet.
It's fine. Just fine
The Asus VivoBook S15 allows you to travel with less weight and a larger screen without going over $1,000. It's otherwise a fairly average laptop for everyday use making it fine for a home office, relaxing with a movie or music or getting school work done. That is, assuming you don't need to go a long time between charging.
System configurations
| | |
| --- | --- |
| Asus VivoBook S15 | Microsoft Windows 10 Home (64-bit); 2.7GHz Intel Core i7-7500U; 8GB DDR4 SDRAM 2,400MHz; 128MB Intel HD Graphics 620; 128GB SSD + 1TB HDD |
| Samsung Notebook 9 (15-inch) | Microsoft Windows 10 Home (64-bit); 2.7GHz Intel Core i7-7500U; 16GB DDR4 SDRAM 2,133MHz; 2GB Nvidia GeForce 940MX; 256GB SSD |
| Dell XPS 15 (2017) | Microsoft Windows 10 Home (64-bit); 2.8GHz Intel Core i7-7700HQ;16GB DDR4 SDRAM 2,400MHz; 2GB Nvidia GeForce GTX 1050; 512GB SSD |
| HP Spectre x360 (15-inch, 2017) | Microsoft Windows 10 Home (64-bit); 2.7GHz Intel Core i7-7500U; 16GB DDR4 SDRAM 2,400MHz; 2GB Nvidia GeForce 940MX; 512GB SSD |
| LG Gram 15 | Microsoft Windows 10 Home (64-bit); 2.7GHz Intel Core i7-7500U; 16GB DDR4 SDRAM 2,133MHz; 128MB dedicated Intel HD Grpahics 620; 512GB SSD |
(cnet.com, https://goo.gl/x7tdUQ)
Comments
comments