The Good: The Sony XBR-X900E evinces excellent image quality, with deep black levels, accurate color, solid video processing and best-in-class high dynamic range performance. Its modern, minimalist styling is a cut above budget models. The Android TV operating system beats many competitors with more apps and integrated Google Assistant.
The Bad: Costs more than Vizio and TCL TVs with similar image quality. Smart TV and voice control features can occasionally be slow to respond.
The Bottom Line: The Sony XBR-X900E has the sweet style and superb picture quality to tempt midrange TV shoppers away from Vizio or TCL.
The Sony XBR-X900E is Sony's least-expensive to deliver truly excellent image quality, thanks in large part to full-array local dimming. That feature allows different areas of the screen to dim independently, and in my experience it's the number one contributor to great picture quality on an LCD TV.
It's no coincidence that the two other highest-rated LCD TVs I've reviewed this year, the Vizio M series and the 55-inch TCL 55P607, also use local dimming. Since those TVs cost significantly less than the X900E, and "it's a Sony," you might automatically assume they look worse. You'd be wrong. In my side-by-side comparisons each one showed advantages and disadvantages in different areas — the Sony has slightly worse black levels and contrast, for example, but the best HDR (high dynamic range) image of the three. In the end I rated all three the same for picture quality.
That leaves the other stuff. For its higher price the X900E has hands-down better styling than those other two, with a modernist look that might be worth the price difference by itself to you. If not, perhaps you're tempted by its neat-o Android TV operating system, packed with apps and boasting integrated Google Assistant, just like an Android phone.
In the end, the Sony XBR-X900E is one of the best TVs of the year, sitting squarely between the "best-picture-for-the-money" appeal of the Vizio M and TCL P, and the "best picture, period" appeal of OLED TVs like the LG C7 series. If you don't want the Vizio/TCL for some reason, and you're reluctant to step up to OLED, this is the TV to get.
Sleek, minimal, no-nonsense looks
All TVs today have super slim, usually black frames around the picture, and the X900E is no different. Its frame is even slimmer than most, however, at about half the width of the Vizio M series, for example, for pretty much maximum screen in minimum cabinet. And its black is complete, all business and just one accent: a thin chrome strip below the discreet Sony logo on the bottom.
Antidote to the cheap-looking splayed leg stands found on many competitors, Sony sets the X900E atop a traditional center pedestal, a raked-back chunk of subtly reflective metal that lifts the panel enough to create a sensation of floating, when seen from a low enough angle.
Google-powered Smarts, but not so fast
Sony's sets run Google's smart TV system, and it beats the homebrew solutions from Samsung and LG (if not Roku TV) in one important area: app coverage. It's also better, in pretty much every way, than Vizio's system.
Unfortunately, the responsiveness of Sony's Android TV system, while tolerable for the most part, wasn't as quick as many of its competitors, particularly Samsung and Roku. At times the home page would take forever to load, and Google's little loading icon popped up more than I'd like to see it elsewhere. The system even lagged when I hit the "Action Menu" key during streaming to call up a picture adjustments. Methinks Sony could invest more in processor speed on this TV.
Of course there's an easy, inexpensive cure for pokiness: throw on a $70 Roku Streaming Stick Plus. 
The X900E's app suite is almost as comprehensive as Roku's. Apps that support both 4K and HDR include Amazon and Netflix. Apps with 4K but not HDR capability include YouTube, Google Play Movies and TV, as well as an UltraFlix app with some niche 4K content. Sony's own Ultra app, exclusive to Sony TVs, also has 4K and HDR movies by Sony Pictures on a purchase-only basis (typically $26-$30 each). On the other hand the Sony TV's Vudu app offers neither 4K nor HDR support, even though the app on Nvidia Shield Android TV (as well as Roku) has both.
Other apps abound including PlayStation Vue, CNNGo, HBO Now, Plex, PBS Kids, Sling TV and of course numerous lesser apps along with games are available via the Google Play Store (don't get too excited; it's specific to Android TV, and much less extensive than the one on your phone). Speaking of phones, many more apps can be cast to the Sony via its built-in Google Cast functionality, which works just like a Chromecast.
Voices in the living room
Sony's remote has a voice button that, as of November 2017, summons Google Assistant, similar to the voice assistant featured on Android phones. She even talks back through the TV's speakers. In my tests most commands worked as expected, although for a lot of stuff, particularly on-screen navigation, you'll need to have the remote in hand anyway.
The biggest downside, as before, was lack of responsiveness at times. There was sometime a significant delay before it was ready to take commands. In general, the experience was less satisfying than Assistant on Nvidia Shield, but it's still pretty cool — and the best voice integration in any TV yet, with the exception of Alexa on Amazon Fire TV Edition. Check out my deep dive with Nvidia Shield's Assistant for more.
Better than talking into the remote, in my book, is being able to utilize a far-field mic and talk into thin air. Sony TVs are at the forefront of Google Home and Amazon Alexa integration, too. Alexa owners can use their devices to control many features on the TV, hands-free, no remote required, using a "beta" app. When I tested it on Sony's OLED it worked well, as did that TV's integration with Google Home speakers. I didn't retest either feature for this review.
Full-fledged features and connectivity
The best picture-enhancing extra on the X900E is full-array local dimming. It improved black levels and contrast by illuminating different areas of the screen separately as needed. Unlike Vizio or TCL, Sony doesn't disclose the number of dimming zones. Moreover, it claims the more-expensive X940E (which we haven't reviewed) actually performs even better than this TV, even though it uses an edge-lit local dimming system.
Key features
| | |
| --- | --- |
| Display technology | LED LCD |
| LED backlight | Full array with local dimming |
| Resolution | 4K |
| HDR compatible | HDR10 |
| Screen shape | Flat |
| Smart TV: | Android TV |
| Remote: | Standard with voice |
Other picture-centric extras include a native 120Hz refresh rate, a notable improvement on paper over the fake 120Hz refresh rates (they're actually 60Hz native) found on the Vizio M and TCL P series. On paper, anyway; in our tests (below) it didn't make much difference.
Unlike Vizio and TCL, Sony doesn't support Dolby Vision HDR format, just HDR10 and HLG. The company will be adding Dolby Vision to higher-end models like the X930E/X940E LCDs and XBR-A1E OLED by the end of 2017, but the X900E won't get that update.
4x HDMI inputs with HDMI 2.0b, HDCP 2.2
3x USB ports
1x component video input
2x composite video input (1 shared with component)
Ethernet (LAN) port
Optical digital audio output
1x headphone/subwoofer audio output
1x RF (antenna) input
RS-232 port (minijack)
The X900E has a very healthy selection of jacks, especially compared to the relatively paltry Vizio M. Unlike many of Samsung's sets, the Sony actually has analog video inputs, both composite (yellow) and component (red, green and blue) for legacy (non-HDMI) devices. All of the HDMI inputs will work with 4K and HDR devices, but for best results Sony recommends using input 2 or 3 (which have higher bandwidth than the others) with 4K Blu-ray players and making sure to engage "HDMI enhanced" mode. Click here for details.
Picture quality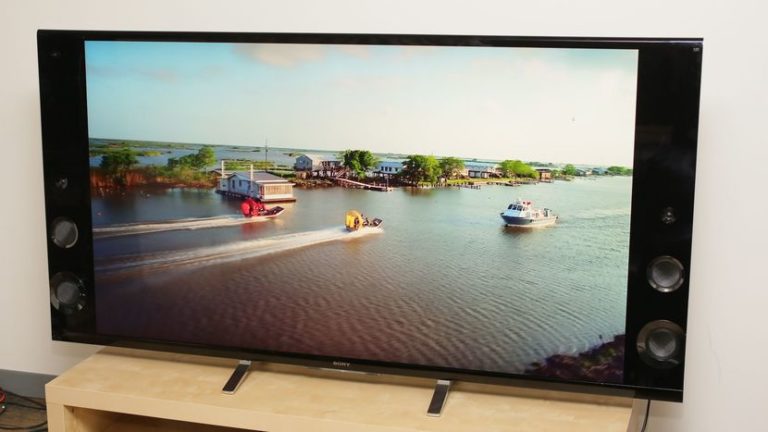 The X900E is an excellent performer, especially with HDR (high dynamic range) material, but in my side-by-side tests it didn't significantly outperform the Vizio M series or TCL P series. All three score an "8" on my 2017 image quality scale, falling short of only the OLED TVs I've tested, which cost a lot more.
The combination of local dimming and high light output on the Sony result in great pop and contrast in both bright and dark rooms. Video processing was better than the M or the TCL P series, but not as good as some other competing sets, while color was exceedingly accurate.
Click the image at the right to see the picture settings used in the review and to read more about how this TV's picture controls worked during calibration.
Dim lighting: The Sony delivered deep black levels and solid contrast in my dim room, but the Vizios and the TCL got a bit deeper with most content, for superior punch and impact. In Chapter 3 of the "Atomic Blonde" Blu-ray, for example (13:37), where the Percival (James McAvoy) makes his way through Berlin at night, the Sony's letterbox bars, the shadows between the buildings and the depths of the escape tunnel all appeared a shade darker and more realistic on those other sets compared to the Sony. The X900E's details in shadows were very good, but not significantly better than the others, and a bit lighter overall because of slightly higher gamma.
In a few exceedingly dark scenes however, such as parts of Voldemort's attack on Hogwarts from "Harry Potter and the Deathly Hallows, Part 2" (45:55), the X900E actually showed deeper black levels than the Vizio M, although it still didn't reach the depths of the Vizio P or the TCL. The blacks of the Sony's letterbox bars and other deep areas also showed more variation according to the scene than they did on the Vizio M. Overall, I preferred the M's dark-room performance over the Sony's with the majority.
Blooming, or stray light output that can plague some local dimming sets, wasn't an issue on the Sony. Even in difficult scenes with bright areas adjacent to the letterbox bars, like the interrogation sequences in Chapter 6, or the moving "Oppo" logo of my disc player's screensaver, it didn't have an issue with blooming.
Bright lighting: The Sony fell just a bit short of the Samsung in terms of sheer light output with both HDR and SDR material, making it an excellent performer for very bright rooms, or if you just crave a bright picture.
Light output in nits
| | | | | | |
| --- | --- | --- | --- | --- | --- |
| TV | Mode (SDR) | 10% window (SDR) | Full screen (SDR) | Mode (HDR) | 10% window (HDR) |
| Samsung UN65MU9000 | Dynamic | 1,410 | 509 | Dynamic | 1,435 |
| Samsung QN65Q7F | Dynamic | 923 | 588 | Dynamic | 1,781 |
| Sony XBR-65X900E | Vivid | 908 | 524 | Vivid | 902 |
| Vizio P65-E1 | Vivid | 459 | 575 | Vivid | 498 |
| TCL 55P607 | Vivid/dimming off | 438 | 431 | Brighter/Dark HDR | 448 |
| LG OLED55C7P | Vivid | 433 | 145 | Vivid | 715 |
| Vizio M65-E0 | Vivid | 288 | 339 | Vivid | 880 |
The brightest mode, Vivid, had terrible color, but Cinema Home is much more accurate and almost as bright, so I'd recommend that mode instead for bright rooms. The Sony's screen didn't preserve black levels quite as well as the Samsungs, or reduce reflections as well as the Vizios, but it still handled ambient light well.
Color accuracy: Prior to calibration my review sample was quite blueish, even in its most accurate Cinema Pro mode, but a few tweaks allowed me to dial it in to near perfection. Afterward colors looked great, with plenty of saturation to show off the garish neon and blue palette of "Atomic Blonde." Meanwhile, skin tones remained pleasingly neutral. As usual, however, the Sony didn't show a major color advantage over any of the others.
Video processing: The X900E didn't fare quite as well as the Samsung or the Vizio P in this category, but did surpass the Vizio M and TCL P series. It had no issues delivering proper 1080p/24 cadence in its TruCinema MotionFlow setting, which is the (proper) default in the Cinema Pro picture mode, but can't deliver the TV's full motion resolution (minimal blurring) without introducing some smoothness, or soap opera effect.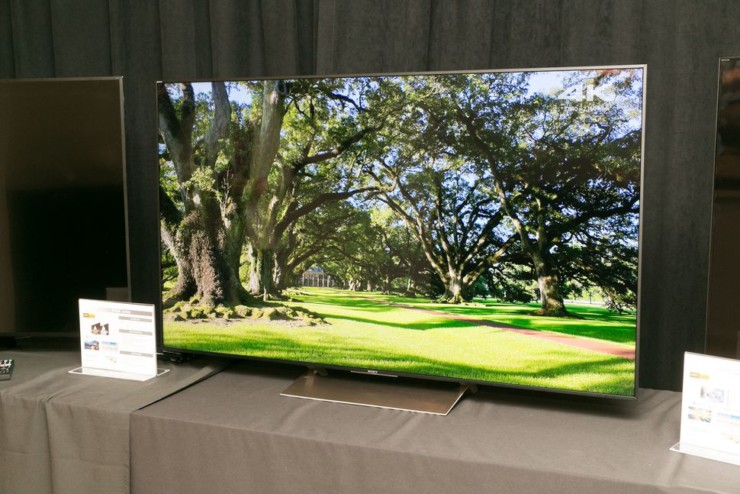 The mode with the best motion resolution (900 lines) is Clear, but that introduced minor flicker and dimmed the image significantly, a result of black frame insertion. I tried tinkering with the Custom MotionFlow setting, but its adjustments were quite coarse, and as soon as a setting registered 600 lines of resolution at a Smoothness of 2 or higher, it looked too smooth and lost proper 1080p/24 cadence. Sticklers for blurring (I'm not one) will note that the Samsung and Vizio P series beat the Sony with a score of 1,200 lines of motion resolution, and also note that the Vizio M and TCL P series fell short.
Sony touts its extra video processing, especially for lower-quality sources, but as usual I didn't find the effects all that impressive. Its Reality Creation settings added artificial-looking sharpness to my Fios TV feed, and while some viewers might like the effect, I didn't. The Sony's processing couldn't help the poor look of the YouTube videos I watched either. As usual, cruddy source material will look bad bad no matter how good the TV's processing is.
One setting I did appreciate was Sony's "Smooth Gradation," which reduced some of the abrupt transitions in contours of color, for example in the purple "Atomic Blonde" title logo.
Sony also has a mode called Xtended Dynamic Range that applies signal processing to make standard  images look more like HDR. It was clearly visible in "Harry Potter and the Deathly Hallows," for example, when the fireworks explode over Hogwarts (47:00) — bouncing between the High and Off XRD settings, the lights looked enhanced and brighter.  I didn't like the effect since it screwed up gamma and otherwise make the image look less like the producer's' intention, but some viewers might.
Uniformity: As I'd expect from a TV with full-array dimming the X900E maintained a very uniform image across the screen, beating out the Samsung and TCL, with no overt brighter areas, banding or spotting. In a few full-raster test patterns, the middle did appear slightly brighter than the edges, but the difference was invisible in program material. From off-angle it lost black level and color fidelity about as quickly as the others.
HDR and 4K video: Watching the "Atomic Blonde" 4K Blu-ray with HDR10, the X900E was the best in my lineup by a very small margin. The Vizio M was nearly as good, however, and while the Vizio P and TCL were slightly behind, they still looked great.
The Sony and Vizio M delivered brighter highlights in many scenes, compared to the others, improving their HDR pop. When Lorraine (Charlize Theron) gets debriefed in Chapter 2, for example, the bright reflections were a bit brighter on those two sets than the others, lending a bit more pop.
As I saw with non-HDR, in most scenes the Sony did evince lighter (worse) black levels than on any of the others aside from the Samsung, which robbed the image of some impact and HDR-ness. But its black levels were still very good, and overall contrast was still great. Shadow detail was slightly better on the Sony than the others as well, and its overall HDR image, despite the slightly lighter blacks, was the most pleasing, in part due to superior color.
It's tough to judge color without an HDR reference, but to my eye the Sony managed the best in the lineup, showing a bit more balance than the others while maintaining a brilliant, wide color gamut. And for what it's worth, it also did very well in my HDR color measurements (see the Geek Box below).
During the bar scene in Chapter 8, for example, the skin tones of Lorraine looked appropriately natural at first, then brilliant reddish pink under the garish lighting. The Vizio M was closest, while the TCL was a bit too saturated and the Vizio P less brilliant. The Samsung's color also looked very good in this scene, but in others it appeared duller and less saturated. And the Vizio M, for its part, evinced an unnatural bluish tint in the opening scenes. As usual the differences would be tough to spot outside of a side-by-side comparison, and all of the sets in my lineup handled HDR color well — much better than the 2016 Vizo M, for example.
Of course, different films have different characteristics, especially in HDR. As part of the M series review, I compared "Jason Bourne" in Dolby Vision from the Apple TV 4K (on the Vizios and TCL) to the HDR10 4K Blu-ray. It didn't make a huge difference, nor were the images identical to what I saw with HDR10. The Sony still looked best overall, and the M-Series still looked great, but the P-Series sets (both TCL and Vizio) looked better than before.
I also watched "Wonder Woman" with the same comparison lineup in the MU9000 review, playing the Dolby Vision version on the Vizios and TCL, and the results were similar. The Sony looked the best overall despite not playing the Dolby Vision version, while the Samsung again lagged the pack. Once again, the TV seems to have a larger effect on what you see than the HDR format.
Geek Box
| | | |
| --- | --- | --- |
| Test | Result | Score |
| Black luminance (0%) | 0.0103 | Good |
| Peak white luminance (100%) | 923 | Good |
| Avg. gamma (10-100%) | 2.28 | Average |
| Avg. grayscale error (10-100%) | 0.505 | Good |
| Dark gray error (20%) | 0.577 | Good |
| Bright gray error (70%) | 0.363 | Good |
| Avg. color error | 1.093 | Good |
| Red error | 1.496 | Good |
| Green error | 1.035 | Good |
| Blue error | 0.874 | Good |
| Cyan error | 0.999 | Good |
| Magenta error | 1.106 | Good |
| Yellow error | 1.048 | Good |
| Avg. saturations error | 0.7 | Good |
| Avg. luminance error | 1.58 | Good |
| Avg. color checker error | 0.98 | Good |
| 1080p/24 Cadence (IAL) | Pass | Good |
| Motion resolution (max) | 900 | Good |
| Motion resolution (dejudder off) | 300 | Poor |
| Input lag (Game mode) | 31.77 | Good |
| | | |
| HDR default | | |
| Black luminance | 0.000 | Good |
| Peak white luminance (10% win) | 902 | Poor |
| Gamut % DCI/P3 (CIE 1976) | 94 | Good |
| Avg. saturations error | 3.5 | Average |
| Avg. color checker error | 3.7 | Average |
(cnet.com, https://goo.gl/Gd3msc)
Comments
comments