THE GOOD: The Sony MDR-XB50BS is affordably priced, sweat-resistant, sounds decent and fits well (it's easy to get a tight seal). Battery life is good at 8.5 hours and the headphone has strong bass performance.
THE BAD: Not the greatest-looking wireless sports headphone; performed only OK as a headset; no protective case.
THE BOTTOM LINE: It's got some small downsides, but the reasonably priced Sony MDR-XB50BS is a step up in sound from a lot of inexpensive wireless sports headphones.
Sony's new MDR-XB50BS Extra Bass Sports Wireless in-ear headphone is worth considering for a few reasons: Not only is it relatively inexpensive at around $60 online (£60 or AU$130), but just as importantly it fits well and sounds good, particularly if you listen to bass-heavy music.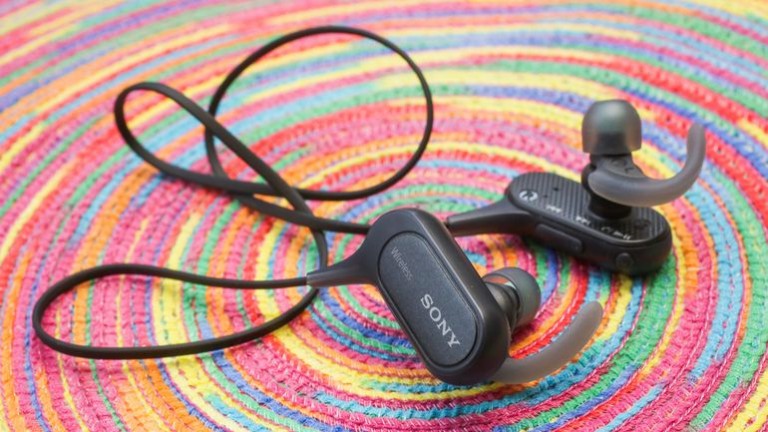 A bit clunky-looking, it isn't the smallest in-ear wireless headphone, with a footprint around the size of the Beats Powerbeats3 Wireless (which is, in turn, three times more expensive). However, it's fairly lightweight, and fit me better than the Powerbeats3, though the Powerbeats3′ ear hooks are beneficial in keeping the earphones on your ears.
The MDR-XB50BS comes with a few different size fins and eartips, and I was able to get a nice tight seal with the large size of both, and that seal was crucial for maximizing bass performance. This is a noise-isolating headphone and it does passively muffle ambient noise pretty well, so you won't be able to hear traffic while you're running if you're playing your music even at moderate volume levels.
Speaking of running with these earphones: While I got a snug fit and the headphones stayed in my ears just fine walking around New York City and while lifting weights at the gym, I did notice a little bit of slippage when I ran with them. For me anyway, the fin wasn't locked in my ear quite as well as I thought it was. To be clear, everybody's ears are shaped differently, and these may lock very well in your ears. But I'm just passing along my experience, which left me with some doubts about whether they'd be the perfect fit for runners.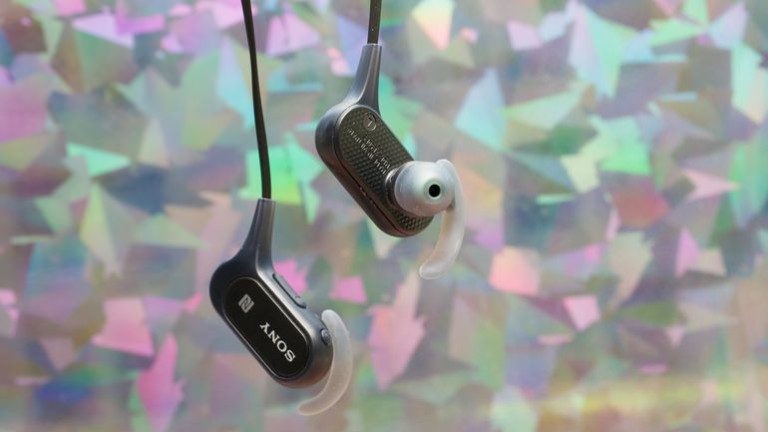 Battery life is rated at 8.5 hours, which is decent, and the headphone is water-resistant but not waterproof. I can't say they seem like the sturdiest headphones in the world, but they do only cost $60.
There's a built-in microphone along with volume and track skipping controls and the earpieces. The call quality was OK, not great, and this will perform better as a headset in quiet environments, not, say the noisy streets of New York.
From a sound-quality standpoint, they don't call these Extra Bass Wireless in-ear headphones for nothing. As I said, they put out a lot of bass and it's pretty decent bass that's got some punch to it and just manages to avoid entering boomy territory.
These aren't the cleanest or most detailed headphones, but they do sound particularly good when you're listening to electronic or hip-hop music, and they maintained a mostly hiccup-free wireless connection.
You can get cheaper in-ear wireless sports headphones than this. Usually, they're from no-name companies and they work acceptably for a lot of people. The Sony MDR-XB50BS is a step up from a lot of those models, but it's not as good as Jaybird's X3, which costs around twice as much. Sony also offers the new XB70BT neckband wireless models for a bit more than the XB50, too.
As I said, for the price it's a decent deal. And if I didn't have that little bit of slippage when I was running I'd rate it even higher.
(cnet.com, https://goo.gl/VLoV0c)
Comments
comments