ZOTAC GEFORCE GTX 960 AMP! EDITION GRAPHICS CARD REVIEW
Occupying that twilight land between the sub-£150/$225 graphics cards, and the supremely expensive fireworks of the £200/$300+ crew, the GTX 960 is designed to fill that graphics card sweet spot, where high-class gaming can be experienced without having to pay out a crippling entrance fee. As such, this new card from nVidia could potentially be an important addition to its arsenal.
PRICE
When we first reviewed the card back in March, it cost a whopping £285/$428. But now, you can buy it for under £170/$255 on Amazon. That makes it much better value, and a better choice than the GTX 950 in most cases.
This isn't the first card we've looked at that features a GPU from the Maxwell family. Indeed, the 750 Ti set the ball rolling in early 2014. This product didn't represent much of a step forwards in terms of raw frame rates, but it did offer huge savings in power. The later 970 and 980 would show what could really be done with this excess power, producing searing game scores without going too over the top on wattage. The 960 marks another slight tweak.
It's built around the GM206 Maxwell GPU – the 970 and 980 both employed the GM204 – and effectively goes just beyond halfway towards the specifications of the 970/980. In effect, then, that means 1024 stream processors and 64 texture units rather than 1664 and 104 respectively for the 970. The 970, then, is a far more powerful product – with an almost £300/$450 price tag to match – and there is one area in which the 960 falls very short indeed. But we'll come back to that.
In truth, the 960 isn't competing against the 970. Instead, its main opposition will come from the mid-range Radeon cards – in particular, the 285 and the 280X. And here, the 960 looks – on paper, at least – rather inferior. Its 1024 streaming processors are dwarfed by the 1792 and 2048 of the 285 and 280X respectively. And while it matches the Radeons with its 32 ROPs, the 960's 64 texture units are again vastly inferior – the 285 and 280X have 112 and 128 texture units respectively.
CLOCK SPEED
The 960 does pull ahead on clock speeds, since it has a power-light GPU and blisteringly-fast 7GHz memory that allows these figures to be pushed to the max. So whereas the default 285 anf 280X have core clock speeds (with Boost) respectively of 918MHz and 1GHz, the standard 960 hits a startling 1178MHz. And, this being a specially overclocked version from Zotac's exclusive AMP! range, that figure is pushed up to a quite incredible 1329MHz. The Zotac also adds a slight burst of extra speed to the memory itself, pushing this up to 7010MHz.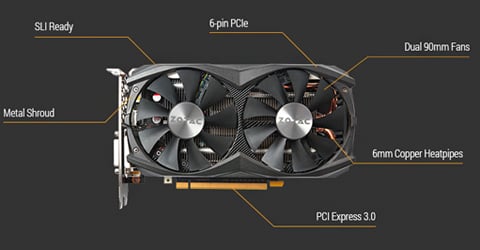 However, even Zotac can do nothing about the 960's apparent shortcomings. The lowly complement of 64 texture units is something of a downer, and even with the immense overclocking, it can only muster a texture fill rate of 85.1GT/sec. The 285 and 280X can generate figures of 102.8GT/sec and 128GT/sec respectively, giving them a theoretically much greater facility for handling detailed graphics information. And it gets worse when you look at the memory. For while the Zotac 960's memory is clocked at a sizzling 7010MHz – the 285 and 280X have comparative figures of just 5.5GHz and 6GHz – it's nonetheless hampered by a 128bit memory interface.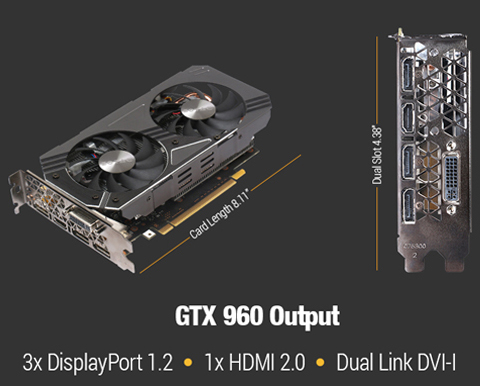 We're unused to seeing 128bit buses at this price point, so this comes as something of a shock. And it means that the Zotac stumbles to a memory bandwidth figure of just 112.2GB/sec. In contrast, the 285, with its 256bit bus, registers a figure of 176GB/sec. And the 280X, blessed with a 384bit bus, notches up a mighty 288GB/sec. Neither is the Zotac's 2GB of memory particularly impressive – the 280X has half as much again.
So, based on the hardware, it looks like bad news for the 960. But then, were you really expecting nVidia to make it so easy for its rival? As it turns out, the 960 has a few tricks and devices that allow it to make up much of this ground. The advanced colour compression technology on Maxwell means that the GPUs can do rather more with reduced memory bandwidth. Indeed, the design is rather more efficient across the board, allowing nVidia to make full use of those astonishing clock rates.
FRAME RATES
That really comes across in the game frame rates, where the GTX 960 comfortably beats the 285 in all of our tests, and gets very close to the 280X in the majority. In Crysis 3, for instance, the Zotac notches up figures of 37.0 and 21.3fps at 1900×1200 and 2560×1600. The 280X is only just ahead, on 39.8 and 24.6fps. Even in the latter case, the gap is only just over 3fps. The 285 comes up with figures of 32.9 and 19.7fps, only closing the gap at the higher resolution. In Bioshock, the 960's figures of 72.1 and 39.9fps are, again, just 2.1 and 2.4fps behind the 280X, and 3.3 and 2.7fps ahead of the 285. In the demanding Assassin's Creed Unity, the gaps are even smaller – the 960's figures of 31.2 and 21.1fps being 1.9 and 0.9fps behind the 280X, and 3.3 and 1.9fps ahead of the 285.
And, all of this is achieved for a TDP of just 125 watts. That's as opposed to 190 watts for the 285, and 250 watts for the 280X. The real-world performance gap saw the 285 generating around 75 watts more than the 960 in standard gaming tests, with the 280X a futher 30 watts down the road. These are amazing figures for cards that are supposedly competing with one another. The 960 is reasonably thickset (about 40mm in depth), but not amazingly long, at 205mm – although do measure up if you're putting this into a PC where space is likely to be an issue. This Zotac version also requires just one 6pin connector from the GPU – again testament to its superb efficiency.
The ample ports include three DisplayPort, and DVI and HDMI connectors. This nice dual-fan version generates very little noise, and the cooler can disable itself when the PC is idling, so the card will be a great addition to more discreet PCs. It also offers full HEVC (High Efficiency Video Coding), which will be particularly crucial if you want to store or transmit video with 4K resolution. That's probably not very likely for the typical 960 user, but such support is still rare, so it's nice to see it provided here.
Specs
nVidia GeForce GTX 960
2GB GDDR5
1266MHz Core Clock (boost to 1329MHz)
1752.5MHz Memory Clock (7.1GHz DDR effective)
128bit memory interface
1024 Stream Processors
64 Texture Units
32 ROP Units
PCI-E Interface
DirectX 12
1 x DVI, 1 x HDMI, 3 x DisplayPort
1 x 6pin PSU connector needed
5-year warranty
VERDICT
A lot of the 960's appeal will come down to what you want the card for. If low power consumption is a must, then the 960 is an obvious buy at this price – it really is astoundingly efficient compared to the competition. However, if you're more interested in raw figures, it's a harder decision. It's a bit cheaper than the 280X, but about 2-3fps down on speed. Likewise, it's a similar amount more expensive than the 285, this time being 2-3fps faster. At this pricing, there's very little to choose between them, although the 960's lower power consumption will make it rather better value than either once you take running costs into account. That, added to HEVC support, makes this marginally the best card at this price point, in our opinion.
(pcadvisor.co.uk)