Panasonic has announced the weather resistant Lumix G 12-60mm f/3.5-5.6 ASPH. POWER O.I.S. general-purpose zoom lens for Micro Four Thirds cameras.
Offering a significant size reduction compared to equivalent DSLR optics, this lens offers a 35mm equivalent zoom range of 24-120mm and maintains an even more compact design due to the use of a variable f/3.5-5.6 aperture. Along with this, the lens sports a splash and dustproof construction, making it great for travel and inclement weather conditions.
The new Panasonic Lumix G 12-60mm f/3.5-5.6 ASPH. POWER O.I.S. lens is compatible with Panasonic's Dual IS feature, currently available on the Lumix DMC-GX8. Its construction includes 11 elements in 9 groups, seven aperture blades and a high-speed stepping motor and features a splash and dustproof design,
Unveiled: Panasonic Lumix G 12-60mm f/3.5-5.6 ASPH. POWER O.I.S. Lens
Panasonic Lumix G 12-60mm f/3.5-5.6 ASPH. POWER O.I.S. Lens Price
The Lumix G Vario 12-60mm F3.5-5.6 ASPH will be available in May for $499.99.
Panasonic Lumix G 12-60mm f/3.5-5.6 ASPH. POWER O.I.S. Lens Specifications
Focal Length
12 – 60mm
Comparable 35mm Equivalent on Micro Four Thirds Format Focal Length: 24 – 120 mm
Aperture
Maximum: f/3.5 – 5.6
Minimum: f/22
Camera Mount Type
Micro Four Thirds
Format Compatibility
Micro Four Thirds
Angle of View
84.05° – 20.44°
Minimum Focus Distance
7.87″ (20 cm)
Magnification
0.27x
Elements/Groups
11/9
Diaphragm Blades
7, Rounded
Image Stabilization
Yes
Autofocus
Yes
Filter Thread
Front: 58 mm
Dimensions (DxL)
Approx. 2.60 x 2.80″ (66 x 71 mm)
Weight
7.41 oz (210 g)

New LUMIX G VARIO 12-60mm / F3.5-5.6 ASPH. / POWER O.I.S. Lens
New Micro Four Thirds Versatile Standard Zoom Lens
Newark, NJ (February 24, 2016) – Panasonic is introducing a new zoom interchangeable lens, the LUMIX G VARIO 12-60mm / F3.5-5.6 ASPH. / POWER O.I.S. (35 mm camera equivalent: 24-120 mm) for the LUMIX G line of Micro Four Thirds System cameras.  Featuring a splash/dust-proof design, the new lens offers a versatile 5x zoom range of 24-120mm (35mm camera equivalent) that covers a variety of daily shooting situations from dynamic landscapes to portraits.
For everyone interested in a modern alternative to bulky DSLR interchangeable lenses, Panasonic LUMIX Mirrorless Micro Four Thirds lenses deliver impressive, no-compromise optical performance. The durable, all-weather LUMIX 12-60mm F3.5-5.6 Lens features the highest standards of detail and sharpness. Built for travel and great photo and video capture, it comes complete with a splash and dustproof sealed body.** And with Dual I.S. (Image Stabilization) compatibility, you'll shoot with unprecedented hand-held stability anywhere you go.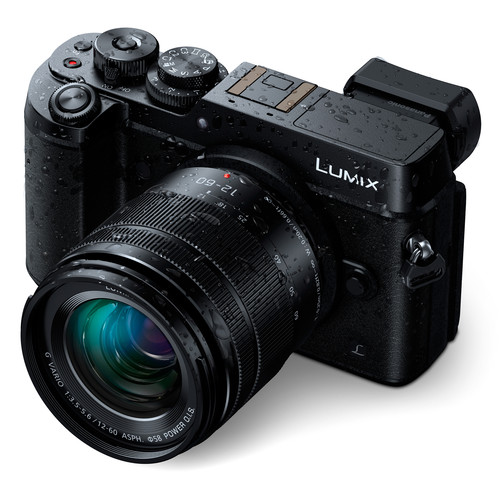 **When mounted on a compatible LUMIX G Mirrorless camera
Incorporating an inner focus drive system and a stepping motor, the new LUMIX G VARIO 12-60mm / F3.5-5.6 ASPH. / POWER O.I.S. is capable of smooth, silent operation to work with the camera's high-speed, high-precision contrast AF system for both photo and video recording. It is also compatible with the sensor drive at max. 240 fps to take maximum advantage of cameras with high-speed AF. This stunning AF performance is able to record 4K video, where precise focusing is required.
Seven blades give the aperture a rounded shape that produces an attractively smooth effect in out-of-focus areas when shooting at larger aperture settings. A highly reliable metal mount assures durability for active use, and uses multi-coated lens elements that minimize ghosts and flare to further enhance its shooting performance.
It also features 0.54x (35mm camera equiv.) magnification capability for impressive macro close-up shots.  Comprised of 11 elements in 9 groups, the lens system features three aspherical lenses and an ED (Extra-low Dispersion) lens which effectively suppresses spherical distortion or chromatic aberration to achieve stunning picture quality.
(dailycameranews.com)
Comments
comments