The Good: The Samsung CF791 34-inch curved display is a great size for gaming, and the combination of a 100Hz refresh rate and FreeSync pairs well with midrange Radeon cards. Plus, its color is pleasing.
The Bad: It only has two USB ports and the integrated stand makes life awkward for VESA mounters.
The Bottom Line: Big, bright and reasonably accurate, the 34-inch curved Samsung CF791 is a bit expensive for a FreeSync monitor but offers a generous feature set and solid performance for the money if you're a Radeon gamer.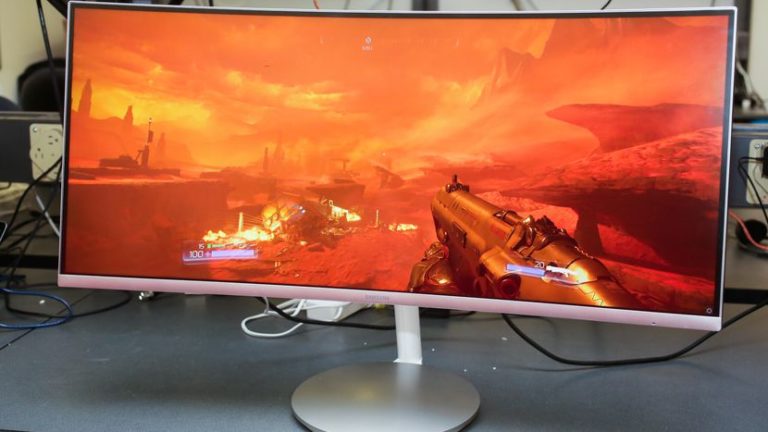 I have enough ambivalence about curved monitors to fill a 34-inch screen. For games? No question it's good. For movies and work, though, it gives pause. Most movies use a 16:9 or 16:10 aspect ratio so at best they float in the middle of a 21:9 screen. And, for example, you can comfortably fit three windows side by side, but if you only need two neither one is directly in front of you — you're staring at the space between them.
Keeping those caveats in mind, the 34-inch Samsung CF791($949.00 at Jet.com) (the C34F791WQN, to be precise) is an excellent option in this class.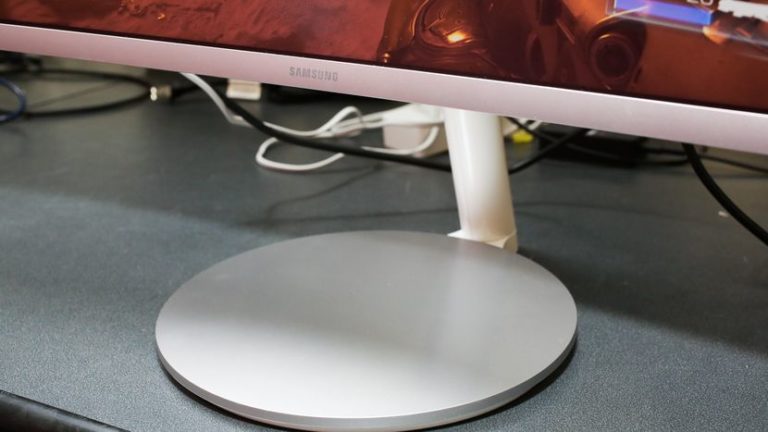 It's great for gaming, with sufficiently fast response times, a solid AMD FreeSync implementation (with a 100Hz max refresh, you've also got some leeway on lower-power Nvidia GPUs), vivid colors and a reasonable amount of configuration flexibility. Field of view, people.
It's not cheap, but I don't think its $950 price tag is unreasonably high for what it offers. In the UK it costs £800. I don't see it offered in Australia, at least not yet (for reference, the US price directly converts to AU$1,050). Samsung also offers a less-expensive display — Samsung prices it higher but it has a lower street price — the SE790 (technically, the LS34E790CNS). However it doesn't support FreeSync or use the company's Quantum Dot($42.39 at Amazon.com) technology, and it's less curved.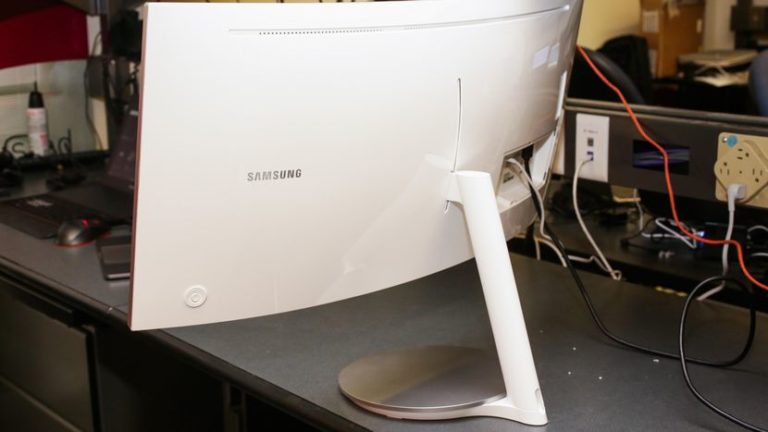 Basic specs
| | |
| --- | --- |
| Price (MSRP) | $949.99; £799 |
| Panel type | VA/QD LED |
| Degrees of curvature (smaller is tighter) | 30 |
| Size (diagonal) | 34 |
| Curve radius | 1500R |
| Resolution | UWQHD (3,440×1,440) |
| Aspect ratio | 21:9 |
| Pixel pitch (mm) | 0.23 |
| Maximum gamut | 125 percent sRGB |
| Rotates vertically | No |
| Typical brightness (nits) | 300 |
| HDR | No |
| Sync standard | FreeSync |
| Maximum vertical refresh rate (at HD or higher resolution) | 100Hz |
| Gray/gray response time (milliseconds) | 4 |
| Release date | December 2016 |
Setting it up is dead easy, mostly because the stand is integrated. It rises or lowers as it slides along a track that simultaneously tilts it. In other words, at its highest, you're viewing it directly ahead. At its lowest, it tilts back so you're looking down at it. You can adjust the amount of tilt, giving it a cockpit feel that's a comfortable way to give your neck and upper back a change. It's probably a really good fit for standing desks.
You can configure the HDMI and full-size DisplayPort inputs to display simultaneously in Picture-in-Picture or Picture-by-Picture modes, and there's an HDMI out for passing the signal through to another monitor or TV.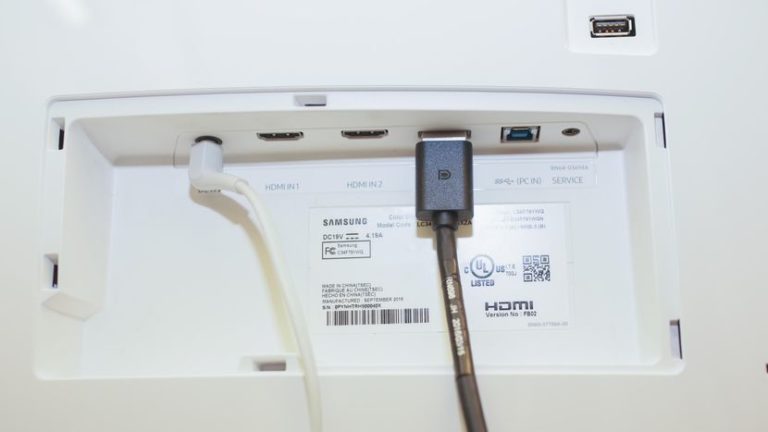 Connections
| | |
| --- | --- |
| HDMI | 2×2.0 |
| DisplayPort | 1×1.2 |
| USB Type-A (out) | 2xUSB 3.0 |
| USB 3.0 (in) | 1 |
| Built-in speakers | 2×7 watts |
| Headphone jack | Yes |
Since they're positioned on the left side and not blocked by the arm, the connectors are really easy to reach. And while I'm not crazy about the white and silver, it's much easier to read the connection labels than with many of the dark cabinets.
I also like Samsung's single-control joystick design for navigating the onscreen display and options. But it means there's no way to map custom presets or FreeSync modes for direct access. The Samsung Magic Bright setting actually refers to its preset modes rather than brightness, and its "Basic" mode is sRGB. In fact, there's a lot of ambiguity in the OSD: Gamma choices are Mode1, Mode2 and Mode3, for example. But there's a respectable set of options, including dynamic contrast, HDMI black level (which I believe is necessary to compensate on Quantum Dot panels). Magic Upscale basically oversharpens everything.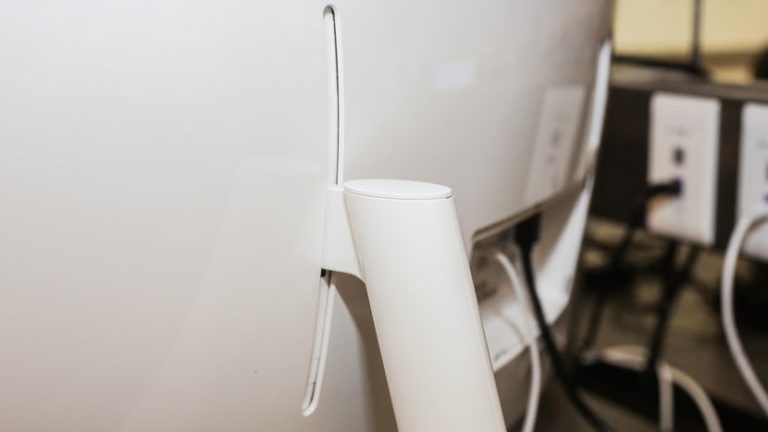 No surprises
Like most consumer displays, the CF791 comes out of the box ready to show every color it can so that scenes pop, accuracy be damned. If you're sensitive to colors you might want to choose the Basic sRGB setting, since its gamut exceeds sRGB. It tests out at about 125 percent as rated, pushing out significantly into the less saturated greens and a little in every other direction.
Quantum Dot backlights tend to be cooler than standard white LEDs. The High Bright setting controls that. Normally, the blue is pulled back a little, which allows the CF791 to deliver a color temperature of about 6300K and a maximum contrast ratio of 1704:1. In High Bright, the color temperature tests out to 6600K and the contrast ratio rises to 2600:1.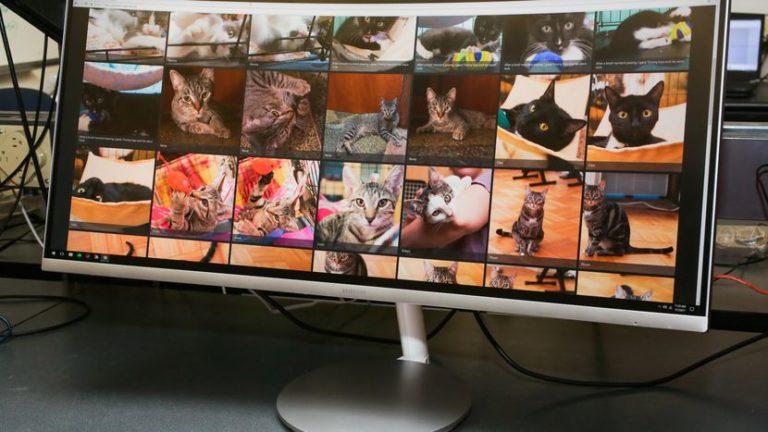 I find High Bright uncomfortable to use, and it's less accurate than the standard modes. Overall, the monitor is accurate enough for casual photo and video editing in sRGB. The display's maximum brightness reaches 290 nits, which won't win any awards, but I've got the brightness down to 17 percent as I write this and gamma matters a little more for most current games and HD streaming video.
The display is really viewing-angle sensitive, however. Brightness drops off dramatically, making it look low contrast in off-axis areas, so you have to either ignore that or position it carefully. The theory is that with a curved display you're always sitting in the sweet spot so off-axis artifacts don't matter, but that's not always the case. I've seen complaints about vignetting (dark corners) and backlight bleed, but my evaluation unit didn't suffer from either.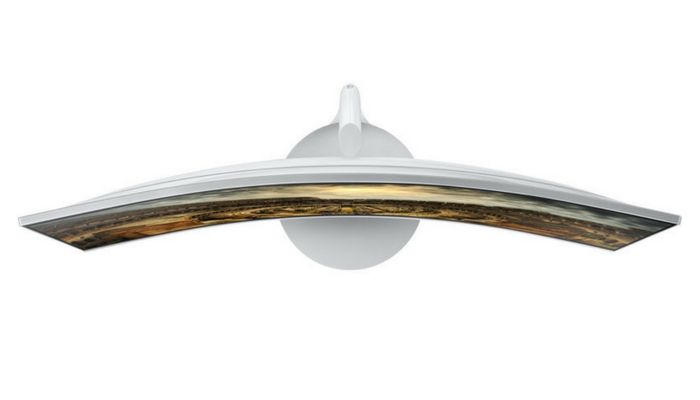 There were no surprises with respect to FreeSync performance. Using the Standard Engine running on an RX 570 and forcing Doom (Vulkan) to frame rates below 60fps made it look good. It looked better in Ultimate, but when the frame rate dropped into the 48-53fps range and the low frame-rate compensation kicked in, there was noticeable flicker. Bioshock Infinite had lots of tearing in the opening cut scenes which went away with Ultimate, but that's probably Bioshock's fault.
Its built-in 7 watt stereo speakers sound… OK. They're good enough to indicate that something exploded, but not the best for music or surround.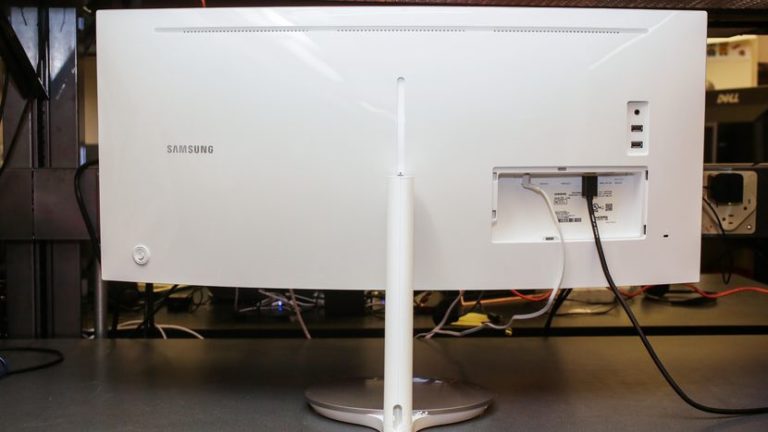 Buy or no buy
Samsung's 34-inch curved Quantum Dot display is one of the best I've seen thus far thanks to its broad color gamut and relatively accurate color. When you toss in its solid FreeSync implementation and a native refresh rate of 100Hz it wins the day for Radeon fans, too.
(cnet.com, https://goo.gl/xuWyQS)