14. 2016 CHRYSLER 200
The 2016 Chrysler 200 S ranks among the top of this list in price and safety. In fact, this sedan has earned a five-star overall safety rating from the NHTSA. This powerful all-wheel drive vehicle delivers more advanced safety and security features than any other sedan in its class including LaneSense® lane departure control, Adaptive Cruise Control with Stop and Assist, Parallel Park Assist with Full Stop and Perpendicular Park Assist.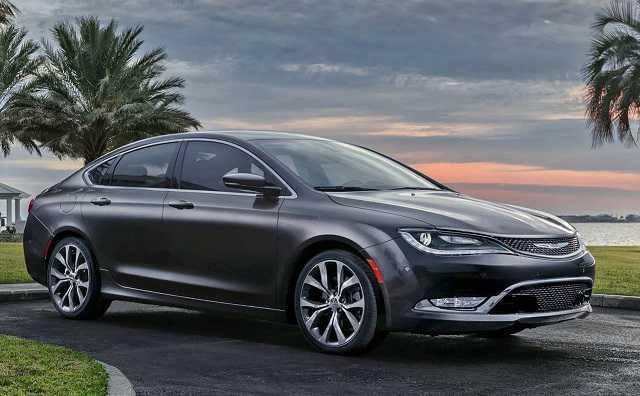 The Chrysler 200 features a powerful 3.6L Pentastar® V6 engine that delivers exceptional power at 295 horsepower. This vehicle is also the only vehicle in its class to offer nine-speed automatic transmission. The wide gear ration ensures smooth transfer between all gears and exceptional fuel efficiency at all speeds. The transmission operates electronically instead of mechanically using Rotary-E shift. If you're looking for safety, speed and style all rolled up in one, the 2016 Chrysler 200 S is your deal.
13. 2016 DODGE JOURNEY
The Dodge Journey SE offers exceptional safety equipment for less than $30K including electronic stability control. This feature will reduce engine speeds and apply the brakes when needed. The mid-size crossover is the perfect solution for families who need a reliable sporty vehicle. The Dodge Journey offers high fuel efficiency, an aggressive design and seats up to seven people. The bold, strong design of the Journey makes it especially appealing to those who love travel and adventure.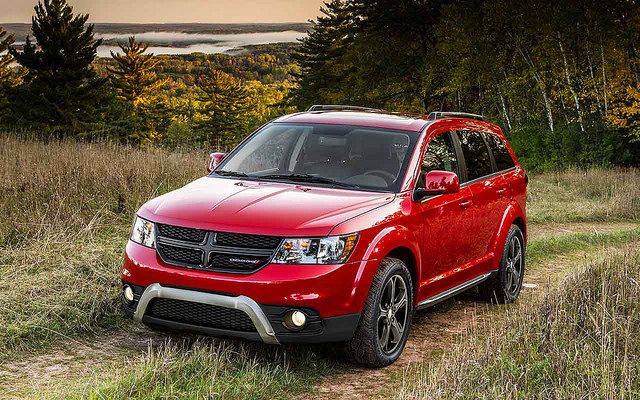 The Journey is customizable to suit your unique needs. With eight different wheel options, an optional power sunroof and a standard roof rack, there's no reason why this crossover shouldn't satisfy. Safety features include electronic Stability Control, seven airbags, four-wheel antilock disc brakes and the ParkView Rear Back-Up Camera. Tire Pressure Monitoring helps ensure that all your tires remain at the recommended tire pressure at all times.
12. 2016 HYUNDAI TUCSON
This brand-new SUV from Hyundai features superb safety features including Lane Departure Warning, an automatic emergency braking system and a blind spot remover. The hands-free lift gate permits easy access to the rear of the vehicle when your hands are full. This vehicle is technically a compact crossover, but you will be pleasantly surprised at the premium materials and features found inside.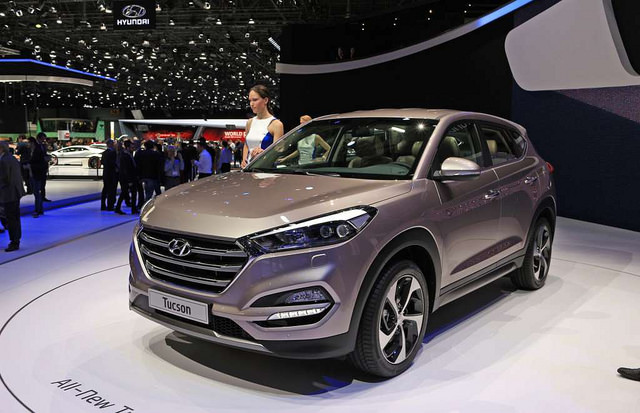 The standard driver seat can be configured six different ways. If you want an upgrade, you can select the powered eight-way adjustable seat. The leather-appointed passenger cabin features ventilated and heated front seats. Second-row seating is comfortable even for adults with more leg room than the Honda CR-V and the Ford Escape. Heated rear seats are available along with rear-seat air vents. If you want to ride in style, with comfort and control at your fingertips, the 2016 Hyundai Tucson is the way to go.
11. 2016 MAZDA CX-3
The Mazda CX-3 is excellent for those wishing to save on gas while maintaining a high-end look. This vehicle stands out among subcompact crossovers with its sporty handling and well-equipped cabin. Though the Mazda is among the smallest of automobile manufacturers, it continues to produce high-quality, head-turning vehicles that you can feel good about driving.
The Mazda CX-3 is superb at fuel economy. Front-wheel drive offers an impressive 31 mpg in combined city/highway driving. Using all-wheel drive, the CX-3 rings in at 29 mpg highway driving. It doesn't get much better than that. Responsive acceleration enables this little gem to merge and pass with ease.
The five-passenger subcompact crossover SUV is available in three trim levels: Sport, Touring and Grand Touring. Upgrade options for the Touring and Grand Touring trim levels include heated mirrors, adaptive LED lights, LED fog lights and tail lights, leatherette upholstery, a blind-spot monitor with rear cross-traffic alert and a seven-speaker Bose audio system. What more could you ask for?
10. 2015 TOYOTA RAV4
The 2015 Toyota RAV4 is relatively unchanged from previous versions. There are several new options and features available for this vehicle. This crossover is very easy to park and has an excellent fuel economy.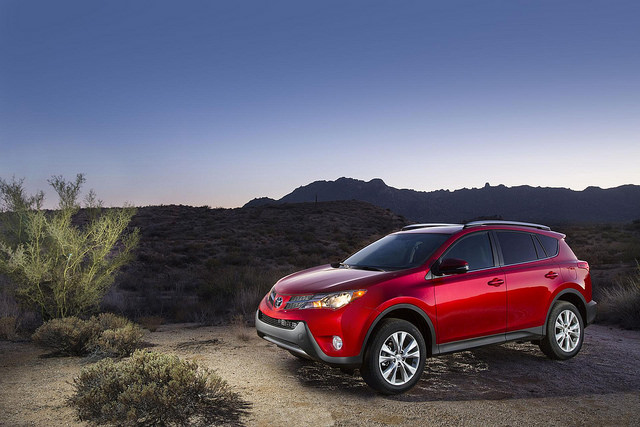 It has been said that the greatest asset of these vehicles is their versatility. They are equally at home as a first-time car purchase, a family car or the means of transportation for your latest sporting adventure. The RAV4 features roomy passenger seating and cargo compartment areas. The low load floor of the cargo area makes it ideal for those who often transport large, heavy items. From a couple of dogs to bags of gravel for your landscaping project, the 2015 Toyota RAV4 is perfect for people of all personalities and lifestyles. The RAV4 is a well-rounded entry level vehicle into a very competitive segment of the crossover market.
9. 2015 MITSUBISHI LANCER
The 2015 Lancer features slight changes over previous models. The release of this small sedan marks its ninth year of existence on the car market. The same trim levels as previous models remains: ES, SE, GT and Ralliart. The ES package includes 16-inch steel wheels, manual climate control, adjustable front seats and a defroster for the rear window. The Value package upgrade the ES trim level with Fuse voice-activated electronics interface, chrome interior trim and a USB port to replace the standard RCA jacks. The Deluxe package provides additional options including a sunroof, keyless ignition, a six speaker sound system and satellite radio.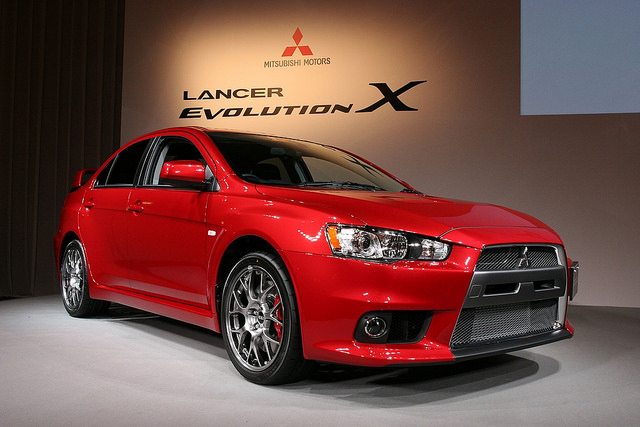 Higher trim levels offer 18-inch alloy wheels, a more powerful engine, fog lights, heated front seats and a 6.1-inch touch-screen audio interface. The all-wheel drive Ralliart trim offers a turbocharged engine for superior responsiveness and speed. The engine is paired with automated manual transmission with shift paddles. For those who want the appearance of the GT or Ralliart trim model without the extra expense, you can purchase the ES trim appearance package for the addition of a front air dam, rear wing and chrome-finished exhaust outlet.
8. 2015 FORD FUSION
The 2015 Ford Fusion upped the game for family sedans by releasing the redesigned Fusion in 2013. Packed with new features and stylish to boot, the new Fusion was an immediate hit among customers. The 2015 Fusion features only slight changes from the 2013 model. The appeal of this vehicle goes far beyond its head-turning design. You will find it hard to locate another family sedan presenting the driving experience of the Fusion.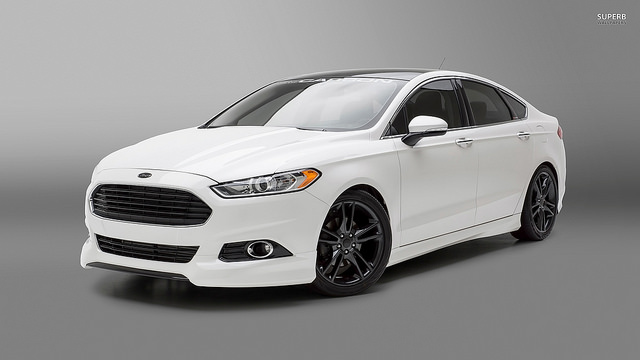 The Ford Fusion is a five-passenger midsize sedan available in three trim levels: S, SE and Titanium. The Fusion S comes equipped with a standard 2.5-liter, four cylinder engine and 16-inch wheels. The sound system features a CD player and a USB port/iPod interface. The Fusion SE sports heated mirrors, rear air ducts, 17-inch alloy wheels and an eight-way power driver seat. The sound system includes six speakers and satellite radio. The Fusion Titanium is equipped with a turbocharged 2.0-liter engine, sport-tuned suspension and keyless ignition. A premium 12-speaker Sony sound system and HD radio are just a few of the many other options available with the Titanium.
7. 2016 NISSAN ROGUE
The Nissan Rogue offers an emergency telematics system and SiriEyes Free as part of the new upgrades for the year. The Rogue is a family-friendly model that can seat up to seven passengers with a third-row seat. This feature is uncommon among compact models. Keyless entry and a surround-view camera system give the interior of the vehicle a classy appearance. Cargo space in the Rogue can be as great as 70 feet with the rear seats folded down, a figure greater than that of many competitors. The Rogue is perfect for those who desire a crossover with a smooth ride.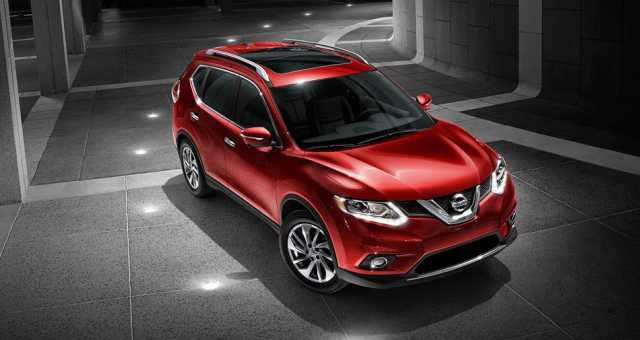 The Rogue is available in three trim packages: S, SV and SL. The S is customizable with the optional Appearance package including roof rails, integrated turn signals for the side mirrors and chrome exterior door handles. This crossover is available standard with side curtain airbags, four-wheel antilock brakes and front seat airbags.
6. 2016 KIA SPORTAGE
Fun to drive, powerful turbo engine in higher trims, sporty handling…what more could you ask for in an SUV? The 2016 Sportage features a touch-screen display and a rear-view camera for the LX trim Popular package. Kia tends to inject sportiness in all its vehicles. This tendency is proven no less true with the appropriately named Sportage. Delivering nimble handling and strong performance, this vehicle is sure to please the pickiest purchaser.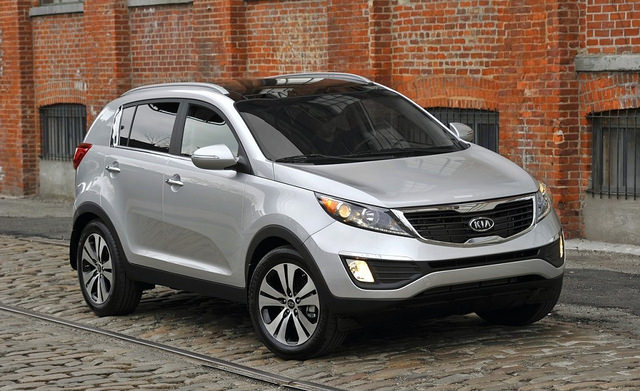 The 2016 Sportage is available in three trim levels – LX, EX and SX – and offers seating for up to five passengers. The LX includes 17-inch alloy wheels, rear privacy glass, a tilt-and-telescoping steering wheel and satellite radio. The optional Popular package includes a rear spoiler, roof rails and a trip computer. The EX includes all the features of the LX with the addition of 18-inch alloy wheels, a six-way power driver seat, heated front seats, dual-zone climate control and more. The EX trim can be further upgraded with the EX Premium package.
The sporty SX model includes all the above items with the addition of a turbocharged engine, a unique front grill, dual exhaust outlets and a panoramic sunroof.
5. 2016 HONDA HR-V LX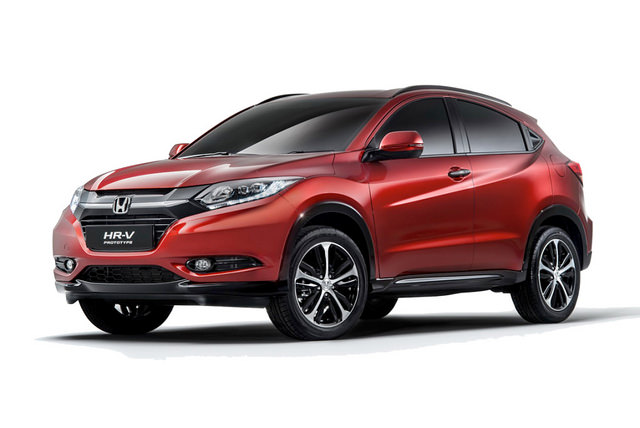 The Honda HR V is a brand-new car from the Japanese automaker. Honda took note of the continued growth of the popular CR-V and decided to create a new entry-level crossover SUV. If the Pilot is "papa" and the CR-V is "mama", the HR-V fits perfectly in the family as "baby." The Honda HR-V features what the manufacturer refers to as a "Magic Seat," a rear seat that can be lowered to accommodate long or bulky items. Among the HR-V's competitors include the Nissan Juke, the Jeep Renegade, the Mazda CX-3 and the Fiat 500X. The 2016 Honda HR-V is available in three trim levels: LX, EX and EX-L Navi. The HR-V comes equipped with a 1.8-liter four-cylinder engine with 141 horsepower and 127 foot-pounds of torque.
4. 2016 SUBARU IMPREZA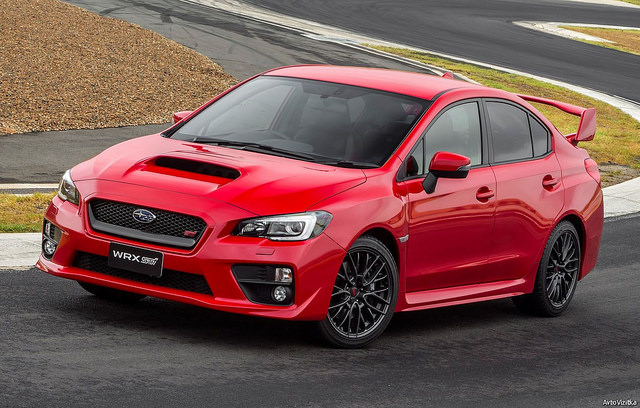 The 2016 Impreza by Subaru features a few minor changes from the 2015 model. The Subaru Starlink Cloud applications are now available in all models for the infotainment systems. Limited trims are equipped with Starlink safety and security services. Although Subaru is known for manufacturing vehicles with a heavy appeal to campers, skiers and other adventurers, this does not mean that the Impreza is a bad deal for a family sedan with all-wheel drive. The spacious cabin features roomy rear seating. The precision-tuned suspension buffers passengers from unpleasant jolts and bumps, yet provides smooth handling around turns. The Impreza is available in three trim levels: 2.0i, 2.0i Premium and 2.0i Limited. The hatchback body style comes in 2.0i Sport Premium and 2.0i Sport Limited trims.
3. 2016 VOLKSWAGEN TIGUAN
The Tiguan is a little more expensive than some all-wheel drive vehicles, but the 4MOTION all-wheel drive system makes it worth it. This system reads road conditions and sends power to all four wheels according to what it finds. The 4MOTION system provides the driver with exceptional traction even on wet and icy roads. What more could you ask for in a car?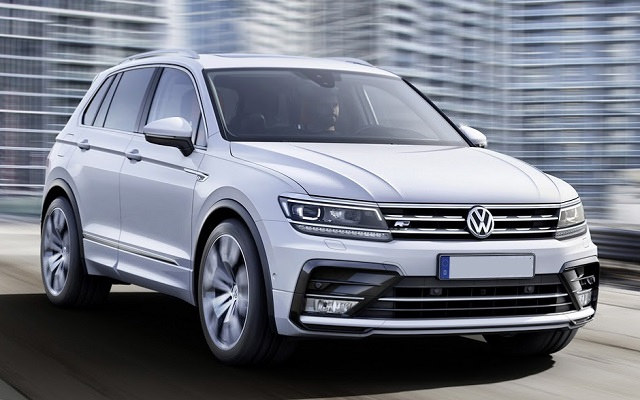 The Tiguan runs smaller than most of its rivals in the small SUV world. The smaller size is a plus, however, when attempting to park in tight spaces. One of the upgrades for 2016 includes a touchscreen interface. Despite its small size, the Volkswagen Tiguan for 2016 epitomizes refinement and class, making it a good choice for those who want a vehicle that is trusty yet sleek.
2. 2016 CHEVROLET TRAX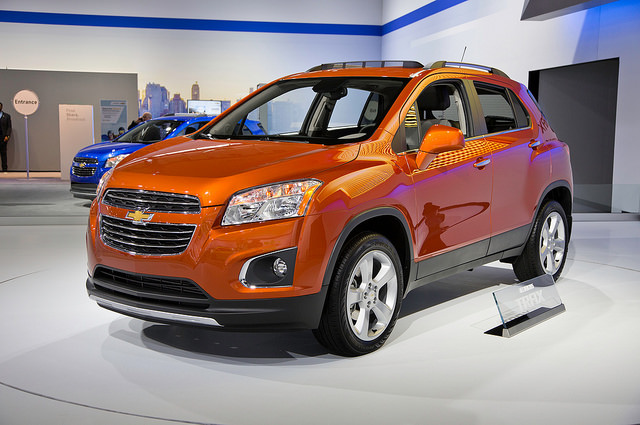 While the Trax isn't the flashiest SUV on the inside, it is easy to maneuver and has excellent visibility from the windows. The Trax is powered by a turbocharged four-cylinder engine and a six-speed transmission. Despite the turbocharged engine, acceleration with the Trax is sluggish in most situations. The front and rear seats in this SUV offer plenty of headroom and leg space. Standard features include a seven-inch touch-screen infotainment system, Bluetooth capabilities, a rearview camera and a Wi-Fi hotspot. Optional features include a power sunroof, remote start and rear parking sensors. The Trax offers a mere 48.4 cubic feet of cargo room, less than what some competitors offer. The small cargo area can be made more versatile by the fold-flat front passenger seat.
1. 2016 MINI COOPER COUNTRYMAN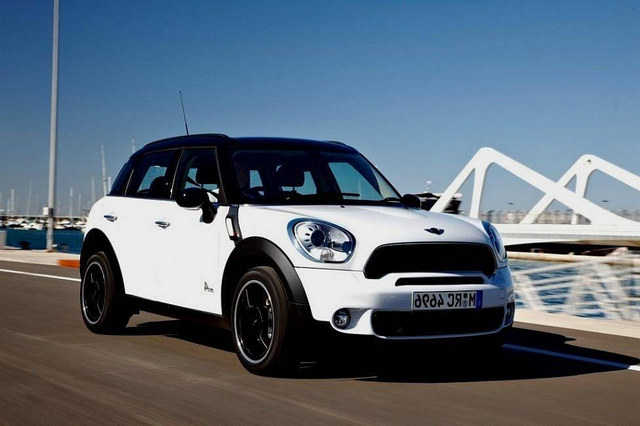 The Countryman's small size doesn't mean it's not worth consideration. This little bug-sized car is extraordinarily agile and accelerates quickly. The base four-cylinder engines produce plenty of power, although the turbocharged engines give the Countryman an extra boost of power. Optional automatic transmission provides smooth shifting. Some critics say that the Countryman has a stiff ride and that it tends to lean more around corners than smaller Minis. The cargo hold is among the smallest in the class of crossover SUVs. The Cooper Countryman is a great option for those who like the distinct styling and agile handling of the brand but want or need more cargo space than a "normal" Cooper or Clubman. The Countryman can comfortably seat five passengers.
(carophile.com)