The first part of our Ford Focus RS versus Subaru WRX STI versus Volkswagen Golf R comparison, the road test, ended with the Volkswagen claiming victory over the new Ford and the Subaru.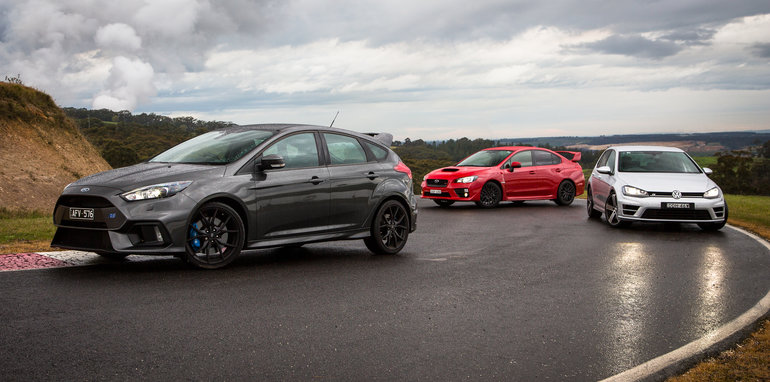 This, though, is the second instalment – the track element – and it's the best chance the compromised but vastly gifted RS has to win back some ground.
The plan
With each car's fuel tank refilled – the Subaru's the biggest at 60 litres, followed by the Volkswagen's at 55L, and the Ford's at 51L – we once again inflate tyres to manufacturer-recommended pressures, as we did for our previous day's road drive.
In the case of the $50,990 Focus RS, this means 41psi in the fronts and 38psi in the rears. Subaru recommends 33psi and 32psi respectively for the $49,790 WRX STI, while the $52,740 Golf R takes 38psi all round.
…
Read full post here:
https://www.caradvice.com.au/479623/ford-focus-rs-v-subaru-wrx-sti-v-volkswagen-golf-r-comparison-track-test/