OUR EARLY VERDICT
The Vivoactive 3 is a big upgrade on the previous watch from Garmin and new features such as Garmin Pay may lead it to be a great new fitness companion.
FOR
Premium design
New payment tech
AGAINST
Slightly dull display
No music support
Mere days after the announcement of the Fitbit Ionic and Fitbit Pay, Garmin has revealed the Vivoactive 3, which comes sporting a new mobile payment tech of its own, called Garmin Pay.
The new Vivoactive 3 looks like the most premium watch that Garmin has ever created and comes with a few new features that make it worthy of the sport brand's name.
We've had the opportunity to try out the new smartwatch at IFA 2017 and here you'll find all of our impressions so far.
Garmin Vivoactive 3 release date and price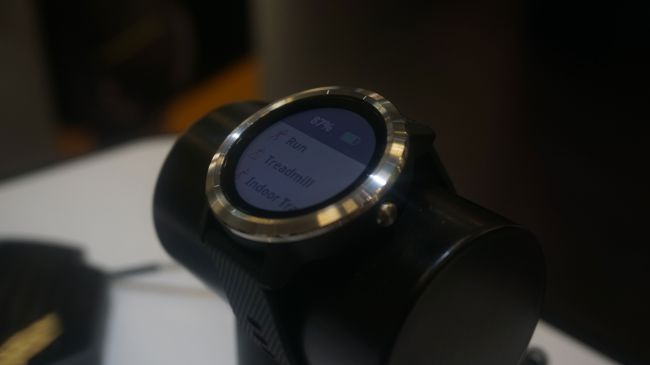 An exact release date for the Vivoactive 3 is currently unclear, but we do know the price will start at £279.99 (about $360, AU$450).
There's a slightly more expensive version of the watch too, which comes with a more refined design and will cost you £299.99 (about $390, AU$490).
Design and display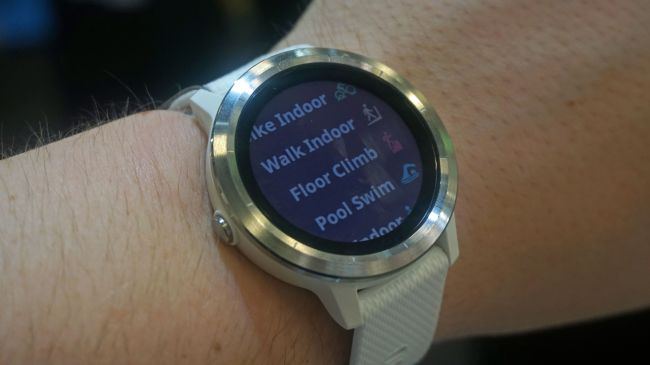 The Garmin Vivoactive 3 is thinner, lighter and generally a better looking watch than the Vivoactive or the second generation device. It's made of metal with a comfy and tight strap that won't fly off when you're exercising.
The body itself has a premium feel. There are two versions of the Vivoactive 3, but as far as we can tell the more expensive version just has a darker grey bezel and strap buckle. It does look better than the other version, but we're unsure if it's worth all that extra money for this.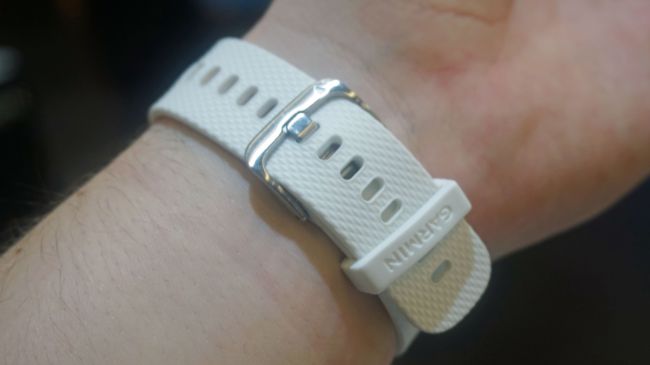 Whichever option you pick though the bezel is fairly small, leaving lots of space for the display. The display looks a little dull so far from what we've seen of the Vivoactive 3, but it was easy to flick through the menus with the responsive touchscreen.
It's a color display, which means you can have a splash of excitement in the watch faces and apps you use.
Garmin's strap was comfortable to wear for a few minutes and based on our knowledge of previous Garmin products we expect the strap should be comfortable to wear when you're exercising.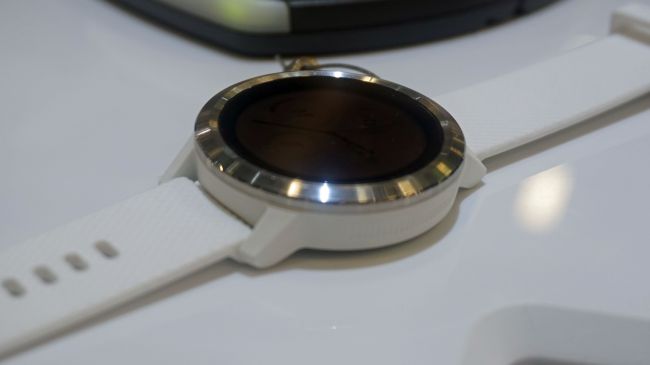 It's a polymer strap and there are no other strap options as this is a fitness-focused watch. The watch is also waterproof, so you'll be able to take this swimming or in the shower.
Fitness features
Garmin has packed the Vivoactive 3 full of fitness tech so you can use it for a variety of different exercises.
There's traditional runs – as this does have built-in GPS after all – as well as swimming, gym workouts, golf and much more. We found ourselves testing out a yoga workout very briefly and the interface made it easy to start the workout.
There's a heart-rate monitor on the back of the device that's always running too, so you'll always be able to keep track of your beats per minute.
Other specs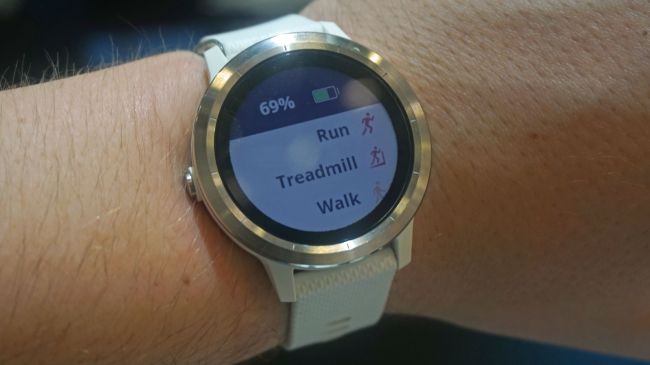 This is the first time a device has had Garmin Pay inside it, which is a new mobile payment system from the company. It works in a similar way to Android Pay or Apple Pay, which means you can enter a store and pay at a contactless terminal by tapping your watch on the top.
We weren't able to test this tech during our hands on, but we'll be sure to take a look for our full review. It's also not clear what banks will be supporting Garmin Pay at the moment.
The Vivoactive 3 can also get notifications from your phone, but it's unclear at the moment what you'll be able to get through. We can assume as other Garmin products have taken phone calls and text messages that these will be included.
We don't know the exact size of the battery cell used in the Vivoactive 3, but Garmin claims it'll last eight days from a single charge or 13 hours if you're using the built-in GPS. That sounds very good compared to other watches of this type, so we'll be sure to push it to its limits when we complete our full review.
Early verdict
If you're just looking for a watch to take running you may want to take a look at one of the dedicated running watches from the company, but if you plan to do all sorts of different exercises this will likely be a perfect tracker for you.
Payment tech is a useful thing to have when you're out and about without your wallet too, but right now the price of the Garmin Vivoactive 3 may be a little too much for many to contemplate buying.
(techradar.com, https://goo.gl/qhLU56)
Comments
comments