The Audi A8 has long been considered as chauffeur to the stars; a cushy place to sit in luxury when being carted around. In its 2017 guise, the new A8 elevates that concept to new heights, not only for passengers but driver too.
For the 2017 Audi A8 is the company's next big footstep in autonomous driving, delivering what the German brand describes as level three Audi AI – providing the ability to take your hands off the wheel and pedals and let the car drive you. Now the driver becomes chauffeured in safety and comfort, thanks to a huge array of sensors and applied algorithms.
The A8 is a huge deal for not only Audi, but for luxury motoring as a whole. Not just in its Tesla-chasing ways, but in its full-on attack on redesigning its integrated technology.
Audi A8 (2017) review: An interface revolution
The new A8 totally redesigns Audi's MMI (multimedia interface) setup, with a huge integrated dash which includes what the company calls "black panel architecture".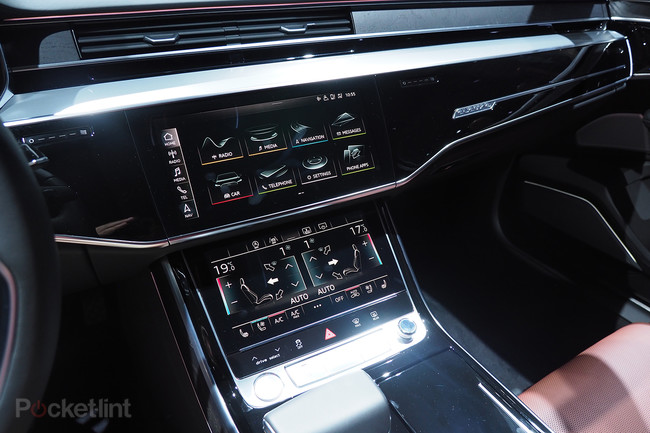 As everything is touchscreen controlled, the integrated panel appears dark and almost invisible when the engine is switched off, before springing into a life of colour when the start/stop button is pressed and fires everything up. Even the aircon vents are hidden from view for a seamless design, only revealing themselves when the engine is on.
Touch-based control has become the norm for so many devices, given the proliferation of smartphones. Audi has capitalised on this in a really obvious way: the car's interface does away with the rotational dial and more circular style design of its current line-up for a grid-based layout more akin to an Android or iOS device. If you use a modern phone, then there's little learning curve.
On the interface homescreen are the main sections – including Radio, Media, Navigation, and so forth – with a side panel to the left side. Press-and-hold an icon and you can drag it into this side panel as a favourite, to customise your personal experience and preferences.
Beneath the main dash panel is a secondary screen which hosts shortcuts. Let's say you have a favourite radio station, now it's possible to save it as a quick-access shortcut which lives on this lower screen for ultra-easy access. Up to 15 icons can be stored in this scrollable bar, with the response every bit as rapid as using a decent tablet or smartphone.
Most impressive is the haptic feedback. We've long used devices such as the iPhone which gives a light "buzz" when pressing its home key to give the impression of it being a real button. In the phone it feels like a buzz, really. In the Audi A8 its on-screen buttons actually feel like real, physically depressible buttons. It's the most impressive use of haptic feedback we've seen in any tech device to date, helped along even further by an audible "click" to aid the overall impression.
It's all very impressive indeed. But it is a total departure from the design language that Audi has spent so long building in its existing range. Well, excluding the Virtual Cockpit digitisation beyond the steering wheel.
After playing around with the system for 15 minutes in the driver's seat we're totally sold on the new package. How it'll be to control via all the touch-based icons when driving, however, might be a more complicated matter.
Audi A8 (2017) review: The chauffeur's chauffeur
The tech extends right into the back of the car too. The centre armrest has an OLED console within it which looks fairly standard. But it's got a tick up its sleeve: press a release button and this screen fully detaches like, say, a Nintendo Switch. Only you can't play games on this one, it's for a more manageable and detailed passenger control experience.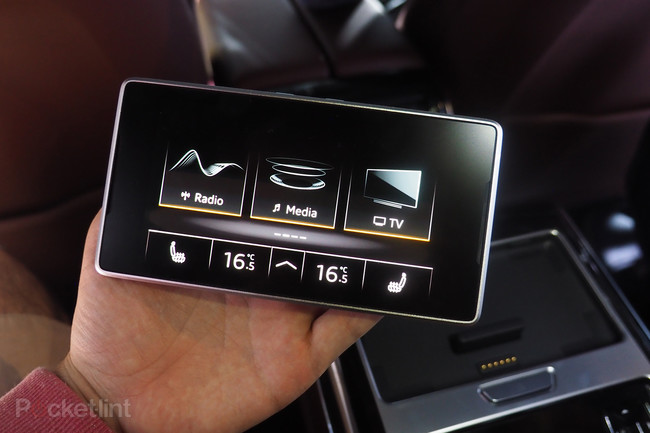 In addition to seat temperature adjustment, the panel offers access to a variety of other features, from Media and TV, to window blinds and heated seats. Perhaps most impressive of the lot is the rear lights, which are made up of a matrix of lights above for optimum control: it's possible to select brightness, size and even the position – all without physically moving anything above your head.
Although it's not been deployed in any of the presentation A8 models unveiled at the very first Audi Summit in Barcelona, Spain, there's also a relaxation seat with foot massage. Yes, a foot massage panel in a car.
Audi A8 (2017) review: New design language
The inside of the car is certainly impressive, then, but let's not skip over the new design language the new A8 embodies.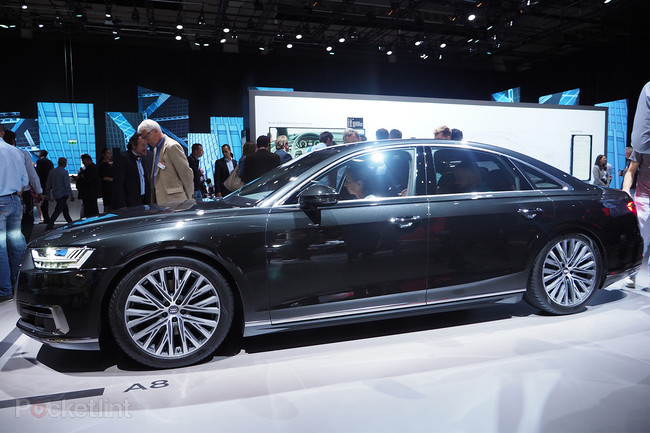 The 2017 car is built on all-new single frame architecture, which is lower and wider than its predecessors. This coupled with the tight daylight running headlights and a high coupe-like back make the car look like it's up on its hind haunches, ready to pounce.
From a side-on view the shoulder line runs like an arrow, placing a secondary fold towards the back high above the rear wheel arch. As the baseline rises to the rear wheel, it gives the impression of a coupe. However, with 20mm of additional head clearance in the back seats compared to the outgoing A8, the new car is even more comfortable for those taller passengers.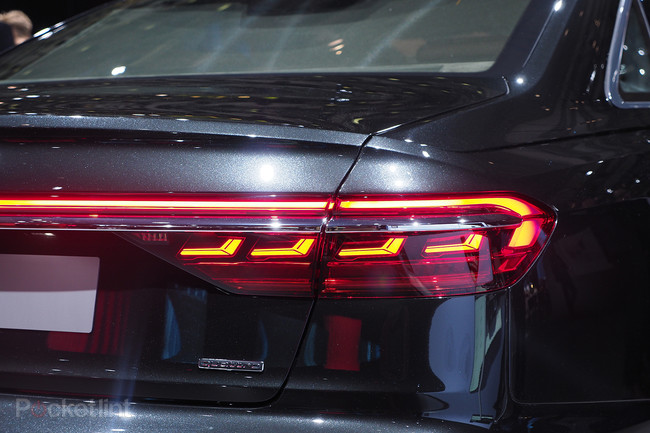 Perhaps the most striking design element of the lot, however, is the rear lights. The horizontal full-width light strip extends across the entire car's width, dominating line of sight. Each main light cluster contains an additional four OLED lights, adding complexity and depth to their make-up. OLED isn't as bright as LED by any means, but here they're present for design purposes to add additional intricacy and even animation when starting the car, for example.
Nope, there's nothing boring about the new Audi R8. It's one sophisticated and modern looking motor.
First Impressions
The new Audi A8 not only looks the part and is a comfortable place to sit – whether as driver or passenger – it's one of the most technologically advanced cars that we've ever seen, with only the (altogether different) Range Rover Velar creeping into mind as an equally enthralling in-car experience.
The A8's semi-autonomous driving is a headline feature, of course, but as we can't drive the car (or let the car drive us) just yet, right now it's the brand new tech integration that leads the way. The black panel architecture is an almost total reinvention for Audi – and one that works really well.
Above all else, though, the A8 hasn't lost sight of what it is: it's a chauffeur to the stars and, in its 2017 guise, a car that will be continue that lineage in more style and comfort than ever before.
The new Audi A8 will be released in 3.0 litre V6 petrol (TFSI) and diesel (TDI) options. Two V8 models will follow, as will an A8L plug-in hybrid solution. Pricing is TBC, but we expect it to start at around £80,000 when it launches in the third quarter of 2017.
(pocket-lint.com, https://goo.gl/Wgc81r)
Comments
comments