Triumph expands its Bonneville Street Twin  family a bit to include the all-new-for-2017 Street Cup. The SC brings the cafe'-tastic vibe of the Thruxton to a smaller engine bracket with a 900 cc mill, thus opening up the club-racing world to entry-level riders and offering experienced riders the option of downsizing for convenience without giving up too much in the way of fun.
Sporty and quick, this ride seems to be everything one would expect from a contemporary cafe' racer , but the market is currently awash with cafe' bikes and it seems that everyone is jockeying for a piece of that action. Triumph might even be taking a little wind out of its own sails (sales?) by offering another CR, but price and displacement are different enough to appeal to different buyers. That said, I want to take a look and see what Trumpet has done to make this oddly named bike attractive to buyers in this well-populated niche.
Design
The cafe' vibe starts off early with a cut-down front fender and blackout fork sliders below an isolated headlight can with a minimal flyscreen on top. Twin clocks display speed and revs with an analog gauge, and a pair of LED displays and idiot lights set in the face display all the other pertinent data.
Not exactly an exercise in subtlety, the Street Cup absolutely drips with classic design references far beyond the obvious shape similarities.
The 3.2-gallon fuel tank comes in a slightly different shape than that borne by the Thruxton, but it still contributes to the cafe'-tastic silhouette and has the distinct deep knee pockets that just seems to scream "Triumph."
A one-piece, two-up saddle comes with a pillion cover that copies the classic, cafe' tail fairing look, and the up-swept exhaust further reinforces the racy look at the rear end and adds the final touches to the SC. Not exactly an exercise in subtlety, the Street Cup absolutely drips with classic design references far beyond the obvious shape similarities. Sure, a bit of a front fairing and some laced wheels might make it look even more like a classic, but there's always the aftermarket for that, and this bike looks like a not-quite blank canvas for a custom project to me.
Chassis
A period appropriate frame toes the family line with a double downtube, double-cradle construction that gets the job done without getting too clever, or too modern. Tubular-steel members make up both the frame and the yoke-style, twin-sided swingarm for a simple but strong skeleton.
Cast-aluminum rims keep unsprung weight low, and the 18-inch front and 17-inch rear come wrapped in a 100/90 and 150/70 hoop, respectively, for cornering performance. Steering geometry plays right into cornering ability as well, with a 24.3-degree rake and 3.9-inch trail that gives the Street Cup very decisive handling that's probably better than many of the original cafe' racers.
At 56.5-inches long, the wheelbase is somewhat compact but in line with many other modern sport bikes  . Seat height is reasonable at 30.7-inches tall, and should inspire confidence in all but the shortest riders, but the drag-style bars pull the rider into a forward lean and may be uncomfortable over the long run to said shorter riders.
I'm still on the fence on the whole bar-end mirror mounts, but love 'em or hate 'em, the SC has 'em, and I suppose they do give a little bit better view than you get with traditional mirrors.
KYB supplies all suspension parts with a set of 41 mm, rsu forks up front, and a pair of standard, coil-over shocks to tame the swingarm. While the shocks come with adjustable preload, that's the only suspension adjustment on the whole bike, which is a little disappointing, but I guess they need to give you a reason to upgrade to the Thruxton 1200 R and get all those goodies.
Wheel travel at the axle falls at 4.72 inches front and rear, so there's plenty of travel for a plush ride but it may feel a little soft in the corners. Twin-pot Nissin calipers work with a 310 mm front disc and 255 mm rear with ABS on overwatch, and while it looks a bit thin on paper, there's plenty of stopping power to manage the 440-pound mass.
The SC comes ready to receive the optional heated handgrips and Tire Pressure Monitoring System, so these popular options are quickly and easily added to the bike.
Drivetrain
The Street Cup runs the Bonnie Street Twin engine, a liquid-cooled parallel-twin mill that features an off-balance, 270-degree firing order that produces a pleasing purr that's miles away from the angry-lawnlower sound of the old "twingles." Vibration is much reduced as well, and is yet another thing I won't miss about the old Trumpet plants.
Bore and stroke measure out at 84.6 mm and 80 mm, respectively, for a slightly oversquare layout and a total displacement right at 900 cc. Compression is moderately warm at 10.55-to-1, and overall performance is definitely in the fun zone with 59 pound-feet of torque and 54 horsepower on tap. A ride-by-wire throttle controls the electronic engine management, and this feature allows for the use of a traction control system that lets the rider cut loose a little with confidence. The traction control system can be switched between a few different modes, presumably one being "Off," and when added to the ABS and Torque Assist Clutch, it completes the trifecta of safety features that should allow even newer riders to safely find the edge of the envelope.
A five-speed transmission sends power to the rear wheel via a simple but tough chain final drive, and the gear ratios help produce an average of 76 mpg, numbers that make the Cup suitable as an urban commuter , albeit a fun one. While liquid cooling removes the bulk of the waste heat, cooling fins machined into the jugs and head surely bleed off a little more energy, and they keep the engine looking sufficiently retro for such a cafe'-inspired bike.
Price
The all-new Street Cup comes in two different two-tone paint schemes; Racing Yellow/Silver Ice or Jet Black/Silver Ice. Regardless of which color you pick, you can expect to spend around $10,500 for the base model and the 120-plus item accessories catalog will give you plenty of opportunity to balloon the sticker well beyond MSRP.
Competitor
Cafe' racer designs are once again becoming popular, and there are a number of mid-size models available today, but not many in the smaller brackets. One notable exception from a reputable builder would have to be the V7 II Racer America from Moto Guzzi . Built to go after the first-time or budget-minded buyer, this little Italian CR carries many of the same details such as the flyscreen on the headlight housing, cut down front fender with blackout fork sliders, and the near-obligatory tank shape and tail fairing that so clearly marks it as a CR-style ride. Up-swept exhaust pipes complete the racy finish, and MG takes it a step further by actually adding number plates, you know, for those unexpected, closed-circuit races you keep finding yourself in. Maybe that's just me?
The 'Guzzi mill is typical of the brand with a 90-degree, transverse V-twin layout that has the heads poking out from under the tank to give the America its shoulders. It measures out just a skosh smaller at 744 cc, and puts out 47 ponies and 44 pounds of grunt against the 900 cc Bonneville with its 54 ponies and 59 pounds. Of course, one must factor in weight before taking the power numbers at face value. Wet and ready to go, the V7 weighs in at 419 pounds, but Triumph lists the SC at 440 pounds dry, so you can probably figure on something around 460 by the time you get a load of fuel, lubes and a battery on there, and that certainly cuts into the power advantage as far as quickness in acceleration is concerned. The rest of the drivetrain falls along party lines with a six-speed tranny and a shaft drive on the 'Guzzi versus the five-speed and chain on the Trumpet.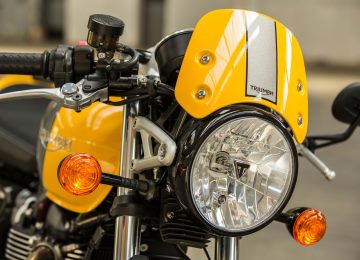 Both manufacturers run ABS and a single disc up front, but 'Guzzi adds fully adjustable rear shocks for an edge in ride control. While that's nice to have, I'm not sure it's worth the loss of traction control that is available only with the SC, and so can't really count as an advantage in this case.
Pricing is close, but the Trumpet picks up a win here with a $10,500 sticker, almost $700 cheaper than the 'Guzzi, which isn't a big difference at over 10K but there it is.
He Said
"I have been looking forward to learning more about this bike since the show, and while I am much more excited about the new Bobber , this bike has a certain cool factor, no doubt. Thing is; for another two grand you can grab a 1200 cc Thruxton, and benefit from adjustable suspension all the way around along with better brakes and more power. If I were looking for a CR, the larger bike would be my choice, but folks on a budget or looking for a smaller bike 'cause reasons may find the Street Cup to be a good alternative."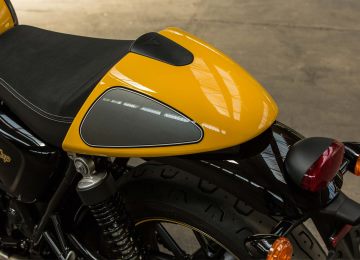 She Said
My wife and fellow motorcycle writer, Allyn Hinton, says, "This mid-range field is shaping up nicely this year. There's plenty of competition in the 800-to-1100 cc range. This Street Cup is a dressed up Street Twin with the Street Twin engine Triumph launched last year. Tuned for torque, this is an absolutely fun urban sport bike."
Specifications
| Engine & Drivetrain: | |
| --- | --- |
| Type: | Liquid cooled, 8 valve, SOHC, 270° crank angle parallel twin |
| Capacity: | 900 cc |
| Bore Stroke: | 84.6 / 80 |
| Compression: | 10.55:1 |
| Max Power EC: | 55 PS / 54 bhp (40.5 kW) @ 5,900 rpm |
| Max Torque EC: | 80 Nm @ 3,230 rpm |
| System: | Multipoint sequential electronic fuel injection |
| Exhaust: | Brushed stainless steel 2 into 2 exhaust system with twin silencers |
| Final drive: | Chain (DID 520 VP2) |
| Clutch: | Wet, multi-plate assist clutch |
| Gearbox: | 5-speed |
| Chassis: | |
| Frame: | Tubular steel cradle |
| Swingarm: | Twin-sided, tubular steel |
| Front Wheels: | Cast aluminium alloy multi-spoke 18 x 2.75in |
| Rear Wheels: | Cast aluminium alloy multi-spoke 17 x 4.25in |
| Front Tires: | 100/90-18 |
| Rear Tires: | 150/70-R17 |
| Front Suspension: | KYB 41 mm forks, 120 mm travel |
| Rear Suspension: | KYB twin shocks with adjustable preload, 120 mm rear wheel travel |
| Brakes Front: | Single 310 mm floating disc, Nissin2-piston floating caliper, ABS |
| Brakes Rear: | Single 255 mm disc, Nissin 2-piston floating caliper, ABS |
| Instrument Display and Functions: | Twin instrument pack with analogue speedometer and rev counter, odometer, gear position indicator, fuel gauge, range to empty indication, service indicator, clock, 2x trip, average & current fuel consumption display, traction control status display, TPMS ready & heated grip ready – controlled by a handlebar mounted scroll button. |
| Dimensions & Weights: | |
| Width Handlebars: | 29.1in (740mm) |
| Height Without Mirror: | 43.5in (1105mm) |
| Seat Height: | 30.7in (780mm) |
| Wheelbase: | 56.5in (1435mm) |
| Rake: | 24.3º |
| Trail: | 3.9in (98.7mm) |
| Dry Weight: | 440lb (200kg) |
| Tank Capacity: | 3.2gal |
| Fuel Consumption: | |
| Fuel Consumption: | 3.7 l/100 km (76mpg) |
(topspeed.com, https://goo.gl/xQRmzB)
Comments
comments