Art cars are always fun, especially when an automaker makes it annual habit to introduce one. Over the past few years, BMW has done just that, releasing some colorful pieces like Andy Reiben's 3 Series "Fluidum" from 2013 and Jeff Koons' M3 GT2 from 2010. The latter even participated in that year's staging of the 24 Hours of Le Mans, adding another layer of lore to the German automaker's yearly tradition. 2016 now sees the continuation of that tradition with the introduction of the M6 GTLM Art Car, designed by no less than John Baldessari, the world renowned, 85-year old American conceptual artist, who is famous for his minimalistic approach toward art that combines colors, shapes, and texts.
It's no surprise then that Baldessari's interpretation of the M6 GTLM Art Car includes these elements. It is surprising though that for all of his years in the art game, Baldessari, by his own admission, had only done one project that involves a car, and that was just a two-dimensional image of car. Tasked with working on an actual car – and a big one at that with the M6 GTLM racer – Baldessari took on the challenge of creating a piece that showcased the car's status as an "icon of contemporary life" while also infusing his own trademark ideas.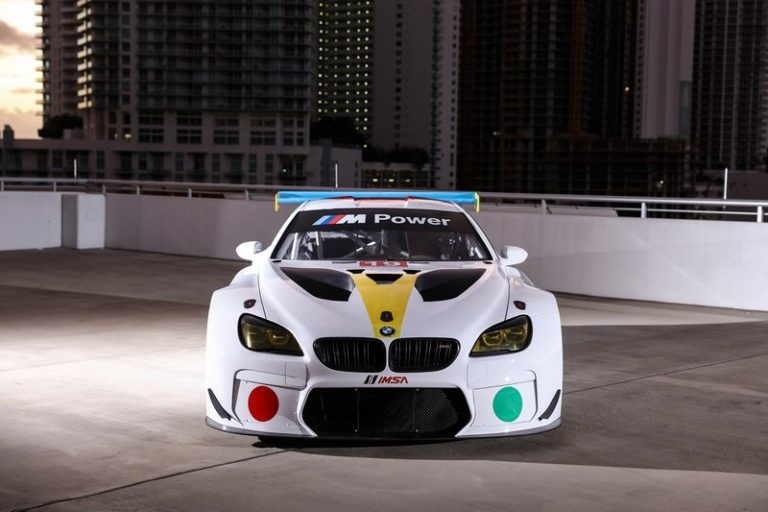 The final product is tamer in design compared to the works of Reiben and Koons, but fans of Baldessari should appreciate how the 85-year old artist was able to translate his ideas and create a piece that's worthy of being included in BMW's growing number of personality-driven art cars.
And just like Koons' M3 GT2 Art Car, Baldessari's M6 GTLM racer won't just be a showpiece model; it's actually headed to a race track where it's scheduled to compete at the Rolex 24 Hours of Daytona on January 28 and 29, 2017. In the meantime, those interested in seeing the M6 GTLM Art Car in the flesh can do so at the Miami Beach Art Basel event, which is currently on-going.
What Makes John Baldessari's BMW M6 GTLM Art Car
If you've ever seen some of John Baldessari's works, you know that the man has a particular fondness for taking real photographs and splashing in some colors and shapes in them. I'm not an art connoisseur by any means, so that's the best description I can think of. His arguably most famous for using colorful circles to cover the faces of the people in his works, and based on that very minimal knowledge, we can see that Baldessari's work on the M6 GTLM includes this peculiar style. Notice the red and green circles on the front bumper and the massive red circle on the roof that actually looks a lot like the Japanese flag? That's Baldessari's style through and through. The large blue rear wing with yellow end plates and the striped yellow design on the M6 GTLM's hood are also trademarks of the artist's colorful style. The other noticeable part about the Baldessari's M6 GTLM Art Car are the car's doors where the word "FAST" appears on the driver-side door and an image of a bare white M6 GTLM can be found on the passenger-side door with that particular image creating an Inception-like look, at least when viewed from that specific angle.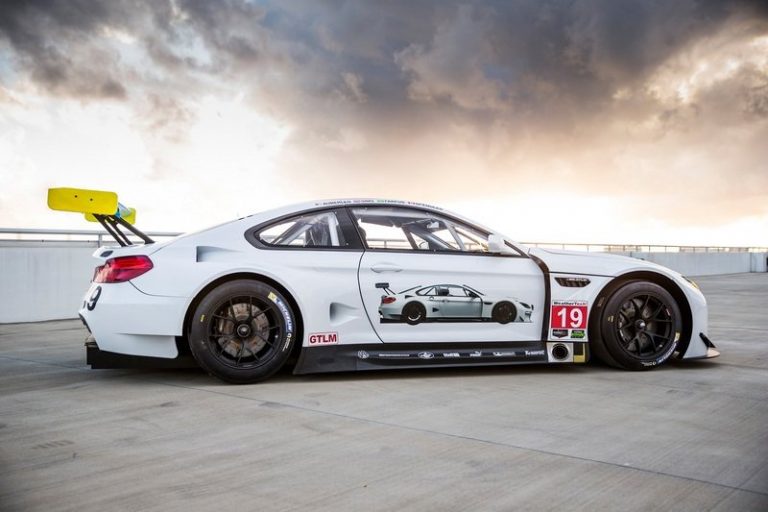 That's pretty much the extent of John Baldessari's artistic interpretation of the BMW M6 GTLM. Other details like the racing liveries all come from BMW. By comparison, his creation looks more subdued than past BMW Art Cars, most notably the prism-like festival of colors that was Jeff Koons' M3 GT2 race car and Reiben's "Fluidum" 3 Seriesthat not only had a psychedelic look to it, but it also glowed in the dark.
Side-by-side photo of Jeff Koons' BMA M3 GTS Art Car and Andy Reiden's 3 Series "Fluidum" Art Car
Oh, and while we're at it, let's not forget about the BMW 650i Gran Coupe Art Car that was commissioned by the Umm Al Nar dealership in Abu Dhabi as part of the "Road is your Easel" art event. That 650i Gran Coupe looked like it was ride beside a color wheel that had just exploded.
Note: Photo of the BMW 650i Grand Coupe Art Car.
So call Baldessari's work conservative or tame compared to other Art Cars. That's an easy comment to make given that the artistic elements don't literally cover the entire car. But if you're going to do it, keep in mind that the man responsible for the M6 GTLM Art Car is one of the most famous American artists today and is the recipient of a lifetime's work of awards and recognitions.
It's also worth noting that Baldessari's M6 GTLM Art Car isn't the only "unique" version of the race car that will compete or has competed at the 24 Hours of Daytona. Earlier this year, another M6 GTLM racer competed in Daytona sporting a unique design that paid homage to the German automaker's 100th anniversary. That 100th M6 GTLM 100th Anniversary, as it was called, ended up finishing 11th in its class and 47th overall.
Here's to hoping that Baldessari's M6 GTLM Art Car fares a lot better than the last year's special edition M6 GTLM.
| Dimensions | |
| --- | --- |
| Length | 4,944 mm |
| Width | 2,046 mm |
| Wheelbase | 2,910 mm |
| Weight | under 1,250 kg |
| Engine | |
| Model | Based on the S63 production engine and slightly modified for the specific requirements of motorsport; with M TwinPower turbo technology |
| Type | V-8 |
| Size | 4.4-liter |
| Output | up to 585 horsepower |
| Chassis | Self-supporting steel chassis – Welded safety cage in line with latest FIA standards – Carbon-fibre crash structure at front and CFRP crash element at rear |
| Tank | up to 120 litres (depending on regulations /BoP) |
| Brakes | 6-piston, fixed caliper at front – 4-piston, fixed caliper at rear |
(topspeed.com, https://goo.gl/3YP4n5)
Comments
comments