The mini-streetbike market heats up with the new-from-2017 Z125 PRO and the new-for-2018 Z125 PRO SE, obviously meant as a direct competitor for the Honda Gromand KYMCO K-Pipe 125. "Cheap thrills" takes on a whole new meaning — or maybe just a revitalization of the old meaning — when it comes to the Z125 PRO from Kawasaki. Small and relatively fast for the thrills, and good fuel economy and a bargain-basement price for the cheap. Sure, as a fun bike, it has that hands down. It's also a commuter if you have to navigate congested traffic because it's small, lightweight and narrow so filtering through traffic is a breeze. As a first bike for someone new to two wheels, this is a completely approachable bike, not intimidating at all and without the electronics that frequently get used as a crutch. On this bike, you learn how to ride.
Design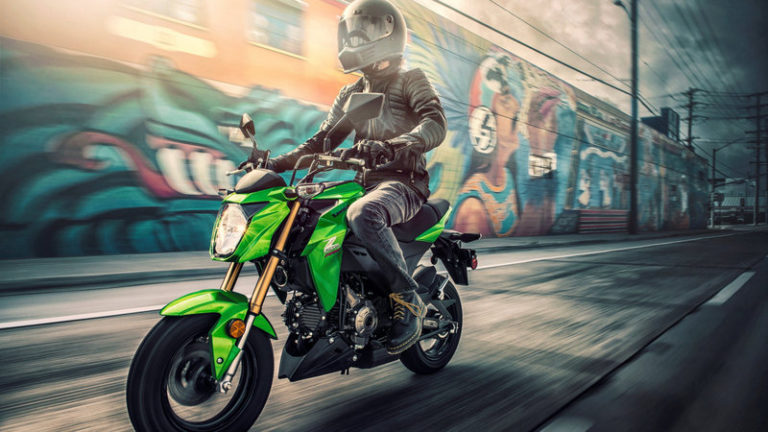 "Going fast on a slow bike is a whole lot more fun that going slow on a fast bike."
The Z125 PRO pulls evenly through the powerband for predictable acceleration and behavior. It's not an especially fast bike, but fast is not the point on these mini-streetbikes. Small, yes, but the bike has that classic Kawaski styling and sound that identifies it as one of the "Z" stablemates.
New-for-2018, Kawasaki brings in the Z125 PRO "Special Edition" that comes in a special colorway — Candy Plasma Blue and Metallic Spark Black — and gold wheels. Carried forward from last year, the KRT Edition comes in the Lime Green and Ebony colorway that makes it the KRT Edition.
Being a short person, I am okay, but a tall person will want to raise the handlebars lest you bang your knees with the grips when you turn. It's not a monkey bike, but if you're a big guy, you might start to feel like it is with your knees high and the handlebars low.
Chassis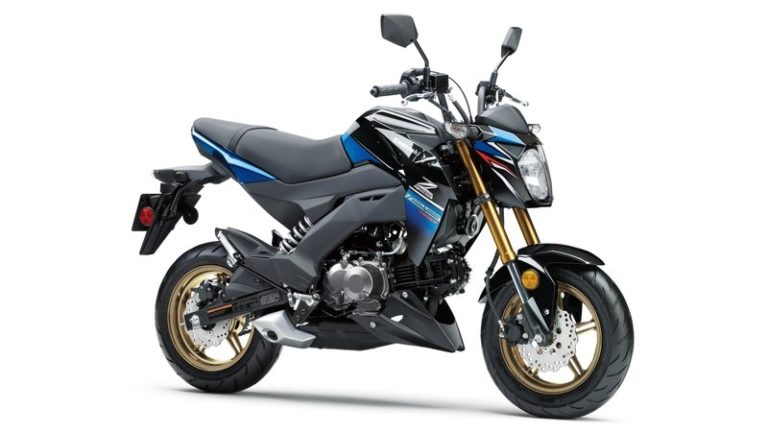 " Even though the brakes seem rather small, they're plenty big enough for stoppies."
In order to keep weight down on this little mini hooligan, Kawasaki used a minimal, backbone-type frame with a stressed engine in place of the downtubes and cradle pipes. The factory also took steps to make the Z125 PRO as inherently nimble as possible with a steering-head angle of 26 degrees for 2.7 inches of trail and a compact, 46.3-inch wheelbase. Ground clearance measures out at 6.1 inches, plenty of room for deep leans and speed bumps, and the 31.7-inch seat height keeps the bike from feeling as short vertically as it is lengthwise.
A set of 30 mm forks support the front end on 3.9 inches of travel, and they are of the inverted variety, so not only do they look cool, they will stiffen the front end and resist the forces generated during aggressive (read: fun) maneuvers. The yoke-style swingarm gets tamed by an offset, coil-over monoshock that comes with a four-way preload adjuster so you can dial in the ride based on the conditions, cargo and passenger load. The suspension is surprisingly adequate even for bigger riders — up into the 300+ pound range. The limiting factor is the engine that will determine how fast you can climb an incline under your weight.
Cast, 12-inch rims mount the street-style, 100/90 front and 120/70 rear tires. Braking duties fall to the single, 200 mm, petal-cut disc and single-pot, Nissin caliper on the front wheel, and the 184 mm disc with the same caliper in back.
Neither linked brakes nor any sort of ABS is offered for the Z125, but this is OK by me; new riders should learn to feel and use the brakes properly, and old salts already know how. Even though the brakes seem rather small, they're plenty big enough for stoppies, if you like that sort of thing. I'm not a stoppies fan, but more power to you.
| | |
| --- | --- |
| Front suspension / wheel travel: | Inverted telescopic fork/3.9 in |
| Rear suspension / wheel travel: | Swingarm, single shock/4.1 in |
| Front brakes: | Single 200mm petal-style disc |
| Rear brakes: | Single 184mm petal-style disc |
Drivetrain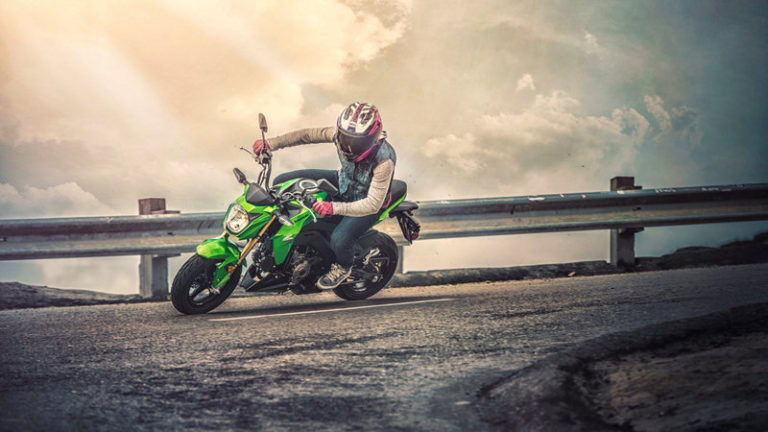 "The lower gearing compared to the Grom makes it feel more spunky and a blast to ride."
Kawasaki powers its little Grom-killer with one-lung, air-cooled, thumper engine — not unlike the mill used by its main competitor, in fact. A 24 mm throttle body with digital fuel injection feeds the mill through the SOHC, two-valve head, and the Kawasaki Automatic Compression Release (KACR) system lifts the exhaust valve just a touch to bleed off a little compression for easy startups.
The oversquare, 56 mm bore and 50.6 mm stroke engine gives us a 125 cc displacement, and predictably brings the power on high in the RPM range. You can get 6.5 pounds of grunt out of it at 6,100 RPM, but you have to wind it up to 7,800 to develop the full 8.3 horsepower. Not exactly stellar numbers, but plenty to move butt and bike briskly down the road.
Kawasaki couples an easy-pull clutch with a four-speed gearbox that feels and acts just like the bigger bikes, even though it surely was tempting to run some sort of semi-, or even full-auto transmission, which Kawasaki did outside the U.S. market. The lower gearing compared to the Grom makes it feel more spunky and a blast to ride. An O-ring chain makes the final connection to the rear wheel, and even though its s little more maintenance, I vastly prefer a chain to a belt.
| | |
| --- | --- |
| Engine: | 4-stroke, 1 cylinder, SOHC, 2-valve, air-cooled |
| Displacement: | 125cc |
| Bore x stroke: | 56.0 x 50.6mm |
| Compression ratio: | 9.8:1 |
| Fuel system: | DFI® with 24mm throttle body |
| Ignition: | TCBI with electronic advance |
| Transmission: | 4-speed, return shift |
Pricing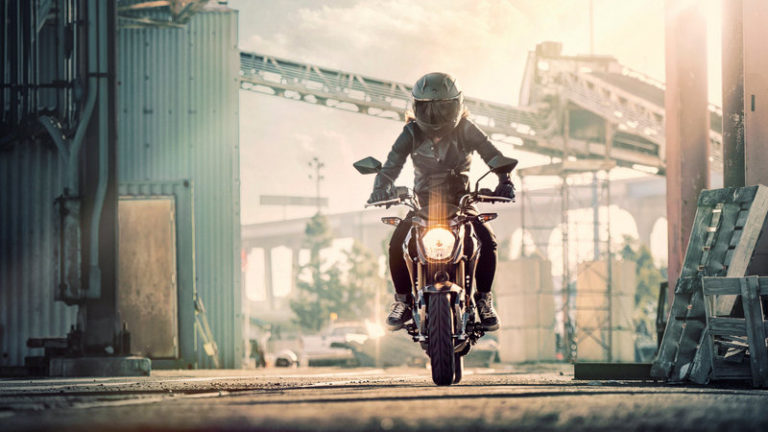 "The price of fun for 2018 is $3,199."
MSRP on this little gem is $3,199 — just a couple of bills over last year and the SE and KRT Edition run $3,399. You can get it in Kawasaki Candy Lime Green or Metallic Graphite Gray with a 12-month limited warranty. Kawasaki offers you the option for extended protection for 12, 24, 36 or 48 months through Kawasaki Protection Plus.
| | |
| --- | --- |
| 2018 Color choices: | |
| Z125 PRO: | Metallic Graphite Gray |
| Z125 PRO KRT Edition: | Lime Green/Ebony |
| Z125 PRO SE: | Candy Plasma Blue/Metallic Spark Black |
| MSRP: | |
| 2017: | Z125 PRO: $2,999, KRT: $3,199 |
| 2018: | Z125 PRO: $3,199, KRT: $3,399, SE: $3,399 |
Competitors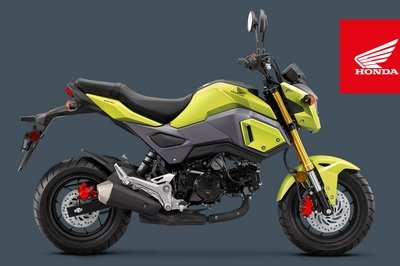 "Both bikes place the rider in the jockey position, arguably the best position for, ahem, enthusiastic riding."
OK, so the obvious choice for a head-to-head would be the Honda Grom, but you know what? Honda already gets plenty of press and everyone knows this is a direct Grom competitor so that comparison is done to death. Honda doesn't have the only mini in town anymore, so I decided to look to KYMCO instead, and its K-Pipe 125.
At a glance, the Z125 PRO seems a bit more substantial and complete, but most of this is due to the rather full body panels, and the beefy-looking, inverted front forks versus the naked K-Pipe with its unassuming, right-side-up forks.
Both bikes place the rider in the jockey position, arguably the best position for, ahem, enthusiastic riding, and in spite of the relatively short overall length of both rides, the rider triangles will accommodate fairly tall individuals, even ones who break the six-foot mark as long as you raise the handlebars. The rest of the chassis is a mixed bag. KYMCO scores with full-size, 17-inch wheels, then immediately loses points with a mechanical drum brake in back instead of disc-and-caliper like the Z125.
The 123.7 cc K-Pipe engine surrenders a few cubes to the Z125, and it runs with a dead-square, 54 mm bore and stroke. Both mills cool by air, but while Kawasaki opts for fuel injection, KYMCO sticks with a simpler carburetor, and it adds a nice little bit of backup in the form of a kickstarter. The Z125 cranks out more power than the K-Pipe, but the advantage is negligible. Kawasaki milks 8.3 horsepower at 7,800 RPM to the KYMCO's 8 ponies at 7-grand, and 6.5-pound-feet at 6,100 RPM versus 6.3 pound-feet at 6 grand, respectively. Not a big difference, and certainly not one that will even register on the old heinie-dyno.
Kawasaki priced the Z125 PRO to compete with the Honda Grom, and falls right line at $3,199. That's not a bad price for a little funbike like this, but KYMCO smokes Kawasaki bigtime with a $1,999 sticker on the K-Pipe, and that may skim some of the more budget limited buyers from the big boys.
He Said
My husband and fellow motorcycle writer, TJ Hinton, says, "Monkey bikes make me want to smile. On the one hand, I kind of wish I had one when I was younger; but on the other hand, I wouldn't have appreciated it as much as I do as an adult. I don't want to knock KYMCO too hard here, but if I were looking for a Gromkin, I would probably start by looking at the original from Honda, or even the Kawasaki before the K-Pipe, but that's mainly because I already know Honda can build a durable small engine, and the off-brand products kind of worry my nerves a bit when it comes to getting replacement parts and qualified service. Still, it's a cute little bike, and I can see this ride playing well in areas with a large scooter-driving population."
She Said
"No, this isn't a monkey bike, I do protest vehemently. Mini hooligan? Yeah, I can see that. The price makes it easy to add one to your garage, heck get one for you and one for your kid. It's a fun weekender. I can see this being an awesome commuter — easy to filter traffic, easy to park — and I know folks get uptight when you call a bike they like an entry-level bike, but it is that. Just because a bike is a good choice for new folks doesn't mean experienced folks can't love it. I thought it would feel scooter-ish because of the 12-inch wheels, but it doesn't."
Specifications
| | |
| --- | --- |
| Engine: | 4-stroke, 1 cylinder, SOHC, 2-valve, air-cooled |
| Displacement: | 125cc |
| Bore x stroke: | 56.0 x 50.6mm |
| Compression ratio: | 9.8:1 |
| Fuel system: | DFI® with 24mm throttle body |
| Ignition: | TCBI with electronic advance |
| Transmission: | 4-speed, return shift |
| Final drive: | Sealed chain |
| Rake / trail: | 26.0 degrees / 2.7 in. |
| Front tire: | 100/90-12 |
| Rear tire: | 120/70-12 |
| Wheelbase: | 46.3 in. |
| Front suspension / wheel travel: | Inverted telescopic fork/3.9 in |
| Rear suspension / wheel travel: | Swingarm, single shock/4.1 in |
| Front brakes: | Single 200mm petal-style disc |
| Rear brakes: | Single 184mm petal-style disc |
| Overall length: | 66.9 in |
| Overall width: | 29.5 in. |
| Overall height: | 39.6 in. |
| Seat height: | 31.7 in. |
| Curb weight: | 224.8 lbs. |
| Fuel capacity: | 2.0 gal. |
| Limited Warranty: | 12 Months |
| Kawasaki Protection Plus: | 12, 24, 36 or 48 months |
| 2018 Color choices: | |
| Z125 PRO: | Metallic Graphite Gray |
| Z125 PRO KRT Edition: | Lime Green/Ebony |
| Z125 PRO SE: | Candy Plasma Blue/Metallic Spark Black |
| MSRP: | |
| 2017: | Z125 PRO: $2,999, KRT: $3,199 |
| 2018: | Z125 PRO: $3,199, KRT: $3,399, SE: $3,399 |
(topspeed.com, https://goo.gl/4eJ72S)
Comments
comments