OUR VERDICT
The ZTE Blade V7 Lite's premium looks belie its budget origins. Interesting UI tweaks and the ability to expand the phone's storage can't fully atone for the dull 720p screen, poor camera and weak chipset, but this is still decent value for money.
FOR
Nice design
Expandable storage
Fingerprint scanner
AGAINST
Dull 720p display
Dodgy camera
Sluggish performance
The cheaper companion to the flagship ZTE Blade V7, the V7 Lite sports a different design and weaker internals, but also comes with a much lower price point – £149.99/$224.99.
For that modest outlay you get a quad-core processor, 2GB of RAM, 16GB of storage (expandable via microSD card), a fingerprint scanner and a 2,500mAh battery, all wrapped up in a premium metal shell.
But competition is steep, especially in the crowded entry-level market, with phones like the Moto G4 providing a lot of handset for not a lot of money, so does the ZTE Blade V7 Lite's beauty run more than skin deep?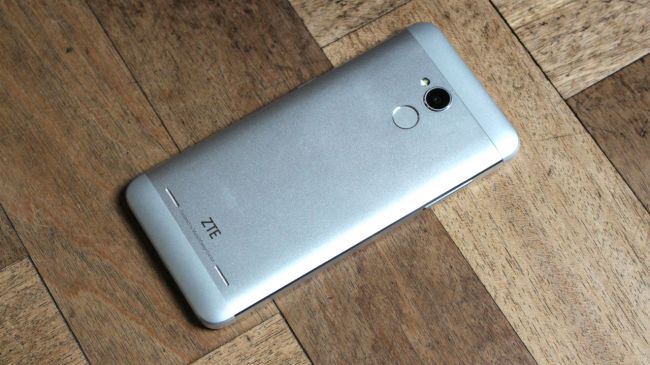 Key features
A premium metal body
A fingerprint scanner
Middling performance and no NFC
While we're seeing an increase in the number of metal-bodied smartphones these days, the Blade V7 Lite is almost unique in that it offers premium build quality in a budget sector flooded with all-plastic handsets.
The phone's construction is arguably one of its biggest selling points, and those attractive curves – dreamt up by ZTE's Munich-based design centre – allow it to outrank its low-cost rivals when it comes to pure desirability.
On the front, there's a 5.0-inch, 720p screen, which is covered in fetching 2.5D glass. On the rear, you'll find a fingerprint scanner – still a rarity on phones in this price bracket – as well as twin speakers. A 13MP camera complete with LED flash rounds off the package.
Powered by a quad-core MediaTek chipset and boasting just 2GB of RAM, the Blade V7 Lite can hardly be considered a powerhouse by modern standards, and overall performance is merely acceptable rather than impressive.
On the plus side, ZTE has made some interesting amendments to the core Android 6.0 software, including some rather unique gesture and motion-based shortcuts, which allow you to open apps or functions quickly.
The Blade V7 Lite is powered by a 2,500mAh battery, which offers decent stamina, but takes over two and a half hours to fully replenish. Those of you hoping to join in with the USB Type-C revolution will also be disappointed, as the phone has a micro USB port instead.
There's also no NFC support, so you won't be able to make contactless payments via Android Pay.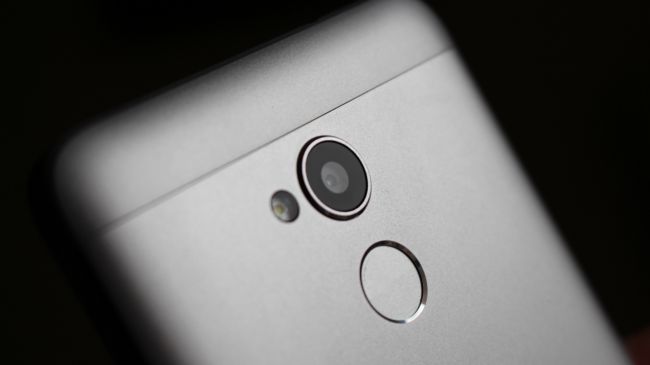 Design and display
A surprisingly high-end metal and plastic build
5-inch 720p screen not as bright as we'd like
Despite the low price point, the Blade V7 Lite mixes metal and plastic in its construction, giving it a premium feel that is lacking from many other budget Android phones, such as the Bush Spira E3X.
Most of the V7 Lite is metal, but at the top and bottom you'll find plastic sections which allow the mobile antenna to function properly.
While the use of two different materials is obvious when you know what to look for, to the casual observer they blend reasonably well. The mixture of components has also allowed ZTE to make the handset quite light – it tips the scales at just 134g.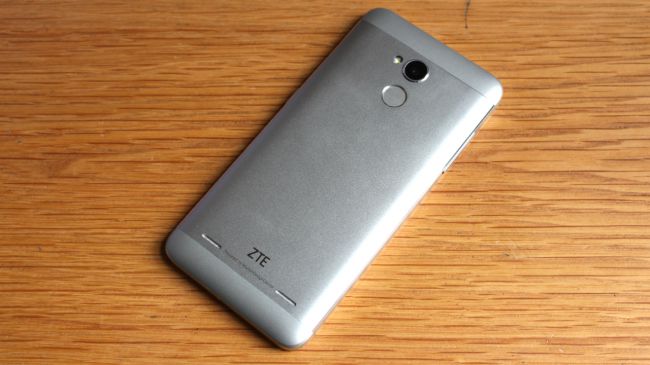 On the back of the Blade V7 Lite you'll find a fingerprint scanner, which is indented into the casing – it's not a clickable button, however.
While such a feature is unusual on phones in this price bracket, this scanner sometimes needs a second tap to recognise your print. It's not a deal-breaker, but don't expect the same level of performance offered by the scanners on Samsung and Apple handsets.
Also on the rear you'll find the 13MP camera with LED flash, and at the bottom there are two speakers.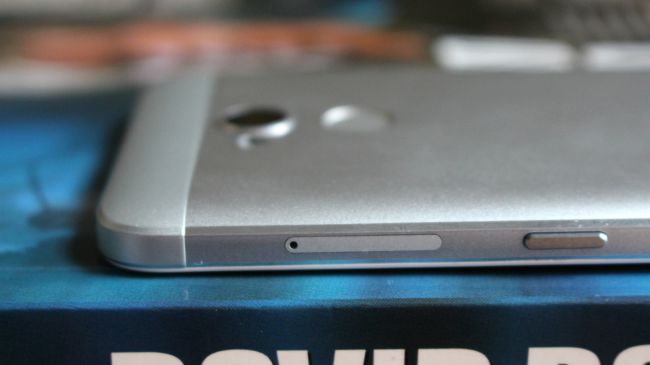 On the right-hand side there's the power button and nanoSIM tray – which either accepts two nanoSIM cards or a single nanoSIM and microSD card – and on the left-hand edge there's the volume rocker.
The 3.5mm headphone port is situated on the top, while the micro USB (no reversible USB Type-C here, sadly) is on the bottom.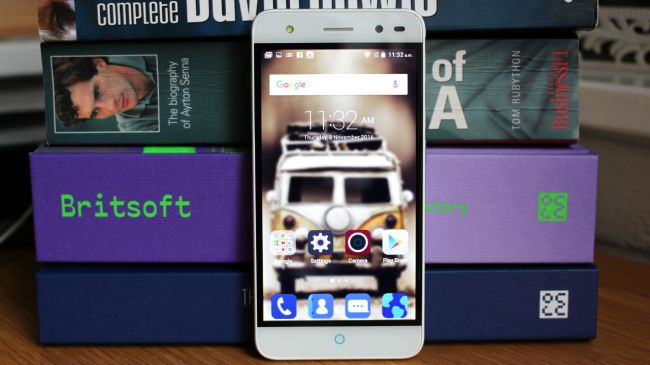 The 5-inch IPS LCD display sports a 720p resolution and is covered in 2.5D glass, which curves nicely at the corners. The lack of 1080p might be disappointing, but a bigger issue is that the screen isn't particularly bright and is therefore hard to make out in direct sunlight.
Viewing angles are thankfully rock-solid. Above the screen you'll find the earpiece and front-facing 8MP snapper, which is accompanied by an LED flash, making selfies in darkened environments much easier.
Interface and reliability
UI lacks smoothness
Motion and screen gestures allow quick access to apps
No app drawer, so your home screens get crowded quickly
The Blade V7 Lite has Android 6.0 installed, with ZTE's own custom skin laid over the top. As is the case with many of these specialised skins, there are some nice ideas on offer which are balanced out by some pretty terrible ones – the most onerous of which is the decision to have every touch of the screen accompanied by an audio cue.
The lock and unlock sound is also rather irritating, and we turned both off at the earliest opportunity.
ZTE has also "done an Apple" and removed the trademark Android app drawer entirely – something that a lot of Chinese handset makers are fond of doing.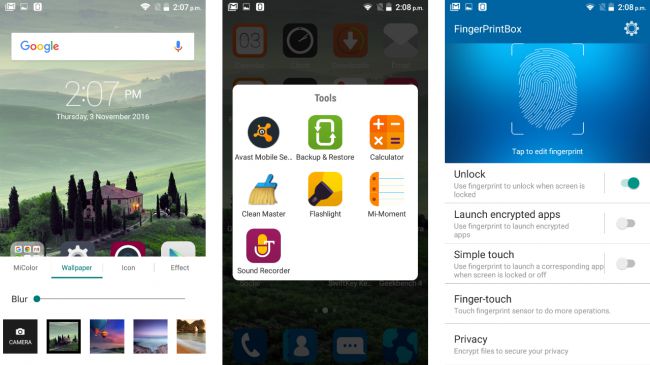 This means that apps are dumped directly onto your home screens when installed, and while you can create folders to keep things neat, it's not as tidy as having apps in a separate drawer.
Elsewhere, ZTE's ideas are a little more palatable. There are a wide range of gesture shortcuts, which allow you to open apps by drawing a symbol on the screen, even when the phone's asleep.
You can also configure the fingerprint scanner to perform certain tasks – such as taking a screenshot – by double-tapping it twice, and the "Pocket Mode" increases the ringtone volume when your handset is safely docked in your trousers.
At the slightly more bonkers end of the scale are "Air Gestures", which involve waving the phone in a particular motion to open apps.
We also quite like the ease of customisation which ZTE has baked into its interface. Tapping the capacitive button to the right of the home key opens a menu, from which you can quickly change the colour of the phone's theme, or pick different wallpaper – as well as defining the amount of blur you want to apply to the image.
You can also alter the way icons look and choose the kind of home screen animation you want. While these aren't entirely new additions to the world of Android, having them within such easy reach will please those who like to tinker with the look of their phone's interface.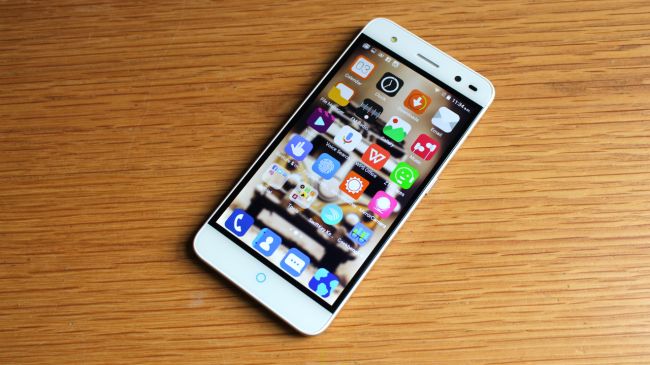 Sadly, with all this tinkering comes questionable reliability. During the review period the phone froze on us entirely, forcing a complete reboot, and there were a few times when the interface became quite sluggish under heavy load.
When manufacturers add layers of complexity over Google's core Android operating system – which itself has the odd bug here and there – it can throw up unexpected issues, and the Blade V7 Lite is no exception.
Movies, music and gaming
Dull, dark display
Weak gaming performance
Because the Blade V7 Lite's screen is limited to 720p you won't see the benefit of 1080p movies when watching them on this device.
The display's dull brightness level also makes it hard to make out what's happening in scenes where there's not much light – and this issue is exacerbated when you're using the phone outdoors.
While it's still perfectly possible to enjoy video playback on ZTE's budget blower, it's not something we'd recommend it for.
ZTE has packed its own music player app with the device, but it's as bare-bones as it's possible to get. Music stored on your phone is sorted by artist and album title, and it's possible to create your own playlists, but that's about it.
With only 16GB of storage included you've not got much room for a massive audio collection, but you can use one of the nanoSIM slots to insert a microSD card if you so wish.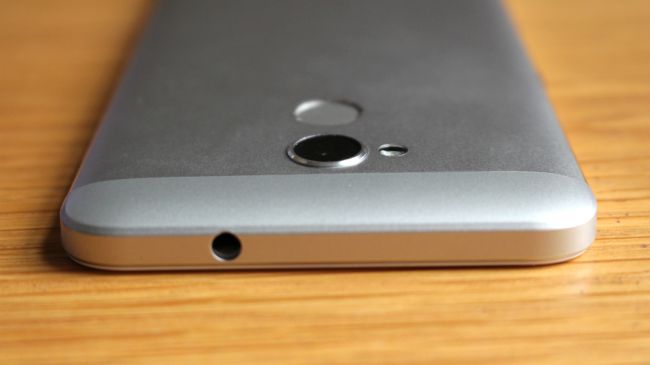 We found ourselves quickly downloading Google's own music app, which not only grants access to cloud storage for your tunes, but also connects to a well-stocked online music store.
Gaming is sadly something of a write-off, at least for those who like intense 3D visuals. Real Racing 3 – which came out a few years ago and can hardly be considered a spring chicken in gaming terms – suffers from almost crippling frame rate issues, as does Gameloft's Modern Combat 5.
Less taxing 2D games like Angry Birds 2 and Super Hexagon run better, but hardcore mobile players are likely to be quite disappointed with the performance of the Blade V7 Lite.
Specs and benchmark performance
Stuttery performance
Weak benchmark results
The Blade V7 Lite is powered by a quad-core MediaTek MT6735P processor, clocked at 1GHz and supported by 2GB of RAM.
That's an entry-level setup these days, and it shows. Performance can never really be described as blistering, and there's noticeable stutter even during fairly low-level tasks, such as pulling down the notification pane or scrolling through your home screens.
It's never so bad that it impacts general usage, but the silky-smooth responsiveness present in other Android handsets just isn't here.
Benchmark tests confirm the Blade V7 Lite's low-end status. In Geekbench 4, the phone posts a single-core score of 442 and a multi-core score of 1164. In comparison, the Bush Spira E3X – one of Blade V7 Lite's rivals – achieves 732 and 2891 in the same tests.
Battery life
2,500mAh battery has a day of life
Takes a while to fully charge
The V7 Lite's 2,500mAh battery is quite roomy for a phone of this size (and cost), and thanks to the 720p screen isn't taxed as much as the power cells seen in phones with larger, sharper screens.
We could comfortably get a day of full usage out of a single charge without having to moderate our activities.
During out traditional video test – where a HD clip is played for 90 minutes with the screen brightness at full and volume at maximum – the Blade V7 Lite shed 20% of its battery life.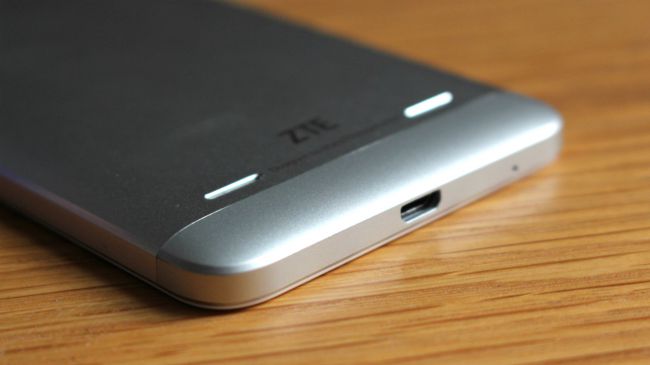 That's slightly worse than the Moto G4's drop of 17%, but better than the 25% drop exhibited by the Bush Spira E3X, which is another of the V7 Lite's rivals.
But charging the battery takes much longer than it really should. With the phone on empty, the charging cycle is around two and a half hours, which in the days of quick-charging handsets feels like an absolute age.
Camera
13MP camera takes dull snaps, even in ideal conditions
Front-facing camera has a handy LED flash
Budget Android phones often cut corners when it comes to photography, and the Blade V7 Lite is no exception.
The 13MP sensor struggles to capture a decent shot unless conditions are nigh-on perfect; dimly-lit environments cause all kinds of trouble and the lack of optical image stabilisation means that blurry photos are commonplace.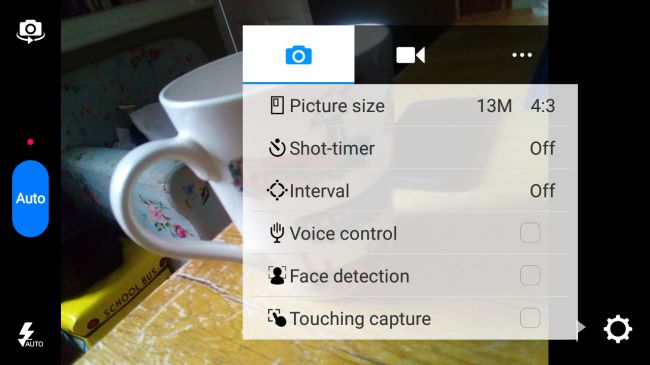 Even when you do manage to get a half-decent shot, images look rather dull and washed-out, while videos are capped at 1080p and 30fps – which is standard for a budget handset.
The one plus point to the Blade V7 Lite's setup is the LED flash which accompanies the front-facing selfie camera.
If you're keen on taking self-portraits then you'll appreciate the fact that this phone delivers colourful, well-illuminated shots in any location.
Camera samples
Verdict
A phone being sold at a sub-£200/$250/AU$325 price point should always be approached with a degree of caution, and that's certainly the case here.
Despite sharing its branding with the more powerful ZTE Blade V7, the Blade V7 Lite is a weaker proposition on almost every level.
There's no 1080p screen, the display is dull, the camera is poor and the fingerprint scanner isn't as responsive as it could be.
Factor in a chipset which offers thoroughly average performance levels and the Blade V7 Lite begins to look more like its £150/$225 price tag – despite the admittedly gorgeous metal bodywork, which is both svelte and comfortable to hold.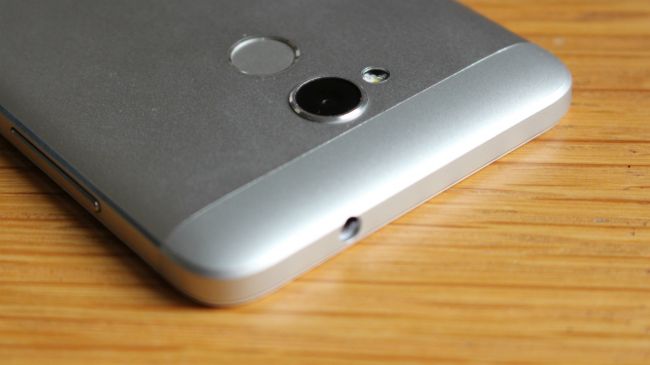 On the plus side, few phones in this price range offer fingerprint scanners, or look and feel as good as this. The custom interface boasts some truly interesting ideas, and it's nice to have the option to expand the handset's storage with microSD cards.
Ultimately, you get what you pay for and while the Blade V7 Lite falls short on several levels, the overall package represents good value when placed alongside rival handsets in this section of the market.
Who's this for?
With a price point of just under £150/$225, it's clear that the Blade V7 Lite isn't looking to challenge the big-hitters of the Android sector, and is aimed very much at the cost-conscious shopper.
It would make an ideal starter phone for younger users, but would be just as suitable for those who merely want a device to make calls, send texts, reply to emails and take the odd photo.
Should you buy it?
For all its shortcomings, the Blade V7 Lite does represent decent value for money. The premium design means it will turn heads, and while the chipset is underpowered compared to many other Android phones, it has just enough grunt to get you through most basic tasks.
But if you're something of a power user who likes playing games, watching HD videos and pushing their phone to the limit, then the Blade V7 Lite simply isn't for you.
Competition
These days you can get a lot of phone for not very much money, so there are a number of strong alternatives to the ZTE Blade V7 Lite. You'll find three of the best below.
Motorola Moto G4
Motorola's Moto G4 is one of the best budget phones you can buy right now, and outperforms ZTE's effort in terms of horsepower.
It's also packing a big and bright 5.5-inch 1080p screen and slightly tops the V7 Lite's battery life in our tests, but lacks the fingerprint scanner of its rival and has a plastic build.
Ultimately, the G4 does the basics a bit better than ZTE's budget contender, but isn't as flashy.
Bush Spira E3X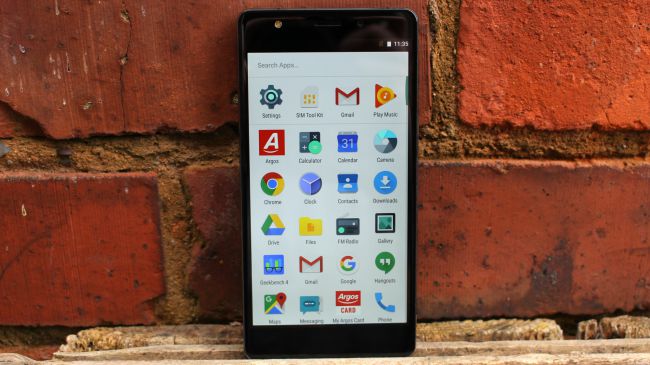 The recently-released Bush Spira E3X is another potential rival, coming in at just under £200/$300. It has a 5.5-inch Full HD screen, a fingerprint scanner and a whopping 4GB of RAM, as well as 64GB of storage and fast-charging capabilities.
Inconsistent battery life and a rather lacklustre camera hold it back from true greatness though, while a back that feels like sandpaper ensures its design is nowhere near as premium as the ZTE Blade V7 Lite.
Vodafone Smart Prime 7
You might also want to consider the Vodafone Smart Prime 7, which costs even less than the Blade V7 Lite at just £75/$112.5, making it the ultimate budget blower.
It has a 5.0-inch 720p screen, which is nice for the price, and it runs smoothly enough, but low internal storage of just 8GB and a poor camera are big negative points. Still, it's half the price, so one to think about if your budget is tight.
(techradar.com, https://goo.gl/u2cynp)
Comments
comments