It's possible to upload photos from your PC to your iPhone or iPad – or iPod touch – and the easiest way to do this is to use iCloud. Here we'll explain how to do it.
Apple utilises its cloud storage service iCloud to make sure that the photos you take on your iPhone are readily available on both your computer and iPad. It's a very useful service to have, and negates the need for cables and syncing – but what about if you wanted to put photos FROM your computer ONTO your iPhone? Is that possible? Of course it is – but the method depends on the software you use.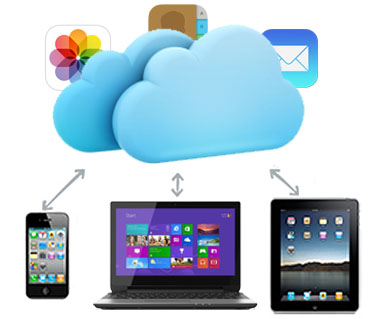 If you're running iOS 8, the process is fairly straight forward due to the changes that Apple has made to both its iCloud service and iOS. This essentially means that users are able to manage and upload their complete photo libraries via the iCloud website, which we demonstrate below. But what about iOS 7 or older users?
Don't worry, there's a workaround available, although it includes slightly more work – this includes installing iCloud for Windows, which you can find out how to do from here. Confusingly, there are two different versions of iCloud Control Panel. If you're running Windows Vista with Service Pack 2, download this version of iCloud Control Panel. If you have Windows 7, 8 or 10, you need the latest version of iCloud Control Panel. Once installed, scroll down to the bottom section of the article to find out how to add photos to your iPhone from your PC.
How to transfer photos from computer to iPhone (iOS 8)
1) Head to iCloud.com
To transfer photos from your PC to your iPhone, the first thing you need to do is access the iCloud website from your browser. Simply open your browser, navigate to iCloud.com and log in with your Apple ID.
2) Access your Photo Library
Once you've logged in to the iCloud website, click the Photos icon on the top row of apps. It's worth noting that loading times may vary depending on the size of the library, with larger libraries taking upwards of 10 seconds to display. Also, if this is the first time you've accessed your Photo library from a browser, you'll have to go through a first time setup.
3) Select photos to add to your photo library and iPhone
Once you've opened the Photos app and accessed your Photos library, there should be an "Upload" icon in the upper right hand corner of the page. Click this, and browse your PC for the photos you want to add to your iPhone. If you want to select multiple files at once, hold CTRL and click each photo.
4) Upload your photos
Once you've selected the photos you want to add to your iPhone, click Open/Choose and they'll be uploaded to your iCloud Photo Library. If you look at the bottom of the page, you'll see a progress bar – the process is usually pretty quick, but this can depend on the amount of photos you want to add.
5) You're done!
Once the photos have been uploaded to your iCloud Photo library, they should soon also appear within the Photos app of your iPhone (if you have iCloud enabled and are connected to Wi-Fi anyway).
It's worth noting that photos will be displayed in chronological order, so if photos you add were taken in March, you'll have to scroll back to March to see them.
If you're using iOS 7 or earlier and this method doesn't work for you, carry on reading.
How to transfer photos from computer to iPhone (iOS 7 and earlier)
There are various ways to put photos on an iPhone or iPad  but here we're going to do it using iCloud Control Panel and the Uploads folder within the Photo Stream folder.
(This tutorial assumes you've already installed and configured iCloud Control Panel for Windows as mentioned above)
1) On your computer, open an Explorer window and navigate to the folder in which the pictures you want are stored. Select those you want, right-click on them and choose Copy.
2) Navigate to the Pictures folder (My Pictures in Windows Vista). Find the Photo Stream folder which is created when you install the iCloud Control Panel, and double-click to view its contents. (Don't click on the Photo Stream shortcut in the Windows Explorer Favourites list as you can't get to the Uploads folder this way.)
3) Open the Uploads folder within Photo Stream, right-click and Paste your copied photos into this folder.
4) Your photos will appear in your Photo Stream (within the Photos app) on your iPhone shortly. The Photo Stream is ordered by the date on which the photos were taken, so they may not be easy to find if you already have the maximum of 1,000 pictures in your stream. However, you may find that Windows gives the pasted files today's date, in which case the photos will be at the end of your Photo Stream.
The images below show iOS 6 on the left and iOS 7 on the right. In iOS 7, Photo Stream is called My Photo Stream and is within the Albums section at the bottom.
Photos you upload this way can be JPEG, TIFF, PNG and most RAW camera formats.
(pcadvisor.co.uk)
Comments
comments