Goodbye Moto X. Hello Moto Z
OUR EARLY VERDICT
Moto Z is a modular smartphone that pulls off the add-ons idea better than the LG G5 and it's incredibly thin. It does come with a unmissable camera bump, no headphone jack and smaller battery, though, and it'll be Verizon exclusive.
FOR
Easy to snap on modules
Creative modular ideas
World's thinnest phone
AGAINST
Verizon exclusive at first
Thinness means big camera bump
No 3.5mm headphone jack
Update: The Moto Z release date and price will be announced at the official launch event this week, and you can also expect a full review from us of Motorola's new Android phone. It has modular accessories, but surprise no headphone jack. This one is interesting.
The Moto Z is an Android phone with a new name that begins at the end of the alphabet, but is actually pioneering modular connectivity in a more robust way than its competitors.
It's the world's thinnest phone at 5.19mm in so-called "thickness," and it feels really thin – that's not just another meaningless marketing stat. On the other hand, you shouldn't want it to stay that slim.
There are a number of practical, modular accessories, more than with the LG G5, that attach to its back of this phone and also the slightly larger Moto Z Force. Everything from a predictable Mophie-like battery case to a more wild mini projector.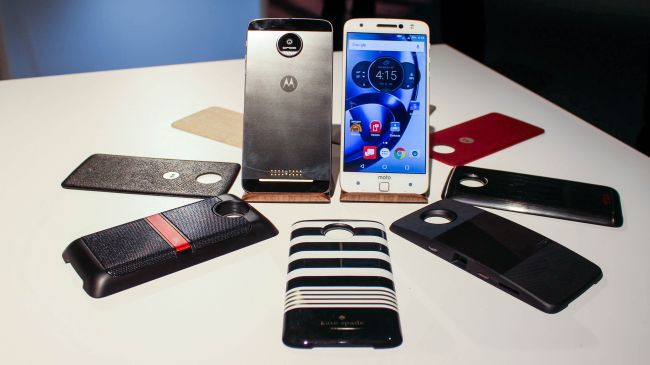 Testing out the Moto Z and a handful of its accessories, we found a lot of potential behind the new smartphone. It includes a lot of the same specs as its competitors, with the addition of mods.
Its lack of a headphone jack and availability in the US is going to be the one thing that throws people: it's only on Verizon in the summer, but will launch worldwide unlocked (including in the US) in September.
Here's everything we found so far in testing out the new Moto Z at Lenovo Tech World. On Thursday, July 14, Motorola is hosting a launch event where we'll get even more time with the final devise for our full review.
Design and display
Moto Z is a smartphone with a 5.5-inch AMOLED display that takes thinness to a new level. It has an aluminum frame that officially measures 153.3 x 75.3 x 5.19mm and weighs just 139g.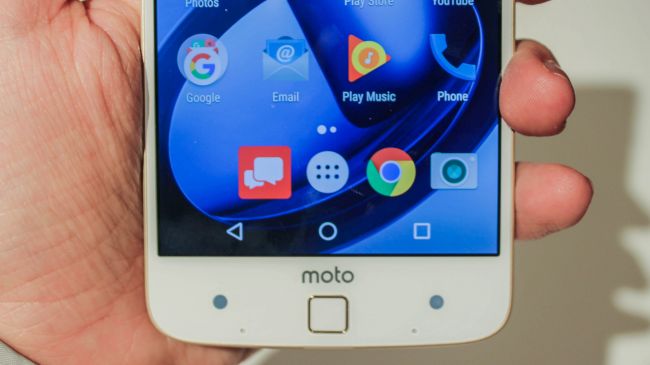 What's uncanny about its dimensions is that Motorola said the thickness measures 5.2 inches at Lenovo Tech World. When has a company ever rounded up on their smartphone thickness?
This may be why Motorola didn't call it the Moto X 2016, even though that's really what this is. The design drops the curved back for a flat and boxy shape that still feels good in one hand.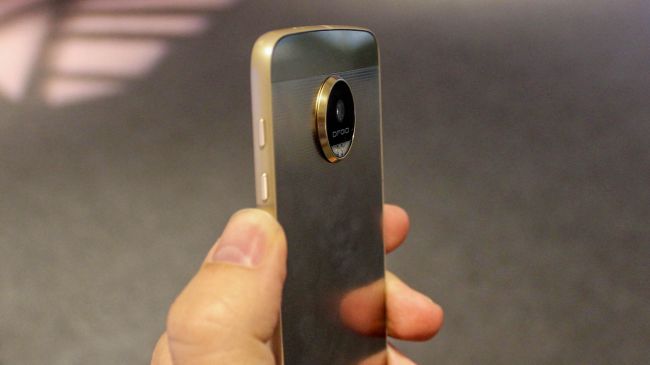 All of this means that it's so thin it doesn't include a normal 3.5mm headphone jack. Yes, Motorola beat Apple to dropping the headphone jack in favor of charging-audio output "solution."
As you can see from our photos, there's nothing on the bottom except for a USB Type-C port for newer headphones, or you have the option of using Bluetooth, which seems like the future, like or not (I don't).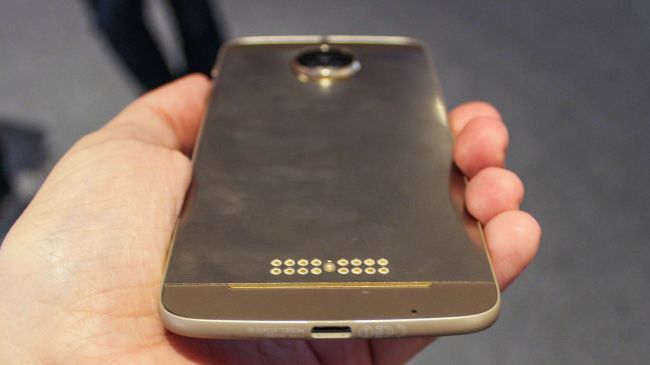 Also, expect a lot of fingerprint marks without a case snapped on. You can see a bunch in the photos. Both the black and gold Moto Z color options were loaded with them at this press event and whipping the phone down didn't help one bit.
All the more reason to add modular accessories to this Android phone. That can include "Style Shells" (or thin back covers) that come in a variety of textures (wood, leather, plastic).
Moto Z modules
It's these bigger "world thinnest" destroying accessories that have me excited the most about the Moto Z, however. They're more plentiful and creative than what I've found from the LG G5.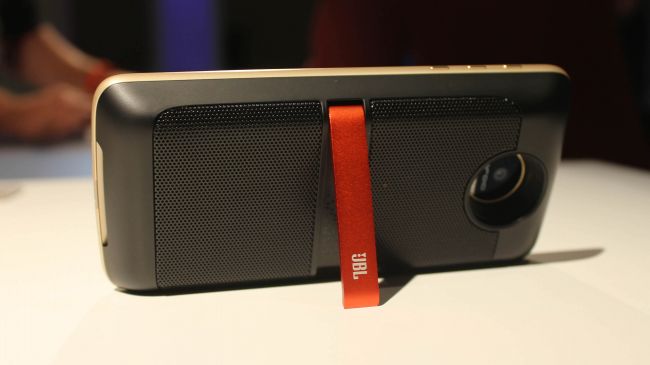 The Moto Z projector module is easy to snap on and shines phone content from the side of the much-thicker frame with a picture that can be up to 70-inches. It'll be niche, but buzz-worthy.
It's officially called the Moto Insta-Share Projector, and true to its name we got this MotoMod to work almost instantly the first time; the second time on live video, of course, we didn't. Lots of sarcastic "Yeah, works real great" comments from you all. Thanks.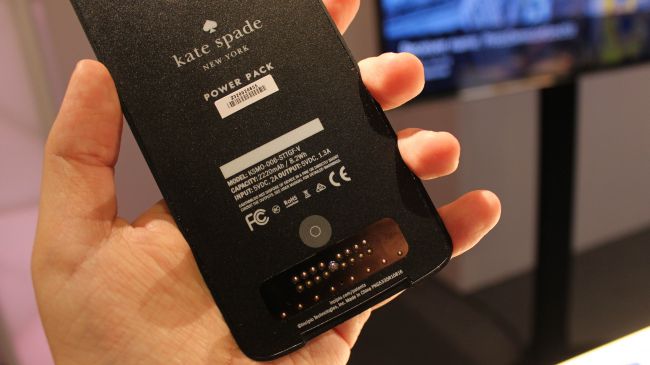 Motorola also partnered with JBL to pump up the volume with SoundBoost, which turns the back of the phone into a thick, powerful speaker. It's loud and includes a handy kickstand. We haven't seen this on a phone since the HTC Evo 4 from 2010, and I'm excited to see its modular return.
The last Moto Z module we got to check out is the battery case. It comes in a variety of designs, including from designers like Kate Spade and luggage maker Tumi. It's really trying to combine style and functionality, and it's easier to clip on compared to a Mophie case.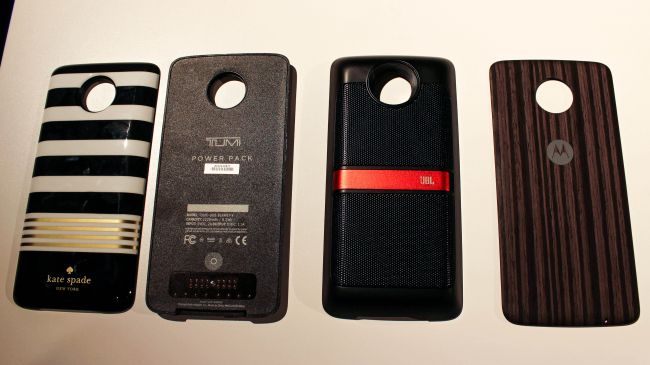 All of these modules snap onto the back of this ultra-thin phone with magnets – there are four hidden throughout the phone and seamlessly match up with magnets in the accessory.
The fit is easy, yet secure, though we didn't have the guts to do a drop test at the demo event when so many people needed to use the phone after me. Also, the floor was cushioned, so it wouldn't have been very conclusive anyway.
You can expect us to do an accessory durability test and the Moto Z Force shatterproof screen challenge when it comes to a full Moto Z and Moto Z Force review within a month.
Specs and software
Moto Z is thin and focuses on modular capabilities, so at first we wasn't sure if it would fall behind when it came to its internal specs. The good news is that is keeps up with today's powerful chipsets.
It's powered by a Qualcomm-made Snapdragon 820 processor, 4GB of RAM and an Adreno 530 GPU and USB Type-C connectivity. Final versions will have 32GB or 64GB of internal storage inside, and yes, there's microSD slot and it can turn into a second SIM card slot instead.
All of this means it has the same basic guts as the LG G5, HTC 10, ZTE Axon 7and Samsung Galaxy S7 and S7 Edge (US versions). That's a lot of sameness. So far, only the Asus Zenfone 3 Deluxe has slightly newer Snapdragon 821 processor.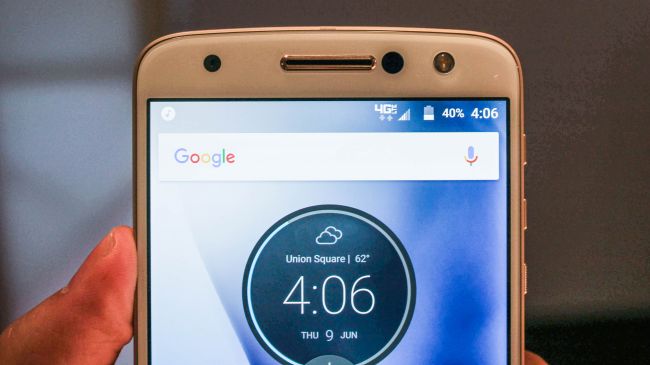 As you can see, more and more, there's little that differentiates these phones, so there's actually more reason to like the idea of modular accessories that change things up.
From the time we had with the Moto Z, we could tell that it not only ran Android 6.0.1 Marshmallow, it ran a near-stock version of Google mobile operating system. Samsung TouchWiz haters love this.
Moto Z and Moto Z Force will miss the Android Nougat rollout by mere weeks, but Motorola has always been quick to update its phone – well, quicker than other Android device manufacturers.
Motorola has always been good about not adding too many of its own apps (though you can expect several from Verizon in the US version), and what's here from Motorola is actually useful. Moto Z inherits the helpful custom voice commands and IR-sensing Active Display features I've always liked about the Moto X.
Camera and battery life
The Moto Z camera is 13MP with larger-sized 1.12um pixels, and includes a f/1.8 aperture with optical image stabilization and laser autofocus.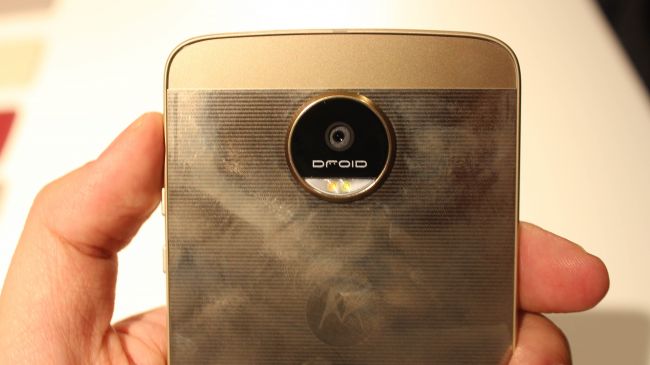 The front-facing camera is 5MP and with an f/2.2 aperture and 1.4um big pixels for better low light. That's becoming a bigger and bigger feature for selfie-craving phone owners.
There's supposed to be zero shutter lag, but we have to take this one out of the demo room to get a better idea of how this performs in normal conditions. I'll update this hands on review when that happens this summer.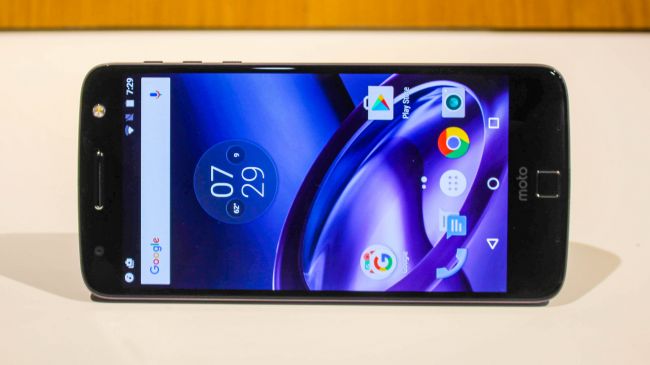 However, we can tell you right now that we like the default Moto Z camera app better. Previous Moto X cameras included a clutter-free design that hid options and made it for casual users.
I can now adjust the camera easier on this new phone and even found a Professional mode to fine-tune my snapshots manually.
Battery life is the other aspect that's going to need more time for me to check out, but we can tell you right now that this phone contains only a 2600mAh battery.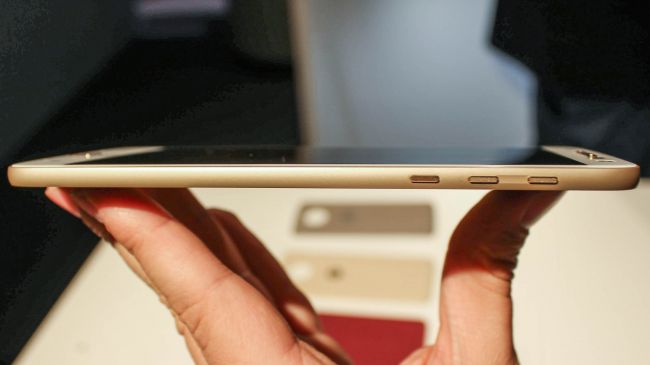 The thinner design also comes at the expensive of a serious camera bump. All of a sudden the battery case mods make convincing arguments.
Here the good news: Motorola says that Moto Z battery life is rated for 30 hours of mixed use, with the ability to TurboPower with a USB C cable and last 8 hours after just 15 minutes of charging.
Early verdict
Moto Z takes the modular accessory idea we liked so much about the LG G5 and actually makes it work with better add-ons and an easier-to-use snap-on design.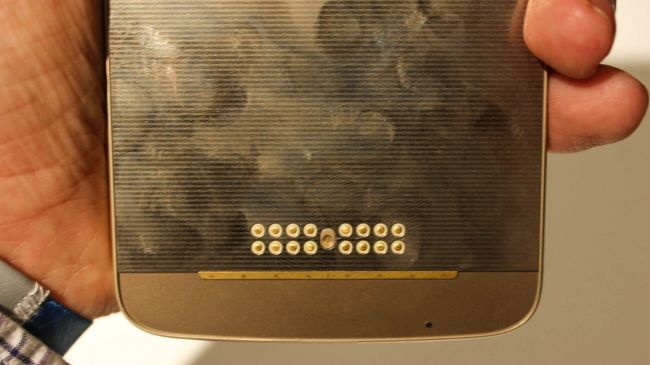 Right now, there are textured shells, fashionable battery cases, a powerful JBL speaker and a mini projector, and they're all great ideas that take advantage of the magnetic back pins.
The design is already incredibly thin, so the extra thickness isn't an impractical trade-off. The accessories are what make this phone stand out from the other half-dozen flagships with a Snapdragon 820 processor.
What could break this phone is its Verizon exclusivity at first this summer. Luckily, an unlocked version will be compatible with US carriers eventually and launch globally too around September. It won't be too long of a wait, but it'll surely get overshadowed by the iPhone 7.
Before that happens we'll have an updated Moto Z review with benchmarks, battery life analysis and camera deep dives to make sure that its thinness doesn't come at the expense of performance.
(techradar.com, http://goo.gl/Gt9VS1)
Comments
comments