Pros
Truly outstanding performance with high quality material
Well built
Good carry case
Cons
Hard to drive
Some comfort issues
Won't flatter poor recordings
What is the RHA CL1 Ceramic?
RHA has been steadily developing a full range of earphones at a range of price points but continues to focus on the more affordable end of the market. This means that the CL1 Ceramic is the company's flagship at exactly the same price point where a manufacturer like Noble gets started. RHA has made a name of themselves in using aluminium for the bulk of their products but – as the name suggests – the CL1 makes use of something a little more exotic.
Design
The enclosures are made from Zirconium dioxide, a non-metallic and extremely non resonant material that is made in two sections and then joined together with an almost imperceptible seal between them. Inside this, the RHA uses two drivers but unlike the Aedle ODS-1, both of these are dynamic in nature. The first is a relatively conventional dynamic unit that handles lower frequencies. This then hands over to a ceramic plate driver mounted in front of the first unit that covers frequencies up to an impressive 45kHz.
The RHA uses a looped cable system that goes around the ear. The cable is removable and bespoke but RHA's desire to give you something hefty means that the cable is rather large and not quite as flexible as would be ideal. This means that the loop around the ear isn't as close as I'd like and the CL1 can feel a bit ungainly.
The cable itself is detachable and replaceable but the connection at the earphone end is very prone to coming adrift from the enclosure and there is the danger that you might lose the earphone itself when this happens. The build quality overall however is superb, with those Zirconium enclosures looking and feeling very special.
The RHA comes with a decent supply of buds and tips (although RHA supplies them all in little plastic bags which is annoying) and you also get a carry case that is well judged in terms of size and protective prowess. The RHA is difficult to get comfy with and although the earphone housing itself is perfectly pleasant – although it can get very cold – the thick cabling can be tricky to wrap around the ear correctly. The other point that is immediately apparent is that the RHA is very insensitive – quite possibly the least sensitive earphone that I've ever tested. RHA knows this and has developed an external DAC/Headphone amp to run them but it will shape your partnering equipment choices.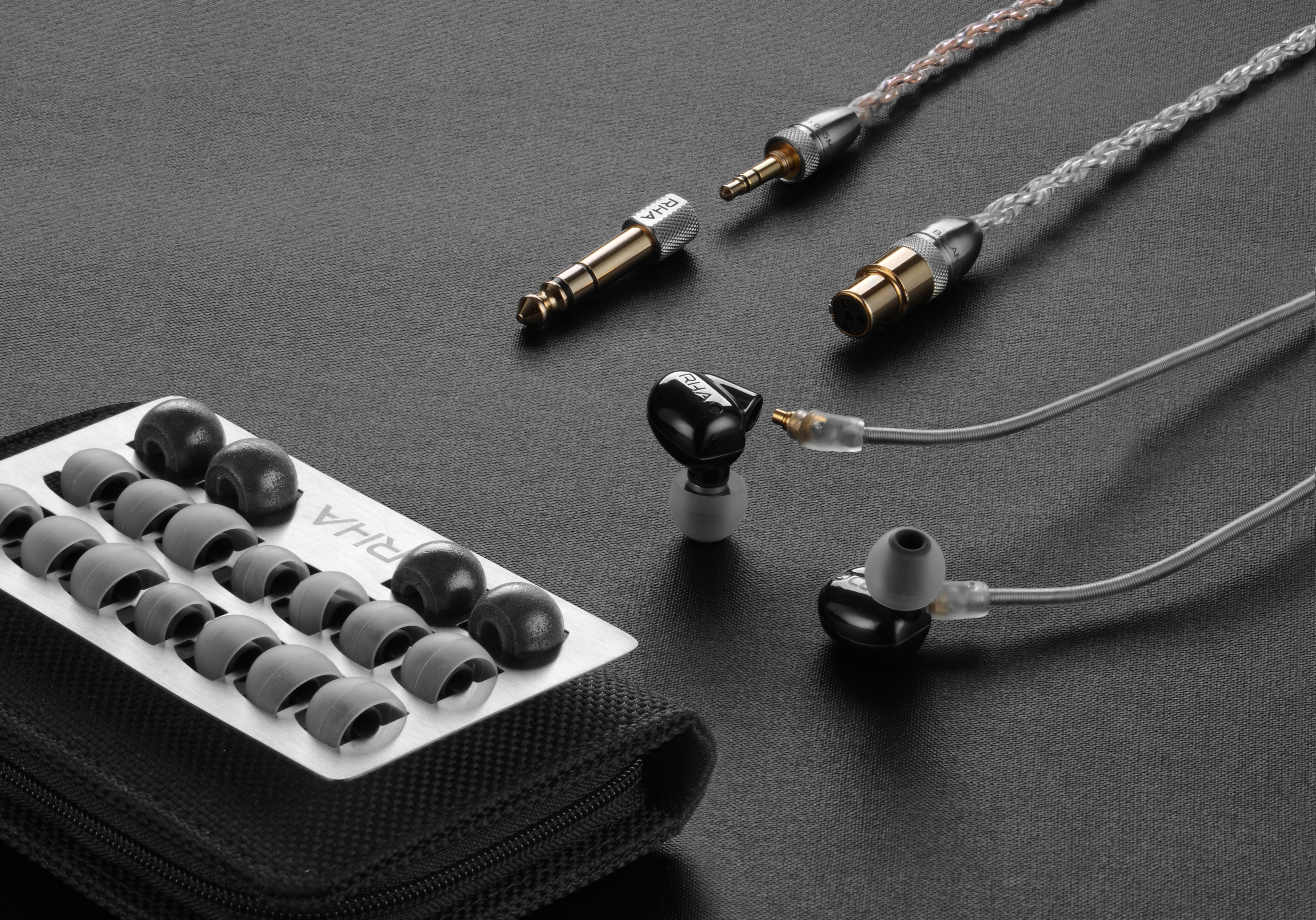 Specifications
| | |
| --- | --- |
| | CL Dynamic + Ceramic Plate |
| | |
| | |
| | |
| | |
Performance
Assuming your equipment is up to the job though, the RHA is a stunningly good earphone. It has a sense of dynamics and space that is exceptional and this allows music to extend far beyond the constraints of the earphone. Soundstage and in-ear devices is a slightly contentious area but I would be genuinely surprised if you weren't impressed on listening to the CL1. There is also a pleasing tonal balance to the RHA – it never sounds overblown or forced – but that forceful presentation is something that grabs the attention and pulls you in. It is surprisingly hard to get anything done when listening to the RHA as it tends to become the sole focus of your attention.
It is also something that doesn't really take any prisoners. Fed a diet of high quality recordings and Tidal Masters, the RHA is a joy but it will show up what is wrong with less perfectly mastered material and it can tip over into slight aggression when driven hard. There is an undeniable excitement to the way it handles more upbeat material though and this is aided by bass that is deep, fast and extremely well controlled.
Making the most of these attributes on the move though is a significant challenge. Connecting the RHA directly to a smartphone is pretty much out of the question and even some of the lower output external amps like the Meridian Explorer will use a significant proportion of their output. This means that with many devices, you can struggle to reach the level needed to get worthwhile isolation and this impacts the RHA's suitability for use on the move. This is further affected by the cable's irritating habit of parting company with the earphone. If you're listening in a fixed position and want to hear exactly what's in the mix though, this takes some beating.
Product Description
In-ear headphone with CL Dynamic and ceramic plate transducer configuration. Optimised for use with amplifiers.
A  Unique, high-resolution ceramic plate and CL Dynamic transducer configuration.
B  Ergonomic, high density Zr02 ceramic housings provide low acoustic chamber resonance.
C  Balanced Ag4x silver-core cable (sMMCX – Mini XLR)
D Braided OFC cable (sMMCX – 3.5/6.35mm)
E Mouldable over-ear hooks for a custom, comfortable and noise isolating fit.
F 11 pairs of ear tips including ComplyTM Foam, clothing clip and protector case included.
Conclusion
In some regards the RHA is a peculiar beast. It needs plenty of power and a diet of high quality material and with the best will in the world, it isn't completely comfortable. It is however an absolutely stunning performer. You get the sense that RHA was determined to ensure that their flagship possessed some singular abilities and while these do limit the practical means of using and enjoying the CL1 Ceramic, if you are prepared to work with them, this is a seriously good pair of earphones.
(avforums.com & gear.nativedsd.com, https://goo.gl/XqtyNU)
Comments
comments