OUR VERDICT
A tablet large enough for a little fun and cheap enough to be a second laptop, this won't set the world on fire – but it doesn't intend to.
FOR
Large, bold HD screen
Included keyboard cover
Strong battery life
AGAINST
Languid performance
Iffy construction
The latest Microsoft Surface Pro is among the best tablet PCs ever made. Some might say it is the best tablet, full stop. But its price, at £800/$1200 for even the lowest model, puts it out of reach for many people, particularly as a proper laptop is often a more attractive and practical proposition.
The Surface has, therefore, attracted its fair share of cut-price competitors – Asus' Transformer Mini range, for example, does brilliant things on a budget, and there are Chinese Surface clones like the Chuwi Hi13 that, while trickier to obtain, deserve attention for their achievements.
It would be easy to slot the Linx 12X64 into that same cheap Surface tablet bracket. Easy and, pretty much, correct: despite its limitations – and there are plenty, which we'll certainly get to – the 12X is outwardly well appointed.
It's super-thin, has a keyboard cover, a full HD screen, and is nearly as good to have around as its inspiration at less than half the price.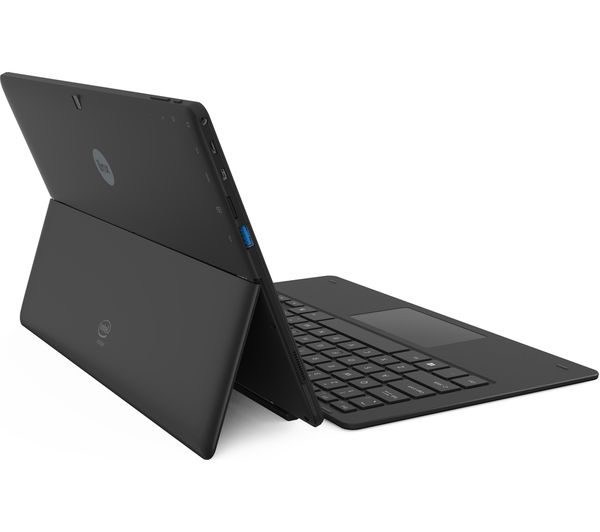 Price and availability
While we've not been able to determine the exact lineage of this specific hardware package, Linx is a badge attached to UK tech distributor Exertis, and as such this device seems to be available in the UK only, through supermarkets, Argos, and Amazon.
It's (obviously) inexpensive at £299 (the equivalent of $395, AU$495 though, again, you'll likely need to import one and pay the associated fees if you're outside the UK) and the fact that the keyboard cover comes in the box with it certainly adds value.
You can bag one for less if you shop around – we found it available for £275 on Amazon – but that's not as cheap as you can get; Linx' own 12V64, with a slightly smaller screen and a moderately less-powerful Atom processor, has recently been cleared out for £199, so watch out for further reductions down the line.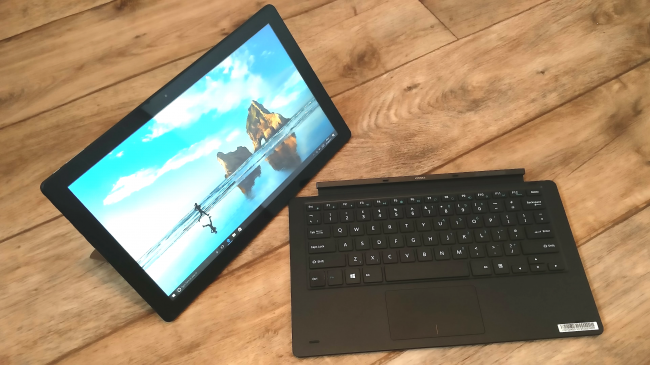 Design
In a machine this cheap, you'd expect a few corners to be cut. Accordingly, the case is far from the best. The main body of the tablet is fashioned out of a slightly-flexible plastic, which doesn't give us much hope for its long term durability – though half of that case is protected by the metal kickstand when the unit's stowed.
The keyboard cover doesn't fare much better, backed as it is by a horrible pseudo-leather material that collects dents and dings if you so much as look at it, and the whole thing lacks the stiffness we'd expect from something you're supposed to type on. It also doesn't fit perfectly, frequently leaving a dust-sucking millimetre gap between it and the screen when closed.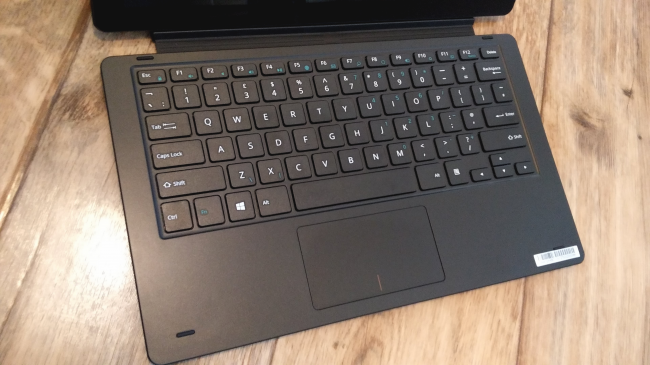 For all our cursing, though, these are light niggles. Treat the X64 well – maybe slip it into a sleeve while it's bouncing around in your bag – and there's no reason it won't withstand daily use.
It certainly doesn't feel cheap if you're not microscopically inspecting it; at 2lb, or more with the keyboard cover attached, its heft gives it a premium edge, maybe even enough to fool unsuspecting friends into thinking this is a machine twice its price.
Once powered on, though, the reality of the Linx's internals bites, and it bites hard. It was more than happy to serve up 1080p video in all the formats we tried, and coped just fine with in-home streaming from Steam, but mundane tasks like web browsing dragged.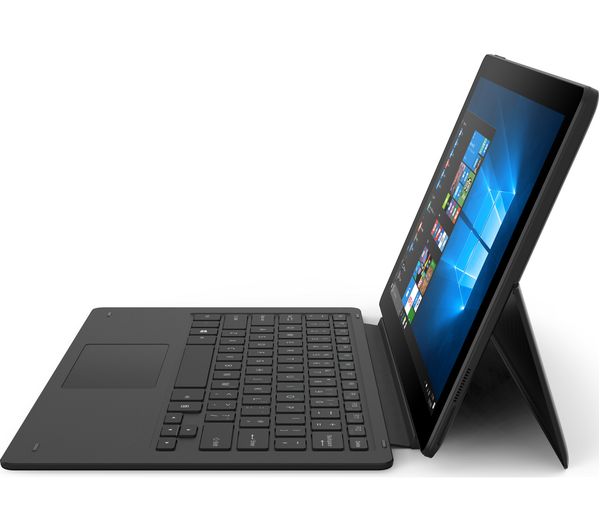 Even navigating the Windows 10 interface seem a step behind, something of a surprise given the adequate 4GB RAM provision and the Cherry Trail CPU at its heart.
Perhaps it's the eMMC storage, which has limited capacity and has to act as something of a bottleneck. Maybe it's an as-yet unresolved driver issue, or underclocked components in order to prevent overheating in the super-thin case.  Whatever the reason, this isn't the super-slick experience of a Surface tablet. Credit where it's due, though: the Linx 12X64 makes the absolute most of its 9,000 mAh battery.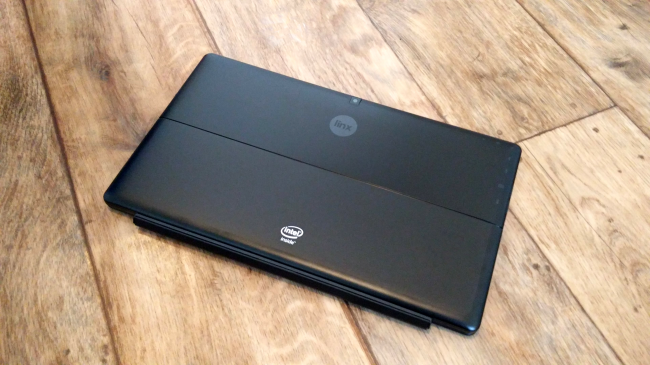 This is not a tablet that's built for benchmarks, at least on the high end. The Intel integrated graphics limped their way through (most of) 3DMark, and the CPU took a languid wander through Cinebench and Geekbench – and, all the while, the included USB charger couldn't quite keep up with the pace, meaning the battery was dipping even with the X64 plugged in.
PCMark and our movie test showed where it shines, though. Those low-power components mean this thing keeps going and going, nearing seven hours of simulated desktop use, and easily powering through a couple of movies on a long journey. The fact that it's USB-chargeable is a massive advantage when travelling, too – even if you can't find an AC outlet, an external battery bank will suffice.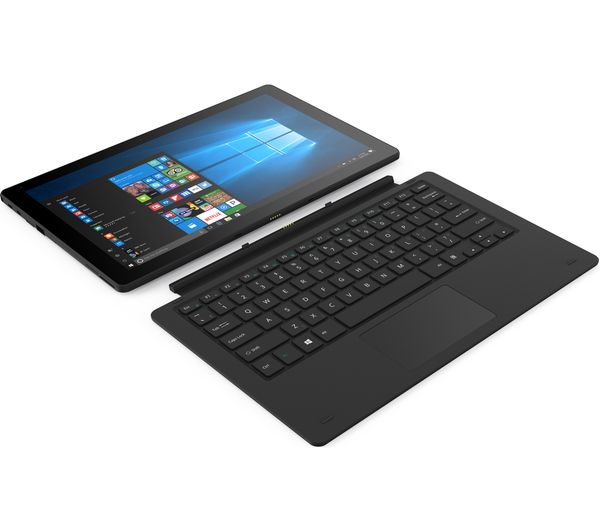 We liked
As a big, portable media device with the versatility of Windows 10 on board, this is a great choice. It's cheap, thin, has a wonderful screen, and decent battery life.
We disliked
Actually using the Linx 12X64 is often a chore. It's sluggish and obviously under-powered. Its construction, while decent, is a little wonky. Surface Pro this ain't.
Final verdict
At times we found ourselves amazed by what the Linx 12X64 could do. At others, we questioned why it couldn't do just a little bit more.
For the price you get a long-lasting tablet, a passable keyboard cover, and the ability to watch media or stream games at home, all backed by Windows 10 – so more practical tasks aren't exactly off the table.
Performance isn't quite up to scratch but if you're spending this little, a small speed sacrifice probably won't be much of an issue.
(techradar.com, https://goo.gl/Fd2od2)
Comments
comments