THE GOOD: The XPS 27 (2017) has a terrific audio system, especially for an all-in-one, and a display with excellent color reproduction.
THE BAD: The webcam is poorly placed and it's not the most graceful-looking all-in-one.
THE BOTTOM LINE: For discriminating ears and eyes, the XPS 27 (2017) all-in-one offers the best combination of features for the money.
Ear candy wrapped in a sturdy chassis with an excellent display and reasonably good performance for the money, the update to the computer we praised in 2014 as "almost everything you could want in an all-in-one" gets an overhaul for 2017. Most notably, this year's XPS 27 (model 7760) Windows 10 PC boasts the most sophisticated audio system built into a PC and a UHD 4K display with a broad color gamut, making it a great home entertainment system — as long as you're not a hard-core gamer — or compact-footprint choice for audio editing.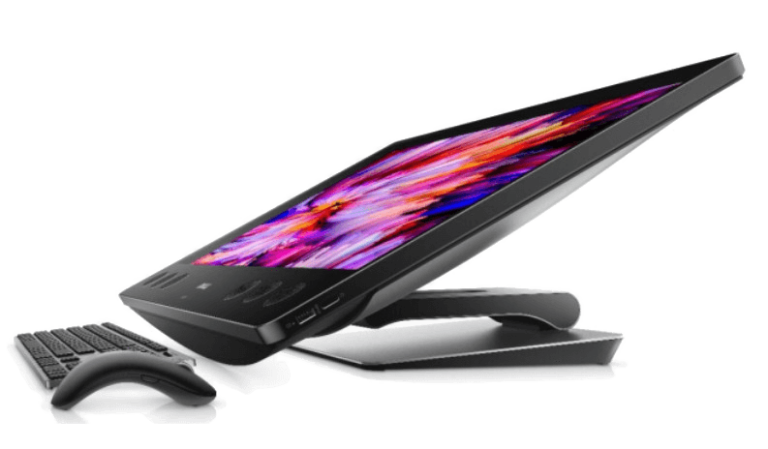 Prices start at $1,499, with initial choices of 6th-generation Core i5 and i7 processors (Skylake). You can choose integrated graphics or switchable discrete AMD R9 M470X and M485X GPUs. You can also choose between a UHD 4K (3,840×2,160-pixel-resolution) touchscreen display or a nontouch panel of the same resolution but 50 nits brighter and using Dell's thin-bezel Infinity Edge. It doesn't seem to be available in the UK or Australia yet, but the previous model is listed as discontinued for both regions; directly converted the prices start at about £1,220 and AU$1,995.
DELL XPS 27 AIO (2017)
| | |
| --- | --- |
| Price as reviewed | $2,799 |
| Display size/resolution | 27-inch 3,840×2,160 touch display |
| PC CPU | 2.7GHz Intel Core i7-6700K |
| PC memory | 16GB DDR4 SDRAM 2,400MHz |
| Graphics | 4GB AMD Radeon R9 M470X |
| Storage | 512GB SSD |
| Networking | 802.11ac wireless, Bluetooth 4.1 |
| Operating system | Windows 10 Home (64-bit) |
None of its components scream "future-proof," even the top-end configuration with 32GB RAM, a 1TB solid-state drive and a Radeon R9 M485X GPU, which will run you $3,400. Whether or not there's ultimately a speed increase with Intel's 7th-generation processors, it starts out with last-gen CPU options, at least at the time of our review. And the graphics processor options it offers are the mobile versions, which are decent but really aren't up to serious VR (virtual reality) or high-frame-rate gaming standards. So there's little reason to opt for the maxed-out configuration unless you're doing hard-disk-intensive operations (such as photo or video editing) or using tons of applications simultaneously. I think the $2,000 alternative will suit most people who don't really care about the touchscreen, or the $2,500model if they do.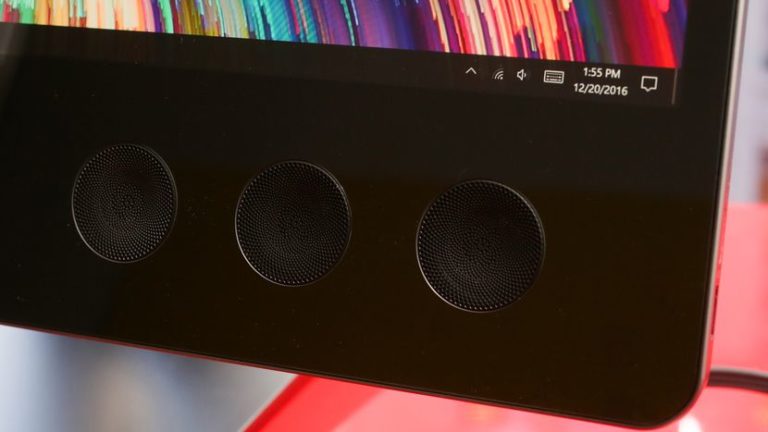 Hear ye, hear ye
If you've got discriminating ears — or just like your music really loud — this is the system for you. It has 10 speakers; you can only see six of them — two tweeters and four full-range drivers — lined up prominently under the screen, but there are also two down-firing and two passive radiators (the latter for better bass).
The goal of the audio design seems to be bleeding-ear, furniture-vibrating loudness with minimal distortion, a broad frequency-response range and good surround-sound directionality — each of which is difficult to achieve in an all-in-one by itself, much less simultaneously.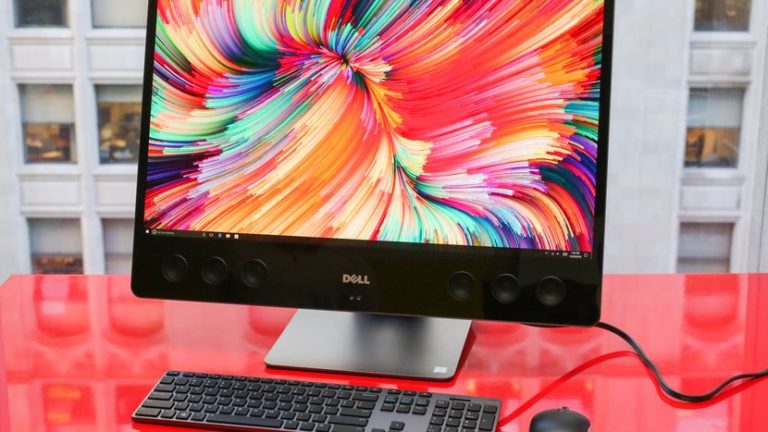 And Dell achieves those goals. When cranked up all the way, it's loud enough that I couldn't hear myself singing at the top of my lungs. (Thankfully, the office was deserted.) Music ranging from soft to loud, high frequencies to low and instruments and voices with complex overtones all sounded great cranked to the max.
I could feel "Smells Like Teen Spirit," even in the middle of the volume range, and it produced rich sound at the lower volumes. The surround-sound rendition in movies and music seemed quite accurate and encompassing. I did find the highs a little too bright for my taste, but that's personal preference, and the rest of the frequency range sounded a bit warmer. The system incorporates the Waves software audio control panel as well, bearing the imprimatur of producer Jack Joseph Puig who also helped design the hardware.
To incorporate PC-shaking audio, Dell had to create a rigid cabinet for the system. It remains to be seen whether the bass vibrations will affect the workings over time.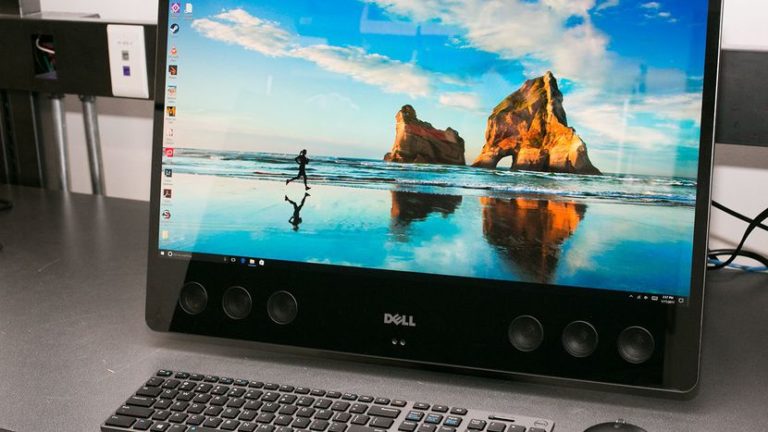 The closest competitors for high-quality audio are the recent HP Envy All-in-One models that incorporate four front-firing Bang & Olufsen speakers; while the HP line sounds good, it's not nearly as full-toned. Then again, with Dell you're paying a premium for the higher-quality sound and display.
Color me impressed
The 27-inch touch display on our evaluation unit wasn't isn't quite up to that of the Microsoft Surface Studio or iMac 27-inch for pixel density, but it's still damn good with excellent color accuracy. It covers 100 percent of Adobe RGB for photo editing and most of DCI-P3 for better color rendition when playing movies, and the Dell PremierColor software is quite good, allowing you to control all of the important parameters and offering presets for all the essentials — including separate profiles for Adobe RGB and P3. The software only supports the $200 X-Rite i1Display Pro calibrator (I didn't try the cheaper ColorMunki Display, which is nearly identical).
Similarly to the Surface Studio, the stand for the touchscreen version lets it fold flat, though it's not as much of a desk hugger, while both the touch and nontouch versions can tilt back by 30 degrees. However, neither version supports a stylus, so I'm somewhat at a loss as to why you'd want to lay it flat unless you want to make it disappear when not in use.
I found the display very reflective, even when tilted to try to reduce the angle of incidence. Sadly, that's the norm these days. And it's a fingerprint and dust magnet, which is sort of a problem for a touchscreen.
Design compromises
The guts of the computer reside in the display section, like in an iMac, but for both aesthetic and practical reasons I prefer them in the base, as with the HP Envy AIO series or Microsoft Surface Studio . The XPS 27's cables run out from a recess in the back through an opening in the stand. That's fine if you're a set-it-and-forget-it hardware user, but it's a pain if you need to get into the back USB ports on a regular basis, since the stand forces you to contort your hand to get it into the recess, and you can't actually see anything without turning the system around. Or unless you hang an unsightly hub off to the side.
At the top of the display sit an array of four microphones and vents for heat dissipation. The mic array is designed in part so that you can "Hey, Cortana" the system from a distance, which is nice. But making room for all the audio bells and whistles in the XPS 27 means that the webcam is at the bottom of the display, a bad placement similar to that of the XPS 15 laptop. Unfortunately, while you can easily raise the laptop if you only occasionally use the webcam, moving the 38-pound (17.3 kg) desktop so that the webcam's not pointing up your nose is a bit more difficult.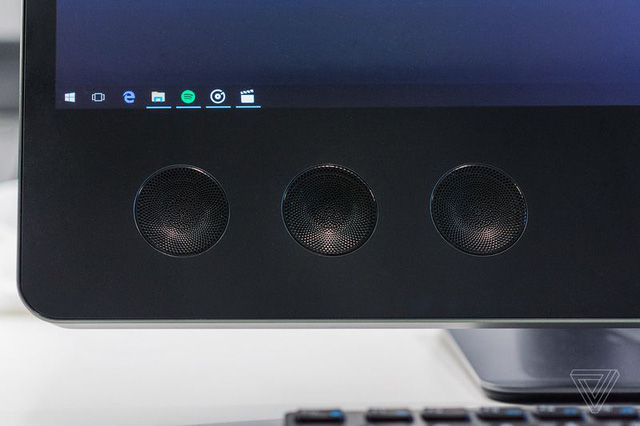 In total the system has four USB 3.0 ports — one on the side and the other three inset behind the display, though you lose one to the Bluetooth mouse and keyboard dongle — plus two Thunderbolt 3/USB-C, one DisplayPort, an HDMI and an Ethernet jack. An SD card slot sits on the left side of the display.
Worth the dough?
If I had you at "10 speakers" or "excellent color accuracy," then this is definitely the all-in-one for you. Despite some irritating aspects of the design and modest gaming performance — though if you go for the most expensive configuration you'll probably get better game speed — it really is a great system that I enjoyed using and highly recommend if you've got discriminating ears or eyes. But it's overkill if you're just looking to work at home or watch cat videos and surf the web.
SYSTEM CONFIGURATIONS
| | |
| --- | --- |
| Dell XPS 27 (2017) | Microsoft Windows 10 Home (64-bit); 3.4GHz Intel Core i7-6700K; 16GB DDR4 SDRAM 2,400MHz; 4GB AMD Radeon R9 M470X; 512GB SSD |
| HP Envy All-In-One 27 (late 2016) | Microsoft Windows 10 Home (64-bit); 2.8GHz Intel Core i7-6700T; 16GB DDR4 SDRAM 2,133MHz; 4GB Nvidia GeForce GTX 950M; 128GB SSD + 1TB HDD |
| Origin PC Omni | Microsoft Windows 10 Home (64-bit); (oc) 4GHz Intel Core i7-6700K; 16GB DDR4 SDRAM 2,666MHz, 8GB Nvidia GeForce GTX 1080; 2TB HDD + 500GB SSD |
| Microsoft Surface Studio | Microsoft Windows 10 Pro (64-bit); 2.7GHz Intel Core i7-6820HQ, 32GB DDR4 SDRAM 2,133MHz, 4GB Nvidia GeForce GTX 980M; 2TB HDD + 128GB SSD |
| Falcon Northwest Tiki | Microsoft Windows 10 Pro (64-bit); 3GHz Intel Core i7-5960X; 16GB DDR4 SDRAM 2,133MHZ; 8GB Nvida GeForce GTX 980Ti; 512GB SSD + 6TB HDD 5,700rpm |
(cnet.com, https://goo.gl/dmWztA)
Comments
comments