OUR VERDICT
Using some of the best components from the likes of Nvidia, AMD and Corsair, Chillblast has put together an amazing gaming desktop PC that can handle the latest games with ease, while simultaneously streaming your gameplay to audiences around the world.
FOR
Great design
Long warranty
Powerful
Very good multi-tasking performance
AGAINST
Expensive
Overkill for 1080p
Plenty of PC gamers are show-offs – we certainly are. So it's no good simply dominating a death match – you want to broadcast your triumphs on streaming sites such as Twitch, YouTube Gaming and Microsoft Mixer for the world to see.
Of course, pumping out state-of-the-art graphics and maintaining consistent frame rates while simultaneously recording and broadcasting footage requires a mightily capable gaming rig, and the Chillblast Fusion Spectrum Ryzen 7 Gaming PC is exactly that.
Not only is this a very powerful desktop PC with some of the latest and greatest components from Nvidia and AMD (it's a showcase for AMD's flagship Ryzen 7 1800X CPU), it's also been expertly put together by Chillblast in a gorgeous Corsair Crystal 460X RGB Tempered Glass Case, so it will look great on your desk if you present to camera as well.
Price and availability
This is actually the first Ryzen 7-powered gaming PC we've reviewed on TechRadar, so we'll be taking a very close look at the benchmarks and performance of this machine to see if AMD has finally made a processor that will get gamers – and PC builders – switching from Intel.
The Fusion Spectrum Ryzen 7 Gaming PC is built by Chillblast, a UK-based manufacturer which started out as a specialist importer of overclocking products, but has now become a very well-respected PC builder, winning numerous awards.
While Chillblast is based in the UK, it ships worldwide, including to the US, and the Fusion Spectrum Ryzen 7 costs £2,459.99 (around $3,200, AU$4,000) – though of course you'll need to add international shipping fees if you live outside of the UK.
This includes a two-year collect-and-return warranty, plus additional labor-only support warranty for three years.
Its price puts the Fusion Spectrum Ryzen 7 at the higher end of gaming desktops, with the Overclockers Titan Gladius Desktop PC coming in at a slightly cheaper £2,160.88 (US $2,668 / AU $3,475); that machine comes with similar specs, but with a quad-core Intel Core i7-7700K processor instead of AMD's octa-core Ryzen 7 1800X.
You may not be sold on how eight cores can improve gameplay performance, but if you want to do some heavy multitasking, such as streaming games while you play, then the more cores the better – which makes going to a Ryzen 7 chip well worth the extra outlay.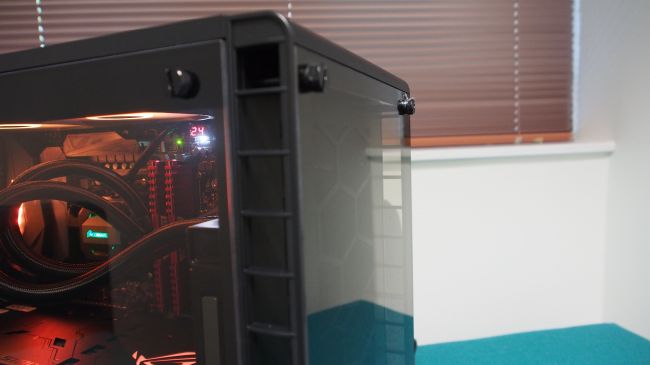 The front of the case has room for air to flow to and from the PC
Design
As we mentioned earlier, the gaming innards that makes up this powerful gaming and streaming machine is enclosed in the rather lovely looking Corsair Crystal 460X RGB Tempered Glass Case, which has an attractive yet minimalist look to it, while still giving you a clear view of the components inside.
At the front of the case is a tinted glass window that's set a few millimetres in front of the fan grilles behind it. This allows cool air to be pulled in through the front by fans to cool the components within.
The radiator of the Corsair Hydro Series H110i liquid CPU cooler is attached to the other side. On the top of the case, at the front, are the power and reset buttons, two USB 3.0 ports, two audio ports (one mic, the other headphone) and three buttons that control the lighting within the case.
While these lighting buttons are by no means essential, it's a nice touch if you like illuminating your machine, and it makes quickly configuring the lighting style of the Fusion Spectrum Ryzen 7 nice and easy.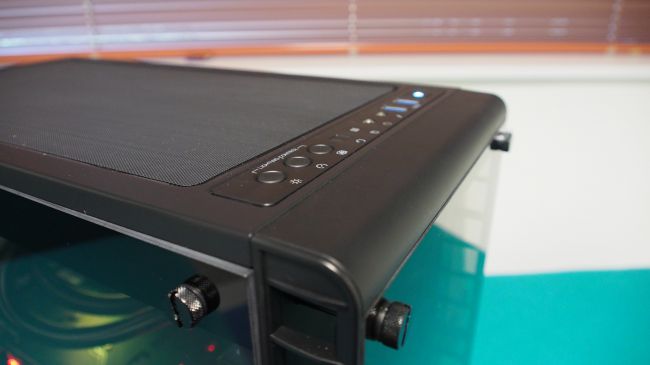 There's a good selection of inputs at the front of the case
Hey good-looking
The left side of the case is made of transparent plastic, enabling you to see the various components. The PC builders at Chillblast have done a great job of cable management, which makes for a very attractive interior of the PC – especially when combined with the built-in RGB lighting of the various components and the case. If you like showing off the inside of your machine, then the Chillblast Fusion Spectrum Ryzen 7 is a great choice.
Of course, good cable management isn't just about looks – it also makes upgrading and swapping out components in the future a lot easier, and helps with airflow.
The Chillblast Fusion Spectrum Ryzen 7 is the first desktop gaming PC that runs on AMD's recent high-end CPU that we've properly reviewed at TechRadar, so we were eager to see how the eight-core processor would perform in our benchmark and real-world tests.
AMD's top-of-the-line CPU, combined with a mighty Nvidia GTX 1080 Ti graphics card, meant our expectations were sky-high.
As you can see from the benchmarks, in the CPU-intensive Total War: Warhammer, there was surprisingly little difference between the results for the ultra or low graphical settings. This is because, even on ultra, the game rarely challenges the powerful GTX 1080 Ti graphics card.
With the more graphically-demanding Deus Ex: Mankind Divided game, the difference between performance on ultra and low settings is starker. The PC breezes through the benchmark on low settings, hitting a huge 127.8 frames per second.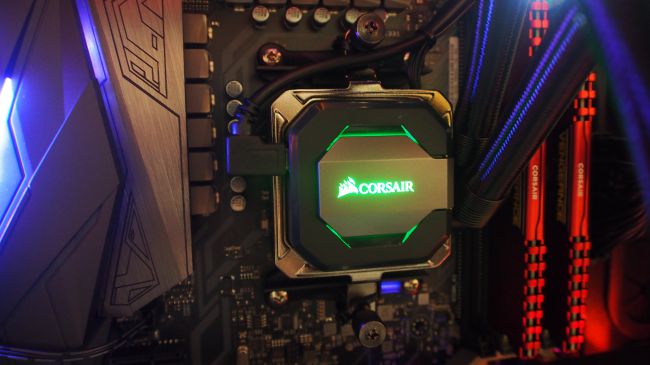 Corsair's excellent all-in-one liquid CPU cooler keeps temperatures in check
On ultra settings the Fusion Spectrum Ryzen 7 struggled a bit, but still scored 44fps. With a few tweaks to the graphics settings this will easily reach 60 frames per second, while maintaining levels of graphical quality that the PS4 and Xbox One could only dream of, even at 30fps.
In the Cinebench CPU benchmark, you can see just how powerful the Ryzen 7 1800X is, with a score that zooms past more expensive Intel processors.
While it may not have the most powerful single-core performance (as shown in the GeekBench tests), it more than makes up for it in the multi-core tests – so any task that uses multiple cores is going to benefit. While games don't usually benefit as much from very high core counts, that could always change in the future.
We should also note that the Corsair Hydro Series H110i all-in-one liquid CPU cooler did an excellent job of keeping the Ryzen 7 chip cool while also running quietly.
In fact, the Chillblast Fusion Spectrum Ryzen 7 was an impressively quiet PC even when running intensive games – the only time we really heard the fans was when we booted up the PC. If you're broadcasting your gameplay, having a PC that doesn't chuck out a load of noise while you're recording with your mic is a godsend.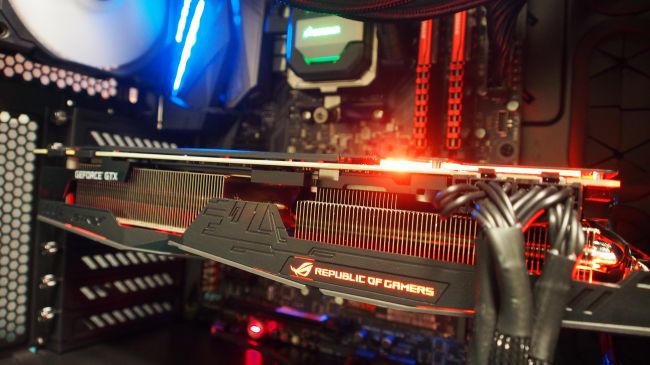 A mighty GTX 1080 Ti powers the graphics
Streaming pile of… Win
For day to day use, the Chillblast Fusion Spectrum Ryzen 7 is a fast and accomplished machine, with Windows 10 running smoothly on it, even when running a number of applications at the same time. It's arguably here, when multi-tasking, where the high core count of the Ryzen CPU and 16GB of RAM becomes worthwhile – especially if you're streaming gameplay, video and audio at the same time.
To see just how good it is at streaming and multitasking, we ran a few benchmarks, and played a few games, while simultaneously running intensive streaming applications in the background. The results were fantastic, with just single digit drops in frame rates. What this means is that you can stream your gameplay without worrying about the performance of your game deteriorating noticeably.
The Chillblast Fusion Spectrum Ryzen 7 is also mercifully free from bloatware, with only a couple of apps – such as Nvidia GeForce Experience – coming preinstalled.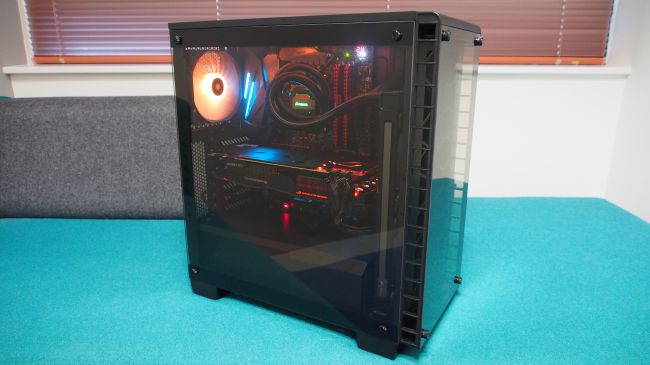 The glass panel shows off how nicely built this PC is
We liked
The Chillblast Fusion Spectrum Ryzen 7 Gaming PC has been beautifully put together, and the Corsair Crystal 460X RGB Tempered Glass case shows off the powerful components – and the care with which they've been installed – brilliantly.
It's also full of some of the best components money can buy, including the excellent AMD Ryzen 7 1800X eight-core CPU and Nvidia GTX 1080 Ti graphics card, which means you can play the latest games at ultra (or very high) graphical settings while maintaining high frame rates.
We didn't like
There really isn't much to dislike here. The only slight niggle we have is the price; at £2,160.88 / $2,668 / AU$3,475) this is a pricey machine, especially when you take into account that it doesn't come with a monitor, keyboard or mouse – and if you're not in the UK you'll need to add shipping costs as well.
Final verdict
Overall, the Chillblast Fusion Spectrum Ryzen 7 is an excellent gaming PC, with impressive cutting-edge components ensuring it can handle pretty much any modern game with ease.
Also, thanks to a case that's spacious (yet not overly large), it's easy to upgrade in the future – though it's unlikely that you'll need to do that for a good while.
Thanks to the high core count of the AMD Ryzen 7 1800X CPU, this is also a great machine for multitasking – such as live-streaming your gameplay on services such as Twitch.
It's an expensive machine, but if you have the budget, and you're a budding live-streamer, you definitely won't be disappointed with this gaming PC.
(techradar.com, https://goo.gl/iVodcg)
Comments
comments