The Windows Store first launched in 2012 with the introduction of Windows 8. Since then, the number of apps for the operating system has grown — and the quality of those apps is improving, too. There are nearly 700,000 apps in the Windows Store, ranging from games and social networking apps to photo-editing tools and newsreaders. Whether you are looking to manage your busy schedule or just want to know how to mix a perfect cocktail there's a Windows app for you. Here's our list of the top 25 apps for Windows devices, including touch-screen laptops, tablets and 2-in-1 machines.
Duolingo
Learning a new language is one of those goals that makes it on many a to-do list year after year, but finding the time can be difficult and many methods are simply too expensive. Enter Duolingo. Founded five years ago this free app aims to help users learn a new language at their own pace in as little as five minutes a day. The Windows 10 Live Tile helps keep the app at top of mind so you can jump in whenever you have a spare moment and keep progressing on your path to fluency.
From $0.00
Drawboard PDF
Portable Document Format (PDF) is one of those the most widely used file formats in the world, which makes having a great app for handling them something of a necessity. Drawboard PDF definitely fits the bill with a thorough set of tools for annotating existing PDFs. Tablet or hybrid owners in particular will benefit from the UI/UX which is built with both stylus and touch in mind.
From $9.99
Minecraft: Windows 10 Edition Beta
Minecraft is one of the most popular games of all-time, having sold over 100 million copies since its launch in 2009, only the decades-old puzzler Tetris edges out that sales total. The game is often described as a virtual Lego set with the ability to build virtually anything you can imagine. This version of the game is far more accessible than the original for most users and has been consistently updated with new features since its launch in June of 2015. Virtual Reality fans can even immerse themselves fully in the world of Minecraft thanks to Oculus Rift support. 
From $9.99
Meme Generator Suite
Memes are the lifeblood of the social internet. The perfect image paired with a clever caption can be a worldwide phenomenon (or at least the talk of all your friends) in minutes. Meme Generator Suite makes crafting that next viral hit quick and easy whether you select from one of the hundreds of thousands of existing memes in the online library or a picture of your own. And unlike many of the online meme creation tools you have complete control over your text with the ability to change the size, placement, color and font with ease. 
From $0.00
Readit
Reddit fans looking to get the full experience with all of the benefits of a native app should look no further than Readit. The app not only offers a much improved interface over Reddit on the web with a multi-column interface, but also supports Reddit Gold features. Windows 10 users benefit from Secondary Tiles, the ability to pin Subreddits to your start screen and granular Toast Notifications.
From $0.00
Madefire
Madefire created the new Motion Books format to take digital comics to a whole new level with music, sound effects, 360 degree views and of course motion. Major comic book players like DC Comics, IDW and Dark Horse publish through Madefire and, with the Motion Book Tool freely available, the indie offerings are also impressive. While Motion Books are the highlight of Madefire it isn't limited to the format, the app is also an excellent traditional digital comic book reader. Madefire prides itself on native app development and makes the most of Windows 10 features with Cortana, Continuum and Live Tile support.
From $0.00
MyRadar
Weather apps can definitely have a "if you've seen one, you've seen them all" quality, but MyRadar's HD animated radar maps set it apart from the pack. You can zoom in to a granular level on the map with a variety of different overlays including current cloud cover through satellite images. If you want to stay up-to-date on any exciting weather coming your way, the app supports push notifications for any warnings or alerts and a detailed hurricane tracker.
From $0.00
Halo: Spartan Strike
The follow-up to a previous favorite, Halo: Spartan Strike is another top-down tactical shooter in the Halo universe and adds new vehicles, like the Warthog and the Kestrel. Gameplay is more expansive than the previous entry in the series — and microtransactions have been removed, so the $5.99 upfront cost is all you will pay for one of the most visually stunning games in the Microsoft Store.
From $5.99
TuneIn Radio
Radio on the Internet may be a punch line to some people. But Apple pushing Beats 1 has made it relevant once again, and TuneIn Radio provides access to more than 600,000 radio stations worldwide and more than 4 million podcasts — another surging medium. You can browse stations easily by category, create presets for yourself and even pin your favorite stations to the Start screen.
From $0.00
Facebook
On a tablet, many people may still be inclined to visit the Facebook website. However, Facebook's app is well designed and intuitive, and optimizes content for touch-screen devices. Although one or two features may be missing, the load times are very fast. The Facebook app works nicely in Windows' Snap mode, allowing you to keep tabs on updates while you do work or surf the Web. Facebook also supports updates in Live Tiles on the Start screen.
From $0.00
Wunderlist
Wunderlist has been one of the most popular to-do list apps across virtually every platform for the last few years thanks to its clean look, expansive feature set and ease of use. This combination lead to Microsoft acquiring the company in 2015 ensuring that Windows will be a prime focus for Wunderlist going forward. With Windows 10 the app was redesigned and offers support for Live Tiles as well as integration with the Microsoft voice assistant Cortana.
From $0.00
TouchMe Gesture Studio
Considering so many Windows devices have touch screens, it would be great if you could launch apps and programs, or perform tasks, with the swipe of a finger (or two). TouchMe Gesture Studio makes this possible, allowing users to assign tasks to custom swipes on their touch screen. 
From $0.00
Cocktail Flow
If you enjoy hosting parties, this app could become your best friend. The app is not only beautifully designed, but very functional too, allowing users to create drinks based on what they have in their liquor cabinet. Thinking of trying out new drinks? Cocktail Flow allows you to search for drinks by make, style and even color.
From $0.00
LastPass
Keeping yourself secure online becomes more difficult every year, but an app like LastPass can take a lot of the pain out of the process by generating incredibly complex passwords with a single click and then autofilling them as needed. Your data is stored in a searchable "vault" and is securely synced to the cloud so you can access it anywhere and never have to worry about losing your data to a lost or damaged device.
From $0.00
Xbox One Smartglass
If you have the latest Xbox, you should use it to its full potential. Xbox One Smartglass makes this easier by letting you control your Xbox One with your Windows tablet or phone. This app gives you full control over the console's entertainment features. You can also browse the Web on your TV using your mobile device, as well as track achievements and message friends.
From $0.00
Sonic Dash
While there are dozens (possibly hundreds) of endless runners available in the Windows Store, there is no character more fitting for such a game than Sonic the Hedgehog. The spiky blue speedster of Sega fame has to navigate safely through a constant barrage of threats while gathering golden rings, with the occasional loop de loop and boss battle thrown in for good measure. If you were more of a fan of Sonic's pals you can also play as Tails, Shadow or Knuckles.
From $0.00
Kindle
With the Kindle app for Windows, you can pin your favorite books right to your Start screen, so you can quickly pick up where you left off. The app also offers a robust search function and lots of customization options. These include background color, font size and the number of reading columns. As with the Kindle app on other platforms, you can highlight, take notes, and look up definitions and pronunciations.
From $0.00
Skype
The video-chatting, free conference-calling space is far more crowded now than when Skype entered it. However, this app is polished and well integrated with Windows. We love how easy it is to snap Skype next to other apps so you can keep chatting while you multitask. You can also easily share files and photos. If you get a message, you'll see it no matter what you're doing, even on the lock screen.
From $0.00
Dropbox
Cloud storage can be a lifesaver thanks to its ability to offer users extra storage space available from any device with Internet access. Dropbox was one of the early players in this space and continue to be one of the best. With the Dropbox app on Windows you can sync selected folders automatically, share large files like photos or videos easily over email or via social media and view PowerPoint, Word and PDF files directly in the app.
From $0.00
Netflix
Designed with the Metro theme in mind, Netflix makes it easy to watch great movies and TV shows. You can rate content to get better suggestions suited to your taste, as well as resume playback from another device, whether it's a game console, smart TV or smartphone. The Netflix app for Windows supports search from the Charms menu. If you hover over a movie or TV-show poster, you'll get a pop-up with a synopsis.
From $0.00
Adobe Photoshop Express
Photoshop Express has more than enough features for the casual photo editor. These options include cropping, rotating, straightening and adding filters to images, making the app a great tool for quickly enhancing photographs saved to your Windows device. Or, try Auto-Fix, which adjusts brightness, exposure and shadows with one touch. Other features include 15 filters and an in-app purchase for the Looks Pack, which offers more options. The separate Noise Reduction Pack minimizes grain in your pics.
From $0.00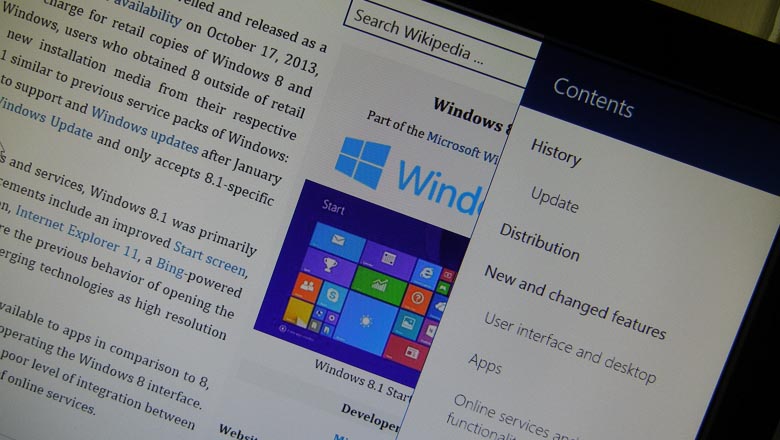 Bing Wikipedia Browser
Wikipedia may be the repository of all human knowledge, but that doesn't mean the site and official app can't be improved upon. Using the Bing Knowledge repository, the Bing Wikipedia Browser offers better performance and a slicker interface, as well as the added benefit of a "recommendation bar" powered by Bing that acts as a gateway to further research on related topics.
From $0.00
Twitter
Ever since it first appeared in our Top 25 list, the Twitter app has continued to improve. The Windows app now supports multiple accounts, and a new Lists feature lets you organize accounts you follow by type. The app is also speedier than ever. And, just like before, it's a cinch to upload photos and videos.
From $0.00
Hulu Plus
Hulu Plus boasts a clean and intuitive touch interface for catching up on your favorite shows. Your $7.99 per month provides access to hits like Modern Family and Family Guy and kids shows like Kung Fu Panda. We especially like the ability to pin our favorite shows to the Start screen. Use the Charm bar to search for programs.
From $0.00
Tubecast
There's no official YouTube app for Windows, but with Tubecast, you won't be missing it. The app supports all standard features when you're logged in to your YouTube account. It also lets you download videos and cast video to smart TVs, Chromecast, AirPlay, Google TV, Roku, Amazon Fire TV, Xbox One, Xbox 360, PS4, PS3 and DLNA. Resolution support is available from standard definition all the way up to 4K.
From $0.00
(laptopmag.com, http://goo.gl/UeOZDI)
Comments
comments