The connected security camera market is crowded right now, but Hive believes its Yves Béhar designed Hive View can carve out a space. Latest product from the company trying to make smart home tech not only functional but beautiful too, the Nest Cam rival follows Hive's connected thermostat and other devices that, having launched first in the UK, began arriving on US shores last year.
The camera itself is a roughly 2.25-inch cube, with a 1080p sensor for HD live streaming and a 130-degree field of view. It has automatic night-vision, along with a microphone and speaker (though two-way audio will be following on at some point in 2018). What really sets it apart, though, is the battery.
The Hive View stand is a rather lovely thing, a sinuous curve of metal onto which the camera block clips magnetically. You can twist and rotate it to cover most angles, while the heavy base keeps things well planted. However, it's also designed for you to remove it and use it completely wirelessly.
Hive calls it "grab and go," and as you'd expect from the name it basically means you can reposition the camera elsewhere for temporary use. The idea, the company explained to me, is that you might have a short-term purpose for the camera, like watching a babysitter or monitoring the front doorstep for a package delivery, which doesn't justify a dedicated camera but you still want to keep an eye on.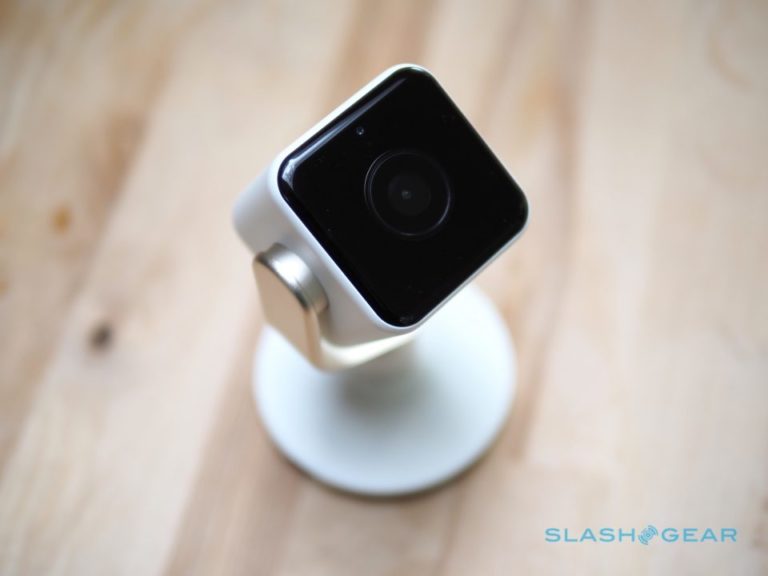 Battery life, though, is only around an hour of constant streaming over WiFi. Rather, Hive expects the motion-trigger to help save power. Any movement or sound can start the Hive View recording, pinging out a notification to the companion app for iOS and Android. A dual-core processor with a dedicated video analytics chip inside is sufficient to differentiate between the movement of light on the wall, a dog or cat walking across the frame, or a person, and you can adjust the sensitivity of notifications and recordings depending on which of those you care about.
Everything shows up in an event log, which shows what triggered the recording and offers a 1080p video clip for events from the last 24 hours. You can also schedule when notifications will be sent, so that you don't necessarily get them in the evenings when you're likely to be at home, but do while you're away. A Hive Video Playback subscription will give 30 days of video history for $5.99 per month. However, there's no current way to download the clips, only to share them online.
Down the line, Hive plans to add "Moments" support to the Hive View. Intended to bring what might be considered just a security tool into everyday life, you'll be able to tell the camera to take a photo every 10 seconds for a period of time, like a timelapse, rather than enjoying a party or family time with a camera in front of your face. It'll be down to you to filter through the resulting hundreds or thousands of shots, mind, with Hive telling me that – even though services like Google Photos and the iOS Photos app are able to decide which are "good" pictures that should be surfaced – it prefers to leave that final decision up to the end-user.
Hive's goal is to use cameras like the Hive View to bring people into its broader ecosystem. That currently includes a smart thermostat, lights, sensors, and plugs – indeed, there'll be a boxed set dubbed the "Hive Close to Home" pack which for $349.99 (or $14.58 per month for two years) will be a basic smart home starter kit. Come February, there'll be IFTTT-style simple programing for things like "if the camera spots movement, when it's nighttime, turn on the lights" to tie everything together into the same app.
Hive View is available now, in black & brushed copper and white & champagne gold. It's priced at $199.99.
(slashgear.com, https://goo.gl/qqUck5)
Comments
comments