OUR EARLY VERDICT
Depending on its price, LG's new SJ9 soundbar might be the most convenient way yet of getting Dolby's impressive surround sound technology into your home. It's small and compact, and has a nicely understated design.
FOR
Impressive Atmos integration
Understated, stylish design
Google Cast integration
AGAINST
Price not yet announced
'4K sound' description is misleading
No DTS:X support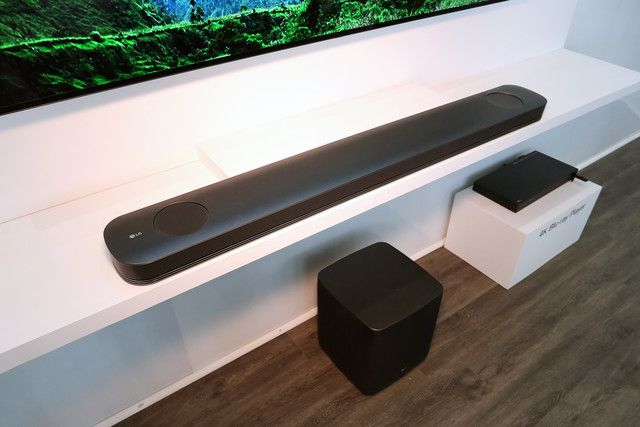 We were sceptical that Dolby's new 3D surround sound technology could ever make it into a soundbar.
That was until last year's Samsung HW-K850 absolutely blew us away with its use of the technology, which uses its speakers to not only create the illusion that sound is coming from behind you (as is with traditional surround sound), but also above you.
Now LG has also entered the Dolby Atmos game with the 5.1.2 channel SJ9 soundbar, which the company was showing off at CES 2017 and which produces some very impressive surround sound results.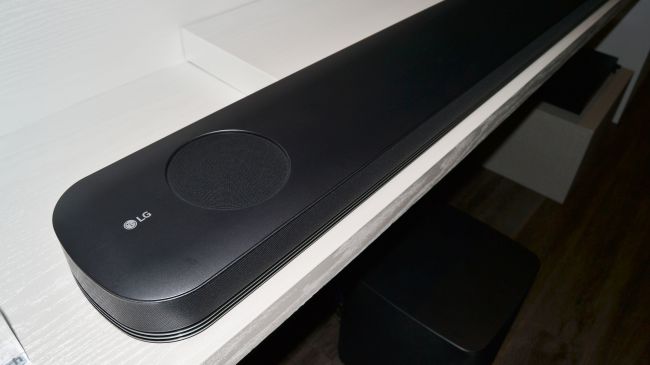 Design
LG wasn't willing to show us the rear of the SJ9 because they told us it was a pre-production sample that was subject to change. This meant that we weren't able to get a good look at the soundbar's connectors.
However a representative told us that the rear included two HDMI ports for 4K passthrough.
A full array of wireless connection technologies is also supported including Google Cast and Bluetooth.
If you're using the soundbar to play music, then it will support up to 24-bit/96kHz files, and will also upscale lower quality files to this standard.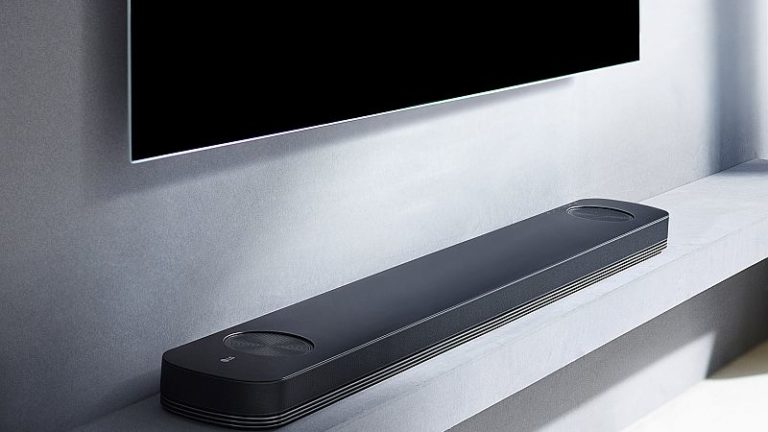 The support for this resolution has prompted LG to claim that the soundbar supports 4K sound, which isn't something that we've ever heard of before.
LG has created this somewhat confusing terminology (which has nothing to do with 4K TV resolution) by claiming that by supporting two channel music at a resolution of 24-bit/96kHz, the soundbar essentially supports music with a bitrate of over 4,000 kbps.
It's a confusing piece of terminology, and we hope that it doesn't catch on with other manufacturers.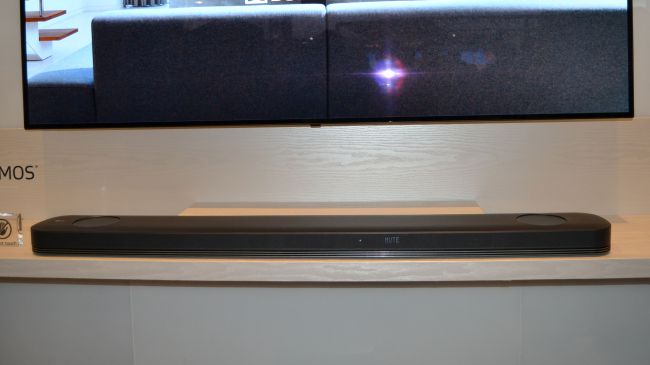 Performance
This vertical sensation of sound is created thanks to the soundbar's two top-mounted speakers. These fire sound upwards, causing it to bounce off your ceiling and create the impression that the sound is coming from above.
We were treated to a demonstration of this Dolby Atmos technology through a video of a rainforest, and it was surprising just how much it felt as though we could hear the raindrops hitting the leaves above us.
Bass output is aided by an included wireless subwoofer, which uses a seven speaker array to produce 500 watts of sound, and it produces a suitably bone-shaking rumble.
The impression created was that of a very capable soundbar indeed, which offers a compelling and rich surround sound experience.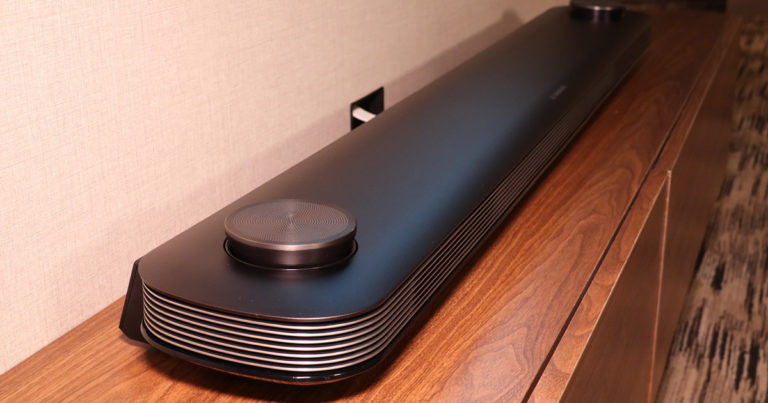 Early Verdict
Dolby Atmos is still a premium technology in home cinema, but LG's new SJ9 soundbar has the potential to lower the barrier to entry for the new technology.
It sounds great, and has a look that should allow it to blend in to most home theatre setups. We're also a fan of its support for Google Cast and high-resolution audio, even if we wish LG hadn't tried to claim the audio itself is 4K.
It's also a surprisingly small system, which should help those who don't have a huge amount of space to dedicate to their audio system.
Just how much it manages to lower the barrier to entry will depend on what the soundbar is eventually priced at. LG wasn't willing to share pricing on the new unit, but we've got our fingers crossed that it'll be able to undercut the exceptionally high-end Atmos offering from Samsung, the K950, which was priced at well over a grand.
(techradar.com, https://goo.gl/iW1nJ5)
Comments
comments