If you want the ultimate detailed picture, 4K or ultra-HD TVs are the sets to buy. They pack four times more pixels (3840 x 2160) than traditional HD TVs, and they are the first models to get new technologies such as wider color gamut and high dynamic range (HDR) video.
In our labs, we've tested all of the most popular 4K TV sets, evaluating them based on sharpness, color and viewing angles, as well as design, smart TV features and sound. Based on our reviews, our top budget pick is the Insignia Roku TV ($449 at Best Buy), which delivers a striking 50-inch picture with excellent contrast. If you're looking for serious smarts from a 4K set, you should also check out the Samsung KS9000 SUHD 4K TV, which gives you access to a wide variety of streaming services and also lets you control smart home devices.
If you're looking for the best picture possible and can afford it, you should buy the LG E6 ($3,000 for the 55-inch model), whose stunning OLED display delivered some of the best images we've seen yet, along with amazing contrast and good audio. Check out our other top picks below.
Are you planning to buy a PlayStation 4 or Xbox One? Then you should check out our guide to see which 4K console is right for you.
Latest 4K TV News
LG's 2017 OLED TV model names have been leaked, according to Flatpanelshd.com. Interestingly, a new model, the W7, may hint at a flagship "wallpaper" model, whose technology the company showed off in 2015.
LeEco announced its entry into the U.S. market with the Super4, a 65-inch HDR set that features a voice remote and the company's novel on-screen interface.
INSIGNIA ROKU TV – Best Budget 4K Ultra HD TV
SCREEN SIZE (INCHES) : 50

SCREEN TECHNOLOGY : Edge-Lit LED LCD

SMART TV : Yes

HDMI PORTS : 4 
Ultra-HD sets aren't just for McMansions. Apartment dwellers can get a better picture, too, in the form of this 50-inch Roku that's available for around $499. It not only handles 4K content with aplomb but also ably upscales Blu-ray and standard HD content without hiccups. On action scenes, it manages to keep up with speeding motorcycles and flying stuntmen. It also features Roku's interface, which makes finding 4K content from streaming sources, such as Netflix, a lot easier. And, an app also lets you control the TV from your smartphone.
SAMSUNG KS9000 55-INCH SUHD 4K TV – Best Smart 4K TV
SCREEN SIZE (INCHES) : 55

SCREEN TECHNOLOGY : SUHD

SMART TV : Yes

HDMI PORTS : 4 
Your TV is one of the central hubs of the home, so it only makes sense for you to be able to control all of your smart home devices while sitting on your couch. The KS9000 connects to Samsung SmartThings, which will let you adjust things like the lights, door locks and thermostat, right from your remote. Plus, this quantum-dot TV delivers an excellent 4K HDR picture for a reasonable price and, design-wise, looks amazing from all angles.
VIZIO P-SERIES – Best 4K TV for the Money
SCREEN SIZE (INCHES) : 55

SCREEN TECHNOLOGY : LED

SMART TV : Yes

HDMI PORTS : 4 
With HDR capabilities and the ability to stream all manner of content, Vizio's P-Series provides a lot of features for a very reasonable price. In our tests, it was highly accurate, and its 126-zone full-array backlight offered great contrast. The set supports Dolby Vision HDR, and comes with a 6-inch Android tablet to make finding content as simple as possible.
LG E6 OLED 55-INCH ULTRA HD TV – Best 4K TV
SCREEN SIZE (INCHES) : 55

SCREEN TECHNOLOGY : OLED

SMART TV : Yes

HDMI PORTS : 4 
LG's latest flat OLED 4K TV delivers state-of-the-art performance that reveals picture details other sets miss. The 65EF9500's stunning contrast, impressive brightness, and excellent viewing angles make it the ideal set for any room. Moreover, this LG TV is compatible with the latest high dynamic range (HDR) content and boasts one of the most attractive and easy to navigate smart TV interfaces. Rounding out its market-leading list of features, the LG 65EF9500 boasts a gorgeous design and smart remote that makes it easy to surf the Web or find your favorite programs.
SAMSUNG KS9800 65-INCH CURVED 4K TV – Best Curved TV
SCREEN SIZE (INCHES) : 65

SCREEN TECHNOLOGY : Quantum-dot LCD

SMART TV : Yes

HDMI PORTS : 4 
Curved TVs can potentially provide a more immersive experience for viewers; Samsung's KS9800 is the best of them. Its quantum-dot LCD panel delivered a great and accurate 4K image, and full-array backlighting made blacks seem deeper. It also has a comprehensive connected interface, which can also be used to control smart home devices.
Where to Get 4K Content
If you're wondering where to get native 4K content, streaming services such as Amazon Instant Video, Vudu and Netflix now shoot and stream some original programs in 4K ultra HD. Sony and Samsung offer media players that let you download 4K movies from multiple studios. Although live 4K broadcasts don't exist yet, the best 4K TVs can upscale HD content to look convincingly more detailed, and the smaller pixels allow you to sit closer to the screen without seeing a distracting grid.
What is HDR, and why should you care?
New for this year are some HDR formats traveling under various labels. Ultra HD Premium, Dolby Vision and HDR 4K are tags companies are applying to indicate their sets offer more colors and improved brightness over standard 4K ultra HD sets. With HDR content still difficult to find, these sets do offer a more strikingly realistic picture.
But as HDR sets proliferate, there will be plenty of confusion about formats: Some will be Ultra HD Premium compatible (like Samsung), others will be HDR10 or Dolby Vision compatible (like Vizio) and some will be compatible with both standards (like LG). Sony will go it alone (at least for now), choosing to eschew both the Ultra HD Premium label and Dolby Vision licensing and instead call its sets "4K HDR Ultra HD" TVs.
The good news is that prices for 4K ultra HD sets continue to fall.
How We Test
We evaluate TVs both with instrument-based measurements, such as color accuracy and gamut, as well as subjective tests, to see how well the screens display real-life video. For ultra HD 4K TVs, it's especially important to see how they upscale the HD content that will make up the vast majority of the content people view on the screens. We also consider design and usability. For details on our testing methodology, please see How Tom's Guide Tests and Reviews TVs.
New & Notable 4K TVs
Promising to shake up prices of HDR-capable 4K sets, TCL is introducing a new high-end model that is Dolby Vision compatible. The 65-inch X1 is a quantum dot model, which expands on the LCD design to deliver more colors and more brightness. TCL has improved the overall look of the TV, making it thinner with a narrower bezel and given the set a sonic boost with a built-in six-driver Harman Kardon sound system. Look for the X1 to give Sony and Samsung some serious HDR competition.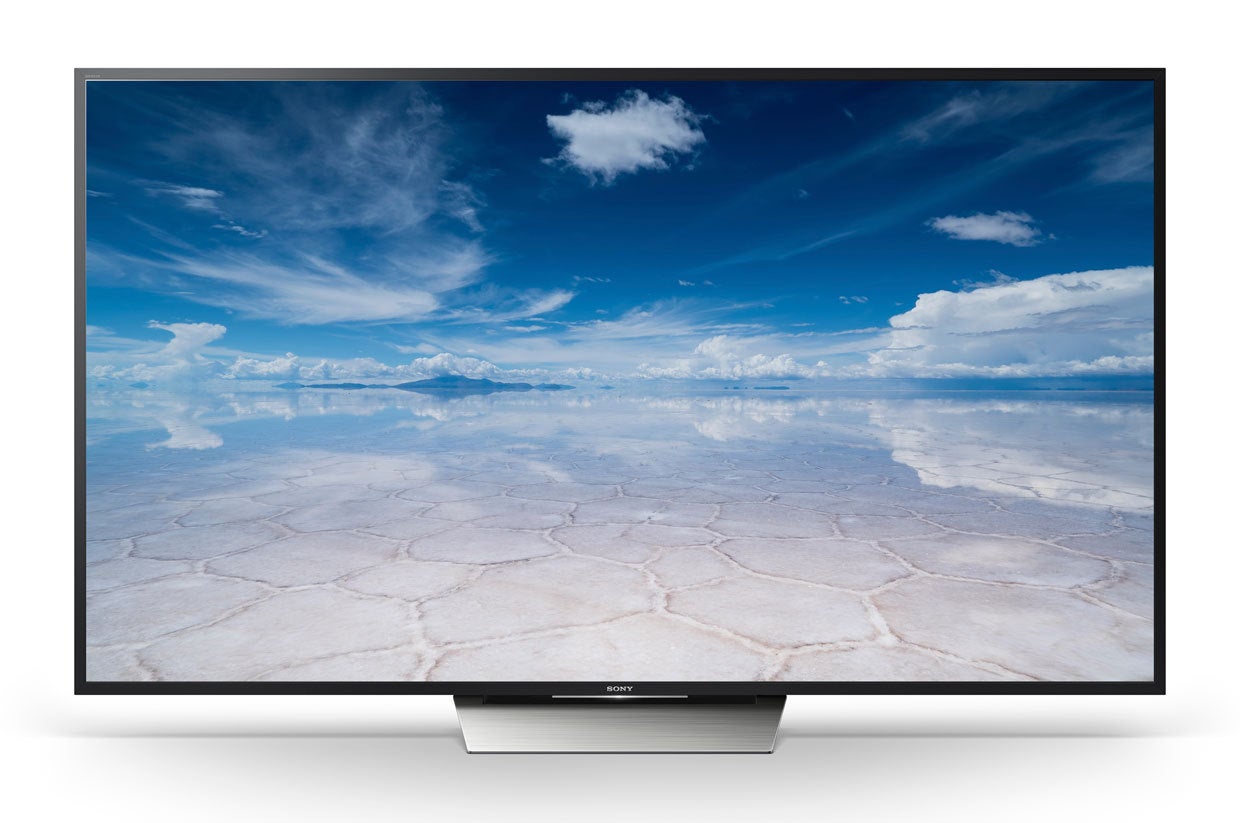 Sony X930D Series
Sony continues its heritage of focusing on color fidelity with the new X930D. The TV uses Sony's own quantum dot-like technology plus a new backlighting system to deliver a wider range of colors and improved brightness to meet the demands of HDR. While Sony won't be using either the Ultra HD Premium or Dolby Vision logos, the X930D supports HDR content and deliver more colors and from early demonstrations more accurate color than some of the competition. The 55-inch X930D costs $1,699 and the 65-inch model is around $3,300, clearly aimed at undercutting LG's OLED sets.
Hisense H10
Hisense's new flagship set, the H10, is a curved 65-inch beauty with a quantum-dot display (much like Samsung), and supports HDR 10 for more vivid images. It has 240 local dimming zones, 175-degree viewing angles, and a max brightness of 875 nits. This smart TV is powered by an Octa-core processor and lets you stream any number of services (Netflix, YouTube, Amazon Instant Video and more), via gigabit Ethernet or 802.11ac Wi-Fi. It's also backed by a 4-year warranty. The H10 will be available in early 2017 for $3,499.
LeEco Super4 X65
LeEco is introducing itself to the U.S. with the Super4 X65, a 65-inch 4K HDR TV boasting Harmon Kardon audio, 8-milisecond response time, and LED edge backlighting in an attractive svelte aluminum frame. Inside, the set is powered by a quad-core ARM Cortex CPU and quad-core ARM Mali-T820 GPU, 3GB of RAM and 32GB SSD. It also features LeEco's novel on-screen interface which links to the company's ecosystem of movies and TV shows, a voice search remote, and Google Cast support. The Super4 X65 will retail for $1,399 when it goes on sale in November.
(tomsguide.com, https://goo.gl/c4OBnf)
Comments
comments