Well, we just heard about Samsung's foldable smartphone which is a pretty impressive idea. And now, it may be Xiaomi's turn to show you something unique as well: Xiaomi Mi Pad transformer!
Xiaomi Mi Pad transformer – From Mi Pad to Decepticon and vice versa
Back to the time when Hasbro – a global company "committed to Creating the World's Best Play Experiences", created the Transformers franchise, it was, and still is, so famous as well as loved by a lot of people. Maybe that has inspired Xiaomi and then they decided to work with Hasbro to produce Xiaomi Mi Pad transformer, or Mi Pad Decepticon to be more specific. On the other hand, we assume it is a special idea the firm dedicates to their consumers to celebrate its 6th birthday on April 6, 2016.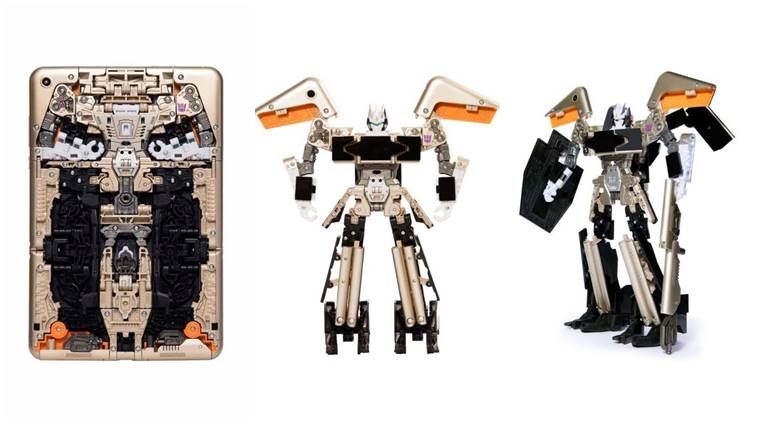 Some teasers and live pictures have also been posted on the internet, showing a "Transformers Special Edition" toy able to convert from a Xiaomi's 9.7 tablet to a gold robot warrior. That is claimed to be a toy for now, but hopefully Xiaomi and their partner can come up with a real tablet owning such an amazing capability. What do you think?


Looking at the pics, we have a feeling that Xiaomi will totally be able to draw much attention from their fans and many others. So, the next questions are that when the toy will be available and how much it can cost. Check out the part below for more information.
Xiaomi Mi Pad transformer price and availability
At the moment, it is said that the project will be financed via crowdfunding and ship to backers on May 13, 2016. As for the price, you will just have to pay 169 Yuan or about $26 to purchase one Mi Pad Decepticon. Hope that the company will also release an Autobot model in the near future. Let's wait and see!
(pricepony.com.ph, http://goo.gl/XDmJzq)