1. Introduction
The Xiaomi Mi 4s went official hours before the Mi 5, a teaser of sorts for the headliner. It even made the trip to Barcelona but enjoyed little of the spotlight for obvious reasons. This is the fourth installment in the Mi 4 lineup – hardly breaking news in a week full of high-profile announcements. Yet, we bet the new Xiaomi flagship wouldn't mind repeating the success of a predecessor that spawned quite the offspring.
A year and a half separates the Mi 4 and the incumbent Mi 5 flagship – the time in-between was filled with a couple of phablets, including the Quad-HD Xiaomi Mi Note Pro, and a couple of Mi 4 modifications. The Xiaomi Mi 4 turned out quite a popular device, and the company was keen to use the flagship momentum in the midrange Mi 4i and Mi 4c versions.
Meanwhile, the Redmi Note series too made themselves comfortable in the midrange, and now Xiaomi fills an upper midrange spot with the Mi 4s. It builds on the Mi 4c with premium looks, more storage, more RAM, and more battery capacity, and flaunts a new fingerprint scanner at the back.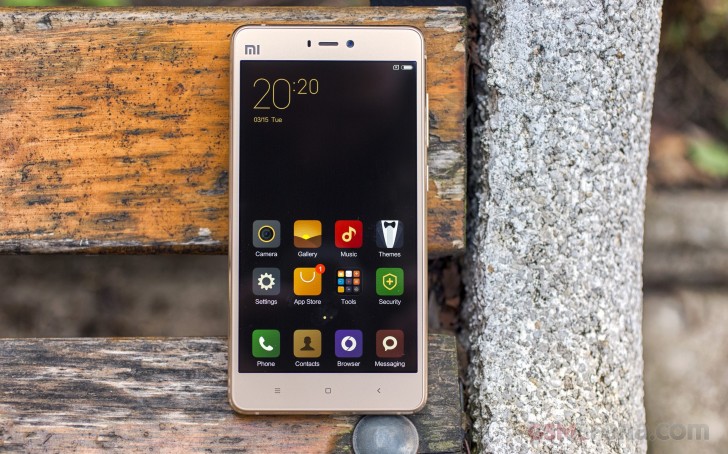 Xiaomi is sticking to the dual-glass design in both the flagship Mi 5 and the Mi 4s. Compared to the Mi 5, the Mi 4s uses a different kind of metal frame sprayed with zircon sand for a pleasant soft touch and improved grip.
Before we get into details, let's take a closer look at the spec sheet, shall we?
Key features
5″ IPS LCD display of 1080p resolution; 441ppi;
Snapdragon 808 chipset with hexa-core processor (2x Cortex-A57 at 1.82GHz, 4x Cortex-A53 at 1.44GHz); Adreno 418 GPU; 3GB RAM
13MP f/2.0 main camera with phase detect autofocus, dual-tone LED flash; 1080p video at 30fps;
5MP f/2.0 front-facing camera, 1080p video recording at 30fps
Cat.4 4G LTE (150Mbps); Dual-SIM; Wi-Fi a/b/g/n/ac; Bluetooth 4.1; GPS, GLONASS and Beidou; IR blaster
Rear-mounted fingerprint scanner
64GB storage, expandable via a microSD slot
Android 5.1.1 Lollipop with MIUI 7
3,260 mAh non-removable battery, fast charging
Main disadvantages
Limited regional availability
Hybrid microSD/SIM slot – memory card uses SIM 2 slot, can't have both simultaneously
Sealed battery
No FM radio
Xiaomi hasn't done anything unusual with the Mi 4S – after all, the flagship understandably received more attention. The re-design works quite well though and the hexa-core chipset is a sensible choice considering the phone's standing in the pecking order. Its productivity should be comparable to a Snapdragon 650, power efficiency in favor of the 20nm Snapdragon 808.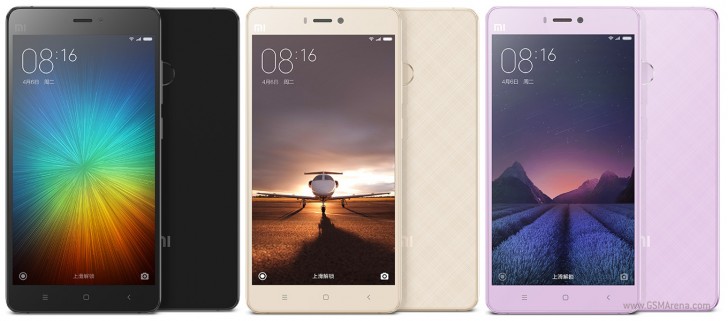 As usual with Xiaomi, the sealed battery and the shared SIM / MicroSD card slot shouldn't be unexpected. We hope the Mi 4s lives up to its legacy and, well, keep the surprises mostly pleasant. Let's see how the things turn out this time – our hardware tour starts right after the break.
2. Hardware overview
Unboxing the Mi 4s
The retail box of the Xiaomi Mi 4s contains the usual set of accessories: a USB Type-C cable and a fast-charging-enabled A/C adapter. The SIM ejection pin is also inside a small envelope.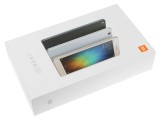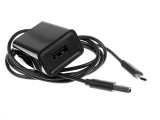 Unboxing the Xiaomi Mi 4s
Xiaomi Mi 4s 360-degree spin
The Mi 4s has pretty much identical specs to the Mi 4c, including the 5″ screen diagonal, but received a redesign that's geared towards premium. Its new dimensions are 139.3 x 70.8 x 7.8mm – just 1mm taller and 1mm wider than the 4c. It has put on a measly 1g of weight, which is impressive considering the bigger battery and fingerprint sensor.
Design and build quality
Xiaomi has insisted on glass exteriors since the original Mi 4 flagship back in 2014, as part of a global trend in phone design. Sony has been using it abundantly, Samsung switched to glass for its top-shelf Galaxies. Xiaomi is now selling its second generation of glass-clad smartphones – the Mi 4s and the flagship Mi 5.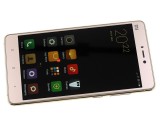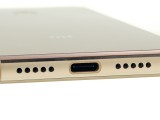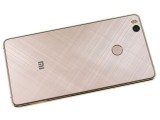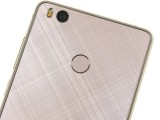 Xiaomi Mi 4s
The Mi 4s employs a rather familiar design – two sheets of glass front and rear, kept together by a beautiful and solid metal frame. Xiaomi's had a special touch on the Mi 4s – its frame has a prominent circular shape and zirconia sand finish. The latter is responsible for the matte effect and the distant leathery feel. Long story short, it's pleasantly grippy and soft to the touch.
We appreciate the brushed pattern on the rear glass, as well as the metal accents around the camera and the fingerprint scanner. The sensor is always-on: at a successful scan, it will immediately wake up the screen and take you straight to the homescreen. If the fingerprint doesn't match, the phone will let you know with a short vibration.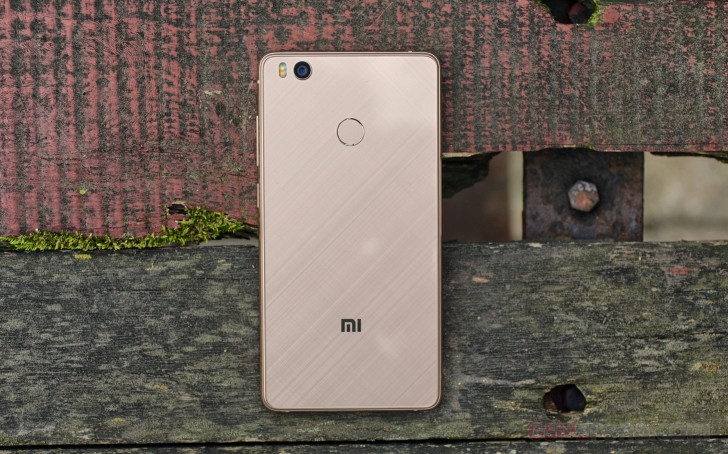 While using the Xiaomi Mi 4s we noticed its protective front glass is rather soft, and it easily sags when pressed at the bottom. We don't know if this was an issue with our unit only, or it's a design flaw, but it's possible to see dark spots on the screen while using it. It won't hurt the LCD panel, but it may be disturbing in brighter pictures or pages.
Handling the Xiaomi Mi 4s is otherwise quite pleasant. The phone is compact, thin and light enough, and looks really beautiful. Its glass panels are prone to fingerprints, but those should be noticeable only on the black version. The phone is not that slippery thanks to the thoughtful matte frame, which should be a must for any glass phone.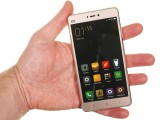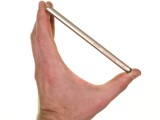 Handling the Xiaomi Mi 4s
Controls
Above the Mi 4s screen, we find the earpiece surrounded by a couple of sensors on the left and the 5MP front-facer on the right. There is a status LED near the camera lens.
Below the 5″ display is the set of capacitive Task Manager, Home, and Back keys – all with white backlight. A tap and hold of the Apps key will also show advanced contextual menus with across the MIUI.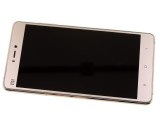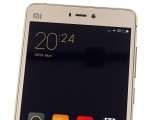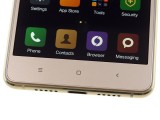 The 5″ screen • above the screen • below the screen
On the left is the lone SIM tray – it's an ejectable hybrid slot for either two SIM cards (microSIM + nanoSIM), or a microSIM and a microSD memory cards.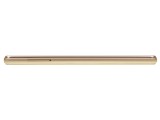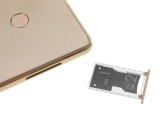 The left side • the hybrid SIM slot
The right side of the Xiaomi Mi 4s houses the volume rocker and the power/lock key – both made of metal.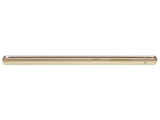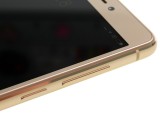 The right side of the Mi 4s • the volume and power keys
The Mi 4s has its audio jack, IR blaster, and second mic on top; while the USB Type-C port, the loudspeaker grille, and the primary mic are at the bottom.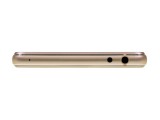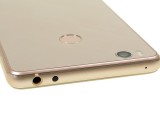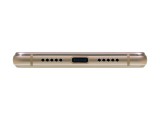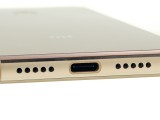 The top of the Mi 4s • the IR blaster • the bottom side • the mic and speaker grilles
Finally, a dual-tone LED flash is next to the 13MP camera lens at the back. The always-on fingerprint scanner is also around, comfortably placed for the tip of your index finger.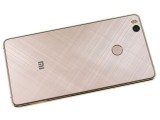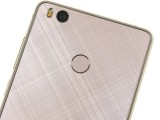 The beautiful glass back • the fingerprint scanner
3. Display, battery life, connectivity
Display
The Xiaomi Mi 4s features a similar 5″ Full HD IPS display to the one we saw on the Mi 4c. It has 441ppi for pleasantly sharp screen contents. Xiaomi says both sheets of glass on the Mi 4s are scratch resistant without specifying their brand or maker.
Taking a closer look at the display under our digital microscope reveals a standard RGB arrangement of the sub-pixels that make up the Xiaomi Mi 4s LCD panel.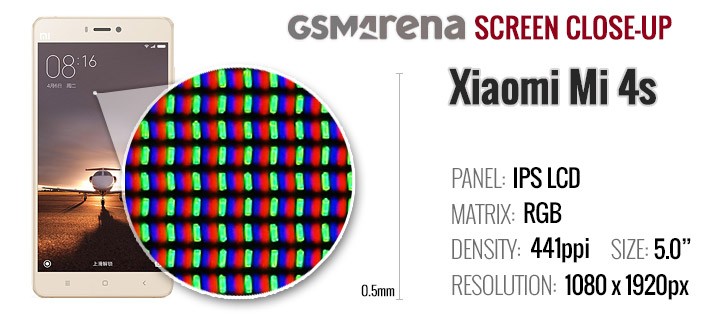 The maximum display brightness of the Xiaomi Mi 4s (475nits) won't turn any heads, nor will the average contrast ratio of 975:1. The blacks are deep enough for an otherwise pleasant viewing experience.
The minimum display brightness is incredibly low at 0.6nits, which is perfectly suitable for late-night reading in a dark setting.
Regarding color accuracy, the Mi 4s screen is less than stellar with an average deviation (DeltaE) of 5.6, which shows the screen has less than perfectly accurate color rendering. We've seen worse even in flagship devices, so this one sits somewhere in the middle. For a screen to be considered properly calibrated it needs to have a maximum DeltaE of 4 and obviously, the lower the deviation, the better.
Display test
100% brightness
Black, cd/m2
White, cd/m2
Contrast ratio
Xiaomi Mi 4S
0.49
475
975
Xiaomi Mi 5
0.51
628
1227
Xiaomi Mi 4i
0.51
542
1055
Xiaomi Mi 4c
0.28
452
1609
Xiaomi Redmi Note 3
0.42
403
953
Sony Xperia M5
0.63
527
839
HTC One A9
–
366
∞
OnePlus X
0.00
340
∞
Lenovo Vibe K4 Note
0.47
442
940
Meizu MX5
0
346
∞
The sunlight legibility of the screen is hardly spectacular, but you won't have any problems using the phone outdoors if you avoid direct sunlight.
Sunlight contrast ratio
HTC One A9 : 

4.274

OnePlus X : 

3.983

Meizu MX5 : 

3.416

Xiaomi Mi 5 : 

3.24

Sony Xperia M5 : 

2.69

Xiaomi Mi 4i : 

2.641

Xiaomi Mi 4c : 

2.574

Lenovo Vibe K4 Note : 

2.254

Xiaomi Redmi Note 3 (MediaTek) : 

2.249

Xiaomi Mi 4S : 

2.095
Battery life
Xiaomi has put a 3,260mAh battery inside the Mi 4s, a solid capacity for a 5″ device. In our battery test, the Xiaomi Mi 4s scored a 75h rating, which means you can count on a little over three days if you do an hour each of calling, browsing and video playback a day. The phone does well in the three separate tests, and it behaved in standby.
Opting for using the device with two SIM cards will clip some four hours off the total endurance rating.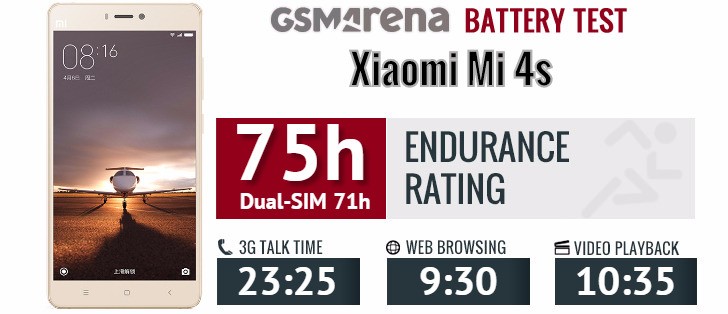 That is of course solely based on the two SIMs drawing battery in standby – using an estimated power usage to make our battery results comparable across devices.
Xiaomi is providing a proper fast charger (5V/2A, 9V/1.2A, 12V/1A) in the retail box, which is nice. In our 30-minute charging test, the provided charger was able to charge the battery of the phone from 0% to 32%.
The battery testing procedure is described in detail in case you're interested in the nitty-gritties. You can also check out our complete battery test table, where you can see how all of the smartphones we've tested will compare under your own typical use.
Connectivity
The Xiaomi Mi 4s supports 7 LTE bands (the Europe's most common FDD LTE band 20 800MHz is missing though), and you can tap to an LTE network on either SIM, but the other will default to a GSM band. The Mi 4s also offers quad-band GSM connectivity and tri-band 3G connectivity with HSPA support.
The rest of the wireless connectivity features include dual-band Wi-Fi a/b/g/n/ac support and Wi-Fi Direct. There is also support for Bluetooth 4.1, GPS and GLONASS. Wireless screen mirroring is available via the Miracast protocol.
The IR blaster is located at the top and, coupled with the right software, you can use it to remotely control pretty much any IR controlled home appliance. Xiaomi provides its own MiRemote app, which supports a long list of devices right out of the box.
The Mi 4s is Xiaomi's third device to support USB Type-C – it's the new reversible connector for USB that builds on USB 3.1.
If you'd like to use USB OTG functions on the Mi 4s, you'll have to buy a third-party USB OTG adapter.
4. Software overview
User interface
The Xiaomi Mi 4s runs on MIUI 7, which utilizes an Android 5.1.1 Lollipop. As usual Xiaomi's customizations run very deep and replace everything including all Google services. In fact, the Mi phones sold in China don't have access to Google's services and those need to be sideloaded one way or the other (some resellers may even do that for you). The models sold officially on markets outside of China come with a preloaded Play Store app (and Play Services).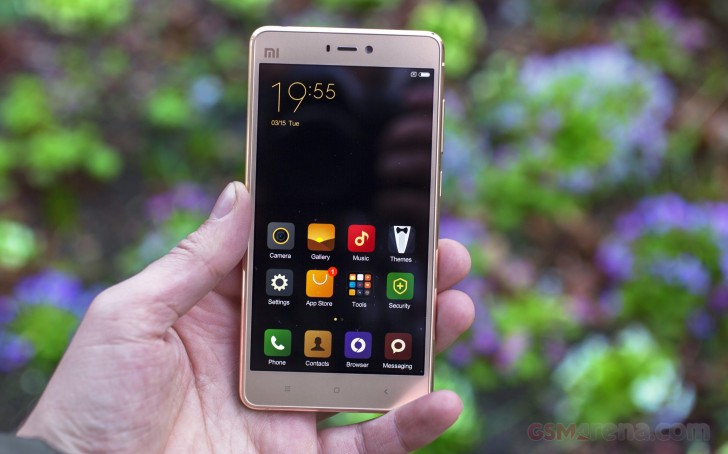 The lockscreen is the usual affair – it has the clock, a camera shortcut, and no widgets. If you like, you can use the Daily Lock Screens – the phone will download a new picture and change your lockscreen wallpaper every 1, 3, or 24 hours.
Fingerprint unlock is available, and it's quite fast. The sensor is always-on, much like the sensors on Huawei phones, so the moment you tap on its surface, the phone will unlock.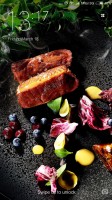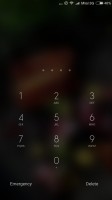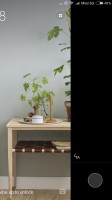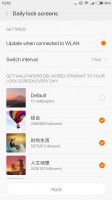 The MIUI v7 lockscreen • PIN unlock • Camera shortcut • Settings
Beyond the lockscreen is the Android homescreen with four customizable shortcuts docked at the bottom by default, but you can dock up to five items. You can have any app there or even folders with multiple items if you will.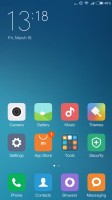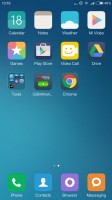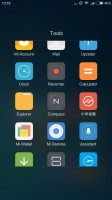 The MIUI homescreens • there is no app drawer • a folder
There is no app drawer – anything you install pops up on your homescreen, which can have an unlimited number of panes. There are no shortcuts, and the usual routine of removing icons (dragging them up to a recycle bin at the top of the screen) will, in fact, uninstall the corresponding app. There is a pop-up for confirming the action, though, so you can't accidentally uninstall apps.
Homescreen widgets are available, too – tap and hold on the homescreen, then choose Widgets. There are few options available, but of course, you can get even more from the Play Store.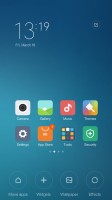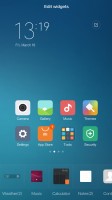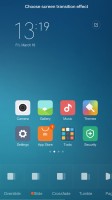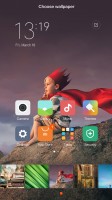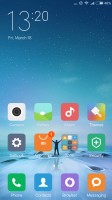 Editing the homescreens • Adding widgets • Changing effects • Wallpapers • A new wallpaper
Homescreen effects are available, and you can change themes, too. A theme will change your homescreen wallpaper, lockscreen style, system icons, system font and the sound profile (you can disable changing the sound profile from settings).
MIUI v.7 has five default themes – MIUI, High Life, Pink Blush, Rose and Ocean Breeze. They've been handpicked by the MIUI team, but you can always download new themes from the Mi Store.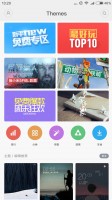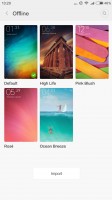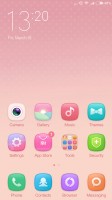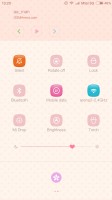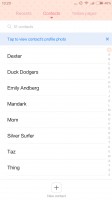 Applying a new theme
The notification area has two semi-transparent tabs – the first one hosts all notifications while the second one (swipe left to access) offers customizable Quick Toggles and a Settings shortcut.
An enhanced task switcher with Clear All option is available, too.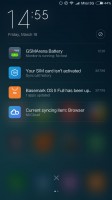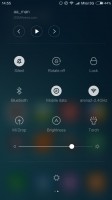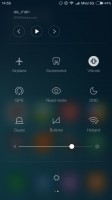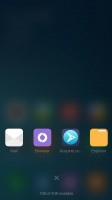 Notifications • Toggles • Toggles • Task Switcher
By the way, Xiaomi's proprietary Search widget does a similar job as iOS's Spotlight system-wide search. You can fire it up by swiping up anywhere on the homescreen. The tool searches through your apps, music, email, settings, among others.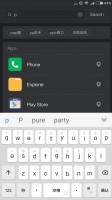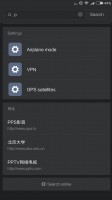 Search
Xiaomi provides a cloud service of its own for content syncing between devices. Each Mi Cloud account is granted 5GB of free storage. You can use the online storage to backup contacts, messages, your entire gallery, calls log, notes, settings, voice recordings, web browser content (history, tabs, web app data) and your music library.
Xiaomi's sync and backup service shares a lot of similarities with Apple iCloud. There is even a free Cloud Messaging option that allows you to exchange messages over the internet connection instead of being billed for SMS, but that only works for communication between Xiaomi devices.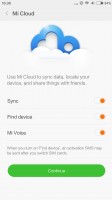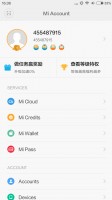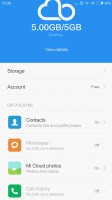 Configuring Mi Cloud
Finally, if you signed in with your Mi Cloud account, you can opt for the Find device feature – a handy feature in case you misplace your Xiaomi Mi 5, or someone steals it.
MIUI 7 also offers a dedicated Child mode, which, once set up, adds a new user account with limited access to the stuff and apps on your phone. This is nice if you have a kid, who likes playing with your phone occasionally, and you are afraid they might delete some important data.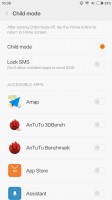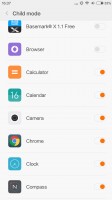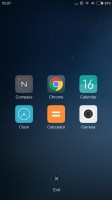 Child mode
The Do Not Disturb mode has been enhanced too – it supports wider customization and scheduling options.
We did get our review unit with pre-installed Google Play Store plus Google sync for app data, contacts, and browser data but perhaps they've been sideloaded by the reseller providing this review unit. Of course, you can sideload them yourself one way or the other if they don't come pre-installed on your unit. And once you have those, you can easily download all other Google apps such as Google Now straight from the Play Store.
5. Performance
The rather affordable Xiaomi Mi 4s is powered by the upper mid-range Snapdragon 808 chip, which packs a six-core processor, Adreno 418 GPU and 3 GB of RAM. That's the same SoC to power the Xiaomi Mi 4c and the LG G4.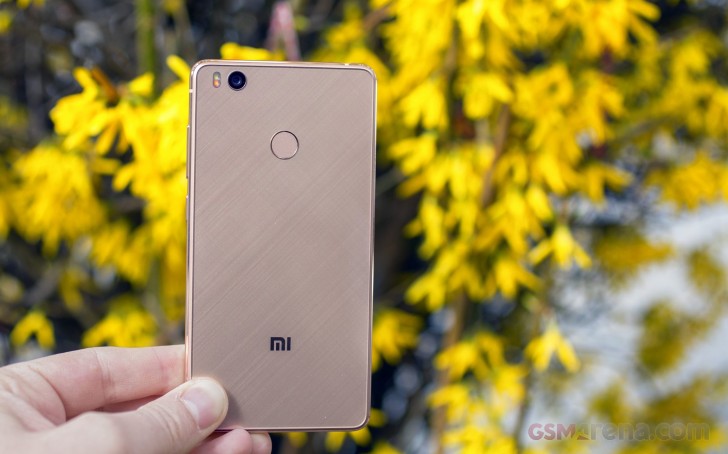 The processor of the S808 chip has two powerful Cortex-A57 cores ticking at 1.82GHz, and four energy-efficient Cortex-A53 blocks running at 1.44GHz. A single of those Cortex-A57 cores is quite a beast and it easily outruns any Cortex-A53 CPU (K4 Note, Honor 5X), but scores behind the Cortex-A72 within the Snapdragon edition of the Redmi Note 3.
GeekBench 3 (single-core)
Higher is better
Xiaomi Redmi Note 3 (S650) : 

1573

Xiaomi Mi 4s : 

1254

Huawei Honor 5X : 

705

Lenovo Vibe K4 Note : 

628
Then there is the multi-core GeekBench 3, where core count matters and the Mi 4s falls behind some of the popular eight-core smartphones, but its score is still respectable.
GeekBench 3 (multi-core)
Higher is better
Xiaomi Redmi Note 3 (Helio X10) : 

4537

Xiaomi Redmi Note 3 (S650) : 

3570

Sony Xperia M5 Dual : 

3554

LG Nexus 5X : 

3527

Xiaomi Mi 4c : 

3321

HTC One A9 : 

3209

Xiaomi Mi 4s : 

3147

Samsung Galaxy A5 (2016) : 

3061

Huawei Honor 5X : 

3053

Xiaomi Redmi 3 : 

2842

Lenovo Vibe K4 Note : 

2745

Motorola Moto X Play : 

2608

Xiaomi Mi 4i : 

2336

OnePlus X : 

2297
The compound AnTuTu test puts the Mi 4s better than the Helio X10-powered Redmi Note 3, equally capable as the HTC One A9, but behind the Snapdragon model of the Redmi Note 3. The Snapdragon 650 with the Redmi Note 3 also offers a hexa-core processor, but instead of 2x Cortex-A57, it has 2x Cortex-A72, which matters a lot.
AnTuTu 6
Higher is better
Xiaomi Redmi Note 3 (S650) : 

75051

HTC One A9 : 

60324

Xiaomi Mi 4s : 

59850

Xiaomi Redmi Note 3 (Helio X10) : 

45474

Lenovo Vibe K4 Note : 

38359

Samsung Galaxy A5 (2016) : 

35689

Huawei Honor 5X : 

35469
The BaseMark OS II 2.0 test, which gauges CPU, GPU, Memory, System, and Web performance, puts the Xiaomi Mi 4s on top of every other smartphone in its price bracket. The Nexus 5X (also S808 chip) came up with a notch better result, probably because of Android Marshmallow optimizations.
Basemark OS 2.0
Higher is better
LG Nexus 5X : 

1591

Xiaomi Mi 4s : 

1545

Xiaomi Redmi Note 3 (S650) : 

1537

Xiaomi Mi 4c : 

1233

OnePlus X : 

1213

Xiaomi Redmi Note 3 (Helio X10) : 

1018

HTC One A9 : 

944

Huawei Honor 5X : 

874

Sony Xperia M5 Dual : 

860

Samsung Galaxy A5 (2016) : 

833

Motorola Moto X Play : 

809

Xiaomi Redmi 3 : 

804

Lenovo Vibe K4 Note : 

729

Xiaomi Mi 4i : 

296
We already know the Adreno 418 is perfectly capable of handling itself under load quite well when it comes to a 1080p display and the benchmark results confirm this.
GFX 3.0 Manhattan (1080p offscreen)
Higher is better
LG Nexus 5X : 

16

Xiaomi Mi 4c : 

15

Xiaomi Redmi Note 3 (S650) : 

14

Xiaomi Mi 4s : 

13

OnePlus X : 

9.9

Xiaomi Redmi Note 3 (Helio X10) : 

8.5

Sony Xperia M5 Dual

8.4

HTC One A9 : 

6.4

Xiaomi Mi 4i : 

6.2

Motorola Moto X Play : 

5.8

Xiaomi Redmi 3 : 

5.8

Samsung Galaxy A5 (2016) : 

5.7

Huawei Honor 5X : 

5.6

Lenovo Vibe K4 Note : 

4.2
GFX 3.1 Manhattan (1080p offscreen)
Higher is better
LG Nexus 5X : 

11

Xiaomi Mi 4c : 

10

Xiaomi Redmi Note 3 (S650) : 

9.1

Xiaomi Mi 4s : 

8.1

Sony Xperia M5 Dual : 

4.5

Xiaomi Redmi Note 3 (Helio X10) : 

4

HTC One A9 : 

3.8

Lenovo Vibe K4 Note : 

2.6
BaseMark X, a demanding GPU bench, says the Adreno 418 within the Mi 4s is better the Adreno 405 (One A9), Mali-T720MP3 (K4 Note), and the PowerVR G6200 (Redmi Note 3 Helio X10). The Adreno 510 within the Redmi Note 3 with Snapdragon 650 came out more capable, though.
Basemark X
Higher is better
LG Nexus 5X : 

16609

Xiaomi Redmi Note 3 (S650) : 

14732

Xiaomi Mi 4s : 

12990

Xiaomi Mi 4c : 

12096

OnePlus X : 

10572

Xiaomi Redmi Note 3 (Helio X10) : 

8540

Sony Xperia M5 Dual : 

7780

HTC One A9 : 

6617

Xiaomi Redmi 3 : 

5108

Motorola Moto X Play : 

5032

Huawei Honor 5X : 

5009

Samsung Galaxy A5 (2016) : 

4947

Xiaomi Mi 4i : 

4875

Lenovo Vibe K4 Note : 

4072
The dual glass design of the Xiaomi Mi 4s might be beautiful, but it takes its toll on heat management. The Mi 4s becomes warm rather quickly (though, not hot) and we noticed the throttling kicking in on some benchmarks.
You can see this perfectly on the lengthy BaseMark ES 3.1, which took about 40 minutes to complete. The Mi 4s should out a similar result to Mi 4c and Nexus 5X, as both have the same GPU, but it didn't.
The throttling isn't detectable in real life, even when playing games, so you shouldn't have any worries. The phone doesn't get particularly hot either but it's something you should keep in mind.
Basemark ES 3.1 / Metal
Higher is better
LG Nexus 5X : 

306

Xiaomi Mi 4c : 

248

Xiaomi Mi 4s : 

219

HTC One A9 : 

132
The Xiaomi Mi 4s offers more than adequate performance and will handle anything you can run or play. It has the same hardware as the LG G4, and the 3GB RAM will be enough for heavy multi-tasking. There is the issue with throttling, but nobody will notice it in real-life use.
6. Telephony, multimedia, audio quality
Contacts and telephony
The dialer and the phonebook share a single app although there are two shortcuts, bringing you straight to the tab you need. The app has pleasant flat looks, and it's about the same as we remember it. It uses a tabbed interface – recent with dialer on the first and the contact list on the second.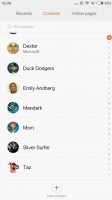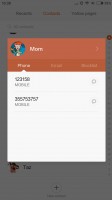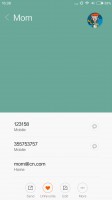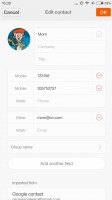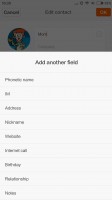 The Phonebook
Xiaomi Mi 4s supports voice call recording, and it can do it automatically on each call if you like. You can also assign an answer gesture, pre-define quick responses upon reject, there is even support for internet calling.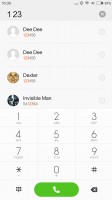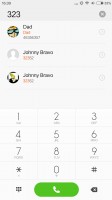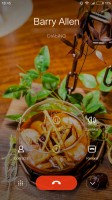 The Dialer • Smart Dialing • The in-call screen
There are even more call settings if you dig deeper into the menu – flip to mute the ringer, turn on/off the proximity sensor, lock automatically once slipped in a pocket, it can even mute calls from unknown numbers.
The Xiaomi Mi 4s scored a Very Good mark on our loudspeaker tests, meaning you'll hardly miss any calls and notifications. The loudspeaker sound quality seems great, and we just wished Xiaomi had used this speaker on the Mi 5 as well.
| | | | | |
| --- | --- | --- | --- | --- |
| Speakerphone test | Voice, dB | Pink noise/ Music, dB | Ringing phone, dB | Overall score |
| HTC One A9 | 65.0 | 64.9 | 67.2 | Below Average |
| Sony Xperia M5 | 65.6 | 68.9 | 64.0 | Below Average |
| OnePlus X | 65.9 | 66.3 | 70.7 | Average |
| Xiaomi Mi 5 | 66.9 | 67.2 | 74.0 | Good |
| Xiaomi Redmi Note 3 | 66.5 | 66.6 | 75.8 | Good |
| Lenovo Vibe K4 Note | 74.7 | 66.6 | 72.3 | Good |
| Xiaomi Mi 4c | 73.2 | 66.6 | 77.5 | Good |
| Xiaomi Mi 4s | 73.7 | 68.6 | 82.9 | Very Good |
| OnePlus 2 | 75.7 | 73.5 | 80.7 | Excellent |
The gallery
The Xiaomi Mi 4s comes with a custom Gallery app. It defaults to your camera roll, but also supports Albums, Cloud, and People. The People sorting, once chosen, sorts all of your photos by people's faces. Everything is automatic. Here you can also create a new baby album, to put your newborn pics inside.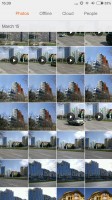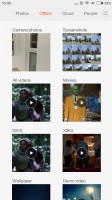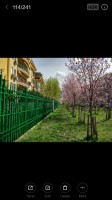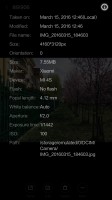 Gallery
The integrated editor offers various effects, frames, tools (crop, mirror, straighten, rotate, fisheye, doodle) plus light adjustments that let you bring out the detail in the shadows or the restore the highlights.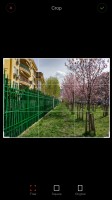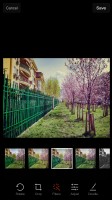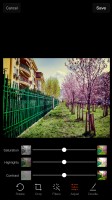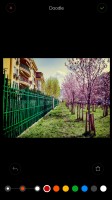 Editing an image
Music player
The MIUI music player is a custom app with a well laid out, easy to navigate interface. It features two tabs – the first one is cloud music, similar to Google Music service, but provided by Xiaomi while the second tab has your own local music.
The player has cool effects, transitions, and transparent elements, especially on the expandable Now Playing section.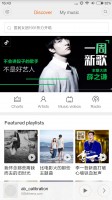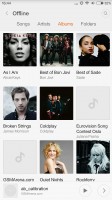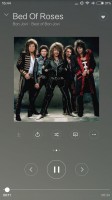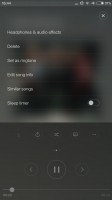 Music Player
Xiaomi's Music app offers customizable equalizers with a few default presets already available for use. You can also try Xiaomi's MiSound enhancer, which comes into play when you use headphones, and especially, a Xiaomi-branded headset.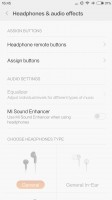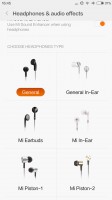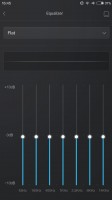 Audio enhancements and equalizers
Video player
The video player interface is very basic, but there is rich video codec support. It managed to play everything we threw at it (including MKV and WMV files). The AC3 audio codec is surprisingly supported, too.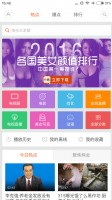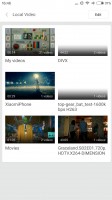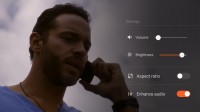 Video player
Subtitles and pop-up play are not supported by the MIUI's video player, though, so you might want to look at the Play Store if you need a more capable alternative.
Audio output is loud, let down by stereo quality
The Xiaomi Mi 4s went off to a great start in our audio quality test. When connected to an active external amplifier, it almost matched the performance of its high-flying Mi 5 sibling and got our hopes high. With very loud output and excellent scores top to bottom (stereo quality isn't as good as the Mi 5, but still solid), this was a great showing by the Mi 4s.
Unfortunately, stereo crosstalk skyrocketed when headphones came into play, which has a pretty damaging effect on the overall performance. Intermodulation rise was negligible if still present but with so much crosstalk, we can't give it more than a decent mark here.
Anyway, here go the results so you can make your own comparisons.
| | | | | | | |
| --- | --- | --- | --- | --- | --- | --- |
| Test | Frequency response | Noise level | Dynamic range | THD | IMD + Noise | Stereo crosstalk |
| Xiaomi Mi 4s | +0.01, -0.03 | -94.9 | 90.8 | 0.0025 | 0.0090 | -82.6 |
| Xiaomi Mi 4s (headphones) | +0.09, -0.02 | -94.1 | 90.5 | 0.017 | 0.103 | -34.6 |
| Xiaomi Mi 5 | +0.01, -0.03 | -95.3 | 95.1 | 0.0034 | 0.0065 | -95.1 |
| Xiaomi Mi 5 (headphones) | +0.01, -0.03 | -95.2 | 95.1 | 0.0027 | 0.013 | -71.5 |
| Samsung Galaxy A5 (2016) | +0.02, -0.07 | -94.3 | 92.2 | 0.0065 | 0.010 | -95.0 |
| Samsung Galaxy A5 (2016) (headphones) | +0.42, -0.01 | -93.4 | 87.1 | 0.029 | 0.254 | -53.0 |
| Huawei G8 | +0.02, -0.08 | -93.4 | 90.1 | 0.0028 | 0.012 | -93.4 |
| Huawei G8 (headphones) | +0.10, -0.03 | -92.9 | 89.8 | 0.0048 | 0.071 | -78.2 |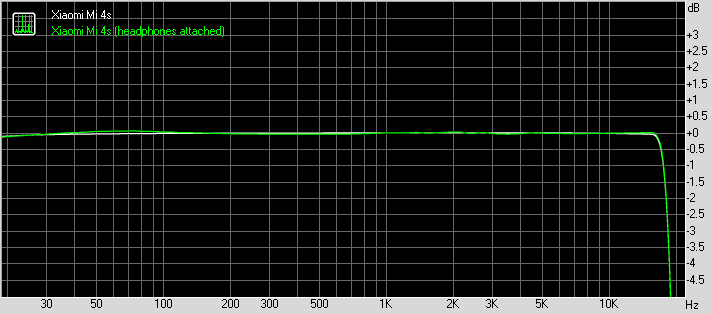 Xiaomi Mi 4s frequency response
7. Camera
A 13MP snapper with a true-tone dual-LED flash
Xiaomi Mi 4s features a 13MP camera, equipped with a dual-LED dual-tone flash. The setup is the same as on the Mi 4c, which offered great photos by the way, so we started this section of the review with high hopes for the Mi4s.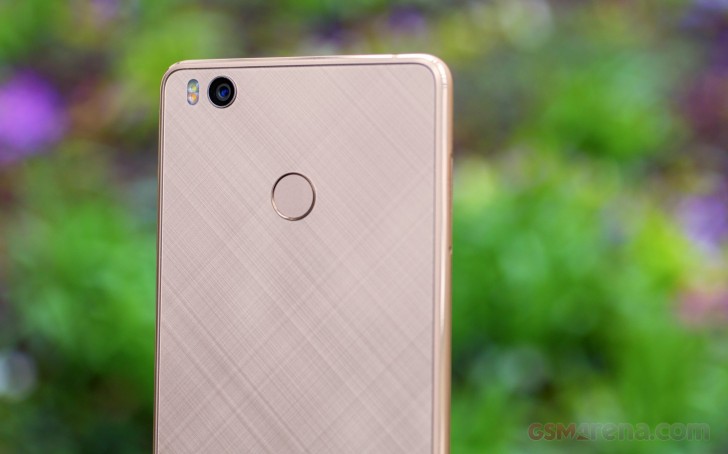 The camera interface is fairly simple and features toggles for the HDR mode, the flash and the video camera.
It has three panes – the default one shows the viewfinder with a virtual shutter, flash trigger and front camera key. A pull down from the top of the screen gets you a choice of 12 filters with live previews. A slide from the bottom displays the advanced modes such as Panorama, Virtual Horizon, Beautify, Timer, Tilt Shift, and Manual as well as the camera settings.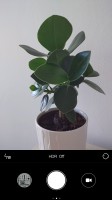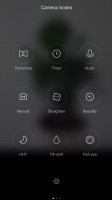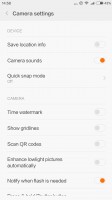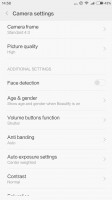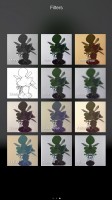 Camera UI
The Manual Mode offers you manual settings for white balance and ISO, as well as focus and shutter speed. The manual shutter speed can go as low as 1/2s. The manual focus control slider allows for finer focus control from macro to infinity.
Additionally, the Face Detection switch is within the additional settings, as well as the option for adding time stamps to the images, scanning QR barcodes, and adjusting the camera processing parameters such as Contrast, Saturation and Sharpness.
Image quality
When it comes to image quality, the Xiaomi Mi 4s doesn't live up to the legacy of its predecessor, the Mi 4c. The photos are nice and have a similarly mature processing but, this time around, the produced shots are not as eye-pleasing at the default camera settings. The chosen contrast and saturation are not as nice as on the Mi 4c. Even the level of resolved detail in the center is not on the same high level. The corners are quite soft and lacking in detail. Overall, the Mi 4s camera is nice, but the Mi 4c has just set the bar way too high.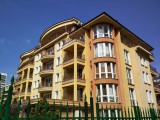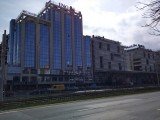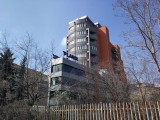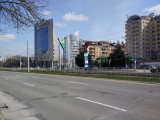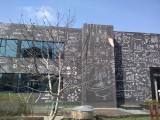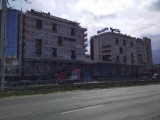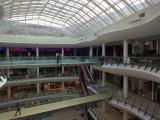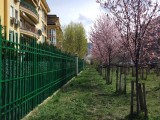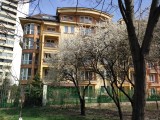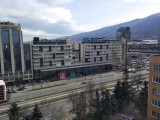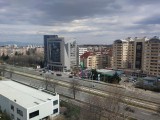 Xiaomi Mi 4s camera samples
The HDR mode is conservative enough and rescues both the highlights and shadows while producing a natural looking image. Those aren't the best HDR photos we've seen, as they lose some of the sharpness, but they certainly are among the better ones, especially if you are going to use them downsized.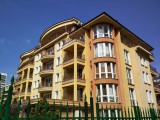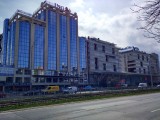 HDR off • HDR on
You can capture both landscape and portrait panoramic photos with an 180-degree field of view. Shooting them is easy, but the result is unimpressive – the resolution is about 3200x1240px, and the image quality is slightly above average – there is enough detail, no poor stitching and accurate colors. The dynamic range could have been better, though.

Xiaomi Mi 4s panorama sample
Xiaomi Mi 4s features a 5MP front-facing camera for high-res selfies. The images come out very soft with slightly below average detail, but will do for Facebook or similar social networks.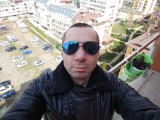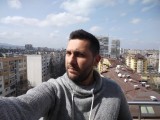 5MP camera samples taken with the front camera
The Xiaomi Mi 4s, even though it fails around the corners, is still quite a capable shooter, and our picture comparison tool will help you see it.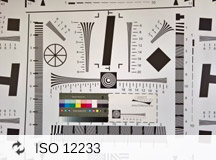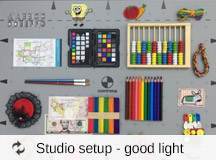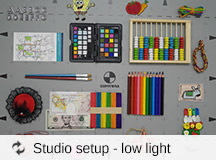 Xiaomi Mi 4s in our photo quality comparison tool
1080p video recording
Xiaomi Mi 4s camcorder has the same UI as the still camera. It supports slow-mo (the result is a 720p@30fps video) and time-lapse videos with customizable snapping interval.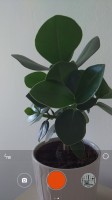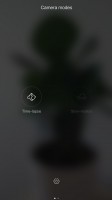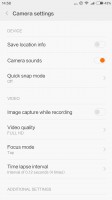 Camcorder UI
The Xiaomi Mi 4s is capable or recording up to 1080p@30fps. The bitrate of the video recordings is poor at about 15 Mbps while audio is captured at 96 Kbps with 2 channels (stereo).
Video quality can perhaps be best described as average. The colors are somewhat muted, but the contrast and the smoothness are fine. The dynamic range is about average. The captured audio, just like with the Mi 5 videos, is awful, and Xiaomi needs to improve this quickly.
And here is a 1080p video we've uploaded on YouTube.
You can also download the 1080p video sample taken straight from the Xiaomi Mi 4s.
Here the Xiaomi Mi 4s enters our video comparison tool. There are plenty of 1080p camcorders you can compare it to. It resolves an average level of detail, but contrast and colors are good.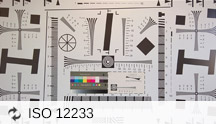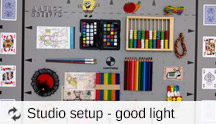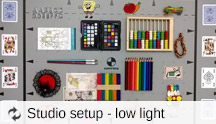 Xiaomi Mi 4s in our Video quality comparison
8. Other apps
MIUI Browser
The Xiaomi Mi 4s comes with the feature-rich MIUI Browser. It has flat looking UI elements and does a great job at browsing. It comes with a native ad-block add-on and a data saver, it supports downloads, there is a night mode as well. It is as almost as fast as Chrome, and now supports Find on Page.
It also offers a built-in Reading mode, which isn't available in Chrome. It enlarges the text font and strips away unneeded elements, leaving only the article you are reading in focus.
The aforementioned Night Mode, which is something we miss in Chrome. It inverts the background and font colors and is easier on the eyes at dark rooms.
Finally, the browser supports some very handy features as scrolling with the volume keys, quick tab switching from the edge of the display; you can opt for different search engines, among others.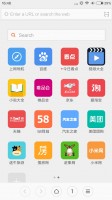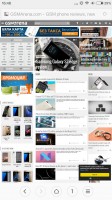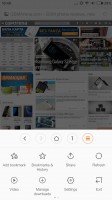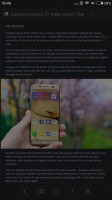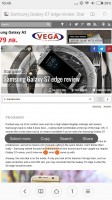 Mi Browser • Night Mode • Reading Mode
Other pre-installed apps
The Xiaomi Mi 4s offers a great file managing app called Explorer, which lets you browse the files in its internal storage and groups them by type.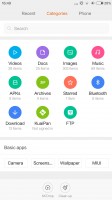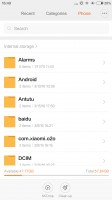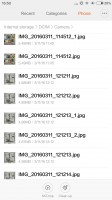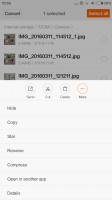 Explorer
The MIUI v7 also offers a Security app. It can scan your phone for malware, manage your contact blocklist, manage or restrict your data usage, configure battery behavior, clean some RAM; it can also manage the permissions of your installed apps.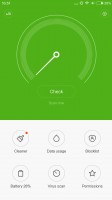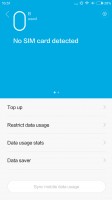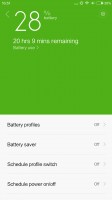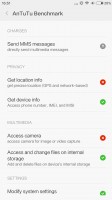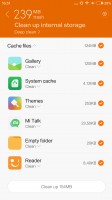 Security app
The custom and now flat Calendar looks good, syncs with your accounts including Google, and offers Day and Month views.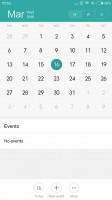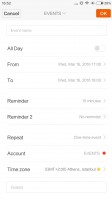 Calendar
There are also the standard sound recorder, notes, flashlight, calculator, clock, and weather apps, among others, that are a given in any self-respecting Android package nowadays.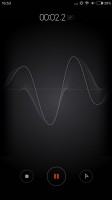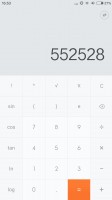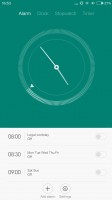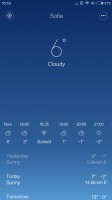 Voice recorder • Calculator • Clock • Weather
We like the Compass app. It has very nice and clean interface, shows the magnetic directions and doubles as a level meter. If you lift the phone up, then you'll get a nice augmented reality view with real-time East/West/North/South overlay.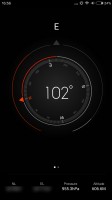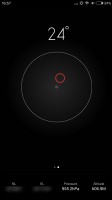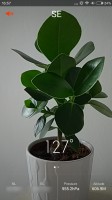 Compass app – compass, level, VR directions
Xiaomi is preloading a new Mi Home app, which is helpful if you like to control your smart appliances from a single device. It can interact with your TV, audio system, air conditioners, air purifiers, among others. The app also offers TV information, weather detail, and even more useful information. It uses the Mi Remote app and the IR blaster.
9. Final words
The Xiaomi Mi 4s goes right by the book and pays due respect to its predecessors while genuinely trying to stand out and increase its chances of getting noticed. The Mi 4s improves on both the original Xiaomi Mi 4 and the Mi 4c version with more – and expandable – storage, a beefier battery and a fingerprint sensor.
Xiaomi has tried to get the most of a screen and chipset that are not exactly class-leading stuff, and pretty much managed to stay within budget. The focus was clearly on the exterior though and it will most probably pay off. Even if you don't pay too much attention, you'll know you're looking at one of the better Xiaomis out there.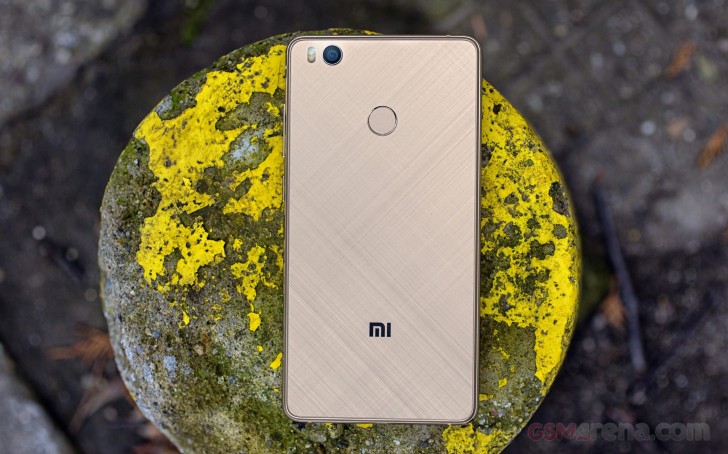 Indeed, the Xiaomi Mi 4s is a looker, and a very smooth and pleasant piece of phone to handle. It's reasonably powerful too. The screen resolution is the same as on the current flagship though the viewing quality is slightly inferior. The Snapdragon 808 that powered one of last year's major flagships, the LG G4, and is a pretty good deal this season for an aspiring upper-midranger.
We did expect more from the 13MP main camera – after all the 4c did a lot better. Still, if you can live with the average 13MP shots, you can fully enjoy a rather pleasant experience with the Xiaomi Mi 4s – it's reasonably fast and responsive, good-looking and with great battery backup.
Build quality is commendable, the handling quite pleasant and the grip is secure enough for a glass device.
The display is average: it isn't among the brightest we've seen, with average contrast, but deep enough blacks. The sunlight legibility is below average, the color calibration is good enough for the class.
Battery life is very good, with an endurance rating of 75 hours.
MIUI 7 is a clean and light on top of Android Lollipop, has rich customization options.
The flagship-grade Snapdragon 808 chipset does the job but may be prone to throttling. The 3GB of RAM are plentiful.
The video player supports every common video codec and AC3 sound but has no subtitle support.
Audio quality is great with an external amplifier, almost as good as on the Mi 5, but the stereo separation suffers badly when you plug in a headset.
Camera photos offer rich detail and mature processing, but the corners are soft and fuzzy. The images lack contrast and the colors are somewhat muted by default.
The 1080p video samples came out with average detail and low quality audio.
If the camera is more important than design and memory expansion, then the Xiaomi Mi 4c is a good place to start exploring the competition. Ordinary looks with better image quality pretty much sums it up.
The Redmi Note 3 has a bigger screen and metal body, but a similarly mediocre camera performance. Its main asset is the extra screen real estate.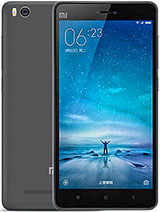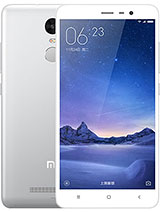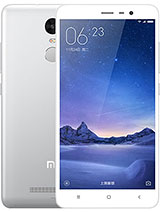 Xiaomi Mi 4c • Xiaomi Redmi Note 3 • Xiaomi Redmi Note 3 (MediaTek)
The OnePlus X costs about the same as the Mi 4s a couple of months after launch and the ceramic black version is probably even hotter – though in fairness, more expensive. You'll get enough processing punch out of Snapdragon 801 but the Oneplus X's camera is uninspiring.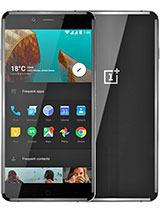 OnePlus X
The HTC One A9 is more expensive than the Xiaomi Mi 4s, yet it can't offer anything superior but an AMOLED panel. We like its 4MP UltraPixel selfie camera, so it has that going for it. If these sound enough to justify the extra $100, then you should check it out.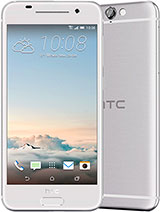 HTC One A9
The Sony Xperia M5 is a bit more expensive but it adds water-protection to those pretty looks. The IP68 rating is a tough one to beat and the M5 is also a very capable performer, with quite the camera package (21MP rear and 13MP front).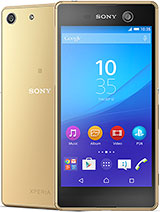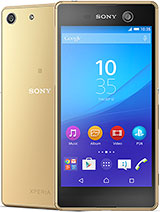 Sony Xperia M5 • Sony Xperia M5 Dual
Finally, the Samsung Galaxy A5 (2016) is a real treat with a 5.2″ Super AMOLED screen and capable hardware. It does great at taking pictures outdoors, and it also posted an excellent battery rating. TouchWiz isn't everyone's cup of tea, but MUIU isn't either.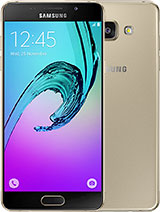 Samsung Galaxy A5 (2016)
The Xiaomi Mi 4s is easily likable, especially if you are a fan. Even unbiased users should be able to appreciate the attention to detail and the premium looks Xiaomi are offering at a reasonable price. Not to mention that the 64 gigs worth of inbuilt storage along with a memory card slot coe as standard. Maybe the Mi 4s wasn't just shadowing the flagship at the MWC after all. We guess we can take it as a sign that Xiaomi can sustain their recent good run.
(gsmarena.com)