1. Introduction
Samsung reinvented itself last year and that gave the A-series a chance for a coup. It took the great new design from the S-phones and parred it down to a mid-range price.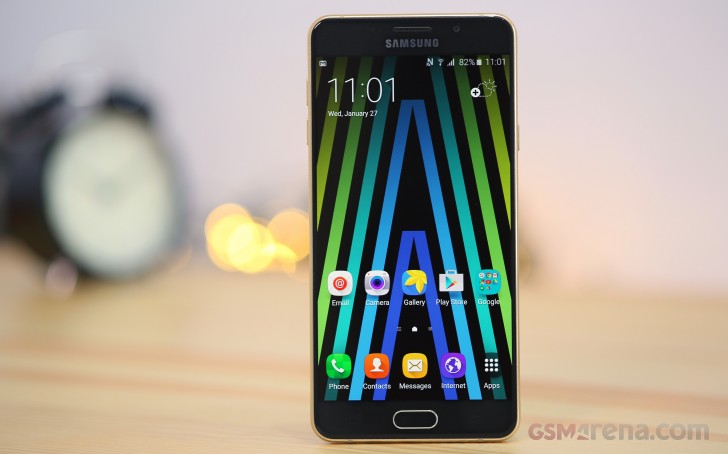 The Samsung Galaxy A7 (2016) is essentially an A5 (2016) stretched to 5.5″ screen size. This sort of size has turned into somewhat of a sweetspot for a phablet – any bigger and the phone becomes unwieldy, any smaller and you lose the benefit of the big screen .
While the A5 (2016) competed with the company's flagship – the Galaxy S6 – the A7 (2016) is placed somewhat differently – it can't even hope for taking on the Galaxy S6 edge+ or the Note5, so it's instead targeting a market populated by a number of Chinese-made phablets.
Key features
Available with a hybrid dual-SIM/microSD slot
Metal frame sandwiched between 2.5D Gorilla Glass 4
5.5″ Super AMOLED of 1,080 x 1,920px resolution, ~401ppi
Octa-core Cortex-A53 processor, 3GB of RAM, Adreno 405 GPU; Snapdragon 615 chipset (also available with an Exynos 7580 chipset)
Android 5.1 Lollipop with TouchWiz, theme support
13MP camera with f/1.9 aperture and OIS; 1080p video recording; 5MP front-facing camera, 1080p video
16GB of built-in storage; 11GB user available; microSD slot (same as SIM2 slot)
LTE Cat. 4 150Mbps, Wi-Fi a/b/g/n, GPS, GLONASS, Bluetooth 4.1, ANT+, NFC, FM Radio
3,300mAh battery
Main disadvantages
No 4K video or 1080p@60fps
Limited storage out of the box, no 32GB version
No MHL (but USB OTG is supported)
Compared to original Galaxy A7
Same screen size, resolution
Same chipset, but more RAM (3GB vs. 2GB)
Same camera specs, but has OIS
Bigger battery, 3,300mAh vs. 2,600mAh
2.5D Gorilla Glass 4 on the back
The relationship between the old and new Galaxy A5 and A7 is strange. The original A5 left to be desired and the new one is a great upgrade… except it's priced too high. The A7 was pretty solid and so the new A7 (2016) isn't a huge improvement, but it's pricing is on point.






Samsung Galaxy A7 (2016) official images
And the new features, while few in number, do a great job of transforming the phablet into a true premium mid-ranger. The Samsung Galaxy A7 (2016) brings a first-rate fingerprint reader and Samsung Pay support.
It also looks to have some impressive photography chops on paper – with a bright f/1.9 aperture and OIS. Not to mention the AMOLED screen with perfectly calibrated colors.
We'll check up on that later, first let's have a look at the new design, which features 2.5D Gorilla Glass 4 on the back, just like on the front.
2. Unboxing, 360° spin, hardware
Unboxing the Samsung Galaxy A7 (2016)
The retail package stocks all necessities. There's a Quick Charge 2.0 charger and a microUSB 2.0 cable to go with it. You also get an in-year headset with a three-button remote.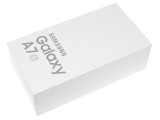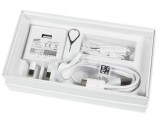 Galaxy A7 (2016) retail package
Samsung Galaxy A7 (2016) 360° spin
The Samsung Galaxy A7 (2016) is marginally smaller than the S6 edge+ and the Galaxy Note5. In terms of thickness it falls between the two and it weighs as much as the Note5. Compared to its sibling, the Galaxy A5 (2016), it's slightly taller and wider. Unless you have both side by side, you can't really tell which phone you're seeing.
Hardware
Samsung design – indeed smartphone design in general – doesn't allow for much variety, so the devil is in the details. We're glad to say, the Galaxy A7 (2016) has nailed the details.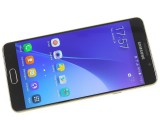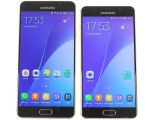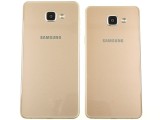 Samsung Galaxy A7 (2016) and A5 (2016)
It's the combination of the sculpted 2.5D Gorilla Glass 4 on the front and back and the chamfered metal frame that bring along a great premium feeling. For one, these are some high-quality materials, for another, the rounded edges make the phone very comfortable to hold even with its 172g.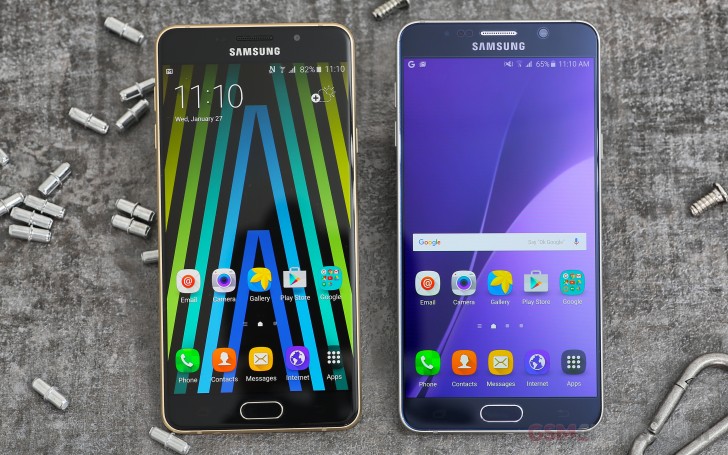 Samsung Galaxy A7 (2016) next to the Galaxy Note5
The Samsung Galaxy A7 (2016) has not changed much from its predecessor. It weighs more and is a millimeter thicker too, most probably due to the bigger battery (2,600mAh to 3,300mAh).
Improvements start at the front. The Home key is now a fingerprint reader that secures your phone and Samsung Pay transactions. Also, the selfie camera above the screen has a brighter aperture, though a slightly narrower field of view (FoV).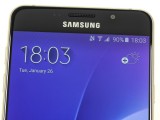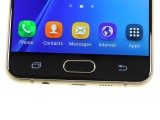 New selfie camera • Fingerprint reader home key
The camera on the back shows a much bigger improvement. For starters, it doesn't protrude as much. It also adds Optical Image Stabilization (OIS) and a brighter aperture for better-looking videos and better night shots.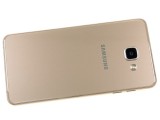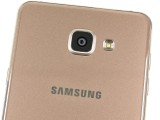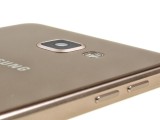 The camera barely protrudes from the back
It does not go as high as 4K video or 1080p@60fps video and it uses the same chipset as the 2015 model. There's an extra gig of RAM, more on performance later.
Also, it has a single LED flash (again) with no sign of the biometric sensors that the S-series and the Notes boast.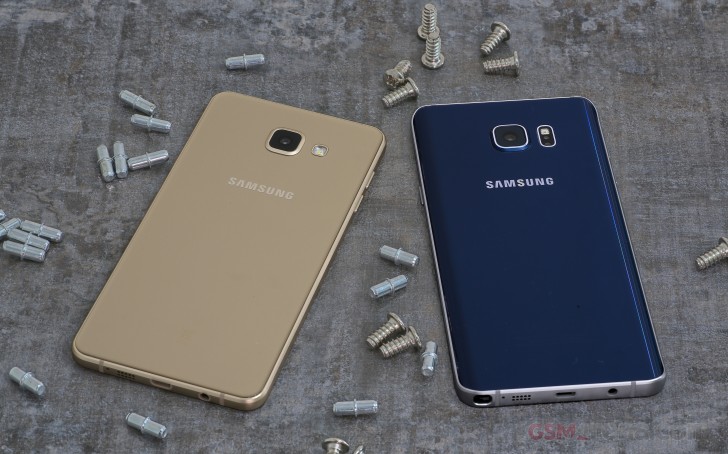 Samsung Galaxy A7 (2016) next to the Galaxy Note5
The large card slot is on the right side of the A7 and on our unit it can house two nanoSIM cards or one SIM and one microSD. This means you can't have all three cards at the same time. Note that there's a version of the phone, SM-710FD, where SIM1+microSD go on one tray and SIM2 is on a separate tray. That solves this issue, but not all Galaxy A7 (2016) dual-SIMs have two trays, so watch out.
And there's a single-SIM version, of course.
Anyway, also on the right is the Power key. Like the volume keys on the left, it's rather small and thin, making it not very comfortable to use.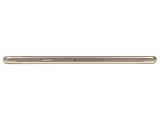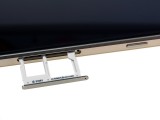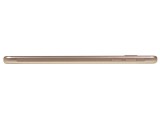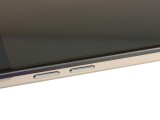 Right side • Card tray • Left side • Volume rocker
The bottom holds the remaining items of interest. The 3.5mm audio jack and the microUSB 2.0 are right next to each other, as are the single loudspeaker and one of the mics (there's another one on top).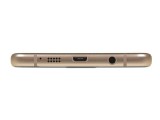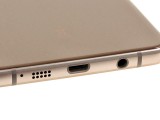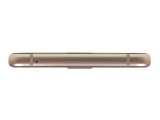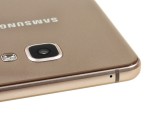 3.5mm audio jack and microUSB 2.0 port on bottom • A close-up • the top side
The Samsung Galaxy A7 (2016) comes in Black, White, Gold and Pink. The metal sides and the material behind the glass on the back are painted the same color while the front is black on all but the White option. Yes, the front is black even on the Pink one.
In the hand, the A7 (2016) carries its weight much better than the A5 (2016), even though the difference in physical size isn't that big. In fact, we had both at the same time (both in Gold) and they were really hard to tell apart.
3. Display, connectivity, battery life
Display
The Samsung Galaxy A7 (2016) comes with a 5.5″ Super AMOLED display, which has 1080p resolution (that's 401ppi). All this sounds familiar to owners of the original A7, but the matrix has been improved, leading to better image quality.
For one, it's brighter. On manual you can get up to 425 nits, a healthy upgrade over the old one. In Auto mode, however, the maximum jumps up to 536 nits, almost 200 nits better than the original. At the minimum setting the display puts out less than 2 nits – even the sleepiest eyes can look at the screen without getting blinded.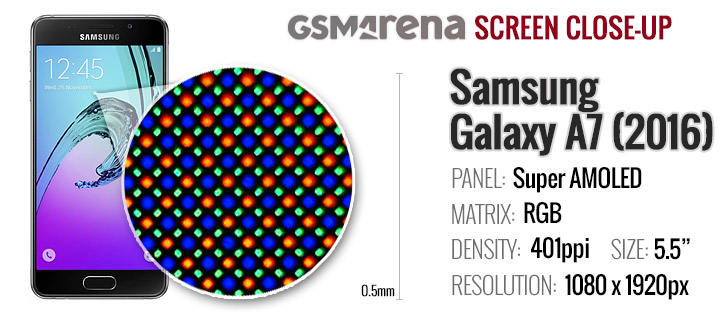 The Galaxy A7 (2016) suffers from the same flicker issue as the A5 (2016). The effect isn't noticeable to the naked eye, but it's definitely there and may cause headaches in people who are susceptible. The effect grows stronger when you reduce the brightness (especially under 40%) as it's part of how AMOLED displays are dimmed.
Display test
100% brightness
Black, cd/m2
White, cd/m2
Contrast ratio
Samsung Galaxy A7
0.00
349
∞
Samsung Galaxy A7 (2016)
0.00
425
∞
Samsung Galaxy A7 (2016) max auto
0.00
536
∞
Samsung Galaxy S6 edge+
–
410
∞
Samsung Galaxy S6 edge+ max auto
–
540
–
Xiaomi Redmi Note 3
0.42
403
953
Meizu MX5
0
346.00
∞
Meizu m1 metal
0.50
390
780
Motorola Moto X Play
0.41
620
1520
The extra brightness definitely helped with the sunlight legibility, which is among the best around. Not S6 edge+ great, but among the best for its price class. We do this test on manual mode, Auto will further improve legibility.
Sunlight contrast ratio
Samsung Galaxy S6 edge+ : 

4.615

Samsung Galaxy A7 (2016) : 

3.918

Samsung Galaxy A7 : 

3.679

Meizu MX5 : 

3.416

Motorola Moto X Play : 

3.222

Xiaomi Redmi Note 3 (MediaTek) : 

2.249
Another change is the much improved color accuracy – when you put the display on Basic screen mode, the average deltaE is 1. That's the lowest we've seen yet! Even the maximum deviation is quite tiny, just 2.2. Of course, if you prefer punchier colors, you can switch to Adaptive mode. The trade off is that the average deltaE goes up to 8.1 (that's about the same as the Xperia Z5 screen).
Connectivity
The Samsung Galaxy A7 (2016) offers both single and dual-SIM versions (though only one may be available in your region).
The phone supports LTE Cat. 6, which is good for 300Mbps downloads. The 3G HSPA+ tops out at 42.2Mbps. Note that only the SIM card that is selected as data SIM will connect to a 3G/4G network, the other one tops out at 2G/EDGE.
There's dual-band Wi-Fi a/b/g/n for a local Internet connection. There's no 802.11ac support, but that's not a huge deal. Bluetooth 4.1 and ANT+ are available for smartwatch and sports sensors connections.
The Galaxy A7 (2016) supports NFC and MST (Samsung's proprietary tech that emulates magnetic cards) for Samsung Pay. The fingerprint reader will secure your transactions, which gives the phone a leg up in security compared to classic debit/credit cards. If you are interested in using this feature, make sure your bank supports it.
The microUSB 2.0 port does not have MHL, so no TV-out, but you can use USB OTG to connect external storage or accessories. The port also does Quick Charge 2.0 (15W), but there's no wireless charging.
The phone has an FM radio too, great for tuning in to free live broadcasts that require no data connection.
Battery life
The Samsung Galaxy A7 (2016) has a 3,300mAh battery, which is a bit more than the S6 edge+ and Note5, while competitors boast 4,000mAh batteries.
The Smart Manager monitors app usage and will optimize apps that you haven't used for a while (preventing them from draining the battery in the background).
Also, here you'll find two modes – Power saving mode and Ultra power saving mode. For both, you get an estimate of how much battery life you can expect if you enable the mode.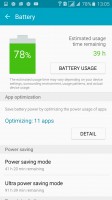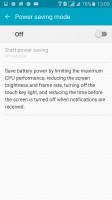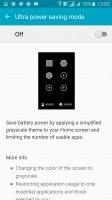 Checking up on the battery • Power saving mode • Ultra power saving mode
The Galaxy A7 (2016) scored slightly better Endurance rating than the A5 (2016), 96 hours with one SIM, but putting in a second SIM even things out with a 77 hours reading for the two. We expected a bit more, given the 400mAh bump in capacity.
We won't split hairs, though, moderate users will charge their phone once every three days, heavy users every two.
The individual tests showed a noted improvement, though. The A7 (2016) lasts 5 hours longer for calls, 2 more for web browsing and 1 more for video playback. Compared to the Galaxy S6 edge+ it offers less talk time, but more web browsing (the differences aren't very significant though).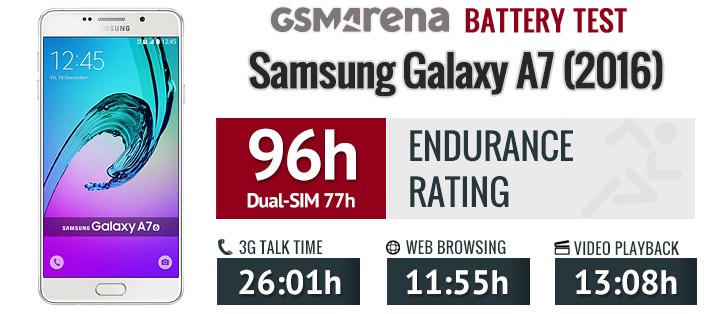 In 2016 we're transitioning to using a fixed 200nit screen brightness for our battery tests instead of merely positioning the brightness slider at 50% which worked out to a relatively random brightness level.
The brightness level of 200nits, which we've chosen for our tests, has become somewhat of an industry standard. But more importantly, it's both the median and average value of the brightness levels at which we've tested all reviewed devices so far. This means our older battery life results will remain equally relevant and comparable as they were before.
4. User interface
Samsung is yet to release the Android 6.0 version of its software, so the Samsung Galaxy A7 (2016) launches with Android 5.1.1 Lollipop. TouchWiz has been streamlined, but still adds plenty to the Android experience. You still miss out on things like fine-grain app permission control, though.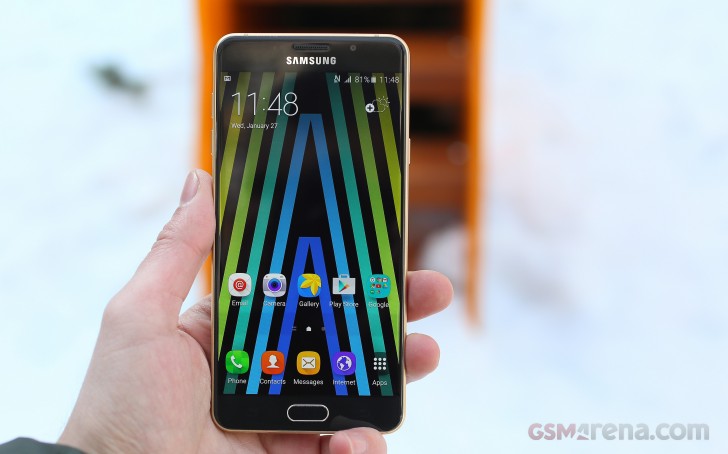 The phone features a capable fingerprint reader, which is, of course, available for securing the lockscreen. It's quite fast (as fast as the S6), especially if you wake the phone with the Home key – all it takes to unlock the phone is to leave your finger resting on the key for an additional split second. This makes using the sensor and its security benefits seamless.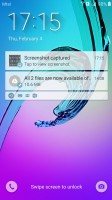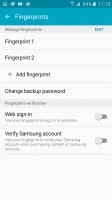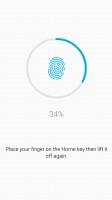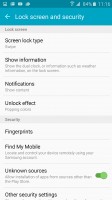 The lockscreen is secured by the fingerprint reader
The homescreen is the standard TouchWiz base of operations, which includes the Briefing pane. It's basically Flipboard in disguise (and can be disabled if you don't like it).
The software is essentially the same as the A5 (2016), except the Galaxy A7 fits five columns of shortcuts instead of four.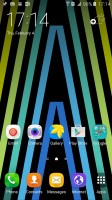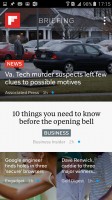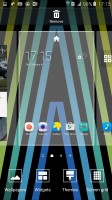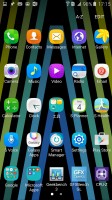 TouchWiz homescreen • Briefing • homescreen settings • app drawer
The Notification area features a row of quick toggles. S Finder and Quick connect buttons are enabled by default, but you can hide them to free up more space.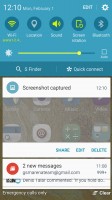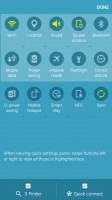 Tweakable notification area
Themes are fully supported and there are even A-series exclusives. Themes change wallpaper and icons and modify the look of some stock TouchWiz apps.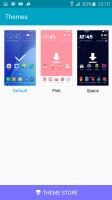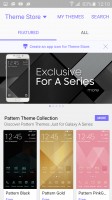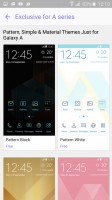 Full theme support
The Samsung Galaxy A7 (2016) comes with an average amount of apps pre-loaded. The built-in storage (16GB) doesn't leave much room – the user-available memory is around 11GB. Good thing you can pop in a microSD card.
The new Galaxy A7 also offers split-screen multitasking. The 5.5″ 1080p screen has enough room for two apps to live side by side. In this mode, you can chat with two friends at once or reference a document while writing an email. Not all apps support this split view, but all of the key ones do. The option to put an app in a floating window is not available.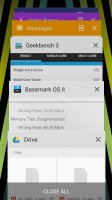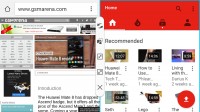 App switcher • split screen multitasking
5. Performance
The Samsung Galaxy A7 (2016) in our office has a Snapdragon 615 chipset. Inside are eight Cortex-A53 cores next to an Adreno 405 GPU. They are connected to 3GB of RAM, a bump over the A5 (2016) and the old A7. It's still essentially the same chipset, though.
There's a version with Exynos 7580, which has the same basic setup, except a Mali-720MP2 takes over the GPU duties.
Again, we're testing the Snapdragon 615 version.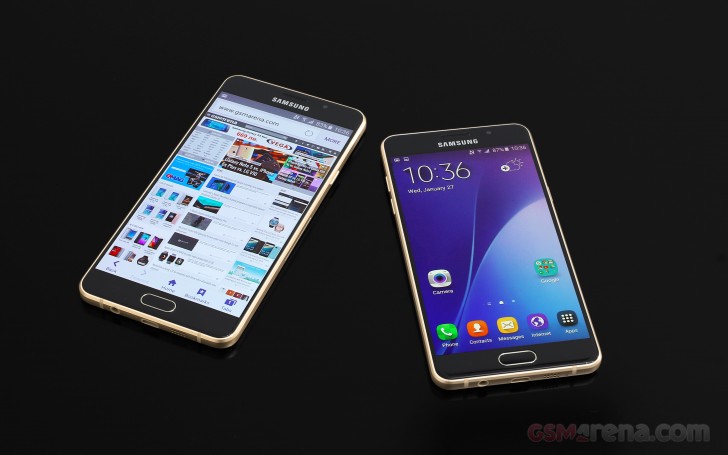 Unsurprisingly, AnTuTu 5 reports overall performance is very similar to the old Galaxy A7. The A7 (2016) also matched the Moto X Play, which uses the same chipset, while the Lenovo K3 Note and Sony Xperia C4 (both with MediaTek MT6752, a chipset similar to the Exynos 7580) pull ahead.
AnTuTu 5
Higher is better
Samsung Galaxy Note5 : 

69465

Samsung Galaxy S6 edge+ : 

68324

LG G4 : 

49295

Meizu MX5 : 

48915

Xiaomi Redmi Note 3 (MediaTek) : 

47816

Sony Xperia C4 Dual : 

46307

Lenovo K3 Note : 

46283

Motorola Moto X Play : 

37020

Samsung Galaxy A7 (2016) : 

35710

Samsung Galaxy A7 (S615) : 

31436
You can see it in the CPU-focused Geekbench 3, where the Redmi outperforms the G4 and is well ahead of its S615-powered competitors.
GeekBench 3
Higher is better
Samsung Galaxy S6 edge+ : 

5158

Samsung Galaxy Note5 : 

5124

Meizu MX5 : 

5110

Xiaomi Redmi Note 3 (MediaTek) : 

4537

Sony Xperia C4 Dual : 

4242

Lenovo K3 Note : 

4067

LG G4 : 

3509

Samsung Galaxy A7 (2016) : 

3039

Samsung Galaxy A7 (S615) : 

2880

Motorola Moto X Play : 

2608
The new GPU doesn't have much of an impact, though, the Galaxy A7 (2016) doesn't score very high on our 3D gaming tests. The Adreno 418 in the LG G4 does much better (Snapdragon 808 would also have been a great pick for the A7).
GFX 3.0 Manhattan (1080p offscreen)
Higher is better
Samsung Galaxy S6 edge+ : 

25

Samsung Galaxy Note5 : 

21

LG G4 : 

14.9

Meizu MX5 : 

10

Xiaomi Redmi Note 3 (MediaTek) : 

8.5

Lenovo K3 Note : 

6.1

Sony Xperia C4 Dual : 

6

Samsung Galaxy A7 (S615) : 

5.8

Motorola Moto X Play : 

5.8

Samsung Galaxy A7 (2016) : 

5.7
GFX 3.0 Manhattan (onscreen)
Higher is better
Samsung Galaxy S6 edge+ : 

15

Samsung Galaxy Note5 : 

15

Meizu MX5 : 

9.5

LG G4 : 

9.4

Xiaomi Redmi Note 3 (MediaTek) : 

7.9

Sony Xperia C4 Dual : 

6.4

Lenovo K3 Note : 

6.1

Motorola Moto X Play : 

6.1

Samsung Galaxy A7 (S615) : 

5.8

Samsung Galaxy A7 (2016) : 

5.7
Basemark X
Higher is better
Samsung Galaxy S6 edge+ : 

26333

Samsung Galaxy Note5 : 

26281

LG G4 : 

15090

Meizu MX5 : 

10403

Xiaomi Redmi Note 3 (MediaTek) : 

8540

Lenovo K3 Note : 

5656

Samsung Galaxy A7 (2016) : 

5210

Motorola Moto X Play : 

5032

Samsung Galaxy A7 (S615) : 

4802
Games have two ways to cope with a weaker GPU – reduce the frame rate or reduce the graphical fidelity (some do both). So what happens depends on the game, but the Galaxy A7 (2016) will offer a reduced gaming experience compared to the pricier phones. That's for bleeding edge 3D games, though, casual games will look and run exactly the same as on the bigger guns.
Other than games, the Galaxy A7 (2016) scores lower than an S6 edge+ and some others, but in daily use, you won't notice a difference. With 3GB of RAM even split-screen multitasking works without a hitch.
6. Telephony and loudspeaker, pre-installed apps
Telephony and loudspeaker
Our Samsung Galaxy A7 (2016) is the dual-SIM model, but single-SIM versions are available too. The SIM card manager allows you to pick a preferred SIM for voice, text and data.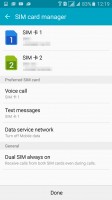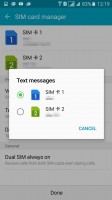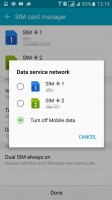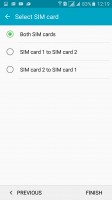 Setting up the dual-SIM Galaxy A7 (2016)
This is a dual-standby phone – if you get a call on SIM1, SIM2 will be out of reach for anyone who tries to call you. However, you can optionally have the calls to the out-of-reach card forwarded to the active card.
The Samsung dialer shows two dial keys (if you have two SIMs) so you can easily dial with either card. The call log can be filtered by SIM1 and SIM2, also by missed or rejected calls.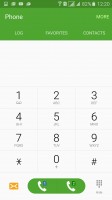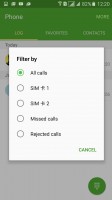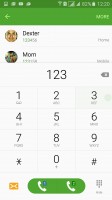 The dialer
The Do Not Disturb mode can be put on an automated schedule. When it's on, only priority notifications can get through and you decide what a priority is – you can set anything from calls from select contacts to reminders from key apps.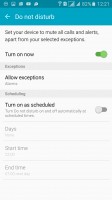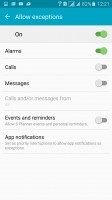 Do not disturb
The Samsung Galaxy A7 (2016) has just one loudspeaker, which is more "speaker" than "loud" with a Below Average mark. This is lower than what we got from last year's model.
| | | | | |
| --- | --- | --- | --- | --- |
| Speakerphone test | Voice, dB | Pink noise/ Music, dB | Ringing phone, dB | Overall score |
| Samsung Galaxy A7 (2016) | 66.2 | 64.8 | 66.8 | Below Average |
| Samsung Galaxy S6 edge+ | 65.8 | 64.8 | 70.4 | Average |
| Samsung Galaxy A7 | 64.8 | 66.3 | 73.5 | Average |
| Meizu m1 note | 67.7 | 66.2 | 75.7 | Good |
| Huawei Nexus 6P | 74.7 | 77.8 | 72.1 | Very Good |
| Meizu MX5 | 75.7 | 73.5 | 79.5 | Excellent |
Text input
The Galaxy A7 (2016) uses an updated version of the Samsung Keyboard. It's quite feature-packed, with a dedicated numbers row, a row above that for word suggestions and additional characters on each key (accessible via long-press).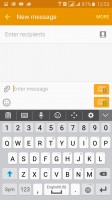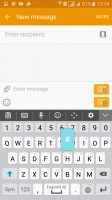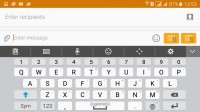 Portrait keyboard • landscape keyboard
If that seems too tall, you can scale the keyboard down (or up, if you want bigger keys). We don't like that the Space key is quite short, though.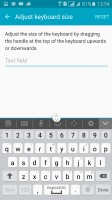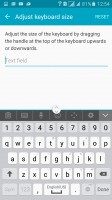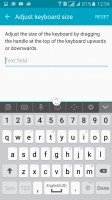 Keyboard size: smallest • default • biggest
Additional typing tools include swipe input, My Hot Keys (predefined phrases that can be typed by long-pressing a number key) and voice dictation.
Other apps
Samsung continues to bundle the Microsoft app package that includes Word, Excel, PowerPoint, OneNote and Skype. Note that these are just icons, you have to download each app from Galaxy Apps before you can use them (this way they don't take up storage if you don't want them).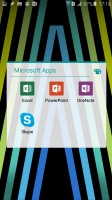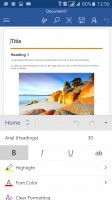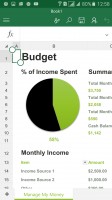 Microsoft app package
Google's Drive is pre-installed, however, the actual document editors are not (they are a free download, though).
The Samsung-customized web browser features Web sign in – a feature that works as a password manager secured by your fingerprint. This makes log-ins as simple as unlocking the phone.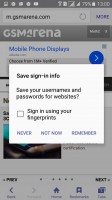 With the Samsung browser, your fingerprint is your keyboard
S Health is on board though without the advanced sensors (heart rate, blood oxygen) its functionality is more limited. It can still track walking/running/cycling and you can manually input water and coffee intake and so on.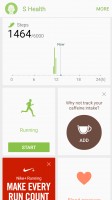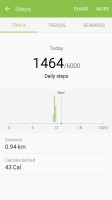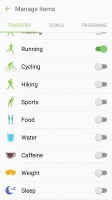 S health is missing the hardware sensors
Smart Manager is a hub that controls several key areas – battery, RAM, Storage and Device security. This gives you tools to track down apps that drain the battery, use too much RAM and clean-up unnecessary files.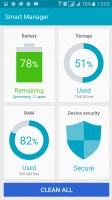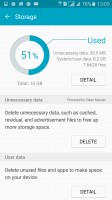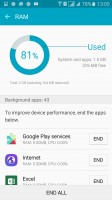 Smart Manager • Cleaning up the storage • Cleaning up the RAM
The Device Security tab lets you activate KNOX (protects the phone and OS from attacks but adds a second to boot time) and scan for malware. The My KNOX app lets you separate work and personal apps by creating a secure, isolated space on the phone.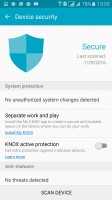 KNOX security manager
The My Files app is the default file browser. It features Google Drive integration. You can ZIP folders to make them easier to share as a single file.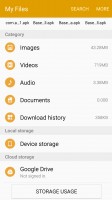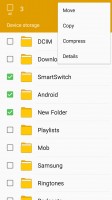 My Files
Smart Switch you'll probably use just once, but it's still handy. It lets you import your content from your old Android, iOS or BlackBerry device. For iOS it pulls data from iCloud, for the other platforms, the transfer happens either wirelessly or via USB (which is faster).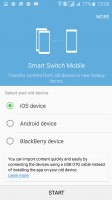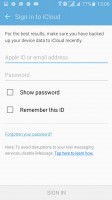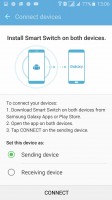 Smart Switch
Finally, there's Galaxy Apps, Samsung's own app store. Galaxy Essentials is a good place to find great tools (like Kids Mode), but for general app shopping, you would probably be better off with Google Play.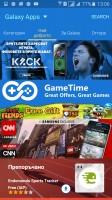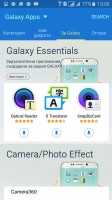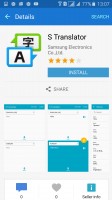 Samsung Apps
7. Gallery, media players, audio quality
Gallery
The TouchWiz gallery orders photos by time, but you can switch to folder-based Album view. Sharing options include wireless printing, Android Beam and Wi-Fi Direct, but no DLNA (or other way to send an image to your TV).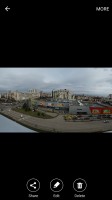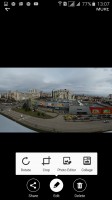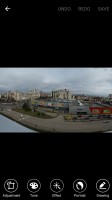 TouchWiz Gallery
Several image editing tools are available – from basic cropping, to collage making, to a more capable editor (which supports image correction, effects and drawing).
An additional option lets you pick several photos and stitch them into an animated GIF.
Music player with advanced EQ features, FM radio
The Galaxy A7 (2016) gets the full-blown Samsung music player. This includes the SoundAlive tool, which has an intuitive interface to tuning the equalizer (a manual 7-band equalizer is available for more knowledgeable users).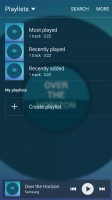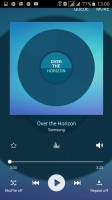 Music player
Adapt Sound is even simpler. It tunes the EQ to your hearing and your particular pair of headphones by playing multiple frequencies and asking how well you hear them. Smart Volume automatically adjusts the volume of tracks from multiple sources.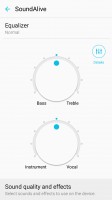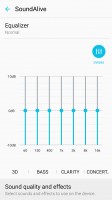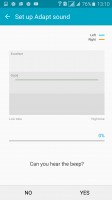 Equalizer and other settings
The player itself has a straightforward UI with most functions available as shortcuts on the Now Playing screen. You can browse files by folders, which is great if your library doesn't have well-organized ID3 tags.
The Galaxy A7 (2016) also has an FM radio built in (something many Galaxy flagships do not). It can record radio broadcasts (though this may be disabled in some regions). There's no RDS, though, so the app won't show the name of the station.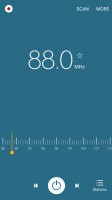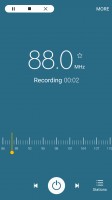 FM radio
Video player
The video player is the only app that works in pop-up window, a feature dating back to the Galaxy S III.
You also get full subtitle support with advanced features to modify their appearance.
The app lets you play only the audio (if you just want to listen to a music video) and to play the audio via Bluetooth (if you have a BT-enabled speaker handy).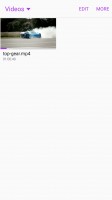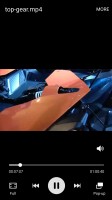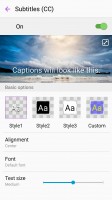 Browsing videos • Video player • Subtitle settings
There's an "Editor" option too though that may be overstating it – it just lets you trim the video.
Again, there's no DLNA or another wireless method of sending the video to a bigger screen. No wired ways to do it either.
Audio output is mostly good
If you have heard one, you've heard them both – the Samsung Galaxy A7(2016) audio output perfectly matches that of its Galaxy A5 (2016) sibling. We've struggled to tell the two apart on multiple occasions and we certainly wouldn't be able to do so if we relied on our ears only.
Anyway, the smartphone showed perfect clarity in the first part of our audio quality test. When attached to an active external amplifier, the Galaxy A7 (2017) produced great scores top to bottom and things were pretty great in terms of loudness too, for a great performance.
Plugging in our standard headphones did cause some damage – volume dropped to only average, stereo crosstalk rose to a similar rating and some distortion crept in. It's still a very good performance, but no longer up there with the best.
Here go the results so you can do your comparisons.
| | | | | | | |
| --- | --- | --- | --- | --- | --- | --- |
| Test | Frequency response | Noise level | Dynamic range | THD | IMD + Noise | Stereo crosstalk |
| Samsung Galaxy A7 (2016) | +0.02, -0.07 | -95.1 | 92.8 | 0.0058 | 0.0097 | -95.3 |
| Samsung Galaxy A7 (2016) (headphones) | +0.42, -0.03 | -92.7 | 84.1 | 0.014 | 0.260 | -53.1 |
| Samsung Galaxy A5 (2016) | +0.02, -0.07 | -94.3 | 92.2 | 0.0065 | 0.010 | -95.0 |
| Samsung Galaxy A5 (2016) (headphones) | +0.42, -0.01 | -93.4 | 87.1 | 0.029 | 0.254 | -53.0 |
| Huawei G8 | +0.02, -0.08 | -93.4 | 90.1 | 0.0028 | 0.012 | -93.4 |
| Huawei G8 (headphones) | +0.10, -0.03 | -92.9 | 89.8 | 0.0048 | 0.071 | -78.2 |
| LG G4 | +0.04, -0.07 | -93.4 | 93.3 | 0.0021 | 0.050 | -92.6 |
| LG G4 (headphones) | +0.93, -0.13 | -91.4 | 91.9 | 0.013 | 0.244 | -50.4 |
| Samsung Galaxy S6 | +0.01, -0.04 | -95.6 | 92.8 | 0.0024 | 0.0094 | -94.5 |
| Samsung Galaxy S6 (headphones) | +0.02, -0.05 | -92.6 | 91.9 | 0.0025 | 0.042 | -83.4 |
| HTC One M9 | +0.02, -0.06 | -94.8 | 93.0 | 0.0049 | 0.026 | -93.7 |
| HTC One M9 (headphones attached) | +0.03, -0.05 | -93.7 | 92.7 | 0.0082 | 0.030 | -91.6 |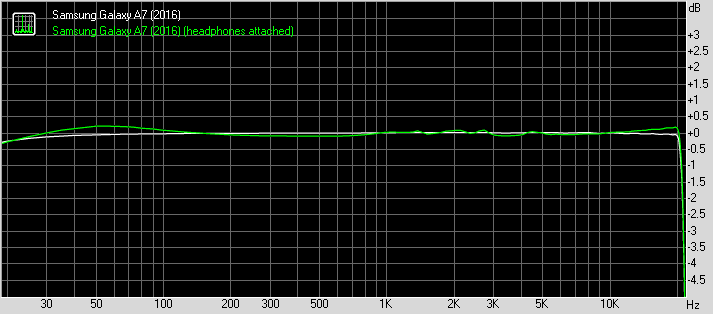 Samsung Galaxy A7 (2016) frequency response
8. Camera
Camera
The Samsung Galaxy A7 (2016) camera department is built much like that of the excellent Galaxy S6.
It starts off with a downgrade – the sensor has 13MP resolution (and it's 4:3 instead of 16:9). Other than that, the camera boasts the same bright f/1.9 aperture and optical image stabilization. And like on the S6 you can just double tap the Home key to quickly launch the camera.
The A7 offers Pro mode, but it's nothing like the one on the S6. It only gives you White balance, ISO and Exposure compensation. Essentially, the settings most phones have, but in a more accessible arrangement.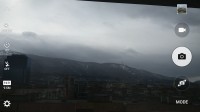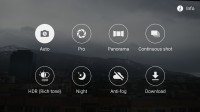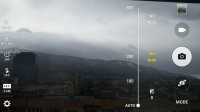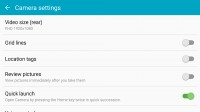 Samsung camera UI
HDR is split off into a separate mode instead of a toggle on the viewfinder like on the S6 (this means no HDR Auto mode).
A rare Anti-fog option corrects the reduced contrast you get in misty weather.
The 28mm field-of-view of the Samsung Galaxy A7 (2016) camera isn't as wide as the Galaxy S6 camera, but it does give some extra vertical room.
The dynamic range is surprisingly good but processing differs from the S6 and detail in the shadows and in the highlights is harder to see. There's a bit more noise, but photos are rich in detail. At 100% magnification, you can see more detail in S6 photos than in the Galaxy A7 (2016) photos.
Shot-to-shot time is okay, but when taking multiple photos in quick succession the A7 feels a bit sluggish.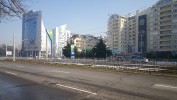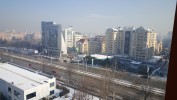 Camera samples: Galaxy A7 (2016) • Galaxy A7 (2016) • Galaxy S6 • Galaxy S6
A 5MP camera with f/1.9 aperture rivals the S6 for selfies. The Galaxy A7 (2016) selfies have some noise, which reduced the resolved detail, but the quality is better (marginally) than what the S6 produced. Part of that is that the focus point is more appropriate for selfies – photos from the S6 camera were slightly soft at an arm-length distance for some unknown reason.
A wide selfie mode is available when your friends are with you. It's essentially a panorama for selfies.


Selfies: Galaxy A7 (2016) • Galaxy S6
Here are the HDR samples.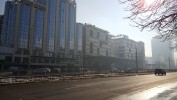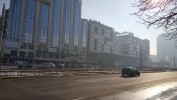 HDR samples: Samsung Galaxy A7 (2016) • Samsung Galaxy S6
There's a regular Panorama mode too, though it proved disappointing. The images came out with a vertical resolution of around 1,200px, while the Galaxy S6 goes up to 3,000px. The stitching looks good, but the Galaxy A7 (2016) panorama shots just don't have enough resolution.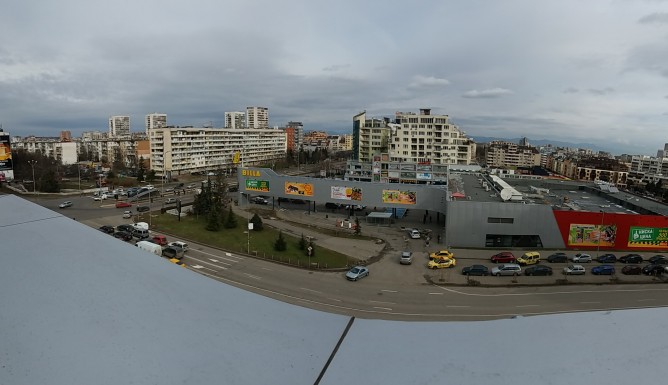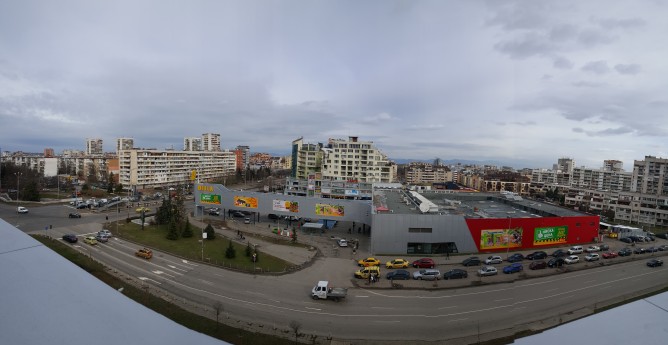 Panorama: Galaxy A7 (2016) • Galaxy S6
While both phones have bright f/1.9 apertures, the bigger sensor handles the dark noticeably better. It's not a matter of resolution, really, and even the noise levels are quite similar. Still, by the time the noise reduction has done its job, the Galaxy A7 (2016) photos have lost much of their detail and sharpness, especially compared to the Galaxy S6.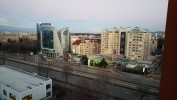 Low-light samples: Galaxy A7 (2016) • Galaxy S6
The Galaxy A7 (2016) continues the head-to-head comparison over at our Photo quality comparison tool, where conditions are better controlled.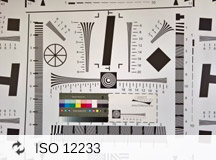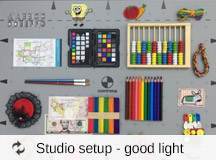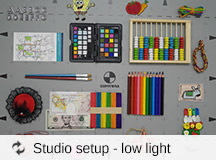 Samsung Galaxy A7 (2016) in our Photo compare tool
Video camera
The resolution drop for photos isn't a big deal, even the Galaxy S7 is rumored to go back to 12MP. It's videos where the lack of resolution is felt more. Even if you don't shoot 4K (don't have a UHD TV or just for storage considerations), you will miss the 1080p @ 60fps option when you shoot a fast-paced scene.
In terms of resolved detail and sharpness, the Galaxy A7 (2016) is slightly behind the S6. The advantage in resolved detail only grows bigger when you flip to 4K mode. We noticed the A7 refocuses quite often, even when there's no need for it.
Anyway, white balance of the A7 tends towards a warm yellow. Dynamic range is essentially equal.
Even for selfies, the Galaxy A7 (2016) is behind on video resolution – the S6 camera can do QHD (1440p) while the A7 tops out at 1080p again.
You can download a Galaxy A7 video sample – 0:16, 32MB – and find additional samples of the A7 camera and compare it against others in our Video quality comparison tool.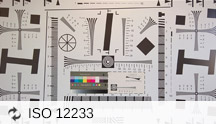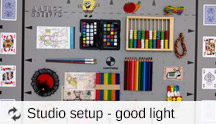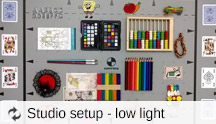 Samsung Galaxy A7 (2016) in our Video compare tool
9. Conclusion
Final words
While people were wondering if tablets will kill the desktop PC, phablets snuck in and conquered the world. However, there are as many opinions on the perfect screen size as there are people.
The Samsung Galaxy A7 (2016) settles on 5.5″, slinking in below the S6 edge+ and matching the iPhone 6s Plus. If that's not enough, the A9 (2016) comes in at 6″ and we're expecting a new A8 too.
Regardless on where you fall on the screen size issue, you'll agree that a premium build on a budget is a great thing to have and that's just what the Galaxy A series aims to deliver. The 2016 series also adds premium features like fingerprint reader + Samsung Pay, a bright aperture and OIS for the camera, plus a perfectly calibrated screen.
The rest leans more towards the mid-range though. In fact, we have to wonder if Samsung did enough to improve the old A7, which has very similar specs and is slightly cheaper too.
Samsung Galaxy A7 (2016) key test findings
Flagship-level build quality
Display has perfect colors and is always legible (flicker may bug some people, though)
Great battery life with 96 hours endurance rating (some improvements over the A5)
Full software package with split-screen multitasking and first-party Samsung apps
Fast fingerprint reader (as fast as on the S6/Note5); Samsung Pay (in select markets)
The GPU means lowered 3D gaming experience; Only a small performance improvement over the old model
Great multimedia app package with advanced music player, FM radio too
Quiet loudspeaker is a step back from last year's A7
Perfect audio quality if you have an external amp, but volume drops when you plug in headphones
Photo quality comparable to Galaxy S6 camera (but not in the dark); Pro mode is more a name than a feature; bright aperture are appreciated though
1080p videos come out very good, but no 2160p or 60fps mode are an issue
The price of the Galaxy A5 (2016) was too close for comfort to the S6 flagship, but the Galaxy A7 (2016) is much more reasonably priced for what it offers – it's much cheaper than, say, the Galaxy S6 edge+.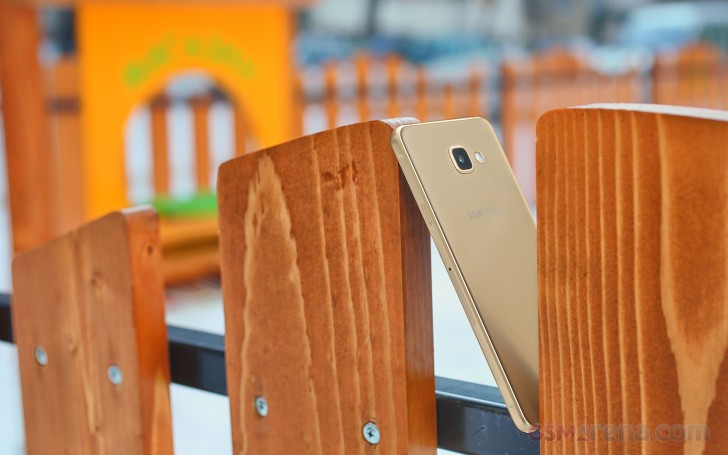 It's more expensive than the old model, though, and that one brings a 5.5″ 1080p Super AMOLED, a Snapdragon 615 chipset, a 13MP camera too. The new model has its fingerprint reader and camera OIS to lean on, a gig more RAM too.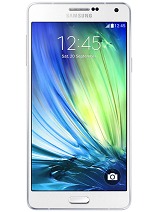 Samsung Galaxy A7
There's no replacement for the A8 yet, but the Samsung Galaxy A9 (2016) goes all in with the screen – 6″ Super AMOLED (still 1080p, though). And it upgrades the chipset to the new Snapdragon 652. Not that it enables 4K video, but it does boost performance. The rest is pretty much identical, save for the storage – you get 32GB as base.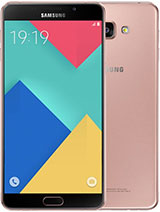 Samsung Galaxy A9 (2016)
There's no storage of high-specced, all-metal, reasonably priced phones from Samsung competitors, which put the A7 (2016) under pressure.
The Meizu MX5's metal shell houses a 5.5″ 1080p Super AMOLED too. Not as calibrated as the A7 screen (in fact, very few non-Samsung screens are). It boasts a 20.7MP camera with a large sensor and laser autofocus, 2160p video capture too, thanks to the MediaTek Helio X10 chipset (no 60fps mode, however). It has a fingerprint too, the only thing it's missing is a microSD slot – you better get the 32GB or 64GB versions, 16GB won't cut it.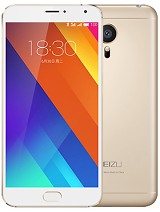 Meizu MX5
The Meizu m1 metal is a budget phone by price tag, but not by what you get in the box. It has a metal unibody, a 5.5″ 1080p LCD and a MediaTek Helio X10 chipset that rivals the S615. It even has a fingerprint reader, but the camera is nothing to write home about.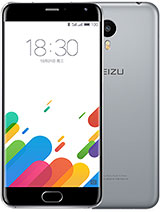 Meizu m1 metal
The new Xiaomi Redmi 3 has a 5.5″ 1080p LCD and with either a MediaTek Helio X10 or a Snapdragon 650 chipset. The camera is 16MP f/2.0 and has phase detection AF, but no OIS. Below it is a fingerprint reader. Note that this phone will launch sometime this month.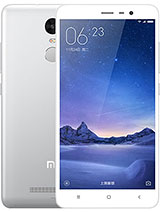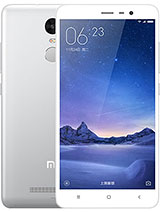 Xiaomi Redmi Note 3 • Xiaomi Redmi Note 3 (MediaTek)
If you value up-to-date software more than a metal exterior, the Motorola Moto X Play and its pure Android may be for you. The insides of the phone are coated with a water-repellent material (gaining it an IP52 rating) and you get stereo speakers. The Moto X Play has a 21MP camera (f/2.0, 1080p video) and is powered by Snapdragon 615. No fingerprint reader on this one.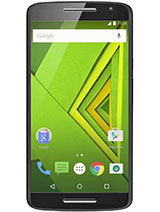 Motorola Moto X Play Dual SIM
The LG G Flex2 is a different kind of premium. It has a curved, slightly flexible 5.5″ P-OLED display and self-healing coating on the back panel. And it comes with Snapdragon 810 and a 13MP OIS camera with 2160p and 60fps video.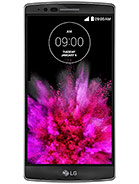 LG G Flex2
We like being spoiled for choice, but the Samsung Galaxy A7 (2016) isn't enjoying it as much. It has to convince us that fingerprint reader and Samsung Pay are worth it over the old model, the improvements to the camera too.
And for the most part, it does. It may not bring a long list of improvements and there may be many similar phones, but the Galaxy A7 (2016) feels more polished than those alternatives.
(gsmarena.com)