1. Introduction
Introduction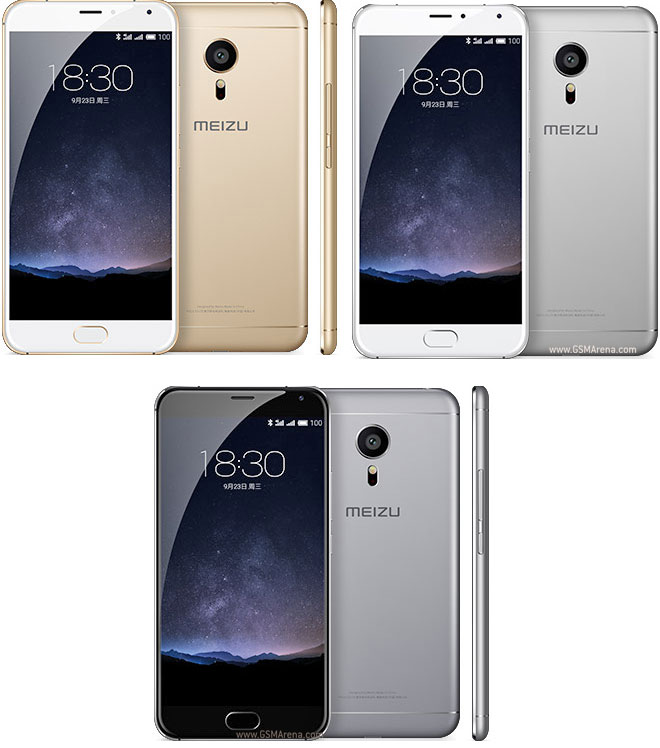 Meizu did such a wonderful job with the MX5 that we were pretty certain a Pro edition wasn't needed this year. As it turns out Meizu thought otherwise and is giving us a bigger and faster Meizu Pro 5, with refined design, blazing-fast chipset and better camera sensor.
The Pro moniker usually stands for a bigger screen, flagship chipset and greater camera, and the Meizu Pro 5 bumps exactly those features over the MX5. Plus, we get the trending 2.5D screen glass to complete the aluminum unibody, which is very welcome.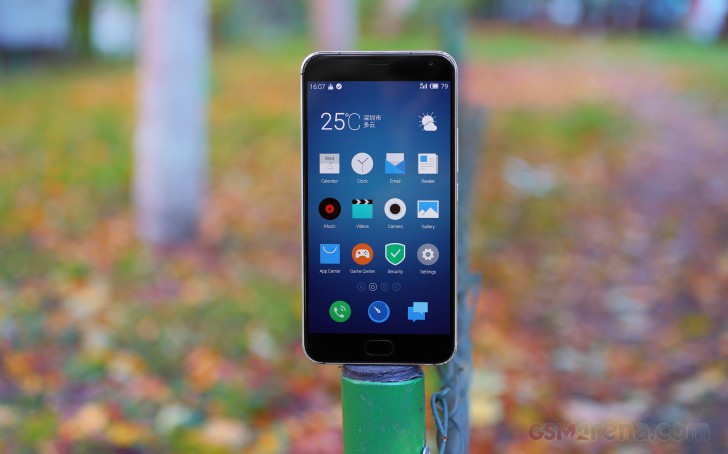 While the Meizu MX5 offered a great 5.5″ AMOLED screen and a flagship-grade Helio X10 chip, Meizu thought it could do better for the Pro flavor. The Pro 5 features and extended .2″ AMOLED screen of the same 1080p resolution, Samsung's latest and greatest Exynos 7420 SoC responsible for the enviable performance of the entire Galaxy S6 lineup, plus an even better Sony IMX230 camera sensor. Want to know more?
Key features
5.7″ 1080p AMOLED display of 386ppi
Heavily customized Flyme OS 4.5.4.1 on top of Android 5.1.1 Lollipop, Flyme 5.0 update should be around the corner
Samsung Exynos 7420: octa-core processor with 4x 2.1GHz Cortex-A57 and 4x 1.5GHz Cortex -A53, Mali-T760MP8 GPU, 3GB or 4GB of RAM
21MP Sony Exmor RS IMX230 camera sensor with two-tone LED flash, 2160p video recording @30fps
5MP front-facing camera with 1080p@30fps video recording
32GB or 64GB of built-in storage; expandable via a microSD slot
Cat. 6 LTE (300/50Mbps); Dual SIM; Wi-Fi a/b/g/n/ac; Bluetooth 4.1; GPS/GLONASS/Beidou; USB Type-C port, USB On-The-Go
mTouch Home button with a fingerprint scanner
Active noise cancellation via a dedicated mic
3,050mAh battery with 24W mCharge 2.0 (Up to 65% battery capacity in 30min)
Main disadvantages
No FM radio
No IR blaster
The shortlist of omissions is nothing to worry about – while Meizu isn't offering a removable battery for years and the IR blaster is gone for good probably because just few people were interested in using it. But the FM radio is still quite a popular feature, especially in places with poor network coverage, so you should have that in mind.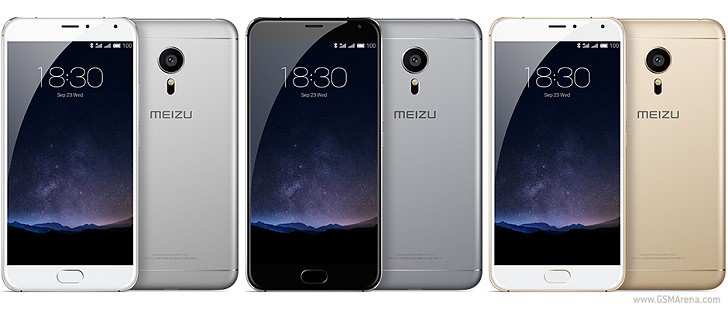 Meizu did all it could to bring the latest available pieces of tech on the market into a single smartphone – the Pro 5. Now it's time to find out if its flagship entry is a threat to the rest of the rule benders.
2. Hardware overview
Unboxing the Meizu Pro 5
The Meizu Pro 5 comes in a premium black box, but albeit the nicely looking package, it doesn't come with extra accessories – we only got a USB Type-C cable, a charger plug and a pair of headphones.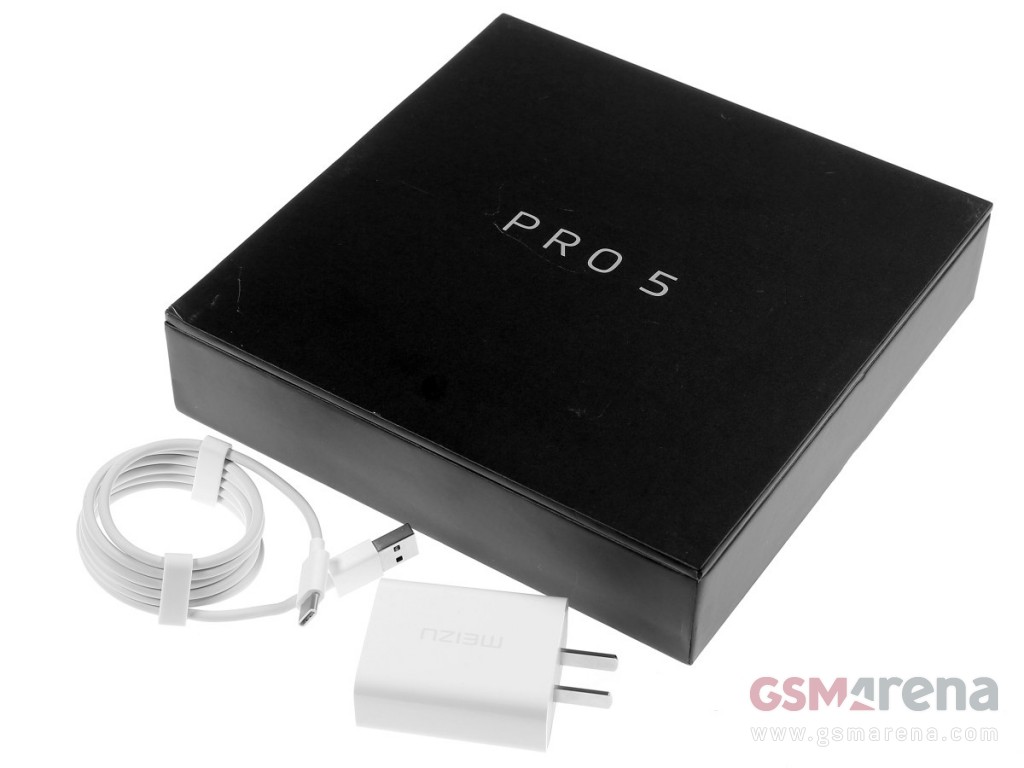 The good news is Meizu was kind enough to provide buyers with a proper fast charger, so the Pro 5 owners will be able to quickly refill the battery up to 65% in just 30 mins.
Meizu Pro 5 360-degree spin
Meizu Pro 5 has a bigger 5.7″ display than its 5.5″ MX5 predecessor and thus – a slightly bigger footprint. The Pro 5 spreads at 156.7 x 78 x 7.5 mm – which is about 7mm taller and 2mm wider than the MX5. It weighs 168g, which is 19g heavier than the MX5.
The Pro 5 may have a slightly bigger display than the recently launched iPhones 6s Plus, and may even share some similarities with the Apple's flagship, but it manages to keep its dimensions a hair smaller.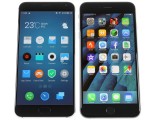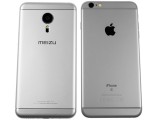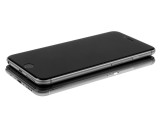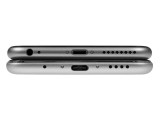 Meizu Pro 5 (5.7″) next to the iPhone 6s Plus (5.5″)
Design and build quality
Meizu Pro 5 looks a lot like the beautiful MX5, though the manufacturer refined the design with minor, but notable tweaks. The result is a polished and well build flagship, capable of getting the crown in any smartphone beauty pageant.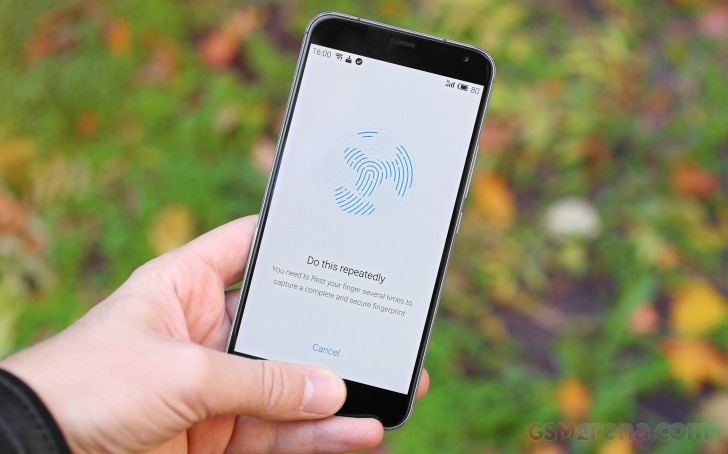 The Pro 5's whole shell, just like the MX5, is made out of brushed aluminum. The only plastic elements are the rear antenna bands around the top and bottom, which are still a mandatory requirement for a proper signal strength.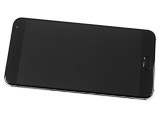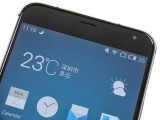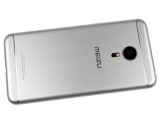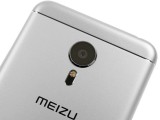 Meizu Pro 5
The novelty in the Pro 5 is the introduction of a 2.5D cover glass for the screen, which has become quite a trend lately. The chamfered edges looked a bit unnatural next to the MX5's traditional glass cut, but they now merge great with the 2.5D finish on the Pro 5.
The entire front is covered with a Gorilla Glass 3 piece and the tiny screen bezels are all black, including the Home key. When the display is turned off you can't really tell the black frame from the AMOLED screen which is really nice.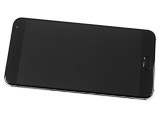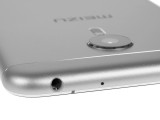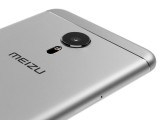 Meizu Pro 5
The build quality is excellent, as expected, and the handling has been improved with the curved front glass. The grip is very good thanks to the brushed aluminum and the only issue some might have is with the device's footprint.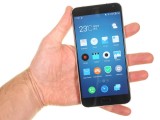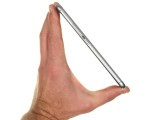 Handling the Pro 5
The Pro 5 is big and while it may fit in most pockets, one-handed operations are no-go without further software tweaks. Luckily, Meizu has taken care of those in a very elegant way.
Controls
The control set of the Meizu Pro 5 is the same as on the MX5, which means a pretty standard one. On top of the display is the earpiece, the selfie camera and some invisible sensors.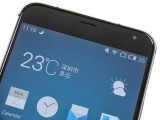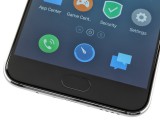 Above and below the screen
The bottom has the mTouch fingerprint scanner/Home button combo. This key is both a touch and a hardware button so it will respond to both a press and a touch. A tap means Back, while a physical press acts as a Home key under Android OS.
The ejectable tray is on the left-hand side of the phone and it can house either two nano SIM cards or a single SIM plus a microSD memory card.
The metallic volume rocker and power/lock key are on the right.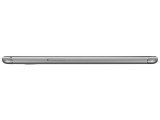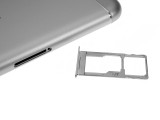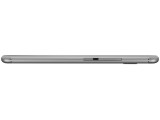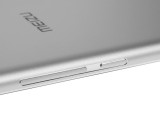 The sides of the Pro 5
The Pro 5 puts the audio jack on the top of the device, accompanied by the second mic. The primary mic, the new USB Type-C port and the loudspeaker are all over the bottom.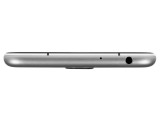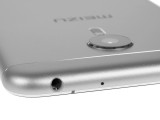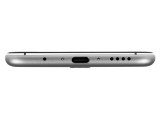 A peek over the top and bottom
Finally, the back of the Pro 5 is where the Sony's 21MP IMX230 sensor is, coupled with a dual-LED dual-tone flash. The small black plate around the flash covers the laser, which is used for a fast and more accurate auto-focus in the dark.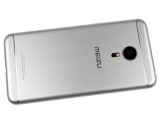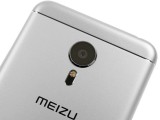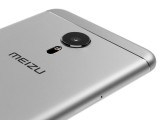 What's on the back
3. Display, battery life, connectivity
Display
Meizu Pro 5 packs a 5.7″ AMOLED screen of 1080p resolution, which results into a high density of 386ppi. The images are crystal clear and sharp, the viewing angles are excellent, as is the contrast.
The pixel arrangement is very familiar – it's the Diamond PenTile we are used to see on the modern Samsung Super AMOLED screens.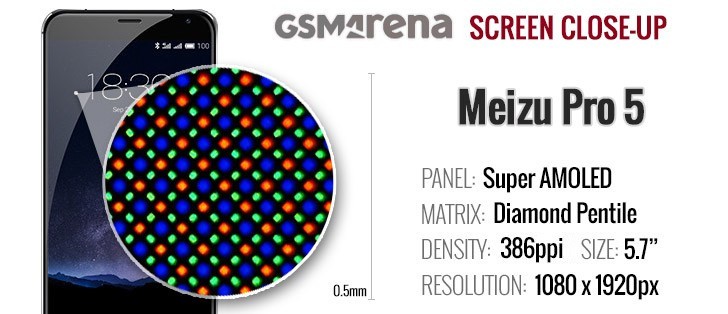 The color rendition provided by the Meizu Pro 5 is good, but not perfect, just like it was with the MX5. The two displays are tuned slightly differently as the average DeltaE of the Pro 5 is slightly higher at 6.1 (for the primaries plus black and white), but the max DeltaE is lower at 8.6. So overall, color performance is more uniform with the Meizu Pro 5 but still just a little bit off to be called perfect.
When we say perfect, we mean perfectly calibrated. As display colors are a matter of personal taste and perception, if you don't need calibrated color output, you will probably be quite happy with the color rendition on the Meizu Pro 5.
While the contrast is as good as an AMOLED screen can offer, the brightness isn't on par with other AMOLED phones. Sure, the AMOLED units aren't known to be very bright to begin with, but the Pro 5 is noticeably dimmer (322nits) than the Galaxy S5 display (529nits) or the Galaxy S6 display (473nits). It's even dimmer than the Meizu MX5 screen (346nits).
A certain positive point is that the minimum level of brightness is only 1.7nits, which would make for an extremely comfortable reading experience in pitch dark environment.
Display test
50% brightness
100% brightness
Black, cd/m2
White, cd/m2
Contrast ratio
Black, cd/m2
White, cd/m2
Contrast ratio
Meizu MX4 Pro
–
–
–
0.69
775
1127
Meizu MX5
0.00
117
∞
0
346.00
∞
Meizu Pro 5
0
102
∞
0
321
∞
LG G Flex2
0.00
152
∞
0.00
398
∞
OnePlus Two
0.16
180
1139
0.30
399
1334
Samsung Galaxy S6 edge+
0.00
172
∞
–
410
∞
Apple iPhone 6s Plus
0.10
150
1563
0.43
590
1382
The sunlight legibility is great though and you'll have no problem seeing what's happening on the screen even under bright sunlight.
Sunlight contrast ratio
Nokia 808 PureView : 

4.698

Samsung Galaxy A8 : 

3.859

Apple iPhone 6 : 

3.838

Motorola Moto X (2014) : 

3.816

Samsung Galaxy Note Edge : 

3.799

Apple iPhone 6s : 

3.783

Meizu Pro 5 : 

3.781

Vivo X5Pro : 

3.706

Samsung Galaxy A7 : 

3.679

Oppo R5 : 

3.678

Samsung Galaxy K zoom : 

3.675

Nokia Lumia 930 : 

3.567

Samsung Galaxy mini 2 : 

1.114
Battery life
The Pro 5 has 100mAh less battery capacity compared to the MX5 – for a total of 3,050mAh. But unlike the quite energy inefficient MediaTek Helio X10 chipset, the Pro 5 is powered by the Samsung's Exynos 7420 and so we approached this test having high expectations.
The Meizu Pro 5 did so good in our battery test that it surpassed our initial expectations. The smartphone does excellent across all of our tests, including the single-SIM and dual-SIM standby, and so it outs an enviable final endurance rating.
Putting a second SIM card would drop the rating down to 88 hours.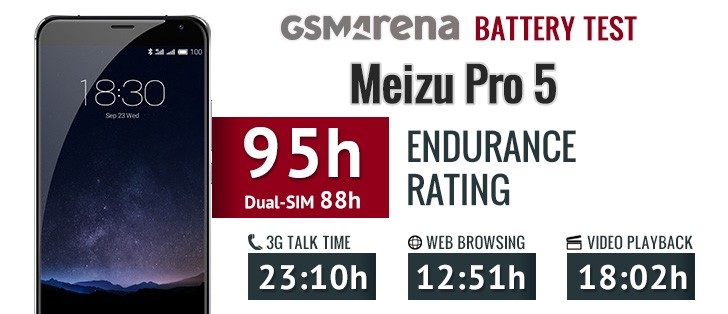 Our proprietary rating denotes the number of hours the phone will be operational if you are to make an hour of 3G talks, web browsing and video playback per day. Such usage pattern is of course entirely artificial, but we've established it so our battery results are comparable across devices.
Connectivity
The Meizu Pro 5 supports LTE Cat.6 connectivity and you can tap to an LTE network on either SIM, but the other will default to a GSM band. The supported LTE bands by our review unit include LTE band 1(2100), 3(1800), 7(2600), 38(2600), 39(1900), 40(2300), 41(2500).
The second SIM slot can be used for a microSD memory card instead of a SIM card, which is a welcome upgrade over the MX5, which didn't support memory expansion at all.
The rest of the wireless connectivity features include dual-band Wi-Fi a/b/g/n/ac support and Wi-Fi Direct. There is also support for Bluetooth 4.1, NFC, and GPS and GLONASS. Wireless screen mirroring is available via the Miracast protocol.
The Pro 5 is Meizu's very first device to support USB Type-C – it's a new reversible connector for USB that builds on top of USB 3.1. The cable supplied with the phone ends on a USB 2.0 reversible plug though.
That's important to note for two reasons. The first one being speed – USB 3.1 Type-C cables can go up to 10Gbps, but the Pro 5 is limited to USB 2.0 speeds (480Mbps). The second thing is that Type-C connectors are meant to go on both ends of the cable since the standard allows for functionality to go both ways – that's data transfer and even charging.
Android 6.0 Marshmallow is going to add official support for USB Type-C connectors and then you should be able to charge connected peripherals. That's still not possible at this time though.
If you'd like to use USB OTG and USB Host functions, you'll have to buy a third-party microUSB adapter.
4. Software overview
Android Lollipop with Flyme 4.5
The Meizu Pro 5 comes with the custom-made Flyme OS, now in its 4.5 installment. It's based on the Android Lollipop 5.1.1 and it takes after its Chinese siblings and has a one-level interface with only homescreen and no app drawer, similarly to Apple iOS. The review unit supplied to us had fully functional Google Play Services and we had no issues with the integration of Google's services.
Flyme 5.0 has been announced already and the update is now seeding for the MX5, while the Pro 5 will get it in mid-November. It brings a flatter design with refined icons and animations, better battery life and overall stability and performance improvements.
Flyme 5 isn't a departure from the current Flyme 4.5 styling, but rather an incremental upgrade with under-the-hood optimizations and more polished looks.
Unfortunately,we are reviewing the Meizu Pro 5 at launch, which means we are using it with the Flyme 4.5 so our description will only be valid for that version of Flyme OS.
The Flyme OS 4.5 lockscreen is a pretty simple affair – you drag upwards to unlock and have the option of securing it with a passcode or an unlock pattern (or the fingerprint reader). There are no shortcuts on the lockscreen, but you can use a left or a right swipe to launch into a specific app directly from the lockscreen.
Gesture wake up is available – you can use pre-defined gestures to launch different apps while your phone is asleep – double tap to wake and swipe to unlock work by default, but you can also use swipe down, or other gestures such as Z, M, U, W, among others to launch apps of your choosing.
Holding down the home button will launch Meizu's Voice Search, but you can change this quick action if you want. You can also assign a number of functions to tapping the home button – you can set it go back in the UI, close an app or go back to the homescreen.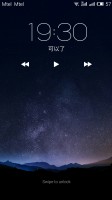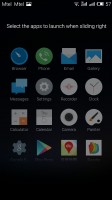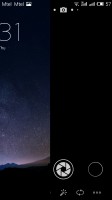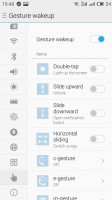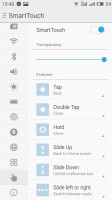 Lockscreen • Configuring gestures wakeup
The homescreen is even simpler. You get two panes by default but you can add more later on. The homescreen gathers all of your app icons and you can add widgets into the mix.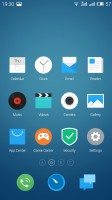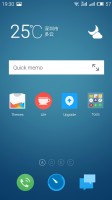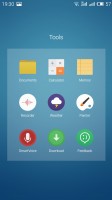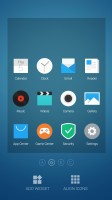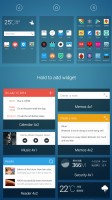 Homescreen • Organizing the homescreen
The notification area pulls down the whole way. You get a set of five circular toggles for various settings and you can expand them with a swipe down or with the dedicated virtual button in the top right.
The rest of the notification area is a basic list or expandable, actionable notifications.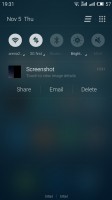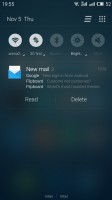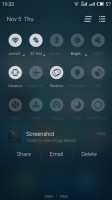 Notification area
Switching between tasks is done with a pull up menu from the bottom of the screen. It looks like iOS 6 in a way but works differently – you have to swipe apps up or down to dismiss them. There is also an option to pin an app (tap and hold) and it will stay always in recent apps at the state you closed it.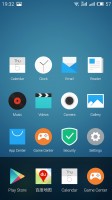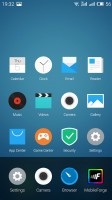 Task switcher
You can customize the UI with various themes. There are some preloaded but you can browse the App Center for more – some of them are paid but there are many free and a lot to choose from. There's also a variety of built in wallpapers.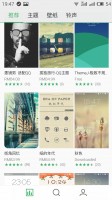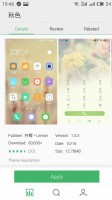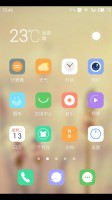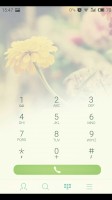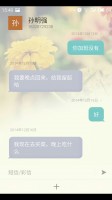 Themes
There's a Do Not Disturb mode that will block notifications and calls and you can choose a white list of numbers that can get through. It can be scheduled to run at specific time intervals or be set manually.
There is one more option – Scheduled Power On and Off – you can setup your Meizu Pro 5 to shut down and boot up at a specific time on specific week days – just like alarms.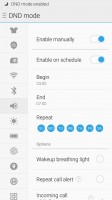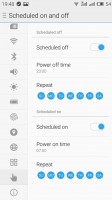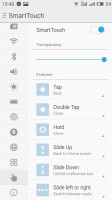 DND mode • Scheduled power on and power off • Smart Touch
The Pro 5 is a rather big device and Meizu provides a very clever way for single-handed operations with the so-called Smart Touch. It's a movable virtual 4-way key, like a D-Pad, and you can assign functionalities to each of the directions, tap and hold, tap, and double tap. For example, moving the key downwards brings down the notification area, moving it towards right acts as Back. If configured properly, it can very much allow you to control the Pro 5 with just one hand, while you are on the move.
Flyme OS can be tough to get around at first but once you've gotten your bearings it becomes a treat to work with. Meizu is keeping things as simple as possible and everything works seamlessly without any hiccups.
5. Performance
Meizu Pro 5 packs an Exynos 7420 chipset developed in-house by Samsung and proved itself with the Galaxy S6 lineup to be one of the best performers on the market right now. It employs a 1.5 GHz quad-core Cortex-A53 CPU, a 2.1 GHz quad-core Cortex-A57 CPU, Mali-T760MP8 GPU, and 3 or 4 GB of RAM. Our review unit is of the 3GB variety as it has 32GB ROM.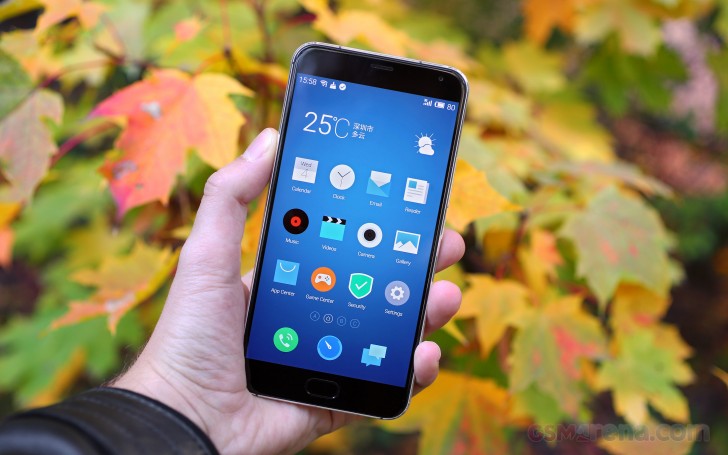 The Pro 5, unlike the Galaxy S6 smartphones, relies on a lower resolution 1080p display, which should give it an edge in the onscreen graphics tests.
GeekBench 3 tests the multi-core performance and the Pro 5 passed it with flying colors. Indeed the Exynos 7420 octa-core processor is quite a beast.
GeekBench 3
Higher is better
Meizu Pro 5 : 

5578

Samsung Galaxy S6 edge+ : 

5158

Meizu MX5 : 

5110

OnePlus 2 : 

4429

Apple iPhone 6s Plus : 

4413

Sony Xperia Z5 : 

4017

LG V10 : 

3607

LG G Flex2 : 

3604

Oppo R7 Plus : 

3204
Next we ran the popular AnTuTu benchmark and once again the Meizu Pro 5 came on top of all devices we've tested so far.
AnTuTu 5
Higher is better
Meizu Pro 5 : 

74655

Samsung Galaxy S6 edge+ : 

68324

Apple iPhone 6s Plus : 

58582

LG V10 : 

52713

Sony Xperia Z5 : 

50611

Meizu MX5 : 

48915

LG G Flex2 : 

47680

OnePlus 2 : 

47207

Oppo R7 Plus : 

37750
The compound BaseMark OS II 2.0 also confirms the dominance of the Meizu Pro 5 among all the Android phones we've tested to date. The recently released iPhone 6s Plus is scoring more, but we guess the iOS under the hood optimizations are showing off here.
Basemark OS 2.0
Higher is better
Apple iPhone 6s Plus : 

2261

Meizu Pro 5 : 

1837

Samsung Galaxy S6 edge+ : 

1789

LG G Flex2 : 

1726

OnePlus 2 : 

1622

Sony Xperia Z5 : 

1482

LG V10 : 

1383

Meizu MX5 : 

1252

Oppo R7 Plus : 

968
Oddly, the single-core and multi-core breakdowns show the Pro 5 is somewhat behind the Galaxy S6 edge+, which basically features the same processor.
Basemark OS 2.0 (single-core)
Higher is better
Samsung Galaxy S6 edge+ : 

6498

Meizu Pro 5 : 

5760

LG G Flex2 : 

5597

OnePlus 2 : 

5301

LG V10 : 

4261

Meizu MX5 : 

3262

Oppo R7 Plus : 

2707

Sony Xperia Z5 : 

1239
Basemark OS 2.0 (multi-core)
Higher is better
Samsung Galaxy S6 edge+ : 

27511

Meizu MX5 : 

22976

Meizu Pro 5 : 

21416

LG G Flex2 : 

18856

LG V10 : 

17127

OnePlus 2 : 

16798

Oppo R7 Plus : 

16784

Sony Xperia Z5 : 

5733
GFXBench puts the Mali-T760MP8 GPU found in the phablet to the test. The handset posted flagship-worthy results throughout, even though it wasn't a match for the latest gen iPhone GPU (PowerVR GT7600).
GFX 3.0 Manhattan (1080p offscreen)
Higher is better
Apple iPhone 6s Plus : 

39.5

Meizu Pro 5 : 

25

Samsung Galaxy S6 edge+ : 

25

Sony Xperia Z5 : 

24

OnePlus 2 : 

22

LG G Flex2 : 

22

LG V10 : 

15

Meizu MX5 : 

10

Oppo R7 Plus : 

6
GFX 3.1 Manhattan (1080p offscreen)
Higher is better
Sony Xperia Z5 : 

18

OnePlus 2 : 

16

Samsung Galaxy S6 edge+ : 

15

Meizu Pro 5 : 

14

LG V10 : 

10

Meizu MX5: 

4.8
The onscreen performance is expectedly ahead of the Galaxy S6 edge+, since the resolution is 'merely' 1080p instead of Quad HD.
GFX 3.0 Manhattan (onscreen)
Higher is better
Apple iPhone 6s Plus : 

38.6

Meizu Pro 5 : 

25

Sony Xperia Z5 : 

25

OnePlus 2 : 

22

LG G Flex2 : 

22

Samsung Galaxy S6 edge+ : 

15

Meizu MX5 : 

9.5

LG V10 : 

9.5

Oppo R7 Plus : 

6.3
GFX 3.1 Manhattan (onscreen)
Higher is better
Sony Xperia Z5 ; 

19

OnePlus 2 : 

16

Meizu Pro 5 : 

14

Samsung Galaxy S6 edge+ : 

6.6

LG V10 : 

5.7

Meizu MX5 : 

4.7
Oddly, BaseMark X puts the Pro 5's GPU performance around the middle, while the BaseMark ES 3.1 based on the Open GL E3.1 shows promising results.
Basemark X
Higher is better
Samsung Galaxy S6 edge+ : 

26333

Sony Xperia Z5 : 

23923

OnePlus 2 : 

21937

Meizu Pro 5 : 

20038

LG G Flex2 : 

19360

LG V10 : 

15161

Meizu MX5 : 

10403

Oppo R7 Plus : 

5349
Basemark ES 3.1 / Metal
Higher is better
Meizu Pro 5 : 

409

Samsung Galaxy S6 edge+ : 

348

LG V10 : 

297
We performed the following browser-centric benchmarks with the pre-installed Meizu browser. The phablet posted a great score on Mozilla's Kraken 1.1 (JavaScript), but mediocre results on the compound BrowserMark 2.1. You may want to try an alternative browser app.
Kraken 1.1
Lower is better
Apple iPhone 6s Plus

1731

Samsung Galaxy S6 edge+

3767

Meizu Pro 5

3907

LG G Flex2

4621

LG V10

4666

Sony Xperia Z5

5635

OnePlus 2

6808

Meizu MX5

11414

Oppo R7 Plus

11908
BrowserMark 2.1
Higher is better
Samsung Galaxy S6 edge+

2591

Sony Xperia Z5

2303

LG V10

2119

LG G Flex2

2086

OnePlus 2

2055

Meizu MX5

1471

Oppo R7 Plus

1224

Meizu Pro 5

1070
The Meizu Pro 5 provides flagship-grade performance and we are happy the company opted for Samsung's top Exynos instead of the Snapdragon 810. Samsung did a great job designing its SoC and it helps the Pro 5 top most of the charts.
While the web browsing scores aren't as impressive, both the integrated default browser and Google Chrome will offer you a smooth and fast experience. As for the processor and graphics – there is nothing to worry about for the years to come.
6. Telephony, messaging, multimedia
Telephony
At its core, the phonebook on the Meizu Pro 5 is a list of all contacts but you can view only a specific group or filter where contracts come from – phone contacts, email account or a Meizu account.
You can't add Facebook or Twitter or any social network out of the box. Installing the Facebook or Twitter app will allow you to sync your contacts from there. You can link contacts, but the functionality is annoyingly limited.
The dialer features smart dialing, which is nice. Otherwise it doesn't differ from any other in functionality.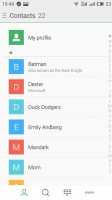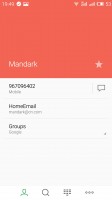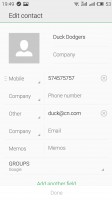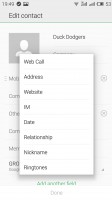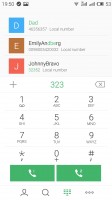 Phonebook • The dialer
The Meizu Pro 5 has all reception bars full and held onto signal great even in tighter spots. Call quality is very good. A dedicated mic for active noise cancellation makes sure the other party hears you loud and clear.
The phone supports dual-SIM with dual-standby. The second SIM supports GSM networks only, while the primary works on 3G and LTE. Managing the SIM cards is very easy as is initiating calls and sending texts.
The Meizu Pro 5 scored only average at our loudspeaker test but the speaker quality is excellent for a single-speaker setup with deep sound.
| | | | | |
| --- | --- | --- | --- | --- |
| Speakerphone test | Voice, dB | Pink noise/ Music, dB | Ringing phone, dB | Overall score |
| Sony Xperia Z5 | 65.1 | 62.3 | 66.3 | Below Average |
| Samsung Galaxy S6 edge+ | 65.8 | 64.8 | 70.4 | Average |
| Meizu Pro 5 | 67.7 | 66.6 | 68.7 | Average |
| Xiaomi Mi 4c | 73.2 | 66.6 | 77.5 | Good |
| Oppo R7 Plus | 73.7 | 72.8 | 79.9 | Very Good |
| Meizu MX5 | 75.7 | 73.5 | 79.5 | Excellent |
| Meizu MX4 Pro | 76.9 | 73.6 | 82.7 | Excellent |
Messaging
The messaging department is quite straightforward: there are no folders here, just New message, Search and Settings buttons. Above is a list of all your messages organized into threads.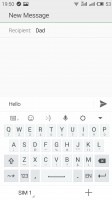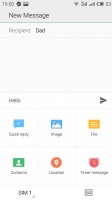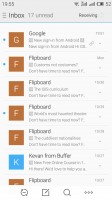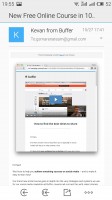 Messenger • Email
Meizu has tweaked the generic email client. It supports multiple Exchange, POP or IMAP inboxes and you have access to the original folders that are created online, side by side with the standard local ones such as inbox, drafts and sent items.
The gallery
The Flyme gallery has two viewing modes – photo and gallery. The photo stacks images into months while the gallery puts them into folders. You can add or remove folders from the gallery and also search through it.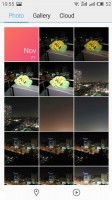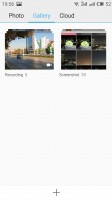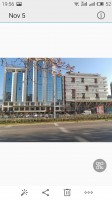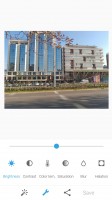 Gallery • Editing an image
There's also a built-in editor that offers filters and all the basic controls for contrast, brightness and you can even add blur or vignette. You cannot use different editors from the stock gallery and would need to install a third-party gallery (like Google's Photos) to have different editors.
Music player
The music player can only find tracks located in the Music folder. You can browse your collection the traditional way or you can select to have it filtered by folders.
In the first case tracks are sorted into several playlists like All songs, Recently added, Folders and you have the option to create custom playlists. When viewing All songs you can choose between three types of sorting in a tabbed layout: song name, artist and album.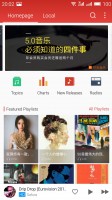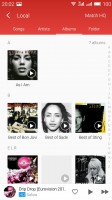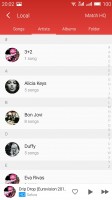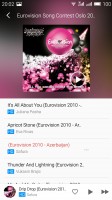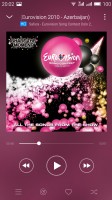 Music player
Now, MP3 offers lower quality than the lossless formats, but Meizu's software and 32-bit Hi-Fi DAC from ESS Technology promises to upsample your 16-bit/44.1kHz files to 24-bit/192kHz. This works for streaming audio too (which is usually worse than offline MP3s). Keep in mind this is more of a placebo effect – upsampling raises the bitrate but there's no way for it to add extra data and thus improve the actual quality after the fact. If you do have high-quality tracks the Pro 5 will play them trouble-free though.
You can access the equalizer from the advanced menu. It features several presets, which you can edit manually – but you need to insert the headphones first.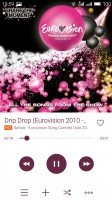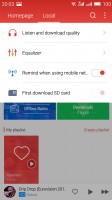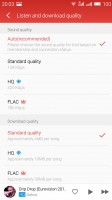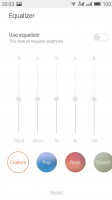 Hi-Fi Sound settings • Equalizers
Great video player
The Meizu Pro 5 comes with a dedicated Video app, but it expects videos to be placed in the video folder. You can use the file browser or gallery to get videos to play from elsewhere – it offers thumbnails and everything so we ended up using it more often than the Video app itself.
There's a pop-out option that allows you to view the video as an overlay to the OS.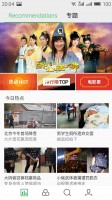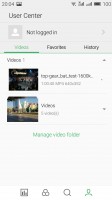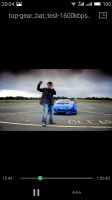 Video player • Pop-out view
The Meizu Pro 5 played everything we threw at it – Xvid, DivX, MP4, MOV, WMV and it supports the AC3 audio codec, too. Subtitles are supported, but it recognizes only Latin and Chinese characters.
Impressively loud audio output, very clean too
The Meizu PRO 5 audio output stunned us with its loudness. It was literally off the chart – its maximum loudness was too high for our setup to handle correctly so we recorded it at a step below 100%. And when plugged in an active external amplifier, the smartphone had the clarity to match, delivering a performance that's just perfect.
Plugging in our standard headphones caused some distortion, but impressively stereo quality remained almost unchanged. It's not the best result in terms of clarity, but it's up there and with the loudness staying just as high, this is overall one of the best results we've ever seen.
Here go the results so you can do your comparisons.
| | | | | | | |
| --- | --- | --- | --- | --- | --- | --- |
| Test | Frequency response | Noise level | Dynamic range | THD | IMD + Noise | Stereo crosstalk |
| Meizu PRO 5 | +0.07, -0.17 | -93.9 | 93.9 | 0.0015 | 0.053 | -95.7 |
| Meizu PRO 5 (headphones) | +0.08, -0.15 | -95.9 | 95.9 | 0.142 | 0.421 | -86.2 |
| LG G4 | +0.04, -0.07 | -93.4 | 93.3 | 0.0021 | 0.050 | -92.6 |
| LG G4 (headphones) | +0.93, -0.13 | -91.4 | 91.9 | 0.013 | 0.244 | -50.4 |
| Samsung Galaxy S6 edge | +0.03, -0.01 | -95.6 | 92.8 | 0.0023 | 0.0078 | -95.7 |
| Samsung Galaxy S6 edge (headphones) | +0.05, -0.02 | -92.6 | 92.5 | 0.0028 | 0.044 | -76.9 |
| Samsung Galaxy S6 | +0.01, -0.04 | -95.6 | 92.8 | 0.0024 | 0.0094 | -94.5 |
| Samsung Galaxy S6 (headphones) | +0.02, -0.05 | -92.6 | 91.9 | 0.0025 | 0.042 | -83.4 |
| HTC One M9 | +0.02, -0.06 | -94.8 | 93.0 | 0.0049 | 0.026 | -93.7 |
| HTC One M9 (headphones attached) | +0.03, -0.05 | -93.7 | 92.7 | 0.0082 | 0.030 | -91.6 |
| Sony Xperia Z5 | +0.01, -0.04 | -95.5 | 89.5 | 0.0033 | 0.012 | -94.8 |
| Sony Xperia Z5 (headphones attached) | +0.22, -0.24 | -95.1 | 89.5 | 0.0057 | 0.212 | -59.8 |
| Apple iPhone 6s | +0.03, -0.04 | -93.5 | 93.5 | 0.0016 | 0.0075 | -73.2 |
| Apple iPhone 6s (headphones attached) | +0.10, -0.06 | -93.8 | 93.9 | 0.0030 | 0.101 | -68.2 |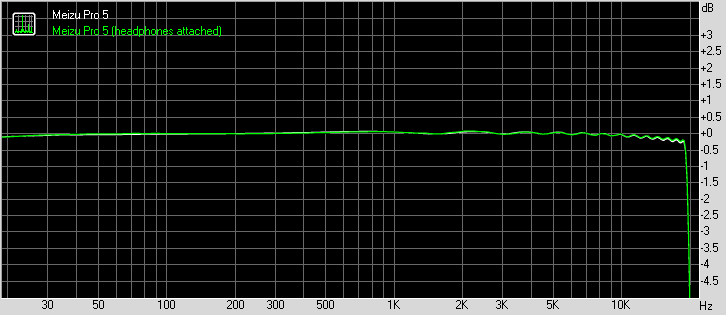 Meizu PRO 5 frequency response
7. Camera
Flagship 21MP snapper with a dual-tone LED flash
The Meizu Pro 5 utilizes a new Sony IMX 230 sensor with 21MP resolution, an upgrade over the IMX 220 one used on the MX5. It is capable of impressive 5312x3984px snaps in 4:3 aspect. The auto focus uses a hybrid system, incorporating phase detect auto focus in addition to the regular contrast detect system. The camera also features a laser-assisted auto-focus, which should help the sensor take snapshots in the dark.
Meizu offers what it calls Super high ISO that would allow the phone to shoot at up to 1600 ISO in low light conditions. There's also a dual-tone LED flash, which should produce more natural flash photos.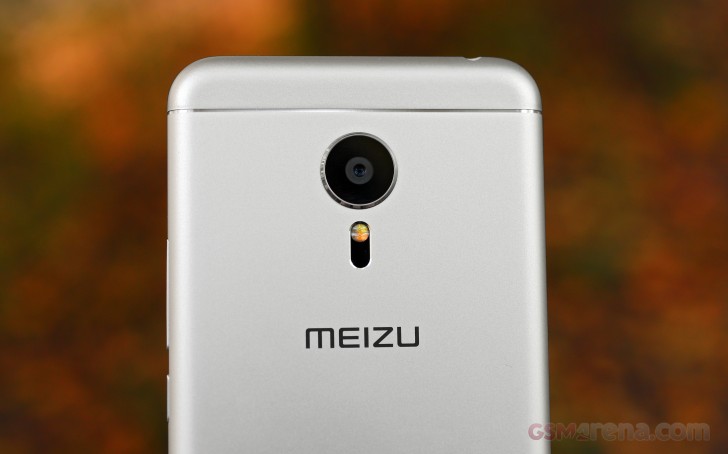 The camera interface by default launches into Auto mode where the camera determines the shooting parameters. You have the option to turn on HDR (but no automatic HDR), gridlines for the viewfinder and a level gauge so that your pics are perfectly leveled compared to the horizon. There's also an option to enable a timer of either 3, 5 or 10 seconds.
There's a side-scrollable mode dial at the top of the camera UI but you can also tap it to get a full view of the shooting modes – all eight of them. These are Auto, Manual (where you can set the shutter speed (up to 420s!), ISO, exposure compensation and even the focus – from macro to infinity) that uses a Gmail-like icon, Beauty (which can make eyes bigger, faces slimmer, skin smoother and whiter), Panorama, Light field (which is Meizu's refocus app allowing you to put the focus in any part of the image or have it entirely in focus), Scan (for QR and barcodes), Slowmotion and Macro.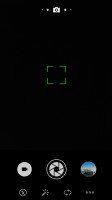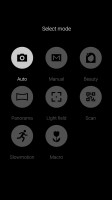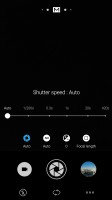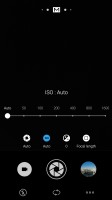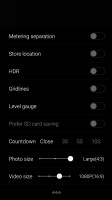 Camera interface
The Meizu Pro 5 snaps even greater 21MP shots than the MX5, which is an achievement right there. The resolved detail is top-notch, there is no oversharpening and the noise levels are kept amazingly low even in the shadows.
The samples have excellent dynamic range and the rendition of foliage is lovely. Contrast, white balance and colors are also something deserving only praise. Indeed Meizu once again put an effort of improving the already great software and they did it. While there is no Auto HDR mode, the amazing dynamic range more than made up for it and we resorted to the HDR option only a single time in two weeks.
The dynamic range of the regular photos is so impressive that we almost feel like all images are shot in some sort of HDR mode or at least the camera is applying some clever curve algorhitms to make the best out of the scene. Whatever it is, it helps the phone produce stunning results every time and we like the images no matter the magic trick they're using.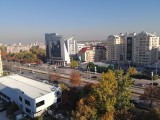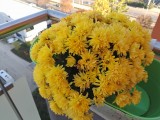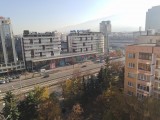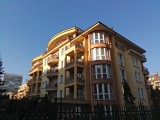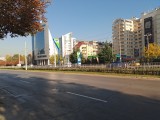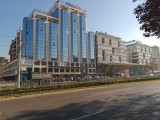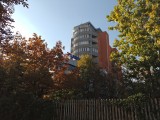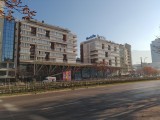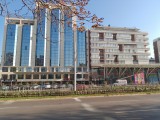 Meizu Pro 5 21MP camera samples
The HDR mode is meant to get an even wider exposure of a scene – bringing back detail in both the highlights and the shadows. On the Meizu Pro 5 it does a very good job of bringing back detail in tricky scenes, but if there is enough light, it will turn out a rather unrealistic looking overexposed picture. The camera sensor seems to have a great native dynamic range, so we'd suggest turning the HDR on only if you are unsatisfied by the auto mode.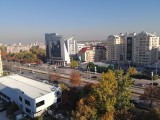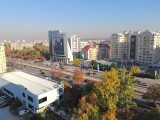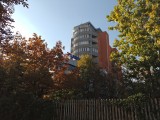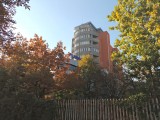 HDR off • HDR on • HDR off • HDR on
We played a bit with the manual mode to take a few low-light scenes. We used custom shutter speeds and exposure for those images, while the phone was mounted on a tripod. Steadied by the tripod, the Meizu Pro 5 can capture some wonderful scenes after the sun sets. Plus, if you happen to be in a moonless night out on the mounting, far away from any city lights, you can use the long shutter speeds (from 1 up to 7 minutes), for some nice star sky shots.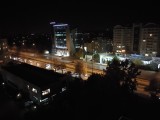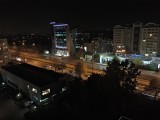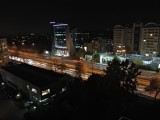 Low light: Auto • Manual (0.5s) • Manual (1.0s, exp. -2)
We also tested the Pro 5's flash and it turned out so bright that sometimes we needed to tune down the exposure compensation, which is hardly ideal.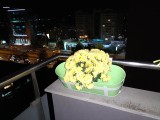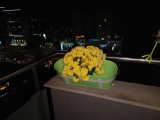 Flash On – Auto settings • Flash ON with exposure tuned down
Panoramas aren't too impressive on the Meizu Pro 5. There is plenty of resolution and good overall exposure but the resolved detail is low.

A panoramic sample
Finally, you can check out a 5MP image taken with the front-facing camera of the device. It doesn't shine with too much detail but it would do a fine job for selfies.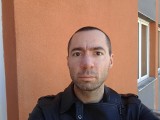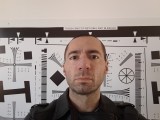 5MP selfie samples
2160p video recording at 30 fps
The Meizu Pro 5 shoots videos up to 4K resolution (3840 x 2160px) at 30fps and 1080p videos at 30fps. There's no 60fps smooth motion option but you do get a 720p@100fps slow motion shooting mode that renders and plays back at 25fps.
The UHD videos of the Meizu MX5 are recorded in the HEVC format, which is essentially the next-generation H.265 mode that uses a much smaller footprint on the storage. While this advancement makes sense because it helps you reduce the storage requirements it means that most of your media players will need an additional codec download in order to playback the videos you shot with the Meizu Pro 5. The smartphone itself has no issues with the videos, though.
The 4K videos produced by the Meizu Pro 5 have very good levels of detail, but we saw a lot of blotchy compression artifacts, which might as well be a codec issue but it's all we got anyway. Other than that, the resolved detail and the contrast are great, so are the colors too. The audio recording is merely mono, unfortunately.
The 1080p videos offer a wider field of view – their bitrate is also about 12Mbps, and the audio is mono, but the resolution is four times as low. In this case however there are no traces of the blotchy compression artifacts.
The Full HD videos kept the good colors, contrast and white balance we saw on the 4K samples.
The 720p slow motion videos are shot at 100 fps. The phone plays those videos back at 100fps but if you export them you get a 25fps sample. Motion is slowed as advertised but the quality isn't too impressive.
8. Web browser and other apps
The MX browser
The web browser interface utilizes almost the entire screen real estate to the web page, save for the status bar on top and a tiny bar on the bottom for Refresh, Tabs and Bookmarks. Choosing Tabs opens a quick pop up preview of your open tabs instead of bringing up an entirely new screen, which is great as it still leaves the website your on in plain view.
The browser supports double tap and pinch zooming. It's really fast and fluid too. There are also goodies like text reflow or sharing an URL over email or SMS.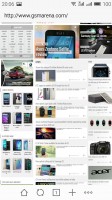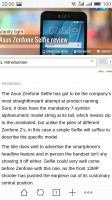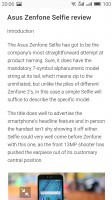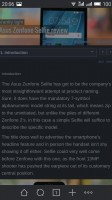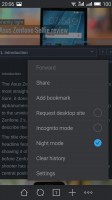 MX Browser
There's even a Reading mode and our favorite Night mode, which inverts the background and text colors and makes it really easy to read at night.
Other apps
The Meizu Pro 5 features a calendar that supports multiple online accounts. It offers monthly, weekly, daily and agenda views and is pretty straightforward to work with. Creating a new event lets you set which calendar to store it in, along with a reminder.
The Calendar has a very minimal, clean look but retains all the functionality you'd expect. You can also go for the Google Calendar – it's available for download as a separate app from the Play Store.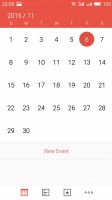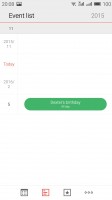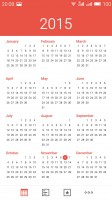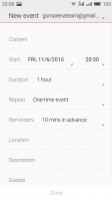 Calendar
Moving on, we have the Clock app that will handle multiple alarms with custom repeat times, ringtones, snooze time and labels. There are also a stopwatch and timer integrated within the Clock app.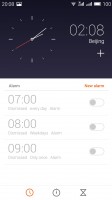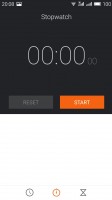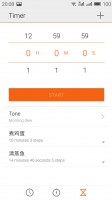 Clock
A calculator app is also on board. Interestingly you can use it as an overlay to the homescreen. You can't manually resize it but you can choose between two size settings. It offers a currency converter too.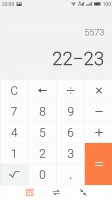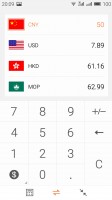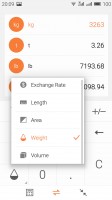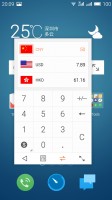 Calculator
The Memo app is clean and simple. You can add notes, images and even check lists into it. The Painter app will let you paint with a number of virtual tools, choosing different colors.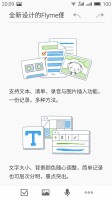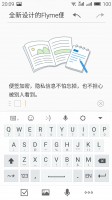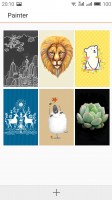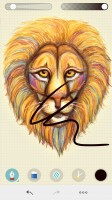 Memo • Painter
The App Center works with only Chinese content but you can still use it, if you can read Chinese, that is. Thankfully, the Google Play store came preinstalled on our device so we got our apps from there.
The preinstalled file manager lets you browse through the memory of the Meizu Pro 5 or through Recent, or through different media types – music, videos, pictures, etc. It allows copy, cut and paste and also sharing of files on your device.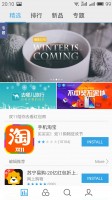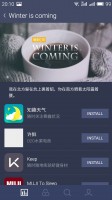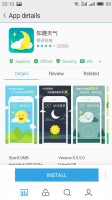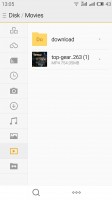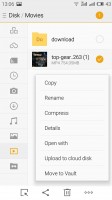 App center • File manager
Perhaps the highlight of Meizu's homebrewed apps is the Security app. It lets you scan for viruses, clean junk files, keep an eye on your large files, manage your data traffic, and most importantly – control the permissions for each app you install.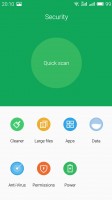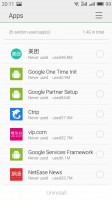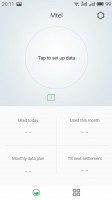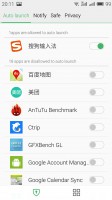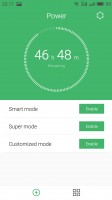 Security app
9. Conclusion
Final words
Meizu Pro 5 is a perfect mixture of high-quality materials, a great display, a fast chipset and an excellent camera. This is the best Meizu smartphone to date, with blazing-fast performance, close-to-perfect imaging skills and premium design and handling. It comes with so few compromises that you can easily tell it's flagship grade from head to toe.
The Pro 5 is based on Samsung's famous Exynos 7420 SoC, the powerhouse behind the entire Galaxy S6 lineup, which proved to be the best chip among the Android smartphones right now. But in addition to the chart-topping performance, the Exynos 7420 offers amazing energy-efficient skills, which provide for an incredible battery life across all of our tests.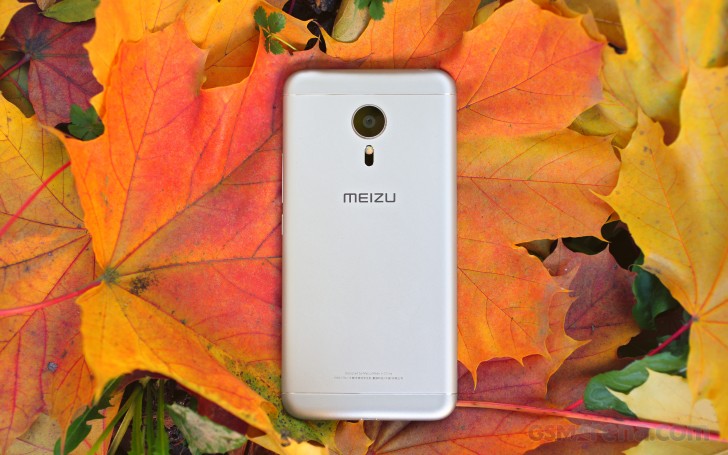 The Meizu Pro 5 keeps everything that made the MX5 such a great device and improves on it – the all-metal design shell has been complimented with a 2.5D Gorilla Glass 3 shield, which automatically boosts the looks. The metal keys, rounded frame and chamfered mirrored edges are all something to love in the Pro 5.
And there is the new 21MP Sony camera sensor, which Meizu utilized so good that it outs nearly perfect still images no matter the light and weather conditions. Sure, the video recording could have been better, but we can forgive the compression artefacts in the 4K videos for the overall well-shot 1080p ones.
The Flyme launcher has always been simple and yet quite powerful for the advanced users and it keeps its legacy in the latest Flyme 4.5 and the upcoming 5.0 version. We are glad Meizu is sticking to its Flyme roots and skins the Android completely thus providing a lightweight and easy to use interface.
Meizu Pro 5 key test findings
The Pro 5 offers great build quality, solid metal construction and nice 2.5D glass;
mTouch home button is the most practical home button we've seen – accepting fingerprint reading, presses and taps;
The screen isn't as bright as we would have liked but color rendering and contrast are spot on. Viewing angles and sunlight legibility are good as well;
The battery endurance rating of 95h is excellent, and it keeps up the great endurance even when you put a second SIM card inside;
Flyme OS is fluid and responsive, unlocking gestures are just as good here, mTouch button has some great added functionality (closing apps, going into previous menu). Great customization options via themes;
The Exynos 7420 chipset offers unmatched flagship-grade processor and graphics performance, even with the 3GB version we're reviewing;
Video player has very good codec support and seamless 4K video playback;
Great audio quality with outstandingly high in-headphone loudness;
Great still camera performance with amazingly high level of resolved detail and very wide dynamic range, and overall sharp and detailed images with mature processing, superb low-light scenes;
Disappointing panoramic images, unimpressive selfies;
The 2160p videos offer great detail have visible blotchy compression artifacts, which may as well be a HEVC codec issue as the HEVC codec is not compatible with YouTube and most of the common players;
The 1080p videos have a wider field of view and look better than the 4K samples, without noticeable compression artifacts.
Meizu Pro 5 goes at about €450 for the 32GB model and €500 for the 64GB one, which is not exactly cheap, so it may pay off to explore the available competing offers. The €300 OnePlus 2 is the first one to pop in our minds – it relies on a 5.5″ 1080p display and runs on the Snapdragon 810 chip with either 3 or 4 gigs of RAM, which translates into a blazing-fast performance. Its camera department is rich in features but fails to impress with quality though.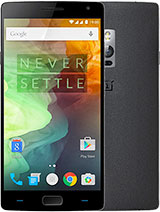 OnePlus 2
The LG G Flex2 has a 5.5″ AMOLED display of 1080p resolution, it's curved and there is a self-healing coating on the back. It still feels unique in hand and has the flashy paintjobs to go with it. The Snapdragon 810 chip is also in charge of operations, while its 13MP OIS camera is very capable. The selfie department is lacking though, but it's also about €200 cheaper than the Meizu Pro 5, so there is that.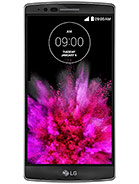 LG G Flex2
The previous Meizu MX5 is a bit more compact and almost identical in design, and keeps the good performance and camera quality, but not the battery life. It has an IR blaster and can be turned into a remote for all home appliances, but lacks the USB Type-C port (which might be consider as a plus a year from now). It's a tad cheaper and some fans may find it more attractive because of its smaller footprint.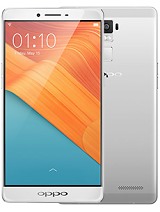 Oppo R7 Plus
Meizu Pro 5 is a like a dream come true for many – a premium design, an AMOLED screen, one of the best chipsets on the market and one of the best still cameras there is right now in a smartphone. While the video recording is far from impressive, the battery life, performance, software skills and connectivity package are top-notch. Recommending one comes easily, but perhaps getting one may be a challenge as Meizu doesn't have a distribution network of its own and instead relies on third-party distributors to get them outside of Asia so your mileage with the after-sale support experience and the language localizations in well developed markets may vary.
(gsmarena.com)