1. Introduction
Meizu's Blue Charm lineup is leveling up with the latest Meizu m1 metal addition. It keeps the low-budget/high-performance profile but Meizu managed to promote the design to a new premium level without sacrificing the Blue Charm goal.
First we want to get the naming confusion out of the way – the smartphone is sold in China as Blue Charm Metal (read in Chinese as Meilan Metal), while for the rest of the world the phone will be known as Meizu m1 metal.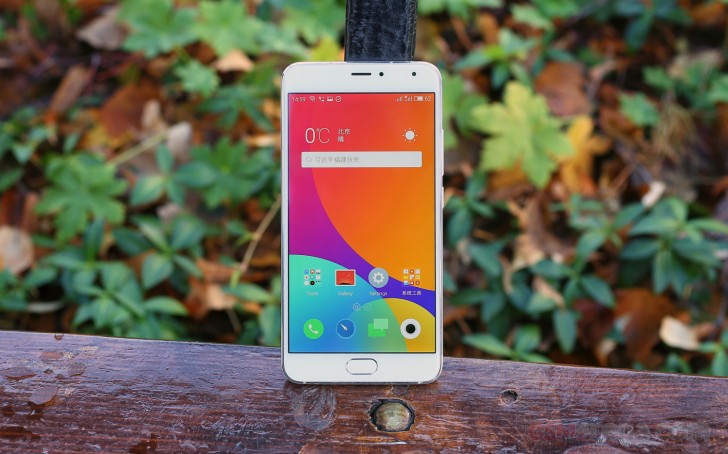 So, the m1 metal keeps the two most important features of the m1/Blue Charm series – a budget price and a guaranteed high performance courtesy of the Helio X10 chipset. Now the combo gets even better with a new premium unibody done in aluminum alloy, die-casted with the so-called crystal metal. Sounds, cool, right?
There is of course a promising 5.5″ 1080p display, a fingerprint sensor, a 13MP rear camera, and LTE Cat.4 connectivity, among many other features. Let's check the complete list out.
Key features
5.5″ 1080p LTPS IPS LCD display of 401ppi
Flyme OS 5 UI on top of Yun OS (an Android fork based on Android 5.1.1 source code but adapted for the Chinese market)
MediaTek Helio X10: octa-core Cortex-A53 processor at 2.0 GHz, PowerVR G6200 GPU, 2GB of RAM
13MP camera with two-tone LED flash, 1080p video recording @30fps
5MP front-facing camera with 1080p@30fps video recording
16GB or 32GB of built-in storage; expandable via a microSD slot
Cat. 4 LTE (150/50Mbps); Dual SIM; Wi-Fi a/b/g/n/ac; Bluetooth 4.1; GPS/GLONASS/Beidou; USB On-The-Go
mTouch Home button with a fingerprint scanner
Active noise cancellation via a dedicated mic
3,140mAh battery
Main disadvantages
No FM radio or NFC
Limited LTE band support for the Chinese version
No fast charging
The lack of some connectivity features might make you frown at first, but you have got to remember that for now the Meizu m1 metal is only available in China and this version is geared for the local market.
The Meizu m1 note and the m2 note received quite a positive reception in our review section so we didn't think a second time when we were offered to review the third phone in the series. The m1 metal certainly sounds like a sweet deal, so we undertook this review with the clear idea of seeing what sort of limitations would be imposed by using this Chinese phone outside of its homeland.
We are essentially reviewing an imported unit here, but you have got to remember it's easily available for online purchase to anyone and it even has Google Play services sideloaded.
We were also curious to see whether the using YunOS (or Aliyun OS) would be any different to using Android as we know it. The OS was developed by a subsidiary of the Chinese e-commerce group Alibaba and it got bad press a few years ago due to the fact that it's an Android fork, which hadn't met the requirements of the Android compatibility program and hence promoted fragmentation, at least according to Google.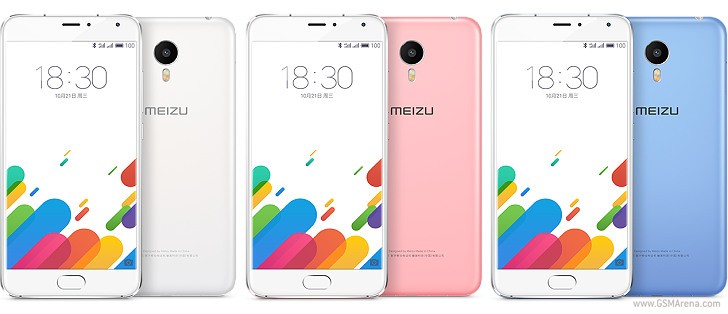 We would probably have to revisit this review once an international version of the m1 metal becomes available as it's quite probable that this one might have slight differences in hardware and will probably use a more standard Android build.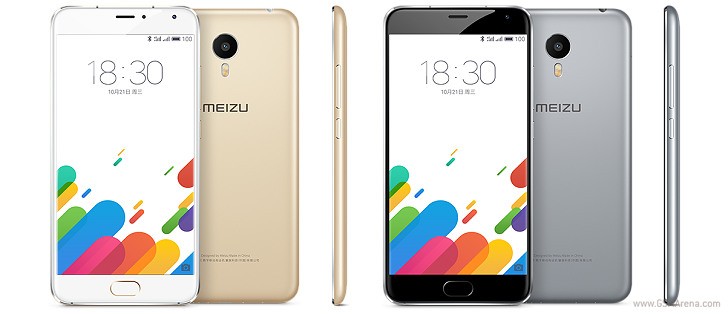 With that out of the way, we invite you to our traditional hardware checkup on the next page. Let's hope Meizu's third Blue Charm phablet – the m1 metal – would be equally charming as its predecessors.
2. Hardware overview
Unboxing the m1 metal
The Meizu m1 metal comes in a rather compact paper box, which covers the basics – you get a USB cable, a 2A charger plug and a SIM ejection tool. While there are no headphones bundled in this version, we find the contents enough for a budget smartphone.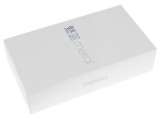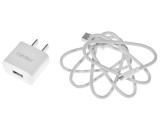 The retail package
Meizu m1 metal 360-degree spin
The Meizu m1 metal's footprint is the same as the m1 note's – it spreads at 150.7 x 75.3 x 8.2mm, but it weighs 17g more for a total weight of 162 g. It seems the new premium material is the one contributing to the few extra grams.
Design and build quality
Meizu m1 metal, as the name suggests, is made of metal but it's not the same kind of alloy used on the MX5 and Pro 5. The m1 metal uses a traditional aluminum alloy, which has been die-casted with the so-called crystal metal – it's an alloy with traces of rare earth elements such as titanium and cobalt.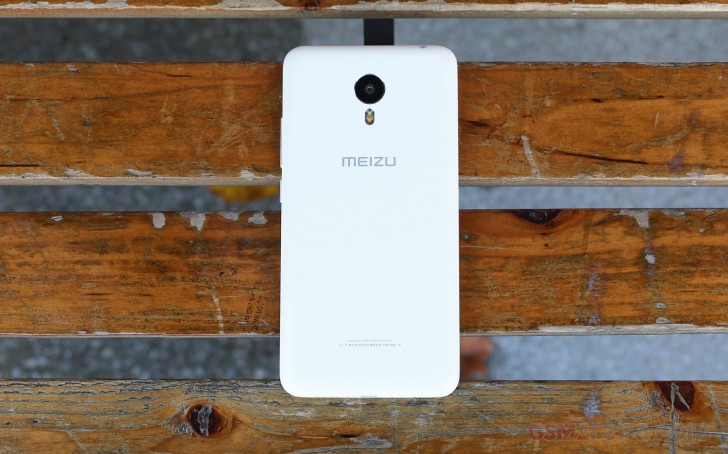 On paper this sounds great but in reality it isn't what you'd expect. The entire rear feels and looks more like a big piece of matte plastic with a glimmery paintjob with a pearl-like finish rather than anything close to metal. You can easily spot the polished chamfered edges around the front glass, which suggest a metal piece but that's it.
The good news, while it may not feel like metal, it does look like it and it's enough to give any piece of plastic a run for its money, which was the whole point of this exercise.
The pearl-like finish on the back shell shines in a slightly different hue under different light, which is a real looks booster.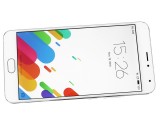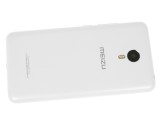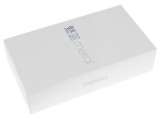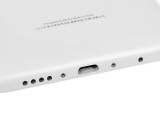 Meizu m1 metal
We don't know if this material was cheap or not, but no matter it doesn't feel much like metal, it does fulfill its purpose of a premium build and high-end looks.
The lack of antenna strips around the back, as it was the case with previous metal Meizus (MX5, Pro 5), suggests the alloy doesn't obstruct the Wi-Fi/cellular signal. We tried to determine if it was weaker than, say Pro 5, but we found both phones to hold the same level of signal.
Otherwise the Meizu m1 metal is quite a familiar deal – its entire front is shielded by a Dinorex T2X-1 glass with a curved 2.5D effect around the edges. The NEG's Dinorex T2X-1 glass is both scratch and shock resistant.
There is also the latest version of the mTouch combo key (2.1), a signature feature of the few recent Meizu models – it's a regular push key combined with a touch key and a fingerprint scanner.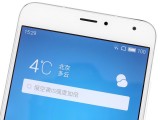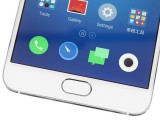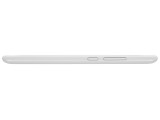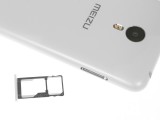 Meizu m1 metal
Handling the Meizu m1 metal is a pleasurable task – the shell materials provide for an excellent grip, the chamfered edges too. One-handed operations are a tough job, but there are lots of software optimizations to make this possible. And while a 5.5″ isn't exactly a pocket-friendly size, the m1 metal's thin profile and rounded edges makes it very easy to slip in any pocket.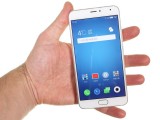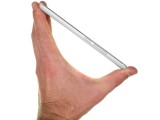 Handling the m1 metal
Controls
Now that we are done with the interesting stuff from our tour, it's time for the trivia. The front of the m1 metal has the earpiece, the 5MP selfie snapper and a couple of sensors above the display and the mTouch key below. We really like Meizu's implementation of the Home key and its all-in-one functionality, though it does take some getting used to.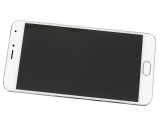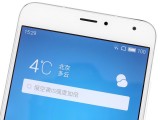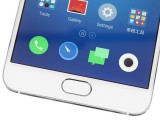 The front of m1 metal
The left side is where the ejectable SIM/microSD tray is, while the right has the volume rocker and the power/lock key.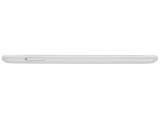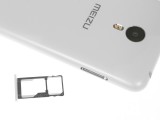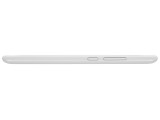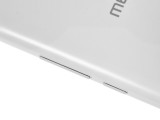 The sides of the m1 metal
The top of the m1 metal houses the audio jack and the second mic, while the bottom is pretty crowded with the microUSB port, the primary mic, the loudspeaker grille and some screws.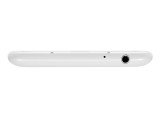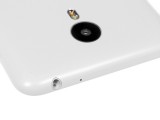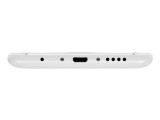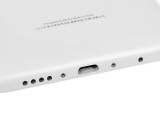 A peek over the top and bottom
Finally, the 13MP camera is lying flat on the back, accompanied by the dual-tone LED flash.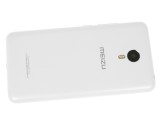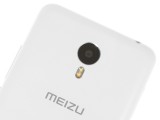 What's on the back
3. Display, battery life, connectivity
Display
The display of the Meizu m1 metal employs a 5.5″ LTPS IPS LCD panel of 1080p resolution. The colors are nicely saturated and the viewing angles are very good.
The high resolution is definitely a treat for the price and more than sufficient at 1080p. 403ppi is sharp enough and you wouldn't really tell the difference to any QHD screen on the market unless you're looking at some really small fonts. Here's the m1 metal display matrix – it has a standard RGB arrangement.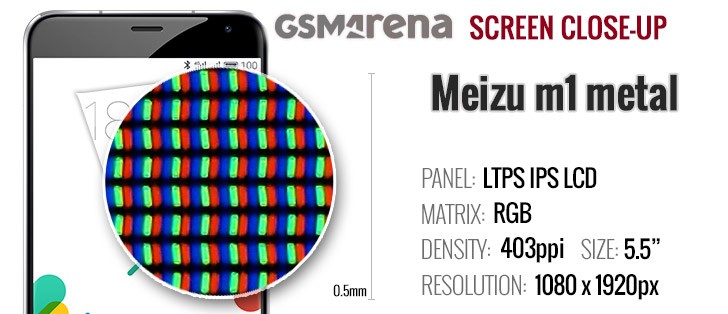 In terms of maximum brightness (390nits), the Meizu m1 metal screen surely won't win any awards. In this respect it scored way lower than the Meizu m1 note (562nits) and the Meizu m2 note (473nits). Its black levels are not as good as those two either and in the end, the m1 metal posted an underwhelming contrast ratio of 780:1.
In terms of color rendering, the Meizu m1 metal scored well with a DeltaE of 4.6 and a maximum deviation of 9.6 in the whites. The color saturation however wasn't anything close to uniform so some colors are off, while others are remarkably on the spot.
By using the provided screen Color temperature slider we were able to achieve a slightly more accurate rendition by sliding it off to the warmer side and we got out an Average DeltaE of 3.2 (7.4 for white). Tip: If all colors were below 3 we would have considered the display to be perfectly color accurate.
The minimum display brightness of the Meizu m1 metal is 4nits, which is about what we would consider as comfortable to operate in dark environment without straining your eyes, though even lower would have been better.
Display test
50% brightness
100% brightness
Black, cd/m2
White, cd/m2
Contrast ratio
Black, cd/m2
White, cd/m2
Contrast ratio
Meizu m1 metal
0.08
54
720
0.50
390
780
Meizu m1 note
–
–
–
0.65
562
867
Meizu MX5
0.00
117
∞
0
346.00
∞
Xiaomi Mi 4i
0.15
161
1063
0.51
542
1055
Xiaomi Mi 4c
0.08
121
1613
0.28
452
1609
Sony Xperia M5
0.08
110
1392
0.63
527
839
Samsung Galaxy S5
0.00
274
∞
0.00
529
∞
Xiaomi Redmi Note 2
0.17
162
953
0.492
467.00
953
Lenovo K3 Note
0.13
230
1742
0.24
432
1793
OnePlus X
0.00
175
∞
0.00
340
∞
Outdoors, the Meizu m1 metal is an above average performer in terms of sunlight legibility. The glass on top of the display is reflective, but most of the time you'll have no problem seeing what's happening on the screen.
Sunlight contrast ratio
Nokia 808 PureView : 

4.698

BlackBerry Z30 : 

2.79

Sony Xperia Z5 compact : 

2.784

Meizu MX4 Pro : 

2.765

LG V10 : 

2.744

Sony Xperia M5 : 

2.690

Meizu m1 metal : 

2.675

Sony Xperia ZR : 

2.672

Huawei Ascend P1 : 

2.655

Xiaomi Mi 4i : 

2.641

Sony Xperia Z3 : 

2.618

Sony Xperia Z3 Compact : 

2.616

Samsung Galaxy mini 2 : 

1.114
Battery life
The Meizu m1 metal is powered by a 3,140mAh battery. In our proprietary battery test, the phone managed to score an above average rating of 61 hours of battery life. It posted very solid numbers in the 3G call test, web browser endurance and video playback, while the stand-by performance is only average (about a week). This means the Meizu m1 note will last two and a half days, if you do an hour each of calling, web browsing and video playback daily.
Opting to put a second SIM slot reduces the standby time by half a day, which took just an hour from the final endurance rating.
The m1 note offers three battery modes – power-saving (four CPU cores only), balanced (six CPU cores) and performance (access to all eight CPU cores). We tested it at Performance mode and Balanced modes (the results are very similar), so you may be able to squeeze even more from the battery, when the m1 metal is set on Power-Saving mode.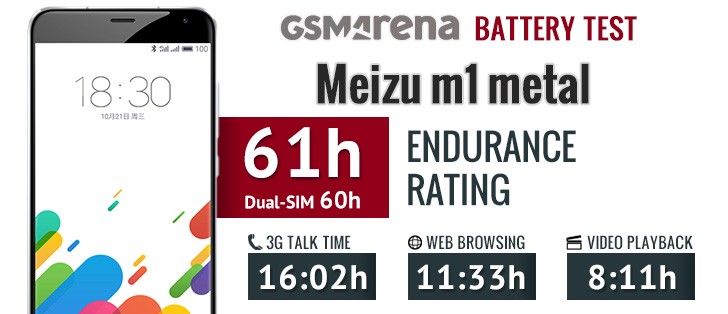 Our proprietary rating denotes the number of hours the phone will be operational if you are to make an hour of 3G talks, web browsing and video playback per day. Such usage pattern is of course entirely artificial, but we've established it so our battery results are comparable across devices.
The battery testing procedure is described in detail in case you're interested in the nitty-gritties. You can also check out our complete battery test table, where you can see how all of the smartphones we've tested will compare under your own typical use.
Connectivity
The Meizu m1 metal comes with tri-band 2G/GPRS/EDGE support, tri-band 3G with HSDPA and HSUPA, as well as Cat.4 LTE support. It's compatible with more bands than m1 note, but not the m2 note.
The m1 metal has dual-SIM, dual-standby functionality – 3G and LTE are supported only on SIM1, while SIM2 can tap into 2G GSM networks only. You can put a microSD memory card inside the second SIM slot.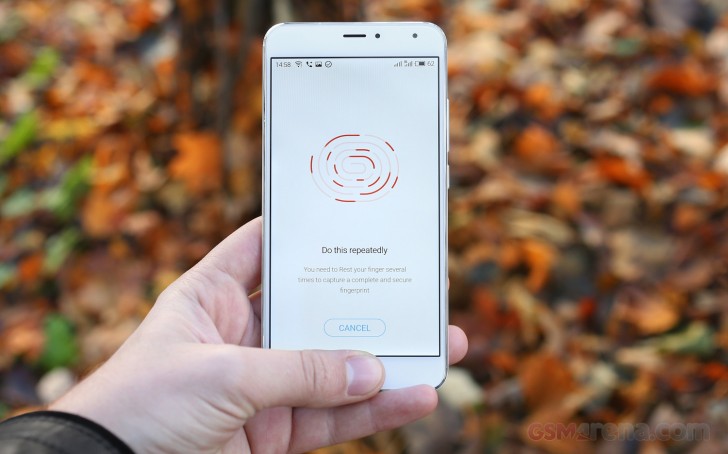 The m1 metal has dual-band Wi-Fi a/b/g/n/ac with DLNA, so you can play media (photos, videos, music) from DLNA-enabled devices or push content from your phone to a DLNA-compatible TV or music player.
Bluetooth 4.1 is also enabled, complete with A2DP.
The microUSB 2.0 port supports USB host so you can attach USB flash drives or connect peripherals.
You can also stream your display via the Wireless Display feature (Miracast).
GPS, GLONASS, BDS support is available. There is however no FM Radio, IR port or NFC on the Meizu m1 metal, there is no wired TV-out option either.
4. Software overview
Lollipop-based Yun OS with Flyme 5.1
The Meizu m1 metal is the first smartphone to run on the new Flyme 5.1 launcher, but it sits on top of a slightly different version of Android as we know it – it's the so-called Yun OS.
Yun OS is a forked version of Android open source code project (Android 5.1.1 Lollipop in this case) and it's developed by the Chinese e-commerce group Alibaba. Yun OS can't be officially called Android, as it lacks lots of Google's APIs (not to mention the Google Play Services) so it doesn't meet the requirements of the Android compatibility program.
Yun OS was developed exclusively for the Chinese market and it comes pre-isntalled only on the Chinese Meizu Blue Charm Metal smartphone. Once m1 metal launches internationally, it will have regular Android 5.1.1 Lollipop on board along with the Flyme OS 5.1 launcher intended for the international market.
Yun OS relies on a proprietary Maps and Navigation suite, very similar to Google Maps. It also has its own App Center and Game Center for purchasing apps and games. The Flyme 5.1 launcher should be identical with the one you are about to read below, sans the Chinese services and apps.
In case you're wondering, our Chinese unit had Google Play Services sideloaded by the online retailer who supplied it.
Yun OS aside, this is the first time we see v.5.x of the Flyme OS interface. Flyme 5 isn't a departure from the current Flyme 4.5 styling, but rather an incremental upgrade with under-the-hood optimizations and more polished looks.
The novelties include mostly optimizations such as improved battery life and stability, as well as reportedly improved performance. Of course, there are some noticeable changes in the looks of the default apps too – mostly flattened looks and simplified color palette. Flyme OS 5 also introduces some new default apps and settings, but we'll talk more about those in a minute.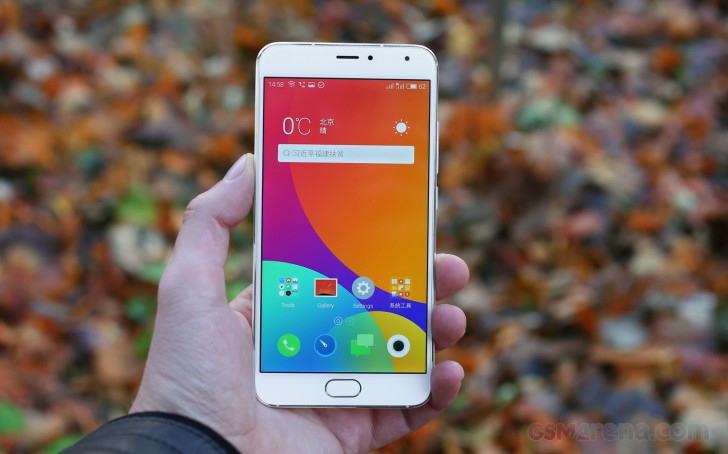 The review unit supplied to us had fully functional Google Play Services and we had no issues with the integration of Google's services. The Chinese units come without Play Services, but Meizu provides alternative Maps, Mail, Store and Games apps and stores, but you better brush up on your Chinese if you intend to use those.
The Flyme OS 5 lockscreen is a pretty simple affair – you drag upwards to unlock and have the option of securing it with a passcode or an unlock pattern (or the fingerprint reader). There are no shortcuts on the lockscreen, but you get a quick access to the camera.
Gesture wake up is available – you can use pre-defined gestures to launch different apps while your phone is asleep – double tap to wake and swipe to unlock work by default, but you can also use swipe down, or other gestures such as Z, M, U, W, among others to launch apps of your choosing.
Holding down the home button will launch Meizu's Voice Search, but you can change this quick action if you want.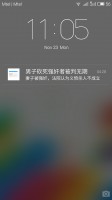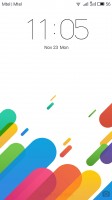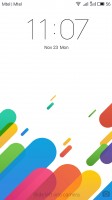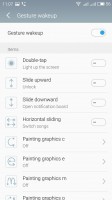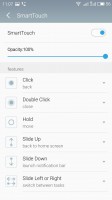 Lockscreen • Configuring gestures wakeup
The homescreen is simple – you get two panes by default but you can add more later on. The homescreen gathers all of your app icons and you can add widgets into the mix.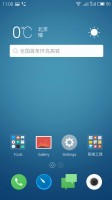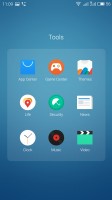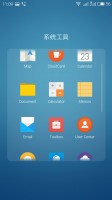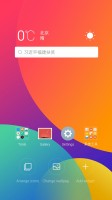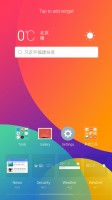 Homescreen • Organizing the homescreen
The notification area pulls down the whole way. You get a set of five circular toggles for various settings and you can expand them with a swipe down or with the dedicated virtual button in the top right.
The rest of the notification area is a basic list or expandable, actionable notifications.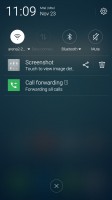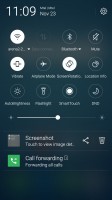 Notification area
Switching between tasks is done with a pull up menu from the bottom of the screen. The task switcher has been completely overhauled in Flyme 5 – it's now a 3D scrollable carousel and there is an option to close all active/suspended apps. Finally! The option to pin an app (tap and hold) is here to stay – the pinned app will stay always in recent apps at the state you closed it.
Flyme 5 supports multi-view, which is also managed via the task switching interface. The supported apps have a 'Multi' button and you can activated a split-screen app right away. Unfortunately the apps to support multi-view are only four – News, Video, Documents and Smart Voice. Hopefully this list will grow bigger with the upcoming firmware updates.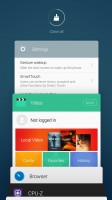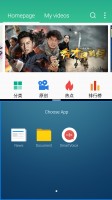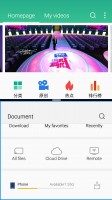 Task switcher • Multi-window
You can customize the UI with various themes. There are some preloaded but you can browse the App Center for more – some of them are paid but there are many free and a lot to choose from. There's also a variety of built in wallpapers.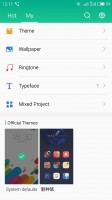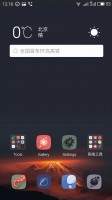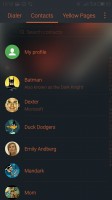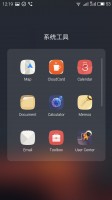 Themes
There's a Do Not Disturb mode that will block notifications and calls and you can choose a white list of numbers that can get through. It can be scheduled to run at specific time intervals or be set manually.
There is one more option – Scheduled Power On and Off – you can setup your Meizu m1 metal to shut down and boot up at a specific time on specific week days – just like alarms.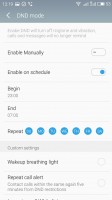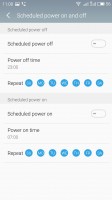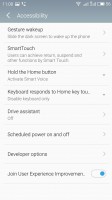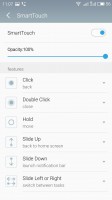 DND mode • Scheduled power on and power off • Smart Touch
The m1 metal is a rather big device and Meizu provides a very clever way for single-handed operations with the so-called Smart Touch. It's a movable virtual 4-way key, like a D-Pad, and you can assign functionalities to each of the directions, tap and hold, tap, and double tap. For example, moving the key downwards brings down the notification area, moving it towards right acts as Back. If configured properly, it can very much allow you to control the metal with just one hand, while you are on the move.
Flyme OS can be tough to get around at first but once you've gotten your bearings it becomes a treat to work with. Meizu is keeping things as simple as possible and everything works seamlessly without any hiccups.
5. Performance
Meizu m1 metal joins the growing list of phones powered by the MediaTek's MT6795 chipset, also known as Helio X10. Unlike the name suggests, the processor is an octa-core 2GHz Cortex-A53, accompanied by a PowerVR G6200 (Rogue) GPU and 2GB of RAM.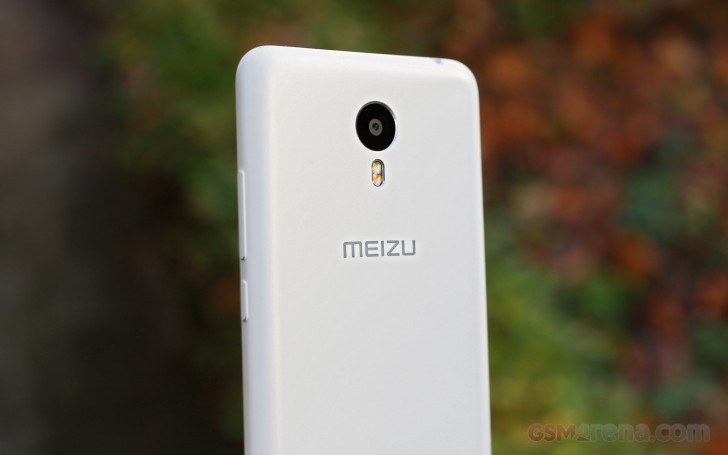 The Meizu MX5, Xiaomi Redmi Note 2, Sony Xperia M5 and HTC One E9+ are the other devices we've met so far that utilize the same chipset.
GeekBench 3 gauges the multi-core performance of the processor and the Meizu m1 metal is doing flawless, as expected.
GeekBench 3
Higher is better
Meizu MX5 : 

5110

Meizu m1 metal : 

4825

HTC One E9+ : 

4796

Xiaomi Redmi Note 2 : 

4589

Lenovo K3 Note : 

4067

Meizu m1 note : 

3988

Sony Xperia M5 Dual : 

3554

Xiaomi Mi 4c : 

3321

Samsung Galaxy S5 : 

3120

Sony Xperia M4 Aqua : 

2375

Xiaomi Mi 4i : 

2336

OnePlus X : 

2297
The compound AnTuTu 5 test puts the Meizu m1 metal on par with its MX5 sibling and ahead of the Redmi Note 2 and Xperia M5 (also Helio X10 competition).
AnTuTu 5
Higher is better
Xiaomi Mi 4c : 

50875

HTC One E9+ : 

50753

Meizu m1 metal : 

49508

Meizu MX5 : 

48915

Xiaomi Redmi Note 2 : 

46307

Lenovo K3 Note : 

46283

Samsung Galaxy S5 : 

45348

OnePlus X : 

39990

Meizu m1 note : 

39224

Sony Xperia M5 Dual : 

38786

Xiaomi Mi 4i : 

34491

Sony Xperia M4 Aqua : 

32217
BaseMark II 2.0 calculates CPU, GPU, memory, OS and web performance and puts in into a single score. The m1 note is behind its Helio X10 siblings – the MX5 and One E9+, but on par with the Redmi Note 2 and beats the Xperia M5. It seems the software optimizations have a lot to do with the score. We made sure we opted for the Performance Power Mode.
Basemark OS 2.0
Higher is better
Meizu MX5 : 

1252

Xiaomi Mi 4c : 

1233

HTC One E9+ : 

1227

OnePlus X : 

1213

Samsung Galaxy S5 : 

1160

Xiaomi Redmi Note 2 : 

1063

Meizu m1 metal : 

1039

Lenovo K3 Note : 

984

Meizu m1 note : 

880

Sony Xperia M5 Dual : 

860

Sony Xperia M4 Aqua : 

858

Xiaomi Mi 4i : 

296
Oddly the single and multi-core results in BaseMark OS II 2.0 turned out lower than expected and noticeably behind the rest of the Helio X10 gang.
Basemark OS 2.0 (single-core)
Higher is better
Xiaomi Mi 4c : 

5739

Samsung Galaxy S5 : 

5557

OnePlus X : 

5118

HTC One E9+ : 

3444

Xiaomi Redmi Note 2 : 

3434

Meizu MX5 : 

3262

Xiaomi Mi 4i : 

3008

Lenovo K3 Note : 

2990

Sony Xperia M4 Aqua : 

2628

Meizu m1 note : 

2617

Meizu m1 metal : 

2439

Sony Xperia M5 Dual : 

2065
Basemark OS 2.0 (multi-core)
Higher is better
HTC One E9+ : 

28201

Lenovo K3 Note : 

24538

Meizu MX5 : 

22976

Xiaomi Redmi Note 2 : 

21516

Samsung Galaxy S5 : 

19237

Meizu m1 metal : 

17481

OnePlus X : 

16983

Meizu m1 note : 

14565

Xiaomi Mi 4c : 

14276

Xiaomi Mi 4i : 

13521

Sony Xperia M4 Aqua : 

13167

Sony Xperia M5 Dual : 

7891
PowerVR G6200 GPU is perfectly capable of handling 1080p displays. Its raw offscreen performance is better than the widespread Adreno 405 within the Snapdragon 615, so we guess the Helio X10 is the smarter choice for the 1080p upper mid-rangers. The only threat comes from the Snapdragon 808's Adreno 418 (Xiaomi Mi 4c), which seems to be the better performer.
GFX 3.0 Manhattan (1080p offscreen)
Higher is better
Xiaomi Mi 4c : 

15

Samsung Galaxy S5 : 

12

Meizu MX5 : 

10

OnePlus X : 

9.9

Xiaomi Redmi Note 2 : 

8.5

Meizu m1 metal : 

8.4

Sony Xperia M5 Dual : 

8.4

HTC One E9+ : 

6.6

Xiaomi Mi 4i : 

6.2

Lenovo K3 Note : 

6.1

Sony Xperia M4 Aqua : 

5.84

Meizu m1 note : 

5.8
GFX 3.0 Manhattan (onscreen)
Higher is better
Xiaomi Mi 4c : 

15

Sony Xperia M4 Aqua : 

12.2

Samsung Galaxy S5 : 

12

OnePlus X : 

10

Meizu MX5 : 

9.5

Sony Xperia M5 Dual : 

8.7

Meizu m1 metal : 

8

Xiaomi Redmi Note 2 : 

7.9

Xiaomi Mi 4i : 

6.2

Lenovo K3 Note : 

6.1

Meizu m1 note : 

5.7

HTC One E9+ : 

5.4
GFX 3.1 Manhattan (1080p offscreen)
Higher is better
Xiaomi Mi 4c : 

10

Meizu MX5 : 

4.8

Sony Xperia M5 Dual : 

4.5

Meizu m1 metal : 

4

Xiaomi Redmi Note 2 : 

4

Lenovo K3 Note : 

2.9
GFX 3.1 Manhattan (onscreen)
Higher is better
Xiaomi Mi 4c : 

9.7

Sony Xperia M5 Dual : 

4.9

Meizu MX5 : 

4.7

Meizu m1 metal : 

3.9

Xiaomi Redmi Note 2 : 

3.9

Lenovo K3 Note : 

2.9
BaseMark X GPU test oddly puts the metal's GPU somewhat behind its siblings.
Basemark X
Higher is better
Xiaomi Mi 4c : 

12096

Samsung Galaxy S5 : 

11798

OnePlus X : 

10572

Meizu MX5 : 

10403

HTC One E9+ : 

9639

Meizu m1 metal : 

8526

Xiaomi Redmi Note 2 : 

8518

Sony Xperia M5 Dual : 

7780

Lenovo K3 Note : 

5656

Sony Xperia M4 Aqua : 

5105

Xiaomi Mi 4i : 

4875

Meizu m1 note : 

4617
The MX web browser got some performance and stability improvements with the Flyme 5 upgrade and now it's quite fast. The m1 metal scored a very good mark on the JavaScript Kraken benchmark, and on the compound BrowserMark test.
Kraken 1.1
Lower is better
Xiaomi Mi 4c : 

4506

Samsung Galaxy S5 : 

5968

OnePlus X : 

7295

Xiaomi Redmi Note 2 : 

9504

Lenovo K3 Note : 

10712

Meizu MX5 : 

11414

Xiaomi Mi 4i : 

11439

Meizu m1 metal : 

11887

Sony Xperia M4 Aqua : 

13609

Meizu m1 note : 

15055

HTC One E9+ : 

17430

Sony Xperia M5 Dual : 

25088
BrowserMark 2.1
Higher is better
Xiaomi Mi 4c : 

2113

Samsung Galaxy S5 : 

2066

Lenovo K3 Note : 

1554

Meizu m1 metal : 

1548

Xiaomi Redmi Note 2 : 

1505

Meizu MX5 : 

1471

OnePlus X : 

1406

Xiaomi Mi 4i : 

1396

HTC One E9+ : 

1279

Sony Xperia M5 Dual : 

1203

Sony Xperia M4 Aqua : 

1171

Meizu m1 note : 

536
The Helio X10 inside the Meizu m1 metal is an absolute treat for such an affordable device and a real powerhouse. There is nothing the Helio X10 can't handle on the m1 metal's 1080p display and we are sure the Meizu fans will appreciate the choice of platform and all the software optimizations the company has done on the Flyme 5 launcher.
6. Telephony, messaging, multimedia
Telephony
At its core, the phonebook on the Meizu m1 metal is a list of all contacts but you can view only a specific group or filter where contracts come from – phone contacts, email account or a Meizu account.
You can't add Facebook or Twitter or any social network out of the box. Installing the Facebook or Twitter app will allow you to sync your contacts from there. You can link contacts, but the functionality is annoyingly limited.
The dialer features smart dialing, which is nice. Otherwise it doesn't differ from any other in functionality.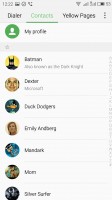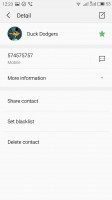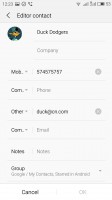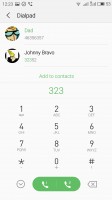 Phonebook • The dialer
The Meizu m1 metal has all reception bars full and held onto signal great even in tighter spots. Call quality is very good. A dedicated mic for active noise cancellation makes sure the other party hears you loud and clear.
The phone supports dual-SIM with dual-standby. The second SIM supports GSM networks only, while the primary works on 3G and LTE. Managing the SIM cards is very easy as is initiating calls and sending texts.
The Meizu m1 metal scored a Good mark at our loudspeaker test. The speaker sound quality is very good for a single-speaker setup with deep sound.
| | | | | |
| --- | --- | --- | --- | --- |
| Speakerphone test | Voice, dB | Pink noise/ Music, dB | Ringing phone, dB | Overall score |
| Xiaomi Mi 4i | 63.7 | 65.7 | 68.0 | Below Average |
| OnePlus X | 65.9 | 66.3 | 70.7 | Average |
| Meizu Pro 5 | 67.7 | 66.6 | 68.7 | Average |
| Xiaomi Redmi Note 2 | 66.1 | 66.0 | 76.0 | Good |
| Meizu m1 metal | 68.3 | 66.6 | 73.7 | Good |
| Lenovo K3 Note | 65.7 | 66.6 | 76.5 | Good |
| Meizu m1 note | 67.7 | 66.2 | 75.7 | Good |
| Xiaomi Mi 4c | 73.2 | 66.6 | 77.5 | Good |
| Xiaomi Redmi 2 | 70.8 | 70.9 | 77.4 | Very Good |
| Meizu MX5 | 75.7 | 73.5 | 79.5 | Excellent |
Messaging
The messaging department is quite straightforward: there are no folders here, just New message, Search and Settings buttons. Above is a list of all your messages organized into threads.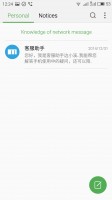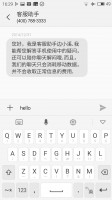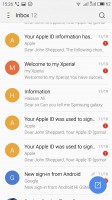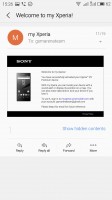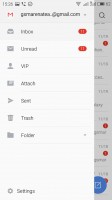 Messenger • Email
Meizu has tweaked the generic email client. It supports multiple Exchange, POP or IMAP inboxes and you have access to the original folders that are created online, side by side with the standard local ones such as inbox, drafts and sent items.
The gallery
The Flyme gallery has two viewing modes – photo and gallery. The photo stacks images into months while the gallery puts them into folders. You can add or remove folders from the gallery and also search through it.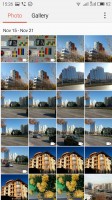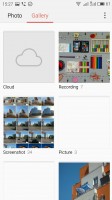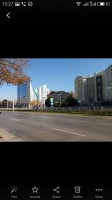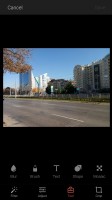 Gallery • Editing an image
There's also a built-in editor that offers filters and all the basic controls for contrast, brightness and you can even add blur or vignette. You cannot use different editors from the stock gallery and would need to install a third-party gallery (like Google's Photos) to have different editors.
Music player
The music player can only find tracks located in the Music folder. You can browse your collection the traditional way or you can select to have it filtered by folders.
In the first case tracks are sorted into several playlists like All songs, Recently added, Folders and you have the option to create custom playlists. When viewing All songs you can choose between three types of sorting in a tabbed layout: song name, artist and album.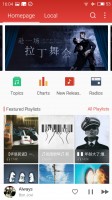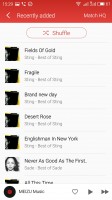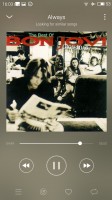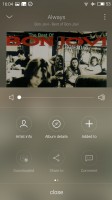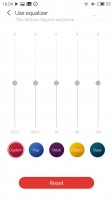 Music player • Equalizers
You can access the equalizer from the advanced menu. It features several presets, which you can edit manually – but you need to insert the headphones first.
Great video player
The Meizu m1 metal comes with a dedicated Video app, but it expects videos to be placed in the video folder. You can use the file browser or gallery to get videos to play from elsewhere – it offers thumbnails and everything so we ended up using it more often than the Video app itself.
There's a pop-out option that allows you to view the video as an overlay to the OS.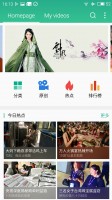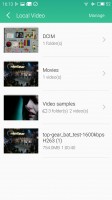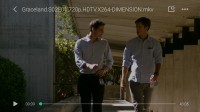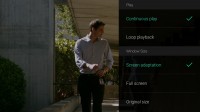 Video player • Pop-out view
The Meizu m1 metal played everything we threw at it – Xvid, DivX, MP4, MOV, WMV and it supports the AC3 audio codec, too. Subtitles are supported, but it recognizes only Latin and Chinese characters.
Audio output is very clean, decently loud
The Meizu m1 metal started off very well in our audio quality test. When connected to an active external amplifier, the smartphone showed average volume levels and excellently clean output for one of the better showings out there.
There's little distortion when you plug in a pair of headphones too, which is quiet impressive for the price range. Stereo crosstalk rises a moderate amount but the other readings remain as good as they were and loudness stays unchanged. All in all a very solid performance by the Meizu smartphone.
| | | | | | | |
| --- | --- | --- | --- | --- | --- | --- |
| Test | Frequency response | Noise level | Dynamic range | THD | IMD + Noise | Stereo crosstalk |
| Meizu m1 metal | +0.02, -0.12 | -93.6 | 93.5 | 0.0016 | 0.0068 | -93.9 |
| Meizu m1 metal (headphones attached) | +0.03, -0.16 | -93.2 | 93.2 | 0.0042 | 0.056 | -58.9 |
| Meizu m2 note | +0.08, -0.05 | -93.1 | 92.7 | 0.0079 | 0.013 | -92.4 |
| Meizu m2 note (headphones attached) | +0.40, -0.62 | -86.9 | 88.0 | 0.145 | 0.529 | -50.8 |
| Oppo R1x | +0.01, -0.04 | -93.5 | 92.9 | 0.0010 | 0.400 | -94.7 |
| Oppo R1x (headphones attached) | +0.22, -0.03 | -92.6 | 90.4 | 0.0029 | 1.144 | -69.8 |
| Motorola Moto E (2015) | +0.02 -0.06 | -90.8 | 91.1 | 0.0026 | 0.097 | -90.9 |
| Motorola Moto E (2015) (headphones attached) | +0.05, -0.06 | -90.2 | 90.7 | 0.0029 | 0.063 | -51.4 |
| Xiaomi Redmi 2 | +0.06, -0.04 | -94.8 | 95.9 | 0.026 | 0.016 | -95.8 |
| Xiaomi Redmi 2 (headphones attached) | +0.04, -0.06 | -94.0 | 91.0 | 0.039 | 0.053 | -70.0 |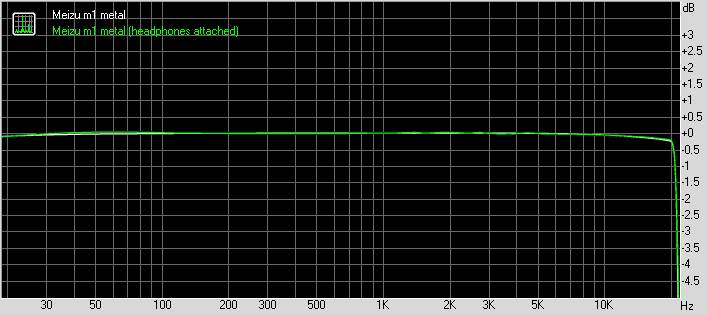 Meizu m1 metal frequency response
7. Camera
Capable 13MP camera with a dual-tone LED flash
The Meizu m1 metal has a 13MP camera sensor that's capable of capturing 4208x3120px snaps in 4:3 aspect. There's also a dual-tone LED flash that should allow for more pleasing colors in low light flash photos.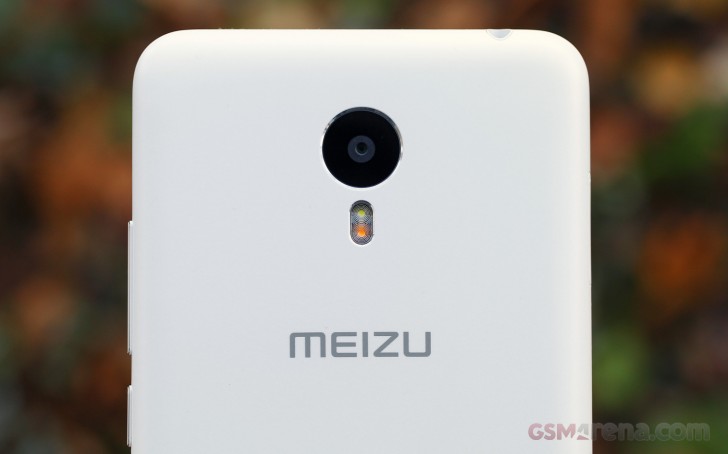 The camera interface by default launches into Auto mode where the camera determines the shooting parameters. You have the option to turn on HDR (but no automatic HDR), gridlines for the viewfinder and a level gauge so that your horizon isn't off tilt. There's also an option to enable a timer of either 3, 5 or 10 seconds.
Available shooting modes include Auto, Manual (where you can set the shutter speed, ISO, exposure compensation and even the focus – from macro to infinity), Beauty (which can make eyes bigger, face slimmer, skin smoother and lighter), Panorama, Light field (which is Meizu's refocus app allowing you to defocus any part of the scene), Scan (for QR and barcodes), and Slowmotion.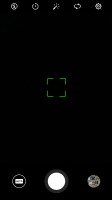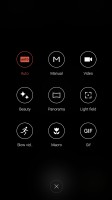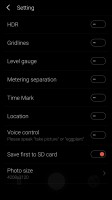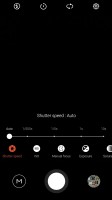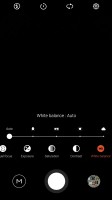 Camera • Manual mode
We find the 13MP shots that the Meizu m1 metal snaps to be subpar. The resolved detail is compromised by a blurry spot here and there and the high levels of noise. Sometimes we needed to focus manually because the autofocus failed to do a proper job.
On the positive side, the dynamic range is OK and the colors, contrast and white balance were quite accurate.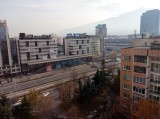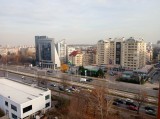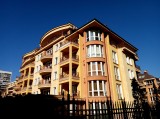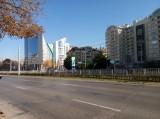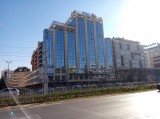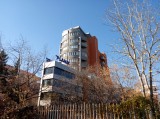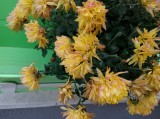 Meizu m1 metal camera samples
The HDR mode is meant to get a more even exposure of a scene – bringing back detail in the highlights and the shadows. On the Meizu m1 metal it does a very good job of bringing back detail in both and sometimes even produces more accurate colors than the Auto mode.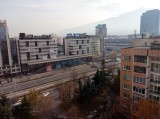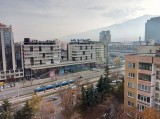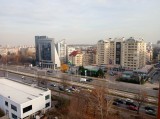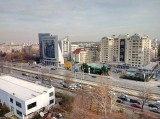 HDR Off • HDR On • HDR Off • HDR On
Panoramas aren't too impressive on the Meizu m1 metal. There is plenty of resolution and good overall exposure but the resolved detail is far too low.

Meizu m1 metal panorama sample (5000 x 2400 px)
Finally, you can check out an 8MP image taken with the front-facing camera of the device. It doesn't shine with too much detail but it would do a great job for selfies.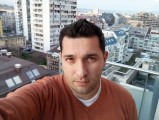 Front-facing camera sample
1080p video recording at 30 fps
The Meizu m1 metal shoots videos up to 1080p resolution at 30fps. There's no 60fps smooth motion option but you do get a 720p@100fps slow motion shooting mode that is rendered for playback as a slow motion 25fps video.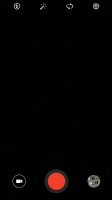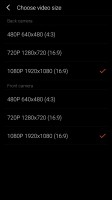 Camcorder UI
All videos from m1 metal camera are stored in MP4 containers, the video bitrate is about 17Mpbs and the framerate is stable. This time around the audio is stereo – it uses an AAC codec with 128 Kbps bitrate and 48 KHz sampling.
Framerate stays firmly at 30fps and we got almost no dropped frames.
The resolved detail is quite poor though, the additive noise is once again getting in the way and makes the samples unpleasantly grainy. We noticed some oscillation on the videos as well, which just add to the overall poor quality. Here is sample we've uploaded on YouTube.
8. App package
The MX browser
The web browser interface utilizes almost the entire screen real estate to the web page, save for the status bar on top and a tiny bar on the bottom for Refresh, Tabs and Bookmarks. Choosing Tabs opens a quick pop up preview of your open tabs instead of bringing up an entirely new screen, which is great as it still leaves the website your on in plain view.
The browser supports double tap and pinch zooming. It's really fast and fluid too. There are also goodies like text reflow or sharing an URL over email or SMS.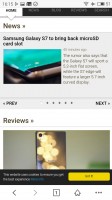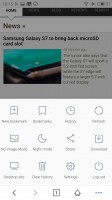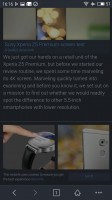 MX Browser
There's even a Reading mode and our favorite Night mode, which inverts the background and text colors and makes it really easy to read at night.
Other apps
The Meizu m1 metal features a calendar that supports multiple online accounts. It offers monthly, weekly, daily and agenda views and is pretty straightforward to work with. Creating a new event lets you set which calendar to store it in, along with a reminder.
The Calendar has a very minimal, clean look but retains all the functionality you'd expect. You can also go for the Google Calendar – it's available for download as a separate app from the Play Store.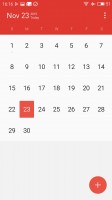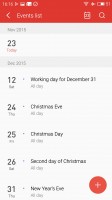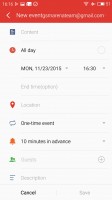 Calendar
Moving on, we have the Clock app that will handle multiple alarms with custom repeat times, ringtones, snooze time and labels. There are also a stopwatch and timer integrated within the Clock app.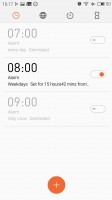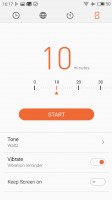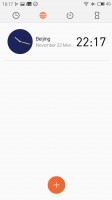 Clock
A calculator app is also on board. Interestingly you can use it as am pop-up app over the homescreen and other apps, such as MX browser. It offers a currency, length, weight and volume converter, too.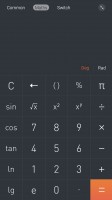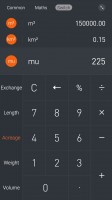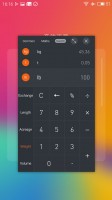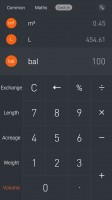 Calculator
There is a very helpful Toolbox app, which provides a flashlight, a mirror, compass, level, ruler and magnifying functions.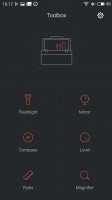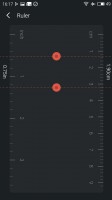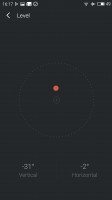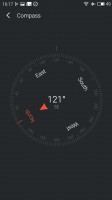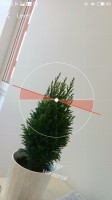 Toolbox
The Memos app is clean and simple. You can add notes, images and even check lists into it. The Painter app will let you paint with a number of virtual tools, choosing different colors.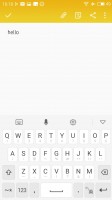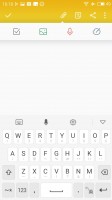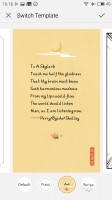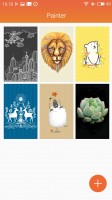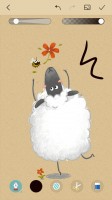 Memos • Painter
The App Center works with only Chinese content but you can still use it, if you can read Chinese, that is. Thankfully, the Google Play store came preinstalled on our device so we got our apps from there.
The preinstalled file manager lets you browse through the memory of the Meizu m1 metal or through Recent, or through different media types – music, videos, pictures, etc. It allows copy, cut and paste and also sharing of files on your device.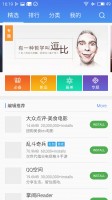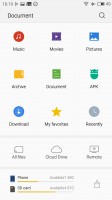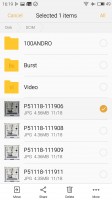 App center • File manager
Perhaps the highlight of Meizu's homebrewed apps is the Security app. It lets you scan for viruses, clean junk files, keep an eye on your large files, manage your data traffic, and most importantly – control the permissions for each app you install.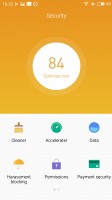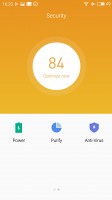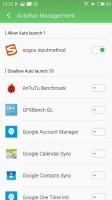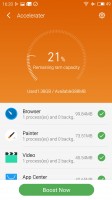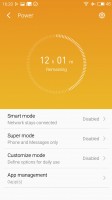 Security app
Finally, there is a News app, which aggregates stories from sources by your choosing. It's highly customizable and is able to give you push notifications of stories as they are coming.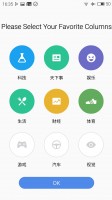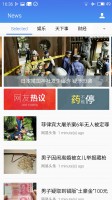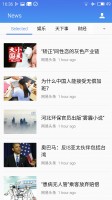 News app
9. Conclusion
Final words
Meizu m1 metal gets a few things right – the premium design, a big high-res screen, snappy performance and a bargain price tag. And that's enough for the fans to love it, and we are sure many people are already eyeing it for the upcoming holiday season.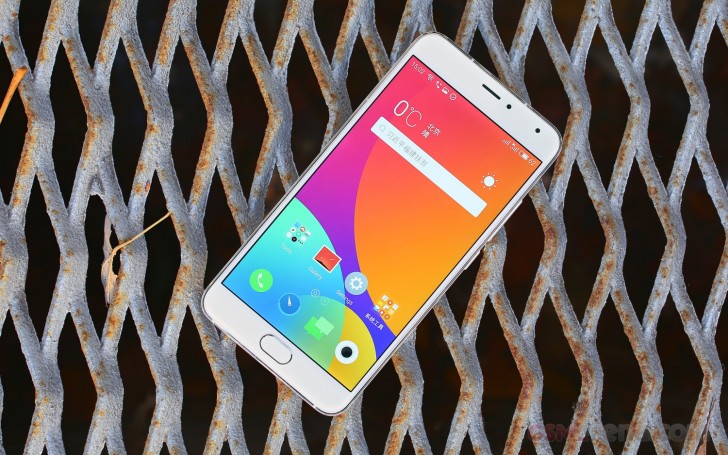 The Chinese mid-rangers have redefined the mid-range segment during the last couple of years and are forcing the major manufacturers to rethink and reinvent their mainstream lineups. Companies like Meizu, Xiaomi, Oppo, and even OnePlus, are making a clear statement that you can get better value for your money and the competition had to run with the new rules of the game.
Meizu m1 metal key test findings
The Meizu m1 metal offers great build quality and solid construction, though its back shell doesn't feel metal on touch. The curved 2.5D front glass edges are nice;
mTouch home button is the most practical home button we've seen – accepting fingerprint reading, presses and taps though it needs some time getting used to;
The screen is a mixed bag – below average brightness levels produce uninspiring contrast ratio but color rendition is good. Viewing angles and sunlight legibility are good as well;
The battery endurance rating of 61h is slightly above average, the scores across all tests are very good, but the standby endurance is average;
Flyme OS is fluid and responsive, unlocking gestures are just as good here, mTouch button has some great added functionality (closing apps, going into previous menu). Great customization options via themes;
Using Yun OS in the Western world doesn't see to pose any limitations as long as you have the Google Services sideloaded additionally;
The Helio X10 chipset offers flagship performance inside a mid-ranger, which should please even the most power-hungry users;
Video player has rich video and audio codec support;
Audio output is very clean, decently loud;
Subpar still camera performance – good dynamic range and colors, but poor resolved detail, lots of noise, soft corners and over-sharpening plague all photos;
Disappointing panoramic images, unimpressive selfies;
The 1080p videos came out with uninspiring detail and bitrate, over-sharpened and with visible oscillations.
Sure, Meizu has cut a few corners here and there, but nothing really major to ruin the overall positive impressions, though honestly, a good quality camera is all but essential these days. Still, this isn't unexpected (we're looking at you Meizu m2 note) and the snapper should do fine to capture the occasional memorable moments. We can certainly give it some slack at this price point.
The reality however is there is lots of competition out there and the toughest ones are coming from Meizu's homeland – it's Xiaomi and Lenovo. Xiaomi's Redmi Note 2 is selling hot worldwide and there is a reason – it costs about €170 and offers identical specs sans the premium design.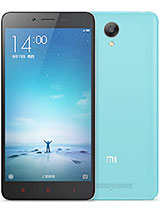 Xiaomi Redmi Note 2
The 5.5″ Lenovo K3 Note is even cheaper, but there is a reason – it's MediaTek chip is an older version with inferior GPU and the phone has got a less premium shell. The rest is a match for the Meizu metal.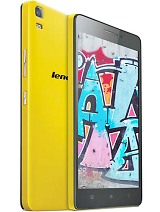 Lenovo K3 Note
The metal's predecessors – the Meizu m1 note and m2 note are worth checking out – both offer 5.5″ displays and MT chips with 8-core processors, but basically they run on older hardware and cost more. If you are into Meizu's phones and a proper camera is a must have – then the Meizu MX5 will give you a great camera, an AMOLED screen and even better design for some extra €130.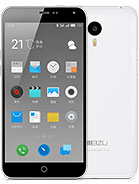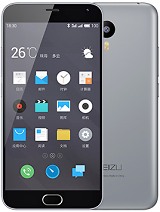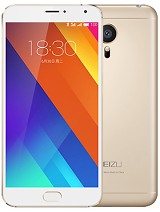 Meizu m1 note • Meizu m2 note • Meizu MX5
The Meizu m1 metal costs €210 for its 16GB flavor and throwing extra €30 will double the storage. This is probably the best priced mid-ranger right now, plus it has the looks and the horse power to prove its worth. Meizu did a great job of making yet another worthy mid-ranger and even as a grey Chinese import, running the Chinese YunOS, it's still a nice smartphone and we are looking forward to seeing what the international version would bring to the table, hopefully making the deal even sweeter.
(gsmarena.com)