1. Introduction
Huawei may not be a full member just yet but it's keener than most to follow the club's dress code. Elaborate exteriors are the thing that defines the brand and that's not limited to the premium line of devices. If it is refined design and elegance you are after, Huawei's phones are consistently on the shortlist.
Naturally, using premium materials and adhering to high build standards results in a premium price tag. As the mobile scene is quickly changing, midrange devices are getting more powerful and feature-rich with every generation. Huawei is genuinely trying to match this on the outside. The P-series and the G-series are now really capable of rivalling their Mate siblings.
The Huawei G8 is a perfect example. It's been following the premium Mate S all the way from the rumor mill to the production line and currently offers the same excellent design and some of the new and exciting features of its bigger sibling, all wrapped in a package that hopefully won't break the bank.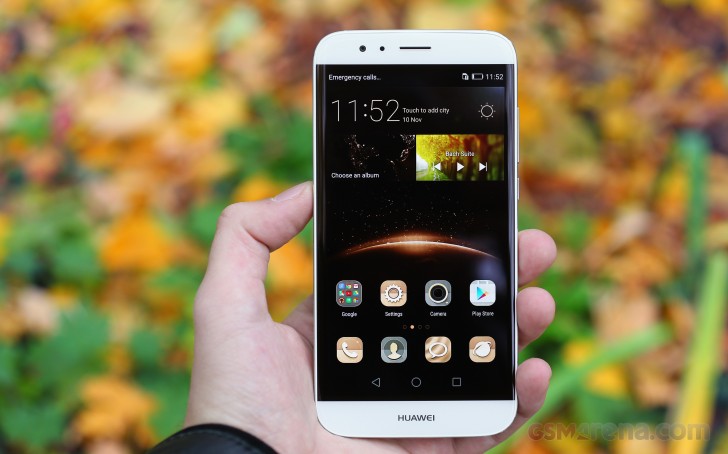 Even though the Huawei G8's more or less conceived as a more affordable alternative of the Mate S, the handset doesn't really come off as a blatant compromise. Unlike many "lite" versions out there, the G8 has a distinct feel of its own. It is somewhat less delicate than the Mate S, but the real distinction in the general feel and handling comes from the rounded body design more than anything else.
Key features
Dual Sim
5.5″ 1080p IPS LCD (401 ppi) capacitive touchscreen
Qualcomm MSM8939 Snapdragon 615 chipset – Qualcomm MSM8939 Snapdragon 615 Cortex-A53, v GPU; 2GB/3GB of RAM;
13MP 4160 x 3120 pixels autofocus camera with OIS, dual-tone LED flash, 1080p video recording.
5MP front-facing camera
Android OS v5.1.1 Lollipop with Emotion UI 3.1
16GB/32GB of built-in storage; microSD card slot, doubling as a secondary SIM slot
Cat. 4 LTE (150Mbps); Wi-Fi a/b/g/n; Bluetooth 4.0; GPS/GLONASS; FM radio; NFC; microUSB port with USB On-The-Go
Active noise cancellation with a dedicated mic
3,000 mAh battery
Main disadvantages
No 4K video recording, no 60fps mode either
Non-removable battery
No quick charging or wireless charging support
No dual band Wi-Fi
No Lollipop Material design to be found
Just like the Mate S, the G8 offers a spacious 5.5-inch FullHD display with a 2.5D curved edges, with a little bit more side bezel. With 90% metal, the exterior is pretty much the same.
And the similarities in this particular pair are not just skin-deep. In fact, interestingly enough, they are quite comparable in terms of hardware and features. The Huawei G8 is based on a Snapdragon 615 chip, which is undoubtedly a more standard choice than the custom home-brewed HiSilicon Kirin 935 that powers the Mate S.
Now, you must be thinking the G8 and its hardware can't possibly be that similar to the considerably more-expensive Mate S. So, have any corners been cut? The camera setup looks nearly identical on paper with a 13MP main unit, complete with autofocus and a dual tone LED flash. What the G8 is missing is the RGBW array for improved light-gathering capability and it has a 5MP front-facer compared to the Mate's 8MP selfie cam.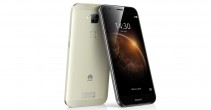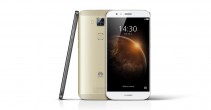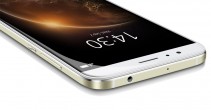 Huawei G8 official photos
Yet, a closer look at the spec sheet actually reveals some more pleasant surprises. The all new and improved fingerprint reader from the Mate S adorns the back of the G8 as well. High precision, speed and touch gestures – yes, that's the one. Last, but certainly not least, the extra depth of the G8 has allowed for a 3000mAh battery pack, a good 300mAh more than the Mate's.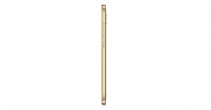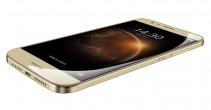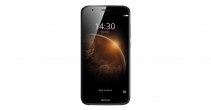 Huawei G8 official photos
Things are looking good so far, but let's not rush to judgment yet. Follow along for a closer look at the Huawei G8 from every angle and some proper benchmarking.
2. 360-degree spin, design and build quality
Huawei G8 360-degree spin
The Huawei G8 has a gorgeous profile and looks beautifully solid all around. The metal edges really add to the premium feel, despite being thicker than the Mate S.
Design and build quality
As already mentioned, the G8 took a lot of cues from all around the Huawei device lineup, especially design-wise. We can't help but notice that the handset looks quite similar to the Mate S on the front and consequently to the Mate7 before it. Its display is also quite wide, leaving almost no side bezels and comes to an end with a nice 2.5D curvature of the glass.
The speaker grille on the top and the Huawei logo on the bottom complete the picture.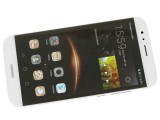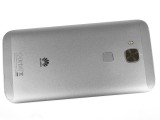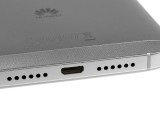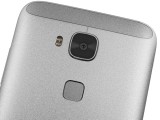 Elegant all around
The Back is also quite reminiscent to the Mate S, but you can also see a lot of the Mate7 thrown in the design mix with the flash on the left side and perhaps even the Honor 7 with its dual LED setup.
The same can be said about the overall control placement, with the side buttons positioned similarly to the Mate S, but missing the obvious plastic antenna lines, more like the Mate7. Overall, the Huawei G8 carries an unmistakably Huawei design, but retains a look of its own instead of simply copying one of its higher-end siblings.
Despite aiming for a more budget-friendly price segment, the G8 is still almost entirely made of Metal and its build quality is superb. As far as color options go, it has a few of those and they all go well with the metal finish. They include the classic Golden, Gray and Silver.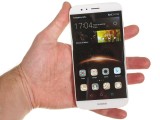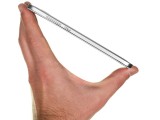 Huawei G8 in the hand
When compared side by side with the Mate S, the G8 does undoubtedly appear a bit bulkier. It feels the same way too, but that is a slightly deceiving observation to make, as, in reality, it is only slightly bigger and heavier and still retains a pretty slim profile.
It is pretty slim and the sensation is only intensified further by its double sloping edges, both on the front and the back. The curve on the back side also improves handling greatly and helps the unit sit snugly in the hand.
The phone's body measures 152 x 76.5 x 7.5mm, which, as already mentioned, is just a bit bigger than the Mate S, but still a lot smaller than the Mate7. The same goes for the weight as well. The extra battery inside the G8 make it tip the scale at 167 g, or about 10 more than the Mate S, but still far from the 185 g of the aforementioned Mate7.
Controls
As already mentioned, the G8 offers a nice amalgam of different Huawei traits. The same goes for the controls and their layout. Buttons are laid out conveniently and everything is within easy reach. The buttons are also quite responsive, so we are definitely glad that Huawei hasn't been changing things too much.
The design is really minimalist. Nothing is really out of place or out of measure. Huawei has opted for a 5.5-inch FullHD panel. It is noticeably bigger than the one in the Honor 7, but also quite smaller than the whopping 6.0 inches on the Mate7. The panel itself is the exact same size as the one in the Mate S, only a cheaper IPS models, instead of AMOLED. Still, it might look somewhat smaller due to the bigger bezels (71.7% screen-to-body ration, compared to 73.9% on the Mate).
Huawei's current design of choice employs black bezels beneath the front glass with the ultimate aim of an edge-to-edge appearance, at least from a distance. That does work to some extent when the display is off, but the slightly different shade of the LCD and the fact that said bezels are broader on both sides do take away from the G8's premium appearance and are one of the more obvious tell-tale signs of its mid-range nature. Still, that is more of an observation than an actual complaint. But more on that in the display section.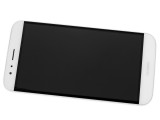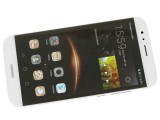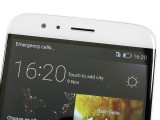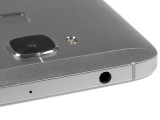 Clear front side
With the main controls on the actual screen, the only thing underneath is a company logo. It is also worth noting that the front is covered by a very light dotted pattern.
There is not much else in plain sight on the front of the device. There is the earpiece and the 5MP front-facing camera, tightly packed next to it. No front-facing flash on this one though. .
There is also a proximity and a light sensor beside the earpiece. A status LED is also included, although it is practically invisible when off.
Going around the device, we find the left side almost entirely bare. It only houses the SIM card/microSD tray (yes, one of the slots doubles on the Dual SIM model).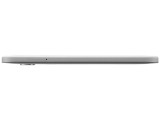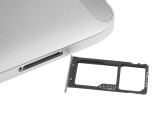 Left side view • SIM card tray
On the right side is where it gets busier. It still doesn't feel cluttered and it really shouldn't be, considering there is only the power button and the volume rockers. Both have a nice oval shape and precision cut design.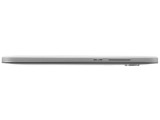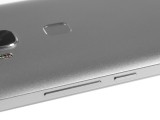 Only a couple of controls on the right side
The power button has a grippy pattern, but we can't imagine you could really mistake it for anything else as it's quite shorter than the volume key.
The 3.5mm headphone jack is placed at the top of the device. Next to it is the secondary noise-canceling microphone. As you may or may not know, the Mate S actually has a third microphone, next to the primary one on the bottom. It allows for some really neat advanced directional recording, which is absent from the G8. That is just one example of how Huawei has went about shedding cost off the G8 – from rally premium features that you are likely not going to miss.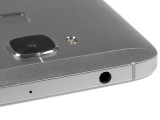 The top hosts the 3.5mm headphone jack and a noise-canceling mic.
The bottom of the Huawei G8 has two symmetrical grilles, but only one of them houses a speaker. The main microphone is hidden under the other. Unlike the Mate S, there are no screws present on the bottom, which could mean that the G8 is held together by glue rather than a more advanced assembly, making it a bit more difficult to service.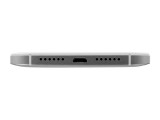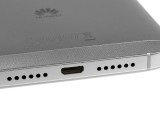 The bottom side of the G8
The back side of the Mate S offers a sloped design for improved handling and an even thinner edge. There are two plastic antenna inserts to facilitate radio reception.
Oddly enough, Huawei has went with two quite large and obvious patches on the top and bottom – one for each of the phones pair of antennas. The Mate S and Mate7, as well as the Honor 7 all utilize a much more non-intrusive line design. This approach is more similar to the Huawei P8 or the Nexus 6P and while it might appeal to some, we feel that it does stand out as somewhat of an eye-sore.
The 13 MP camera module is also quite familiar with its square shape. With the dual-tone LED flash on the side, it is much more reminiscent of the Honor 7. The only other control on the back is the new and improved fingerprint reader. It may look unchanged on the outside, but it's actually better than the previous generations in every way.
Another neat feature of the new sensor is that it can double as a touch-based input. We already saw this feature debut on the Mate S. It recognizes swipe gestures and can be used to bring down the notification shade and dismiss notifications. However, interestingly enough, the Mate S also utilized side swipes to navigate through photos in the gallery, which seems to be missing from the G8. Hopefully it will appear in a later software update, as it should be easily implementable considering the hardware is present.
Another interesting aspect about the fingerprint reader is that it remains active even when the screen is off. This is an awesome feature and lets you unlock the device instantly.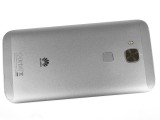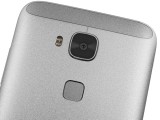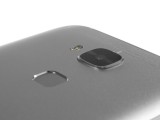 A nicely rounded back side with a small camera bump and convenient fingerprint reader
3. Display, battery life, connectivity
Display
The Huawei G8 offers a spacious 5.5 inch display, just like the Mate S. It seems to sit right in the sweet-spot size-wise, as far as current market trends go. The panel itself is of the LCD technology, which is undoubtedly a cut-back from the AMOLED one on the Mate S, but still offers pretty nice quality.
In fact, OLED technology is more of a rarity in the Huawei realm with only a hand-full of devices utilizing it, like the Ascent P1 and Nexus 6P. Huawei can boast quite a few excellent implementation of LCD tech, like the Mate7 or P8 and the G8 delivers a superb viewing experience as well. The panel in question has a resolution of 1080 x 1920 pixels and a respectable pixel density of 401ppi, identical to the one on the Mate S. Images appear sharp with punchy and vivid colors.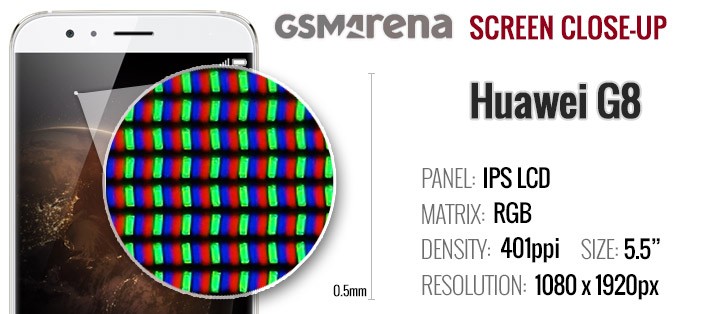 In terms of color accuracy, the Huawei G8 screen is less than stellar with a Avg DeltaE of 5.7, but we've seen flagship phones do worse, so we're fine with it. Playing with the Color temperature slider we managed to get the color deviation down to Avg DeltaE 4.3, which is a borderline color calibrated result. And that's without the maximum brightness getting any hit at all. Overall, the screen is nice and the color accuracy deviation is unlikely to bother you.
The maximum screen brightness of 460nits is about average for a LCD unit, but is still dwarfed by the Mate7 with its 530 nits, not to mention the Motorola Moto X Play with its over 600 nits, not to mention camp Sony. Contrast on the G8 is also high, but yet again not as good as the Mate7 or Honor 7.
Display test
50% brightness
100% brightness
Black, cd/m2
White, cd/m2
Contrast ratio
Black, cd/m2
White, cd/m2
Contrast ratio
Huawei G8
0.08
81
976
0.45
460
1034
Huawei Ascend Mate7
0.11
149
1428
0.37
530
1428
Huawei Mate S
0.00
60
∞
0.00
372
∞
Huawei Honor 7
0.07
89
1372
0.32
450
1398
Samsung Galaxy A7
0.00
175
∞
0.00
349
∞
Motorola Moto X Play
0.23
343
1498
0.41
620
1520
Oppo R7s
0.00
185
∞
0.00
365
∞
Asus Zenfone 2 ZE551ML
0.13
107
796
0.44
390
879
LG G3
0.14
109
763
0.72
570
789
HTC One (M8)
0.20
245
1219
0.46
577
1256
Sony Xperia M4 Aqua
0.17
176
1012
0.74
828
1115
Sony Xperia C5 Ultra
0.18
219
1203
0.37
422
1144
Meizu MX4
–
–
–
0.63
594
947
Samsung Galaxy S5
0.00
274
∞
0.00
529
∞
Samsung Galaxy Alpha
0.00
228
∞
0.00
456
∞
Sony Xperia Z3 Compact
–
–
–
0.77
725
942
Sunlight legibility for the Huawei G8 is definitely above average in our current database, but again gets dwarfed by competitive offers by Samsung and Motorola.
Sunlight contrast ratio
Nokia 808 PureView : 

4.698

Sony Xperia Z5 Premium : 

2.525

Nokia Lumia 720 : 

2.512

HTC One : 

2.504

Sony Xperia M4 Aqua : 

2.503

Motorola Moto G : 

2.477

Huawei G8 : 

2.471

vivo Xshot : 

2.465

Sony Xperia Z : 

2.462

Xiaomi Mi 4 : 

2.424

Samsung Galaxy S III mini : 

2.422

Lenovo Vibe Z2 Pro : 

2.416

Samsung Galaxy mini 2 : 

1.114
Huawei G8 battery life
The Mate S is equipped with a 3000 mAh battery, sealed in behind the back panel. This is a good 300 mAh more than the Mate S and a clear upside to the extra weight and thickness of the unit. The LCD panel could potentially reduce said advantage, but numbers hint that it is actually not that far apart from the AMOLED unit of the Mate S in terms of power efficiency.
3000mAh are still far from the whopping 4100 mAh the Mate7 has at its disposal, but the G8 does a pretty good job of power management with a total endurance rating of about 70 hours (a bit more with one SIM card and a bit less with the duo working together). This is quite a lot better than the 60 hours the Mate S managed to clock in, but there are a few notes to be made.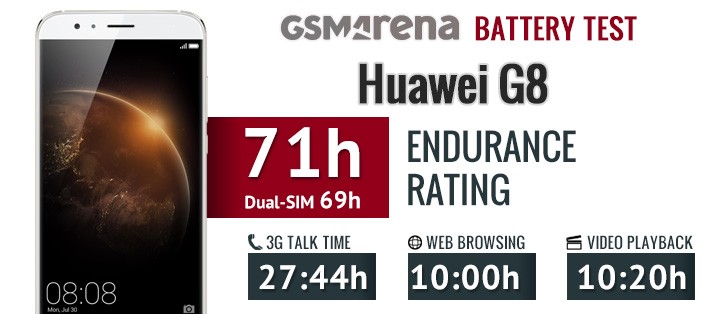 Our proprietary rating denotes the number of hours the phone will be operational if you are to make an hour of 3G talks, web browsing and video playback per day. Such usage pattern is of course entirely artificial, but we've established it so our battery results are comparable across devices.
The proprietary score also includes a standby battery draw test, which is not featured in our battery test scorecard but is calculated in the total endurance rating. Our battery testing procedure is described in detail in case you want to learn more about it.
Connectivity
As previously mentioned, the Huawei G8 comes in both a single SIM and dual SIM variant. The latter offers dual standby, but the second SIM slot shares the tray with the microSD card slot, so having two active cellular connections has its tradeoff – you lose the option of using a microSD card.
The Huawei G8 comes with quad-band GSM 850 / 900 / 1800 / 1900 MHz, multi-band 3G (model and market dependent). LTE Cat.4 is supported for downlink speeds of up to 150Mbps.
Local connectivity is duly covered with dual-band Wi-Fi 802.11 a/b/g/n with hotspot support. Bluetooth v4.0 is on board as well, and so is GPS with A-GPS and GLONASS. NFC is enabled too.
4. User interface
Emotion UI v3.1
The Huawei G8 boots the company's own EMUI, no surprises there. The custom ROM adopted Android Lollipop fairly recently, but judging from past experience with the Mate S, the migration from KitKat to the new core has been mostly problem-free.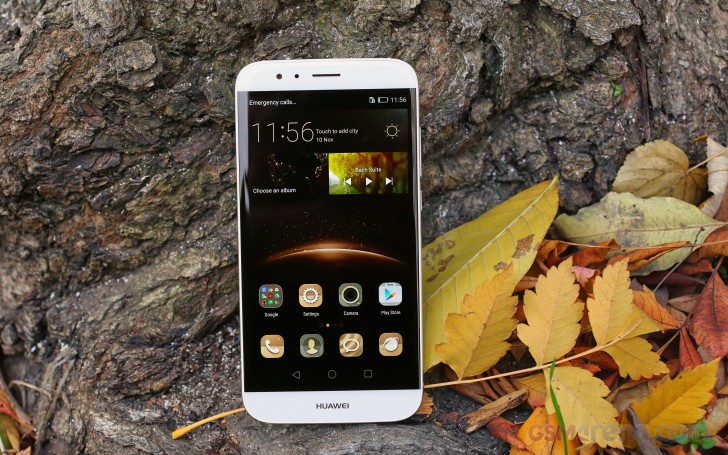 The G8 runs on the latest EMUI 3.1 and just like the Mate S, it utilized Android 5.1.1 and reaps all the benefits from Google's improvements. This is an important note to make, as we have seen Emotion UI 3.1 work on top of Android 5.0 in the past. Huawei has made sure to provide the latest platform it has for the G8 and keep it up-to-date.
There are, however, some notable software differences between the G8 and the Mate S, often not easily justifiable, but more on that later. Still, from an interface and UX point of view, little has changed and Huawei users will feels right at home thanks to impressive level of continuity, while new users of the brand can rest assure they get (almost) the same treatment on the G8 as with the higher-end Mate S.
The EMUI 3.1 is based on Google's new platform and yet, it is the similarities with previous Emotion UI versions that seem to stick out, rather than the differences.
What Huawei has done, in a nutshell, is adopt Android Lollipop, without Google's new material design. The user interface has remained flat with almost no traces of Google's latest aesthetics. EMUI 3.1 remains true to its style and has preserved the user experience mostly intact.
Fans will also be happy to know that the OS is still packed full of various extras and additional functions, baked right in. Some of them we found to be quite useful.
The default lockscreen features a nifty "sunshine" effect as you drag your finger across. The theming interface suggests that more animation options can be downloaded as well. You can also have widgets on the lockscreen, iOS-style shortcuts, and even dual clocks when roaming.
If you use the fingerprint reader for unlocking, then you can skip the lockscreen interface altogether. If that is the case, there is also a nifty option for whether you want the password keyboard to be displayed as soon as you turn on the screen or after a swipe. The latter, of course is the only way to enjoy the unlock animation as well as the row of four quick shortcuts hidden away at the bottom of the interface.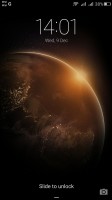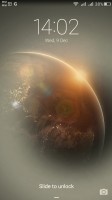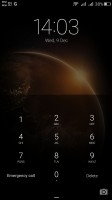 The lockscreen
In previous versions of the OS, these lockscreen graphics used to be referred to as Covers and have a pretty rich collection of customization options, including a dedicated download center, complete with channels, subscriptions and auto-updates. All that seems to be absent from the Android 5.1.1-based EMUI 3.1, or perhaps it's only the G8 (as well as the Mate S) that lacks this nice feature.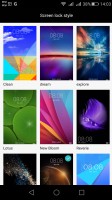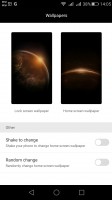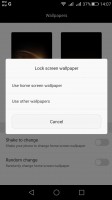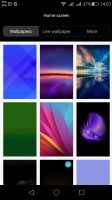 Lockscreen graphics controls
Still, some of the functionality remains and it is spread out between two interfaces. One is found within the settings menu, under Display options, where you can set the lockscreen and homescreen wallpapers separately. The rest of the tweaks are found in the extensive theming interface, but more on that later.
Swiping from the bottom of the lockscreen reveals a very iOS-like quick shortcut menu. It holds shortcuts to a recorder, calculator, flashlight and the camera.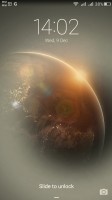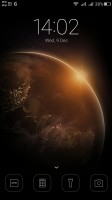 Lockscreen quick shortcuts
Beyond the lockscreen we find a fairly standard Android homescreen with four customizable shortcuts, which are docked at the bottom and are visible on all homescreens.
There can be up to nine homescreen panes in total – and at least a couple of them will be populated by the preinstalled apps.
As is customary for Chinese Android UIs, there is no app drawer like there would be on vanilla Android.
Anything you install pops up on the homescreen, just as it would on an iPhone or a Xiaomi. While this means that you don't have to bother creating shortcuts to your apps on the homescreens, it also means that you cannot effectively hide any of your installed apps either. You can, however, group them into folders.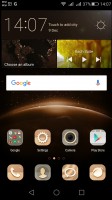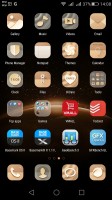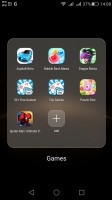 The homescreen keeps all your apps with only folders available for organization
A pinch on the homescreen triggers the familiar Overview mode to let you check out and organize the homescreen panes currently in use, remove or add panes as you please. Widgets are available too – it's mostly the stock Android ones, but Huawei has thrown in some of its own as well.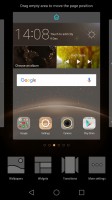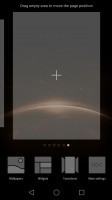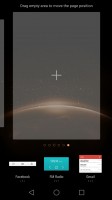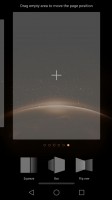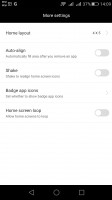 The overview mode • changing the layout grind and pane effects
Themes are available as well. A theme will change your homescreen wallpaper, lockscreen style, system and app icons, system font, system color and the sound profile. You can also adjust things like homescreen transition effects, and even change your wallpapers at random or specific time intervals.
The theming engine is so powerful that it can basically transform the UI and offers incredibly varied looks. It even offers access to a vast online library of ready-made themes. Anything you download can also be customized further to your liking. Interestingly enough, the Huawei G8 came preloaded with a very different set of themes compared to the Mate S and for some reason, we couldn't find the Mate S default theme anywhere on the list.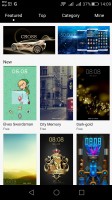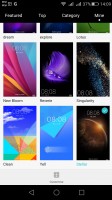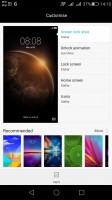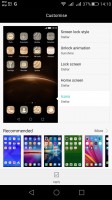 Powerful Theming engine with an online store
The notification area has two pages – one that hold all notifications sorted in a timeline, and another for all of your quick toggles. You can swap around the ones you want visible on the first three rows.
The shade has undergone some degree of modification in MIUI 3.1. It is now transparent and creates a blur effect underneath, quite reminiscent of iOS.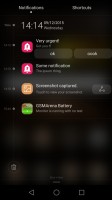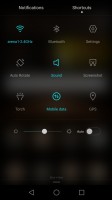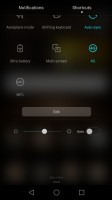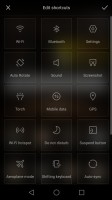 The notification area with toggles
The Huawei Mate S features a task switcher that lets you swipe away unwanted apps. A swipe from the bottom of the screen clears everything and tells you how much memory you've freed up.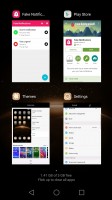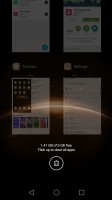 The task switcher
But the Huawei G8 isn't just big on eye-candy. Huawei has invested quite a lot of effort in various usability and accessibility features and most things that are not customizable through theming can still be rearranged and moved around. The phone comes with features, such as a customizable navigation bar, a simple homescreen, a Do not disturb mode, and even one-hand optimizations for system apps.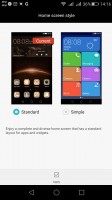 Simple homescreen with a Windows Phone style tiled interface
The Do Not Disturb mode is self-explanatory – you can schedule it when to turn on and off, and you can add a list of exceptions. Going through the Huawei G8's specs we instantly noticed that it has two antennas, a feature promptly showcased on the official website as well, so, we naturally assumed that just like the Mate S, the G8 would have advanced connectivity features for both network and Wi-Fi. The antenna switching is even mentioned on Huawei's website, yet, the aforementioned options, dubbed Link+ are entirely missing from the G8 settings page. This might be a case of missing hardware from the cheaper G8, but everything hints at the feature missing, which is somewhat disappointing.
Various display options are also accessible on a system-wide level. The UI can be tailored to your needs and the lockscreen can be as secure as you would like.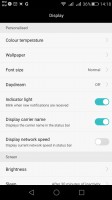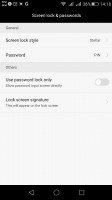 Display and lockscreen options
Huawei's EMUI 3.1 offers class-leading granular control over app permissions and their access to various system functions, such as network data and notification areas.
The G8 features a notification center, from which you can control which apps can send you the three types of available notifications – the shade notifications, the lockscreen notifications and the banner style notifications.
This level of control is also employed when it comes to the app access to network data. The user can control the rights of each application to access either Wi-Fi or mobile data. This can save a lot of traffic and help you optimize your data plan and consumption in an easy and convenient way.
Huawei has given battery management an equally thorough treatment. EMUI has a dedicated interface for managing what it refers to as protected apps. The notion is that only applications that are deemed necessary by the user can be left to run in the background and consume battery and possibly network data, when the screen is off. Any app not on the list has no such privileges. This level of control is astounding and we really wish that other manufacturers would adopt similar mechanisms to give back users granular control of their mobile hardware.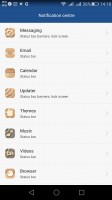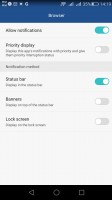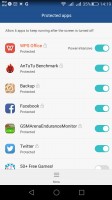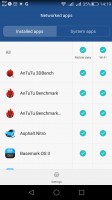 Extensive app permission management engine
The bottom navigation bar with the default Android controls is customizable – you can swap the task-switcher and back keys, or even add a shortcut for the notification area. You can hide the navigation bar and bring it back with an upwards swipe from the bottom. There is also a one-handed UI mode, for easier menu surfing on the go.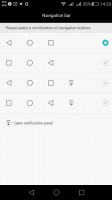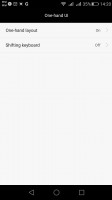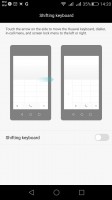 Navigation bar settings and single-handed mode
Motion control is another area where the Mate S excels. It is still present on the G8, but a lot of the options have been dropped. Once again, we doubt that it is due to a software limitations, so, perhaps it is a purposeful decision, aimed at widening the gap between said devices. Still, not enabling a raise to year gesture, whilst leaving the turn to mute one, just seems unjustified.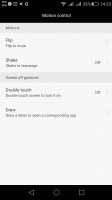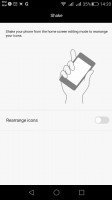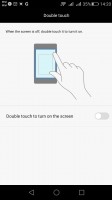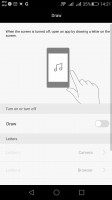 Motion gestures
You can enable the so-called Suspend button – it's a virtual key you can move anywhere on the screen, allowing you to expand it to the primary Android keys – Back, Home, Task Switcher, Lock and Close all running apps. It will help you control your phone with just one hand.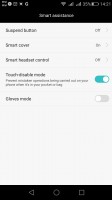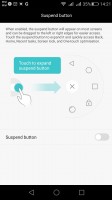 Suspend button
Another big Mate S accessibility feature, sadly absent from the G8 is the Speech awareness. This time around, however, we are a lot more inclined to believe that there is a good hardware reason why it is missing.
Like we already mentioned with the fingerprint reader, such always-on interactions and hardware typically rely on some sort of specific low-energy controller or sub-system to operate properly, like the i3 co-processor in the Mate S. The Snapdragon 615 inside the G8 sadly has no such thing at its disposal. And whereas Huawei has deemed it necessary to find a workaround for the fingerprint reader, the always on voice trigger and consequent voice operations have obviously been scrapped.
Sadly, the dual window mode from the Mate S is missing.
Others accessibility features that deserve mentioning include: glove mode, smart cover and smart headset control.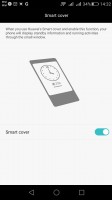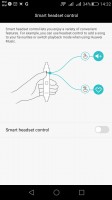 More accessibility features
Finally, we should mention Huawei's excellent fingerprint technology implementation. It is superb on both hardware and software level. After quite a few one-on-one races with various handsets in the office, we can definitely say that the Mate S currently has one of the fastest, if not the very best sensors to date and the G8 is just as accurate and just a few microseconds slower.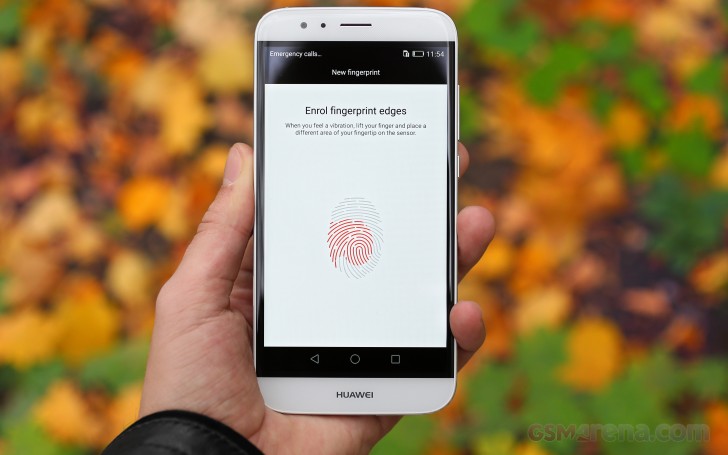 The fingerprint reader works like a charm and managing fingerprints is also a breeze. There is a maximum of 5 fingerprint that you can have stored and the security feature can also be used for locking apps or multimedia content.
And just when you thought there wasn't anything else you could possible want from a fingerprint sensor, it turns out there is, as Huawei's new added touchpad functionality gives it yet another interesting twist.
It recognizes swipe gestures and can be used to bring down the notification shade and dismiss notifications. However, interestingly enough, the Mate S also utilized side swipes to navigate through photos in the gallery, which seems to be missing from the G8. Hopefully it will appear in a later software update, as it should be easily implementable considering the hardware is present.We admit, it is more of a gimmick, but it does have some potential and possible use cases. We just wish Huawei hadn't inexplicably deprived the G8 of the side swiping gestures, pointless as they may be in their current state.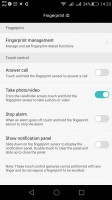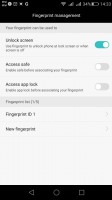 The G8 comes with an excellent fingerprint reader implementation
5. Performance
Benchmarks
Huawei has always been particularly persistent in pushing its home-brewed HiSilicon Kirin chips, perhaps even to the point of stubbornness. It is hardly a secret that the chipset family in question has a tendency of underperforming and has often been plagued by poor optimization and coupling with low-end GPUs. For Huawei's sake, we sincerely hope that the highly-praised Kirin 950 will finally put an end to this unfavorable trend, but currently it seems like a good idea to steer away from Kirin if performance is what you are after.
However, the OEM does make exceptions in its SoC choices from time to time especially when it comes to mid-range solutions. The Huawei G8 is a perfect example. Just like the P8lite, it utilized a Qualcomm Snapdragon 615 chipset – a pretty wide-spread mid-range platform. It is hardly a power-house, but has proven its worth more than once in a long line of excellent handsets. This made it a lot easier for us to pick a selection of hardware-rivals to the G8. Even when throwing in the extra requirements for a 5.5-inch Full HD display and 2GB or 3GB of RAM, the list still remains long with devices like the Oppo R7s, which we just recently reviewed, the HTC Desire 826, Samsung Galaxy A7 and Motorola Moto X Play.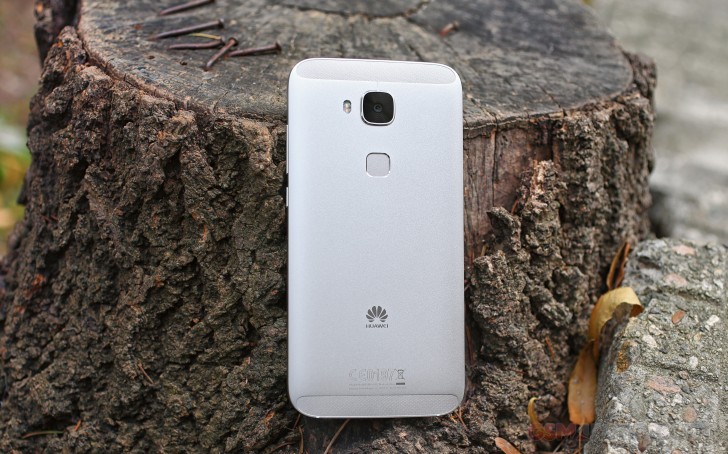 As it so happens, the latter two also fall into the price range of the Huawei G8, which currently retails for around 350€ to 400€. We also made sure to explore other viable options at that price point and, it turns out, there are just as abundant. You can easily pick up a flagship device form last year for that kind of money, like the LG G3, HTC One (M8) or Samsung Galaxy S5 – all still pretty relevant, despite their age. Other alternatives include the Asus Zenfone 2, as well as quite a wide selection of Sony devices in all sizes, depending on your preference, like the Xperia Z3 Compact, M4 Aqua or C5.
Of course, we made sure to include the other Huawei devices, we have been talking so much about in the benchmark scores, just to see how the G8 sizes up in terms of performance against its bigger sibling- the Mate S, as well as the Mate7 and Honor 7, both of which also happen to bear a similar price tag.
While, the Snapdragon 615 undoubtedly has plenty of power to run the G8 smoothly and the aforementioned observations about the Kirin line of chips is still true, it is only fair to point out that amidst all the aforementioned Huawei devices with their Kirin 923 or 935 chipsets, the Snapdragon 615 is actually least powerful both in terms of CPU and GPU. All of them use standard ARM cores, like the Cortex-A53, but while the Kirin 935 has four units clocked at 2.2 GHz and another four at 1.5 GHz, inside the Snapdragon 615, the more powerful four work at a frequency of 1.5 GHz and are complemented by another cluster at only 1.2 GHz.
Mostly the same analysis can be made in the GPU department. The Mali-T628, a HiSilicon favorite, is hardly known for its outstanding performance, but it is still more capable than the Adreno 405 inside the G8.
This all said, the Huawei G8 is, by design, less powerful than its sibling, at least on paper that is. Still, the devil lies in the details or in this case, rather, the optimization – something Huawei has been struggling with for some time now. This is where working with popular hardware, such as the Qualcomm chipset, can really make a difference when you take into account all the preexisting OS optimization that you can benefit from. The G8 finds itself in precisely this peculiar position where it often tends to outperform its siblings, despite the lower-end hardware. Let's dive into the benchmarks to explore this further.
First up, we have the raw CPU performance test with GeekBench 3, which should be straight-forward enough. The eight-core Cortex-A53 setup of the Mate S definitely holds its own, but is still understandably blown away by devices equipped with better cores or higher clock speeds. Still, we can't just put the blame on hardware alone. Equally specked devices like the Samsung Galaxy A7 and the Oppo R7 are a testament to how important software optimization and proper resource utilization actually are. One could make the case that the Oppo has 4GB of RAM, but that logic quickly fails with the A7, which packs only 2GB and still managed to pull in a few points more in pure CPU performance.
GeekBench 3
Higher is better
Sony Xperia C5 Ultra : 

4226

Meizu MX4 : 

3556

Huawei Mate S : 

3475

Samsung Galaxy Alpha : 

3214

Oppo R7s : 

3206

Huawei Ascend Mate7 : 

3165

Samsung Galaxy S5 : 

3120

HTC One (M8) Lollipop : 

2923

Samsung Galaxy A7 (S615) : 

2880

Sony Xperia Z3 Compact : 

2856

Huawei G8 : 

2835

Motorola Moto X Play : 

2608

Asus Zenfone 2 ZE551ML (Z3560) : 

2402

Sony Xperia M4 Aqua : 

2375

LG G3 : 

2370
AnTuTu is a compound benchmark, which also takes into account RAM and GPU performance. Here we see pretty much the same arrangement, with the G8, sadly lingering near the bottom of the chart. Poor graphics performance surely took its toll in the test as well, but it is encouraging to see that the Oppo R7s and Samsung Galaxy A7 also scored around the same and the latter even less than the Huawei G8. Still, the handset doesn't come near the performance of the Mate S and even the Mate7 for that matter, which, we remind you is now a year old and happens to cost just as much.
AnTuTu 5
Higher is better
Samsung Galaxy Alpha : 

51905

Meizu MX4  : 

46922

Sony Xperia Z3 Compact : 

46566

Sony Xperia C5 Ultra : 

46502

HTC One (M8) Lollipop : 

45530

Samsung Galaxy S5 : 

45348

Huawei Mate S

4 : 4393

LG G3 : 

42038

Huawei Ascend Mate7 : 

41510

Asus Zenfone 2 ZE551ML (Z3560) : 

41154

Oppo R7s : 

37857

Motorola Moto X Play : 

37020

Huawei G8 : 

36743

Sony Xperia M4 Aqua : 

32217

Samsung Galaxy A7 (S615) : 

31436
Moving on to Basemark OS II, which is a truly all-round benchmark. Things definitely don't look good for the Huawei G8. At the current state of the software, the G8 is a real underachiever and came out near the bottom of the overall chart. It is a slightly redeeming fact that both the Samsung Galaxy A7 and Moto X Play are close by on the same scoreboard, but there is little excuse of the extremely underwhelming single and multicore performance.
From the looks of it, the new Android 5.1.1 EMUI 3.1 has some compatibility issues with Basemark OS II (or perhaps it is the other way around) as the app kept on freezing for a few seconds at a particular point in the test. We observed the same behavior on the Mate S, but with far less detrimental results and at this point, we are more included to point the finger at Huawei's software team.
Basemark OS II
Higher is better
LG G3 : 

1327

HTC One (M8) Lollipop : 

1202

Sony Xperia Z3 Compact : 

1167

Samsung Galaxy S5 : 

1147

Huawei Honor 7 : 

1038

Sony Xperia C5 Ultra : 

994

Oppo R7s : 

994

Huawei Mate S : 

981

Samsung Galaxy Alpha : 

915

Sony Xperia M4 Aqua : 

883

Huawei Ascend Mate7 : 

830

Huawei G8 : 

829

Samsung Galaxy A7 (S615) : 

786

Motorola Moto X Play : 

764

Meizu MX4 : 

695
Basemark OS II (single-core)
Higher is better
Samsung Galaxy Alpha : 

2579

Samsung Galaxy S5 : 

2510

HTC One (M8) Lollipop : 

2426

Huawei Ascend Mate7 : 

2334

Sony Xperia Z3 Compact : 

2282

LG G3 : 

2267

Huawei Honor 7 : 

2251

Sony Xperia C5 Ultra : 

2184

Meizu MX4 : 

1729

Motorola Moto X Play : 

1643

Huawei Mate S : 

1605

Samsung Galaxy A7 (S615) : 

1572

Oppo R7s : 

1482

Sony Xperia M4 Aqua : 

1453

Huawei G8 : 

1052
Basemark OS II (multi-core)
Higher is better
Sony Xperia C5 Ultra : 

18602

Samsung Galaxy Alpha : 

15096

Huawei Ascend Mate7  : 

15012

Huawei Honor 7 : 

13708

Meizu MX4 : 

12268

Huawei Mate S : 

12085

Motorola Moto X Play : 

10950

Sony Xperia Z3 Compact : 

10063

LG G3 : 

9975

HTC One (M8) Lollipop ; 

9827

Samsung Galaxy S5 : 

9646

Samsung Galaxy A7 (S615) : 

9284

Oppo R7s : 

9023

Sony Xperia M4 Aqua : 

8592

Huawei G8 : 

8414
Pure graphics tests on the G8 are quite disappointing as well, but they do offer a plainly obvious prove for our accusations of lacking optimization. The Adreno 405, inside the G8 barely manages to pull five frames and a half on an Open GL ES 3.0 test. Needless to say, the 3.1 version is practically impossible, so much so that the test fails due to lack of memory, but even if it didn't, a score of 0 frames per second would be inevitable.
However, looking at the chart, we can't help but notice that the Huawei Mate S, with its Mali-T628 MP4 GPU fairs even worse. The flagship offer is barely capable of achieving 10fps on Open GL ES 2.7 and the same goes for the Huawei P8 and P8 lite, one of which with a Kirin SoC and the other with a Qualcomm, so the chip is clearly not the problem.
Meanwhile, the Huawei Ascend Mate7 and Honor 7 seem to do a much better job on the same GPU test. This all points to major software problems. Huawei is obviously struggling with the proper adoption of Android Lollipop and until said problems are resolved, we will sadly continue to observe inconsistent performance across the OEM's device family. Here's to hoping the eagerly-anticipated Mate 8 isn't plagued by the same issues and finally breaks the cycle for good.
GFX 3.0 Manhattan (1080p offscreen)
Higher is better
Samsung Galaxy Alpha : 

13.4

HTC One (M8) Lollipop : 

12

Samsung Galaxy S5 : 

12

Sony Xperia Z3 Compact : 

11.8

LG G3 : 

11

Huawei Honor 7 : 

9.2

Huawei Ascend Mate7 : 

8

Meizu MX4 : 

7.9

Sony Xperia C5 Ultra : 

6

Oppo R7s : 

5.9

Sony Xperia M4 Aqua : 

5.84

Motorola Moto X Play : 

5.8

Samsung Galaxy A7 (S615) : 

5.8

Huawei G8 : 

5.6

Huawei Mate S : 

5.4
GFX 3.0 Manhattan (onscreen)
Higher is better
Sony Xperia Z3 Compact : 

25.4

Samsung Galaxy Alpha : 

25.3

HTC One (M8) Lollipop : 

13

Sony Xperia M4 Aqua : 

12.2

Samsung Galaxy S5 : 

12

Huawei Honor 7 : 

9.3

Huawei Ascend Mate7 : 

8.5

LG G3 : 

7.7

Meizu MX4 : 

7.4

Sony Xperia C5 Ultra : 

6.4

Oppo R7s : 

6.2

Motorola Moto X Play : 

6.1

Huawei G8 : 

6

Samsung Galaxy A7 (S615) : 

5.8

Huawei Mate S : 

5.8
EMUI is definitely one of the better custom Android-based platforms out there with a lot of bells and whistles, nice aesthetics and powerful customization options. However, there are still a few things to be desired from the latest version of Huawei's OS, especially in terms of optimization.
Back when the first Android Lollipop EMUI was released, we noticed quite a few instances of poor software optimization. Now, despite the move to Android 5.1.1, most of them appear to be still in place. The aforementioned Basemark issues is a prime example and so is the underwhelming performance of the built-in browser.
Luckily, Huawei does preinstall Chrome on its handsets as well. It offers clear-cut performance and stability advantages over the default browser, making it the logical choice for end-users. However, our testing procedure requires us to put the default browser through the hoops and it is kind of an underachiever. Take a look for yourself and definitely steer clear.
Kraken 1.1
Lower is better
Samsung Galaxy Alpha : 

4911

Huawei Ascend Mate7  : 

5567

Samsung Galaxy S5 : 

5968

Asus Zenfone 2 ZE551ML (Z3560) : 

6272

Sony Xperia Z3 Compact : 

6480

HTC One (M8) Lollipop : 

7023

LG G3 : 

7632

Meizu MX4 : 

9408

Huawei Honor 7 : 

11493

Oppo R7s : 

11679

Motorola Moto X Play : 

12236

Samsung Galaxy A7 (S615) : 

12266

Huawei Mate S : 

12919

Sony Xperia M4 Aqua : 

13609

Huawei G8 : 

14538

Sony Xperia C5 Ultra : 

17157
BrowserMark 2.1
Higher is better
Samsung Galaxy S5 : 

2066

Samsung Galaxy A7 (S615) ; 

1655

Sony Xperia Z3 Compact : 

1500

Motorola Moto X Play : 

1483

HTC One (M8) Lollipop : 

1460

LG G3 : 

1453

Oppo R7s : 

1411

Samsung Galaxy Alpha : 

1364

Sony Xperia M4 Aqua ; 

1171

Huawei G8 : 

979

Sony Xperia C5 Ultra : 

860

Huawei Honor 7 : 

825

Huawei Mate S : 

817

Huawei Ascend Mate7 : 

795

Meizu MX4 : 

720
The Huawei G8 has some formidable problems when it comes to performance. While, none of the underwhelming scores have any instantly-noticeable reflection on the GUI and general usability for trivial tasks, but the experience is severely underwhelming in almost every more demanding app or game. Stability is a huge issues as well and we understand why this could be a major drawback for a lot of prospective buyers.
There is no reason to sugar-coat it, the G8 is plagued by some serious performance issues. On these grounds alone, we would advise against picking up the G8, unless you intend to use is as a feature phone. And it doesn't really take too much shopping around to find a much better alternative, even from the same OEM with the Mate7 and Honor 7 shining as perfect examples.
6. Phonebook, telephony, messaging
Standard phonebook
The Huawei G8 phonebook is laid out across three tabs that can be navigated by swipes. It actually resides in a single application along with the dialer and messenger.
An alphabetical list on the right can help you jump to a specific letter or you can just use the search function. Tapping on a contact brings up a popup with access to a contact's scrollable info.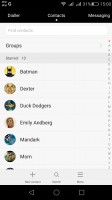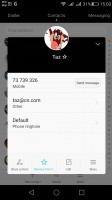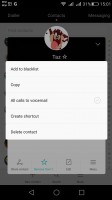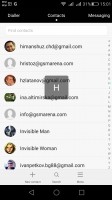 Straight-forward contacts experience
As on most Android launchers, you can input a variety of contact information including custom ringtones and images. You can link contacts too, if you've added the same person on multiple services.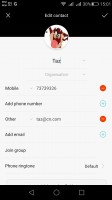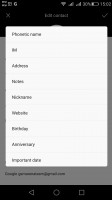 Lots of contact fields available
The phonebook supports blacklist option for blocking contacts.
Telephony is alright, but voice quality is poor
The Huawei G8 held on to signal excellently and in-call sound was just fine. However, it is worth noting that the overall quality of the voice was not ideal and came out quite poor on the other end. The proximity sensor makes sure the screen stays off when you hold the phone to your ear. Flipping the phone on its face while it's ringing would mute the call ringing.
The secondary noise cancelling on-board microphone ensures a quieter background for your voice while in call.
The dialer and the call log share the same screen. The dialer offers smart dialing and it works both with names and numbers. It can also be docked to one side or the other for easy accessibility, or, span the entire lengths of the screen.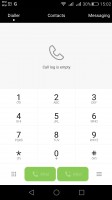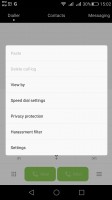 Dialer has a convenient one-handed operation mode
We put the G8 through our traditional loudspeaker test and it got an Average score. It falls short when compared to both the Huawei Mate7 and Honor 7, but did turn out to be louder than the Mate S. Still, we wouldn't exactly count on it at parties.
| | | | | |
| --- | --- | --- | --- | --- |
| Speakerphone test | Voice, dB | Pink noise/ Music, dB | Ringing phone, dB | Overall score |
| Sony Xperia M4 Aqua | 60.2 | 57.2 | 64.5 | Below Average |
| Asus Zenfone 2 ZE551ML | 62.9 | 61.7 | 67.7 | Below Average |
| Sony Xperia M4 Aqua (Clear Audio) | 67.5 | 60.7 | 69.0 | Below Average |
| Huawei Mate S | 66.0 | 65.8 | 66.6 | Below Average |
| Sony Xperia Z3 Compact | 65.9 | 62.1 | 73.5 | Average |
| Samsung Galaxy Alpha | 66.6 | 61.7 | 75.7 | Average |
| Samsung Galaxy A7 | 64.8 | 66.3 | 73.5 | Average |
| Huawei G8 | 66.1 | 66.7 | 72.6 | Average |
| HTC One (M8) | 65.8 | 64.7 | 75.7 | Average |
| Huawei Ascend Mate7 | 66.7 | 65.7 | 75.7 | Good |
| Meizu MX 4-core | 68.5 | 65.5 | 75.1 | Good |
| Motorola Moto X Play | 69.8 | 66.6 | 75.7 | Good |
| Oppo R7s | 73.8 | 66.6 | 71.9 | Good |
| Samsung Galaxy S5 | 70.7 | 66.6 | 78.0 | Good |
| Huawei Honor 7 | 72.0 | 66.6 | 77.5 | Good |
| LG G3 | 70.2 | 66.6 | 80.2 | Good |
| Sony Xperia C5 Ultra | 69.8 | 66.6 | 82.7 | Very Good |
| Sony Xperia C5 Ultra (ClearAudio) | 72.7 | 66.6 | 82.7 | Very Good |
Messaging
The messaging section is business as usual with all SMS/MMS communication organized into threads. Attaching a photo, video, or audio recording automatically turns your message into an MMS.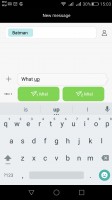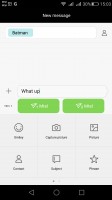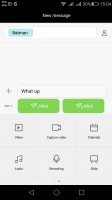 The standard messaging app
The Huawei G8 also comes with Hangouts, which is another way to handle texts. Hangouts can now integrate your SMS and MMS messages in addition to Gtalk and Google+ conversations.
For email, the Gmail app includes the four inbox options (Primary, Social, Promotions, Updates) that Google now has in their online interface. The default Email app is similar to Gmail, except that it can handle multiple POP or IMAP inboxes, which is useful for when you want to keep track of multiple accounts from one place.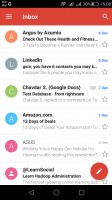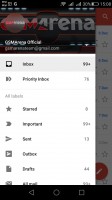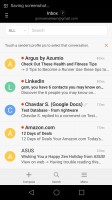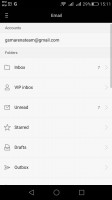 The Gmail app • The generic email client
The G8 keyboard features some additional settings thanks to its Swype integration, including themes, split keyboard modes, and keyboard height, but sadly many of them are hidden within the input settings menu rather than as shortcuts from the keyboard like on most interfaces.
Still, there is support for gestures as well as integration of Google's voice typing with their downloadable language voice recognition packs. There is a sea of options to explore.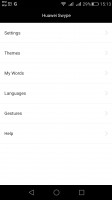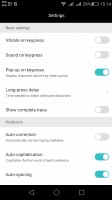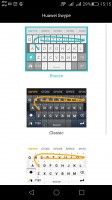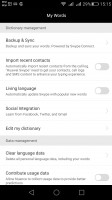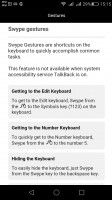 Huawei keyboard with Swype integration
7. Image gallery, music and video players, FM radio, audio quality
Orderly image gallery
Despite the continuous stream of Android updates (now up to 5.1.1 in the Huawei G8 and Mate S), EMUI 3.1 has retained and borrowed most of its styling and features from its predecessor. The image gallery is a prime example. It still offers a Timeline view, which sorts your images by the date you've taken them. It defaults to the Timeline view, but you can opt for the standard Album view with all of your images sorted in different albums.
Opening a single image lets you quickly delete or rotate it, as well as gives you some basic sharing options (including streaming it over DLNA).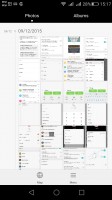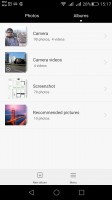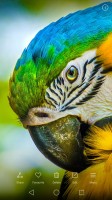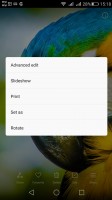 The Gallery app • Viewing an image
You can also go into a more capable editor with options for light and exposure adjustments (so you can bring out the shadows or the highlights), filters and beauty enhancements (which detects faces automatically).
It is very intuitive and packed with options, including things like filters, effects, levels and even special watermarks for time, location, weather, food and mood.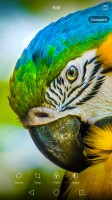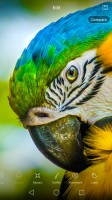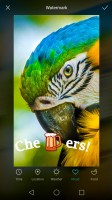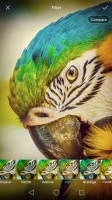 The image editor is quite capable
Video player
When it came to playing videos, the Huawei G8 default player does a good job supporting every common video codec, but unfortunately it lacks support for AC3 audio. The codec does require a license and this is usually the case with most Android phones anyway.
We couldn't find a way to load subtitles, but Dolby Mobile enhancement is supported. Interestingly enough, the video player on the G8 does support window playback mode, which is missing from the Mate S. That's yet another example of the inconsistent software features across the lineup.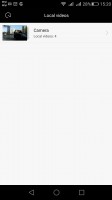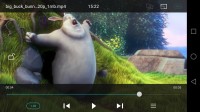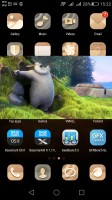 Straightforward video player
Music player
The Huawei G8 comes with Huawei's custom music player app. It offers four default playlists – songs, artists, albums, folders. You can create your own playlists, too. The background of the app changes dynamically to match the album art, which is a nice little touch.
The Now Playing screen is pretty standard, it offers album art and lyrics. There are no equalizers to speak off, but the app does have a few extra features. It would try to pull album art, song info and lyrics automatically for you.
Another nice addition is the ability to filter the songs by length, so no pesky ringtones show up in your library.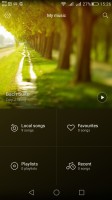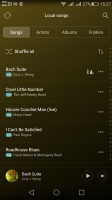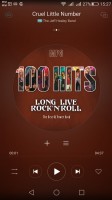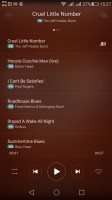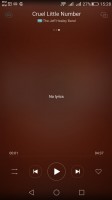 The Music player
FM radio
The Huawei G8 has a built-in FM receiver. It can play through the headset or the loudspeaker, but you'll need to have the headset plugged in as it serves as an antenna.
We were disappointed not to find RDS support (Huawei is a frequent offender in this area) – you'll have to name your radio stations by hand.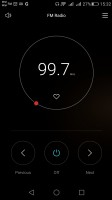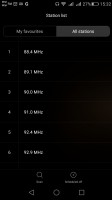 The FM Radio also has a notification area shortcut
Audio output may not be the loudest, but its clarity impresses
The Huawei G8 showed perfect clarity in the first part of our audio quality test. When attached to an active external amplifier, the smartphone produced great scores top to bottom with no weak points to its performance. Things weren't as great in terms of loudness, with the G8 reaching only an average rating.
Impressively enough, plugging in our standard headphones didn't cause much damage. A tiny hike in stereo crosstalk is all we got and we still ended with some great scores. Volume remained average though, so we'd advise against going for particularly high-impedance headsets (our standard set is rated 32 Ohm). A very solid showing by the G8 here, overall.
Here go the results so you can do your comparisons.
| | | | | | | |
| --- | --- | --- | --- | --- | --- | --- |
| Test | Frequency response | Noise level | Dynamic range | THD | IMD + Noise | Stereo crosstalk |
| Huawei G8 | +0.02, -0.08 | -93.4 | 90.1 | 0.0028 | 0.012 | -93.4 |
| Huawei G8 (headphones) | +0.10, -0.03 | -92.9 | 89.8 | 0.0048 | 0.071 | -78.2 |
| Huawei Mate S | +2.68, -3.68 | -97.1 | 97.2 | 0.0069 | 0.482 | -97.5 |
| Huawei Mate S (headphones) | +3.88, -3.88 | -97.4 | 96.8 | 0.0039 | 0.462 | -77.5 |
| Meizu PRO 5 | +0.07, -0.17 | -93.9 | 93.9 | 0.0015 | 0.053 | -95.7 |
| Meizu PRO 5 (headphones) | +0.08, -0.15 | -95.9 | 95.9 | 0.142 | 0.421 | -86.2 |
| LG G4 | +0.04, -0.07 | -93.4 | 93.3 | 0.0021 | 0.050 | -92.6 |
| LG G4 (headphones) | +0.93, -0.13 | -91.4 | 91.9 | 0.013 | 0.244 | -50.4 |
| Samsung Galaxy S6 edge | +0.03, -0.01 | -95.6 | 92.8 | 0.0023 | 0.0078 | -95.7 |
| Samsung Galaxy S6 edge (headphones) | +0.05, -0.02 | -92.6 | 92.5 | 0.0028 | 0.044 | -76.9 |
| Samsung Galaxy S6 | +0.01, -0.04 | -95.6 | 92.8 | 0.0024 | 0.0094 | -94.5 |
| Samsung Galaxy S6 (headphones) | +0.02, -0.05 | -92.6 | 91.9 | 0.0025 | 0.042 | -83.4 |
| HTC One M9 | +0.02, -0.06 | -94.8 | 93.0 | 0.0049 | 0.026 | -93.7 |
| HTC One M9 (headphones attached) | +0.03, -0.05 | -93.7 | 92.7 | 0.0082 | 0.030 | -91.6 |
| Sony Xperia Z5 | +0.01, -0.04 | -95.5 | 89.5 | 0.0033 | 0.012 | -94.8 |
| Sony Xperia Z5 (headphones attached) | +0.22, -0.24 | -95.1 | 89.5 | 0.0057 | 0.212 | -59.8 |
| Apple iPhone 6s | +0.03, -0.04 | -93.5 | 93.5 | 0.0016 | 0.0075 | -73.2 |
| Apple iPhone 6s (headphones attached) | +0.10, -0.06 | -93.8 | 93.9 | 0.0030 | 0.101 | -68.2 |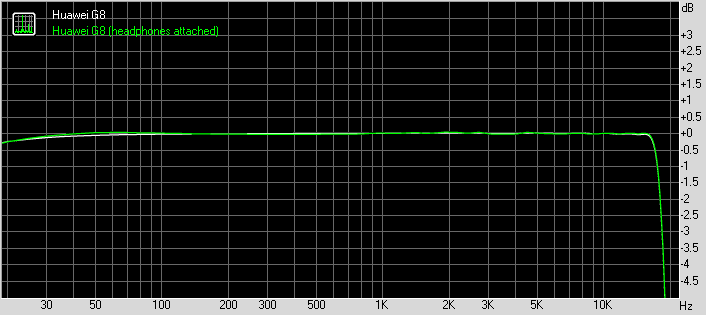 Huawei G8 frequency response
8. Camera: features, image and video quality
Decent 13MP camera
Huawei hasn't really been experimenting in the camera department. 13MP seem to be the sensor of choice lately, with only a few exceptions like the Honor 7 and P8max breaking away from the crowd with higher resolutions. The G8 follows the same trend and is fitted with a 13MP sensor, just like its bigger sibling – the Mate S.
Sadly, however, that is where the similarities with the higher-end model end. While the Mate S comes with a RGBW BSI sensor – a 1/2.6′ type – and an f/2.0 aperture lens, the G8 has none of these bells and whistles and even though a quick look through the basic specs and a glance at the back of the phone with its dual-LED flash design, can definitely give off the false impression that the G8 shares a camera with the Mate S, that is definitely not the case.
While the G8's camera does a pretty good job, it is a definite downgrade in every way from the Mate S shooter. Still, it does offer OIS, which is definitely the one feature we would leave intact as well, if given the choice.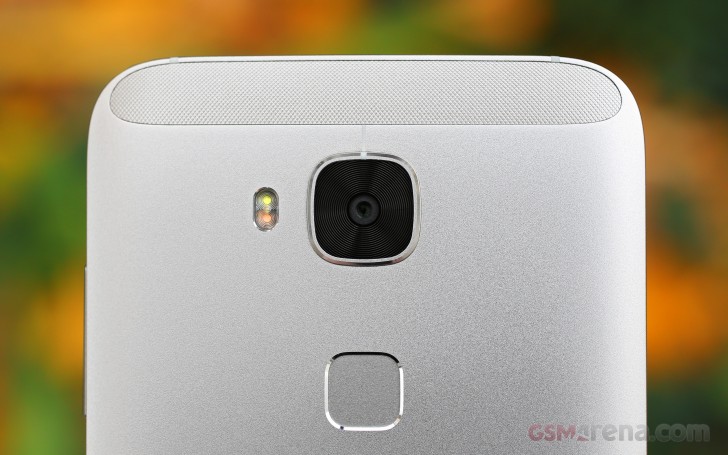 The camera interface is a very clean and simple. On each side of the virtual shutter button you get swipe controls that will take you into the photo, video, Beauty, Time-lapse and Good food modes. To activate the Burst mode you just need to press the camera shutter longer. However, while shooting bursts, the G8 exhibits some odd behavior – every now and then, it will capture a shot with a totally changed exposure, then go back to normal in the next one. Focus also seems to drift from time to time while in burst, which is odd, considering it should be fixed to begin with.
A few things have been moved around since previous version of the camera app. On the left side is an advanced menu where you can choose from more shooting modes such as HDR, Panorama and adjust things like object tracking, smile shutter, touch to capture switch, geo-tagging on/off, ISO, white balance, and more. Also the All-focus mode has been moved to this menu.
A few things are, however, missing from the menu, when compared to the Mate S. There is no Super Night mode, which is all but fair, considering the absence of the RGBW array and the fact that the G8 isn't marketed for its nighttime photography. This is also probably why the interesting Light painting mode is missing.
However, it is difficult to justify the absence of Pro camera mode with manual controls. Or the absence of the document scanning feature, which honestly doesn't require an advanced camera hardware to operate.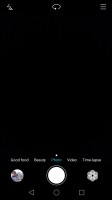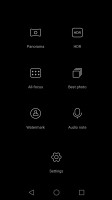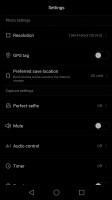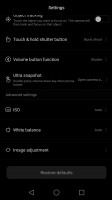 Easy to use camera UI
The all focus mode is similar to Refocus on the Lumia phones – your phone takes a few pictures of the same scene and allows you to choose the focus later, including all in focus. It works nice and hiccup-free.
The Huawei G8 captures decent quality still, but there is more to be desired in terms of quality. As already mentioned, despite the apparent similarities in the general camera specs, the G8 can't really compete with the Mate S in this department. Photos definitely lack in terms of edge-to-edge sharpness, as well as resolved detail, but the worse part seems to be the high noise levels. Granted, outside conditions were less than ideal, but even then, noise is a bit too much for our taste. On the plus side, the G8 has accurate colors and OIS works beautifully. Maximum resolution for stills is 4160×3120 pixels.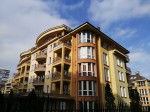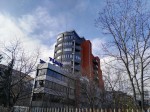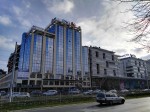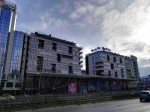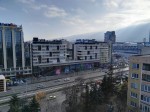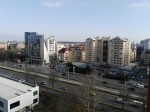 Huawei G8 camera samples
The HDR mode is a hit and miss situation. It works great most of the time, bringing up even more detail in the shadows, without sacrificing the image quality, but it does result in odd processing in some cases. The effect is nice and subtle, but it is heavily dependent on the lighting conditions and triggering it sometimes resulted in no effect whatsoever, or an undesired amount of darkening.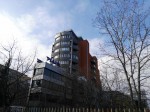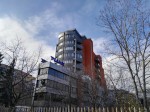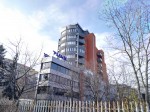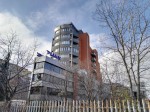 HRD mode off • HDR mode on • HRD mode off • HDR mode on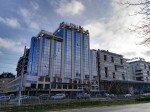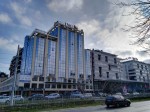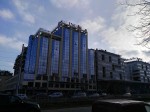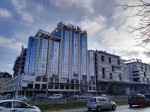 HRD mode off • HDR mode on • HRD mode off • HDR mode on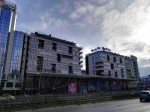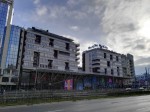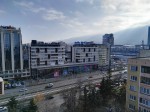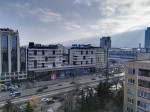 HRD mode off • HDR mode on • HRD mode off • HDR mode on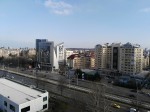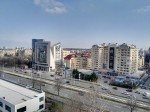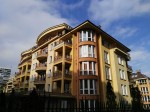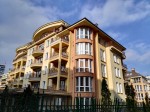 HRD mode off • HDR mode on • HRD mode off • HDR mode on
Up close, the Mate S does a pretty good job of focusing as well. Here are a couple of macro photo to prove it. It has no problem focusing from an inch away.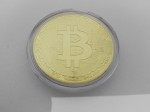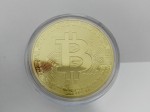 Macro samples
Huawei has always had a way with panoramas. The G8 takes high-res panorama images, with great stitching, excellent contrast and very good detail levels. It might not be as good as the Mate S, but we would definitely count on it for a panorama shot.
The 5MP front camera produces nice shots, especially considering the mere 5MP is has to work with, so, we can't really be too picky. The camera app also has a "Beauty mode" enabled by default and it works as advertised, although we personally find the results somewhat a bit over the top. Here are a couple of selfie samples.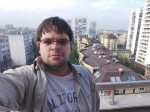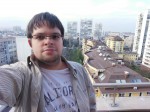 Selfie sample • selfie with beauty mode
Still camera comparison
We've uploaded the full resolution (13MP) photos to our photo quality comparison database so you can compare it against other high-resolution smartphones.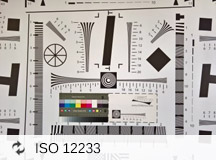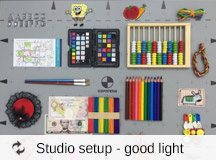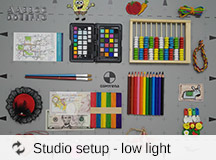 Decent 1080p video recording
The Huawei G8 offers 1080p videos at 30fps. Sadly, there's no 4K recording, which is perfectly natural, since the Snapdragon 615 only goes up to 1080p. There is a dedicated viewfinder for clips so you surely won't get the field of view wrong.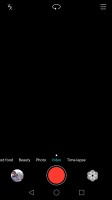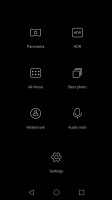 Camcorder UI
Videos are stored as MP4 files and rather surprisingly have a bitrate of around 22 Mbps, which is twice as much as the Mate S does at 1080p. There's stereo sound at 96Kbps, but the framerate varies quite a bit, though generally stays closer to 29fps than to the promised 30.
In comparison the Ascend Mate7 put out a solid 25Mbps 1080p video at 30fps from its 13 MP camera. The Huawei P8 however suffers from the same bitrate limitation as the Mate S, so, we can clearly see that Huawei is having some trouble in the software department.
Just like with the still, quality is alright, nothing really special. More resolved detail can be desired and the same goes for sharpness. Dynamic range is also lacking.
Here is a sample we've uploaded on YouTube for you.
Video camera comparison
We also uploaded video samples from the Huawei G8 to a video compare tool, so you can check the quality for yourself.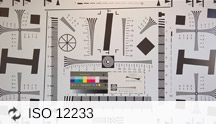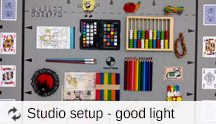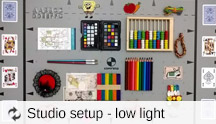 Huawei G8 in our video compare tool: 1080p resolution
9. Web browsing, other apps
Two web browsers
Like most droids nowadays, the Huawei G8 comes with two browsers to handle your web surfing needs. The stock browser offers largely the same functionality as Google's bundled Chrome browser and is most likely based on its core, but we found the latter to be a more capable performer. Chrome also lets you sign in with your Google account and access open tabs and history from other sessions.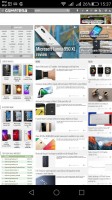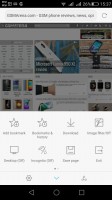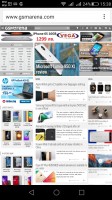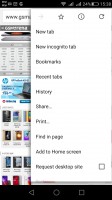 The Stock browser and Google Chrome offer similar functionality
Apps and more
Perhaps the highlight of Huawei's homebrewed apps is the Phone Manager. It lets you control all sorts of features from call/message privacy and Do Not Disturb settings, to phone optimization and app permissions, to network and battery usage.
The app features a one-touch optimization feature that frees up memory space and gives you settings recommendations for maximum battery performance. It's quite a slick feature that few manufacturers offer.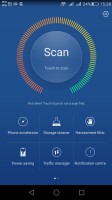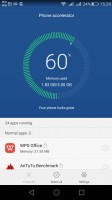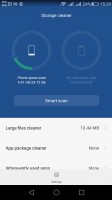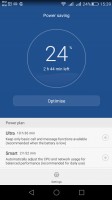 The Phone Manager app houses many important features under one roof
The G8 comes with WPS Office (apparently Huawei has moved away from Polaris). It handles documents with ease and supports Word, Excel and PowerPoint docs (both the 2003 and 2007 versions), it also opens PDF files.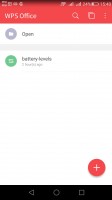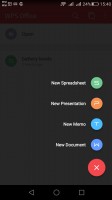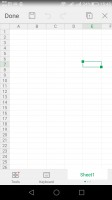 WPS Office
You do get a proper file explorer too – it has two tabs that divide your content between categories and a file explorer for internal and external storage. The app also handles ZIP and supports batch operations. It comes with a very useful Safe folder, for fingerprint protected storage. Nice!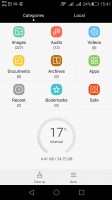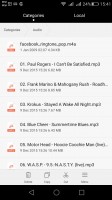 The File Manager
Huawei has included some nifty camera features in the Huawei G8, some of which are accessed as individual apps. The Magnifier is especially handy for looking at stuff up close, while the markedly female-targeted Mirror apps lets you get a quick look at yourself, with included brightness adjustments and zoom options. Also, for some reason beyond us, it artificially fogs up when you blow into the microphone just as if it were a real mirror.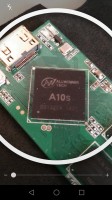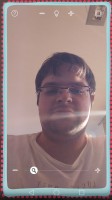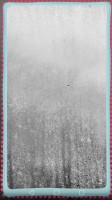 The Magnifier and Mirror apps offer some additional camera functionality
There are also the standards, such as calendar, world clock with stopwatch and timer and a calculator. Nothing really special to point out here.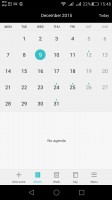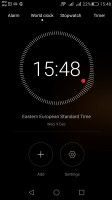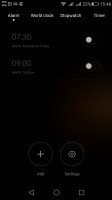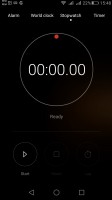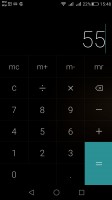 Calendar • Clock • Calculator
Once again, however, we found a few things missing from the Huawei G8 and its extensive software suite. Director mode for shooting video from multiple devices is one notable example. Also, the audio feature within notes. We understand that since there are two instead of three microphones in the G8, it can't do all directional capturing magic of the Mate S, but still, dropping the rest of the functionality just seems lazy. Still, there is a basic recorder app on board.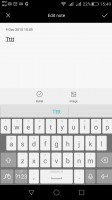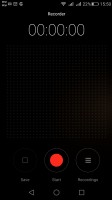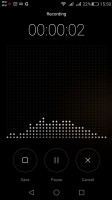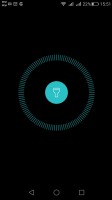 Notes app • Voice recorder • Voice recorder • Flashlight
When it comes to getting around, the Huawei G8 is equipped with Google Maps and Navigation. The app offers much of the same functionality as its web-based counterpart and since recently, you can even take full advantage of the navigation feature without an active data connection. Certain areas of the map can also be easily downloaded for offline use and Maps will even update your local version if need be. Still, the interesting stuff, like live traffic data and street view can only be experienced over a live internet connection.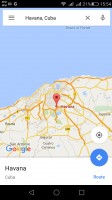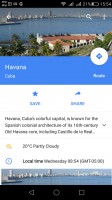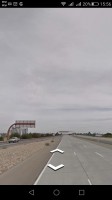 Google Maps
The best part of owning a smartphone is getting new apps, and when it comes to Android, Google Play Store is the best source for getting your fill. From recommendations to top apps, it features a plethora of ways you can find new apps, and installing apps usually only takes a couple of taps.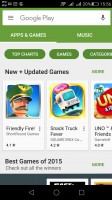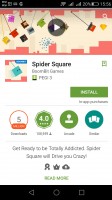 Google Play Store
10. Conclusion
Final words
There seems to be a long-standing trend with Huawei handsets – you generally opt to pick one up for the exquisite looks and premium build at the cost of some overall performance. The idea of offering a flagship grade device and skipping some on the number-crunching power in favor of other redeeming qualities might sound like a recipe for disaster, but Huawei has successfully pulled it off.
Premium offers like the Mate S and Mate 7 bring the idea to life, but do so with a considerable budget at their disposal. When trying to do the same, only within a tighter budget, Huawei can't quite boast the same level of success. The Huawei G8 is a perfect example – on the surface it would appear to be the perfect combination of Huawei's high style and elegance and a reasonable price point, but in reality, it is plagued by quite a lot of imperfections that tend to leave it at a disadvantage in today's sprawling mid-range market.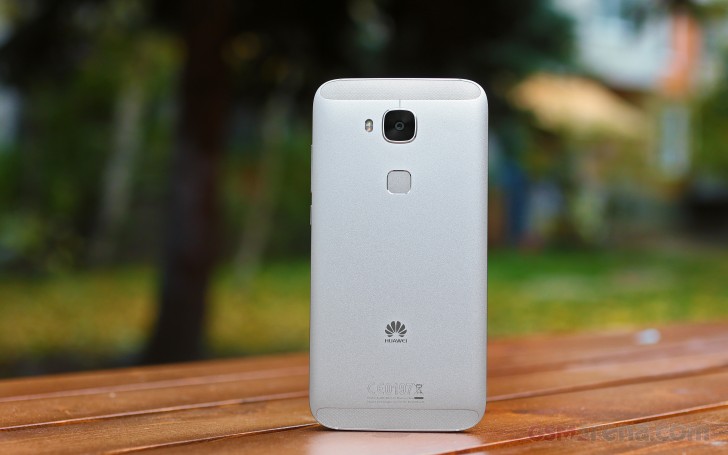 The Huawei G8 definitely looks the part and despite its mid-range pricing, has all the traits of a quality device. Aluminum alloy secures the premium looks, matched by excellent handling. The G8 will get your attention and the build quality won't disappoint in the long run.
Specs-wise, the Huawei G8 looks like a capable mid-range offer, on paper at least. It runs on a Qualcomm Snapdragon 615 SoC, which is a lot more standard than Huawei's usual custom Kirin solutions. Its screen is just as spacious as the one on the Mate S – 5.5 inches in diagonal – and has the same resolution of 1080 pixels. It is a very nice panel and the only thing it really lack compared to the Mate S is AMOLED technology, replaced by a LCD.
The G8 is also quite generous in the rest of its specs sheet with 2GB and 3GB memory options available, coupled with 16GB and 32GB of storage, respectively. The camera setup might not be quite as impressive as the one on the Mate S, but it is still nicely equipped for a mid-range device. It offers the same 13MP resolution with a dual-LED, dual tone flash and probably best of all – optical image stabilization.
The fingerprint reader also deserves credit. Overall, it is currently one of the best implementations the industry has to offer. It is blazing fast, always on, very accurate and just a pleasure to use. It also incorporates some additional touchpad features and it all works seamlessly across the OS.
The only real flaw the Huawei G8 has lies in the performance department. We are well aware that the Snapdragon 615 with its Adreno 405 GPU is no powerhouse combo, but the silicon in question is a pivotal mid-range one and we have seen it power some excellent experiences from other OEMs. Sadly, inside the G8, the hardware remains severely underutilized.
The new EMUI 3.1 definitely looks good on top of Android 5.1.1 Lollipop and offers a number of advanced features, but the overall performance is quite disappointing. This is hardly noticeable in the GUI or in everyday tasks, but some more-advanced applications and even casual games are sure to take a performance hit. Video recording seems to have some issues as well. Overall, like the Mate S, the G8 has inherited pretty much all issues Huawei has been battling with since the adoption of Android Lollipop – poor performance and stability. Hopefully, the OS performance will be tweaked up with a couple of updates, allowing the device to make proper use of its hardware.
Here is a quick summary of our key test findings.
Huawei G8 key test findings:
Impressively solid aluminum unibody, thin profile with a clean and simplistic look
Excellent materials and build quality
Nice 5.5-inch IPS LCD display, with decent maximum brightness and above average contrast, generally a pleasure to use.
More than decent 70 hours endurance rating, a good 10 hours more than the Mate S.
All-round connectivity with LTE Cat.4, dual-SIM available
The fingerprint reader is truly one of the best around – it's fast, accurate, always on and also incorporates touch gestures (although a few of the Mate S ones are missing).
Both CPU and GPU performance are really poor, not nearly what the Snapdragon 615 and Adreno 405 are capable of. The G8 definitely suffers from poor software optimization.
The speaker is only average in terms of loudness.
Still images offer decent quality, but there is a lot more to be desired in terms of sharpness and dynamic range. Focus is also an issue at times. The powerful manual mode of the Mate S is missing, so are the intriguing light painting modes.
1080p video is also decent, but nothing great. Bitrate is rather low.
Video player handles all video and audio codecs, except AC3 sound; it can also play back vides in a floating window.
Emotion UI v.3.1 is great, smooth, with rich customization options and powerful system tools. The transition to Android Lollipop has some persistent bugs and performance drops to iron out, which are probably here to stay. We appreciate the industry leading granular app permission control.
All things considered, the Huawei G8 is definitely a nice concept on paper, but not quite the ideal undertaking for Huawei and its current approach to the smartphone market. In terms of style and built quality, just like the Mate S, there is little more if anything to be desired, but most competitors could and have made considerably better use of the hardware at hand.
We already showcased a few of these handsets and what they are capable of in the benchmark section of the review and it is only natural that we recommend them as alternatives to the Huawei G8. Samsung, for example, just so happens to have an almost identical device to the G8, both in terms of specs and price. The Galaxy A7 makes a better use of the Snapdragon 615 SoC. Furthermore, it also offers an elegant metal apparel, so opting for it won't really mean sacrificing style for function.
The Motorola Moto X Play is also a very close match to the G8. The exact same can be said about its performance as well, but premium looks aren't exactly as comparable in this case. Then again, it all comes down to personal preference and the plastic Moto X Play still has a lot of charm of its own. And if HTC is more up your alley, you can check out the Desire 826 for a direct specs alternative, although you can definitely get a better deal for the Huawei G8 price.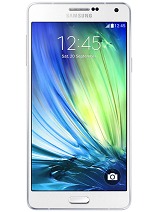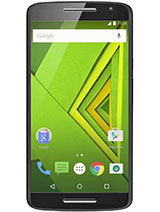 Samsung Galaxy A7 • Motorola Moto X Play • HTC Desire 826 dual sim
Speaking of shopping around, when looking for a mid-range device, there has probably never been a better time to explore the ever-growing sea of options OEM's have started putting out in this price bracket. There are some truly amazing budget-friendly solutions and not only courtesy of China.
The Asus Zenfone 2 lineup is one excellent example. Most devices from the family offer amazing value for their price and stand out among the crowd with a powerful choice of hardware. The only real problem you will face with a Zenfone 2 is actually finding your way through the sea of confusing modifications and varieties.
Sony also has a few interesting offers within the price range. The latest Xperia M5 might be slightly outside the budget, but you can easily get its predecessor – the M4 Aqua, which is still an excellent mid-range device. Plus, you do get the added bonus of an IP68 rating for dust and water proof up to 1.5 meter and 30 minutes. And if you are after something bigger with more screen real estate, then there is the Xperia C5 Ultra with its spacious 6.0-inch FullHD display. On the opposite side of the scale, there is the highly-praised Z3 Compact.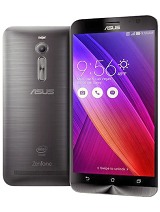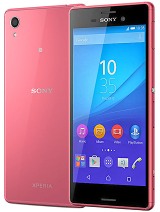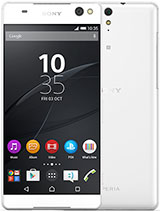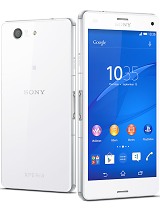 Asus Zenfone 2 ZE551ML • Sony Xperia M4 Aqua • Sony Xperia C5 Ultra • Sony Xperia Z3 Compact
The good thing about the current highly-dynamic mobile market is that healthy competition leads to swift price drops in a matter of months. This means that the once inaccessible top-of-the-line flagship offers now go down to reasonable price levels in less than a year. Most of them, however, are far from irrelevant and still quite capable despite their age. This allows us to suggest the LG G3, HTC One (M8) and the Samsung Galaxy S5 as excellent alternatives to the Huawei G8. Each of them also easily outperforms the G8, so if that is what you are after an ex-flagship is probably your best bet.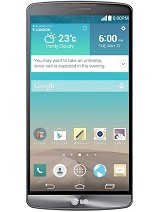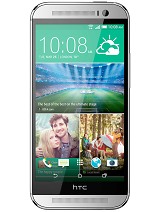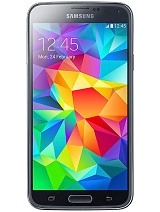 LG G3 • HTC One (M8) • Samsung Galaxy S5
Last, but not least, if you really have your heart set on a Huawei smartphone, then considering our findings in the review, the OEM might have better solutions available in the same price range. We already mentioned both the Ascend Mate7 and the Honor 7 on several occasions throughout the text and they are both definitely worth looking into.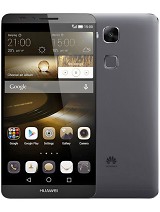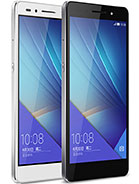 Huawei Ascend Mate7 • Huawei Honor 7
Just like its bigger brother, the Huawei G8 puts a lot of emphasis on style and definitely excels in this department. It is built to high standards and its stylish exterior and premium feel will get it quite a lot of attention. Well-equipped as well, it is sure to please the majority of Android users, who value quality exterior and rich functionality.
However, while the Mate S raised only minor concerns in terms of performance, the G8 is simply disappointing in its utilization of otherwise capable hardware. If Huawei manages to address said performance and stability issues with some major software work shortly, then the G8 would be an obvious mid-range choice, but in its current state, it is little more than a promising concept.
(gsmarena.com)