1. Introduction
The Asus Zenfone Selfie has got to be the company's most straightforward attempt at product naming. Sure, it does have the mandatory 7-symbol alphanumeric model string at its tail, which means zip to the uninitiated, but unlike the piles of different Zenfone 2's, in this case a simple Selfie will suffice to describe the specific model.
The title does well to advertise the smartphone's headline feature and in person the handset isn't shy showing it off either. Selfie could very well come before Zenfone with this one, as the front 13MP shooter has pushed the earpiece out of its customary central position.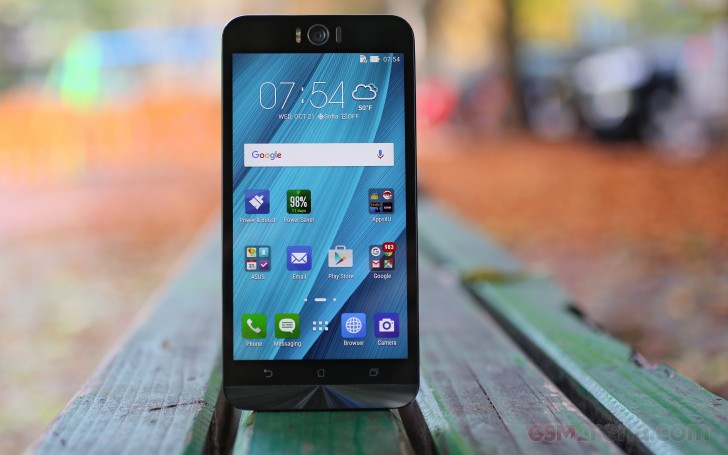 A dual-tone front facing flash further emphasizes the device's priorities and is a bit of an exclusive feature. Setting aside rotating camera trickery like on the Oppo N3 and Honor 7i, you'd be hard pressed to find a smartphone with more than a single LED to shine at your face. The HTC Desire Eye is one, the only one perhaps.
At this point you'd be forgiven to think that the Zenfone Selfie is a one-hit wonder, but you'd be wrong. It can take on most any midrange competitor – after all, in 2015 the majority of those are equipped with the same Snapdragon 615 chipset anyway. Up to 3GB of RAM, a 5.5-inch FullHD display and a 13MP primary camera mean that the Selfie won't be shorthanded against all but the best-equipped rivals.
Asus Zenfone Selfie ZD551KL key features
Dual-SIM, Dual Standby capability
5.5-inch IPS capacitive touchscreen with 1080p resolution and 403ppi density, Gorilla Glass 4 protection
64-bit Qualcomm Snapdragon 615 chipset; quad-core 1.5 GHz Cortex-A53 & quad-core 1.1 GHz Cortex-A53 CPU; Adreno 405 GPU
2/3GB of RAM, 16/32GB of storage and a microSD slot for further expansion, 5GB free lifetime ASUS WebStorage
13MP main camera with f/2.0 lens, laser autofocus, dual-LED dual-tone flash, 1080p@30fps video recording
13MP front camera with 88-degree wide-angle f/2.2 lens, contrast detection autofocus, dual-LED dual-tone flash, 1080p@30fps video recording
Android 5.0.2 Lollipop out of the box with Asus ZenUI overlay
LTE Cat.4, Wi-Fi 802.11 a/b/g/n/ac; NFC; Bluetooth; GPS with A-GPS; GLONASS; microUSB 2.0 port, USB host
3,000mAh user-replaceable battery
Plastic build, back covers in a choice of colors and textures
Main disadvantages
No 2160p video recording
Rather large and hefty
For the record, the model number of the Zenfone Selfie is ZD551KL, but that's the last time we'll be mentioning it on purpose. We have here the version with 3GB of RAM and 32GB of storage, and there's a lesser 2GB/16GB option. We're not big fans of the concept that the two numbers should be interdependent, but let's say that it allows for a more affordable base model, and that's a good thing where the Zenfone Selfie is positioned.





Asus Zenfone Selfie press images
The Selfie has a few virtues from an era destined for oblivion, which we do appreciate. The smartphone takes microSD cards for expansion, and it also has an easy-to-access swappable battery – batteries on Zenfone 2's have so far been guarded by a dozen screws despite the misleading removable back.
We're all set to put the Asus Zenfone Selfie through our customary review routine, with unboxing and hardware overview first up on the next page.
2. Retail package, 360-degree spin, hardware overview
Barebones retail package
The Asus Zenfone Selfie comes in a standard retail box, its sleeve color matching the phone's back cover. The contents include an AC adapter rated at 5V/2A and less than a meter long USB-to-microUSB 2.0 cable. There are no headphones inside the package we received.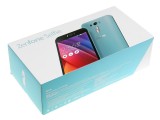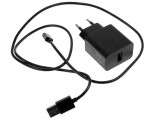 Asus Zenfone Selfie retail package
It's worth pointing out that the box does have an additional compartment, which may eventually contain a headset in certain markets.
Asus Zenfone Selfie 360-degree spin
The Asus Zenfone Selfie measures 156.5 x 77.2 x 10.8 mm and that's 4mm taller than the already bulky Zenfone 2 ZE551ML. This minor change in dimensions was obviously called for by the large front camera assembly, and selfie enthusiasts are likely to be ok with the tradeoff.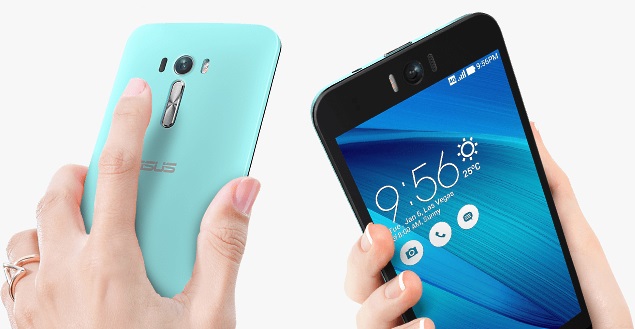 In terms of weight, there's no telling them 5.5-inch Zenfones apart. Whether it be the Zenfone 2, or the Laser, or the Selfie, they all tip the scales at 170g, which is not exactly light. Other selfie specialists like the HTC Desire Eye (5.2″, 13MP, 154g) and Sony Xperia M5 (5″, 13MP, 143) are noticeably lighter, but then the 6-inch 13MP Xperia C5 Ultra is even heftier at 187g.
Hardware overview
The smartphone shares the family's design guidelines closely. Based on the 5.5-inch Zenfone 2 that started it all this year, it's again larger than necessary for its diagonal, and pretty thick too.
It's made entirely out of plastic, with all the good and the bad implications of that. First and foremost, it creaks and squeaks every time you touch it. It's been a while since we had such a vocal smartphone in the office, and the funny thing is that the Zenfone 2 ZE551ML was nothing like that.
If we were to take a wild guess, we'd reckon the reason for this would be the removable battery. Think of it as a coupe versus its convertible sibling – the coupe has a roof which provides rigidity, while the convertible is all soft and wobbly. Now, engineers do try and stiffen car chassis, bet there's little you can do about a smartphone beyond the current state.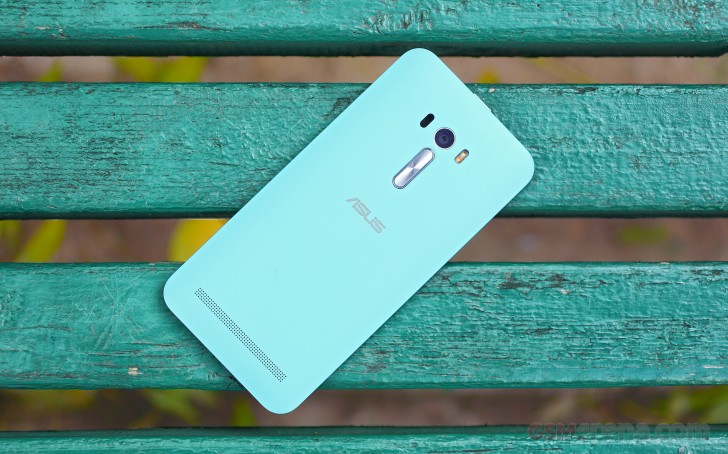 Back to Zenfones – where the Zenfone 2 had some extra structural components on top of the battery (the coupe's roof), the Selfie is denied those. Instead, the space between the flat powerpack and the curved cover is filled with a soft cushion to keep the battery tightly pressed. Or, just moderately pressed.
In the end the Zenfone Selfie is very prone to twisting – pop the cover off, grab the phone by both ends, and rotate them in opposite directions and you can easily dislodge the battery. With the cover on, twisting resistance isn't all that much improved, but the Selfie does handle attempts at bending a little bit better in its fully-assembled state.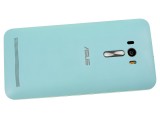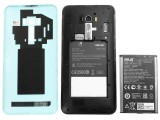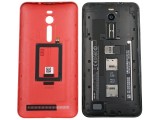 Busy back • cover removed to expose the swappable battery • Zenfone 2 for comparison
The cover itself has a different finish than the one on Zenfone 2. That one tried to mimic brushed steel, while on the Selfie it has a plain matte surface and doesn't try to hide its true nature.
The fact that it isn't glossy would have you believe it could ward off fingerprints well, but it doesn't. In just a few touches it has collected most of the grease off your digits. If you have no light hitting it, you may not see it, but with the curvature on the rear that's rarely possible.
Perhaps your mileage will vary depending on the color, and you might also be able to pick up a Selfie with a Zenfone 2-style brushed cover, or even one like the multi-faceted Deluxe model. Asus' website lists a total of 9 cover options, but so far we've only seen the matte Aqua Blue, Chic Pink or Pure White in retail channels.
The primary camera resides in a central position flanked on either side by the laser autofocus window and the dual-LED flash. Underneath the camera is the volume rocker – LG style. Towards the bottom you'll find the speaker, but don't expect it to be as large as the mesh in the cover – it's about a third of that size and is positioned towards the left.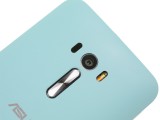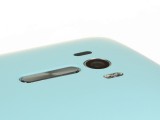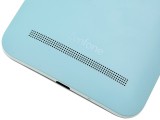 Camera, flash, laser autofocus window and a loudspeaker on the back
The front of the Selfie is your regular Zenfone affair with a twist. The top bezel has grown due to the large camera module and the 13MP shooter stares at you from a central position. The earpiece has been pushed out of the way to the right, while on the left is another duo of LEDs.
The 5.5-inch IPS display is covered with the latest Gorilla Glass 4 and is reasonably easy to keep clean.
Underneath is the strip of capacitive buttons freeing screen space, but it also makes for a sizeable bottom bezel. The additional chin below with a concentric circle pattern doesn't help either.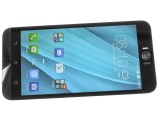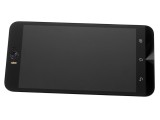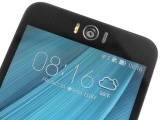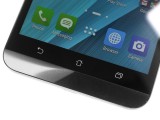 Front of the Zenfone Selfie with the 13MP camera and dedicated capacitive buttons
Up top is the power button – in one of the most uncomfortable positions possible on a phablet. Good thing then that the double-tap-to-wake feature will save from reaching all the way up to press it. Next to it is the 3.5mm headphone jack, while the secondary mic pinhole is on the other side.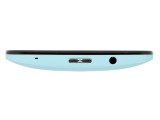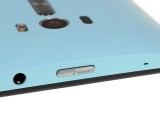 Power button, 3.5mm jack and secondary mic on top
The microUSB 2.0 port is on the bottom, and is again upside down compared to the generally accepted position with the chamfers up. The supplied cable does take that into account, however, and has the USB marking on the right side so that it's facing up when you plug it in.
With the volume rocker on the back, power button up top and card slots under the hood, the sides are left completely bare.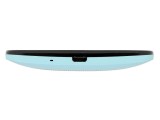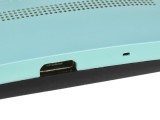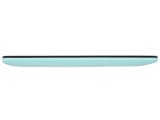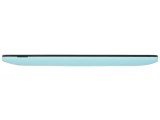 microUSB and mic pinhole on the bottom • nothing on either side
In the hand, the Zenfone Selfie feels much the Zenfone 2. It is large, but the curved back negates the issue and makes it quite comfortable to handle. The matte back provides enough grip and the rear volume buttons fall right in place for forefinger operation.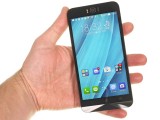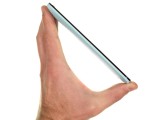 Handling the Asus Zenfone Selfie
3. Display, connectivity, battery life
Color-accurate 5.5-inch IPS panel
The Asus Zenfone Selfie comes with a 5.5-inch display with 1080p resolution, and that translates to a density of 403ppi. It uses an IPS LCD panel, which our microscope shot revealed to have a standard RGB subpixel arrangement, unsurprisingly.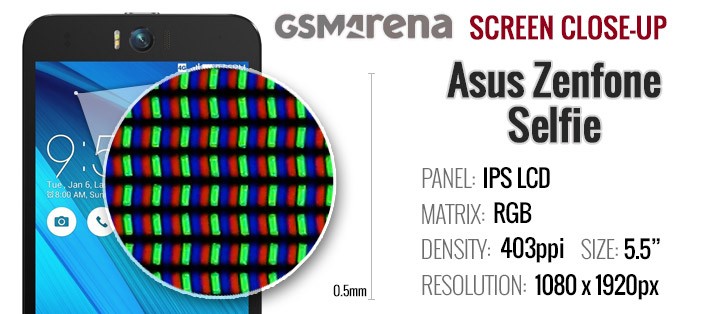 The Asus Zenfone Selfie has very accurate color rendition with the average DeltaE being the impressive number of 4.2 (for the primaries plus black and white). The max DeltaE is 7.7 and that's mainly the rendition of white, which is slightly on the bluish side.
The offered display tuning sliders allow you to improve that even further and by adding just a slight warmness to the display output we were able to achieve exceptional color accuracy – average deltaE of 3.3 and a max DeltaE of only 4.4.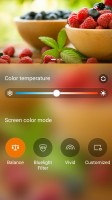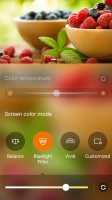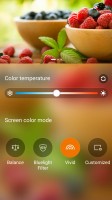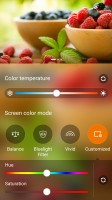 Asus Splendid display tweaking app
The maximum brightness of the LCD panel (333nits) is not a good as it could be, but the relatively deep blacks (not as good as on the Lenovo K3 Note, but certainly in the top-tier among LCDs) allow the Zenfone Selfie to offer good contrast ratio of about 928:1.
At the middle of the brightness slider, the brightness level is less than a third of the maximum brightness level, but that is also true for many other phones.
The minimum brightness level is 22nits, which a lot more than the best we've seen so bear that in mind if you intend to use it frequently in pitch dark environment – this sort of light level might be unpleasant for the eyes in such conditions.
Display test
50% brightness
100% brightness
Black, cd/m2
White, cd/m2
Contrast ratio
Black, cd/m2
White, cd/m2
Contrast ratio
Asus Zenfone 2 ZE551ML
0.13
107
796
0.44
390
879
Asus Zenfone Selfie
0.09
87
926
0.36
333
928
HTC Desire Eye
0.24
329
1345
0.62
806
1311
Motorola Moto X Play
0.23
343
1498
0.41
620
1520
Samsung Galaxy J7
0.00
150
∞
0
358
∞
Samsung Galaxy J7 outdoor
–
–
∞
0
500
∞
Sony Xperia C4 Dual
0.30
347
1174
0.53
635
1192
Sony Xperia C5 Ultra
0.18
219
1203
0.37
422
1144
Meizu m2 note
0.16
183
1096
0.42
473
1108
Xiaomi Redmi Note 2
0.17
162
953
0.49
467
953
OnePlus Two
0.16
180
1139
0.30
399
1334
The Zenfone Selfie performed rather miserably in our sunlight legibility test perhaps due to the low maximum brightness. It's certainly far from good AMOLED screens in this respect (even the budget-minded Galaxy J7, for that matter), but the score is quite low even for an LCD panel, especially in 2015. Even the Zenfone 2 does somewhat better, and we're not quite sure why that is. The panels look very much the same, though the Selfie is indeed a bit dimmer, just not as much as to make that much of a difference in the sun.
Sunlight contrast ratio
Nokia 808 PureView : 

4.698

Sony Xperia SP : 

1.733

Oppo Find 7 : 

1.691

LG Optimus 4X HD : 

1.691

HTC One V : 

1.685

BlackBerry Q5 : 

1.682

Asus Zenfone Selfie : 

1.68

LG Optimus Vu : 

1.68

Motorola Moto E (2nd Gen) : 

1.675

Xiaomi Mi Pad 7.9 : 

1.672

LG Optimus GJ : 

1.666

ZTE Nubia Z9 : 

1.659

Samsung Galaxy mini 2 : 

1.114
Connectivity
The Zenfone Selfie is well stocked on connectivity options. First off, there's quad-band 2G/GPRS/EDGE on both SIM cards and that's where the second card is capped. SIM 1 also gets quad-band 3G and a multitude of LTE bands, which are region dependent.
Dual-band (2.4GHz and 5GHz) Wi-Fi 802.11 a/b/g/n/ac radios are on board as well, with Wi-Fi Direct and hotspot support.
Bluetooth is in its 4.0 version, there's a GPS receiver with A-GPS and GLONASS and also NFC.
The microUSB port comes with USB host support for attaching your choice of peripherals and MHL support. The headphone jack is the standard 3.5mm affair, allowing you to plug in just about any set of headphones out there.
There's also a dedicated microSD card slot for storage expansion, which takes cards up to 64GB.
An FM radio receiver is provided for listening to music on the go without generating data traffic.
Asus Zenfone Selfie battery life
The Asus Zenfone Selfie comes with a 3,000mAh battery – a user-replaceable lithium polymer unit. The powerpack might very well be the same exact one as in the Zenfone 2, so we expected comparably unimpressive results. We weren't entirely right, it turned out.
It all starts with the twenty and a half hours of 3G call times – a good 4 and a half hours longer than the Zenfone 2 ZE551ML and a solid result on its own. It gets even better in the video playback test, where the Zenfone Selfie is good for 11 and a half hours of movie watching.
The good impression so far is marred by the web browsing longevity. When using the built-in browser, the Zenfone Selfie manages a lowly 6 and a half hours. Switch to Chrome, and the situation isn't as grim, but 7:43 hours is still only an average result. It's virtually the same number as the Zenfone 2 posted.
All in all, the Zenfone Selfie does okay in the battery department, noticeably better than the Zenfone 2. Its overall rating of 63 hours in our proprietary test is far from record-breaking but it's not disappointing either.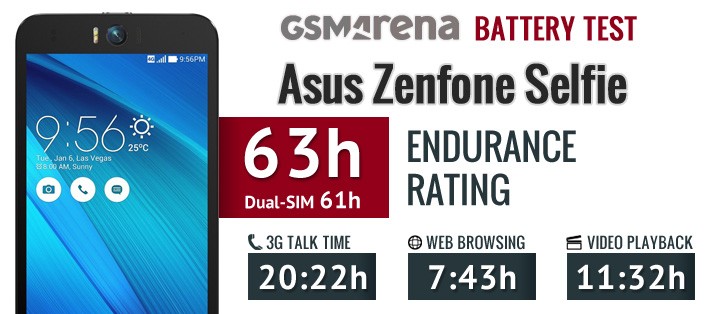 The Samsung Galaxy J7, for example, would last you a full 5 hours longer in video watching and a little over an hour longer in web browsing, but loses to the Selfie in call times. Another selfie specialist, the HTC Desire Eye, does about ten hours in both screen-on activities, but comes shorter in call endurance, too. Meanwhile, the Sony Xperia C5 Ultra trails the Selfie in all test disciplines.
Make note that our proprietary score also includes a standby battery draw test, which is not featured in our test scorecard but is calculated in the total endurance rating.
The battery testing procedure is described in detail in case you're interested in the nitty-gritties. You can also check out our complete battery test table, where you can see how all of the smartphones we've tested will compare under your own typical use.
4. User interface
You almost can't tell it's Android 5.0.2 underneath ZenUI
The Zenfone Selfie comes with Android 5.0 out of the box, by now somewhat dated already. Google's OS has been the object of a total makeover by Asus, and the overlay is called ZenUI. It's not merely a skin too, instead the company has added a host of proprietary apps.
With the power button all the way up on top, you'll be grateful there's a double tap to wake feature. Sending the phone back to sleep works by double-tapping on an empty area of the interface. If you're running a full-screen app, double-tapping on the notification bar will do the trick. You could disable the feature in settings, if you want that extra 1-2 percent of standby endurance, but we don't see ourselves doing that.
The lockscreen is a typical Asus affair. You're greeted by a time and weather widget, but also three shortcuts to the camera, dialer and messaging apps. They are customizable too, and you can assign any installed app of your choice to either of the three slots.
The list of notifications follows and, unlike some other Lollipop builds, double tapping on one takes you straight to the app that pushed it. Unlocking only works with an upwards swipe.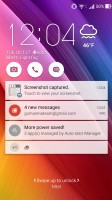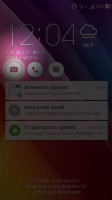 Asus themed lockscreen
Beyond the lockscreen is the Android homescreen with four customizable shortcuts docked at the bottom, the app drawer shortcut always in the middle. You cannot add more icons beyond these four, but there is folder support. Removing one does not rearrange the others, leaving an odd empty space.
There are preloaded Asus and Google folders, packed to the brim with a selection of applications from the respective companies – custom Asus apps in one, and the default Google apps in the other. When you install a new app, the phone will suggest a folder for its placement, aiming to keep things nicely organized.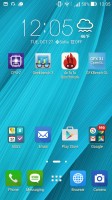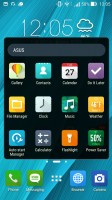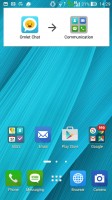 Default homescreen • grouping suggestion
A pinch zoom lets you rearrange your homescreens, as well as select a default homescreen and add additional ones up to seven total, which can be cycled.
Holding your finger on a homescreen brings a popup menu. It gives access to icon packs (of which there's only one on board, but the Play Store has plenty), scroll effects (a grand total of 11) and wallpapers. Additionally, it provides another way to get to the app drawer and settings menu.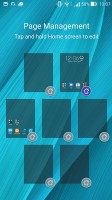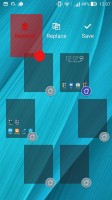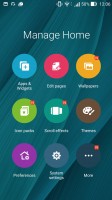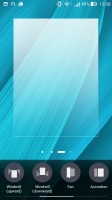 You can have a total of seven homescreens • Customization menu
There's a theming engine with plenty of free themes available online, if you want to abandon the default cartoonish Asus theme, or go for an even more colorful one.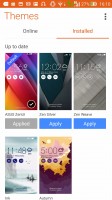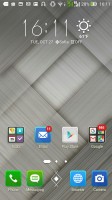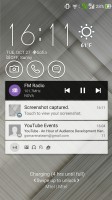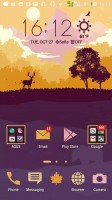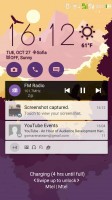 Theme store • Effect of themes on the interface
The app drawer has plenty of customization options itself. Grid size can be adjusted in the 3×3 to 5×5 range, with the latter making more sense on the 5.5-inch screen. Apps can be arranged alphabetically (the "All" setting), manually, or by frequent use, and you can also choose to only display the ones you downloaded yourself. Alternatively, you can have the Selfie group apps into folders according to their use.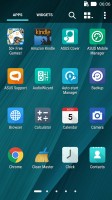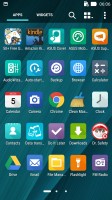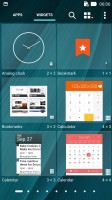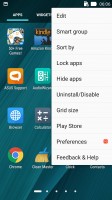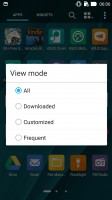 App drawer
The notification area has seen extensive customization as well. A single-finger pull-down only brings up the notifications and no quick toggles. Side swiping removes the notifications and a "clear" button does away with all of them at once. A second swipe from just below the date reveals the toggles, and whatever notifications you have left get squished to the little space underneath.
A two finger pull-down gets you straight to this state, which features a brightness slide with an auto mode, a 4-in-a-row set of quick tools and a 3×4 grid of toggles. Both the quick tools and the toggles can be chosen and rearranged, but you need to have exactly 4 tools and at least 8 toggles lined up.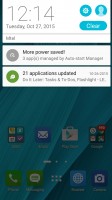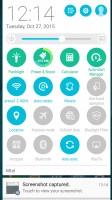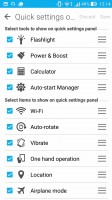 Notification shade with tools and toggles
The task switcher is the standard Lollipop style virtual rolodex, but with a twist. In between the typical "Close all" button and shortcut to the Apps section of the Settings menu, you get a pinning option. What that does, is keep the selected app in view regardless of taps on the capacitive buttons. It's a bit fiddly to get out of requiring a press-and-hold on the back and task switcher buttons simultaneously.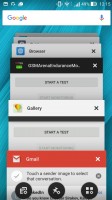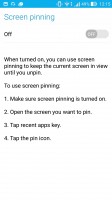 Task switcher with pinning
Quick trigger is Asus' answer to the problem of handling large devices single-handedly. It's evoked with a double tap on the home button, provided you've enabled it first in settings. What it does is shrink the entire interface to a portion of the screen, which is resizable and can be moved around to suit left or right handed use.
With the touchscreen always-on for the double-tap-to-wake feature, Asus was able to implement a few other nifty shortcuts. For example, drawing the letter "C" on the screen while it's sleeping will wake the phone and straight up launch the camera app. "W" launches the browser and presumably stands for Web. While the letters are preset and you get six of them, you can assign any app of your choice to any letter – very convenient!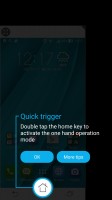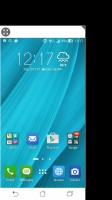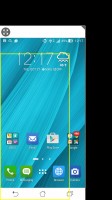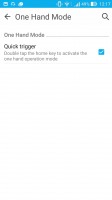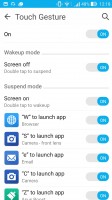 Quick trigger simplifies one-handed operation • Touch gestures
5. Performance
Synthetic benchmarks
Befitting its midrange aspirations, the Asus Zenfone Selfie comes with the Qualcomm Snapdragon 615 under the hood. In this particular case the clock speed caps are set at 1.5GHz for the pseudo-big quad-core cluster of Cortex-A53's, and 1.11GHz for the other four cores.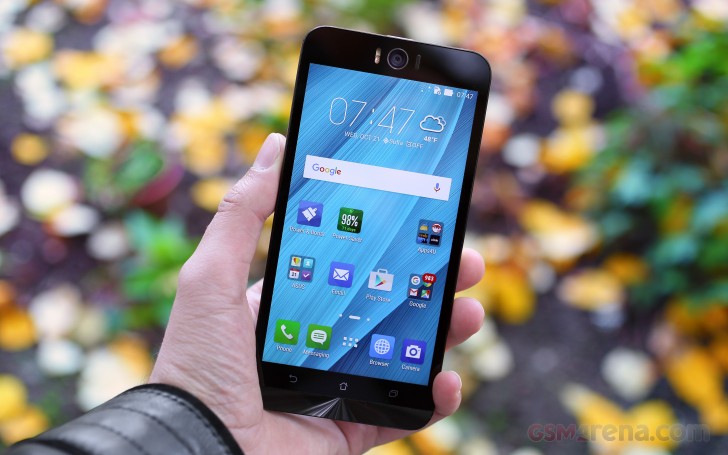 Our review unit has 3GB of RAM and 32GB of internal storage. There is a lower-specced version with 2GB of RAM and half the storage. It's natural that the 2GB of RAM may adversely affect some (but not all) of the tests, so have that in mind when sifting through the numbers below.
Sticking to our usual drill, we kick off with the GeekBench 3.0 benchmark. The Zenfone Selfie scores a lot like you'd expect from a Snapdragon 615 device. It's on par with the similarly equipped Moto X Play and marginally ahead of the Zenfone 2 with the lesser of the Atoms, the Z3560. The Exynos 7580 in the Samsung Galaxy J7 is ahead in raw CPU power, as are the Xperias C4 and C5 Ultra.
GeekBench 3
Higher is better
Xiaomi Redmi Note 2 : 

4589

OnePlus 2 : 

4429

Sony Xperia C4 Dual : 

4242

Sony Xperia C5 Ultra : 

4226

Samsung Galaxy J7 : 

3619

Asus ZenFone 2 ZE551ML (Z3580) retail : 

2922

HTC Desire Eye : 

2911

Meizu m2 note : 

2649

Motorola Moto X Play : 

2608

Asus Zenfone Selfie ZD551KL : 

2582

Alcatel Idol 3 (5.5) : 

2451

Asus Zenfone 2 ZE551ML review : 

2423
In Antutu the Zenfone Selfie posts good numbers, among the top Snapdragon 615's we've seen. It more than likely thanks to the 3GB of RAM, which can show its benefits in this compound benchmark. The more powerful CPU helps the Galaxy J7 inch ahead, despite it only has half the Selfie's RAM. The Xperias are towards the top of the crop, where you can find the top-specced Zenfone 2 with the Aton Z3580 and 4GB of RAM.
AnTuTu 5
Higher is better
Asus ZenFone 2 ZE551ML (Z3580) retail : 

48361

OnePlus 2 : 

47207

Sony Xperia C5 Ultra : 

46502

Sony Xperia C4 Dual : 

46307

Xiaomi Redmi Note 2 : 

46307

Asus Zenfone 2 ZE551ML review : 

42301

HTC Desire Eye : 

40296

Samsung Galaxy J7 : 

38263

Asus Zenfone Selfie ZD551KL : 

37130

Motorola Moto X Play : 

37020

Meizu m2 note : 

32054

Alcatel Idol 3 (5.5) : 

29907
The overall score in Basemark II 2.0 isn't impressive on its own, but it's still higher than the Moto X Play. The Zenfone Selfie is also comfortably ahead of the Galaxy J7, though it still can't match the Xperias. If you want to beat them with an Asus smartphone in this benchmark, you'd have to go with a Zenfone 2 ZE551ML, and even the Z3560/2GB model will suffice.
Single-core performance of the Selfie is quite good, almost matching the Xperia C4 and C5 Ultra and again beating the Galaxy J7. The powerful Mediatek's in Sony's models show their strength in the multi-core results easily beating the Zenfone Selfie. The Galaxy J7 is only slightly ahead of the Selfie, and the Intel-inside Zenfone 2 isn't quite up to the same standard in the CPU parts of the benchmark.
Basemark OS 2.0
Higher is better
OnePlus 2 : 

1622

Asus Zenfone 2 ZE551ML review : 

1090

Xiaomi Redmi Note 2 : 

1063

Sony Xperia C4 Dual : 

939

Sony Xperia C5 Ultra : 

931

Asus Zenfone Selfie ZD551KL : 

883

Motorola Moto X Play : 

809

Samsung Galaxy J7 : 

709

Meizu m2 note : 

673
Basemark OS 2.0 (single-core)
Higher is better
OnePlus 2 : 

5301

Xiaomi Redmi Note 2 : 

3434

Sony Xperia C4 Dual : 

2900

Sony Xperia C5 Ultra : 

2872

Asus Zenfone Selfie ZD551KL : 

2777

Motorola Moto X Play : 

2687

Samsung Galaxy J7 : 

2436

Asus Zenfone 2 ZE551ML review : 

2203

Meizu m2 note : 

1709
Basemark OS 2.0 (multi-core)
Higher is better
Sony Xperia C4 Dual : 

24035

Sony Xperia C5 Ultra : 

21809

Xiaomi Redmi Note 2 : 

21516

Samsung Galaxy J7 : 

19629

Asus Zenfone Selfie ZD551KL : 

18615

Motorola Moto X Play : 

17226

OnePlus 2 : 

16798

Asus Zenfone 2 ZE551ML review : 

8565

Meizu m2 note : 

8105
Moving on to graphics performance, the Zenfone Selfie shows some weaknesses. Never doing too well with FullHD screens the Adreno 405 posts lower numbers in GFXBench, even for its standards. A couple of fps behind the Moto X Play in the lighter T-Rex test and a few tenths of a frame in the more demanding Manhattan test aren't deal-breakers, but ruin the overall impression of a well-optimized Snapdragon 615 device.
The charts clearly show that either of the Zenfone 2's with their PowerVR G6430 are a much better option for intense 3D rendering. The Galaxy J7 does beat the Selfie in onscreen tests, but it's the lower 720p resolution that helps its cause.
GFX 2.7 T-Rex (1080p offscreen)
Higher is better
OnePlus 2 : 

48

Asus ZenFone 2 ZE551ML (Z3580) retail : 

30

Asus Zenfone 2 ZE551ML review  : 

27

HTC Desire Eye : 

23.4

Xiaomi Redmi Note 2 : 

23

Huawei Honor 7 : 

17

Sony Xperia C5 Ultra : 

16

Motorola Moto X Play : 

15

Sony Xperia C4 Dual : 

15

Alcatel Idol 3 (5.5) : 

14.2

Asus Zenfone Selfie ZD551KL : 

13

Meizu m2 note : 

12

Samsung Galaxy J7 : 

12
GFX 2.7 T-Rex (onscreen)
Higher is better
OnePlus 2 : 

46.7

Asus ZenFone 2 ZE551ML (Z3580) retail : 

30

Asus Zenfone 2 ZE551ML review : 

27

HTC Desire Eye : 

24.6

Xiaomi Redmi Note 2 : 

23

Samsung Galaxy J7 : 

20

Huawei Honor 7 : 

19

Sony Xperia C5 Ultra : 

16

Alcatel Idol 3 (5.5) : 

15.1

Motorola Moto X Play : 

15

Sony Xperia C4 Dual : 

15

Asus Zenfone Selfie ZD551KL : 

13

Meizu m2 note : 

12
GFX 3.0 Manhattan (1080p offscreen)
Higher is better
OnePlus 2 : 

22

Asus ZenFone 2 ZE551ML (Z3580) retail : 

13

Asus Zenfone 2 ZE551ML review : 

13

HTC Desire Eye : 

10.3

Huawei Honor 7 : 

9.2

Xiaomi Redmi Note 2 : 

8.5

Sony Xperia C4 Dual : 

6

Sony Xperia C5 Ultra : 

6

Motorola Moto X Play : 

5.8

Alcatel Idol 3 (5.5) : 

5.7

Asus Zenfone Selfie ZD551KL : 

5.3

Samsung Galaxy J7 : 

4.1

Meizu m2 note : 

2.3
GFX 3.0 Manhattan (onscreen)
Higher is better
OnePlus 2 : 

22

Asus Zenfone 2 ZE551ML review : 

13

Asus ZenFone 2 ZE551ML (Z3580) retail : 

12

HTC Desire Eye : 

10.9

Huawei Honor 7 : 

9.3

Samsung Galaxy J7 : 

8.3

Xiaomi Redmi Note 2 : 

7.9

Sony Xperia C4 Dual : 

6.4

Sony Xperia C5 Ultra : 

6.4

Motorola Moto X Play : 

6.1

Alcatel Idol 3 (5.5) : 

6

Asus Zenfone Selfie ZD551KL : 

5.3

Meizu m2 note : 

2.3
In Basemark X the Zenfone Selfie sticks closer to its S615 brethren, comfortably ahead of the Galaxy J7, but still no match for the assorted Zenfone 2's.
Basemark X
Higher is better
OnePlus 2 : 

21937

Asus ZenFone 2 ZE551ML (Z3580) retail : 

13414

Asus Zenfone 2 ZE551ML review : 

12565

HTC Desire Eye : 

10249

Huawei Honor 7 : 

9377

Xiaomi Redmi Note 2 : 

8518

Sony Xperia C5 Ultra : 

5695

Motorola Moto X Play : 

5032

Alcatel Idol 3 (5.5) : 

4953

Asus Zenfone Selfie ZD551KL : 

4915

Meizu m2 note : 

3946

Samsung Galaxy J7 : 

3922
JavaScript isn't the Selfie's cup of tea, scoring rather poorly in Kraken 1.1. That said, the Xperia C5 Ultra is the same ballpark and the Idol 3 (5.5) is even less inspiring and the. The Moto X Play shows that the Snapdragon 615 can do better and is well ahead, tied with the Galaxy J7. Again, the Zenfone 2's lead the pack.
General web browsing performance, tested by BrowserMark 2.1, doesn't look too good either. Ahead of the Xperia C5 Ultra, the Selfie is nowhere near the Moto X Play, which is also beaten by the Galaxy J7.
Kraken 1.1
Lower is better
Asus ZenFone 2 ZE551ML (Z3580) retail : 

5057

Asus Zenfone 2 ZE551ML review : 

6360

OnePlus 2 : 

6808

Xiaomi Redmi Note 2 : 

9504

HTC Desire Eye : 

11093

Huawei Honor 7 : 

11493

Samsung Galaxy J7 : 

12038

Motorola Moto X Play : 

12236

Meizu m2 note : 

14462

Sony Xperia C4 Dual : 

15815

Asus Zenfone Selfie ZD551KL : 

17075

Sony Xperia C5 Ultra : 

17157

Alcatel Idol 3 (5.5) : 

18124
BrowserMark 2.1
Higher is better
OnePlus 2 : 

2055

Asus ZenFone 2 ZE551ML (Z3580) retail : 

1853

Samsung Galaxy J7 : 

1508

Xiaomi Redmi Note 2 : 

1505

Asus Zenfone 2 ZE551ML review : 

1486

Motorola Moto X Play : 

1483

Alcatel Idol 3 (5.5) : 

1343

HTC Desire Eye : 

1009

Asus Zenfone Selfie ZD551KL : 

918

Sony Xperia C5 Ultra : 

860

Huawei Honor 7 : 

825

Sony Xperia C4 Dual : 

793

Meizu m2 note : 

656
To sum it all up, the Zenfone Selfie's benchmark run is a mixed bag. Starting well in the CPU tests and going strong in compound benchmarks, it's trailing in graphics performance and scores below average numbers in browser tests.
6. Phonebook, telephony, messaging, text input
Phonebook covers the basics, adds some
The Zenfone Selfie uses a combined interface for the phonebook and dialer. Out of the box it's laid out across five tabs – Telephone (dialer), Favorites, Contacts, Groups and Call Guard, for managing blocked numbers.
You can however edit the tabs and remove ones you don't use for a less cluttered interface. You can also add another tab, dubbed VIP for those among your contacts with a special status. Out of the six possible tabs you can have up to five at a time, and Telephone and Contacts cannot be removed, for rather obvious reasons.
Side-swiping lets you switch between those without needing to reach for the top, welcome on a sizeable 5.5-inch device.
You can display all your available contacts, or limit the list to the ones in your Google account, either of your SIM cards or the phone's internal memory. You also get quick access to a specific letter from the alphabet as well as a search box with voice search capability.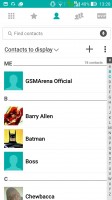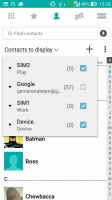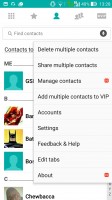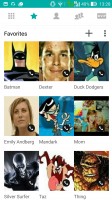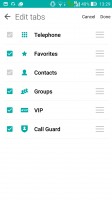 Contacts
Opening a single contact gives a quick glimpse over the available means of communication with that person. Tapping on the pencil in top right corner reveals the usual myriad of options for editing with virtually every detail getting a dedicated field.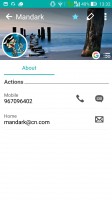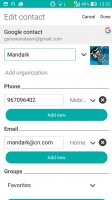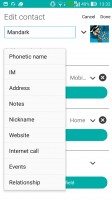 Contact editing
Telephony
There's no separate call log tab, instead it's combined with the dialer, and sits underneath the num pad. That one can be easily hidden though with a tap on the icon in bottom left. The call log gives you an option to show the calls by categories or all of them together, as well as a dedicated list for the VIP calls.
It's a dual-SIM smartphone, and as such the Zenfone Selfie offers a choice of options on how to handle the two cards. Within the settings menu you can enable/disable each of the SIMs, and also assign a name for easier distinction. Obviously, you can specify which one is used for different tasks such as voice calls or data transfer. Otherwise you'll get two call buttons below the num pad.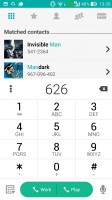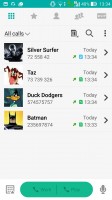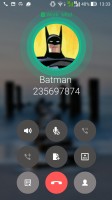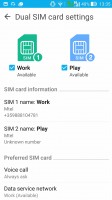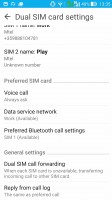 Dialer and call log • In-call display • Dual SIM settings
The Asus Zenfone Selfie posted an Average score in our loudspeaker test. While it is an improvement over the Zenfone 2, it's still not loud enough to guarantee you won't be missing notifications in noisy environments.
| | | | | |
| --- | --- | --- | --- | --- |
| Speakerphone test | Voice, dB | Pink noise/ Music, dB | Ringing phone, dB | Overall score |
| HTC One E9+ | 61.7 | 62.2 | 66.8 | Below Average |
| Asus Zenfone 2 ZE551ML | 62.9 | 61.7 | 67.7 | Below Average |
| Motorola Nexus 6 | 66.5 | 66.2 | 66.3 | Below Average |
| HTC Desire Eye | 65.7 | 65.3 | 74.2 | Average |
| Sony Xperia C4 | 65.0 | 65.8 | 75.7 | Average |
| Asus Zenfone Selfie ZD551KL | 65.9 | 66.1 | 75.7 | Average |
| Huawei Ascend Mate7 | 66.7 | 65.7 | 75.7 | Good |
| Samsung Galaxy A8 | 66.7 | 66.6 | 75.7 | Good |
| Motorola Moto X Play | 69.8 | 66.6 | 75.7 | Good |
| LG G3 | 70.2 | 66.6 | 80.2 | Good |
| Sony Xperia C5 Ultra | 69.8 | 66.6 | 82.7 | Very Good |
| Sony Xperia C4 (ClearAudio+ enabled) | 71.1 | 70.5 | 79.9 | Very Good |
| Sony Xperia C5 Ultra (ClearAudio) | 72.7 | 66.6 | 82.7 | Very Good |
| OnePlus One | 74.8 | 73.5 | 80.2 | Excellent |
| OnePlus 2 | 75.7 | 73.5 | 80.7 | Excellent |
Messaging, email and text input
The generic Messaging app on the Zenfone Selfie offers straightforward texts with Asus's take on design, and works well. You can attach a picture or a video or a number of other items and that automatically turns it into an MMS message.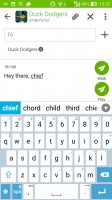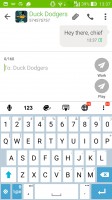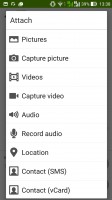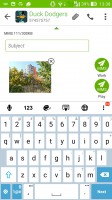 Messaging app
The Zenfone Selfie comes with the common set of two email apps, the generic Android Email one, albeit tastefully skinned by Asus, and Gmail. They offer largely the same functionality, with similar interface and support for multiple accounts.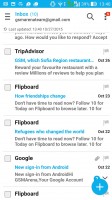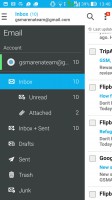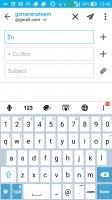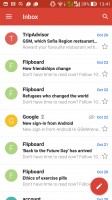 Asus-skinned Email app • Gmail
There's a single keyboard installed on the Zenfone Selfie, dubbed Asus Keyboard. It's not lacking in functionality and has a separate number row, which is handy, while still allowing for plenty of usable screen estate. Secondary symbols are also available, for quick punctuation or old-school emoticons without changing the entire layout.
It comes in three sizes, but Tall takes up more than half the screen and is a bit excessive. Most users will likely stick with Normal or even Short, which still provides adequate size.
It's swipe-enabled, although Asus calls it trace input, but the concept is the same. Flick input lets you change between upper and lower case simply by taping on the key and flicking in up for uppercase and down for lowercase – a nifty feature, saving you a tap on the dedicated button. Trace and Flick can't work together, though.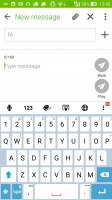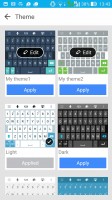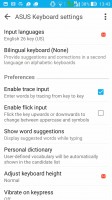 Asus Keyboard comes in three different sizes and with secondary symbols
7. Gallery, video and music players, FM radio, audio quality
Capable gallery with MiniMovie and collages
The Asus Zenfone Selfie comes with a custom Gallery app. It defaults to a view of your folders and the camera roll is highlighted over the top. The Gallery also supports events and people views, plus it can display images from various cloud services including ASUS, Omlet, Facebook, OneDrive, Google Drive, Google+ and Flickr.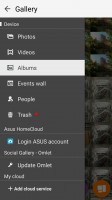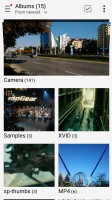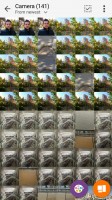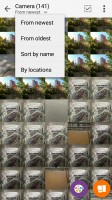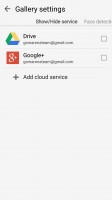 Standard gallery views
You get the Asus MiniMovie app, which lets you select a bunch of images and turns them into a short video of sorts, with music, transitions and the lot, which you can customize, of course. A handy collage feature is also on board, and it's pretty comprehensive, with a host of aspect ratios, templates and backgrounds. Asus has upped the maximum resolution to 2,560 x 2,560 which is now usable for a bit more than social-media sharing.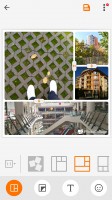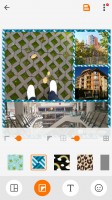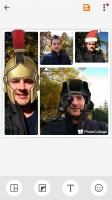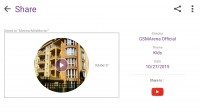 Collage feature • MiniMovie
The available features when viewing a single image are pretty standard – set image as wallpaper/contact image, share it, delete it, enter edit mode or just get more info. You also get quick shortcuts for rotation and additional information. The integrated editor offers various effects, frames, tools (crop, mirror, straighten, rotate, fisheye, doodle) plus light adjustments that let you bring out the shadows or the highlights.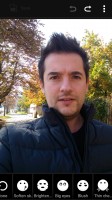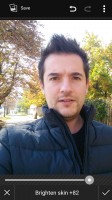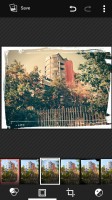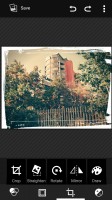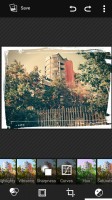 Editing an image
The Zenfone Selfie's video player is part of the Gallery, there isn't a dedicated app. There are no premium features or particularly striking video decoder support. Its interface is very simple, too – just a playback scrubber and a play/pause button, alongside a sharing button at the top. The most advanced feature is picking up playback from where you left off the previous time.
The player has severely limited codec support and refuses to play most formats. WMV, DivX and MOV files don't start at all, some XviD and x264 files play fine – others don't, AC3 audio is a no-go.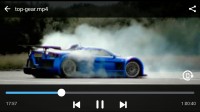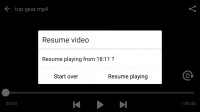 Poor video player
Capable music player
The Asus music player does decently in terms of functionality, covering all the basics. The interface features the usual set of panes for artists, songs, and genres, music stored on various cloud services can be pulled as well, different color themes can be applied to the interface, too.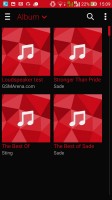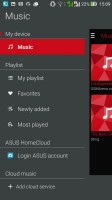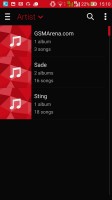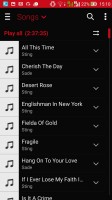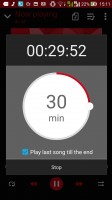 Music player
There's a large Now Playing window with prominent album art, and also has integrated bass boost and surround sound options, although both of those only work with headphones. An equalizer is also available with multiple presets and a single custom setting. That's in addition to the system-wide AudioWizard sound enhancement software.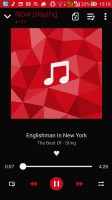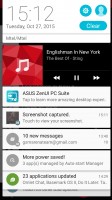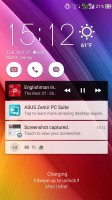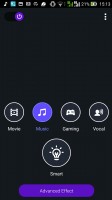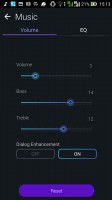 Now playing interface • controls in notification area and lockscreen • AudioWizard
FM Radio with RDS
A useful FM radio app is available on the Zenfone Selfie. The search function automatically stores all available stations. It has RDS and can retrieve the stations' names, but interestingly enough, only displays them when the current station is playing. You can set up to 5 favorite stations but they are displayed with their respective frequency, instead of the names.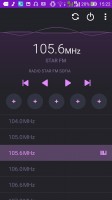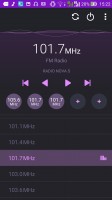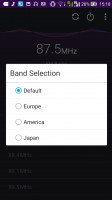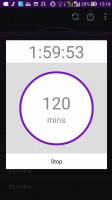 FM radio app
Impressively clean audio output
The Asus Zenfone Selfie did a great job when connected to an active external amplifier. The scores it got were excellent top to bottom and it matched them with above average volume for one of the better performances across all phones, let alone mid-rangers.
Plugging in a pair of headphones causes very little harm – with the stereo crosstalk taking a very minor hit and the other readings remaining just as great. The loudness drops a bit too, but it's still a solid showing that would put much more expensive phones to shame.
And here go the results so you can see for yourselves.
| | | | | | | |
| --- | --- | --- | --- | --- | --- | --- |
| Test | Frequency response, dB | Noise level, dBA | Dynamic range, dBA | THD, % | IMD + Noise, % | Stereo crosstalk, dB |
| Asus Zenfone Selfie | +0.02, -0.09 | -92.1 | 92.0 | 0.0030 | 0.011 | -92.5 |
| Asus Zenfone Selfie (headphones attached) | +0.08, -0.02 | -91.9 | 91.9 | 0.0032 | 0.034 | -72.4 |
| Sony Xperia C5 Ultra | +0.17, -0.02 | -92.1 | 93.5 | 0.0088 | 0.013 | -88.7 |
| Sony Xperia C5 Ultra (headphones attached) | +0.80, -0.03 | -92.3 | 93.2 | 0.010 | 0.416 | -60.8 |
| HTC Desire Eye | +0.02, -0.10 | -95.6 | 95.1 | 0.0012 | 0.015 | -91.3 |
| HTC Desire Eye (headphones attached) | +0.08, -0.04 | -95.3 | 93.8 | 0.0035 | 0.016 | -72.2 |
| Oppo N3 | +0.03, -0.14 | -93.2 | 93.2 | 0.0036 | 0.058 | -93.7 |
| Oppo N3 (headphones attached) | +0.45, -0.10 | -93.6 | 92.3 | 0.021 | 0.385 | -53.4 |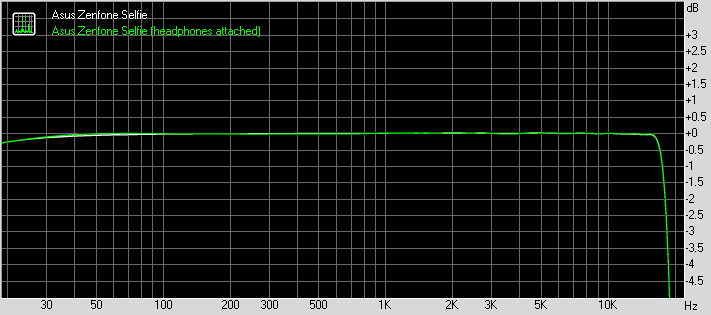 Asus Zenfone Selfie frequency response
8. Cameras, image quality, video recording
Feature-rich 13MP camera fails to impress with image quality
The Asus Zenfone Selfie comes with a 13MP primary (or in this instance, let's just call it rear) camera shooting stills in a 4:3 native ratio up to 4,096 x 3,072 pixels (OK, technically 12.6MP). The sensor is placed behind an f/2.0 lens. It has a laser autofocus system and a dual-tone dual-LED flash to assist in low-light, but lacks optical image stabilization.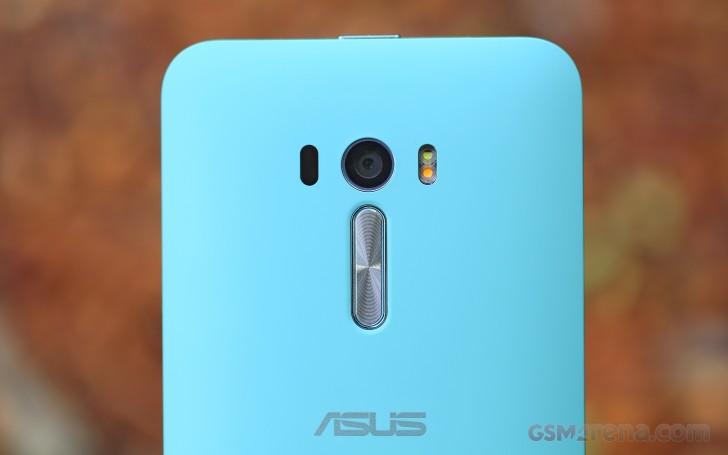 The camera app has the common combined interface for still and video shooting with the familiar compromise – both actions are accessible from the same screen, but you can't frame your videos before hitting record, because 4:3 coverage is rather obviously different from 16:9. Unless you're a fan of 16:9 still images, in which case you'd be fine in terms of framing, but you'd be wasting pixels in your photos.
The volume rocker can be set either as zoom control, or shutter release. The latter works great for both the rear and front cameras when held in portrait orientation, but is awkward in landscape.
An array of shooting modes are available on top of the Auto Mode, including Night, Panorama and HDR. Depth of field takes two shots and combines them in one image for a closeup with a blurred background.
The Settings menu offers control over white balance, ISO, exposure compensation, the lot. The list is scrollable through still, video and general options with tabs for quick access. You also have a dedicated flash settings button.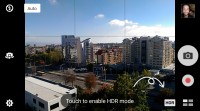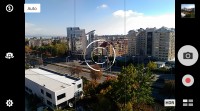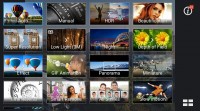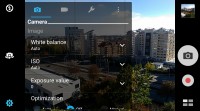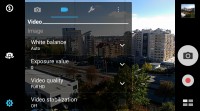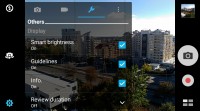 Camera interface
We're not thrilled with the output of the Zenfone Selfie's rear camera. Images are quite noisy and the level of detail is hardly stellar, but we do appreciate the moderate processing, which doesn't create a mess with overeager sharpening and noise reduction. Dynamic range is rather limited, shadows often end up too dark, without having too much info preserved in the highlights either. On a more positive note, colors are vivid and have a consumer-friendly vibe to them.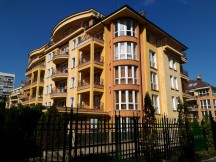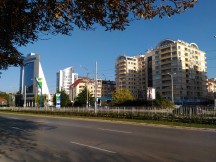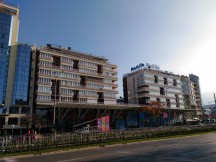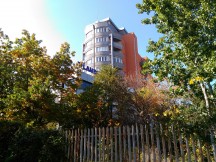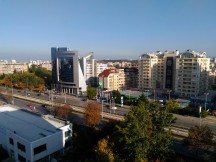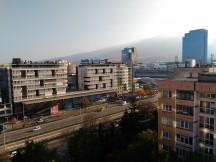 Main camera samples
Asus has an Optimization feature, which is on by default, but we kept it off for the above samples. You can see the minor changes, introduced by setting it to Auto, in the images below. The Optimization feature also has a Manual mode, where you get sliders for adjustment of Saturation, Contrast, Sharpness, and more.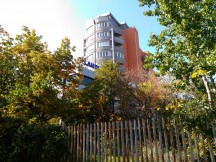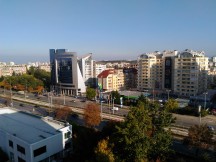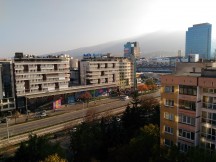 Main camera samples with Optimization set to Auto
As usual, there's an HDR mode on the Zenfone Selfie, and if you're in Auto and the camera determines HDR is the way to go, it will suggest enabling it, but won't intervene all by itself. It does well to light up the shadows acting conservatively and doesn't produce over-the-top unnatural looking reults. Given that the images are quite noisy and burned out in the highlights to begin with, HDR doesn't sound like a bad idea as a general shooting mode.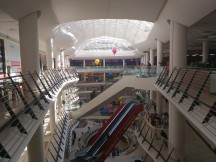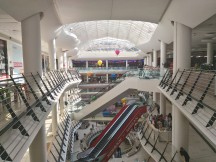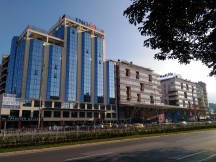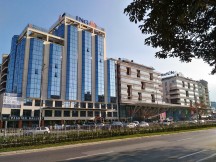 Main camera: HDR mode off/on • off/on
The Zenfone Selfie's rear cam can get extremely close to its subject and still acquire sharp focus, resulting in some very good macro shots. With a distance of about 4cm from the front element of the lens, you'd imagine that lighting your subject would be tricky though, but that can't in any way be a fault of the Zenfone itself.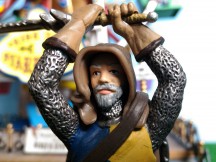 Asus Zenfone Selfie close-up shot
Then there's the Panorama mode. You can shoot in both portrait and landscape orientation and the app recognizes it unlike on other brands, where you need to set it up manually (cough, Sony). The panoramas aren't the best around, but if you refrain from pixel-peeping, they'll do.
Shot in portrait the images are about 1,800 pixels tall, but the actual resolved detail is rather low. There are also some issues with the stitching, manifested by visible bands in the sky. Areas with texture are stitched better, provided they're far enough.

Panorama sample, shot in portrait orientation with the Zenfone Selfie
Naturally, we shot our test posters with the Asus Zenfone Selfie and here's how it fared next to the Zenfone 2 and Samsung Galaxy J7. Of course, our tool allows you to compare it against any other smartphone that we've shot with.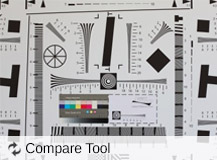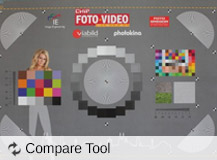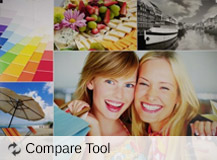 Asus Zenfone Selfie in our photo compare tool
Okay 13MP front shooter with a mighty flash
The focus of the Zenfone Selfie is obviously on its front-facing cam. Another 13MP unit, it does have autofocus, though it has been stripped of the laser tech that the rear shooter has. There's a dual-tone dual-LED flash on the left side of the lens, which is a feature exclusive to the Selfie and the HTC Desire Eye – the number of front-facing flashes has been increasing recently, but most are still single-LED jobs.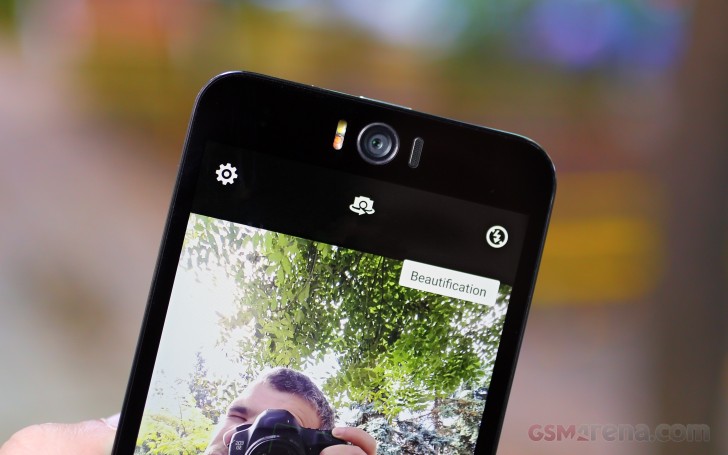 There's a comprehensive Beautification feature, for image enhancement and you can see the effects live, or apply them post-shot. The effects include skin tone adjustment, skin softening and brightening to cover imperfections and the rather peculiar eye enhancement and cheeks thinning. All of these can be set from 0 to 10, except the skin tone where you have a selection of tints to apply to your pale self.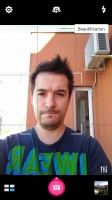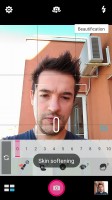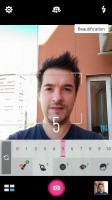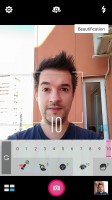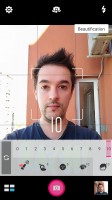 Selfie camera interface
How you feel about the image quality depends a lot on what you're expecting. As front cameras go, the Selfie's is good, but not amazing. Much of what was said about the rear camera holds true for this one as well, but the standards for front-facers are simply not as high. At least yet. And with selfie cameras pixel-level detail isn't all that important – in all likelihood these images will end up on social media, compressed and viewed to fit the screen.
Still, when the megapixel card is used as a headline, we'd expect a bit more, and the Zenfone Selfie leaves us wanting. The output is again pretty noisy and dynamic range is quite compressed. But then colors are nice the phone exposes well with what it's got.
The results from using Beautification are questionable, perhaps more so for us that for the phone's target audience. The second sample is shot with the feature off and for the third we had all sliders positioned midway.
Skin softening wipes out most of the texture on the face, brightening kills even more detail in brightly lit areas and the eye enhancement and cheek thinning work together to create an improved version of yourself. At least that's the idea. Cranking the last two all the way up to 10 does at least have some fun value – you can go ahead a produce an almost comic book character look.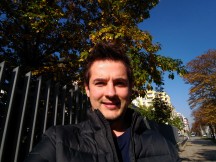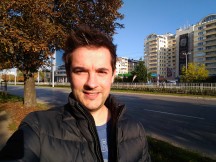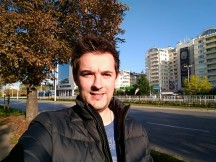 Front camera samples in bright daylight – beautification off • beautification off • beautification on)
The flash is quite powerful, so much so that it suffers from it. It's almost guaranteed to blow out any close by subjects (read humans), which kinda defeats its purpose, but we guess, it will still be appreciated in the near complete darkness of a bar environment, for example. By the Selfie's user, that is, the rest of the patrons won't be very enthused.
The shots below illustrate the smartphone's front camera behavior at night – first one has soft warm light seeping out through the office curtains, followed by the same scene but with the flash on, and another one with the flash in near complete darkness.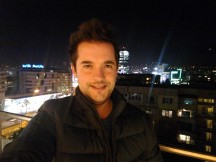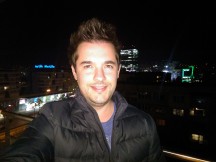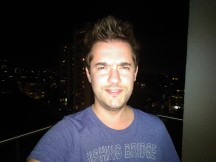 Asus Zenfone Selfie front camera samples at night
Decent 1080p video
The Zenfone Selfie shoots regular speed videos at up to 1080p resolution. There's a time lapse mode where you can select the frame interval at anywhere from 1s to 3s in half-second increments, as well as 5 seconds.
There's also a slow motion mode, but the way Asus understands it, is now how it's supposed to be – at least we don't think that slowing down a regular video to ~6fps counts as slow motion.
The 1080p footage from the Zenfone selfie is captured with a bitrate of 20Mbps and audio is recorded in stereo at 96Kbps. The level of detail is miles better than the mushy Zenfone 2's output – the Selfie is still not on par with the best in business, but shows a long stride in the right direction.
Unfortunately, little can be done about the dynamic range and with videos it's even narrower that still shots – highlights are blown, shadows are pitch black. The tendency to underexpose videos doesn't help either.
We struck luck with some pretty fast-changing conditions for our time lapse and it was nice to see how the Zenfone Selfie handles exposure. At a frame every five seconds, the video below was shot over the course of 80 minutes and spans the entire range from bright sunshine and a clear sky to gloomy overcast fall weather.
Beautiful as it may be, the sample contains even less detail than the regular footage, so you should keep in mind that it won't stand up well to pixel-level scrutiny.
As always, feel free to download an untouched 1080p@30fps video sample straight from our server.
You can also compare the Zenfone Selfie to any of the numerous phones and tablets we've tested, but we've pre-selected the Zenfone 2 and the Samsung Galaxy J7.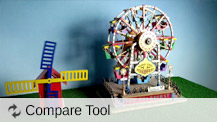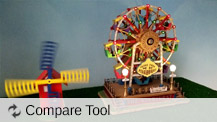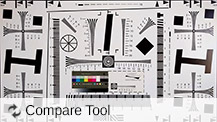 Asus Zenfone Selfie in our video compare tool
9. Web browsers, other apps
A whole bunch of browsers
The Asus Zenfone Selfie comes with a total of three browsers pre-installed. The Asus Browser offers much the same powerful functionality as Google Chrome but differs in that it offers a navigation bar at the bottom with back/forward, tab manager, new tab and a quick shortcut to add the current page to the Do-It-Later app.
It's questionable whether you need a navigation bar at the bottom, when you already have a set of capacitive buttons and another bar at the top. Having access to the tab switcher from the bottom is handy, though.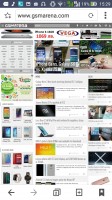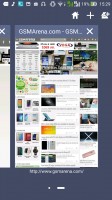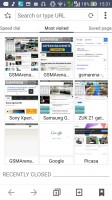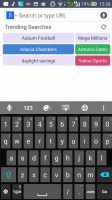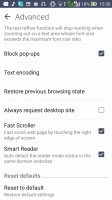 The Asus web browser
Chrome is the more mature alternative and offers easy transition from smartphone to smartphone not to mention seamless syncing with its desktop counterpart thanks to your Google account. It's fast, clean and makes much better use of screen area. We also mentioned already that Chrome is the wiser choice if any battery longevity is to be expected.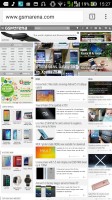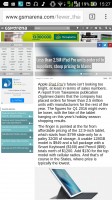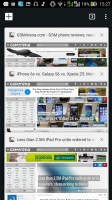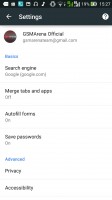 Google Chrome
Then there's the Puffin browser. It's quite unlike most other browsers, has some interesting interface quirks like on screen trackpad or gamepad with a four-way controller, and it can also render flash content.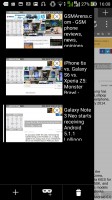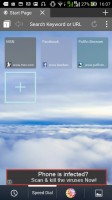 Puffin browser
Other pre-installed apps
The Asus Zenfone Selfie offers its own file managing app that allows you to easily take care of your video, picture, and document files, although there is no document viewer/editor pre-installed. The file manager can sift through your internal storage and memory card, but also sync with cloud storage like Google Drive, OneDrive and Dropbox. Batch operations are also supported.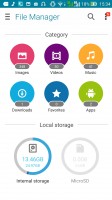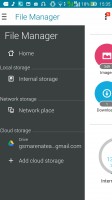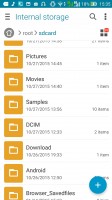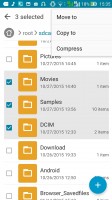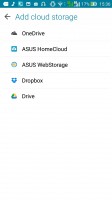 File manager
The custom Calendar looks good, syncs with your accounts including Google, and offers Day, Week and Month views, but no Year. There's also a quick Agenda view that shows all of our events regardless of where they're recorded.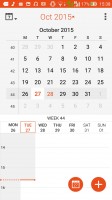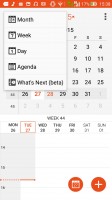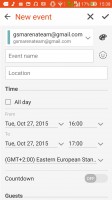 Calendar
Asus Mobile Manager aims to give you granular control over app behavior and battery and battery consumption. Auto-start manager keeps a reign on pesky apps that want to start in the backgroung without your knowledge.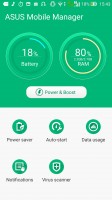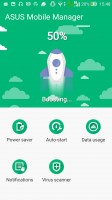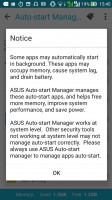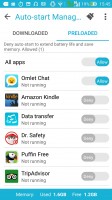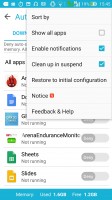 Asus Mobile Manager homescreen • auto-start settings
Power consumption can be optimized using the Power Saver app. You can select from four pre-defined modes with different settings for CPU performance, screen brightness and network use. There's also a customized mode where you can set these yourself.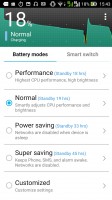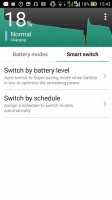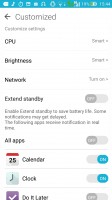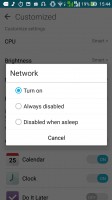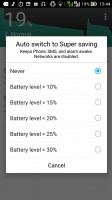 Power Saver
The Data usage section lets you set a cap on cellular traffic, as well as restrict individual apps from internet access – really handy if you want to receive your emails for example, but don't feel like ramping up traffic from social apps. To keep yourself focused, you can disable notifications too, again on an app-by-app basis. There's also a built-in antivirus app, with a shortcut inside Mobile Manager.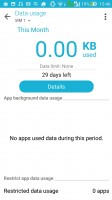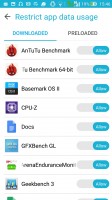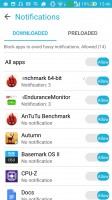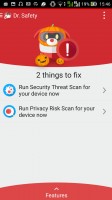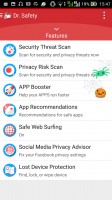 Data management options • notification restrictions • Dr. Safety antivirus app
The Clock app packs a world clock feature that displays the time across various time zones, and has an integrated stopwatch and time. There's also a calculator app that has advanced functions in landscape mode.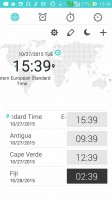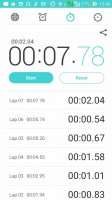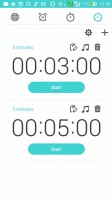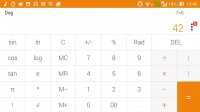 Clock • Calculator
There's a handy flashlight app with an always-on mode, three-speed strobe, and SOS pattern. Alternatively it can light up the display, but oddly not the front flash. A simple sound recorder app is also on board.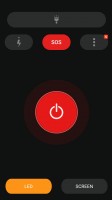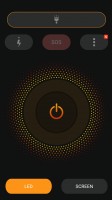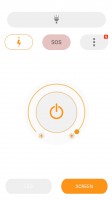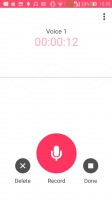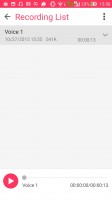 Flashlight with screen light mode • Sound recorder
Do It Later is the procrastinator's dream app for chores you want to postpone for a better time without clogging your calendar.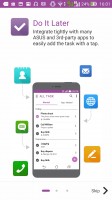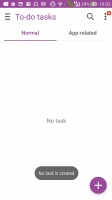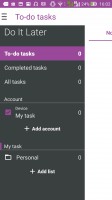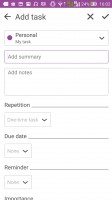 Do It Later is a chore reminder
A ZenLink package of four apps provides added functionality. PC Link enables you to control the smartphone from your computer, via an application you download from the Asus website. Once the application is installed and the two devices paired, a resizable mockup phone window appears on your desktop and you can use your mouse to send commands to the phone.
Remote Link does just the opposite, turning your Zenfone Selfie into a remote for your PC. Another desktop app needs to be installed and communication takes place over Wi-Fi or Bluetooth. The Share Link apps is an additional option for quick and easy exchange of photos and what not.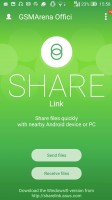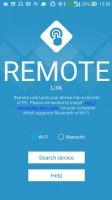 Zen Link apps
Kids mode lets you setup a restricted number of apps for your little ones to use and also limit the range of contacts, from which calls can be received.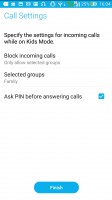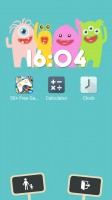 Kids mode
10. Conclusion
Final words
The Asus Zenfone Selfie isn't too quiet about what it tries to be – a smartphone for taking photos of you. At 13MP and some f/2.14 it has the numbers, and the dual-tone dual-LED flash makes it a one-of-a-kind offering. OK, second of its kind, but still a rare breed.
Now, name a smartphone Selfie, and you're certain to be putting a lot of weight on that front camera's shoulders. For the most part it does okay and captures decent images, as far as front cams go, but it's just not the ultimate selfie-shooter you want and expect it to be.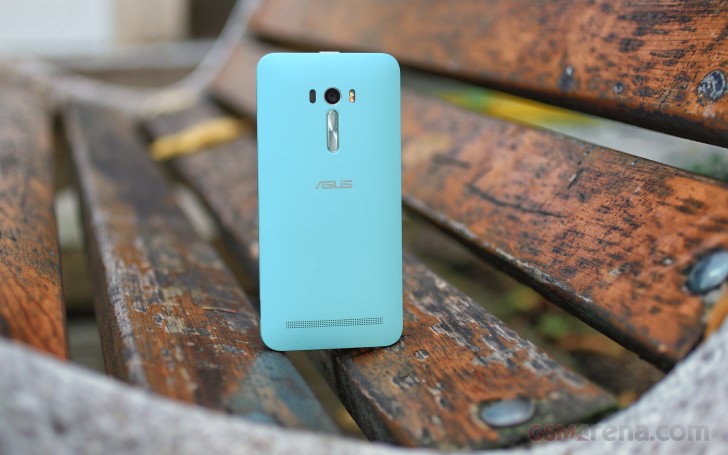 Set the front-facing camera and flash aside and you essentially end up with a 5.5-inch Zenfone 2 ZE551ML, with only a few minor albeit principal differences – easily questioning the Selfie's existence, or its success at least. And even though we appreciate the user-replaceable battery in the Selfie, there's no getting around the fact that the Atom-powered Zenfone 2 (in all its incarnations, really) is a much stronger performer.
Asus Zenfone Selfie key test findings:
Plastic build makes it prone to twisting and squeaking, back cover is nicely soft to the touch.
Display is sharp, has accurate colors out of the box, and has plenty of tweaking options. On the other hand, it's pretty dim even at its maximum setting, and has poor sunlight legibility. Contrast is average.
Battery life is decent: the Selfie does especially well in video playback, 3G call longevity is above average, but web browsing endurance is less than 8 hours.
ZenUI is a touch too colorful, but is widely customizable and has plenty of useful added features on top of Android. The OS is only v5.0.2, though.
Benchmark performance shows flaws in graphics department and web browser optimization, CPU scores are solid for the hardware.
Loudspeaker scores an Average rating, can be quite loud with the right tune.
Gallery packs plenty of features and the image editor is powerful, but you'd be needing a third-party video player straight out – built-in one is barebones and has limited codec support. Music player doesn't have any glaring omissions.
Very clean audio output, above average loudness too.
13MP rear camera is uninspiring, output is noisy and lacking in detail.
Front cam isn't as good as it's hyped to be, shoots high-res but average-detail selfies. It does boast plenty of face-enhancement features and dual-LED front flash that's too powerful for its own good.
So again, the Zenfone Selfie's most obvious competitor comes from within Asus' ranks. The Zenfone 2 ZE55ML, be it the Z3560/2GB model or the Z3580/4GB one, does substantially better in the graphics department and from a mobile gamer's perspective the choice is a no-brainer. Those in the habit of swapping batteries will need to stick with the Selfie, and they'd be getting a few extra hours per charge to begin with.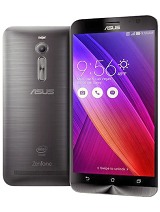 Asus Zenfone 2 ZE551ML
The HTC Desire Eye is the only other major smartphone with a dual-tone dual-LED front flash and as such must can't go unmentioned. The Eye is powered by a top-tier chipset, even if a couple of generations older, so it's more powerful, in graphics tasks especially. Its display is smaller and so are overall dimension, so if you're put off by the Selfie's size, the 5.2-inch Eye might be worth a look.
It also has IPx7 certification for water protection, slightly better battery life and fast charging, but the powerpack is sealed. Perhaps we should have started with the fact that the Desire Eye is up to twice as expensive as the Zenfone Selfie, though.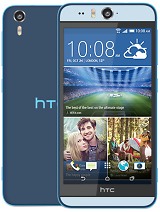 HTC Desire Eye
The Samsung Galaxy J7 is a more recent contender in the selfie-centric niche. It sports an AMOLED display, but its resolution is only 720p – it's not as sharp, but handles onscreen graphics with a bit more ease. Its front camera isn't as good as the one on the Selfie, not on paper and not in practice, and the same can be said about its flash. The J7 has a swappable battery too, and one that lasts longer than the Selfie's in all but voice calls. If front cameras and battery backup are equally important to you, it's a really tough call between these two.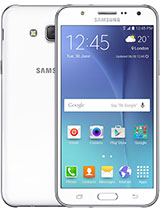 Samsung Galaxy J7
No selfie shootout can do without the Sony Xperia C5 Ultra. Another 13MP unit with flash, the Xperia has a single LED on its faceplate. The C5 is the obvious choice for big-screen lovers, offering a 6-inch FullHD display in a reasonably compact package with minimal bezels. The larger diagonal takes its toll on battery life though, and the Selfie lasts longer across the board.
The Xperia C5 Ultra, on the other hand, consistently outperforms the Selfie, despite having a gig less RAM. Sony's selfie-loving phablet can be between a little and a lot more expensive depending on where you live, so that may settle it for you before you get to the matter of merits.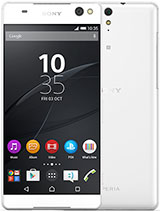 Sony Xperia C5 Ultra
The Motorola Moto X Play is one of the most complete 5.5-inch devices out now and it does so without breaking the bank. It' doesn't have the Selfie's megapixel count on the front, nor the front flash, but does a pretty good job with its 5MP unit. And in terms of rear cameras the Selfie's is not even in the same league. The Moto X Play's battery is a marathon runner more so than the Selfie's, and supports fast charging, but it's not user-replaceable.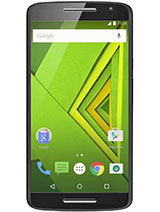 Motorola Moto X Play
In the end, to go for the Zenfone Selfie means you must really insist on having the highest-specced front camera setup on a budget that the market offers. And there's nothing wrong with that – it makes you precisely the type of person that Asus built the smartphone for. It's just that outside of this fairly limited target group there's little audience that the Selfie can speak to.
(gsmarena.com)