Under US federal law, drones and aircrafts of all types must fly at least three nautical miles from sports stadiums with live games. This law is designed to protect the integrity of the game, which makes sense. In 2020 alone, five drones interrupted MLB games to the dismay of fans and players.
Despite many in the MLB reaching for the most robust anti-drone laws to protect stadiums on game days, drones could be a part of future major league sports. The applications of drone services will likely cover a range of services, from aiding stadium personnel to revolutionizing the remote viewing experience.
Keep reading for more information on the top five services drones are likely to spearhead in the coming years.
Live Stats
Back in 2018, the US Supreme Court repealed a federal ban on sports betting. Since then, each state has determined its own regulations in relation to sportsbooks. Many states, from Illinois to Colorado, have opted for online and in-person betting options.
This has led to a landslide of new sportsbooks, many of which are jockeying to offer the most riveting betting experiences. For example, one FOX Bet promo code highlights the group's state-of-the-art technology, which enables live betting features.
One aspect of live betting is access to in-play stats. Currently, high-definition cameras with 360-degree viewing are used to tabulate live stats. In the future, this could be the domain of drones as well, which could offer leaner angles and movement to follow and document live action.
Broadcasting
Skycam is the technology used at most professional football games. Since its release in 1984, the rudimentary technology has advanced to a series of adjustable cables that allow a suspended camera to follow live action. With the ability to move at speeds up to 29mph, the Skycam is a robust solution for broadcasting.
However, drones offer more freedom in terms of aviation. Already, some broadcasting groups are pivoting toward drones to evolve their offerings, getting even closer to the sidelines. This year's NASCAR Dayton 500 race featured custom-built drones prepared to catch the high-speed race. 
The future of drones in broadcasting will revolutionize the fan experience, allowing them to feel closer to the action. However, the future of drone cameras will need a further review from league executives, as they may present noise pollution and visual distractions that disrupt certain sporting events.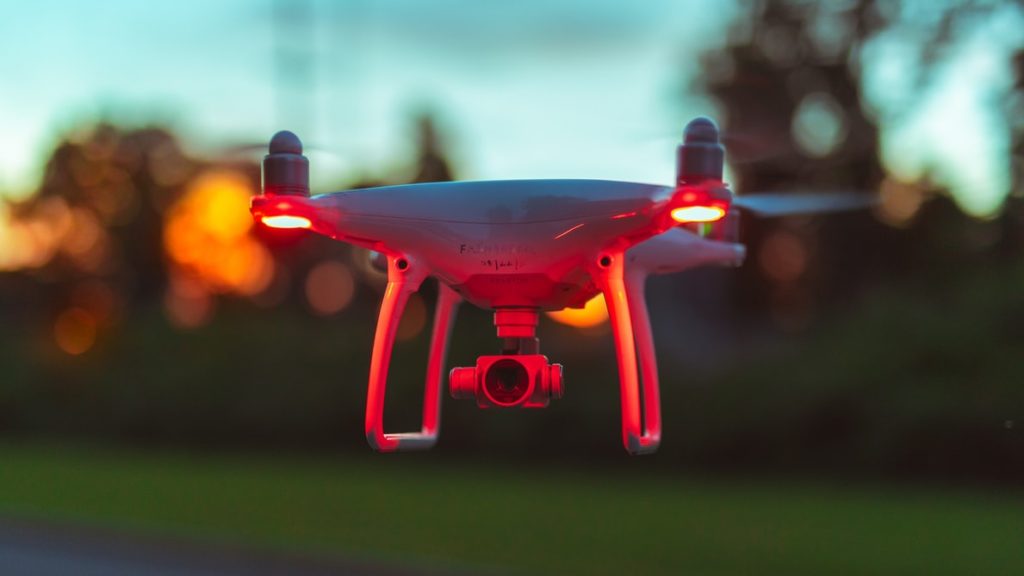 Data Collection
Sure, sportsbooks may be eager to catch the action live so they can offer more variations in their in-play betting markets, but the teams competing are just as interested in data collection. For professional franchises, drone footage and the data pulled from coverage can help them gain insight related to team formation and player movement.
For the last two decades, major league franchises have hired data analysts to help give their team an edge related to recruitment, conditioning, and their competition. Drones will be a crucial aspect of data collection technology—so long as stadiums can successfully regulate which drones are allowed to be filming.
Sanitization
Now that many stadiums have upgraded their sanitization efforts, owners are looking for solutions that will allow them to clean large-capacity stadiums more quickly and more reliably. Already, the Atlanta Falcons NFL team has incorporated drones to spay sanitizer across certain areas.
Drones streamline the sanitizing process by up to 95%, according to CNN. This is especially helpful for seating bowls, where staff can spend hours cleaning row after row of seats. In the future, it's likely that drones will be used to help handle more janitorial responsibilities at stadiums, as well as help identify needed repairs.
Security
As mentioned above, the MLB is taking measured steps to eliminate the rate of flyover drones disrupting games. Unlike other sports, from hockey to basketball, baseball stadiums are outside, making them a perfect target for those looking to spy on the action.
However, MLB officials aren't legally allowed to take any action against encroaching drones, as they have no authority over air space. However, they can launch their own drones. Currently, MetLife Stadium, home of the New York Mets MLB team, uses its own drone detectors to identify others that fly near the grounds.