Unmanned aerial vehicles, also known as drones, have become an indispensable accessory for photographers, video producers, influencers or even casual users in New Zealand.
It is common to see not only people using it for fun but also for professional matters, like in football or other sports (see more here), or as we saw at the Olympics Opening Ceremony.
For all of them, they are an essential element to get the images and footage that were missing from the work portfolio or the gallery of memories. So, nothing like a buying guide with the best drones on the market in 2021.
This guide's main function is to help those who are undecided when buying. This is because, although in some cases they look like toys, there is no doubt that a (high quality) drone is a serious investment – just like investing on work equipment, in the stock market or in the betting industry, among other things.
In addition, it also contains the main points to take into account before choosing a drone. We would like to thank Kate Richardson, an author who helped with the subject.
Eachine E520S 4K
Characteristics
Autonomy: 15-20 minutes
Maximum operating distance : 80 – 100m
Photography : yes
Video : 4K Full HD
Weight : 241g
This is one of the models for beginners that was designed for those who have no experience in drone piloting. The Eachine E520S 4K is the ideal gateway to start in the world of drones.
It's an RTF drone that has everything you need to fly and live the adventures, as it has a super-efficient engine and a 6-axis gyroscope, which allows for much more stable and linear flights.
Through flight controller sensors and high performance, the E520S remains stable even when there is no manual control. It is ideal to develop piloting skills and also understand how this type of equipment works.
Basically, it combines the best of drones:
piloting
stability
shape
Relatively, photography and video, these characteristics are one of the highlights, taking into account that it is a device more directed to beginners.
DJI Ryze Tello
Characteristics
Autonomy : 13 minutes
Maximum operating distance : up to 100 m
Photography : 5 MP
Video : 720p Full HD at 30fps
Weight : 80g
This is the first DJI on this list of the best drones on the market and is also suitable for beginners.
With a built-in camera, it delivers 5MP photos and 720P videos. A truly immersive experience for photography and video lovers who crave an aerial angle.
Easy to handle, with a simple touch it is possible to take off and land, Tello can be controlled via smartphone or via a compatible Bluetooth command.
Small enough to fly at home; it's safe to try with the little ones.
It should also be stressed that this safety point is extremely important in this model. The DJI Ryze Tello is failsafe, lands securely even if you lose the connection, and is extremely compact, including protectors around the propellers.
Xiaomi FIMI X8 SE FPV
Characteristics
Autonomy : 33 min
Maximum operating distance : up to 5 km
Photography : 12 MP
Video : Maximum Ref – 3840 x 2160 30/25/24fps
Weight : 249g
The Xiaomi FIMI X8 SE FPV is essentially distinguished by its technical characteristics. Simple enough, it is also suitable for beginners.
It is a 3-axis drone that combines mechanical gimbal with the latest professional control algorithms.
On the other hand, it is equipped with one of the best camera and video systems. Speaking of video, it allows you to place your smartphone on the transmitter to view images in real time, at the same time, in which it is possible to travel a distance of up to 5 km.
The Fimi X8 SE is a foldable drone that can be carried and taken anywhere, thanks to its legs that are retracted to take up less space.
To top it off, it is able to automatically make circular movements, follow-up plans, spiral movements or hyper lapses, thanks to its artificial intelligence system.
In other words, another bet won by Xiaomi.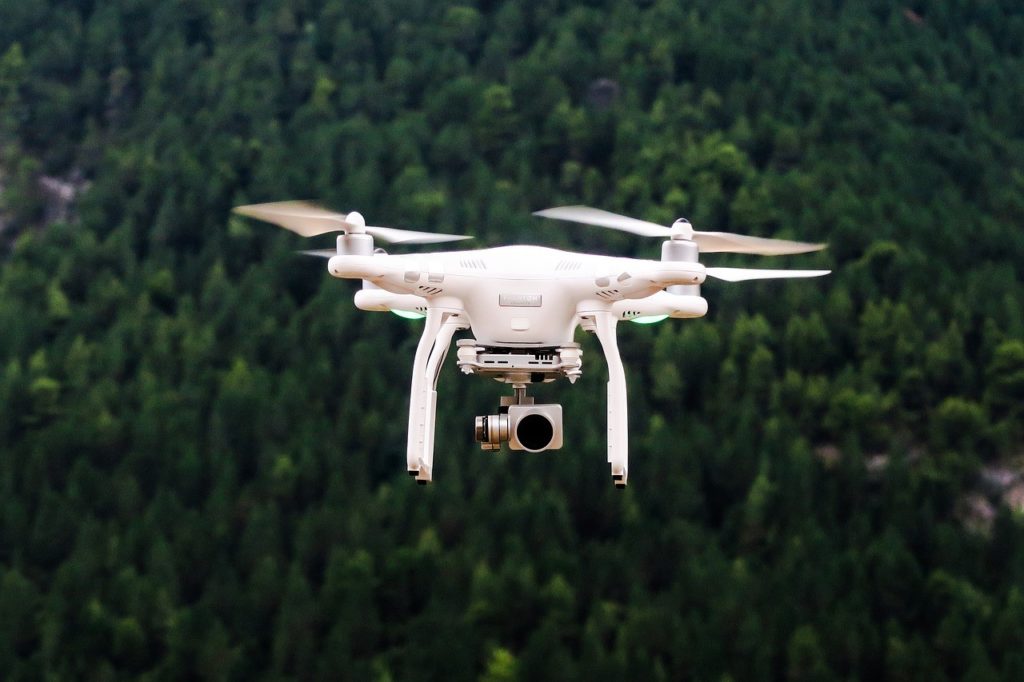 DJI Mavic Mini 2
Characteristics
Autonomy: 31 min
Maximum operating distance: HD video with a range of up to 10 km
Photography: 12 MP
Video: 1080p Full HD at 60fps
Weight: 249g
For those who are serious about drones and want to start with high quality equipment, the DJI Mavic mini 2 is the choice.
Despite being in the range of drones for beginners and requiring a greater investment, it has the ideal characteristics for an adventure with another level of quality.
The brand calls the Mavic Mini 2 the "drone for fantastic moments" and it doesn't stop there, it offers a 1080p video experience, in Full HD, up to 10 km of recording distance , which promises great moments!
Plus, it's the perfect size to fit in the palm of your hand. Compact and practical, the Mini 2 is the perfect travel companion for capturing great memories.
Parrot ANAFI 4K
Characteristics
Autonomy: up to 25min
Maximum operating distance: up to 4 km
Photography: 21 MP
Video: 4K Cinema 4096×2160@24fps
Weight: 320g
The Parrot Anafi 4k is a drone solution for professionals. The first professional alternative, to DJI, in this list of the best drones on the market.
Ideal solution for shooting high-quality videos, the 4K HDR flying camera has unique video capture features; and take amazing pictures, thanks to its unique 180° gimbal and 2.8X zoom without losing quality.
In addition to this visual blend, its ultra-compact folding shape means the ANAFI can be your best travel friend, anytime, anywhere.
Quiet and resistant to extreme weather conditions; ANAFI has a flight time of up to 25 minutes with advanced performance and stability.
Finally, with automated flight modes this drone promises an experience of another level.