1. 2016 CHEVROLET CRUZE
The Chevrolet Cruze boasts efficiency in an attractive sedan. Exceptional EPA estimated gas mileage of 27 mpg City and 46 mpg highway and an affordable $16,995 starting price make the Cruze a top contender in the compact market. The Cruze's internet connectivity comes from the OnStar communications system.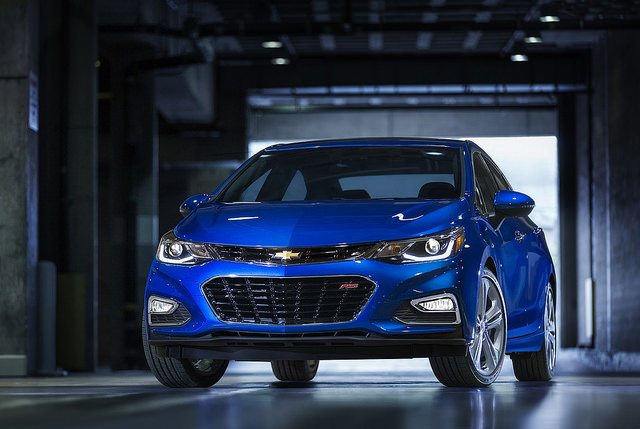 OnStar comes standard with all Cruzes, but the WiFi hotspot feature is an additional subscription. Besides Internet, the compact Cruze provides a 138-horsepower 1.8-liter four-cylinder engine in the base model, and a more efficient 138-horsepower turbocharged 1.4-liter four-cylinder with higher trim levels. Both a six-speed automatic and six-speed manual transmission are available. A fine tuned suspension cushions road imperfections, while at the same time giving the Cruze a high level of stability when cornering.
2. 2016 AUDI A3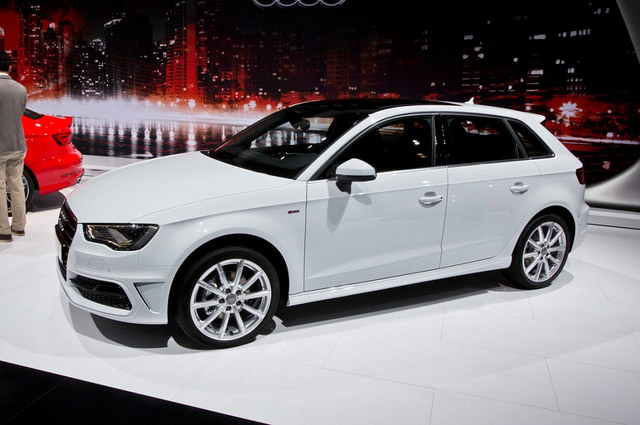 The Audi A3 is a perfect example of an entry level luxury vehicle at a reasonable price. Starting at $31,825 the A3 is within reach of many car shoppers. The A3 is available in either sedan or convertible body styles. The Quattro all-wheel drive system gives the A3 athletic, responsive handling capable of navigating winding roads with ease. The optional Audi Connect system grants the A3 access to Wi-Fi, as long as you have a 4G cellular plan. Three engines are available for the A3: a 170-horsepower 1.8-liter turbo four-cylinder, a 220-horsepower 2.0-liter turbo four-cylinder, and finally, a 150-horsepower 2.0-liter four-cylinder turbodiesel. The upscale interior has plenty of space and comfortable seats to keep you happy on any length of trip you need to take.
3. 2016 JEEP GRAND CHEROKEE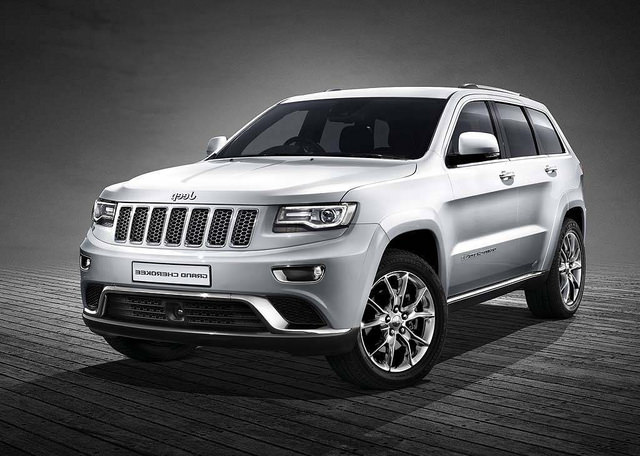 With the Jeep Grand Cherokee you can adventure off the beaten path and away from civilization, but that doesn't mean you can't stay connected to it via the internet. The Jeep Uconnect infotainment system offers an optional wireless internet connectivity feature, letting you browse use the internet from anywhere you can get a signal. The Grand Cherokee stands out from the pack by offering both exceptional on-road comfort and all-terrain ability. With three different four-wheel drive systems to choose from, the Grand Cherokee can suit your needs, but if you plan to do so serious off-roading the Quadra-Drive II system is the best choice. Thanks to an electronic limited-slip differential and low range gearing the Grand Cherokee powers through the toughest terrain with ease.
4. 2016 CHEVROLET SPARK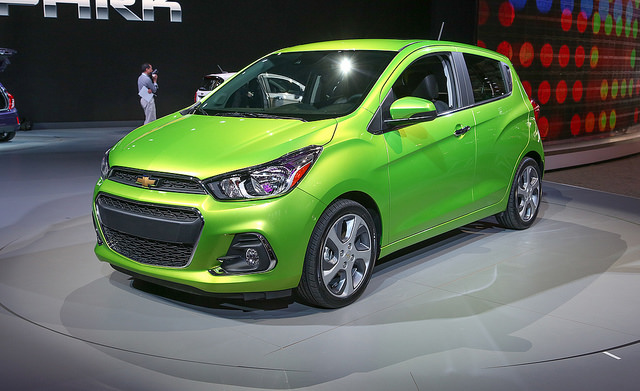 The Chevrolet Spark is a city car for people who want to be able to park in small spots and still be able to haul a week's worth of groceries. Thanks to the OnStar system the Spark has 4G LTE connectivity as a standard feature, so you will always be connected as you navigate dense city traffic, This diminutive four-door hatchback has a 1.4 liter four-cylinder engine under the hood that produces 98 horsepower. Enough power to get you around town, but steep hills and passing vehicles can become a heavy task for the sparks small motor. A benefit of the small motor and size is the great gas mileage the spark gets, The EPA estimated 31 mpg city and 40 mpg highway when equipped with the standard five-speed transmission.
5. 2016 AUDI Q5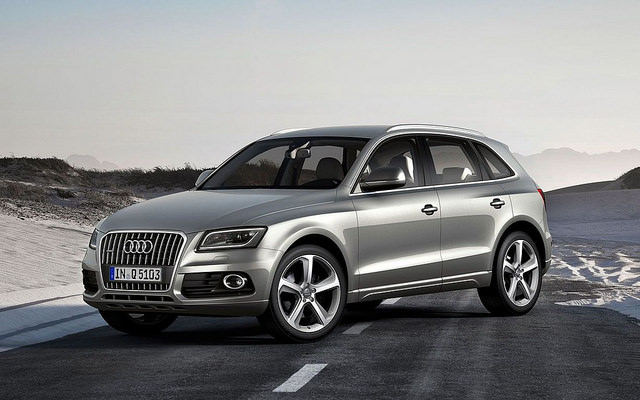 If you're in the market for a compact luxury SUV with plenty of room for passengers and cargo the Audi Q5 might be the vehicle for you. With either a turbo diesel drivetrain or a turbocharged gasoline engine available, the Q5 can fulfill your fuel requirements. Internet connectivity is achieved through the Audi Connect system, allowing your passengers to browse the net or watch their favorite shows, while nestled comfortably in the Q5's supple leather seats. The Q5 is very responsive and athletic, able to handle rough winding roads, while delivering a smooth and comfortable ride expected of a luxury SUV. Audi's patented Quattro all-wheel drive is a standard feature of the Q5, and all models are equipped with an eight-speed automatic transmission.
6. 2016 CHRYSLER 200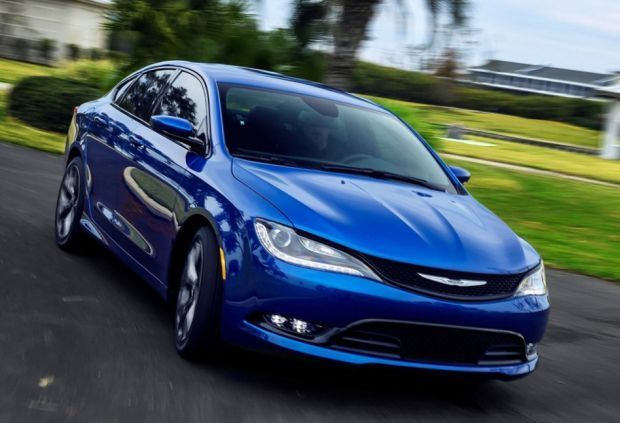 The Chrysler 200 is an affordable midsize sedan with an upscale feel. The 200 can seat 5 comfortably, with ample legroom and a reasonably sized trunk for cargo storage. WiFi hotspot capability is an additional feature offered with the 200, allowing you to keep passengers occupied on long commutes or family road trips. Four trim packages are available for the Chrysler 200 and two different drivetrains. The base model has a 2.4 liter four-cylinder engine producing 184 horsepower and 173 lb-ft of torque. If more power is desired, a 3.6 liter V-6 making 295 horsepower and 262 lb-ft of torque is optional and comes with an all-wheel drive system. Both models are equipped with nine-speed automatic transmissions.
7. 2016 GMC TERRAIN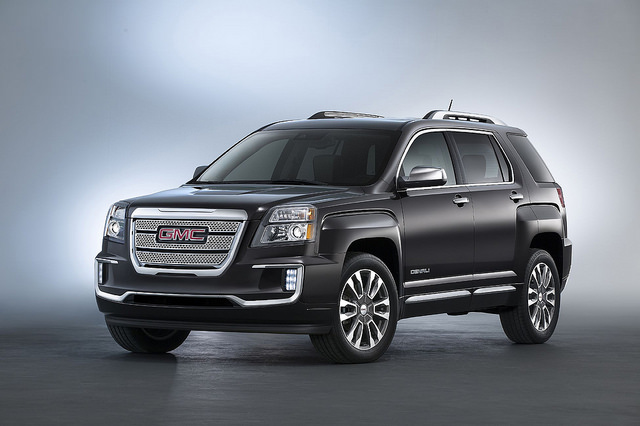 The GMC Terrain is a compact sport utility vehicle with loads of room for cargo and passengers. Thanks to the standard OnStar system, internet connectivity is an option with the Terrain. Satellite radio and a six or eight speaker audio system is also a great feature of this rugged SUV. For an SUV the Terrain gets reasonable gas mileage, with an EPA estimated 16 mpg city and 23 mpg highway. Two engine options are available for the GMC Terrain. The base model is equipped with a 182 horsepower 2.4 liter four-cylinder with a six-speed automatic transmission. An optional 301 horsepower 3.6 liter V-6, also equipped with a six-speed automatic transmission is available if more power is needed. Front wheel drive is the standard, but all-wheel drive is optional for both engine setups.
8. 2016 MERCEDES-BENZ GLC-CLASS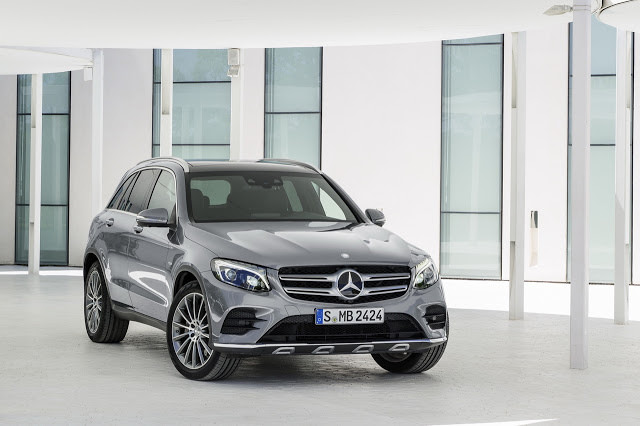 New for the 2016 model year is the GLC-Class from Mercedes-Benz. The GLC-Class replaces the current GLK-Class SUV. WiFi access is gained through Mercedes-Benz's Mbrace subscription-based system. The GLC300 is the first model to be released in the GLC-Class lineup and will be powered by a 241 horsepower turbocharged 2.0 liter four-cylinder engine, mated to a nine-speed automatic transmission. The GLC-Class will retain the suspension system from the GLK-Class, giving the new model the same finely tuned suspension. Road imperfections go unnoticed as this luxury SUV glides across the road, while standard stability control and all-wheel drive keep the GLC-Class safe no matter what mother nature throws at it. The interior features plenty of room and comfortable leather seats for you and all your passengers.
9. 2016 TESLA MODEL S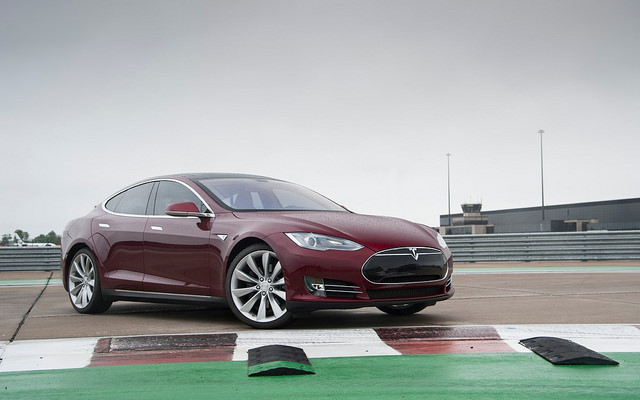 The Tesla Model S doesn't have internet capability just so passengers can check their social media while riding around, it also uses it to update its software. Unlike other cars that need to got to the dealership to get software updates or get checked for recalls, the Tesla Model S handles it all via the car's WiFi connection; just like a computer or smartphone. The Model S gets an estimated 240 driving miles off one charge, equating to an estimated 95 mpg city and 106 mpg highway. For a drivetrain the Model S is equipped with two electric motors, an induction AC motor in the front generating 257 horsepower, and one in the rear generating 257 horsepower; the Tesla Model S has a total output of 329 horsepower and 406 lb-ft of torque. All of which is powered by a 70-kWh lithium-ion battery pack.
10. 2016 CADILLAC SRX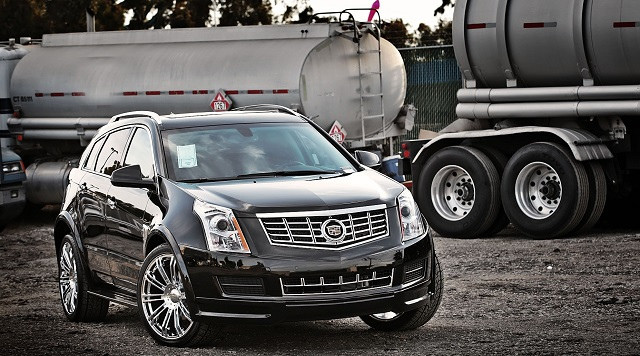 The Cadillac SRX is an upscale SUV with seating for five passengers and a whopping 61 cubic feet of cargo space. The spacious leather seats and upscale cabin will keep your passengers plenty comfortable while they connect to the internet via the SRX's OnStar system. Under the hood the SRX houses a 3.6 liter V-6 that generates 308 horsepower and 265 lb-ft of torque. A six-speed automatic is the standard transmission. Front wheel drive is standard, with all-wheel drive available as an option. The suspension is well tuned, with stiff shock absorbers handling roughness in the road. An optional performance package offers a stiffer suspension and adaptive shock absorbers, giving the SRX a superior ride as well as better cornering capabilities.
11. 2015 INFINITI Q50 HYBRID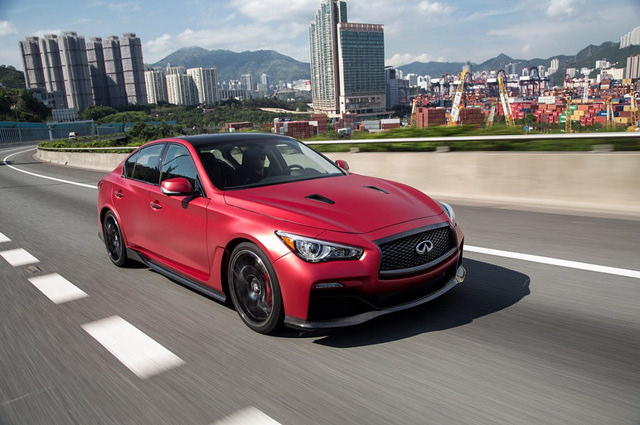 The Infiniti Q50 Hybrid is equipped with a V6 engine and an electric motor giving it an EPA estimated 29 mpg city and 36 mpg highway. The Interior is polished and comfortable, keeping occupants comfortable while cruising along. The Q50 Hybrid delivers Infiniti Connection, which allows you to use your smartphone to lock and unlock your door and quickly contact emergency services after an accident. Intouch, their app suite, provides you with just about all of the in-car information your heart desires such as navigation, satellite radio, and even a team of personal assistants at your beck and call to answer questions, provide directions and perform tasks like making dinner and movie reservations. All these features make the Q50 Hybrid one of the best connected vehicles on the market.
12. 2016 MAZDA MAZDA3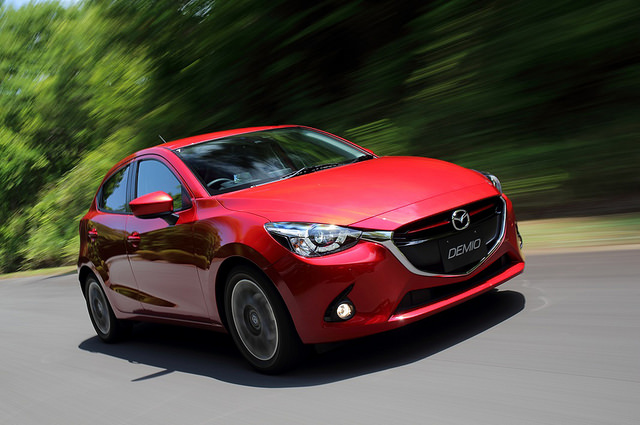 Mazda is known for making great, affordable vehicles with awesome features and the Mazda3 delivers on all fronts. It's their first car with Mazda Connect, which provides a host of features such as vehicle status and mileage apps, access to social media, contacts (up to 1,000 can be imported from your smartphone), all displayed on a dash-mounted 7-inch color touchscreen with center console hand controls. Phone calls and navigation entries can be voice activated; the 3 will also read incoming text messages aloud, to which you can respond by voice or by hand. Pandora, Stitcher and Aha Radio streaming are available alongside HD and satellite radio, in addition to Bluetooth connectivity with your iPhone via Mazda's Host Controller Interface.
13. 2016 KIA SEDONA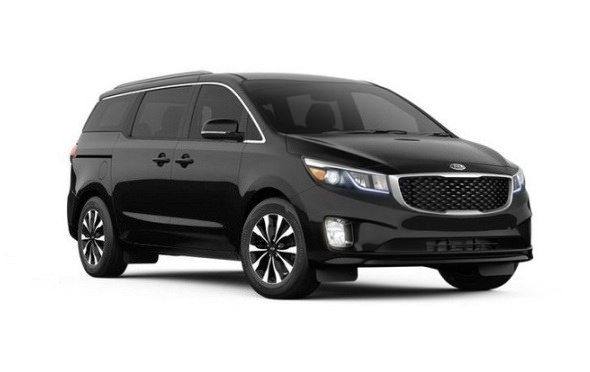 The Kia Sedona is a snazzy and sporty minivan with room for eight. Powered by a 276 horsepower 3.3 liter V-6, the Sedona has plenty of power to get you where you need to go. The six-speed automatic shifts smoothly through all gears and sends power to the front wheels. The interior is roomy and comfortable, with plenty of storage capacity. The suspension is well made, absorbing any road imperfections the road can throw at you. Connectivity is delivered through Kia Sedona's UVO eServices. The UVO eService includes voice commands, vehicle diagnostics and repair guidance, Pandora, iHeart Radio, Siri Eyes Free, and Google Local Search from the Google Play and Apple iTunes stores via your smartphone. All controls can be accessed through the Sedona's touchscreen.
14. 2016 NISSAN JUKE NISMO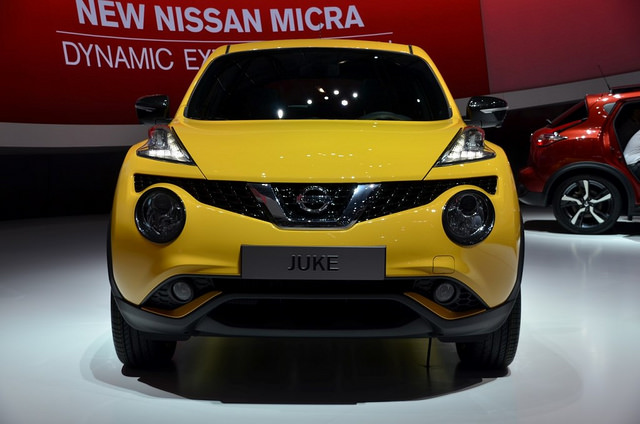 The Nissan Juke is a fun vehicle, but the Nismo model puts the Juke over the top. Powered by a 188 horsepower 1.6 liter turbocharged four-cylinder, the Juke Nismo has plenty of power. The Nismo model is also equipped with ground effects, a lowered suspension, and sport seats. The Nismo RS has an even more powerful 215 horsepower engine and a unique fascia. Both versions are equipped with the new NissanConnect telematics system. It syncs with your smartphone and the navigation system to provide gas prices, weather, handy TripAdvisor access for restaurants, hotels and other travel needs, along with apps like Pandora and Yelp. You can also tap into Google apps and send your trip destinations from your web browser directly to the car, a handy feature that cuts out time otherwise spent futzing with a GPS.
(carophile.com)