(+)
Good off-road
Practical
Long warranty
(-)
The Rexton is a well-priced SUV that has a lot of boot space for the money and can carry seven people.
Reviews are fairly poor though since it's not good to drive, noisy and has a dull image. It is one of the cheapest ways to move large loads and more people than usual however, so if you're in that market then it's worth a look.
Interior
Spacious but lacking in quality
There's a lot of space for five adults in the Rexton with plenty of head and leg room in the front and middle rows. There are also an extra two seats in the boot which let you carry children – but they're really quite cramped for adults. With those extra chairs folded into the floor, the boot is a very good size but some reviewers found it was not especially wide compared to the competition.
Although the Rexton W comes with seven seats as standard, you can order it as a five-seater at no extra cost if you have no need for the two extra chairs and you'd like to see your Rexton depreciate even quicker than normal!
Quality is as below-par as you might expect, although all models come relatively well-equipped for the price.
The driving position is throne-like which means great visibility ahead. Getting comfortable might be a challenge to some as the steering wheel only adjusts for rake and the long-travel pedals mean you can find yourself too close to the wheel.
The Rexton is not bad in the rough stuff, with a low-ratio transfer gearbox, permanent four wheel drive and chunky off road tyres. It's not as good on road as nearly all of the competition due to the separate-chassis construction and big wheels which let a lot of tyre noise into the cabin.
There's the same problem in evidence with body lean that the Korando suffers so badly with, and the soft ride means you have little or no idea what's going on with the front wheels rather than delivering a comfortable ride. If you think at least a soft ride will mean it deals well with our severely potholed roads – think again!
The Rexton W has dispensed with the old model's 2.7-litre Mercedes turbo diesel and it now has a single 153bhp 2.0-litre diesel unit throughout the range. Although many manufacturers are now producing smaller, lighter engines that deliver more power and better economy than the larger units they are replacing, don't expect too much from this one.
Although economy isn't too bad for a relatively small powerplant in such a big and heavy vehicle at 38.2mpg (combined) for models with the manual gearbox, and 36.2mpg for the auto, performance is decidedly underwhelming.
Progress is made worse if you chose the EX Auto model as the five-speed automatic gearbox spoils performance ever further. The standard manual gearbox has also been reported to be very heavy and imprecise.
Although a number of reviewers have criticised the safety credentials of the Rexton W, its list of standard safety features isn't too bad at all with dual front airbags, side airbags, ESP with Active Rollover Protection, ABS, EBD and more besides.
Perhaps because none of the current SsangYong range has been tested by Euro NCAP as yet, some people wrongly assume that a vehicle like the Rexton doesn't measure up in this department.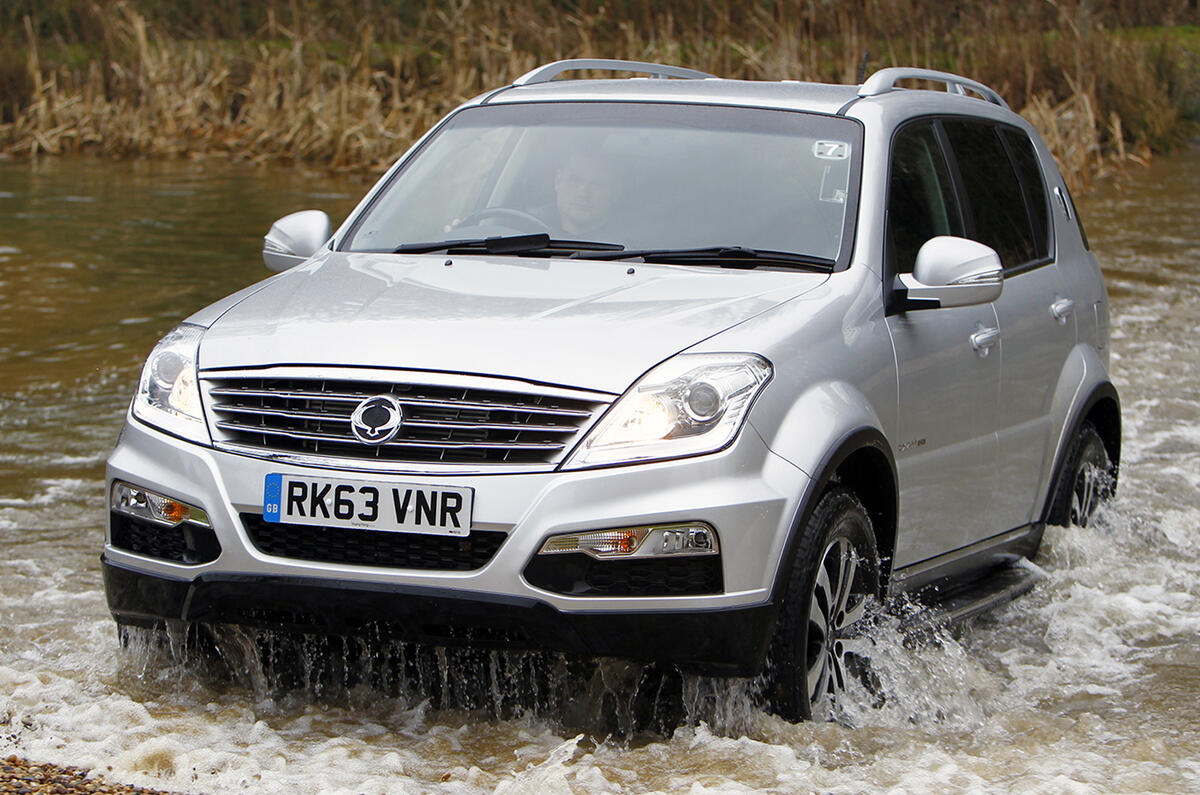 Admittedly, you're not going to be as safe in this SUV as you would be in a Range Rover, but you're also not paying the thick-end of a hundred grand for the pleasure either.
You do get a lot of space for your money because the Rexton undercuts most of its competitors. Standard equipment includes climate control, keyless entry, all electric windows, power folding door mirrors, Bluetooth connectivity and 16inch alloy wheels. The highest spec EX Auto gets heated electric leather seats and a sunroof.
Depreciation will be steep though, due to the badge and the high running costs. If you are out for a capable off-roader at a good price, then the lower-spec models are a bargain. If you want more features and refinement, you'll find the higher spec models expensive and will quickly start to look elsewhere.
Satellite navigation isn't standard on the most luxurious trim so if you want it you have to get it as an option.
Conclusion
If you are prepared to sacrifice on-road comfort so that you can have a machine that can make a mockery of rough terrain then take a look at the Land Rover Defender 110 which also comes with 7 seats and is at a similar price albeit it is more basic inside than this.
If all you need is a 4×4 that can take the whole family or loads off stuff anywhere and you live in a farm or around the country side then the Rexton is definitely worth a look. Be aware that lots of rivals get far better reviews though and consider those too.
(carwow.co.uk)