(+)
Supremely comfortable
Extremely fast
Luxurious interior
(-)
Slightly drab rear styling
Fuel costs are huge
It's a very large car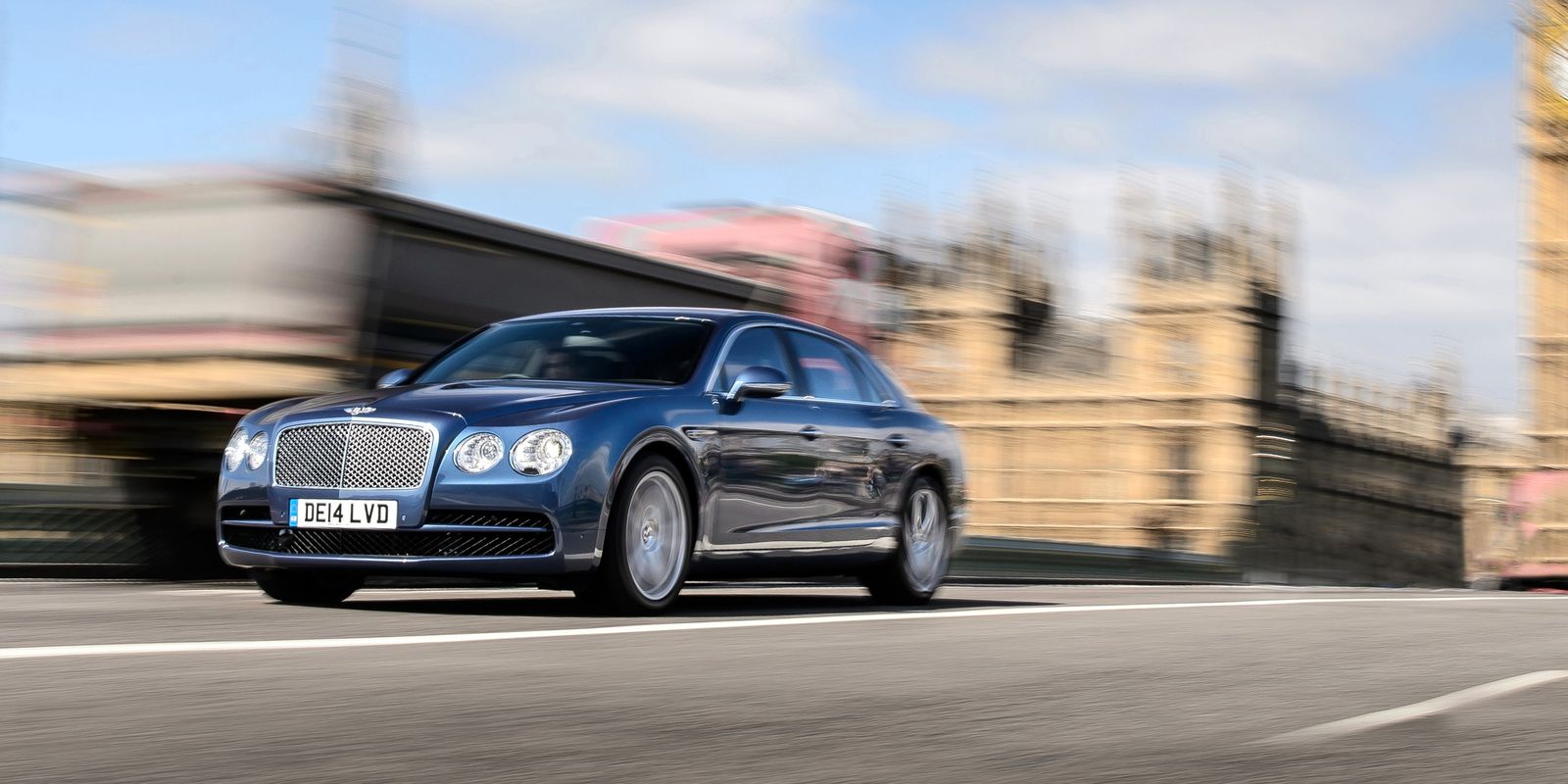 The Bentley Continental Flying Spur is a sober four-door saloon that's based on the Continental GT chassis, which means that it is fast and luxurious and endowed with handling that belies its size.
It receives positive reviews on the whole, although some do say that it is just a little bit bland – or ugly, depending on how polite they're being!
It's still one of the most luxurious ways to transport several good friends to the South of France at a decent lick of speed too…
Least expensive to buy: 4.0-litre Standard
Fastest model: 6.0-litre Driving Spec Mulliner
Most popular: 4.0-litre Standard
Interior – Just about as good as an interior gets
If you imagine the most luxurious and beautifully-appointed interior you have ever seen I bet it still isn't as nice as the Bentley's. Everything that isn't made of wood is covered in leather – and thenBentley sprinkles it with chrome bits and bobs, just to make it all sparkle. It's a wonderful, heady atmosphere to be in, and is, according to the experts, utterly beguiling.
There is ample room for even the most amply-padded people, with the butter-soft leather seats supporting and cosseting them perfectly. The loudest noise in there isn't the clock anymore, it's the air-con, but that's no hardship. Interiors simply don't come any better than this.
Driving – Better than its size would have you believe
The Bentley Flying Spur drives much better than any car of this size has any right to. It handles with aplomb and steers and brakes like a car half its size. If you imagine a beautifully appointed bungalow that handles like a hot-hatch then you've got the Flying Spur's dynamics perfectly judged.
While the Flying Spur is undoubtedly a driver's car, it really comes into its own for passengers sitting in the back. The Spur is so quiet, comfortable and luxurious that you should be able to do just about anything you want to in the back without even realising that you are moving.
The only real criticisms are aimed at the air suspension, which perhaps doesn't deliver on rough surfaces in quite the way we might expect. Shock absorption is managed much more successfully by a number of alternative vehicles from the newRange Rover to a Rolls Royce.
Engine – A straight fight between the W12 and the V8
You have a choice between very fast (Flying Spur) and incredibly fast (Flying Spur Speed). Both will crack 62mph in less than five seconds and both will travel at almost three times the national speed limit.
What you don't get offered is an economy option; both are hideously thirsty. But if you are bothered about fuel economy then you are looking at the wrong car in the first place. In real life driving, it isn't too difficult to get the 'economy' from the W12 down into single figures.
There's very little to complain about with either engine, and although most buyers go for the much acclaimed V8, the recently upgraded W12 really shouldn't be overlooked. Any engine that can get a car of this size and weight from 0 to 60mph in just 4.3 seconds, and on to a top speed of 200mph, really does have plenty going for it.
Safety – As safe as houses – and as big as some too!
There is no Euro NCAP rating for Bentleys at the moment, but it's hard to imagine that the Continental Flying Spur is anything other than a safe place to be when you're on the road.
Although some of the very latest cutting-edge safety features are yet to find their way into the Bentley, all the usual features are there in abundance. It's four-wheel-drive too, so it should keep you pointing vaguely in the right direction when the weather turns.
Value for money – Of little consequence with a car like this
It's expensive to buy and run, plus depreciation will be huge. But if any of those things matter to you, then you shouldn't really be looking at a car like a Bentley in the first place.
This is a car that is nothing short of an unadulterated exercise in luxury and opulence, and should therefore be taken as such.
The Continental GT is just as fast, just as nice to drive, gets a slightly higher wowscore and is a little bit cheaper. It is much more common though, especially with footballers, which is probably a good reason to go for the Flying Spur instead.
Conclusion
No one needs a Bentley Flying Spur, but if you can afford to spend the price of a nice city flat on a car then there are few better cars to spend your money on – and you can even use it to share your fortunes with some incredibly lucky back-seat passengers too.
(carwow.co.uk)