KTM is bringing its electric enduro to the States. This fun little ride has been entertaining European riders for a few years now with its 2.6-kWh lithium battery and 21-horsepower electric motor, and now American buyers have an opportunity to see what all the hubbub is about. At least when it comes to the brown; the E-XC doesn't meet U.S. requirements for street-legal use in spite of its headlight, taillight and turn signals. Still, it's a glimpse of the possibilities within the sector.
Design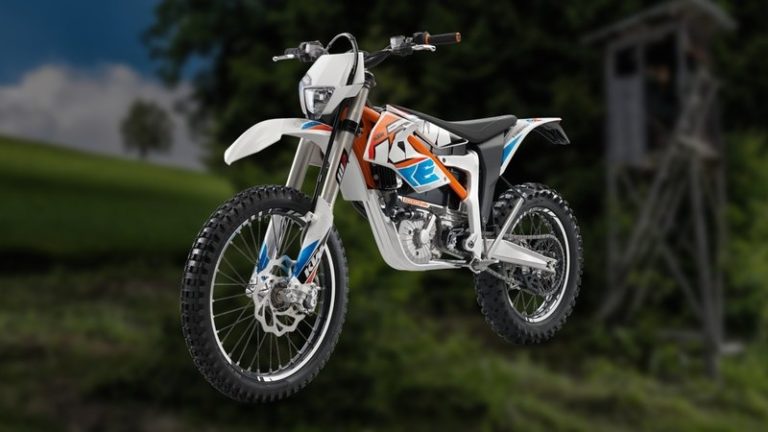 Electric vehicles are becoming more and more viable all the time and are making the jump from the automotive industry into bikes, boats and even aviation. Mainstream acceptance has been slow in coming, especially in the U.S., but KTM is taking the plunge with a pilot program that will bring its Freeride E-XC to 11 select dealerships as something of a market test. I submit to you that this is a great opportunity for the EV sector in general as it showcases the potential of this burgeoning drive system.
As with any performance-driven design, form follows function, and the E-XC is no exception. Overall it looks much like a standard enduro with a high, tripleclamp-mount front mudguard and minimal rear fender that extends the sweep of the subframe below the tucked-away taillight. It even looks like it could be a smoker bike; that is until you get close enough to notice the flattish flylines around the "tank" area. Even that wouldn't do it by itself since some builders are (wisely) tucking the fuel bladder up under the seat to better centralize the weight, but look closely enough and you'll see the lithium-ion powerpack peeking out from behind the cheek panels that protect the pair of small radiators. Yeah, the electric motor has a different look than what we are used to, but it ain't that different, and who cares if it is, it gets the job done.
Chassis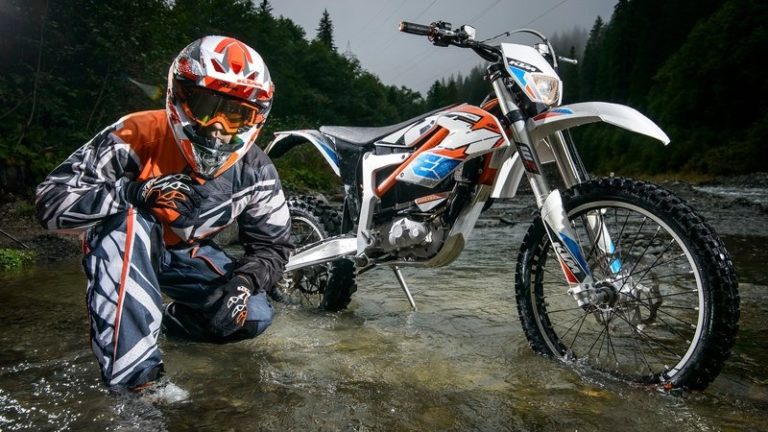 The rolling chassis starts out with a steel- and aluminum-composite structure for the main frame, and the factory takes the unusual step of using a polymer subframe to finish it off in an effort to keep things as lightweight as possible. Another weight-saving step was the use of the motor as a stressed member with an aluminum guard to protect it from terrain strikes.
WP provides a set of 43 mm, usd forks to float the front end on 9.8 inches of travel with a direct-mount monoshock in back that provides 10.2 inches of travel at the axle. Both ends are tuneable; the front stems can be adjusted for compression and rebound damping, and out back, the monoshock offers variable high- and low-speed damping. While this is looks good on paper and seems like plenty of travel, you can forget about trying to channel Jeremy McGrath on one, it ain't that good. Having said that, it's plenty good enough for what it's meant to do, which is to knock about over light terrain.
A single 260 mm front disc slows the front wheel and a 230 mm disc controls the rear, both with a wave-cut profile that radiates heat more efficiently than a plain round disc and lends it a certain self-cleaning ability that is a definite boon when the black turns to brown. Laced rims mount a 21-inch knobby up front and an 18-inch hoop in back to round out the rolling chassis.
Drivetrain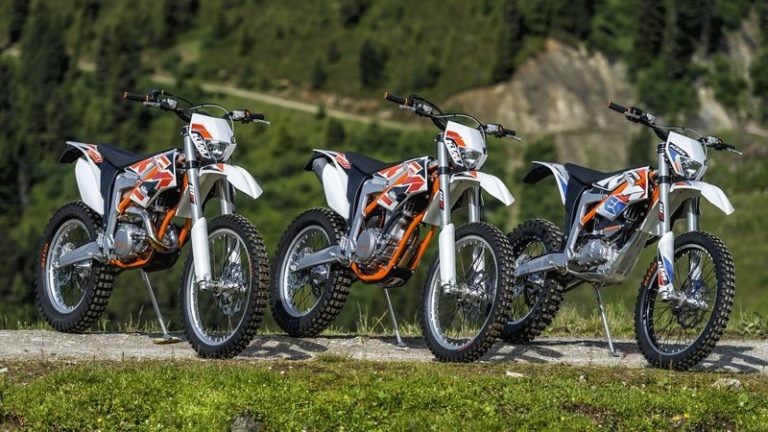 Naturally, as with any EV, the drivetrain is where the real magic happens. KTM tucks a permanent-magnet motor into the frame that boasts a maximum output of 22 horsepower with a constant-duty rating of 15 horsepower and 31 pound-feet of torque. Unlike smoker engines, the full torque is available as soon as you crack the throttle (or whatever you call it); no need to wind it up to get the goods. This makes for a different riding experience with more oomph out of the hole, and makes the bike accelerate like one with a more powerful engine.
The 260-volt system takes 220 VAC to charge, and can go from flat to fully charged in as little as 80 minutes and an 80-percent charge can be had in around 50 minutes. Ride times vary depending on style, but riders can expect something around an hour of fun for that downtime for something around a 40-percent duty cycle. If you have deep enough pockets you can score a spare battery for three grand that will extend riding times, and if you can charge one while you use the other, the E-XC will have more stamina than you at the end of the day.
KTM opted for a primary drive to carry power from motor to rear wheel in order to make the power-coupling more durable under tough off-road conditions. Probably the oddest drivetrain feature is the water cooling that removes waste heat from the system; something one usually doesn't see 'cause yeah, water + electricity = bad, m'kay?
Price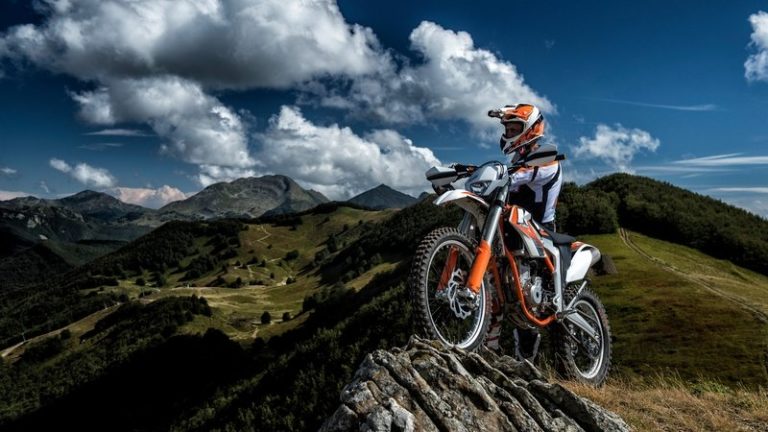 The pilot program brings with it an introductory price of $8,299, but the factory is trying to bait the table with the sticker so if this product sticks you can expect to see the MSRP jump up just a bit.
Competitor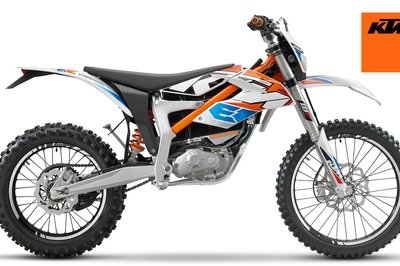 There are plenty of crappy little electric dirtbikes out there, most of which are barely more capable than the 6-volt toys I had as a kid, but for a truly capable ride there was but one choice for me; the Zero FX. Street legal and off-road capable, the FX lets you ride to your favorite spot rather than trailering it for the complete package. In the looks department, there is very little to choose between the two; they both look like "normal" bikes more or less, at least from a distance.
The FX uses an aircraft-grade aluminum chassis and swingarm to keep things light with fully-adjustable Showa suspension components so you can dial in the ride similar to the E-XC. Zeroalso throws on a switchable ABS so you can get some help dealing with the knobby-blacktop interaction while retaining full control of the anchors once you hit the dirt. Wave-cut discs are present across the board.
Zero really brings the hurt with its sophisticated drivetrain and powerpack system. The base model runs a 3.3-kWh powerpack, but you can upgrade to the 6.5-kWh unit for some real capacity. Peak torque on the FX is clocked at 78 pound-feet with 27 horsepower, so Zero hits a lot closer to the capabilities of an ICE machine than the meager output from the KTM machine. Goes without saying that performance is a big selling point for anyone, and the lack-thereof is liable to hurt KTM in the long run.
To compound KTM's problems, the base model FX can be had for a similar price at $8,495. Of course, you can bump that up by half-again if you opt for the big power pack and fast-charge capability, but base-to-base, you get a lot more bike for the buck with the Zero.
He Said
"As cool as the E-XC is, Zero really shoves KTM into the locker and breaks out the shaving cream. I'm not sure how they are so far apart in performance given KTM's vast experience, but maybe I've answered my own question; Zero only deals with EV while KTM is just starting to dabble as a side gig. Still, it's good to see more competition coming to our shores, and I give KTM its props for attempting to further 'the cause'."
She Said
My wife and fellow motorcycle writer, Allyn Hinton, says, "I'm glad to see the Freeride come to the U.S., but for the money, it might be a bit outclassed here. It takes 220 VAC to charge it, so even if you have a power pack to swap out, you don't get a lot of riding time before you need to recharge. Unless you bring a generator with you to the trails, you'll have to head home anyway."
Specifications
| | |
| --- | --- |
| Engine: | |
| Electric motor: | Permanent magnet synchronous motorin a disc armature design |
| Rated output: | 11 kW (15 hp) @ 5500 rpm |
| Max. power: | 16 kW (22 hp) @ 4500 rpm |
| Cooling: | Liquid cooled |
| Traction battery: | Lithium-ion KTM PowerPack (easily removed) |
| Rated voltage: | 260 V |
| Transmission: | Single speed transmission |
| Primary drive: | 1:2.4 |
| Secondary gear ratio: | 11:48 |
| Chassis: | |
| Frame design: | Perimeter steel-aluminium composite frame |
| Front suspension: | WP upside-down Ø 43 mm |
| Rear suspension: | WP PDS shock absorber |
| Suspension travel (front): | 9.84 inch |
| Front brake: | Disc brake |
| Rear brake: | Disc brake |
| Front brake disc diameter: | 260 mm |
| Rear brake disc diameter: | 230 mm |
| Chain: | 5/8 x 1/4″ |
| Steering head angle: | 67 ° |
| Seat height: | 35.83 inch |
| Weight READY TO RACE (without fuel): | 238.1 lb. |
(topspeed.com, https://goo.gl/fb5wA5)